The Statue of David has been drawing people to Florence to witness all of its glory since it has been created. Standing at 17 feet tall, many are fascinated by this grandeur statue and its brilliant maker. Although there are three Statue of Davids located throughout Florence, only one is legitimate. Michelangelo's David stands proudly in the Galleria dell'Accademia and he is waiting to be visited by you.
---
While the information we provide here is free, we also sell tours at reasonable prices. Thinking about including Florence in your travel itinerary? Check out the assortment of available Florence tours, including small group and private Uffizi Gallery tours, Florence walking tours with David and a Florence food tour with steak and wine.
Accademia Gallery Hours
At 8:15 a.m., the Galleria dell'Accademia opens its doors to art lovers and tourists until closing them at 6:15 p.m. If you are thinking about touring the Gallery but are looking for a cheaper price, think about touring on Sundays. The Gallery, along with other State Museums in Florence, is free on Sundays. And if you're not a fan of lines, we recommend opting for our Skip The Line tour which gives you access to the museum and the privilege of skipping the lines. Just don't make any plans to see the David on a Monday, as the Gallery is closed that day of the week.
Statue of David Facts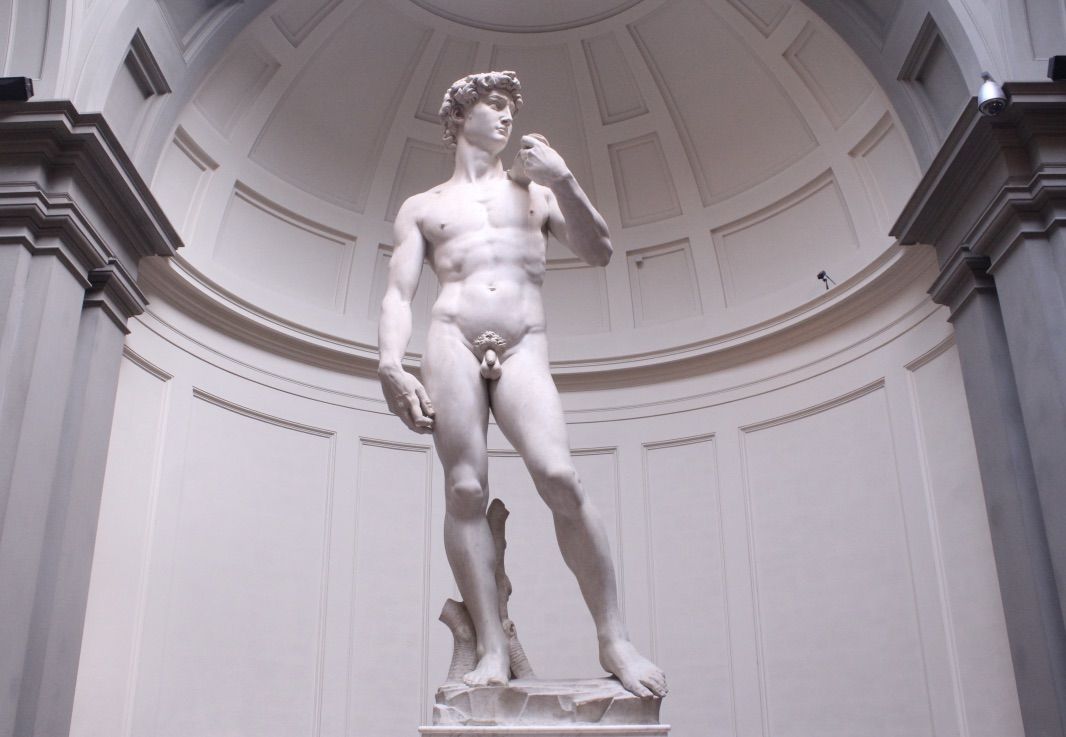 The Statue of David gets its undoubted fame for a few reasons. Its creator, Michelangelo, was the only sculptor at the time willing to work with this particular type of marble. Out of undesirable marble came one of the most desirable and striking works of art known in history.
Michelangelo's David stands at 17 feet (about 5 meters) which, if you didn't already know, is massive. Do you know what else is massive? His feet. The statue was actually sculpted to adorn the roof of Florence's Cathedral Dome. Given that prior knowledge, Michelangelo made David's feet a bit bigger to make the statue more sturdy. However, the David never set foot on top of the Cathedral and today, people question his unproportioned feet from the inside of the Gallery.
The Statue of David famously represents the biblical story, 'David and Goliath'. The sculpture is supposed to depict David right before defeating Goliath, ready to take on the giant with his slingshot in hand.
There are Three Davids in Florence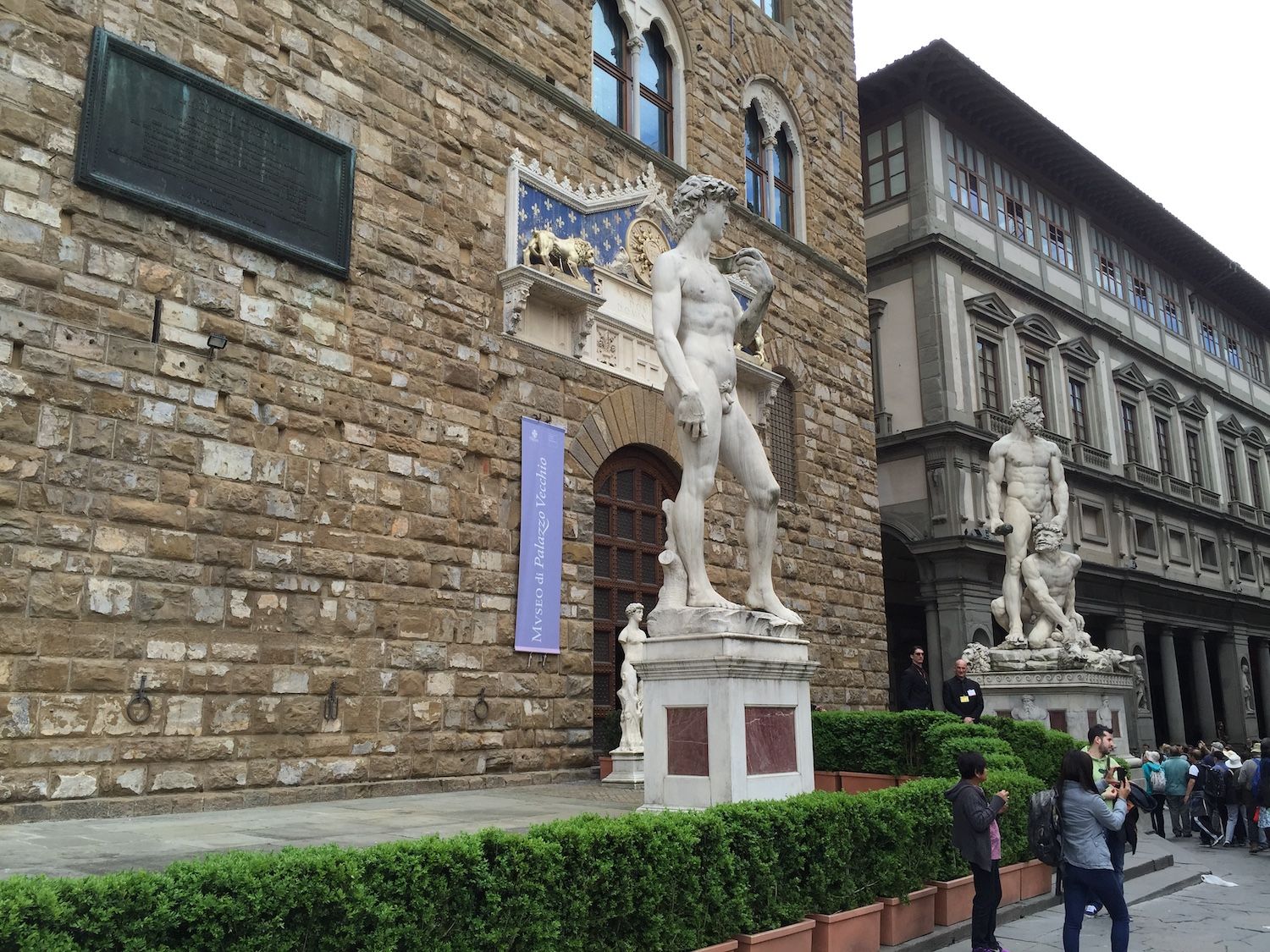 You can visit any of the three Davids, one in Piazza Della Signoria, the other on top of Piazzale Michelangelo and the original in the Galleria dell'Accademia.
He has an Infamous Right Hand
Aside from his disproportional feet, he has a very disproportional right hand as well. Some art historians believe that Michelangelo's "large" hand was intended to symbolize David's nickname, manu fortis – or strong of hand. In his hand, you can see the stone that he used to slingshot Goliath.
Relationship with the Medici Family
The Medici Family commissioned many works of art from Michelangelo. Other than the Statue of David, the family also commissioned Moses and the Sistine Chapel.
Even an Earthquake Can't Defeat Him
Throughout its years of existence, the David has suffered countless fractures and cracks in its shins and ankles. After too many risky situations, the statue is currently placed on a semi-seismic platform which protects the masterpiece from damage during any more earthquakes.
He's Missing a Toe
Though both the Statue and the Gallery are under heavy surveillance and security now, it wasn't always as strict. The Gallery learned its lesson in 1991 when Pierro Canata, an Italian Artist, snuck a hammer in and smashed off the David's toe. Ouch!
Statue of David Tickets
While you do not need to go on a tour to view the Statue of David, it certainly helps. With the Galleria dell'Accademia being a popular tourist attraction, lines can get long and rooms can get crowded. The museum itself does not give nearly enough information about the artworks inside, so for those who want a more immersive tour, check out the Florence Walking Tour. Our guide will walk you through the museum showing you some highlights as well as hidden gems and of course, showing you our favorite guy: the David.
---
I Want More Italy!
If you want us to arrange the entertainment in Florence (and beyond!), contact our Trip Planning Team to coordinate an unforgettable Italian experience.
Check out our YouTube video and step-by-step guide about how to do Florence in a Day. If you'd rather let us guide you, check out our Florence tours.