I've been to Paris twice this summer, and even with everything going on, I can confidently say that it's an incredible time to visit Paris. Due to the lack of mass tourism, I felt like Paris was better than ever. There were no restrictions on me being able to enjoy the city in a fun and meaningful way. No matter how much fun people saw me having on my social media, the most common question I received was, how can you travel to Paris right now?
Update June 10, 2022: The Biden Administration is lifting testing requirements to enter the USA on June 12, 2022, at 00:01. Testing will not be required to enter the USA after that. The CDC plans to evaluate this plan after 90 days. But for now, no more testing after June 12 for air travel entry into the USA.
UPDATE March 14, 2022: Currently to enter France from any EU member state or any orange country, fully vaccinated travelers do not need to show a negative test result before or upon arrival. The USA is now classified as a green country so for fully vaccinated travelers, proof of full vaccination is all travelers need. Unvaccinated travelers can take an antigen test up to 48 hours before arrival.
The Mask mandate for outdoor and indoor use has been lifted. Masks are still required on public transportation but no longer required in museums, cafes, shops and restaurants.
The French Government announced as of February 12, 2022, fully vaccinated travelers under EU guidelines will no longer have to present a negative COVID test to enter France.
UPDATE February 12, 2022: Currently to enter France from any EU member state or any orange country, fully vaccinated travelers do not need to show a negative test result before or upon arrival. The French Government announced as of February 12, 2022, fully vaccinated travelers under EU guidelines will no longer have to present a negative COVID test to enter France.
UPDATE DEC 16, 2021: The entrance requirements for the UK and for Green countries has changed. Please see below for more details.
UPDATE: As on Nov 2, the French Government is no longer taking applications for Americans wishing to covert their CDC Vaccine cards into a French Digital Pass Sanitaire. For more info, check out our Where to Get A COVID Test in Paris article.
---
---
Headed to Paris? Great idea, the sites are practically empty and you won't get a chance to see them like this in the future. Definitely check out our Paris tours for the most memorable experience. We take away the guesswork with getting inside and a guide will elevate your visit to the next level!
Is it Safe to Travel to Paris France?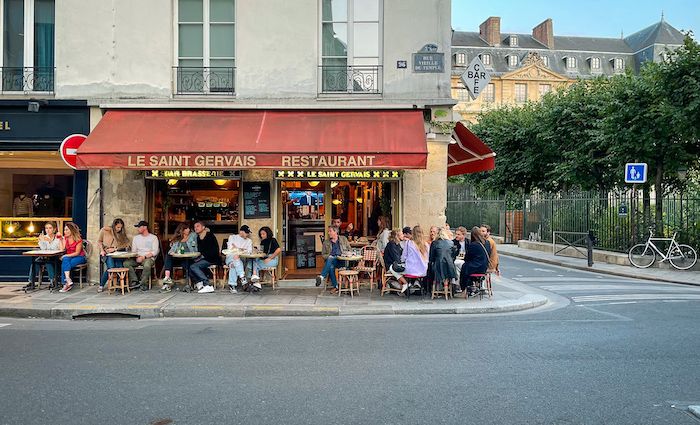 Ultimately, every time you leave the house you are taking a risk with your life before, during, or after the pandemic. Many are afraid of flying because of how final an engine issue would be while in the air even though driving to the airport is far more dangerous.
The fact of the matter is that every time you leave your house you are taking a risk which is something you need to consider. My feeling is that traveling to Paris is less risky than going to my local supermarket, taking public transport, or driving to work.
According to Johns Hopkins and One World Data, about 65% of the population in France is fully vaccinated, and over 70% has at least one dose of the vaccine. This is slightly higher than the United States and on par with the rest of Europe.
In Paris, 73% have received one dose, and 70% of residents are fully vaccinated.
The infection rate in France is currently, as of the 21st day of September, 1/4 of the United States per million people. Effectively you are looking at a 25% lower chance of getting infected in Paris than at home. These statistics make me feel much safer than in my hometown of Los Angeles.
If you are trying to calculate the risk of flying or traveling to Paris, please consider that it depends on your comfort level and adherence to local ordinances and medical standards. The Department of Defense says flying does not mean you will automatically be infected as you follow all guidelines. Remember, you are always at risk even in your town, grocery store, or in your everyday life now.
---
Is this content helpful? Help us by checking out our tours!
What are the Entrance Requirements for Paris France?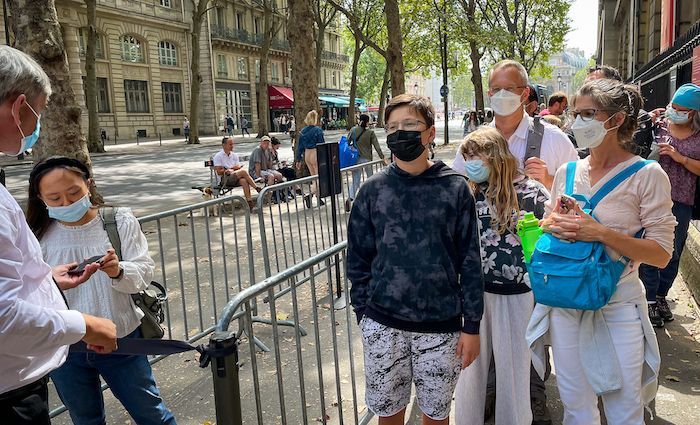 UPDATE DEC 16, 2021: Please be aware there are new rules for travelers arriving from the United Kingdom. Entrance requirements depend on your departure countries color status. For Green Countries, like the USA, a negative PCR or antigen test is required 48 hours before departure with or without proof of vaccine. Also, random antigen tests may be administered. For more information check the French Minister of Interior
For the French Health Declaration, go to the French Interior Ministry Website. Scroll down after the color-coded world map and note the color of the country of your departure. For me, it is the United States, which is now on the Amber list. Click where it says "Travel to and from an Amber list country." Then download the document in section 2.2 that is the sworn statement of honor. Please fill it out and have it with your travel documents.
IMPORTANT: Rules do change often so check the French Health Ministry website and contact your airline to see if barriers for entry have changed. Always make sure you are on a government website to find the facts. Also, monitor emails from the airlines with updates.
---
Arrival in Paris Charles De Gaulle Airport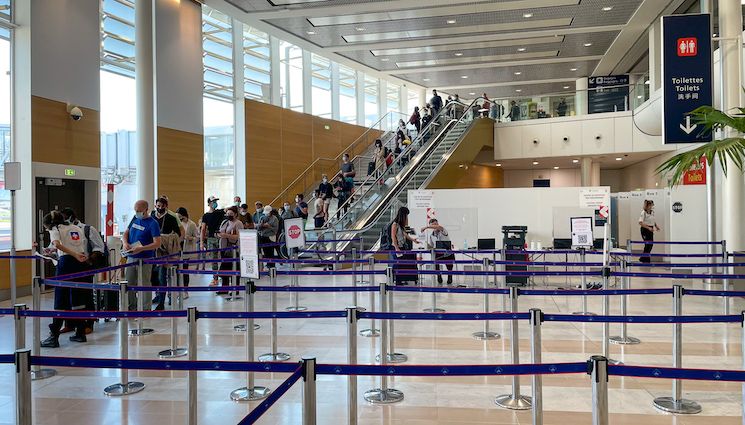 I arrived in Paris Charles De Gaulle Airport, and the first thing verified after deplaning, before going through passport control, was my CDC vaccine card. Whenever anyone asks for a "Pass Sanitaire," that means your white CDC vaccine card if you are American. It's a good idea to have that handy with your passport as soon as you get off the plane.
At passport control, I handed over my passport and vaccine card. The agent quickly glanced at my card and then proceeded to stamp my passport.
French officials did not verify the health declaration, but I had a completed version with me.
Other than the vaccine card checks and temperature checks, nothing was different compared to previous trips.
---
The Louvre is a must-see! Read about the top things to see in the Louvre.
What's it Like to Travel in Paris Right Now?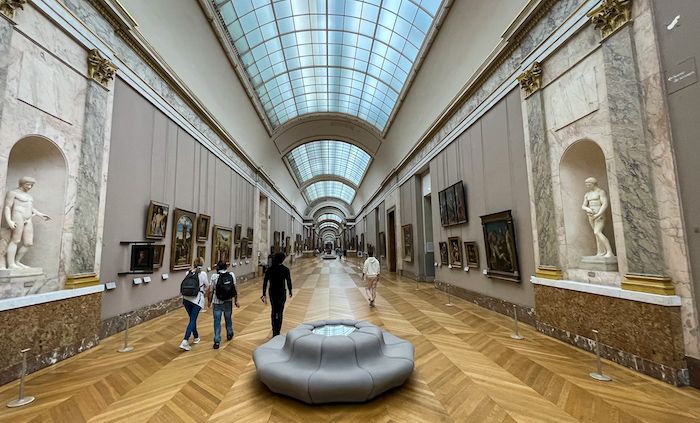 I can confidently say Paris is widely open. Museums like the Louvre & Orsay are operating at regular hours. Besides mask-wearing, pop-up testing sites, and Pass Sanitaire signs, it is still the same Paris we all know and love.
Masks are compulsory indoor and on public transportation but are not outdoors. It is not uncommon to see Parisians walking around with masks, especially when headed into a metro stop or a crowded outdoor market. The indoor mask ordinance is regulated, but it doesn't feel that way since most people comply with the rules.
So yes, Paris is safe for travel and you can come visit since it is not off limits to most travelers. You can go to your favorite cafe for lunch, stroll one of the famous gardens or boulevards, pop into a world-renowned museum, or kiss your partner at the top of the Eiffel Tower.
There is no doubt that the lack of tourist crowds has made Paris more safe and enjoyable. I could get a table at any restaurant, walk around the Louvre without massive tour groups, and not feel crowded in Paris. I felt like I was the only tourist in town secretly enjoying everything Paris has to offer.
Taking trains to/from Paris was also no problem. Have your vaccine card ready when you travel. Also, masks are compulsory on trains, and social distancing is in effect when possible.
---
What about Getting a COVID test in Paris for Travel?
You can travel to Paris right now because there are so many options for getting a COVID test for your onward travel. From pharmacies to private clinics to various pop-up locations, there are numerous testing sites all over Paris. Check out my article on Where to Get A COVID Test in Paris for more details. Antigen tests in Paris are also affordable at 25-50€.
---
Pass Sanitaire or Health Pass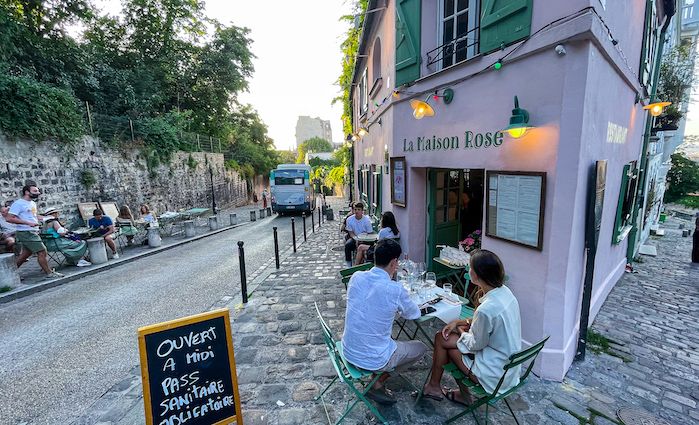 Pharmacies are now in charge of converting your white CDC card into a EU Digital COVID certificate called a Pass Sanitaire in France. If you go to this pharmacy in the Marais with your CDC vaccine card and an official ID, they will convert it for you in just a couple of minutes. The cost is 20 Euros. Show them this article or my picture. They will hand you a paper copy of your EU Digital COVID Certificate and then you take that and scan it into the Tous AntiCOVID App. Many pharmacies throughout the city perform this service, prices vary.
A Pass Sanitaire, or a Health Pass, is compulsory to enter museums, restaurants, shopping malls, and cafes. You really can't travel within France without one.
Travelers from the USA, don't worry! Your original white CDC vaccine card will be widely accepted in Paris and France because there is no system to quickly convert our vaccine records into their QR Code version of a Pass Sanitaire. I showed my vaccine card in various restaurants, cafes, museums, and trains throughout the country and never had a problem. So basically, your original white CDC vaccine card is your Pass Sanitaire.
[Editors Note: As of Nov 2, the information below is invalid. The French Government has stopped taking applications for CDC Vaccine cards from Americans to be converted into Pass Sanitaire. The process is now managed by pharmacies in France. Check out the map on this page to find a pharmacy near you]
If there are several weeks before your trip, certain foreigners, for example from the USA, can apply to convert their vaccine card into a Pass Sanitaire. These covid vaccine certifications can take weeks to convert. I met several fellow travelers who tried emailing 3-4 weeks in advance and never received their Pass. They used their physical vaccine card just like I did with no problems. Even if you apply I strongly suggest taking your vaccine card with you to show it everywhere.
One you apply and receive your QR code, then add it to the Tous Anti COVID app (available on Apple and Android). Now you are good to go.
Pro Tip: Take a screenshot of your TousAnti COVID app page with QR code and add it to the Lock Screen of your phone so it's ready to go!
If you are a UK citizen, your NHS pass QR code allows you to get the Pass Sanitaire. Please see the Tous Anti Covid App or this page from the French Consulate in London.
---
Can I Travel to Paris right now?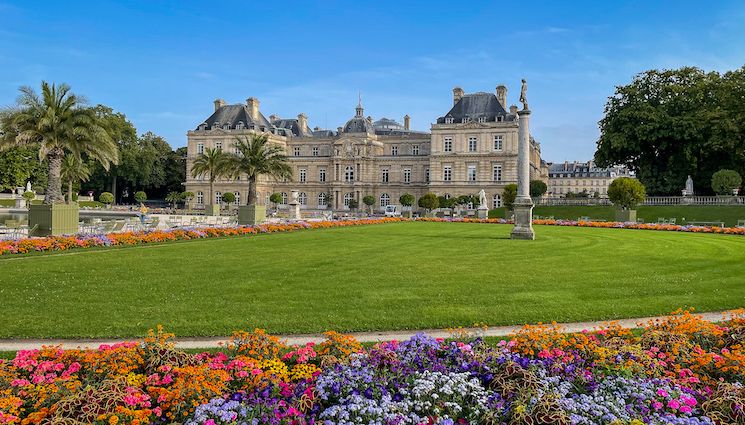 Can I travel to Paris right now? If you are healthy and vaccinated, there is no reason why you shouldn't travel to Paris. Yes, as long as you continue to follow the advice of the medical community and local regulations, you should be safe in Paris. All of the systems are in place to keep travelers and locals safe.
The French philosophy on medicine centers on science and the social good, not economics. So most people comply with local ordinances for the greater good.
Mask compliance on public transportation, entering buildings, or whenever required, is in my observation at nearly 100%. Social distancing is still valid especially on public transport.