You've just toured the Notre Dame Cathedral, and before you know it you feel your stomach grumbling. It's time to eat. But where? The area near Notre Dame is packed full of tourist traps that are sometimes hard to identify until you're already inside. Not to worry – our Parisian guides have compiled a list of some of the best restaurants and places to eat near Notre Dame so you can walk away with happy food memories!
---
Pro travel tip: If you're heading to Paris, bookmark this article in your browser so you can circle back to it when it's time to make restaurant reservations. After you sit down and it is time to choose what to eat, check out our post on the foods you have to try in Paris.
We also offer an array of highly-rated Paris tours which feature some of the city's most famous landmarks.
14 Unique Restaurants to Eat Near Notre Dame
There are two things you need to know when eating near the Notre Dame cathedral. First, many restaurants are closed one to two days per week in this area; usually Sunday and/or Monday. The second is you should always make an RSVP or call ahead when possible. Why? Making a reservation in advance is part of Parisian culture and you don't want to assume there will be tables open.
Once you get past those two hurdles, you are making a great choice by eating on or around Île de la Cité. It is a beautiful area that has tons of really cool and tasty restaurants. Above all, it is the perfect area for an after-meal stroll!
Comme Chai Toi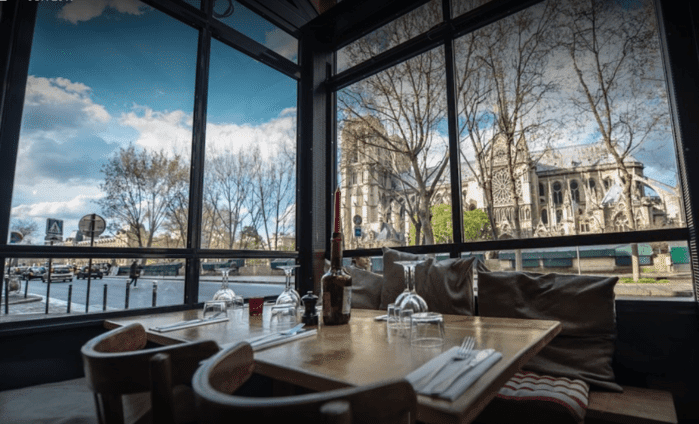 €€€ | Contemporary French Restaurant | Some Outdoor Seating
Set directly across the river from the cathedral, Comme Chai Toi offers an amazing view of Notre Dame. The food is a bit more refined but there's no need to worry about getting dressed up. It's also worth noting that this restaurant has air conditioning (a rarity in Paris!), so if it's a hot summer day this detail might win you over.
This is one of the coziest restaurants near Notre Dame with extremely high quality food. Top pick!
Address: 13 quai de Montebello, 75005 | Tel: +33 1 46 34 66 12
Hours: Mon – Sun 6:30PM – 12AM | Sat – Sun 12PM – 4PM
Le Petit Châtelet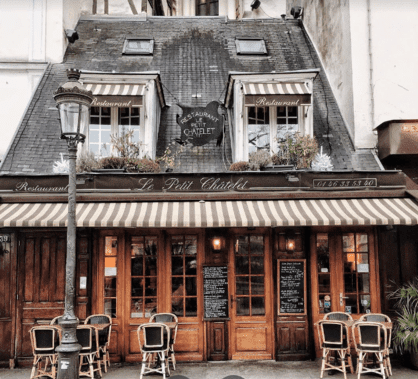 €€ | French Restaurant | Some Outdoor Seating
Don't judge this place by its outside appearance or close proximity to one of Paris's most popular monuments – it's anything but a tourist trap. Le Petit Châtelet has been passed on from father to son for four generations now which is a symbol of these families' love for their restaurant.
The spot offers a cozy and comfortable place to sit down and has an open fireplace inside where you can watch their meats being grilled (and which will give your dish a delicious smoky flavor). They offer some great 2 course and 3-course menu options as well. This is by far one of my favorite restaurants to sit-down and eat near the Notre Dame!
Address: 39 Rue de la Bûcherie, 75005 | Tel: +33 1 46 33 53 40
Hours: Mon – Sun 12PM – 2:30PM | 7PM – 11PM
La Tour d'Argent*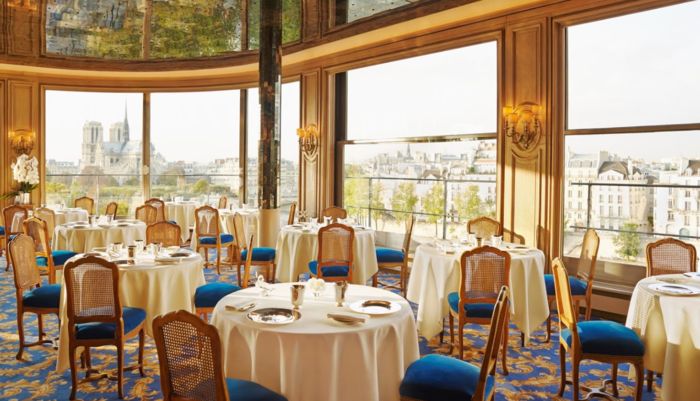 €€€€ | Elegant French Restaurant | Michelin Star
Trying to splurge on an extremely fancy dinner in Paris, or wanting an unforgettable night of French cuisine? Look no further than La Tour d'Argent. This Michelin star restaurant is famous for its food and amazing views of Notre Dame (the dining room is on the seventh floor).
A meal here can truly be described as a once in a lifetime experience for many. If you're able to splurge and are thinking about celebrating a birthday or engagement while in Paris, we encourage you to make a reservation at La Tour d'Argent well in advance.
This is without a doubt the best restaurant on this list near Notre Dame. It has a Michelin star and an incredible view. That said, it is also the most expensive. If you can afford it, I would recommend you go!
Address: 17 Quai de la Tournelle, 75005 | Tel: +33 01 43 54 23 31
Hours: Thurs – Sat 12PM – 2PM | 7PM – 9PM Sun 12PM – 2PM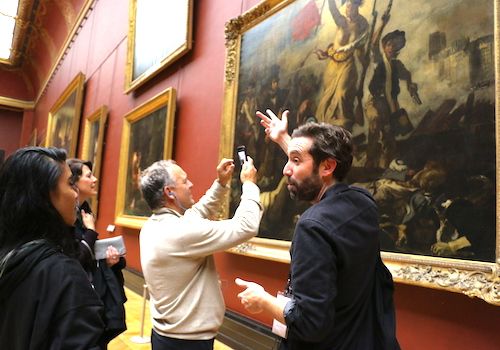 Loubnane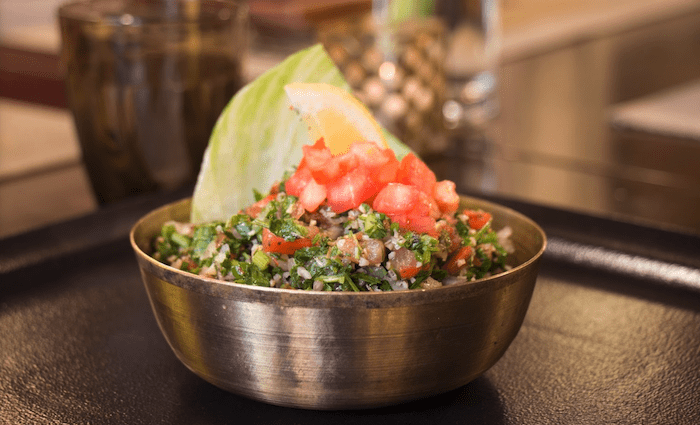 €€ | Lebanese Restaurant
If you're looking to take a break from French cuisine one day, walk on over to Loubnane to try some Lebanese food. Think shawarma, meze plates (small dishes to share) and skewered meats. If you ask, they'll likely also show you their private underground rooms dating from the 13th century!
Address: 29 rue Galande, 75005 | Tel: +33 1 43 26 70 60
Hours: Tue – Sun 7PM – 10:30PM | Wed – Sun 12PM – 2:30PM
Chez Gladines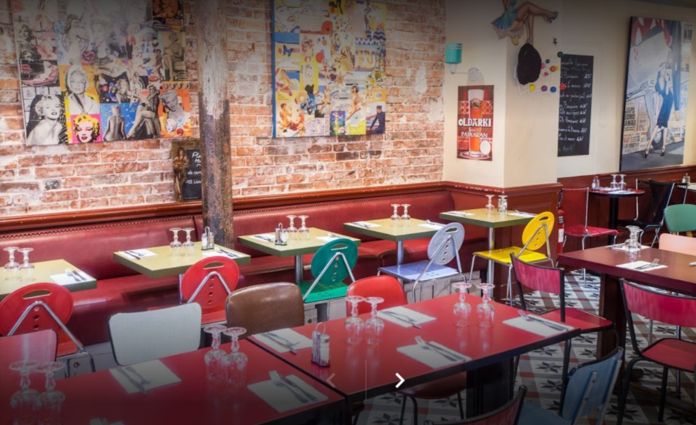 €€ | French Restaurant | Family Friendly
Chez Gladines actually has five locations in Paris, but it's far from being considered a chain. They specialize in Southwestern French food with Basque flair, so expect more dishes with ingredients like duck, peppers, and Basque sauce (a blend of tomatoes, onions, peppers and spices). The restaurant has a relaxed and casual feel to it with generous portions. It's a great spot to head with kids or a group of travel partners.
Address: 44 Boulevard Saint-Germain, 75005 | Tel: +33 146 33 93 88
Hours: Mon – Sun 12PM – 12AM
Franprix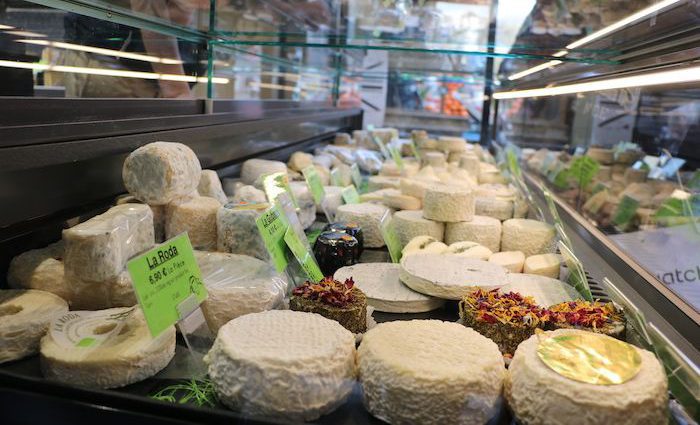 € | Supermarket | Take Away
If you're on a budget or you just want to grab a quick snack and eat along the river with a view of the cathedral, a visit to Franprix might just be your thing. There is one about a five to ten minute walk from the front of Notre Dame.
Pick up carottes rappées (sliced carrots in vinegar), a package of mini saucisson sec (dry salami), try out some French cheese and even a small bottle of chilled wine or beer. There is no shame in spending under 10 euros to eat lunch, even locals do it.
Address: 2 rue Domat, 75005 | Tel: +33 1 43 29 52 86
Hours: Mon – Sat 8:30 AM – 9 PM Sun 8:30 AM – 1 PM
Le Marmiton de Lutèce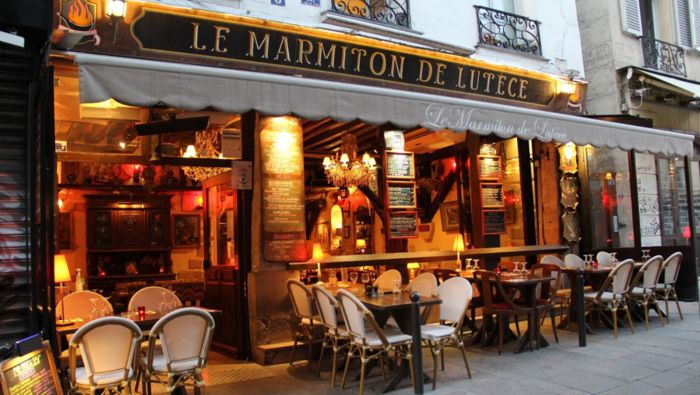 €€ | French Restaurant | Family Friendly | Outdoor Seating
If you're looking for a place to go for lots of variety, fondue, or raclette, this place will do the trick. Admittedly, the food probably won't be the best you'll have on your trip, but they serve up decent dishes at fair prices for the area. They also offer a three-course menu deal for about 20 euros (as do a large number of restaurants on the same street, so feel free to take a stroll).
If you are hungry but dont want to sacrifice ambiance this would be a top pick for outdoor seating near Notre dame.
Address: 6 Rue Saint-Séverin, 75005 Paris | Tel: +33 1 43 54 05 25
Hours: Mon – Sun 11:30AM – 11:30PM
Bistro des Augustins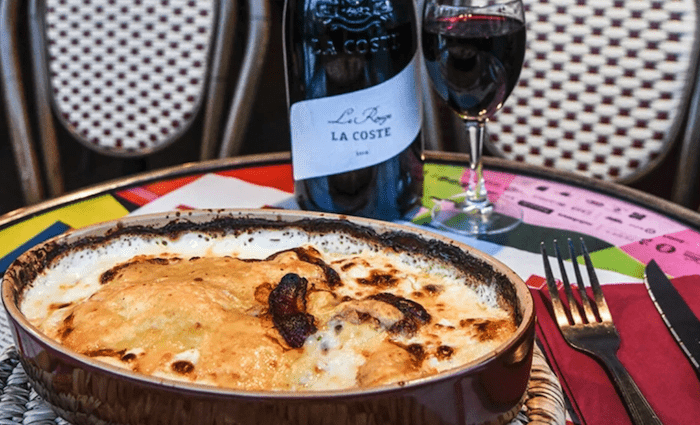 € | Bistro | Some Outdoor Seating
Surround yourself in an old school Parisian bistro setting and get ready to have some of the best gratin ever. This place specializes in French comfort food – think of potatoes combined with cream, cheese, bacon or chicken – that's delicious at any time of year. The restaurant is very small and no fuss, with a handful of tables set up outside on the street. About a 10 minute walk from Notre Dame, it's well worth the steps. You'll be hard-pressed to find a more authentic bistro feel in the city.
Address: 39 Quai des Grands Augustins, 75006 | Tel: +33 1 43 54 04 41
Hours: 10AM – 2AM
Crêperie Chez Suzette
€ | Crêpe Restaurant | Take Away or Eat In | Family Friendly
You can't visit France without eating a crêpe at least once! Chez Suzette offers sweet and savory options on a budget that the whole family will love. Most of the savory crêpes (called galettes), made from buckwheat flour, are also gluten free. You can grab one to go – they'll make it at the window as you watch – or opt to sit down for your meal.
This would definitely score as our favorite crêpe restaurant near Notre Dame.
Address: 17 Rue de la Huchette, 75005 | Tel: +33 9 81 36 44 44
Hours: Mon – Sun 12PM – 1AM
L'Îlot Vache
€€ | Traditional French Restaurant
You'll find L' ilot Vache just a short stroll across the river from Notre Dame, on the charming island of Ile Saint Louis. Traditional French food is the focus, so head here if you want to try duck confit, escargots (snails) or a piece of French beef. The wait staff are extra friendly for Paris standards, and the place has a hint of a romantic vibe about it, so this is also a great choice to share a date night dinner while on your trip.
This gets our pick as one of the most romantic restaurants near Notre Dame. Also, walking around Ile Saint Louis is always a treat.
Address: 35, rue Saint-Louis en l'île, 75004 | Tel: +33 1 46 33 55 16
Hours: Wed – Sun 4PM – 11:30PM
Berthillon
€€ | Ice Cream Shop and Tea Room | Take Away or Eat In
Berthillon is without a doubt the most famous ice cream in Paris. While it's sold in many places throughout the city by independent resellers, their tea room and shop on Ile Saint Louis is the only place you can get it straight from the source. Over 70 ice cream flavors are offered, from fig to Grand-Marnier to Earl Grey Tea, and they also offer an array of cakes and pastries to satisfy your sweet tooth. This is the perfect stop that will please anyone in the family!
Address: 29-31 rue Saint Louis en l'ile, 75004 | Tel: +33 1 43 54 31 61
Hours: Mon – Sun 10AM – 8PM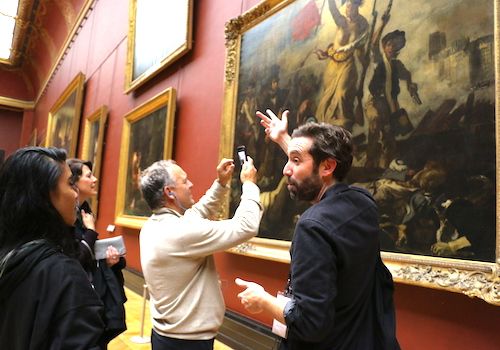 Related Articles