Home to beloved towns such as Florence and Siena, the Tuscany region is a staple when exploring wine in Italy. And, as most travelers know, a trip to Italy simply is not complete without delicious wine. When travelers envision their trips to Italy, many know they want to visit vineyards and drink delicious vino. However, they may not know the best places to do so. In this guide, you can discover the best sites and wineries in Tuscany.
---
Pro Tip: Planning to visit the wine regions of Tuscany? Bookmark this post in your browser so you can easily find it when you need it. Check out our guide to Tuscany for more planning resources, our best Florence and Tuscany tours for a memorable trip, and our guide to the Tuscany wine region.
Places To See in Tuscany
While we love Florence, the lesser known Tuscan towns just have a certain charm about them that make your vacation unforgettable. After a walking tour of Florence and a visit to the Uffizi Gallery, a visit to Tuscany's hideaways is a perfect addition to your vacation.
San Gimignano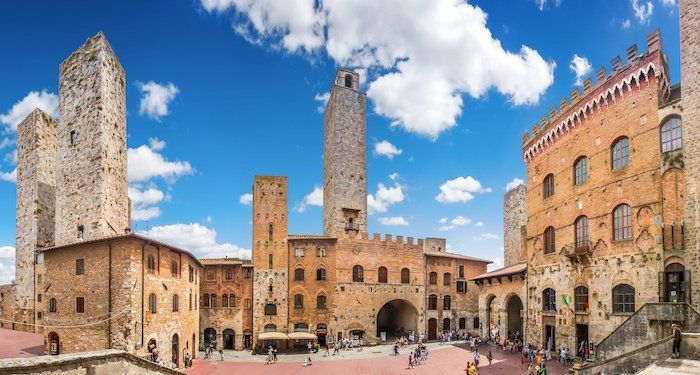 You can find countless charming towns and villages tucked away in the hills of Tuscany. Among the best towns in Tuscany is San Gimignano, a small town in the province of Siena. Perched atop a hill, San Gimignano looks like a medieval city from below. Its tall towers appear as medieval skyscrapers, coining the city's nickname "Medieval Manhattan."
Here you can explore a host of landmarks. We recommend visiting Piazza del Duomo, where you can find Palazzo Communale and Torre Grossa. Palazzo Communale is a beautiful municipal palace in the center of San Gimignano with a tall tower protruding from the top. This tower, Torre Grossa, is the tallest of the towers in San Gimignano. You can even climb it to get a beautiful lookout over the city.
After exploring the alluring town, stop into a bar to get a glass of the local goods: Vernaccia wine. With a fruity and revitalizing flavor, this wine has a DOCG designation, meaning it's among Italy's purest wines. This particular wine is the only white wine in Tuscany of this rank.
Tuscan Wine in the Chianti Region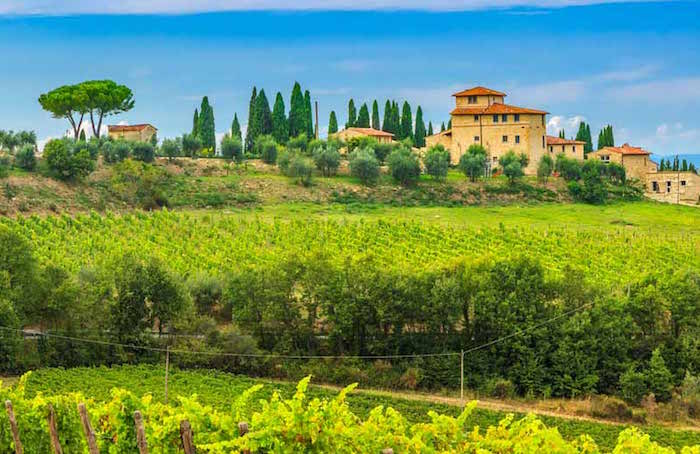 Chianti isn't just the name of a wine, it's a magnificent wine producing region in Tuscany. Here, you can find miles of rolling hills and some of the finest red wine in Italy. The Chianti region produces seven different types of wine, each produced in a different section of the region.
The most famous strain of Chianti wine is Chianti Classico. For a wine to classify as Chianti, it must be produced at least 80% from Sangiovese grapes. To perfectly enjoy your Chianti wine, you can't go wrong with a delicious meal to accompany.
If your perfect afternoon consists of leisurely wine tasting and a delicious spread of authentic food, you're in luck. Our Chianti wine outing, you will be able to tour a family-owned vineyard, sip tasty wine and enjoy a fantastic Italian lunch. If you're more into a solo wine adventure, you can check out towns such as Greve, San Casciano in Val di Pesa, Castellina in Chianti, and Barberino Val d'Elsa.
Brunello di Montalcino Wine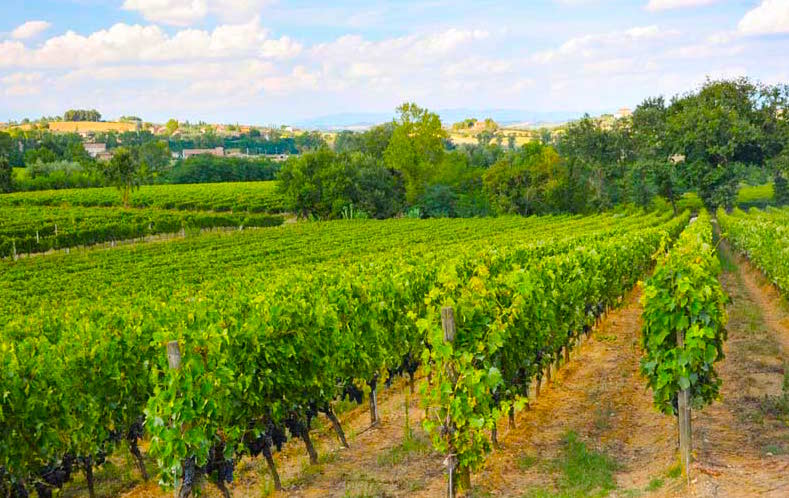 Looking to live it up while on vacation? Brunello di Montalcino is one of the more expensive red wines. This type of wine becomes pricy due to its concentration of Sangiovese grapes. While Chianti wine must be at least 80%, Brunello di Montalcino is produced 100% using Sangiovese grapes.
You can taste the authentic nectar in the region of Montalcino, located in the Siena province. With high tannin and acidity, Brunello wine reaches its peak taste after about a decade. Now, that's a fine wine.
Things to do in Montalcino
This captivating town tucked away in the Siena province got its name from the beautiful oak trees once native to the area. Because Montalcino is situated on a hill, you can enjoy some of the best views in Tuscany during your visit.
If you're visiting Montalcino, not just for the wine, there a few historical landmarks to explore. Discover the Fortress of Montalcino, which dates back to the 14th century. The fortress serves as the last fortress of the province of Siena's resistance to the Medici family. You can also visit the Duomo di Montalcino, a beautiful church with a neoclassical structure and facade.
Tours of Chianti and Florence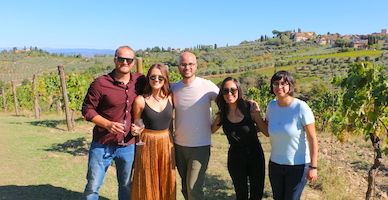 Top-Rated Experience
Chianti Day Trip from Florence with Vineyard Lunch
Want to have an epic experience in Tuscany? Remove the guesswork and the hassle of transportation by joining us on a day trip to Chianti from Florence. You'll enjoy time in the enchanting cities of Siena and San Gimignano with lunch and wine tastings too. Make your Tuscany day trip one to remember!





See Prices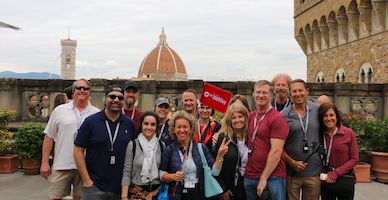 Best-Selling Tour
Florence in a Day Combo Tour with David & Uffizi
This tour is your best value in Florence. See Michelangelo's David statue in the Accademia Gallery with a licensed guide before exploring the Uffizi Gallery. You'll also have plenty of time to see the outside of the Florence Cathedral, Baptistry Doors, Ponte Vecchio, and more. All your skip-the-line admissions are included along with an English-speaking guide.





See Prices
Not ready to book a tour? Check out our article on the best Florence tours to take and why.
How to Go Wine Tasting in Tuscany
When visiting Tuscany, most people decide to stay in Florence. Not to worry though, making a day trip from Florence to Chianti is quite easy. On our Chianti wine outing, you will not have to worry about transportation to Chianti or choosing the best vineyards to visit. If staying within Florence is more your style, check out our Florence evening food tour to explore Florence's best wine and cuisines.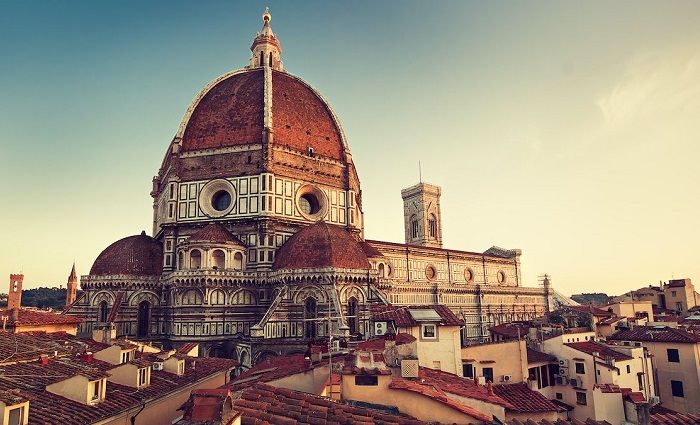 Find the best places to stay
Where To Stay in Florence
Florence has a small historical center packed with iconic landmarks to explore. Plan where to stay in the best neighborhoods in this beautiful city.
---