Heading to Tuscany but not sure where to stay? You should consider staying in the Chianti region, located between the major Renaissance cities Florence and Siena. Florence is small. You can easily stay in the countryside and commute around Tuscany from here. Here are a few excellent recommendations to help you find great vineyards in Chianti with accommodation!
---
Pro-Tip: You'll want to bookmark this page so you can return later to book your perfect stay in Chianti. Also, be sure to check out our free guides to 8 Steps For Planning An Epic Trip To Tuscany and the Ultimate Guide To The Tuscany Wine Region as well as our guide to Tuscany.
---
Our Partnership with Booking.com If you like our content, please book by clicking on our Booking.com links. The price is the same for you. We get a small commission that helps support our blog. We've partnered with Booking.com because they have great options and prices with a solid loyalty program. Most hotels are on Booking, so our recommendations are genuine.
The Best Vineyards in Chianti
---
Check out all our 'Where to Stay in Tuscany' articles
Arezzo | Chianti | Lucca | Montepulciano | Pisa | Pistoia | San Gimignano | Siena | Volterra
---
Why Stay in Chianti?
---
Rich in wine, agriculture, medieval castles, and churches. The Chianti region is a must-stop visit for anyone wanting picturesque views of the Tuscan countryside. Whether you're looking for a quick day trip from Florence, a weekend on your way to Sienna, or spending the week taking time to stop at wineries, you will have your choice in things to do and see.
If you were to visit the region of Chianti in the 1950s and 60s, you would have seen a different image than what we see today. The centuries-old sharecropping system of farming came to an end in the mid-20th century. The farms consisted of small vineyards, olive groves along with orchards of fruit trees and vegetables where you could see white oxen tilling the land. The peasant farmers working the land would stay with their families in a space above the barn or stables. They would take a portion of the crops in return for their work from the landowners.
Most of the widely used land in Tuscany is now made up of large estates with extensive vineyards that run at an industry-scale level for wine production. It's estimated that 40% of the vineyards you see today in Tuscany were only planted after the year 2000. Luscious green hills overtake the scenery in the summer. Beautiful yellow and orange hues take precedence in fall, which makes autumn an excellent time to visit too.

When it comes to staying in Chianti, you have a few choices in terms of towns. They include Greve, Gaiola, Castelinna, San Casciano in Vale di Pesa, and Barberino in Val d'Elsa.
---
Not ready to book a tour? Check out our article The Best Tours to Take in Tuscany and Why?
---
Vineyards of Chitant: Greve's Hidden Gem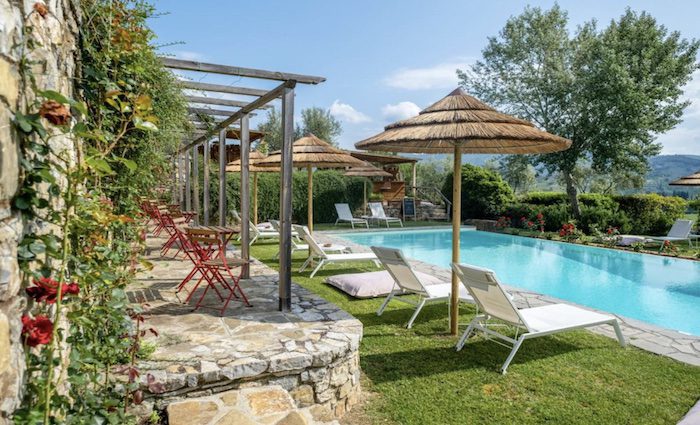 €€€ | Greve | Vineyard | Outdoor Cinema | Cooking School
Set in a fairytale landscape of vineyards and olive groves, no matter where your head turns at Terre de Baccio, there is one beautiful view after the next. With an on-site vineyard, restored farmhouses, outdoor cinemas, and even alpacas, you are bound to get an authentic vineyard experience staying at the Terre de Baccio.

For those who like to stay busy, there are wine-making lessons, a cooking school, wine tastings, and a golf course less than ten minutes away. Once you're done spending many days exploring the property and grounds, you are only 0.6 miles from the town of Greve to explore another gem in the region of Chianti.
---
Want to make your trip perfect? Check out our free Tuscany Travel Blog
---
Vineyards in Chianti: A Family-Friendly Option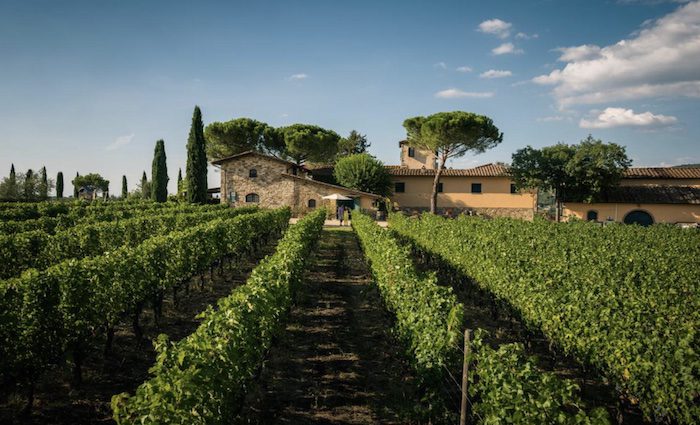 €€ | Greve | Farm Stay | Groups | Great Location
With multiple apartments available on the property to book, Viticcio is the perfect vineyard stay for families. There are luscious grounds to explore(with free e-bikes), including a vineyard and restaurant on-site. You can also make use of the BBQ on the property and make a meal with your family while enjoying the Tuscan countryside. The property also has wine tours available to enjoy and a beautiful wine cellar.

---
---
Vineyards in Chianti: For an Immersive Wine Experience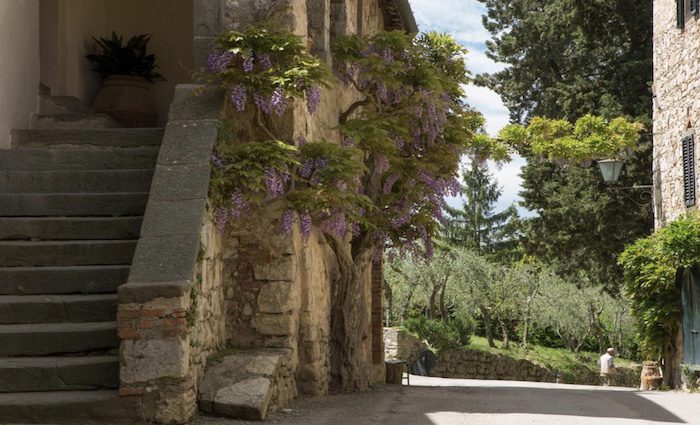 ---
€€ | Castelinna | Boutique | Pool | Historic
Take a step back in time and get lost at Castello di Fonterutoli Wine Resort. The property is located a few miles outside of Castellina in Chianti and is in itself its own medieval country village.
Throughout the villa, you can take in the old Tuscan feel and enjoy the comforts and luxuries available on-site. There is a restaurant and bar available at the property, where ad-hoc wine tastings can occur for those wanting to indulge.
If you do want to leave the property at any point, the resort isn't too far from supermarkets and other shops, including a strip of shops about a 7-minute drive away.

Not exactly what you're looking for? Check out these dreamy vineyards with accommodation.
---
Vineyards in Chianti: The Perfect Couple's Getaway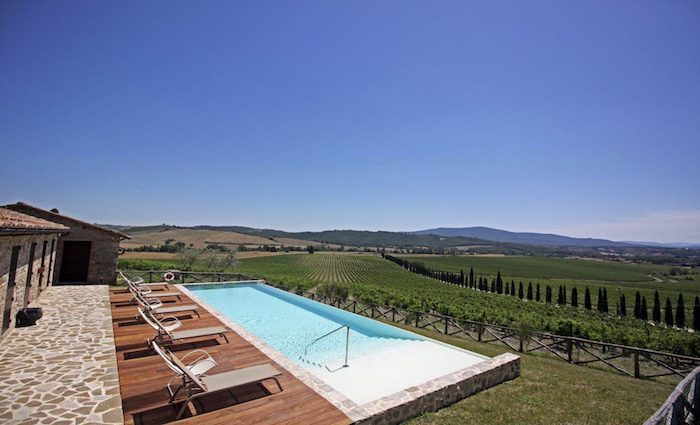 ---
€ | Castelinna | Wine Farm | Pool | View
A stunning setting in Chianti with a 360-degree view of farms and hills with an on-site vineyard means Agriturismo Casale Dello Sparviero is the perfect spot to soak in the Tuscan countryside. With its idyllic cypress avenue, even leaving the property feels like a true Tuscan adventure. Leaving you free to explore the local towns of Siena, Colle di Val d'Elsa, and Barberino Val d'Elsa.


Not exactly what you're looking for? Check out these dreamy countryside accommodations.
---
Vineyards in Chianti: Perfect for Groups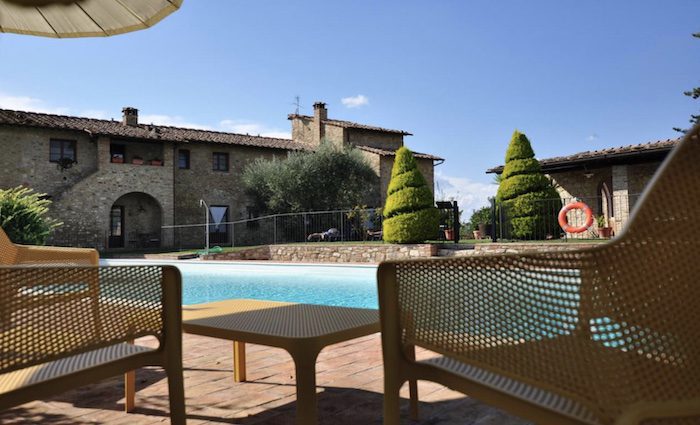 ---
€| Barberino de Val d'Elsa | Groups | Farm Stay | Pool
Nestled in the countryside of Chianti, in between the Tuscan olive trees, lies Agriturismo Podere Sertofano. This is an ideal spot for those looking for silence and relaxation, but also perfect for hosting a group. You can find a large fire pit to enjoy cooking your own meals with friends and family after a day of exploring. The accommodations are self-catered with rustic apartments along with free parking on-site.

Not sure where to stay yet? Check out our free guide on where to stay in Italy
---
Vineyards in Chianti: Feels Like Home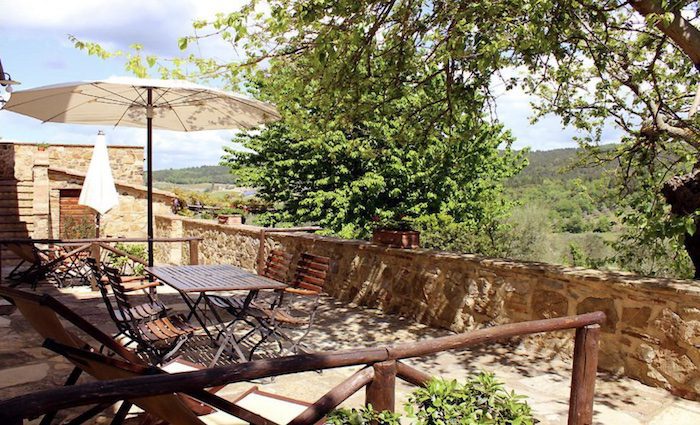 €€| Barberino de Val d'Elsa | Family Friendly | Apartment | Pool
A sustainable apartment, perfect for those looking for a more intimate setting with all the comforts of home. And if having to cook your own meals each night doesn't sound like a holiday, then don't worry, there is a wonderfully placed restaurant onsite, located in a recently refurbished historic building.

Perfect for those looking for a family or group rental to enjoy a peaceful stay amidst nature with typical Tuscan views.
---
Vineyards in Chianti A Place to Pamper Yourself in Chianti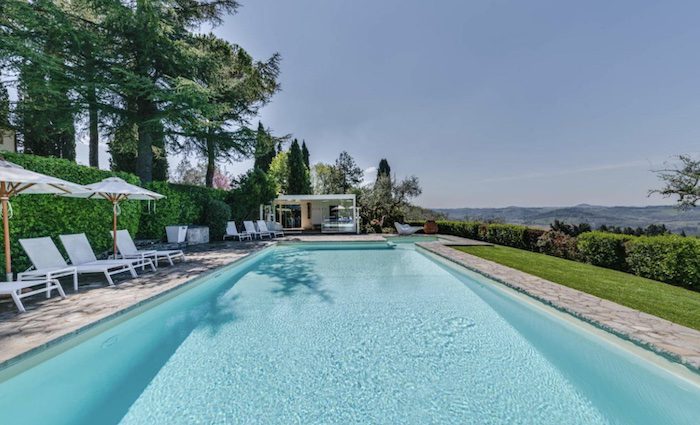 €€ | Val di Pesa | Hotel | Spa | Restaurant| Views
Close to the town of San Casciano, the Villa I Barruonci Resort & Spa is a perfect location to relax and pamper yourself but also explore all of what Chianti has to offer. If you're looking to take in the views of the Pesa Valley and Tuscan landscape, you don't have to leave the property to enjoy it. Whether you're devouring a meal at the restaurant, drinking on the terrace, lounging by the pool, or relaxing in one of the hotel's spa areas, you are surrounded by picture-perfect views to enjoy.
The property is a Tuscan-style residence with rooms that come with stonework & exposed wood beams. There is private parking on-site, along with a heated pool, bar, and restaurant. Buffet breakfast is served each morning, and during summer months, bikes can be rented to go into town. A perfect place to book for couples.
Not sure if Chianti is for you? Check out our guide on where to stay in Florence
---
Vineyards in Chianti: Relax in a Tuscan Villa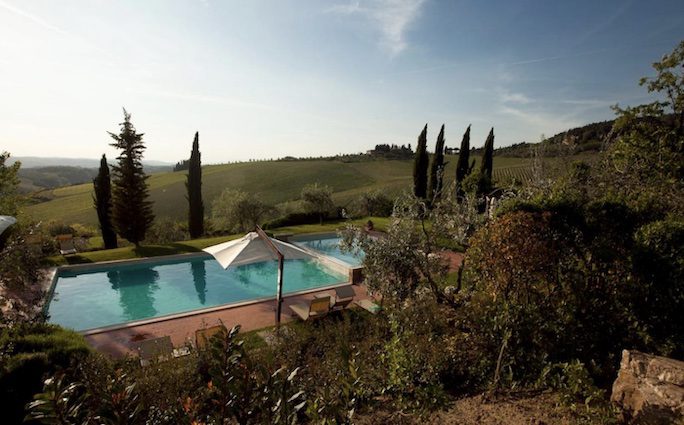 €€ | Val di Pesa | Villa | Wellness Centre | Restaurant| Views
If you're looking to immerse yourself in a real Tuscan village in the heart of Chianti, then Fonte De 'Medici is your only choice. This unique stay is in a village dating back to the 1400s, where each room is located in a medieval house. The property is also equipped with a wellness center offering saunas and a Turkish bath.
For those looking to also enjoy the wine of the region, a tasting can be arranged by request.
---
Stay at a Tuscan Farmhouse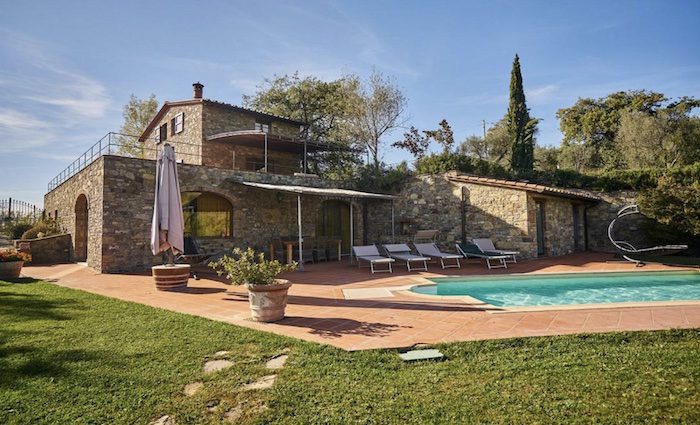 €€ | Gaiole in Chianti | Farmhouse | Wine baths | Restaurant| Views
Welcome to Borgo Casa al Vento, a unique farmhouse stay with an on-site restaurant that offers an array of wine experiences. Along with wine baths, you can also partake in wine therapy and massages along with drinking the wine at the property's on-site restaurant.
The farmhouse property is complete with vineyards, olive trees, and scenic hills, making it a perfect getaway for those looking for an authentic experience in Chianti.
---
Where is Chianti?
---
Why Stay in Greve & Castelinna
One of the more well-known and popular stops in this region, Greve is a market town and one of the very centers of the wine trade. It's no surprise then that Greve would be surrounded by charming medieval castles that have since become part of the wine industry. Most are privately owned now, with estates surrounding them for the use of wine production. If you are looking to immerse yourself entirely in wine, many of these estates also have accommodation available.
Another town to add to the medieval theme is the small, well-kept town of Castellina. The town prevails over the Arbia, Elsa & Pesa valleys and has a modern suburb great for travelers looking to buy wine or visit the smart shops ready to welcome visitors. Spectacular views surround the area, filled with woods, vineyards, and olive groves. Suppose you're looking to soak in a bit of history while in the area; you can head north of town to find the Etruscan tomb of Montecalvario (7th century BC). You can also see the remains of the Etruscan towns nearby.
---
Why Stay in San Casciano or Barberino
For those wanting a bit more hustle and bustle, the busy town of San Casciano in Val di Pesa is a must-stop on your Tuscan tour. The old center of town is protected on one side by a long stretch of wall that includes works of art. From town, you can look out and see luscious hilly landscapes from all angles in case you can't tell you can never escape these views. Further outside of the old center, you can find the 14th-century Gothic church of the Misericordia, which adds to the charm of the town.
A quieter stop along your tour of Chianti is the village of Barberino Val d'Elsa. The village is well preserved with medieval defense walls along with a gateway at either end of the main street. The town got its namesake from the poet Francesco da Barberino (1264–1348), whose Documenti d'Amore was translated into English by Dante Gabriel Rossetti. While strolling through the village, you can drop by several palaces that have been restored, including the Palazzo Pretorio with coats of arms on the façade.
---
A Brief History of Chianti Wine
So you've come to Chianti, and you want to taste the sweet delicious red wine you've heard all about featuring the famous black rooster. Why the name Chianti? And why the black rooster?
Only wines with the privilege of growing in this region have the honor of being named after the region itself, Chianti Classico Gallo Nero, where the boundaries were established back in 1716, although redrawn again in 1932. The majority of any Chianti wine must be 75-80% of the Sangiovese grape for it to be considered Chianti.
Legend has it that when the Florentine and Sienese horsemen were deciding on boundaries for their lands, they would each take off at the sound of a rooster's crow to start plotting. The boundaries were decided based on where they met at the end of the day to decide on the boundary. The Florentines chose a black horse, which legend says, they hadn't fed the night before. Due to this, the horse was so hungry it left before sunrise, and they all met only 7 miles from the walls of Siena.
The Florentines were allotted the area, and the territory was assigned the black rooster. If you have come to Chianti to buy legitimate Chianti wine, make sure the label bears a black rooster on a yellow ground in a red circle.
---
How to Get to Chianti
---
By Air: Florence Airport Peretola (FLR) is the closest international airport. It's about 37km from the airport to one of the larger towns in Chianti Greve, about a 35-40 minute drive away.
By Car: The easiest way to get to the region of Chianti is by car. This gives you the most freedom to explore the surrounding area. There are car rentals at the airport in Florence, and it's a quick drive to one of the many small towns in the region (typically under an hour).
By Bus: There are a number of bus companies that can take you from Florence into the different towns of the Chianti region.
Services from Florence run by CAP (www.capautolinee.it) every hour from Largo Alinari, off Piazza della Stazione (40 minutes)
There is a bus service to Greve every 30-60 minutes from Florence (Via Santa Caterina da Siena 15, off Piazza Stazione) using SITA (www.sitabus.it)
---
Top Things to See in Chianti
---
---
Recently on The Blog