Want to have a true Tuscan experience? Then, you'll want to eat, sleep, and drink wine in a vineyard in the rolling hills of Tuscany. The only question is, where should you stay? Whether you want to taste the best wine or be close to Florence, there's a place for you. I've put together a list of the dreamiest vineyards with accommodation in Tuscany.
---
Pro Tip: Planning to visit the wine regions of Tuscany? Bookmark this post in your browser so you can easily find it when you need it. Check out our guide to Tuscany for more planning resources, our best Florence and Tuscany tours for a memorable trip, and how to plan a day of wine tasting in Tuscany.
Top Vineyards in Tuscany With Places To Stay
Time spent in the Tuscan countryside and in the vineyards, in particular, is the most relaxing time you can have. The hills roll on endlessly like green waves—except these waves produce arguably the greatest wine on Earth!
If you're looking for that perfect place to enjoy a few days of living like a Tuscan wine estate owner, this list is for you. Every recommendation on this list is in the countryside. Some might say "Montalcino," but we're referring to the surrounding region of Brunello-producing territory, not the city.
There are a few agriturismi that happen to be nestled between vineyards. They'll give you the feeling of staying on a vineyard but the vast majority are guest houses or hotels on the property. I highly recommend renting a car if you plan to stay at these locations. It'll make your experience easier and much more memorable.
For anyone interested in exploring Tuscan vineyards and wine, check out our Tuscany wine tours and day trips. They come with a range of options from riding the Tuscan countryside on a Vespa to eating traditional dinners and exploring historic countryside towns.
Not ready to book a tour? Check out our Tuscany guide for more info.
Capanna Suites
€€€ | Montalcino Countryside | Great Views | Luxury | Pool | Restaurant
Capanna is a larger producer of wines in Montalcino that has done very well in the past few decades. With open minds and ambitious goals, they built one of Montalcino's most luxurious places to rest your head.
It features an epic pool, restaurants, an outdoor deck overlooking wine country, and of course endless reserves of their wine. The price tag is high enough, but every now and then you have to treat yourself!
Fonte de' Medici at Tignanello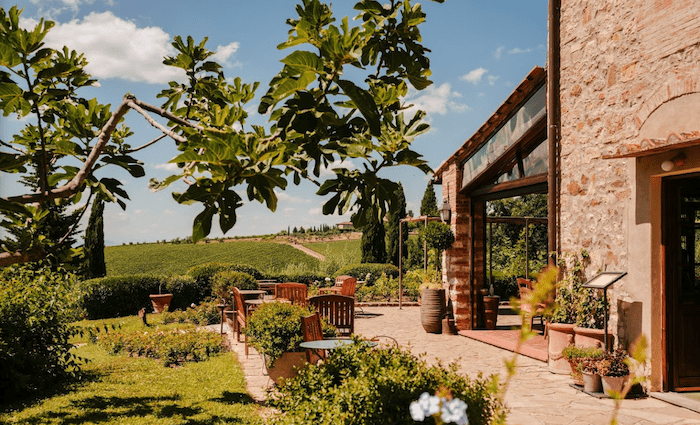 €€ | Tignanello/Chianti Classico | Pool | Restaurant | Spa | Cooking Classes
If you're into Italian wines, you may have heard of Tignanello. It's what is referred to as a Super-Tuscan wine produced by a single vineyard, Villa Antinori, on a single estate, Tenuta Tignanello. Why is it so important? You'll have to taste it to find out.
Just on the edge of the estate is a privately-owned property known as Fonte de' Medici, which is a sort of borgo. A borgo was a small town in Tuscany where everyone working the same land basically lived together.
This hotel is built from a borgo, which is not uncommon for the area. The rooms are set in restored houses around the borgo. It has a beautiful town square, chapel, and other more hotel-like amenities like a swimming pool and tennis courts. You'll have to rent a car to here, but it's worth it for lovers of Tignanello or wine country in general. They also have very fun cooking classes!
Tours of Chianti and Florence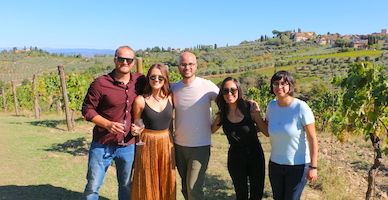 Top-Rated Experience
Chianti Day Trip from Florence with Vineyard Lunch
Want to have an epic experience in Tuscany? Remove the guesswork and the hassle of transportation by joining us on a day trip to Chianti from Florence. You'll enjoy time in the enchanting cities of Siena and San Gimignano with lunch and wine tastings too. Make your Tuscany day trip one to remember!





See Prices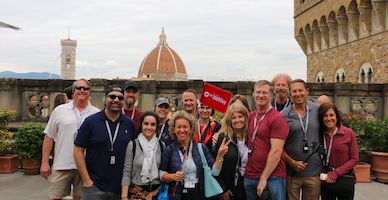 Best-Selling Tour
Florence in a Day Combo Tour with David & Uffizi
This tour is your best value in Florence. See Michelangelo's David statue in the Accademia Gallery with a licensed guide before exploring the Uffizi Gallery. You'll also have plenty of time to see the outside of the Florence Cathedral, Baptistry Doors, Ponte Vecchio, and more. All your skip-the-line admissions are included along with an English-speaking guide.





See Prices
Not ready to book a tour? Check out our best Florence tours to take and why.
Il Borgo by Castello Banfi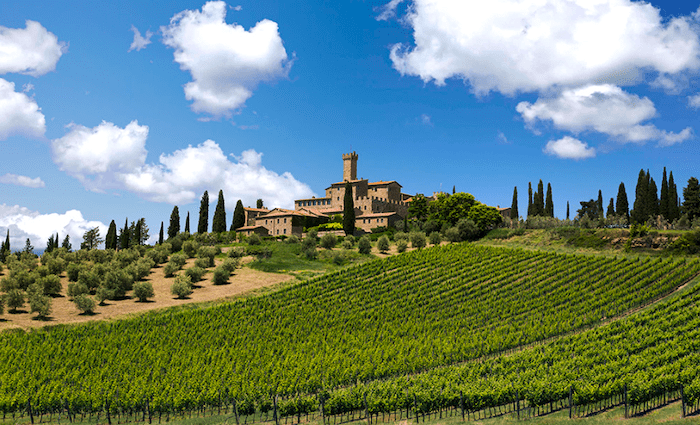 €€€€ | Montalcino Countryside | 5 Star | Brunello Wine | Michelin Dining | Epic Pool
Castello Banfi is an institution of winemaking. They are by far the largest producer of Brunello wines on the planet as they own the most territory. Their grounds are absolutely immaculate and their structure is beautiful.
A famous line of cypress trees lines their kilometer-or-so-long driveway up to their estate. It's one of the most elegant estates I've ever had the pleasure of visiting in all my travels.
They even have a luxury cluster of mini-apartments on-site and a Michelin-star restaurant. The pool overlooks seemingly endless rolling hills completely covered in vineyards and olive trees. You'll pay tooth and nail for your night's stay, but it's arguably one of the nicest hotels on Earth.
Borgo Casa al Vento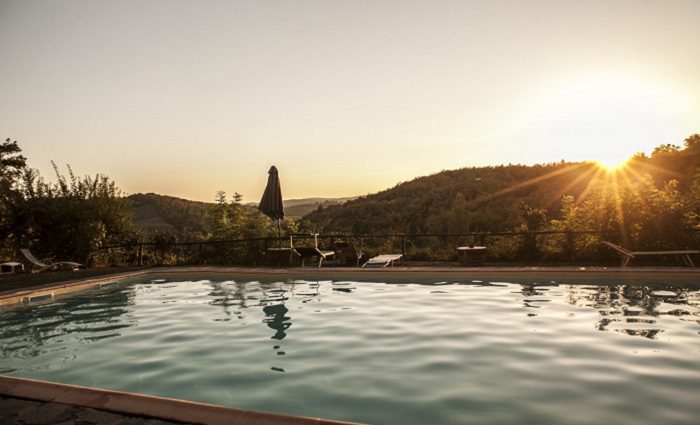 €€ | Chianti | 90 mins From Florence | Great Views | Lots of Activities | Restaurant
Borgo Casa al Vento is more of a retreat than a place to stay. When you go there, you'll likely stay on the estate the entire time. They have lots to do including archery, tennis, a pool, and more. This is a place of indulgence—quite literally, you can have a wine bath!
The structure is a renovated borgo with a very European feeling. It's a great place to spend a few days, especially for families. Your kids can run around while you enjoy the scenery. The rooms are very charming and rustic. Many have fireplaces and there are common areas to build fires and enjoy a Tuscan evening.
The on-site restaurant is dedicated to the "rediscovery of taste," so you can expect delicious Chianti cuisine made with local ingredients including their Sangiovese wine.
Le Chiuse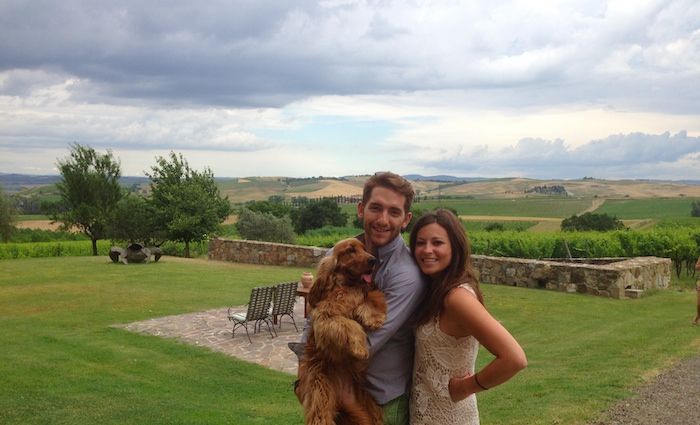 € | Montalcino Countryside | Winery With Long History | Rustic Apartments | Pool
Le Chiuse is one of my favorite vineyards in all of Montalcino. The estate is quaint and rustic. You can rent an apartment for around €100 per night and pay in cash upon arrival. The apartments mostly have two bedrooms, but you can see the details on their website.
If you want to warm up by the fire in a rustic apartment with scenic views on a secluded estate this location is perfect. You will need a rental car to get here. It's great for serious wine connoisseurs and minimalists who want to dedicate as much of their budget towards wine purchases as possible. The tasting room is one to be reckoned with and the structure is family run.
Not ready to book a tour? Check out our Tuscany guide for more info.
Villa Medicea di Lilliano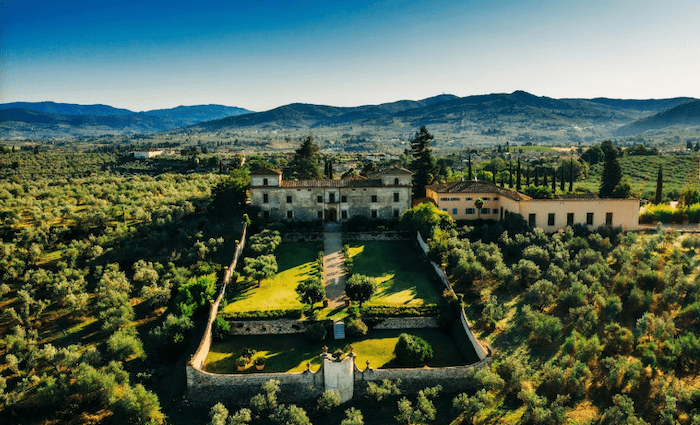 €€ | Tuscany | 25 mins From Florence | Incredible Estate | Cooking Classes
Set in the Chianti countryside just outside Florence, this property is incredibly cool to visit and a treat for all. It's the perfect place to stay if you want to visit Florence for an afternoon or two but stay in the countryside. It's close enough to Florence to reach by taxi, making it an excellent choice for anyone who wants the Tuscany countryside vibe without renting a car.
The accommodation will feel like a luxurious home away from home with elegant homey touches throughout. As a favorite destination wedding venue, you know this place is stunning. They also have fun cooking classes! For wine lovers, this wine estate and the family who run it have a long history. This is the place to enjoy a bit of the Tuscan lifestyle.
Casanova di Neri Relias Hotel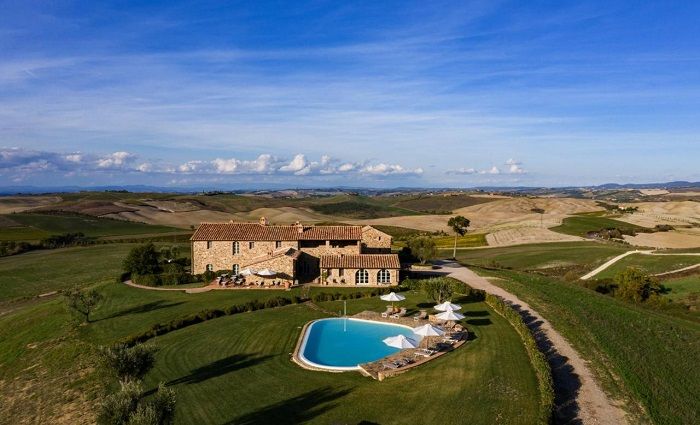 €€€ | Montalcino Countryside | Top Wine Producer | Pool | Spa
Casanova di Neri is one of Montalcino's premier wine producers and one of my personal favorites. If there's an epic year for Montalcino, this producer will normally receive some "best of the best" awards from the main wine critics. Producing great wine is a science and an art at the same time and their vineyard reflects that.
The property sits in the valley below the city of Montalcino and is perfectly curated in all its beauty. They have multiple large structures including a castle-like hotel, an enoteca for wine tastings, and all the equipment needed to make great wine.
The rooms are minimally decorated and elegant. There's a pool on-site with views to die for and plenty of space to relax. You will need a car to get here, but that's part of why it's a dreamy vineyard.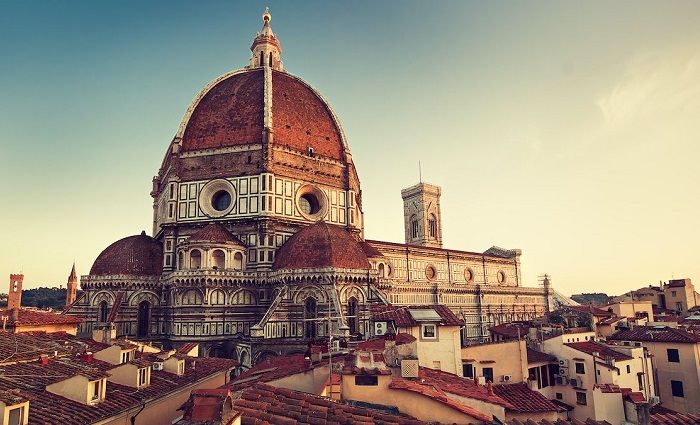 Find the best places to stay
Where To Stay in Florence
Florence has a small historical center packed with iconic landmarks to explore. Plan where to stay in the best neighborhoods in this beautiful city.