Heading to Florence but not sure where to stay? You should consider staying in the countryside right outside the city. Florence is small, which makes it easy to get in and out of. You can easily stay in the countryside and commute in for a day or two to sightsee. Here are a few excellent recommendations!
---
Pro Tip: Planning to visit the wine regions of Tuscany? Bookmark this post in your browser so you can easily find it when you need it. Check out our guide to Tuscany for more planning resources, our best Florence and Tuscany tours for a memorable trip, and how to plan a day of wine tasting in Tuscany.
Countryside and Vineyard Accommodation Just Outside Florence
Florence is the home to the Uffizi Gallery, Accademia (Michelangelo's David), and many other attractions. The surrounding region, Tuscany, is home to some of the world's best wines and views which is why many people dream of a visit. While I love Florence, I think it is an excellent idea to combine the two by staying just outside Florence in the hills of Tuscany!
What is an Agriturismo? An agriturismo is sort of a countryside bed and breakfast in Italy. They can range from cheap to luxurious but the vast majority are of great value. It is also one of the best ways to support the local community instead of hotel chains while getting the most authentic experience possible.
What is a Borgo? A borgo is a sort of medieval village or hamlet that is built together. Think medieval condos joined together by a town square with a well. When they are cleaned up they are really cool. It couldn't get any more Italian than a borgo.
Drive Time – The drive time below is calculated to "Piazzale Michelangelo" which is on the very edge of Florence but still technically in the center. Add on another 10 minutes and you'll be at Ponte Vecchio (the very center).
Not ready to book a tour? Check out our Tuscany guide for more info.
Il Salviatino Firenze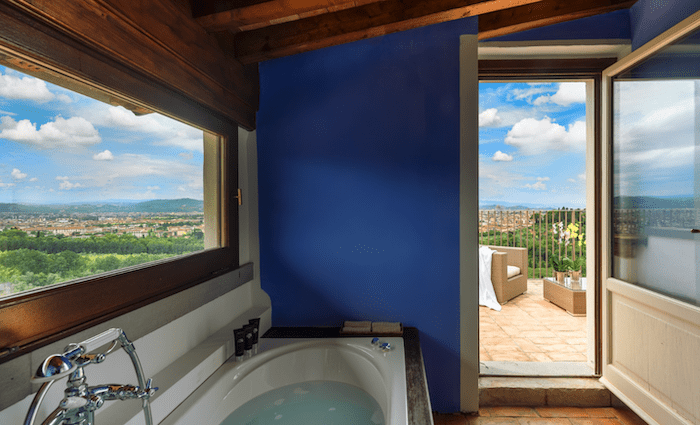 €€€€ | Luxury and Epic | 5 mins to Florence
If you were wondering which hotel on this list is the featured image above, this is it. Calling il Salviatino a very nice hotel is an understatement. This hotel will cost more per day than some people's entire vacation but if you want to know what it is like to be royalty then stay here.
There really isn't much more you can say about the place. It is Medicean in every sense of the word which can understood the moment you arrive.
Fonte de' Medici at Tignanello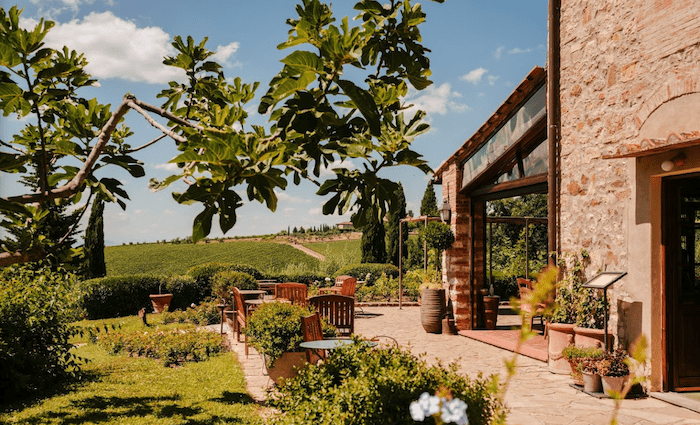 €-€€ | Tignanello/Chianti Classico | 31 mins to Florence | Agriturismo/Borgo
If you are into Italian wines you may have heard of Tignanello. It is what is referred to as a Super-Tuscan wine produced by a single vineyard, Villa Antinori, on a single estate, Tenuta Tignanello. Why is it so important? You'll have o taste it to find out.
Just on the edge of the estate is a privately owned property known as Fonte de' Medici which is a sort of Borgo. A Borgo was a small town in Tuscany that basically lived in the same house working the same land. This hotel is built out of a Borgo, not uncommon for the area, and has a beautiful town square, chapel, and other more "hotel-like" amenities like a swimming pool and tennis courts.
It is a perfect spot for lovers of Tignanello or lovers of wine country alike! They also have cooking classes which can be very fun.
Medici Villa di Lilliano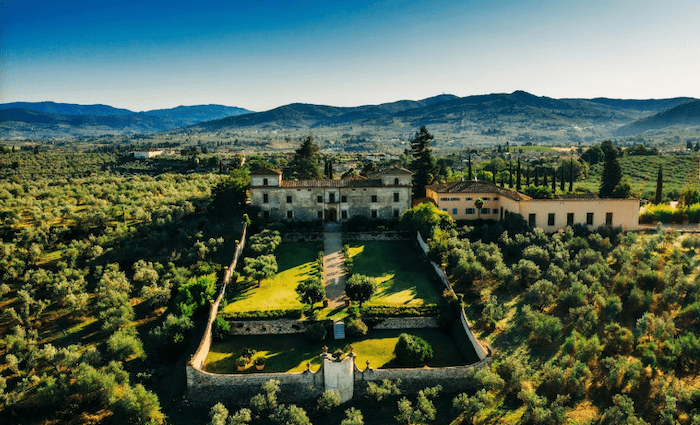 €€ | 25 mins to Florence | Incredible Estate
This property is incredibly cool to visit and a treat for all. It is right outside Florence which makes it the perfect place for someone who wants to visit Florence for an afternoon or two but stay in the countryside. They also have cooking classes which are fun and personal.
It is great for people who want to rent a car but also a good choice for those who don't feel comfortable doing so. It is close enough to Florence to reach by taxi which makes it an excellent choice.
Fattoria di Maiano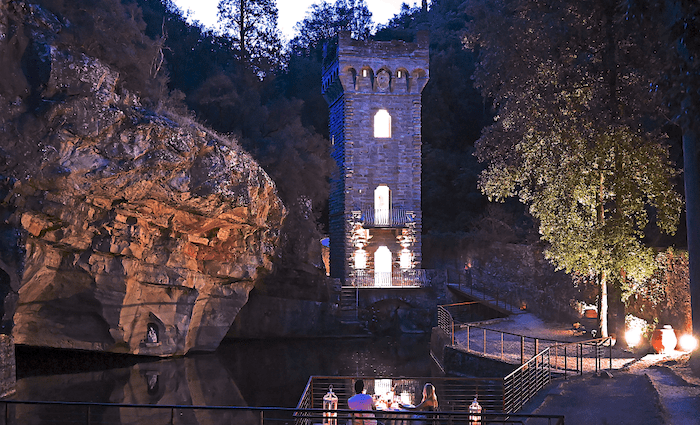 €€ – €€€ | 15 mins to Florence | Hiking and Farm Activities | Agriturismo/Borgo
This is a really special place and my number one choice for families. It is a massive property with tons of activities and things to explore. It is a full borgo with an amazing pools with really cool views of vineyards and olive groves.
They have farm activities and animals for children to pet and feed. There is mountain biking, rowboats, a botanical garden and more. If you live in Europe and looking for a getaway this place is perfect for a very long weekend. If you are traveling from further away with young children it is also an excellent way to make your stay more pleasant for your kids.
Art Hotel Villa Agape
€€ | 2 mins to Florence | Classic Villa
This property is actually just over the hill from Florence which makes it a very reasonable choice for people who want to have at least one dinner in Florence. It is a well manicured estate that will transport you back to the 17th century. Rooms are comfortable and prices are most reasonable in the spring and fall.
The property is 15 mins from the center of Florence and 2 minutes from the famous viewpoint Piazzale Michelangelo by car.
Borgo Bottaia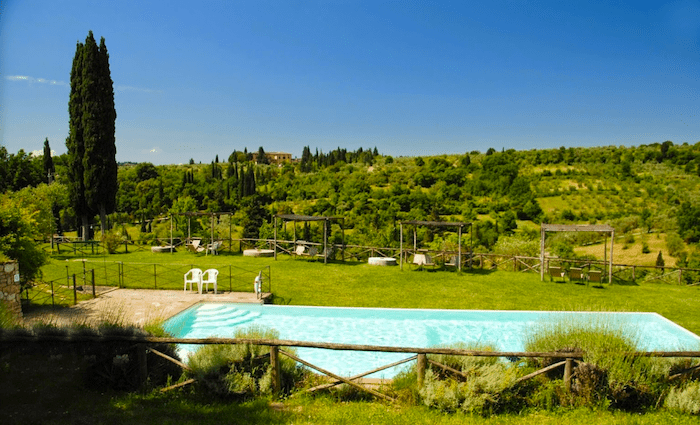 €€ | Tuscany | 16 mins to Florence | Agriturismo/Borgo
This is an unassuming and inexpensive Agriturismo that has low prices and amazing views. A great budget option that still features many comforts and views you likely don't have at home.