Planning a trip to Florence and not sure where to stay? We want to help by explaining which neighborhoods are the best and which hotels to consider. We've layed it all out as simply as possible so you don't have to overthink anything. Enjoy!
---
Pro Tip: People normally don't book everything the same day they start doing research. If you do that's great but consider bookmarking this article in your internet browser so you can circle back to it when you are getting ready to confirm hotels. Also, once you have accommodation booked consider our guided tours in Florence. Florence is so much more memorable when a local licensed guide is telling you what you are looking at and all the back-stories that go with it.
The Best Neighborhoods in Florence for Travelers in 2021
Florence, compared to cities like Rome, Paris, Barcelona, has a small historical center. That alone makes planning much easier since you shouldn't be too nervous about staying in the "wrong side of town". As a rule of thumb, if you are within 15 minutes walking distance of Ponte Vecchio you are in good position.
That said, nothing beats the perfect location and we built this article to help everyone find their version of "perfect". We've done our best to describe each neighborhood so you can choose the one that matches your travel style. We want to make planning as easy as possible so we've added hotel and restaurant recommendations too!
Santa Croce Neighorhood
For Foodies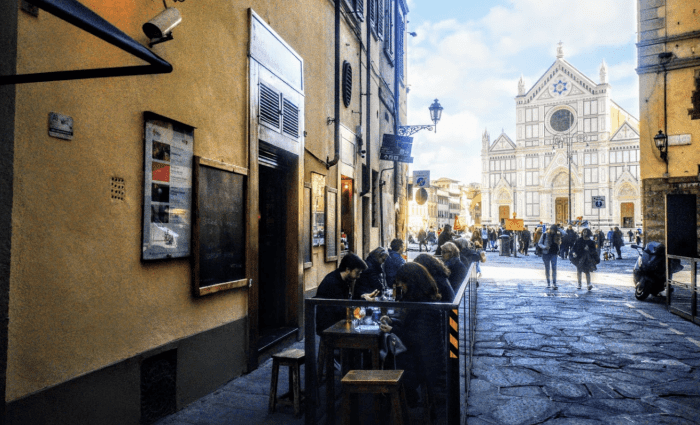 The Santa Croce neighborhood in Florence is named after the minor Basilica of Santa Croce. The area is the burial ground to famous historical figures of the renaissance and pre-renaissance eras such as Michelangelo and Galileo but also has funeral monuments dedicated to many of Florence greats.
Why I love Santa Croce:
Home of the famous Sant'Ambrogio market.
Excellent food scene including some of the best restaurants in Florence.
Borders the main touristic areas but has a less-crowded feel.
Walking distance from all of Florence's main museums and attractions.
Attractions in Santa Croce:
Basilica of Santa Croce
Sant'Ambrogio Market
Great Hotels in Santa Croce:
Santa Maria Novella Neighborhood
Fancy Shmancy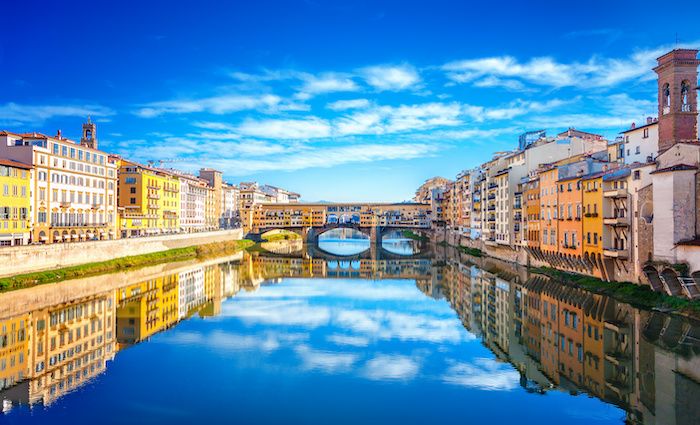 Santa Maria Novella is a large neighborhood along the Arno river. When I write about this neighborhood, I am referring to the area from Ponte Vecchio to Ponte Amerigo Vespucci to Via della Scala. It is a small section of the neighborhood that is super posh and relaxing.
It is right next to all of Florence's attractions but surprisingly calm and relaxing. This is the reason why it is my neighborhood of choice for a romantic stay in Florence.
Why I love Santa Maria Novella:
It has beautifully paved wide streets that give it a cleaner and more relaxing feel.
Fancy restaurants and rooftop bars that I really enjoy.
Close proximity to all the attractions
Attractions in Santa Maria Novella
The Basilica of Santa Maria Novella
Ponte Vecchio
Great Hotels in Santa Maria Novella:
---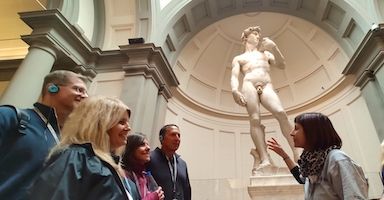 Best Selling Tour
Florence Walking Tour with Statue of David
Michelangelo is considered the greatest Renaissance artist and the David statue is widely known as his masterpiece. Join our English speaking guide as you skip the line to Accademia and see David. Then venture out to see the center of Florence including the Duomo (outside), Baptistry Doors, Leather Market, and more. Admissions included.





See Prices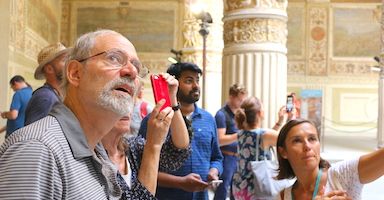 Top Rated Tour
Skip the line Uffizi Gallery Tour
The Uffizi Gallery is the most visited museum in Florence for good reason. Join our English speaking licensed Uffizi guide for a journey through the Medician Renaissance. Learn all the stories behind the very art that brought our world out of the darkness. All admissions included.





See Prices
Santo Spirito & Oltarno Neighborhood
Bohemians, Foodies Lovers of Nightlife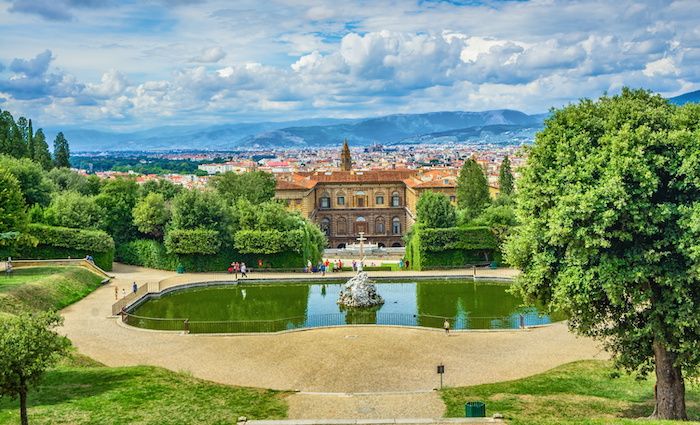 The Medici chose Santo Spirito as their area of choice so who are we to question? Santo Spirito is across the Arno river which makes it perfect for contrarians who like to escape a bit. There are great restaurants in Santo Spirito and access to Florence's famed Piazzale Michelangelo for great views. All these reasons are why SS is our top neighborhood choice when visiting Florence.
Why I love San Spirito & Oltarno:
The Arno river separates it from the main attractions which give SS a more local feel.
One of the best, if not the best, food scenes in Florence.
Close proximity to Piazzale Michelangelo to watch sunsets.
Attractions in San Spirito & Oltarno:
Pitti Palace (Medici Palace)
Boboli Gardens
Basilica di Santo Spirito
Giardino di Palazzo Frescobaldi
Ponte Vecchio (Shared with S.M. Novella)
Great Hotels in San Spirito & Oltarno:
Florence Cathedral/Duomo Neighborhood
Center of Everything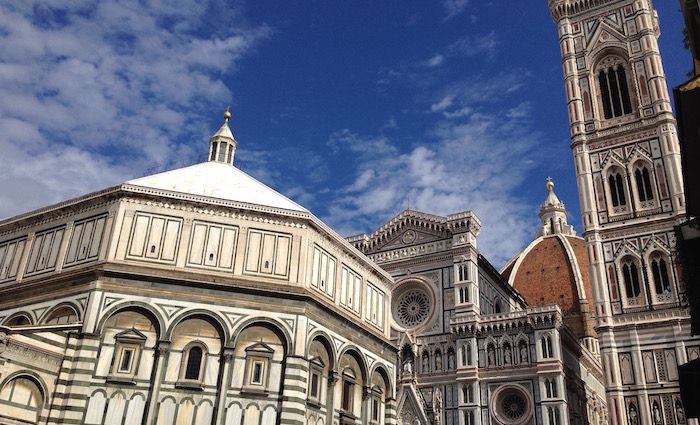 The Florence Cathedral, aka il Duomo, is without argument the center of Florence. The Medici would probably say something romantic like the Cathedral is the beating heart of the city and they would be correct to say it.
It is a wonderful, if not the most wonderful area of Florence but normally I tend to avoid it in terms of accommodation. That said, Florence is small and this area gives you access too all of Florence's best neighborhoods so I still recommend it if you can find good accommodation. Luckily, we have that too!
Why I love the Duomo area:
It is the center of everything in Florence.
Walking distance from all of Florence's attractions.
Close proximity to other neighborhoods so you can see them all!
Check out our top restaurant choices near the Florence Cathedral.
Attractions near the Duomo:
Basically everything
The Florence Cathedral / Il Duomo
Giotto's Bell Tower
The Baptistery of St. John (Bronze Doors)
Accademia (Michelangelo's David)
Uffizi Gallery
Palazzo Vecchio
Piazza Signoria
Loggia dei Lanzi
The House of Dante
Piazza della Republica
Tons more
Great Hotels near the Duomo: