Planning a trip to the Amalfi Coast but not sure where to stay? You're not alone. The cliff-side towns are among the most enchanting on Earth but picking the wrong hotel can mean a lengthy hike to the beach a few times per day. Our local experts describe each town and what makes them unique as well as provide the best hotels at every budget.
---
Pro Tip: Bookmark this post in an Italy or Amalfi Coast folder so you can circle back to it while you plan. Our blog/online guide provides tons of useful information to make planning a trip to Europe easier. Therefore the easier it is to plan the more people come to Europe and the more people come to Europe the more tours we'll sell. It is in our best interest to help as much as we can! Check out some other great articles here for your trip:
Where to Stay on the Amalfi Coast: The Best Towns & Hotels
The Amalfi Coast is a series of cliff-side towns south of Naples and is considered to be one of the most beautiful destinations in the world. As a result, the same feature that makes them so beautiful, massive mountains alongside the sea, is also the reason why it is so difficult to choose a hotel. Similarly, on a map, two hotels could look like they are right next to each other, and in reality, you have to walk over half a mile or a kilometer from one hotel to another.
Moreover, the mountainside on which the Amalfi Coast exists is very steep. For example, the exact situation described above happened to me on my first trip to the coast. I had some friends staying in a hotel nearby but had to walk 10 minutes to get to them because of the switchback roads that bring you up and down the mountain. Therefore, if this article existed on my first trip down there I would be a lot better off but at least you can learn from my mistakes!
Capri & Anacapri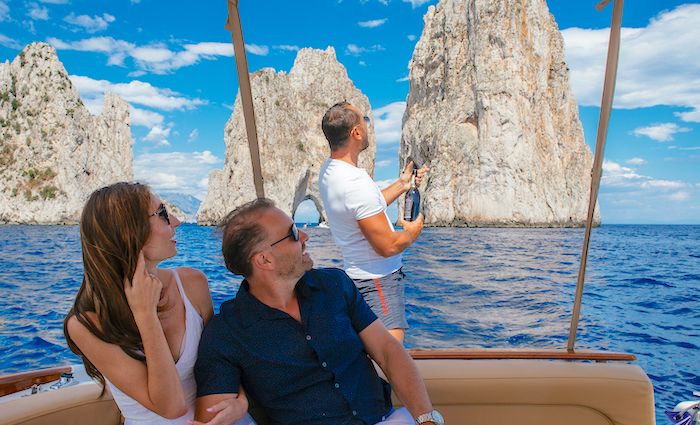 The Most Exclusive
The island of Capri is easily the most exclusive island in Italy and one of the most exclusive destinations in the world. Capri does not have an airport, therefore there are only two ways to reach the island; by boat and by helicopter. Moreover, the lack of accessibility coupled with the natural beauty of the island of Capri is why it is so desired and exclusive.
Capri or Anacapri?
Capri is also a very small island. So small that some parts can be crossed by foot in less than 30 minutes. The island is divided into two areas; Capri and Anacapri. Capri is a village that spans the width of the island's core from Marina Grande to Marina Piccola. Anacapri is a small town on the island's most elevated point. There are no beaches but the beautiful unobstructed attracts visitors seeking exclusivity from around the world.
There are really no "wrong" parts of Capri therefore you can pick a place to stay with the peace of mind that you are going to one of the world's most beautiful destinations. That said, our advice will ensure you can plan the best vacation possible. When is the next time you'll come to a place like this?
Why I love Capri:
The island is almost entirely pedestrian
It is hard to reach which means it's exclusive and less crowded.
The views are unmatched
Tons of really cool beach-side restaurants (i live for beachside boozy-lunches)
You'll likely run into lots of fun people that speak English.
Attractions near Capri:
Blue Grottoes
Villa Jovis (Tiberius' Villa)
Villa San Michele
Punta Carena Lighthouse
Anacapri
Arco Naturale
Best Hotels in Capri:
Best Hotels in Anacapri:
Positano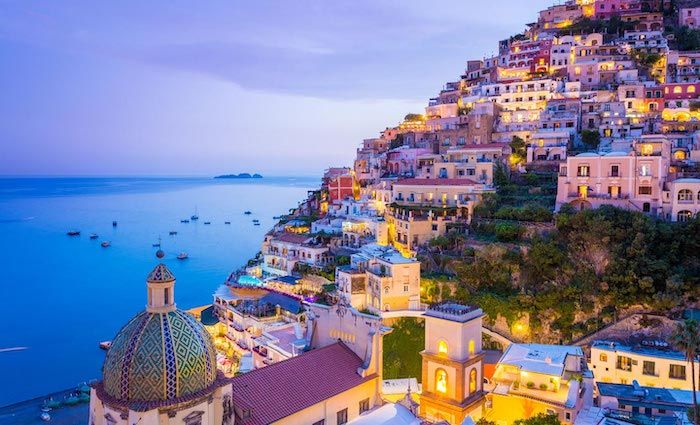 Most Popular Amalfi Coast Town
Firstly, Positano is the town along the Amalfi Coast that everyone thinks of when you say, "the Amalfi Coast." As a result, Positano has earned that stigma for good reason. For example, it has an expansive beach, lots of activities, cool restaurants and lots of things to do.
However, that popularity comes with a price. A B&B could easily run you $300+ per night so it is up to you. Therefore stay in a popular destination like Positano or Capri where all the action is or scroll down to Maiori and pay half the price with half the people.
Why I love Positano:
Positano has a great beach and views due to it being on a mountainside
Restaurants along the beach have tons of outdoor seating for lunch or dinner which is ideal for a beach vacation.
The town is clean and well kept making it delightful to walk around.
You'll likely run into lots of fun people that speak English.
Attractions near Positano:
Da Adolfo Resturant and Beach Club
Church of Santa Maria Assunta
Arienzo Beach Club
Positano Beach (Spiaggia)
Best Hotels in Positano:
Praiano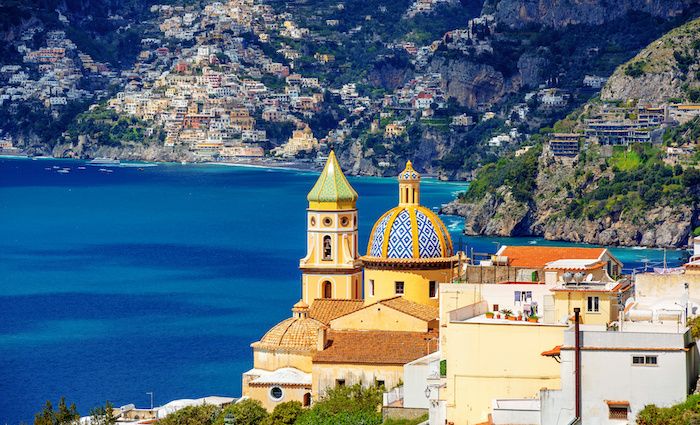 The Best Sunsets
Praiano is more of a sleeping town with a very small downtown. Therefore it is perfect for families or couples who don't want to be caught in the crowds. Moreover, it's one of the flatter towns along the coast which also makes it great for the elderly. Therefore, if I go to the Amalfi Coast it is likely I will stay here or Maiori unless I can afford Capri! Praiano is also home to Casa Angelina which is one of the best-priced luxury hotels along the Amalfi Coast.
Why I love Praiano:
Less Expensive than Positano & Capri
It has arguably the best sunset on the Amalfi Coast
More local feel – less tourists
Centrally located along the coast for explorers
No stairs! The entire city is street level.
Attractions near Praiano:
Church of San Gennaro (Patron Saint of Naples)
Marina di Praia Beach
Fiordo di Furore (Top Amalfi Coast Attractions)
Grotta dello Smeraldo (Beautiful Grotto)
Il Piratta Resturant & Lounge (Super Fun)
Best Hotels in Praiano:
Maiori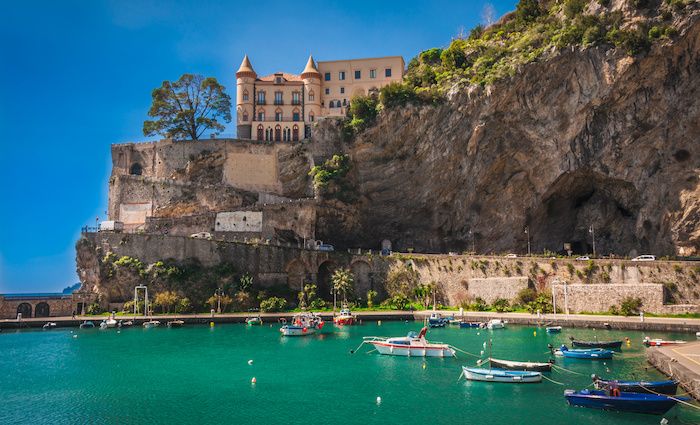 Contrarians Paradise
Above all, Maiori is the Amalfi Coast town for insiders. Therefore, if you have never been to Italy a town like this may be intimidating but if you feel comfortable renting a car, scooter, or getting around using buses it is the perfect destination.
It is far away from international tourism and close to the best beaches in the area. Therefore you'll pay much less for your accommodation and find some seriously authentic food. Consequently, this is a top choice for me and I recommend it to any confident traveler.
Why I love Maiori:
Much less expensive than other cities
Access to Amalfi Coast's best beaches
Very cool medieval feel
lots of great restaurants
Gorgeous rock formations along the coast
Great marina to walk along
Has its own beaches
Attractions near Maiori:
Torre Normanna
Path of the Lemons
Spiaggia Cavallo Morto (Beach)
Spiaggia del Cauco (Beach)
Best Hotels in Maiori:
Sorrento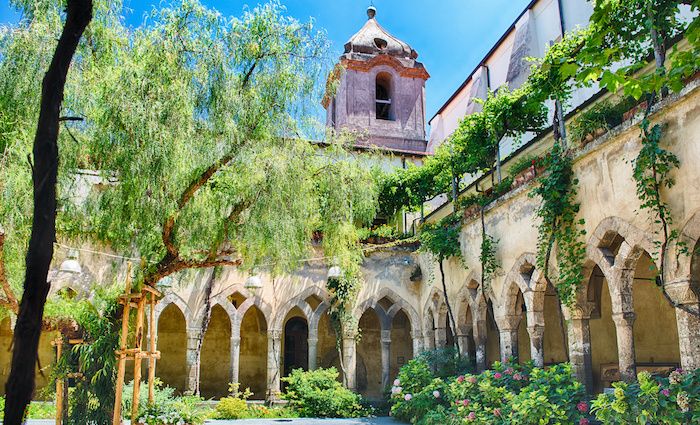 Perfect for the Budget Traveler
Sorrento is not officially part of the Amalfi Coast or Costiera Amalfitana as it is said in Italian. However, it definitely feels and looks like the Amalfi Coast and gets a majority of the tourism traffic. This is mostly because it is the only town on the coast connected to Naples and the rest of Italy by train. As a result, that makes it easy to get to which is great if you want to visit but also brings crowds.
In conclusion, you will not likely see me sleeping in Sorrento but I have to recommend it since it is well connected by train. However, I understand not every traveler wants to rent a car, take a bus or pony up for a long and expensive taxi ride to Praiano. I get it!
Why I love Sorrento:
You can arrive to Sorrento by train.
Lots of hotels, shops, and restaurants.
People are really friendly.
Lots of activities from the port of Sorrento.
Attractions near Sorrento:
Best Hotels in Sorrento:
Ravello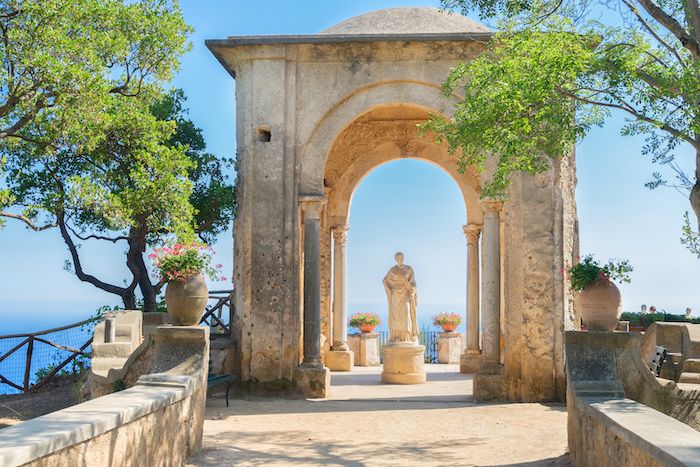 Ravello is a really cool town with some very nice hotels. I honestly would stay here for the day and move on but if you can afford one of the villas it is a nice experience. Furthermore, if you are comfortable renting a car it is a very great choice to move around the coast. Ravello also has some of the best hotels on the Amalfi Coast.
Why I love Ravello:
Less tourist foot traffic
Tons of gorgeous villas and hotels
Possibly the best views on the coast.
No Stairs!
This town does not have its own beach which forces you to explore
Attractions near Ravello:
Villa Cimbrone & Terrazza dell'Infinito
Villa Rufolo
Best Hotels in Ravello:
Amalfi Town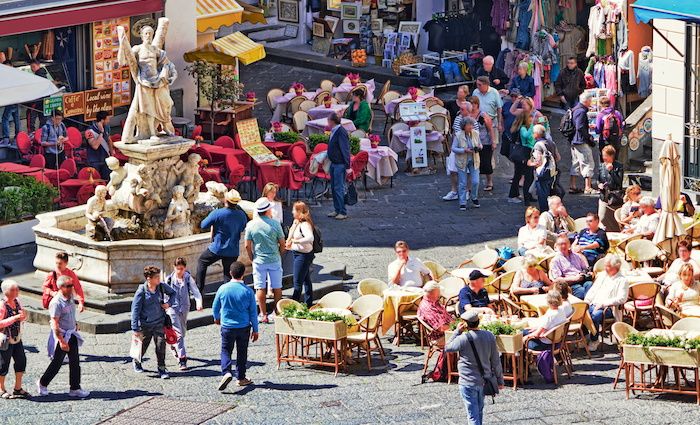 Firstly, many people don't know that Amalfi is actually the name of a town as well. It is situated along the beach area and doesn't have many stairs except to see the Cathedral which is beautiful. Above all, this little town is highly popular with tourists so expect it to be quite crowded.
Why I love Amalfi:
Great Views
Lots of great restaurants
Attractions near Amalfi:
Amalfi Cathedral
Piazza Duomo
Cloister del Paradiso
Torre del Ziro
Lido Delle Sirene (small beach with cool rock formations – very unique)
Best Hotels in Amalfi:
For more on the Amalfi Coast visit our guide to the Amalfi Coast which links to tons of useful content.