"Wall Street" is an iconic street name not only limited to the realm of business and finance. It has great historical significance attached to it and is one of the most compelling parts of New York City, located within its Financial District. Recognized as a core component of the international financial system, Wall Street is home to a myriad of banks, firms, and most notably the New York Stock Exchange (NYSE). Here's our guide to this iconic part of New York's identity!
You may be wondering where the name derives from. Interestingly enough "Wall Street" was named after a wall that was built in New York during the 17th century as a form of protection from outsiders, as it was still a Dutch Colony. 
If you want to learn more about the intriguing history and important global status of this New York City region, then consider planning a trip and keep reading to learn about some of the best tips that'll ensure a simple preparation process! 
When to Visit
You've decided that you want to visit New York's Financial District, so one of the first steps when it comes to setting that plan into motion is deciding when to visit! New York is always bustling and exciting to explore, after all, it holds the title of "The City That Never Sleeps". 
If you're interested in visiting while it's warm out then travelling between the months of May and August is best, however, if you're more interested in catching a glimpse of the seasonal and holiday flair then September-January is fitting for you (as long as you have enough winter attire).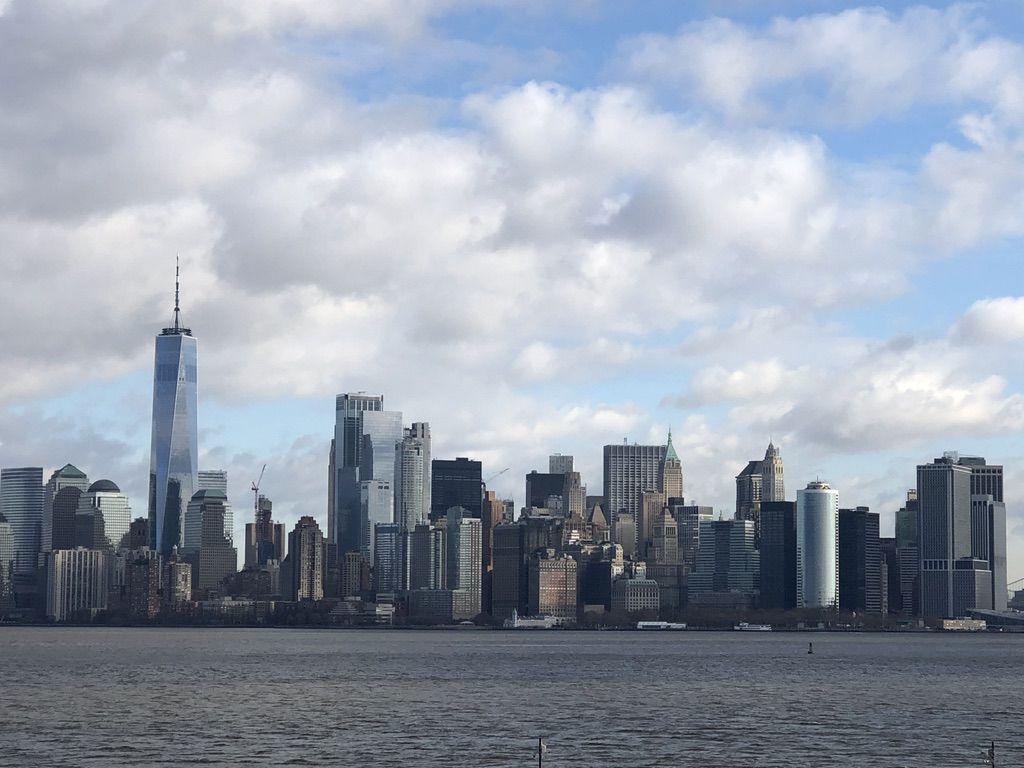 When it comes to specifically seeing Wall Street and The Financial District, it's important to note that the district is most active during the working week between Monday and Friday. The NYSE is closed for business on weekends, therefore if you're interested in observing the bustling atmosphere and  flow of this area while in operation visiting during the week is best. 
However, if you simply want to see the architecture, monuments, and exterior of the businesses residing in the region then the weekends are also a great time to kick off your adventure. 
How to Get There 
There's plenty of transportation options that can be utilized for travel to the Financial District. Located in Lower Manhattan, this region is incredibly accessible by both public and private modes of transportation. If you're considering the public option then plan on purchasing a MetroCard, which will provide you with access to the subway and bus systems at an affordable price point.
 For the subway Lines 2, 3, 4, and 5 can be taken directly to Wall Street from several departure points around the city. The M55, M15, and M22 buses can also be taken to get there. Check the MTA Website for specific route details and options, setting the destination as Wall Street and your relevant departure point. 
Hop-on-hop-off bus tours are another great option, especially if you're visiting other parts of the city during the day. The Financial District is typically one of the main stops on those tours, which can be purchased online from a variety of service companies. 
Private transportation, taxis, and ride sharing services are other available options, however, they aren't the most practical as traffic can be very congested especially around Wall Street & The Financial District. If you choose to use one of these methods, just keep in mind that your arrival time may be longer. 
Top Sites & Essential Tips
Charging Bull 
The Charging Bull is a popular symbol associated with Wall Street and the United State's Stock Market. Often referred to as "the Wall Street Bull", it was designed by artist Arturo Di Modica in 1989 as an artistic response to the 1987 stock market crash.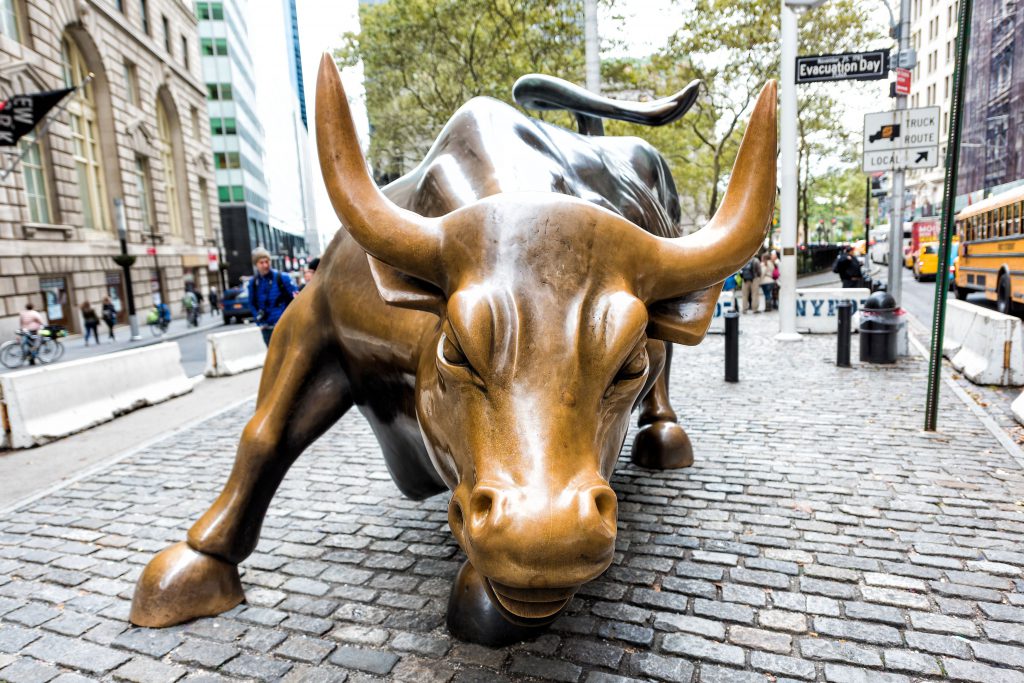 Located in Bowling Green, this bronzed monument attracts large numbers of New York City visitors and it's standard tradition to take a picture by the bull. Expect a crowd in the area, as other tourists have the same idea in mind. The Charging Bull is a must see site along your journey through the Financial District. 
One World Trade Center
The tallest building in the United States and the seventh tallest in the World, One World Trade Center was rebuilt after the original World Trade Center and can be found at 285 Fulton Street. Admiring this 1,792 ft architectural marvel is essential not only for it's amazing exterior but also for its significance to New York City and the global prominence that it maintains. 
The One World Observatory located atop the building is one of it's highlights and a main tourist attraction. If you're interested in getting a look inside at the businesses, restaurants, and informational guides including an astounding view of the city, then purchasing tickets in advance is a great idea. You'll be able to tell people you stood atop the tallest skyscraper in the nation – not much can top that! 
"This tower stands as proof, despite all the troubles and evil in the world, it is proof of what human beings are capable of. " – Kai Ryssdal, NYC Writer
9/11 Memorial & Museum
Visiting the 9/11 Memorial is an insightful experience, allowing visitors to pay their respects to those impacted by the tragedy while also learning more about the history and amazing people that contributed their help and services. 
The museum can be found near the memorial and tickets can be purchased online for entry, which is recommended as it contains several informative exhibits that emphasize the strength and resilience of the city even through devastating times. 
"When you go down to the Financial District, you get the sense of why NYC is considered the center of so much, because so much happens here" – Kelsea Weinstein, NYC Local
The New York Stock Exchange (NYSE)
The New York Stock Exchange is globally recognized as the largest stock exchange. Stopping by this prominent building is a necessity while exploring FiDi as it's one of the major highlights and focal points of this district. Although entry is no longer permitted for visitors you can still obtain a great view of the outside of the building and the surrounding environment.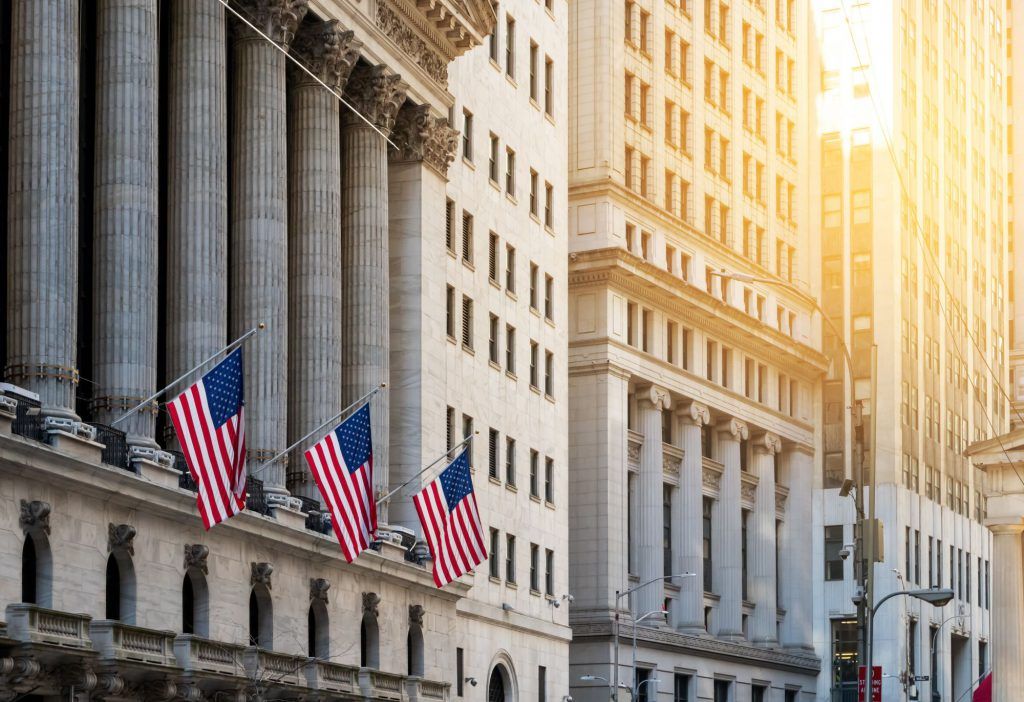 Other alternatives include virtual tours provided by various sites online. Whether or not you choose to partake in a virtual tour, seeing the building whose operations are at the core of global finance is impressive, nonetheless. 
Federal Hall National Memorial 
Originally constructed in 1703, where the Federal Hall National Memorial stands today was once New York's first City Hall. Now this national memorial is open to the public and includes a small yet very informational museum – with free entry! 
Residing at 26 Wall Street, the memorial provides visitors with an exciting opportunity to expand their knowledge of some of the nation's most significant history. Did you know that the nation's first president, George Washington was inaugurated there in 1789? Find out more interesting facts about the site's current and historical relevance when you visit. 
Trinity Church
Trinity Church is widely known for its architectural beauty and deep historical ties to the city. Currently home to an Episcopal Parish, this gem can be found at the corner of Wall and Broad Street and is open to the public. Upon entry you'll be captivated by the grand architecture and beautiful stained glass that has remained there for more than 200 years.
 Keep in mind that you have to maintain respectful quietness when visiting as active services may be going on. You can check the website to determine when the most suitable time for visitation and tours are. 
And that's our guide to the Financial District. If you're planning your next trip to the Big Apple, we highly recommend our tours of the Statue of Liberty and the Metropolitan Museum of Art. We'll see you there!