The San Marco neighborhood is the very heart of Venice. The most beautiful monuments and the best architecture are situated and concentrated around the famous square and basilica who bear the same name. No wonder that many people from all over the world stream into its alleyways every year. San Marco is also the area, where people come for the best restaurants, to enjoy world-class meals altogether with the most romantic views.
---
Hey, we sell tours too!
While the information we provide for you is free, we also sell tours at very reasonable prices. You can see the best of Venice on our awesome Venice tours. Explore the magic of the Floating City with a professional guide who knows the city backward and forward. If after reading this, you still can't decide where to eat, check out our Venice Food Tour.
Tuttinpiedi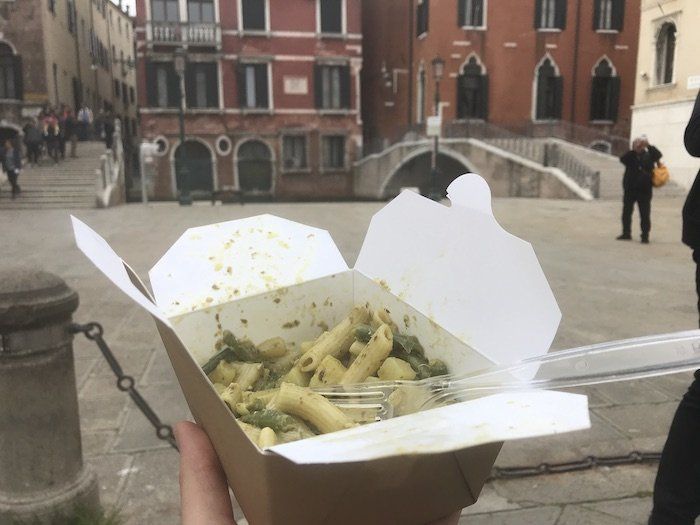 This is a street food place of the finest and is loved by the locals, too. The place is very small, in fact, "Tutti in piedi" translates to "everybody on foot". If you are lucky, you will find some of the five seats free and can enjoy their delicious pasta, cold antipasti, and simple meat dishes at the place. If not, choose the takeaway option. Located only 2 minutes from Saint Mark's square, it is perfect for a hearty snack without renouncing to quality at all.
Address: Sotoportego del Cavalletto, 1099a | Tel: +39 041 241 0279 | Hours: 12 PM – 4 PM & 6 PM – 9:30 PM | €
Rossopomodoro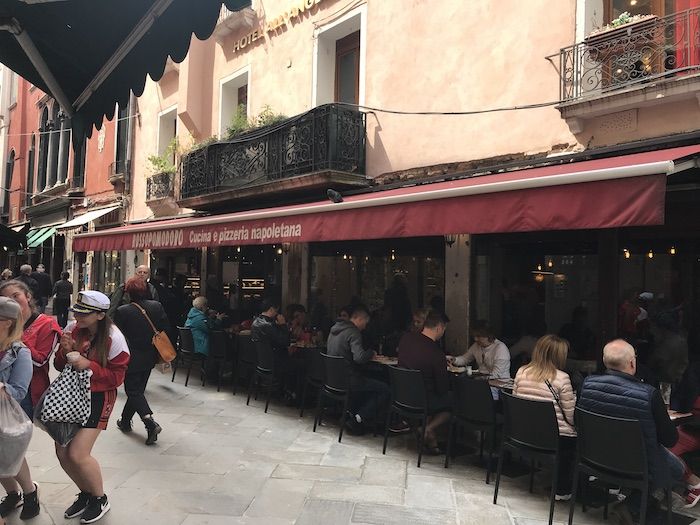 Enjoy easy lunch and dinner in this very spacious Neapolitan restaurant, distanced just two minutes from St. Mark's Square. The atmosphere is relaxed and casual: perfect for families. The menu offers a big variety of Italian classics from Lasagna to Pizza, as well as original Neapolitan Pizza. The chefs offer gluten-free pizza and other special dietary options. You can find another, smaller branch of this restaurant in the central train station.
Address: Calle Larga, 404 | Tel: +39 041 243 8949 | Hours: 11:30 AM – 11:30 PM | €€
Cantina Canaletto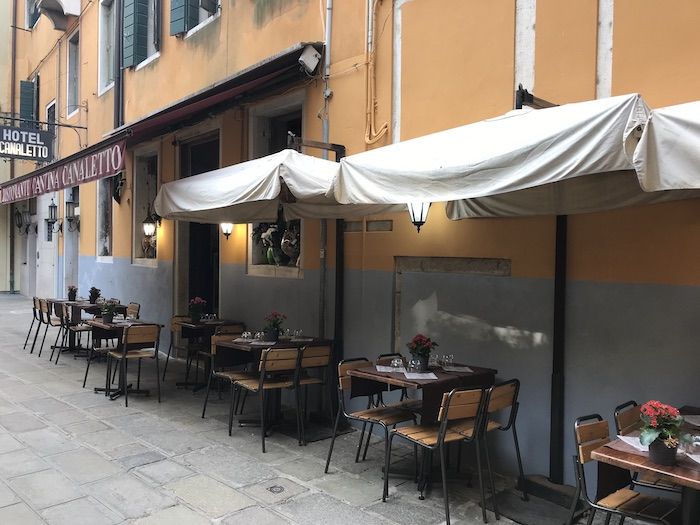 A streetside restaurant a 4 minutes walk from Saint Mark's square, is in fact located in the neighborhood of Castello. This place is a true gem, offering simple but highly qualitative dishes from all of the 20 regions in Italy, for a reasonable price. Their à la carte menu lists refreshing antipasti, main course pasta dishes, vegetarian options, second-course meat and fish dishes, and creamy desserts. In addition, a few pizzas are available too. Relax and enjoy their food outside on their streetside terrace or indoors next to the real brick oven together with a glass of wine, chosen from their wide selection of local and Italian wines.
Address: 5490 Castello | Tel: +39 041 241 1016 | Hours: 10 AM – 10 PM | €€
Antico Martini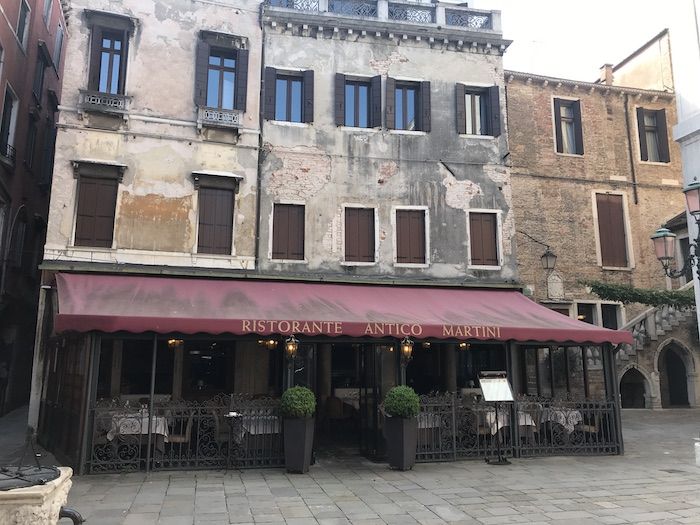 This historic restaurant has been welcoming guests from all over the world since 1720. Enjoy high-class local cuisine on the idyllic Teatro Fenice square, home to the cities most important opera house La Fenice. Specialties in this restaurant include the black truffle pasta and the celery and coriander fish soup. You will get all this, just 5 minutes walk from Saint Mark's square. The unique characteristic of this place is the romantic atmosphere on the piazza while still being sheltered from the sun.
Address: Campo Teatro Fenice, 2007 | Tel: +39 041 522 4121 | Hours: 11:30 AM – 11:30 PM | €€€
La Caravella
Another historic restaurant lies on the busy street of Calle Larga XXII Marzo, right next to fashion boutiques, galleries and cocktail bars. The place might be perfect for a stop after a shopping trip in the affluent area, famous for luxury retail and jewelry. At only 5 minutes walking distance from Saint Mark's square, you find all Italian classics but refined to a next level in this, at first glance, unassuming restaurant. All authentic Venetian and Italian dishes are well prepared and served by professional service. To find this restaurant look out for a wrought iron sign in the shape of a sailing ship.
Address: Calle Larga XXII Marzo, 2399 | Tel: +39 041 520 8901 | Hours: 12 PM – 3 PM & 7 PM – 11 PM| €€€
De Pisis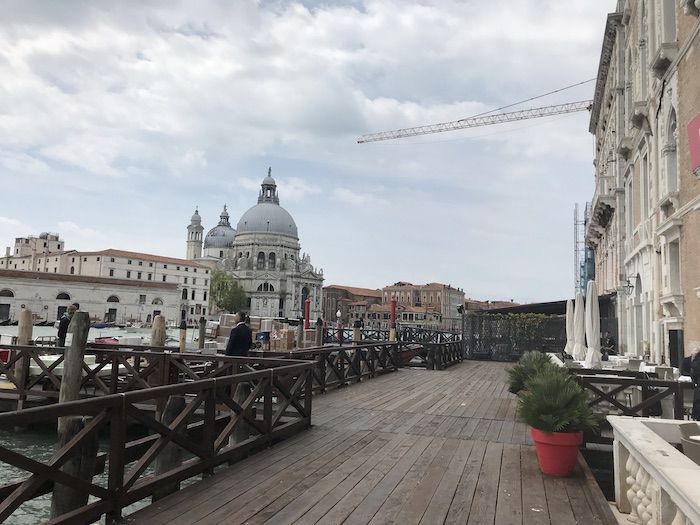 Some people might not want to leave the city without having a meal right on a terrace above the Canal Grande. This place is one of the best for this venture because it offers the best views, both on Punta della Dogana, the place where the sea customs had been charged for decades, and the church Santa Maria Salute, one of the architectural masterpieces of the floating city. The excellent service, the world-class dishes served by very professional service, and the picture-perfect view have its price. A complete lunch or dinner starts at € 150+ per person. Most visitors are willing to pay this price for this gourmet experience, right on the very beginning of Canal Grande, a few minutes from Saint Mark's Square.
Address: S. Marco, 1413/d | Tel: +39 041 240 6889 | Hours: 12 PM – 3PM & 7 PM – 10:30 PM | €€€€
We recommend, especially for the fine dining restaurants near St Mark's Square Venice, making a reservation in advance. If not, you risk waiting hours for your table, especially in peak season and the weekends. Others are convenient to grab a quick bite, in an uncomplicated way. Since you are in Italy, the country where food is celebrated in a way like nowhere else, for many restaurant owners, food is not just food but a very central part of the culture and nowhere else as important as in Italy.
---
I Want More Italy!
If you want us to arrange the entertainment in Venice (and beyond!), contact our Trip Planning Team to coordinate an unforgettable Italian experience.
Check out our YouTube video and step-by-step guide about how to do Venice in a Day. If you'd rather let us guide you, check out our Venice tours.