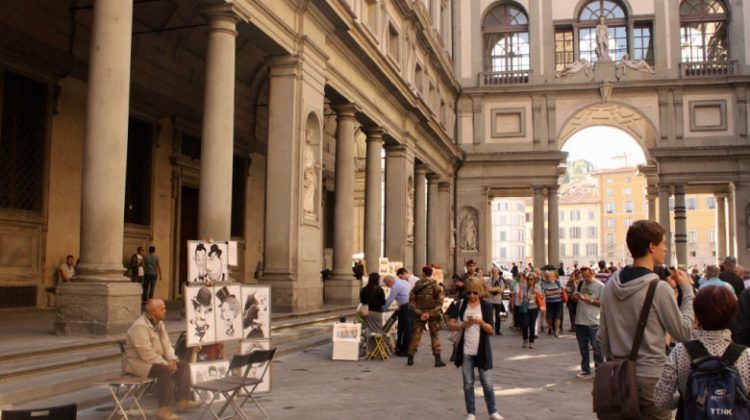 Planning your trip to Florence must include a visit to the worldwide famous Uffizi Gallery Museum. For sure your craving for some art history, Renaissance masterpieces and, last but not least, some delicious Italian food, right? But careful, the Uffizi Gallery might take you a while and once you're out, you'll have earned your price: some Italian plates in typical restaurants close to the museum. Take a look at this blog to discover the best place where to eat!
---
Hey, we sell tours too!
While the information we provide here is free, we also sell tours at reasonable prices. Thinking about including Florence in your travel itinerary? Check out the assortment of available Florence tours, including small group and private Uffizi Gallery tours, Florence walking tours with David and a Florence food tour with steak and wine.
All'Antico Vinaio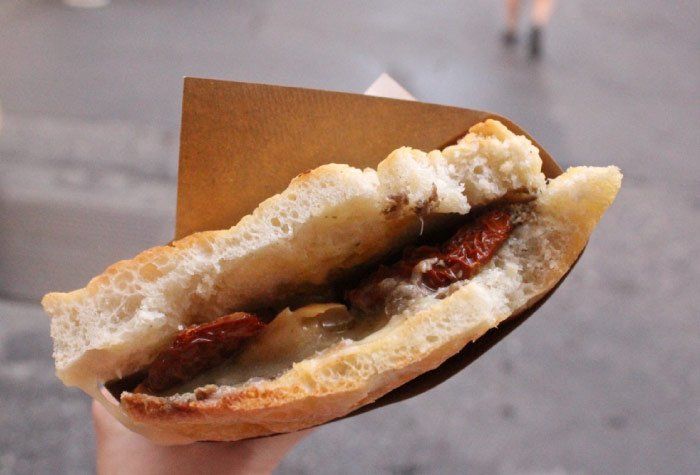 Located 3 minutes away from the Uffizi Gallery, the Italian restaurant All'Antico Vinaio is one of the places you have to try once you've finished with your art journey. You can either opt for a quick schiacciata (typical Florentine pizza) stuffed with all the delicious Italian cheeses and hams at the takeaway restaurant or if you want to sit and relax, try out the adjacent restaurant with the same name. What you will find there is homemade food (from bread to cheese), a very relaxed and funny atmosphere and Italian attitude, take a look and make room in your belly!
Address: Via de' Neri 74 | Tel: +39 055 238 2723 | Hours: 10:30 AM – 11 PM | €
Trattoria Antico Fattore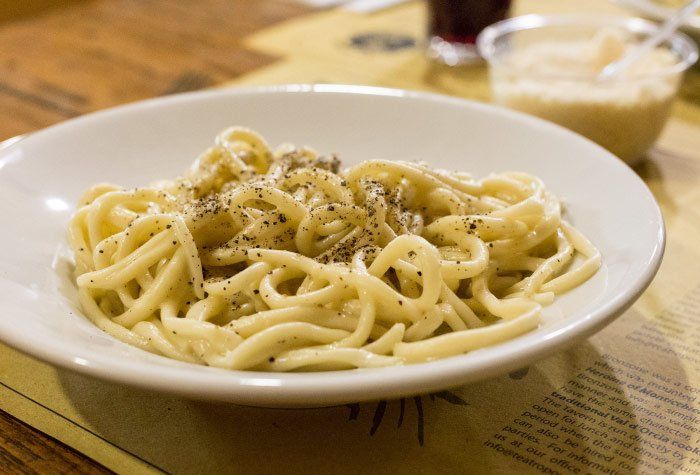 Founded in 1865, Trattoria Antico Fattore was the restaurant chosen by painters, authors, and political figures throughout the centuries. The founder, Giulio, used to sit and have a glass of wine with his guests while discussing and serving them some good food. Today, the family has continued his culinary tradition and the former restaurant atmosphere, that's why there you experience the real Florentine food and architecture. If you want to try some pasta like the typical pici alla buttera or the Florentine ribollita, this is the place to go.
Address: Via Lambertesca, 3 | Tel: +39 055 288975 | Hours: 12 PM – 3 PM, 7 PM – 10:30PM | €€
Osteria Vecchio Vicolo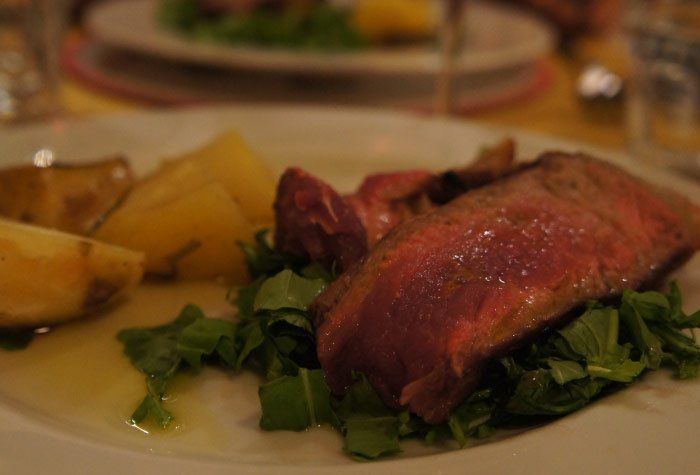 In Italian, Vicolo means a tiny street, like those that you might easily find in Florence. This restaurant aims to recreate exactly that kind of atmosphere, offering its guests the impression of eating outside all together even while they're eating in a restaurant. The Vecchio Vicolo Osteria is located in Via Lambertesca and its menu is fulfilled with Florentine specialties, such as the giant Florentine steak that you have to try! All the staff is lovely and ready to share some Florence history with their guests.
Address: Via Lambertesca, 16 | Tel: +39 055 265 4512 | Hours: 12 PM – 11 PM | €€
Gucci Osteria da Massimo Bottura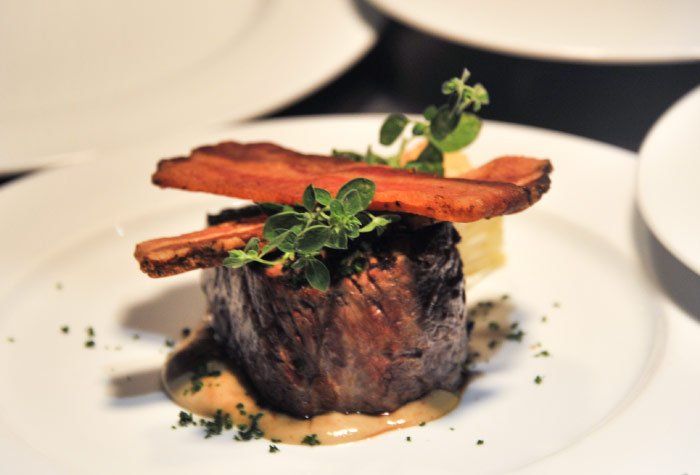 If you are willing to try something more gourmet, but still typical Florentine cuisine, you might find the Gucci Osteria appealing. Yes, because the fashion famous brand has created in Piazza della Signoria its own cafè and restaurant. The chef chosen is Massimo Bottura, the Italian rule breaker chef known for his ideas and, most of all, his genius. Bottura is, in fact, able to change tradition even remaining in it and once there, you will try the best innovative yet traditional food ever! This restaurant is open for lunch and dinner.
Address: Piazza della Signoria, 10 | Tel:+39 055 7592 7038 | Hours: 12:30 PM – 3 PM, 7 PM – 10 PM | €€€
Ristorante dei Frescobaldi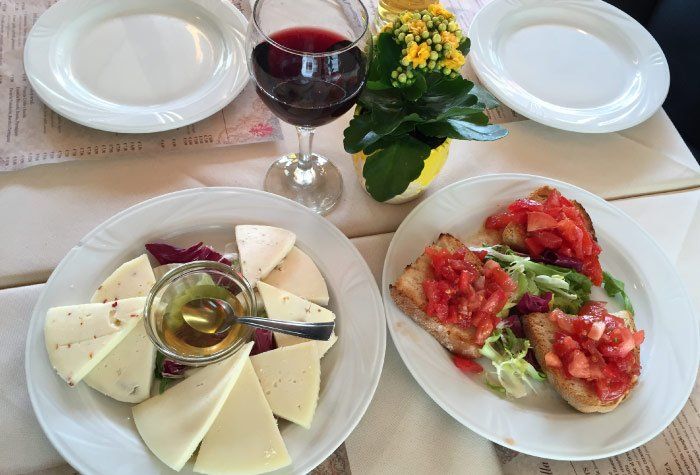 Probably one of the oldest restaurants in Florence, Ristorante dei Frescobaldi is still owned by the Frescobaldi, an ancient aristocratic Florentine family. Their philosophy is simple and it aims to maintain a vivid memory of their ancestor, the Frescobaldi marquis. From starters to wine, everything is made in the respect of the Florentine tradition and products so, you might not be in a better place to try out some Tuscan food.
Address: Piazza della Signoria, 31 | Tel:+39 055 284724 | Hours: 12 PM – 11 PM | €€€
Bottega Renzini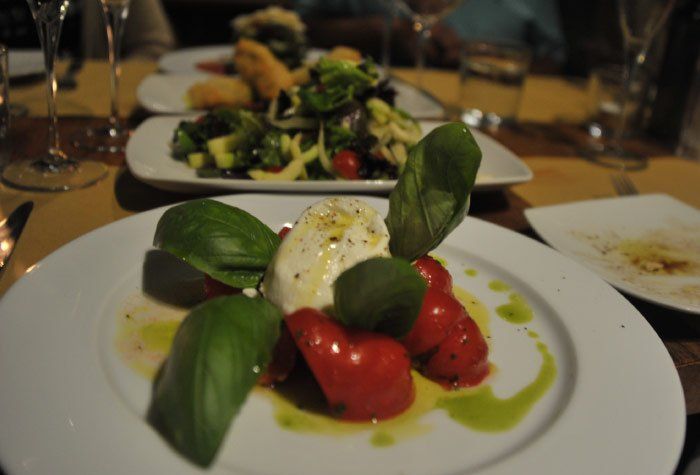 If you are looking for the best products, created and sold respecting the environment, Bottega Renzini is perfect for you. Located just 4 minutes from the Uffizi Museum, this restaurant showcases the best ham, meat, cheese, and wine because served and cooked with a deep love for the customer. The restaurant design is inspired by the typical Italian osterie and that means wood tables and pictures all over the place which contribute to the warm environment. Once there, don't miss the chance to taste the amazing Finocchiona salami, it's definitely worth it!
Address: Via dei Neri, 48 | Tel: +39 055 010 6070 | Hours: 10 AM – 11 PM | €€€
The idea of combining some good food with art masterpieces seems appealing, doesn't it? If you are willing to discover the city even better and come back home with the best memories, you should take a look at all the tours we offer to make this experience unforgettable!
---
I Want More Italy!
If you want us to arrange the entertainment in Florence (and beyond!), contact our Trip Planning Team to coordinate an unforgettable Italian experience.
Check out our YouTube video and step-by-step guide about how to do Florence in a Day. If you'd rather let us guide you, check out our Florence tours.