If you think you head to any old restaurant near the beach in Barcelona, think again! Not all restaurants are created equal. But don't worry, we know just the right places for you to enjoy great food and killer views. Our local expert shares the best restaurants near the beach in Barcelona.
---
Pro Tip: Planning your trip to Barcelona? Bookmark this post in your browser so you can easily find it when you're in the city. See our comprehensive Barcelona Guide for more planning resources, our top Barcelona tours for a memorable trip, and the top things to see in Barcelona.
Top 10 Places To Eat Near the Beach in Barceloneta
The city of Barcelona hugs the coast for about 5 kilometers, giving visitors a long stretch of sandy beach all within easy access from the city.
Whether you choose to eat near the popular Barceloneta Beach or head further north to Platja del Bogatell or Olympic Beach, there are plenty of great options.
Here are the best restaurants near the beach in Barcelona. For foodies who love to travel, check out our Barcelona food tours. They're a fun way to get to know the city, eat delicious authentic food, and meet new people. Buen Provecho!
Not ready to book a tour? Check out our best Barcelona tours to take and why.
Can Fisher
€€ | Seafood and Paella | Beachfront | Platja del Bogatell
If you're soaking up the sun on Platja del Bogatell and get hungry or looking for somewhere to eat that's practically on the beach, this is the spot. You can't beat the crispy calamari or magnificent views of Can Fisher.
Located right next to the beach, it's the perfect setting to enjoy well-prepared seafood dishes and paella in particular. With friendly staff, good food, and refreshing sangria, you're in for a relaxing lunch or dinner.
Address: Av. del Litoral, 64
Gallito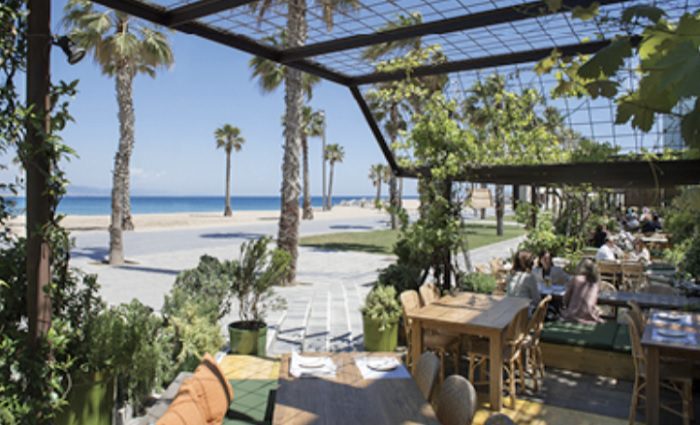 €€ | Tapas | Beachfront Terrace | Platja de Sant Sebastià
Gallito restaurant is a great choice when you're looking for tasty tapas served with a nice creative touch. They specialize in good vibes and you'll definitely feel them as you enjoy a great selection of Spanish snacks.
Right next to the famous Hotel Vela and a short walk from the silky sand of Barceloneta Beach, you can easily find Gallito at the end of the promenade overlooking Platja de Sant Sebastià.
Try the lovely fresh fish ceviche served creatively with a lightly fried corn tortilla. Gallito serves amazing paellas in a simple space with beautiful sea views. Come and enjoy a bite to eat before or after the beach.
Address: Passeig del Mare Nostrum, 19, 21
Barraca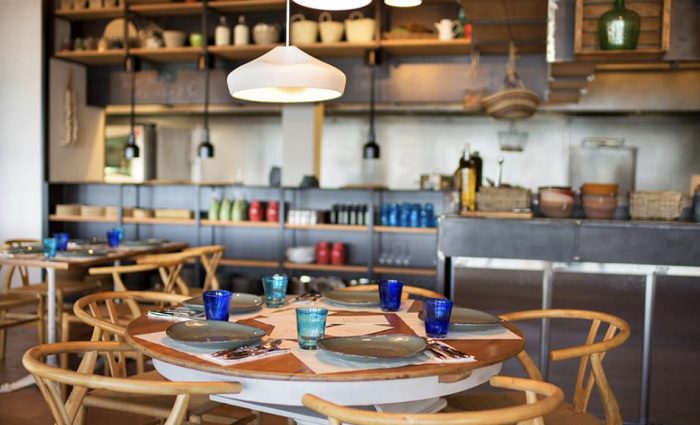 €€ | Seafood | Vegetarian Options | Beachfront | Platja de la Barceloneta
If you're looking for somewhere to eat near Barceloneta Beach, this is a great option. It might take you a moment to find the stairs up to Barraca Restaurant as it's located on the second floor above a great fresh food market. But it's worth it.
You'll find a casual eatery with colorful touches and a welcoming atmosphere. Beachside Barraca serves up some of the freshest seafood you can find in the Barceloneta area and has an ample selection of vegetarian options. Be sure to try the mussels in Romesco sauce, not to be missed!
Address: Passeig Marítim de la Barceloneta, 1
Check Out Our Top Barcelona Cruises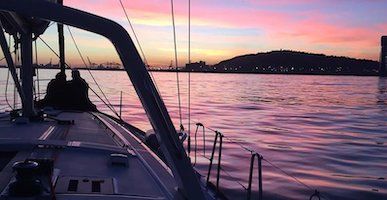 Top Rated Tour
Barcelona at Sunset Cruise by Luxury Sailboat
With our expert English-speaking skipper, embark on a deluxe sailboat for an evening journey of entertainment and relaxation along the water. At Sunset, see the best views of Barcelona in all their glory. Enjoy complimentary refreshments including beer, wine, and Spanish tapas as you sit back and bask in the beauty. Jump in the clear Mediterranean waters for a tranquil swim and more on the VIP Luxury Cruise.





See price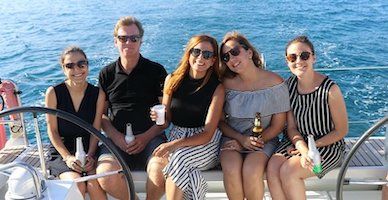 Likely to Sell Out
Luxury Boat Cruise in Barcelona
Embark on this Mediterranean experience with an expert English-speaking skipper for an adventure on the sea. Sit back and relax with a glass of wine or beer while you look over the Barcelona skyline. Discover Barcelona from a stunning and unique vantage point then hop into the clear waters for a refreshing swim for a memorable time off the Spanish coast.





See price
Not ready to book a tour? Check out our best Barcelona tours to take and why.
La Cova Fumada
€€ | Tapas Bar | Family Run | Locals' Spot | Near Platja de la Barceloneta
Just a few streets away from Barceloneta Beach, the Cova Fumada serves up inexpensive and classic tapas and a nice cold beer. Tucked away in the Barceloneta neighborhood this is a well-known spot for locals who want good food at reasonable prices.
Ordering food may be a bit of a challenge as not everyone working here can speak English, but it's a great opportunity to practice your Spanish. Try the freshly cooked octopus (pulpo), a fried Bomba, or a classic Catalan salad of salt cod (esquiexada).
Address: Carrer del Baluard, 56
Port Vela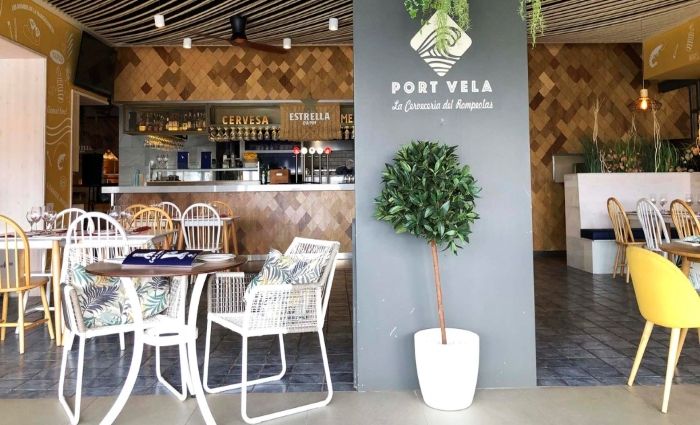 €€€ | Tapas | Spanish Cuisine | Terrace | Sea Views | Near the Port
A hidden gem of a restaurant, the Port Vela sits just behind the famous Hotel Vela and offers up excellent Spanish cuisine. It has a very nice view of the port of Barcelona to enjoy while you dine.
Set in a recently opened section of the port, this new restaurant is gaining popularity with people who don't mind going just a few steps extra. The tapas they cook up will leave you wanting more for sure. The mouthwatering croquettes and lovingly fried patatas bravas are just a few highlights from their complete menu of classic Spanish cuisine.
Address: Passeig de Joan de Borbó, 103, Local 7/8
Peix Vela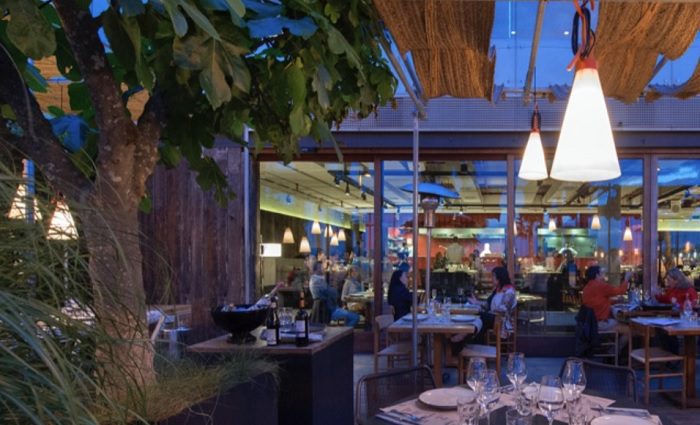 €€€ | Tapas | Terrace | Beach Views | Near Platja de Sant Sebastià
Peix Vela is the place to go if you want to impress your date or family with amazing views of Barcelona and the beach. It has a large terrace right next to the beach that can host intimate dinners or group meals.
Peix Vela is famous for making amazing paellas and great cuts of meat that they grill to perfection over hot coals. Try the rice with squid shrimp and clams for delightful and flavorful paella or the perfectly cooked steak.
Address: Passeig del Mare Nostrum, 19, 21
El Filferro
€€ | Tapas | Creative and Hip | Hidden Gem | Near Platja de la Barceloneta
Sometimes the crowds milling around in Barcelona can become overwhelming and you just need to find a minute to rest and take a deep breath. In my opinion, Filferro is the perfect place to do just that. when you are down by the beach in Barcelona.
A few streets away from Barceloneta beach, Filferro has a quiet terrace and a small interior dining room. They have a simple and fun menu featuring local and international cuisine served with a nice touch of style. And yes, this place is a secret, so don't tell everyone!
Address: Carrer de Sant Carles, 29
Popular Barcelona Tours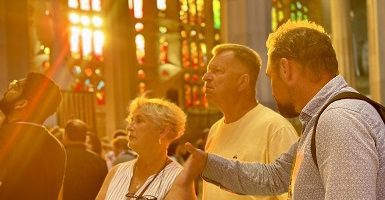 Best Selling Tour
Barcelona in a Day Tour with Sagrada Familia, Park Güell & Casa Batlló

Our Barcelona in a Day tour covers all the major attractions plus hidden gems. This walking tour includes Sagrada Familia, Casa Batlló, Casa Mila, the Gothic quarter, Park Güell, and a coach ride to reach the more remote sites.





See Prices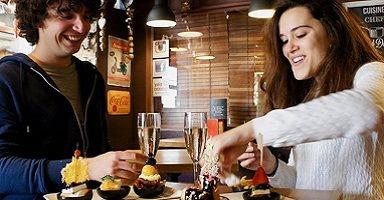 Customer Favorite
Barcelona Food & Wine Tour with a Local Sommelier
We can't think of a better way to explore a city than to eat your way through it, and there will be enough tapas and wine to discover a lot of Barcelona! Join us on a delicious discovery of Poble Sec and Sant Antoni—some of Barcelona's most vibrant foodie areas!





See Prices
Not ready to book a tour? Check out our best Barcelona tours to take and why.
Els Pescadors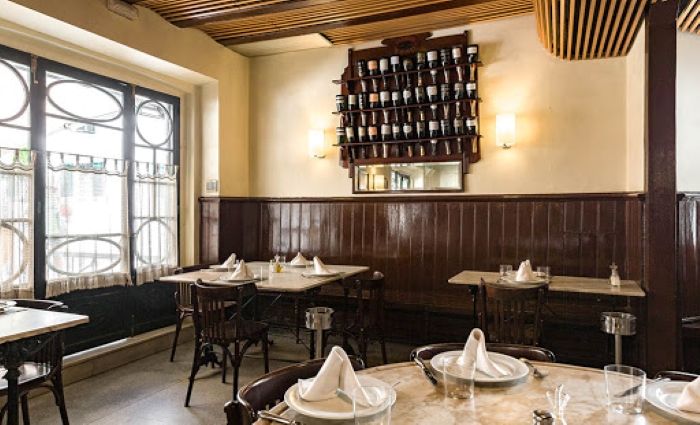 €€€€ | Catalan Cuisine | Seafood | Hidden Gem | Near Platja de la Mar Bella
Els Pescadors is not located right next to the beach—it's hidden away in a beautiful little plaza located in the Poble Nou district of Barcelona. Once you arrive, you'll see that you have happened upon a cozy spot that never fails to satisfy.
Els Pescadors ("the fishermen") of course specializes in amazing seafood and I think you would be hard-pressed to find a place that has fresher seafood than what they bring to the table. It is not a place to go to if you're on a budget, but your taste buds will thank you if you do!
Address: Plaça de Prim, 1
Bar Jai-Ca
€-€€ | Spanish Cuisine | Classic Tapas | Locals' Favorite
Locals in Barcelona flock to Jai Ca for many reasons, so you may have to wait for a table. Due to the popularity of their great food and reasonable prices, they have even opened a second location just a few doors down from the original restaurant.
Don't miss out on their fried artichoke chips—they're to die for! Of course, they have amazing Spanish jamon, which you simply must eat with some local bread with tomato. Their list of tapas is long, so if you're looking for a place to try different things, you've found it.
Address: Carrer de Ginebra, 13
BlackLab Brewhouse & Kitchen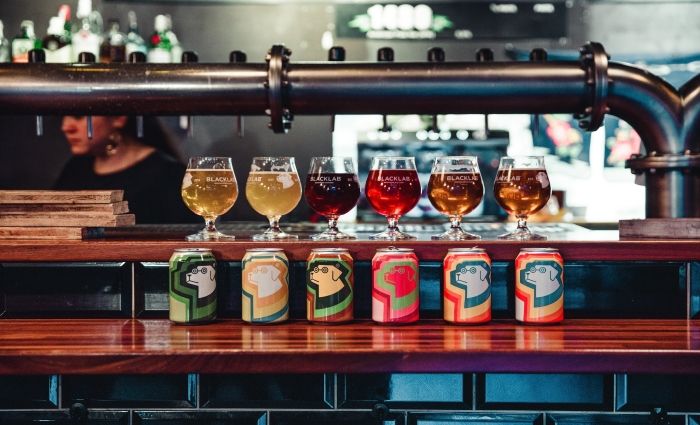 €€ | Burgers | Microbrewery | Terrace | Near Platja de la Barceloneta
In Barcelona, there will be times when you need a break from tapas. That's when a good burger and beer combo is needed. When you're down by the beach and fancy something a bit different, head to the terrace at Black Lab Brewery.
The staff know their stuff and they'll help you choose the perfect craft beer. The kitchen specializes in tantalizing burgers, but they have much more than that to offer including live music. It's a cool place to hang out.
Address: Palau del Mar, Plaça de Pau Vila, 1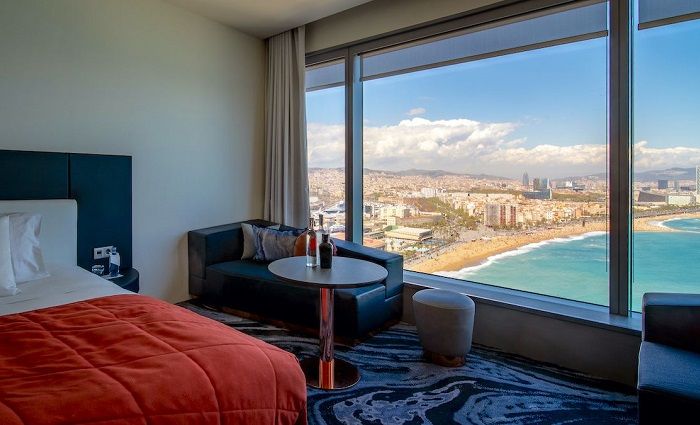 Find the best places to stay
Where To Stay in Barcelona
A great hotel at a great price has become the norm in this internet era. Our article explains what areas are the best in Barcelona so you can get a great deal on the perfect location!