Venice may be small, but the captivating island draws millions of visitors every year. It's an increasingly popular destination, but it can be hard to find your way around the narrow streets, numerous bridges, and many canals. One of the best ways to see Venice is a day trip and we're here to help you find all the best spots to visit. Use our Venice in a Day itinerary to see all the top attractions and hidden gems. Just stick to this schedule and make sure to wear comfy shoes.
---
Watch our video on how to see Venice in a day!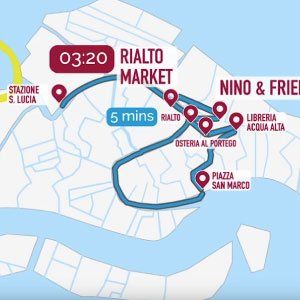 Getting to Venice: from Roma Termini to Venezia S. Lucia
Departure 6:15a.m. – Arrival 10:00a.m.
Venice is a city located in a lagoon in the Adriatic Sea. Amusingly the island, made up of 118 smaller islands, is shaped like a fish. Italian trains make it easy to see Venice in a day. Just catch a high-speed train from any major Italian city and soon you'll be experiencing the wonders that the Floating City has to offer.
Rome – 3 hours and 30 minutes

Florence – 2 hours

Milan – 2 hours and 30 minutes
Find time tables and departure times on the Trenitalia or Italo website. Select Venezia S. Lucia as your arrival station and remember that planning ahead and leaving early in the morning is essential to get good prices and good seats. If you're looking for someone else to handle the details, The Tour Guy offers excellent Italy Trip Planning Services.
After you arrive in Venice, you can get almost anywhere on foot. The main tourist attractions are all within walking distance from one another. Public transportation is also available by either pricey water taxis, traditional gondola rides, or easily accessible ferry boats. Check out the ACTV website for more info on things like tickets and water bus information.

30100 Venice, Metropolitan City of Venice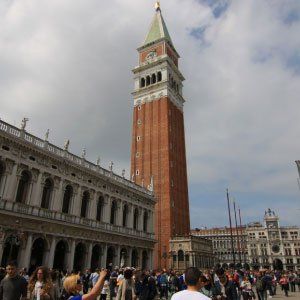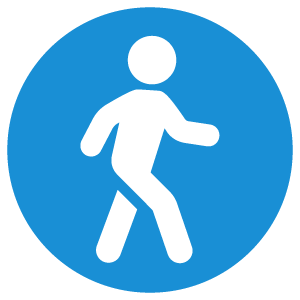 St. Mark's Square
Arrival 10:30a.m. – Departure 11:30a.m.
St. Mark's Square is around 30 minutes on foot or 20 minutes by ferry boat from the train station. It is one of the most recognizable squares in all Italy and it is sure to leave you speechless. St. Mark's Square houses the magnificent St. Mark's Basilica, Bell Tower and Doge's Palace. It is the biggest square in Venice and the only one that Venetians call a "piazza" – all of the smaller ones are called "campo". The Bell Tower, or campanile, is 323 feet tall and used to function as a lighthouse and watch tower. It is one of the best views in Venice, especially if you visit at sunset. If you want to visit the inside of the Basilica, you can either buy tickets on the Veneto Inside website or take a guided tour. You'll be able to avoid lines that can sometimes take three hours or more.

Piazza San Marco, 30100 Venezia VE

Mon-Sat 9 AM-5 PM. Sun 2 PM-4 PM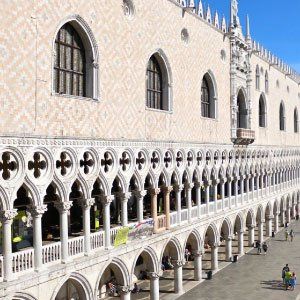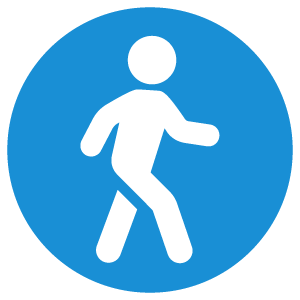 Doge's Palace
Arrival: 11:35a.m. – Departure: 12:30a.m.
You can find Doge's Palace on the right side of the Basilica. This gothic-style palace once belonged to the Doge and is full of myths, stories, and secret spots. If you notice two light pink columns, the ninth and tenth on the side of the palace, you've spotted where the Doge used to stand to read out death sentences. Underground, hidden from most tourists, are the cellars where Casanova was once imprisoned. To learn even more secrets about the palace, join us on our Doge's Palace Tour.

Piazza San Marco, 1, 30124 Venezia VE

Apr-Oct every day 8:30 PM-7 PM Nov-Mar every day 8:30 AM -5:30 PM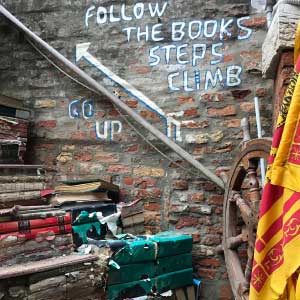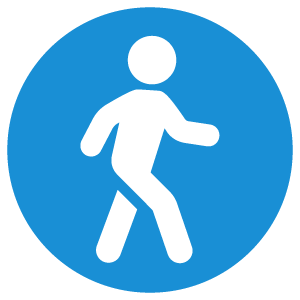 Libreria Acqua Alta
Arrival 12:40a.m. – Departure 1:35p.m.
The Libreria Acqua Alta (Library of High Water) is only a ten minute walk from St. Mark's Square and it is one of Venice's treasures. Inside this unique little bookstore you can find old traditional gondolas, used to save books from rising water levels in the lagoon, as well as a staircase made of books. If you're looking for somewhere to get a book to read by the canals, this is your spot but be warned: it gets busy on the weekends.

Calle Longa S. Maria Formosa, 5176/b, 30122 Castello, Venezia VE

9 AM – 8 PM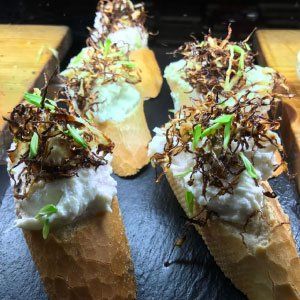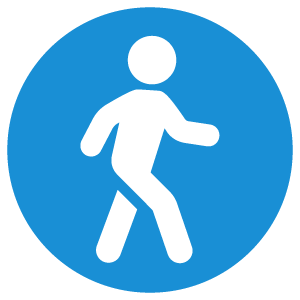 Casual lunch at "Osteria al Portego"
Arrival: 1:30p.m. – Departure: 2:00p.m.
Take a break after your busy morning with a true Venetian lunch. Osteria al Portego is the best spot to taste some delicious local cicchetti—the Venetian word for various types of finger food. There's no better way to enjoy your lunch than with an ombra, or a glass of Venetian wine. The word ombra means shadow and it can be traced back to a fisherman's tradition of enjoying a glass of wine in the shadow of the bell tower during their lunch break. You can usually find a wide variety of cicchetti in Venetian bars, with choices like salami and prosciutto to seafood and baccalà, a traditional salted cod recipe. Any of them will be delicious and served on fresh, crunchy bread.

Calle de la Malvasia Vechia, 6014-6015, 30122 Venezia VE

11:30 AM – 3 PM, 5:30 PM – 10 PM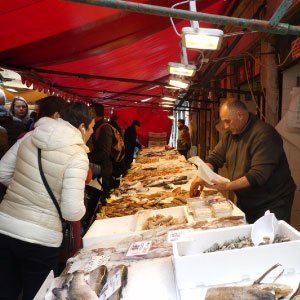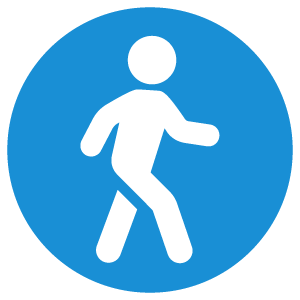 The Rialto Bridge and Market
Arrival 2:05p.m. – Departure 4:00p.m.
Moving on, you'll have a chance to visit another one of Venice's top sightseeing attractions: the Rialto Bridge. While the top of the bridge offers another amazing view, but the nearby Rialto Fish Market is even better. You'll be able to walk through, sample fresh produce and absorb your vibrant surroundings. The market provides a peek into Venice's history as a fishing village and it gives visitors an authentic taste of the local culture.

Sestiere San Polo, 30125 Venezia VE

Tue-Sat 7:30 AM – 12 PM. Fruit market Mon-Sat 7:30 AM -1:30 PM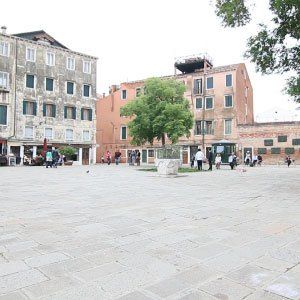 Cannaregio and The Jewish Ghetto
Arrival: 4:20p.m. – Departure: 5:00p.m.
Your final stop is the oldest Jewish Ghetto in the world, instituted in 1516. It is divided into two parts, the Ghetto Nuovo ("New Ghetto") and the Ghetto Vecchio ("Old Ghetto"), and can be found in the Cannaregio sestiere area of Venice. The Jewish Ghetto is still an important part of the Jewish community today. Stop at a bar or a cicchetteria when you get there and relax for a bit. We like Mezzopieno, Bacaro dai Morosi, and Birreria Zanon. You can't go wrong finishing your day in Venice with delicious food and wine.

Calle Ghetto Vecchio, 1139, 30121 Venezia VE
I Want More Italy!
If you want us to arrange the entertainment in Venice (and beyond!), contact our Trip Planning Team to coordinate an unforgettable Italian experience.
Check out our YouTube video for a step-by-step guide about how to do Venice in a Day. If you'd rather let us guide you, check out our Venice tours.