Everyone knows you have to spend a little time in Positano when you come to the Amalfi Coast. The question is, what exactly is there to do in this coastal town? We're here to help you find the perfect things to do in Positano like boat trips to Capri and wine tastings in a hidden cellar.
---
Pro Tip: Headed to Positano? It's easier to organize your trip when you have all your resources in one place. Bookmark this post along with our Amalfi Coast Guide for more planning resources, our best Positano tours for a memorable trip, and how to spend two days on the Amalfi Coast.
Fun Things To Do In and Around Positano
It's touristy but worth it. Perched on a green, rocky cliff between Amalfi and Sorrento, Positano is one of the most eye-catching corners of the Amalfi Coast. But you need to know how to avoid tourist traps (and Positano is full of those!).
Fashionable and classy, Positano is a high-end destination. It's the perfect place if you enjoy good food, a dramatic landscape, and a stylish atmosphere.
To keep you from being overwhelmed, we've curated this guide to the best things to do in and around Positano. Discover both iconic and hidden attractions, and insider tips on where to eat, relax, and go for a drink. We did the work for you, so the only thing left to do is hop on the plane to Italy!
Not ready to book a tour? Check out our Amalfi Coast Guide for more resources.
17. Customize Your Own Handmade Leather Sandals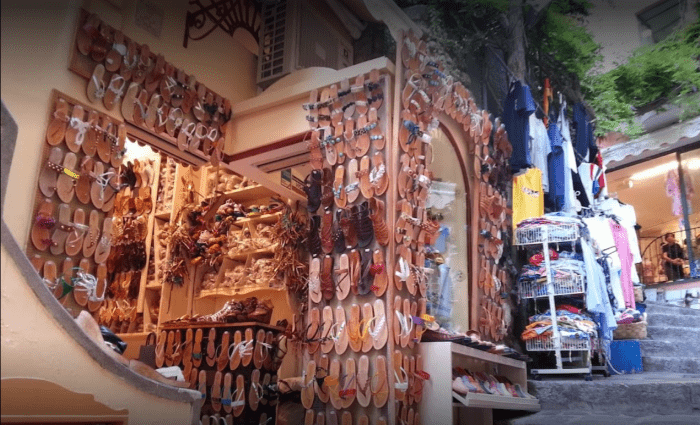 Did you know that some of these shops with tons of sandals on display are actually showing you that you can customize your own pair? Yep! It's such a fun activity in Positano for teens and ladies. I definitely recommend heading to Safari. It's one of the oldest shops in Positano, so you get high-quality sandals.
You can personalize your sandals by choosing your own color and style. And if you're in town for a super short trip, order ahead online and Gianluca, Safari's owner, will have your sandals ready to go when you arrive. The best way to enjoy the experience is to let Gianluca help you in person since half the fun is interacting with Italians. You will easily make a new friend!
Adress: Via della Tartana 2, Positano
16. Order a Pastry at Positano's Most Beloved Café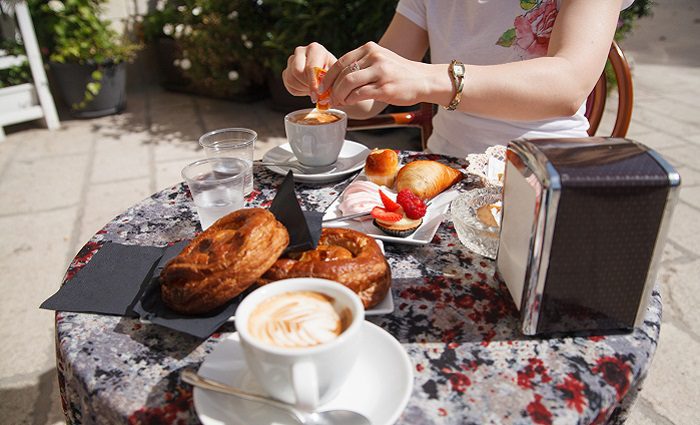 You could easily pass Bar Internazionale without knowing why locals love it. The owner, Mimi, was an institution. Loved by both locals and regular visitors, he embodied the simplicity and honesty of Positano's older generations.
This historical café is located on Positano's high side. It guarantees an authentic experience, as it's a family-run business that has become a symbol of the town.
The pastries are absolutely worth trying, as well as the espressos. It's a to-go kind of place, and it's located right in front of the SITA bus stop—perfect for a quick breakfast before an Amalfi Coast ride.
Go there to get a vibe of the Amalfi Coast's daily life. I'm sure you'll be able to make some local friends if you stop by regularly since Italians adore chitchatting.
Address: Viao G. Marconi 96, Positano
15. Live the Dream By Staying at Sirenuse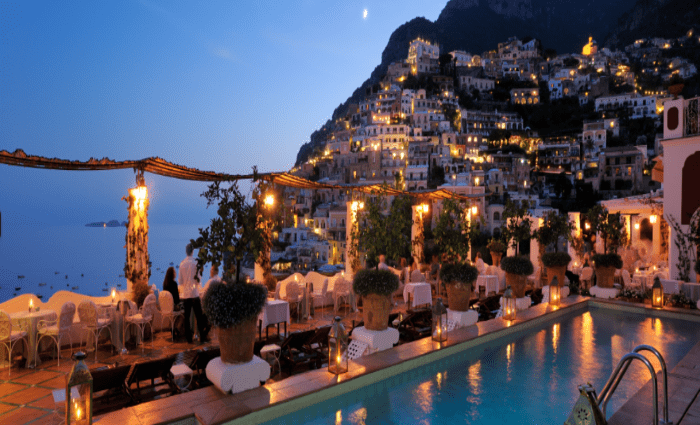 It's hard to list all the elegant hotels in Positano, as every corner of this little town shines. Yet somehow, it's easy to recommend staying (or having aperitivo) at Sirenuse since it's a one-of-a-kind place. Why? The dreamy view over the Mediterranean, excellent service, and a deep commitment to local tradition.
The Sersales (the family that owns this historic hotel) opened Sirenuse in 1952 and have been offering impeccable experiences ever since. I can hardly think of a more exciting place to go to for an aperitif before dinner.
Head to Aldo's for a words-can't-express-it view from a candlelit terrace. Definitely go at sunset. Or try their historic Don't Worry Bar found in a suite in the living room. It's a real insiders spot, perfect for a classic cocktail after dinner.
14. Restyle Your Summer Outfits with Maria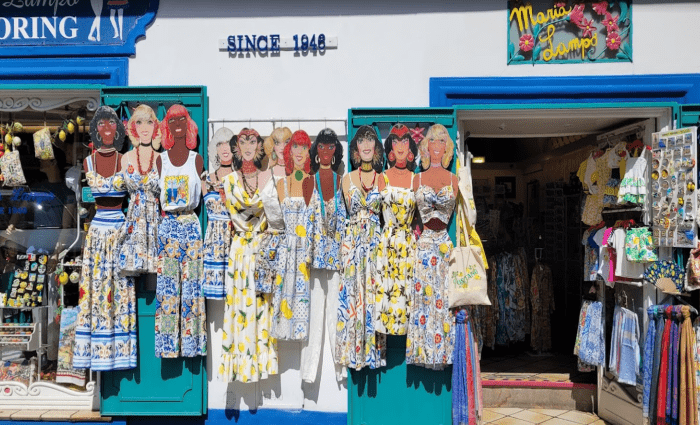 You wouldn't want to miss out on the fashion must-do here, right? Well, Moda Mare Positano is a summer look that has made this tiny town famous all over the world. Long skirts, pastel colors blouses, and classic handmade sandals (which at this point you already customized).
Maria opened her little boutique when Positano was still a fishing village, right after the second world war. Together with her husband, she offered a quick turn-around service for tailored trousers. "Go, take a swim. The trousers will be ready by the time you come back", she would say to those asking the how-long-does-it-take question.
Today the shop is called Maria Lampo, and it's a great place for renovating your summer wardrobe. And it's a fantastic place to get presents for all your friends, sisters, and colleagues. Original, unique, and colorful: that dress you had been dreaming of might be right inside Maria's boutique.
Address Viale Pasitea 12, Positano
13. Release Your Stress With A Tibetan Bells Massage or Cold Therapy
There's more than one way to relax, and sometimes you need a little help when you're a hotel without a spa. I suggest getting in touch with Belinda Rispoli at her wellness center, Royal Divine, where she offers out-of-the-box spa and beauty treatments. She explained to me how much her client's health means to her, and you'll be surprised at Belinda's commitment to healing your body and soul.
You might love trying her cold therapy that stimulates circulation by draining toxins—ideal for hot August days. During the "4 hands massage," two therapists work together from head to toe to guarantee deep relaxation and healing.
Belinda told me recently that her client's favorite treatments are the Tibetan bells massage and the psychosomatic treatment. She often has specials during the summer months so ask when you book your treatment. Don't hesitate to tell her that Maria Betteghella sent you, and that I say "hello!"
Address: Via G. Marconi 121, Positano
12. Go Clubbing in a Cave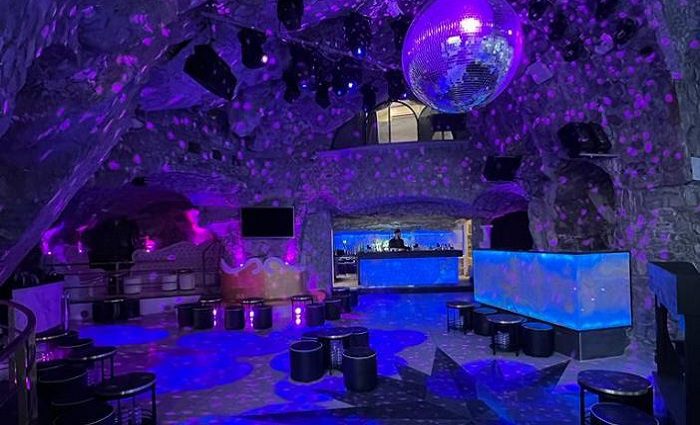 This isn't an activity for everyone, but if you're a solo traveler or here with your friends and you love nightlife, then heading to Music on the Rocks is perfect for you. There aren't many places where you can say you went clubbing inside a cave! That make this a pretty unique thing to do, even if clubbing can be found almost anywhere.
You really have to be a night owl to come here though as it doesn't get busy until after midnight. The DJs play awesome mixes that echo all around in those cave walls. Expect to pay higher prices, but you're here for the experience anyway!
Address: Località Grotte Dell'incanto, 51
11. Reserve a Private Pompeii & Mt. Vesuvius Day Trip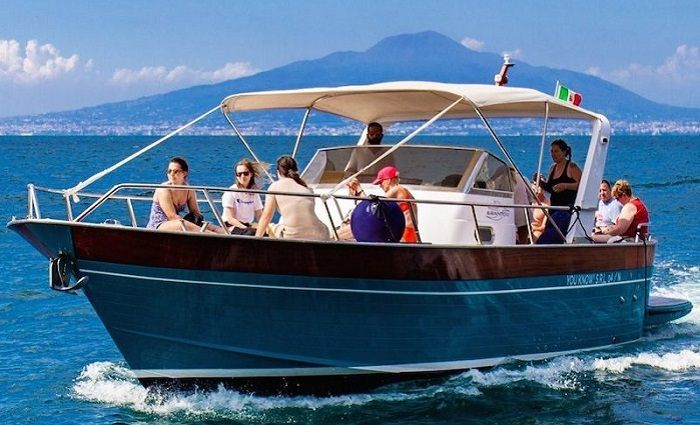 Why not see Pompeii your way and without sharing the ride with other strangers? That's exactly why this private boat tour to Pompeii is so popular. Pompeii is pretty close to the Amalfi Coast, and you can't miss the most famous Roman ruins in the whole world while in Positano!
Make it an easy trip with hotel pickup and a private boat that takes just you and your group to Pompeii for a private tour with an entertaining archaeologist guide. Not enough? How about a second boat ride over to Mt. Vesuvius—the volcano that started the whole thing—for a private tour with a volcanologist? Yeah, that's a pretty epic day that's basically hassle free.
Your skipper will navigate you to the closest harbor to Pompeii, avoiding the longer, trickier, traffic-congested coastal drive. That's why this is one of the best private tour options for seeing Pompeii from Positano.
Not ready to book a tour? Check out our Amalfi Coast Guide for more resources.
10. Sample Local Wines in a Converted Cave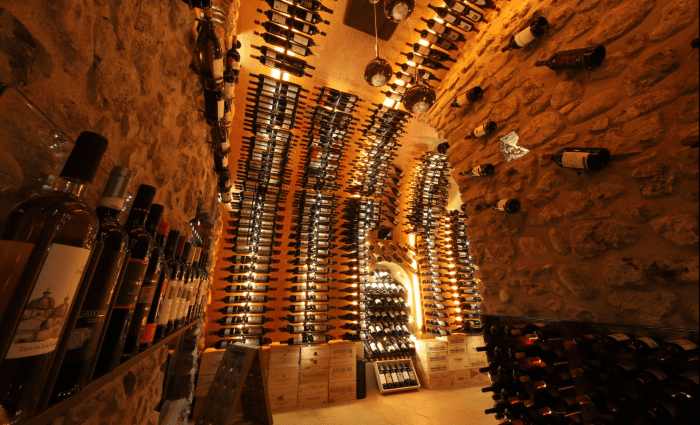 You could walk past one of the most incredible wine cellars in Positano and not even know it. Fortunately, you're reading this list of things you have to do in Positano, so you won't miss out. The Cellar is a brand new wine-tasting venue that offers elegant service in a unique location. Literally, it's an old fishing net deposit turned into an exclusive wine-tasting venue.
Giovanni, the owner, comes from a traditional rural family in which grape harvesting has been a tradition for generations. Today, he and his wife Daniela offer a refined wine selection and a taste experience that ranges from local to international bottles served in a cellar that has luxe ambiance.
Of course, you can also sample local meats and cheeses with your wine tasting too. This is why the Cellar is a great plan for a late afternoon or early evening activity. A unique aperitivo.
Pro Tip: Go to the wine shop listed below and ask them to show you the nearby entrance to the Cellar since it's not on Google yet. They'll be happy to help.
Address: Via del Saracino 31, Positano
9. Make Your Own Lemon Marmalade and Limoncello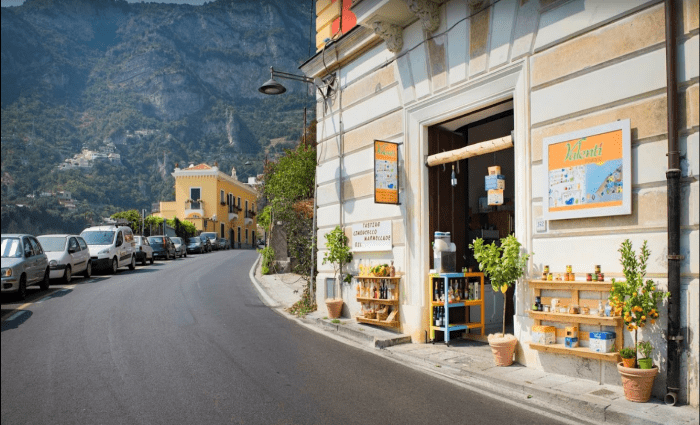 You probably know about the huge lemon culture of the Amalfi Coast, but did you know you can create your own lemon products? Yep! It's such a fun thing to do for couples visiting Positano. Lemons are used for jams, liqueurs, patisserie, ice creams, and so on. And for good reasons: they taste delicious!
The Amalfi Coast is sunny nearly all year long, and the lemon groves have been cultivated for generations. The rural tradition is equaled only by the culinary one, as the products made with Amalfi coast lemons are unique. No one makes limoncello like the Amalfi Coast does.
So if you're a fan of lemons and looking for a fun activity, I recommend going to Valentì's website and booking their limoncello and marmalade class. Even more special is the incredible view you might get if the class happens on the terrace that overlooks Positano bay. You'll fall in love with Valentino's passion as he inherited his love for lemons from his mom, Emilia. A true Italian way of keeping traditions alive.
Address: Via G. Marconi 142, Positano
8. Sunbathe on Fornillo's Sandy Beach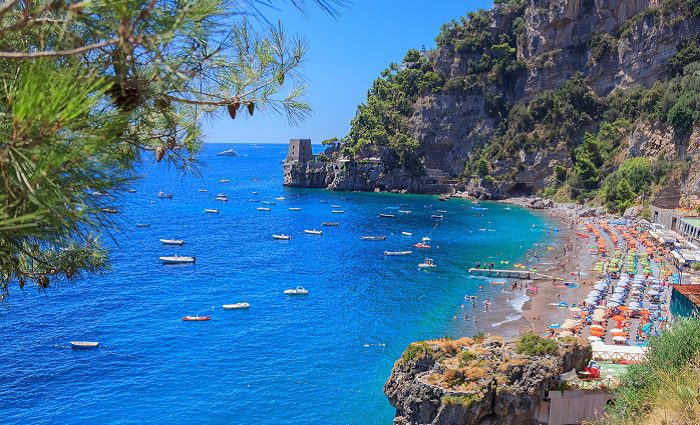 Prefer a more secluded beach in Positano? Then I recommend trying Fornillo. It's a bit less known (and less crowded) than the main Spiaggia Grande, which makes it my personal favorite.
Fornillo beach has been awarded both the green and the blue flag, which basically means it's totally worth going swimming there—and it's great for families! It's easy to reach it from Positano, and most locals prefer going swimming there: you'll just have to walk a few minutes starting from Marina Grande.
Make sure you book a spot in one of Fornillo's beach clubs, especially during the summer, as the free access area might be packed! Although Fornillo is a local spot, keep in mind that Positano receives tons of tourists in the months of July and August. So even Fornillo will feel busy, but it's secluded location help it feel a little nicer.
Address: Fornillo Beach
7. Order Lemon Spaghetti On a Secluded Cliffside Patio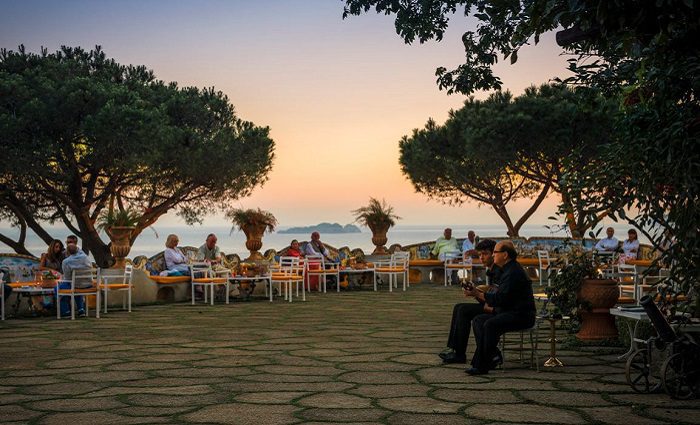 Some views are worth paying for and Il Carlino is no exception. Just a 45-second elevator ride through a cave inside the 5-star San Pietro hotel is where I recommend eating dinner with a view away from the crowds. Here, a classy night is guaranteed, together with an excellent dinner and gorgeous view of the sea and Amalfi Coast.
One of the most simple yet delicious dishes served here is lemon spaghetti. It sounds plain but chef Alois Vanlangenaeker has his own secrets that make this plate unique and a customer favorite.
The restaurant is literally at the bottom of a cliff only accessible through the hotel (you don't have to be a guest!). In order to reach it, you can either take the hotel's steps down through the vegetable gardens or get a free ride in the elevator carved into the rock. In less than a minute, you'll be at beach level. Everything is made with local products and the wine selection is fantastic.
Address Via Laurito 2, Positano
6. Picnic at the Hole in the Rocks Above Montepertuso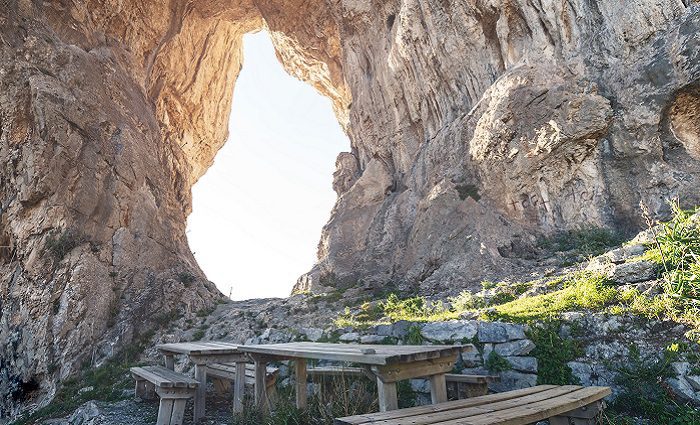 Hikers can't miss climbing to Montepertuso il Buco. It's a beautiful rock formation with a stunning view of Amalfi and picnic tables nearby! And as you might guess, there's a legend about the hole since there's still a strong Catholic tradition here. Some say it was the Virgin Mary herself who made the hole in the mountain after a fight with the devil.
The trek up is no joke since you're climbing ancient stairs most of the way, but active families even bring their older kids along. There's more than one way of reaching the hole in the mountain, and it's quite common to pass by goat herds along the way, especially during springtime. If you want, you can pass through the hole and reach an old water reserve along an overgrown path.
I recommend doing this activity in the early morning or evening during the warmer months and bringing a light snack. But in the cooler months, a mid-day trek for a picnic lunch can't be beat!
How to get there: You can take the bus to Monteperuso Nicolle or have a taxi drop you at the football field nearby. You'll see signs to take the stairs.
Address: Montepertuso, Positano
5. Cruise to Sorrento and Capri for the Day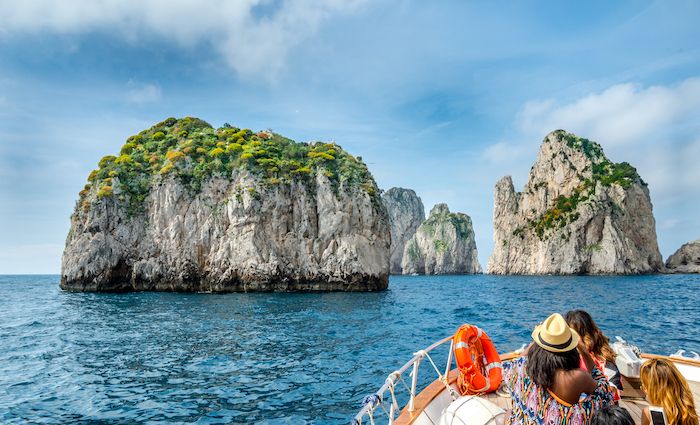 It's a sin not to visit Capri when you're in Positano. Or anywhere on the Amalfi Coast, really. The easiest way to visit is to book a boat tour so you don't have to worry about transportation. Just hop on a stylish boat, let the captain tell tales of the sites you see, and even swim right next to the famous Faraglioni rocks.
For the best value, I recommend combining locations on a single tour to get more for your money. You can explore Sorrento and Capri in a single day from Positano! Like Capri, it's known for its elegance, shops, and culture. Swimming stops, onboard refreshments, new friends to make, and unforgettable sights to see are all you need to make your day trip the best.
Not ready to book a tour? Check out our Capri Guide for more resources.
4. Find Flavio Gioia's Grave at the Church of Santa Maria Assunta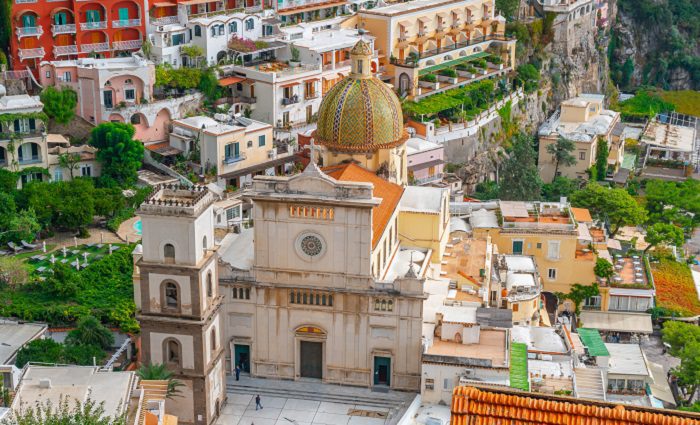 You've probably seen this colorful dome without knowing what it belonged to. Located right at the heart of Positano's historical center, this church is probably the symbol of the town. Stopping inside the church is a must-do when you're in Positano.
When you're inside, be sure to look at the iconic Byzantine representation of the Virgin Mary that stands right above the altar. It's also worth admiring the majestic organ, the ancient bell tower door, and the gravestone dedicated to Flavio Gioia. Not sure who that is? He's an Amalfi native from medieval times believed to be the inventor of the compass!
Address: Piazza Flavio Gioia, Positano
3. Walk The Path of the Gods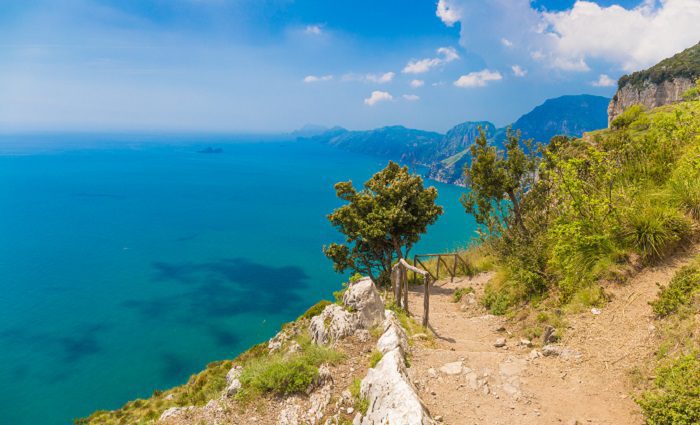 For a longer hiking adventure in the hills of Amalfi, I can't recommend doing the Path of the Gods enough. Technically, this is just outside of Positano, but it's really not that far away.
This panoramic hiking route runs 5 miles (8 kilometers) along ancient mule routes and hillside villages on an easy-to-moderate path. You've probably seen pictures of it and the name says it all; it really is a divine path. The best part is the scenery. You'll get some of the best views of the entire Amalfi Coast from up here!
My suggestion is to take the easiest route by starting in Agerola (near Praiano) and heading to Nocelle (towards Positano). This way, the trail gently descends towards the sea for most of the hike.
Once you have reached Nocelle, I highly recommend rewarding yourself by following the trail down a further 300 steps for a swim at the Arienzo beach. From there, you have just one kilometer left to walk back to the center of Positano—easy as pie after your rejuvenating swim!
Pro Tip: Keep your eyes peeled for the red-and-white signs that will lead the way and don't forget to bring plenty of water with you. In fact, there are not a lot of facilities on the route.
Address: Agerola, Sentiero degli Dei
2. Float Into the Emerald Grotto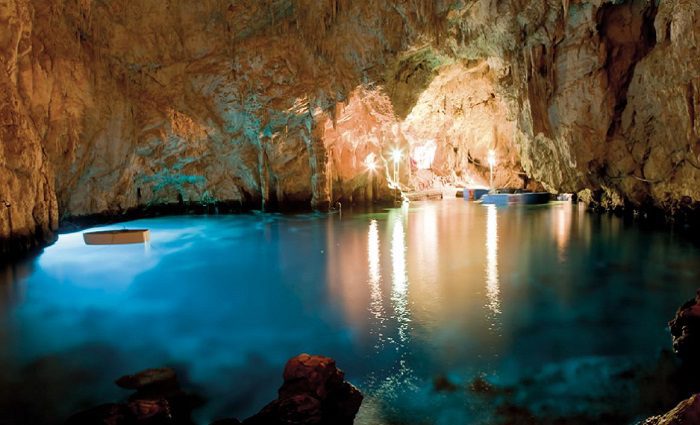 You don't have to go to Capri to see a colorful grotto! The Grotta dello Smeraldo, or Emerald Grotto, is one of the gems of the Amalfi Coast. The intense nuances of green that reflect upon the water give the grotto its name though there are some blue hues sometimes.
Visiting it is an absolute must-do if you are in Positano and fun for kids and adults alike. The water is unbelievably clear, so you can see right to the bottom. Although it's hard to believe, inside the grotto you'll find an underwater nativity scene that local artisans made back in the 1950s!
Pro Tip: Make sure you book your boat tour between noon and 3 pm. That's when the best lighting effect happens to make the water really glow.
Address: Via Smeraldo, Conca dei Marini
Cost: €8 for boat ride and tour
1. Get a Tan at Positano's Famous Beach: Spiaggia Grande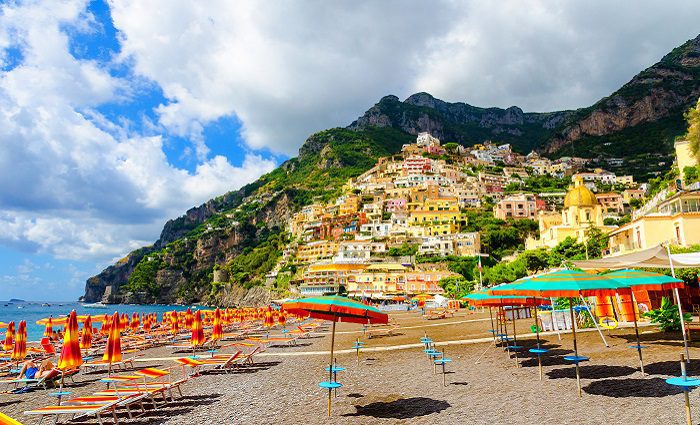 That stunning image of an umbrella-filled beach with colorful cliffside homes in Italy? Yeah. It's this beach. And it may be crowded and touristy but it's too iconic not to put as our number one thing to do in Positano.
Spiaggia Grande (or Marina Grande) is Positano's main beach. Easy to reach, it's the perfect spot for a quick swim or a relaxing afternoon. Just soak in that stunning view over Li Galli, the famous tiny islands where legends say that sirens seduced Ulysses with their chants. Or turn to view the jaw-dropping scene of the colorful tiny houses on Positano's cliffs.
Marina Grande is also a great departure spot for a kayak tour along the coast or boat trips around Amalfi. If you're a nightlife seeker, then definitely stop here after dinner. During the summer, Marina Grande becomes a meeting point for nightlife lovers living the Italian dream.
Pro Tip: Only a small part of the beach is free, and it is also usually overcrowded. I highly recommend renting a sun lounge (around €35) from one of the clubs here to have some privacy and a bit of shade.
Address: Marina Grande, Positano
Not ready to book a tour? Check out our Amalfi Coast Guide for more resources.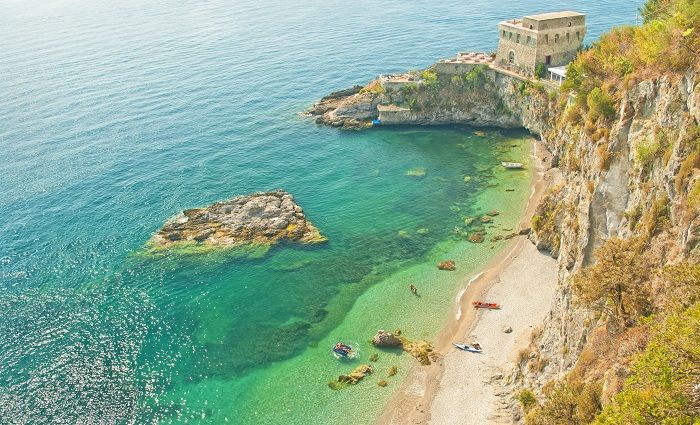 Find the best places to stay
Where To Stay 0n Amalfi Coast
The Amalfi Coast is an amazing cluster of cliffside towns with great beaches, food, and views! Plan where to stay in this magnificent area in the best towns.