Lyon is one of France's greatest cities and an excellent break from the "big-city-life" in Paris. The restaurant scene has also been booming which makes your choices many, but which restaurants are the best in Lyon? This guide was written by a local and goes over the best places to eat in Lyon at every price point!
The Top Places to Eat in Lyon
Lyon is largely considered the gastronomic capital of France and has even been called the gastronomic capital of the world, so food is taken seriously here. In 2021, Lyon had 21 Michelin-starred restaurants, a remarkable feat for the city's size.
But besides fine dining, a trip to Lyon must include at least one meal in a bouchon lyonnais. What exactly is a bouchon? It's essentially a traditional restaurant found in the Lyon area which serves Lyonnaise cuisine. Most of these restaurants have a rustic feel to them, so don't expect anything fancy. When dining in a bouchon, you'll often find food that's on the heavier side and more meat-based. The quenelle is by far the most famous dish in Lyon. Quenelles are dumplings made of breadcrumbs and usually minced poultry or fish meat (it's better than it sounds). Sausage and andouillette are also big here, as well as cervelle de canut, a delicious cheese spread. And of course, all traditional bouchons will serve you a carafe of Beaujolais or Côtes du Rhône, the regional wines of Lyon. What more can we say? This city was made for eating!
Le Poivron Bleu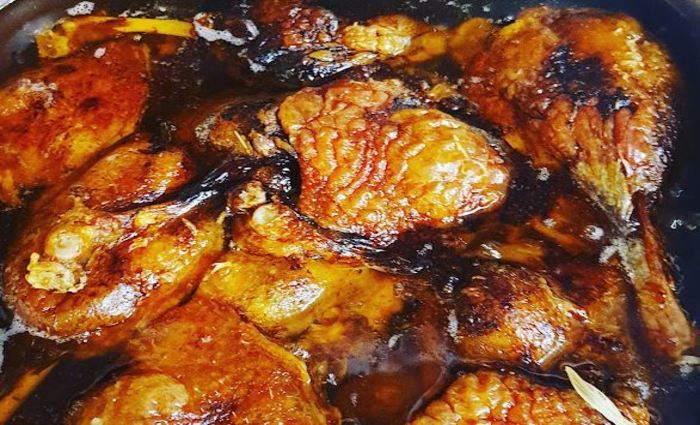 €€ | Classic French | Some Outdoor Dining
Le Poivron Bleu prides itself on fresh, seasonal plates. Instead of having a set menu, they use a chalkboard menu list which changes on a daily basis. The awesome presentation of the dishes will make you feel like you're somewhere upscale but without all the fuss and high prices.
Those who love supporting local businesses will appreciate Le Poivron Bleu's emphasis on using local products. Their cheese, eggs, and fruit juices all come from the Rhône region where Lyon is located, and all of their beef comes from France. This is the perfect restaurant to savor French cuisine in Lyon if you're looking for something casual but with stellar food.
Address: 12 Rue Professeur Weill, 69006 Lyon | Tel: +33 4 78 24 86 66
Hours: Mon – Wed 12PM – 2PM | Thurs – Fri 12PM – 2PM | 7PM – 9:30PM
Le Bouchon des Cordeliers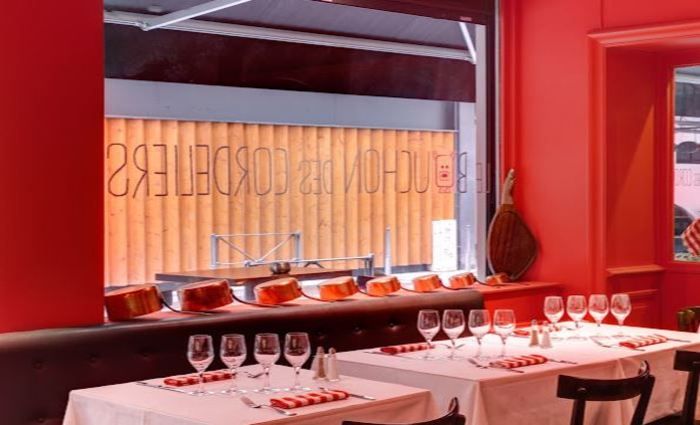 €€ | Bouchon | Some Outdoor Dining
Ah, one of Lyon's infamous bouchons! This restaurant is recognized as an official bouchon lyonnais by the city (yes, sadly there are some impostors sprinkled throughout Lyon). You can expect traditional Lyonnaise food here, including quenelles and andouillette sausage. The interior is a nice blend of a homey feel mixed with a modern touch. If you're looking to try something typical from Lyon, add this stop to your list.
Address: 15 Rue Claudia, 69002 Lyon | Tel: +33 4 78 03 33 53
Hours: Tues – Sat 12PM – 2:30PM | 7:30PM – 10PM
While we write great restaurants guides, we are a tour company first. Check out our selection of fun tours and experiences all over France!
Restaurant Paul Bocuse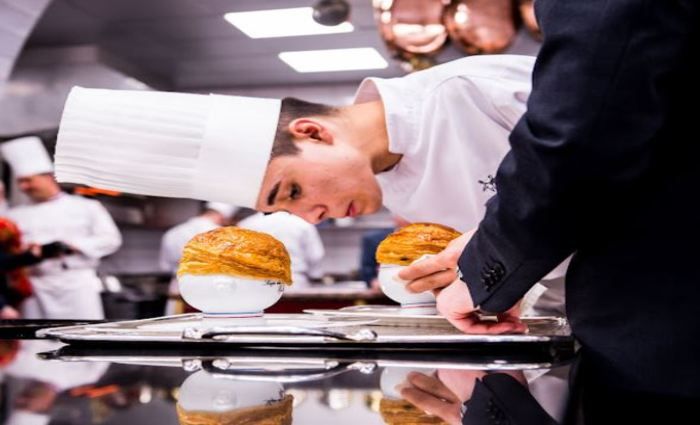 €€€€ | Fine Dining | Two Michelin Stars
Paul Bocuse is an infamous French chef who became known worldwide for his nouvelle cuisine approach which favors light and fresh foods. Although he passed away in 2018 at the age of 91, his legacy lives on at the Restaurant Paul Bocuse, which boasts two Michelin stars.
The restaurant is located about fifteen minutes outside of Lyon in the small town where Bocuse was born and raised. Some of the signature dishes include black truffle and chicken soup, crayfish tail gratin and fricassée of Bresse chicken. While dining here certainly won't be cheap, it is well worth it for an iconic French dining experience. Reservations should be made in advance.
Address: 40 Rue de la Plage, 69660 Collonges-au-Mont-d'Or, France | Tel: +33 4 72 42 90 90
Hours: Wed – Sun 12PM – 1:15PM | 8PM – 9:15PM
Le Bœuf d'Argent
€€€ | French Food | No Outdoor Seating
We love this place because it has the quality of a one Michelin star restaurant without the crazy prices. At Le Bœuf d'Argent, the most expensive fixed price menu is seventy euros and consists of four courses plus dessert, all hand picked and personalized by the chef. What a deal!
The restaurant is run by a fantastic husband and wife team who have put their heart and soul into this place. When you step inside, a cozy and charming ambiance welcomes you and you'll feel right at home. This is a great place for a date night or for those who want to try more polished cuisine without a big price tag.
Address: 29 Rue du Bœuf, 69005 Lyon | Tel: +33 4 78 38 11 20
Hours: Tues – Fri 7PM – 9:30PM | Sat 12PM – 1PM | 7PM – 9:30PM
Le Neuvième Art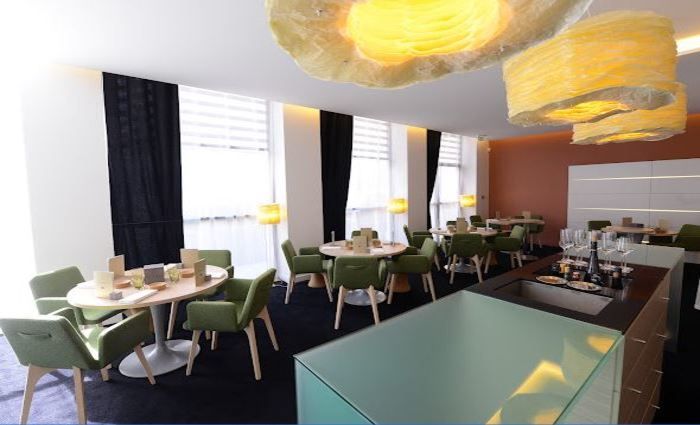 €€€€ | Fine Dining | Two Michelin Stars
Chef Christophe Roure consistently wows customers at his two Michelin star restaurant. The plating of dishes is simply exquisite, with each course looking like a work of art. There are also nearly four hundred wines on the menu to tempt you. Eating here is without a doubt a memorable experience.
The interior of Le Neuvième Art isn't quite as elegant as some other Michelin starred restaurants, but it maintains a chic appearance in a more modern way. Diners who enjoy going a bit outside the box or who shy away from more traditional options will enjoy the style here.
Address: 173 Rue Cuvier, 69006 Lyon | Tel: +33 4 72 74 12 74
Hours: Tues – Sat 12PM – 1:15PM | 7:30PM – 9:15PM
La Tête De Lard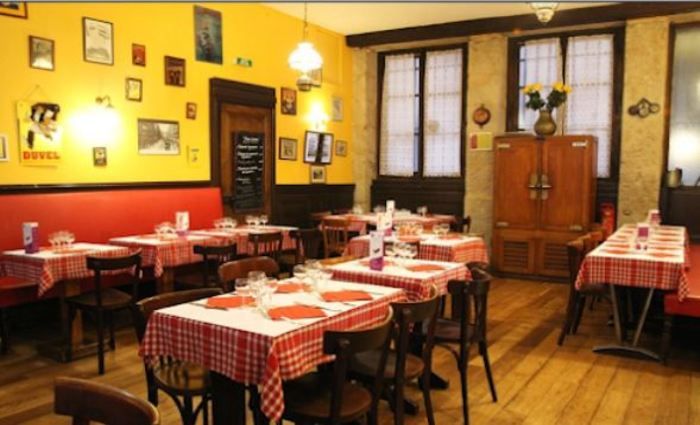 €€ | Bouchon | Limited Outdoor Seating
This bouchon is about as traditional as it gets, complete with checkered tablecloths and a rustic country feel. Remember that a bouchon is built to showcase typical Lyon food, some of which might be a bit different than what you're used to trying. La Tête De Lard is very authentic, with its menu including quenelle, andouillette sausage, cow tongue, boiled calf's head and even pig's feet salad. While it might be a bit too much for some, for those feeling more adventurous this is the perfect spot to immerse yourself in local cuisine.
Address: 15 Rue Désirée, 69001 Lyon | Tel: +33 4 78 27 96 80
Hours: Tues – Sat 12PM – 1:30PM | 7:30PM – 9PM
Carmelo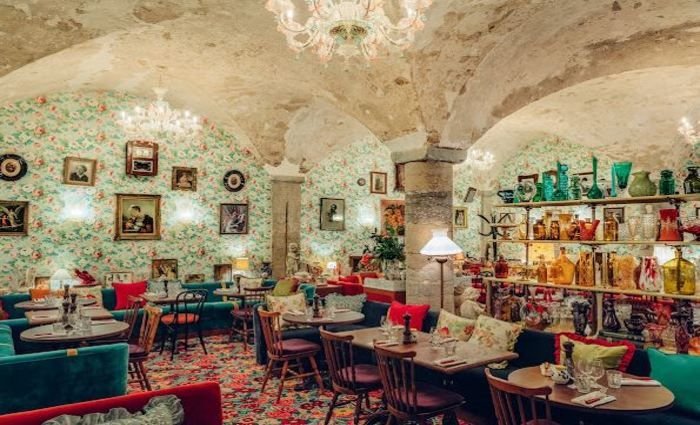 €€ | Italian | No Outdoor Seating
Need a break from French food? Head to Carmelo, a trendy Italian restaurant that is the place to be in Lyon. There are multiple rooms inside, each with intricate and unique decorations. The pasta is all made fresh by hand and it's pretty affordable, as you'll rarely find a menu item over fifteen euros. One of our favorites is the carbonara, which is served in a pecorino cheese wheel.
Try to make reservations in advance online, otherwise you'll likely end up having to wait in line.
Address: 7 Rue Neuve, 69001 Lyon, France
Hours: Tues – Sat 11:45AM – 2:15PM | 6:45PM – 10:45PM
L'Argot
€€€ | Meat Dishes | No Outdoor Seating
Meat lovers, rejoice! This place actually serves both as a butcher shop where clients can come to purchase meat and also as a restaurant at the same time. There's a variety of meat available, including beef, pork, lamb and duck. Everything is melt in your mouth good and cooked to perfection. Don't forget to save room for their surprisingly good desserts either, especially the chocolate lava cake.
Address: 132 Rue Bugeaud, 69006 Lyon | Tel: +33 4 78 24 57 88
Hours: Tues/Thur/Fri 12PM – 2PM | 7PM – 9PM | Wed/Sat 12PM – 2PM
While we write great restaurants guides, we are a tour company first. Check out our selection of fun tours and experiences all over France!
Les Flacconeurs Bistro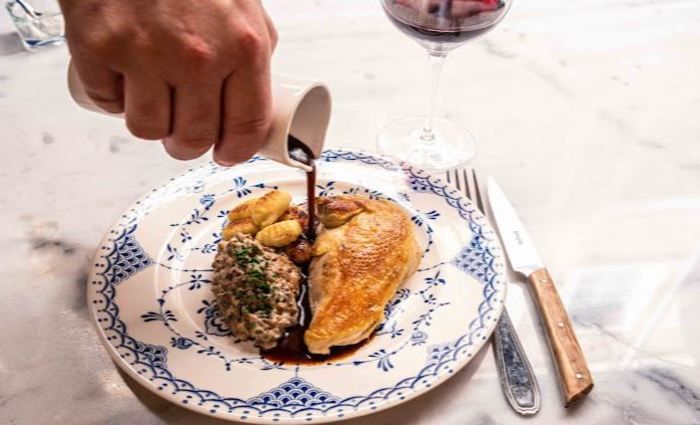 €€ | French Bistro | No Outdoor Seating
A modern yet cozy French bistro that stands as one of our favorite spots in Lyon. The waiters are friendly, the ambiance is relaxed and the food is phenomenal. Two lifelong friends, Mathieu and Roman, opened Les Flacconeurs together a few years ago. In France, typically bistros are a bit more modest than other types of restaurants. This place does an awesome job of combining high quality food with a laid back ambiance that makes you feel like you're at home.
Address: 38 Rue de l'Arbre Sec, 69001 Lyon | Tel: +33 4 78 08 89 52
Hours: Wed – Sat 12PM – 2PM | 7:30PM – 10PM
La Sommelière
€€€€ | French Food | One Michelin Star
The Japanese chef running the kitchen at La Sommelière spent years specializing in French cuisine and it shows. The dishes are original, refined and beautifully plated. The cuisine is more on the modern side, as is the restaurant's interior. Their seven course menu is impressive and a great bargain for the price. This is our vote for the best one Michelin star restaurant in Lyon, so be sure to make reservations in advance!
Address: 6 Rue Mourguet, 69005 Lyon | Tel: +33 4 78 79 86 45
Hours: Wed – Sat 8PM – 11:30PM | Sun 12:30PM – 3:30PM