Despite being the third-largest city in France, too many tourists bypass Lyon. Read on to find out why this city is seriously underrated, and why you need to add it to your bucket list!
---
The Best Things To Do in Lyon
Lyon is a fantastic city to visit and offers a great blend of history and modernity. This is the ideal destination for foodies, as Lyon is most famous for its cuisine and is commonly referred to as the Gastronomic Capital of the World. Chefs from around the planet come to Lyon to train and open their own restaurants.
Beyond the food, Lyon has plenty of things to see and do. Interesting museums, monuments, and history provide something for every kind of traveler. If you're able to, we'd recommend three days to really discover all the ins and outs of Lyon. Read on to discover why this is one of our favorite French cities!
13. Experience La Fête des Lumières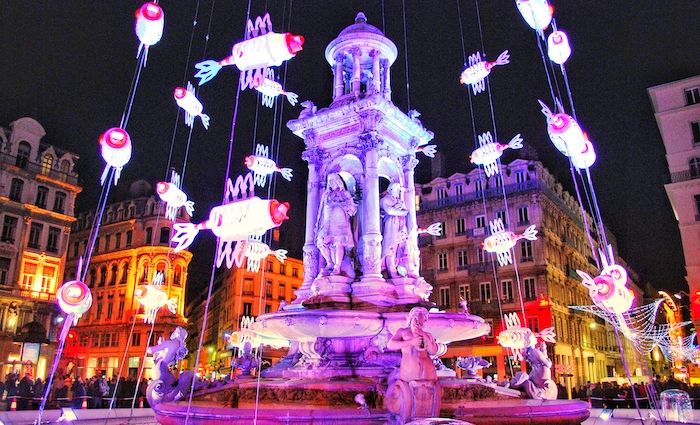 The Festival of Lights is an incredible annual event and doesn't rank higher on our list solely because it only happens at a specific time of year. This tradition started all the way back in 1852, when the residents of Lyon placed candles in colored glasses on their window sills to celebrate the installation of a statue of the Virgin Mary on the Fourvière Hill. The city was covered in a magical array of lights, and ever since that night, light has held a special place in the identity and culture of Lyon.
Nowadays, for four nights every year around December 8th, the city celebrates La Fête des Lumières. Buildings, parks, squares, and streets are lit up all around Lyon with various artists' illuminations. Some light structures are interactive while others might display poetry or be accompanied by music. The majority have a fascinating light display with moving and alternating images. If you're planning on going to France in early December, you should seriously consider going to Lyon for La Fête des Lumières.
12. Check out Place Bellecour
This immense square is the largest pedestrian square in Europe and a real sight to behold. At first glance, Place Bellecour might seem a bit empty, as there's no greenery to be found. There's plenty of restaurants and cafés around, though, as well as a statue of King Louis XIV. A Ferris wheel is set up in the square for a large part of the year, and an ice rink pops up in winter. From the square, you'll also have a great view of the city's hilltop basilica. We recommend strolling through here at night when the square is illuminated and takes on a totally different ambiance.
11. Get in touch with your artsy side
The Museum of Fine Arts (Musée des Beaux-Arts) is one of the best museums in Lyon, and a must for art lovers. It's the largest Fine Arts Museum in France after the Louvre! The museum's building is a former 17th-century abbey and has a beautiful courtyard.
Sculptures and paintings featured in the museum date from the 14th to the 20th centuries. Visitors can admire the work of well-known artists such as Rubens, Rembrandt, Poussin, Delacroix, Gauguin, and more. The museum also has an interesting collection of ancient Egyptian art and objects. It's not every day you find a museum covering so many periods with such a vast collection. Those who appreciate art should plan on spending at least a few hours here. One small downside is that most of the explanations next to the artwork are only written in French, so we recommend renting an audio guide if you're interested in learning more.
Address: 20 Place des Terreaux, 69001 Lyon
Hours: Wed-Mon 10 AM – 6 PM
Price: 8€ for adults 18 and older
10. Admire Confluence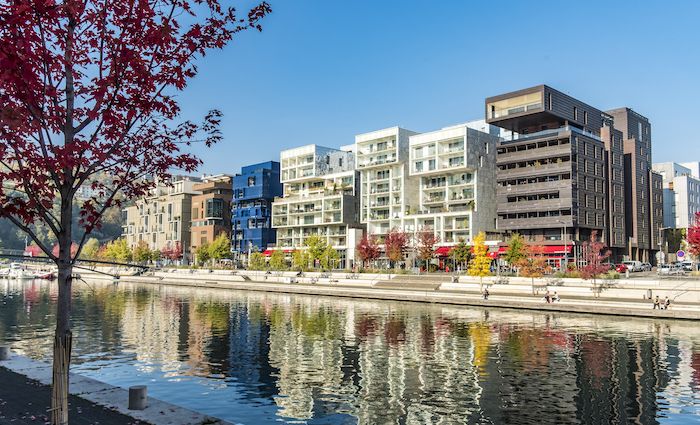 Lyon's former industrial area has gotten a serious revamp. Located on a small stretch of land between the city's two rivers, Confluence is now considered an urban renewal project. While it formerly housed factories and even prisons, it's now home to upscale offices, shops, a mall, and more. Sustainable development and ecology are key factors in the Confluence Project, so visitors will notice lots of greenery mixed in with the modern buildings. One hundred percent recycled concrete has been used for all parts of the neighborhood and all buildings have been built to be as energy-efficient as possible. Whether or not you're a fan of modern architecture, Confluence is worth walking through. Lyon has essentially taken an industrial wasteland in the city center and turned it into an attractive and unique district – an impressive feat.
Also located in the Confluence neighborhood is the Musée des Confluences, a museum dedicated to science and anthropology. Those interested in learning more about mankind and the history of life as we know it will definitely enjoy a stop here.
Address: La Confluence
9. Eat your way through Les Halles – Paul Bocuse
This is the place to explore local cuisine. Named after Paul Bocuse, an icon in French gastronomy, Les Halles is an indoor food market that's been open since 1859. There's over 50 vendors inside selling their specialties, which range from chocolates, fruits and vegetables, oysters, frog legs, cheese and more. This is an awesome place to walk through, but it's also a great option for lunch. There's multiple vendors set up as restaurants inside which have tables and chairs for dining.
One tip: while the market is open on Mondays, a lot of shops inside are closed this day. We recommend going another day if you want to get the full experience.
Address: 102 Cours Lafayette, 69003 Lyon
Hours: Mon – Fri 7AM – 7PM | Sat – Sun 7AM – 1PM
8. Visit the Musée Cinema et Miniature
We recognize that when we recommend the Cinema and Miniature Museum, most people might read the name and keep scrolling. But trust us, this museum is fantastic! It's is the only one of its kind in Europe. The Musée Cinema et Miniature was founded by Dan Ohlmann, a former woodworker and interior designer who now dedicates himself to building miniature scenes. These scenes vary from Japanese temples to movie theaters to Lyon workshops. They take Ohlmann months to create and are truly works of art.
Did you know that Lyon is actually the birthplace of cinema? Besides showcasing Ohlmann's terrific miniatures, the museum says its goal is to make visitors fall in love with cinema. Hundreds of props, costumes, masks and more that were used in movies are on display to admire. You'll find items from famous movies like Star Wars, Back to the Future, Alien and Harry Potter, as well as props from lesser known movies. The museum has tons of information on the special effects and filming techniques used to make blockbusters. You don't need to be a movie geek to enjoy this museum – between the miniatures and movie props, this is a truly unique and fascinating museum the whole family will love.
Address: 60 Rue Saint-Jean, 69005 Lyon
Hours: Every day 10AM – 6:30PM
Price: 9.50€ for adults, 6.50€ ages 5 -15
7. Take In the Cathedral
No great French city is complete without a cathedral. Located right next to the Saône River, Lyon's cathedral is dedicated to Saint John the Baptist (Cathédrale Saint-Jean-Baptiste). It was built from 1180 to 1480 and is a blend of both Gothic and Romanesque architecture. One of the highlights of this cathedral is its astronomical clock, which was built in 1598. It strikes four times a day: at noon, 2 pm, 3 pm, and 4 pm. The clock's symbols indicate the date, the position of the moon, the sun, and the earth, as well as the stars in the sky over Lyon. It's one of the oldest functioning clocks in Europe and is installed inside the cathedral, so it's easy to see it up close.
Another impressive part of the cathedral is its exceptionally beautiful stained glass, which illustrates stories from the Old and New Testaments. Some of the glass dates back as far as the 12th century!
Address: Place Saint-Jean, 69005 Lyon
6. Eat in a bouchon
A trip to Lyon must include at least one meal in a bouchon lyonnais. What exactly is a bouchon? It's essentially a traditional restaurant found in the Lyon area which serves Lyonnaise cuisine. Most of these restaurants have a rustic feel to them, so don't expect anything fancy. When dining in a bouchon, you'll often find food that's on the heavier side and more meat-based. The quenelle is by far the most famous dish in Lyon. Quenelles are dumplings made of breadcrumbs and usually minced poultry or fish meat (it's better than it sounds). Sausage and andouillette are also big here, as well as cervelle de canut, a delicious cheese spread. And of course, all traditional bouchons will serve you a carafe of Beaujolais or Côtes du Rhône, the regional wines of Lyon.
Lyon is largely considered the gastronomic capital of France and has even been called the gastronomic capital of the world, so food is taken seriously here. The city has a website set up where you can look up certified bouchons to make sure you don't stumble onto any kind of tourist trap. There's lots of bouchons you can find in the old part of the city, Vieux Lyon. Just make sure you try one before you leave!
5. Explore les traboules
Who knew Lyon was hiding secret historical passageways? About forty of them are open for the public to explore, although it's estimated there might be as many as four hundred in the city. The first traboules are believed to have been built around the 4th century, in order to facilitate inhabitants moving from the city down to the river's edge. Later, they were used by Lyon's famous silk workers to carry their heavy loads from their workshops to the textile merchants near the river, where the materials would then be shipped. The traboules also served as meeting places for French resistance members during World War II. It's safe to say that walking through the traboules is walking in history's footsteps.
The traboules can be visited on your own or you can find a guided tour to learn more about them. Most of the traboules are located in the Vieux Lyon and Croix-Rousse districts. The longest traboule in Lyon runs between 54 Rue Saint-Jean and 27 Rue du Bœuf, and a famously picturesque traboule begins at 9 Place Colbert/14 bis montée Saint Sebastien and features a historic six-story external staircase.
4. Chill out in the Tête d'Or Park
An absolutely fantastic park that is not to be missed while visiting Lyon. It's fun for all ages and especially a great option if you are traveling as a family. The park spans over 250 acres, including a 40 acre lake, so while you can definitely walk around the park we also recommend renting bikes if you feel up for it. There's also a mini train that goes around the park that you can try to hop on.
Inside the park, there's a zoo with giraffes, zebras, flamingos, lions and more. There's also the largest botanical garden in France with over 20,000 species of plants, a massive rose garden and tropical greenhouses. This is the perfect spot to have a picnic or grab an ice cream in the afternoon. There's a merry-go-round for kids and even puppet shows on Wednesday afternoons. All of these activities (besides the ice cream) are free, including the zoo! If the weather is nice, you could easily spend hours here.
We're linking the address for the main entrance below, but there are multiple entrances to access the park.
Address: Place du Général Leclerc
3. Gaze at an Ancient Roman Theatre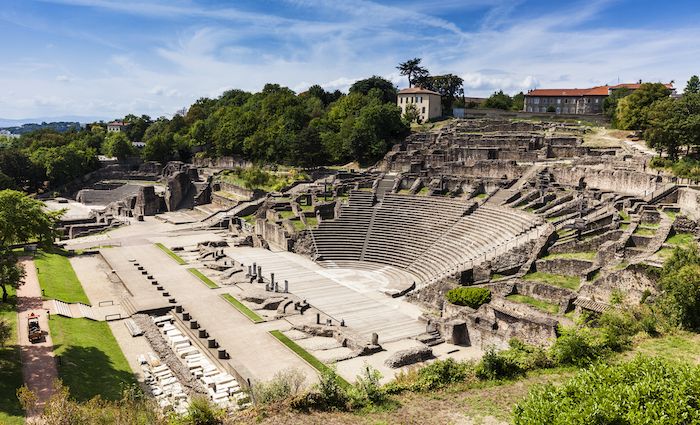 Lyon has not one, but two ancient Roman theatres! Both theatres are remarkably well preserved and located near the city's basilica on a hill. The largest and oldest of the two, which at one point could hold nearly 5,000 people, dates from about 15 BC. Historians have determined that this theatre was dedicated to tragedies and comedies, while the smaller theatre was mostly used for political or philosophical orators. The city still uses the theatres for the Fourviere Nights Festival which takes place every summer.
Both theatres are free to visit. There's also a museum close by which covers the aspects of public and private life during the Roman time period if you're interested in learning more. These theatres are not something to take for granted, so make sure they are at the top of your list while visiting Lyon.
Address: Rue de l'Antiquaille, 69005 Lyon
Hours: Every day 7AM – 7PM
2. Visit the magical Notre-Dame of Fourvière Basilica
From a historical point of view, Lyon's basilica is not very old – the construction of the monument began in 1872. However, over time this basilica has become the true emblem of Lyon and a major pilgrimage and visitor site. Notre-Dame of Fourvière is dedicated to the Virgin Mary and carries special significance to religious believers. The interior of the basilica is truly breathtaking and quite a bit different from most other churches and cathedrals you will find in France. There are six incredible, ornate mosaic murals inside as well as six main stained glass windows.
Another reason to visit the basilica is for its views. Notre-Dame of Fourvière is located on a hill overlooking Lyon and from the top, you'll have a panoramic view of the whole city. While the walk to the top of the hill is not very long, it is steep. There's a funicular available (3 euros roundtrip) that will take you up to the top and which is also a fun ride if you don't think walking sounds like a good idea. Either way, the Notre-Dame of Fourvière Basilica is one of the top things to do in the city and an important part of Lyon culture that shouldn't be skipped.
Address: 8 Place de Fourvière, 69005 Lyon
1. Immerse yourself in Vieux Lyon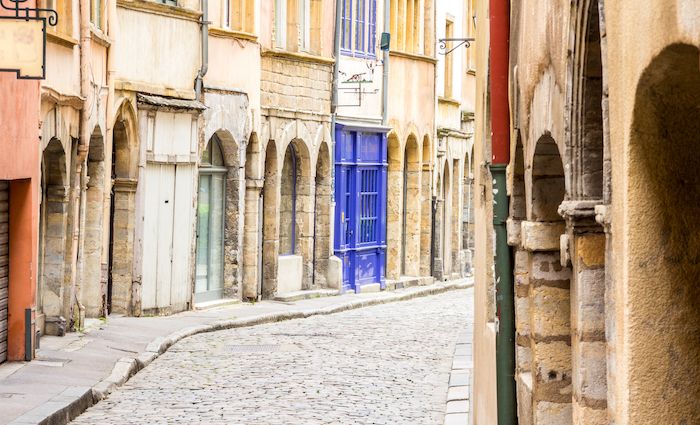 Vieux Lyon, or 'Old Lyon' in English, is largely considered to be most travelers' favorite neighborhood to explore. This is Lyon's historical center, and it's actually one of Europe's most extensive Renaissance neighborhoods. Lyon became a hotspot during the Renaissance thanks to its booming silk industry, which attracted rich merchants from across France as well as from neighboring countries. There are hundreds of these old merchants' homes, built in the gothic Italian Renaissance and French Renaissance styles, still standing in Vieux Lyon today.
Besides remarkable buildings, you'll find beautiful bridges, cobblestone streets and plenty more history welcoming visitors on all sides. There are tons of places to eat and drink, including the famous bouchons. This is also where a large portion of the city's traboules are located. Even if you only have a few hours to spend in Lyon, exploring Vieux Lyon is by far our top recommendation. The charm and atmosphere are unbeatable!