Las Vegas is all about extravagance. But just because you want to experience Sin City doesn't mean you want to break the bank. However, staying at some of the cheap hotels in Vegas aren't worth the amount you save, if you know what we mean. Therefore, we rounded up the best budget-friendly Vegas hotels that will give you a pleasant stay—while also being easy on your wallet!
---
Pro tip: Bookmark this post in your browser before your next Vegas trip! You can also check out our Las Vegas guide for more information, discover the best tours in Vegas, or plan your favorite things to do in Vegas.
The Top 12 Budget Hotels in Las Vegas
Between top-rated restaurants, Instagrammable hotels. and jaw-dropping shows, Las Vegas trips can get expensive. Not only that, but Sin City is also well-known for being home to hotels that charge resort fees.
As you likely know, resort fees can make an already-pricey stay even pricier. However, when the hotel is cheap to begin with, the resort fee is usually cheaper too. (If you hate those resort fees, check out our list of Vegas hotels that don't charge resort fees at all.)
It's also possible to find many hotels in Vegas with a cheaper rate than the others throughout the season and on weekends too. Unfortunately, the cheaper hotels in Vegas aren't always places we would feel comfortable suggesting!
Despite this, we do know about some affordable favorites that are nice, comfortable, safe, and won't break the bank. In fact, if your travel plans are flexible and you're really looking to score a deal, then head to Vegas in the middle of the week when some hotels on the Strip drop their rates to $30-80 per night.
All of the hotels on this list average $150/night or less, but many also offer free perks that other iconic Vegas hotels don't—we love the extra value! Sounds pretty good, right? Read on to discover our picks for the best budget hotels in Vegas.
Our Partnership with Booking.com. If you like our content, please book by clicking on our Booking.com links. The price is the same for you, and we get a small commission that helps support our blog. We've partnered with Booking.com because they have the most options, great prices, and a solid loyalty program. Just about every hotel is on Booking so our recommendations are not incentivized.
Casino Royale Best Western Plus – Center Strip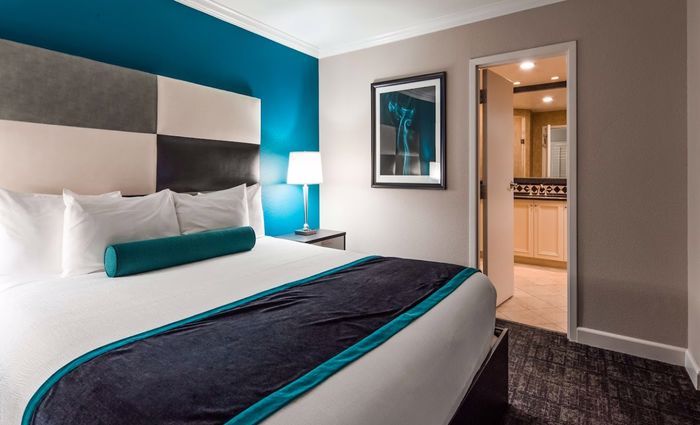 $ | 3 Star | No Resort Fees | Amazing Location | Clean Rooms
This is one of the hotels we mentioned that doesn't charge resort fees! In fact, it is the only hotel right on the Las Vegas Strip without those pesky fees. How great is that? To be fair, we'll also mention that the exterior of this hotel may look a little run down, but you'll change your mind once you're inside.
Casino Royale Best Western Plus prides itself on cleanliness and safety, and you can tell once you're in the rooms! Although they may be basic, they are clean and comfortable. The customer service is also top notch, which is always a plus.
In terms of location, you can't get any better. The Casino Royale Best Western Plus is right across from the Mirage and its free volcano show and right next to the stunning Venetian hotel. In addition, there are plenty of affordable food options close by, as well as an affordable bar and casino onsite. This is a great, wallet-happy pick!

Location, photos, and booking
Not ready to book a tour? Read more in our Las Vegas Guide.
Tropicana Las Vegas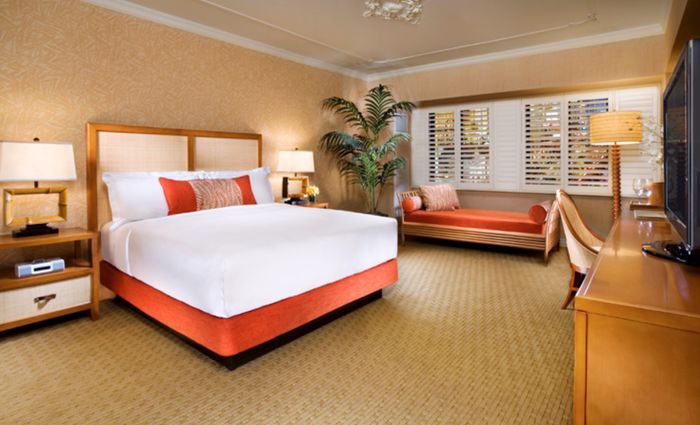 $$ | 4 Star | Quieter Stay | Awesome Location | Big Rooms & Comfy Beds
The Tropicana boasts an excellent location on the south end of the Strip. Because of this, it's generally less busy than other hotels in the area. This can be a huge plus depending on what type of trip you are looking for. If you want something more relaxed, the Tropicana is a great option.

Some guests think the Tropicana is older and outdated, and there are some areas and rooms that could still use an update. Although it may appear basic, it has everything you need for a comfortable Vegas vacation. The rooms are spacious, the beds are comfortable, and the hotel is clean.
Oh yeah, and your wallet will thank you, especially if you score one of their mid-week deals under $100/night! What's more, the Strip is right outside your front door!

Location, photos, and booking
Rio All-Suite Resort And Casino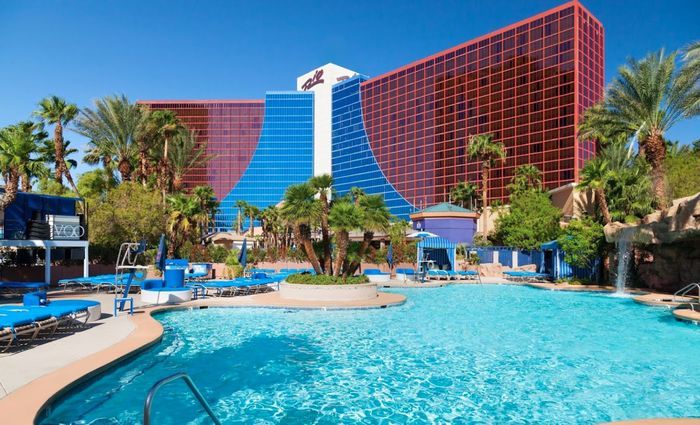 $$ | 4 Star | Off-Strip | Free Parking | Home of Penn & Teller
The Rio All-Suite Resort and Casino is another great pick if you'd prefer to stay slightly off-Strip. This hotel is around a 10-minute drive from the south end of the Strip. Despite this, some rooms have a great Strip view! It's also close enough so you can be on the Strip in minutes when you want to visit!
Since it's not directly on the Strip itself, the Rio is much more affordable than most hotels on the Strip. Therefore, it's a go-to for Vegas visitors looking for a cheap hotel with suites and mini fridges. What's more, inside the Rio, you'll find the Penn & Teller show, the VooDoo Beach Pools, and casinos!

Parking at the Rio is also free for guests, which is a huge plus since most hotels charge $15 or more per day! To be fair, this is not known for being a fancy hotel and reviews are often mixed, but if you love a cheap deal with a lot of value (and Penn & Teller!), the Rio is a solid choice.
Treasure Island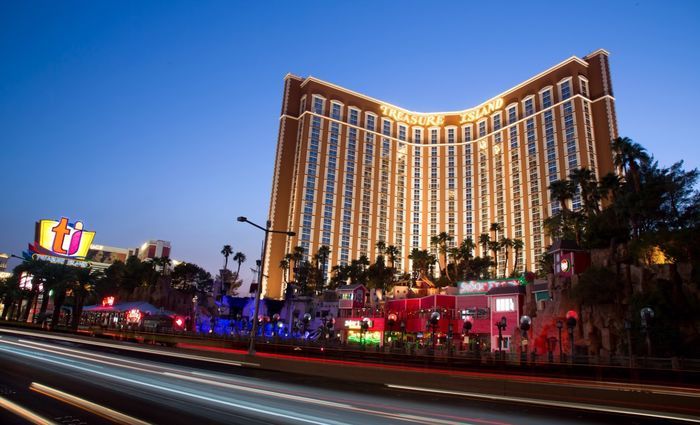 $$ | 4 Star | Pirate Themed | Free Parking | On-Site Country Bar
Based on the amount hotels on this list so far with free parking, you may think that free parking is a common occurrence at Vegas hotels. Trust us when we say it's really not! However, Treasure Island offers free parking for guests, which makes this budget-friendly hotel in Vegas even more appealing.

What's more, this hotel is centrally located on the Strip, so it's a short walk to almost anywhere on the Strip you may want to go. In addition, Treasure Island has a distinct pirate-theme which is fun for kids! It's also home to Gilley's Saloon, a country bar that hosts free line dancing classes several nights each week.

As for the rooms, they are spacious, clean, and some come with a Strip view. Many of the rooms are also equipped with a mini fridge, which can be very useful after a long day of exploring Las Vegas. Despite its central location, Treasure Island typically has good deals if you have flexible travel dates.
Horseshoe Las Vegas (Formerly Bally's)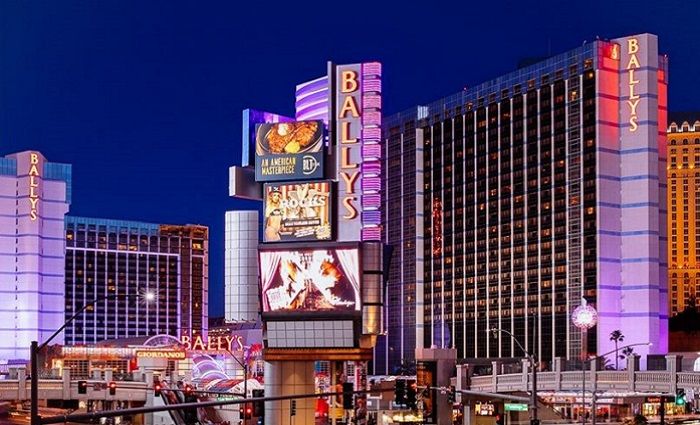 $$ | 3 Star | Freshly Remodeled Rooms | Rare Deep-End Pool | On-Site Mini Golf
With their recently remodeled rooms, massive casino, and entertainment venues, you'll get incredible value at Horseshoe Las Vegas. What's more, this hotel is located near all the action of the center Strip (think: next door to Paris Las Vegas). Despite the amazing locale, Horseshoe Las Vegas has been known to have great deals, even in the summer.

At Horseshoe, the rooms are spacious and clean. In addition, some have refrigerators inside, and many rooms also have adjoining doors. If you get a suite, it boasts a huge bath tub for some relaxation after enjoying all the many amenities offered onsite.

This hotel includes a clean fitness center, tennis court, and salon! There's also Twilight Zone Mini Golf, as well as a number of on-site restaurants. Jump into the deep end of the hotel's Blu Pool when your day is done!

Location, photos, and booking
Excalibur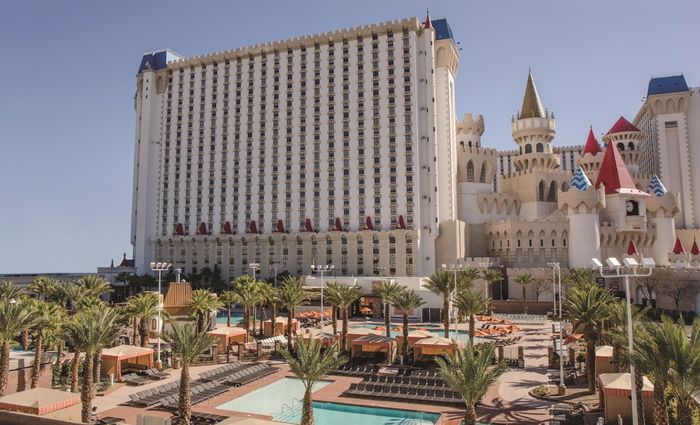 $ | 3 Star | Castle Theme | Great Customer Service & Room Service | Home of Tournament of Kings
Thanks to the castle theme and on-site arcade, the Excalibur is a great place to bring your kids and enjoy an affordable stay in Vegas. Located on the south end of the Strip, Excalibur features large, clean rooms. It's a bit of a walk to get to other Strip attractions, but you can always grab an Uber. And unlike some hotels, they are currently offering room service.
You'll see the castle theme reflected throughout the hotel as you explore all the things to do, like the famous Tournament of Kings. Enjoy a dinner fit for royalty as you watch a medieval jousting show. Guests love the customer service here, as well as the fact that it's generally nicer on your wallet than some other well-located hotels.

Location, photos, and booking
South Point Hotel Casino & Spa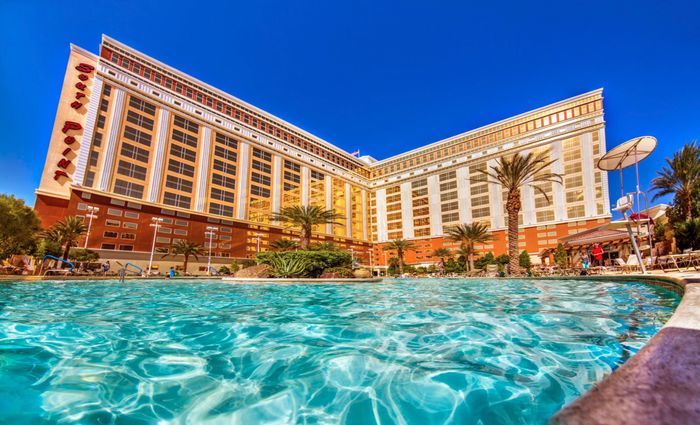 $$ | 4 Star | Off-Strip | Affordable On-Site Buffet | Movie Theater & Bowling Alley
If you don't mind being 15 minutes from the Strip, you really can't go wrong with South Point! Not only are the rooms large, clean, and affordable, but this hotel boasts a movie theater with 16 different screens. It's also home to an affordable bowling alley and a beautiful pool for a fun day with the family.

Guests and locals alike also love the affordable on-site Garden Buffet, as well as the many other restaurants located inside this hotel. We guarantee you won't find $2 Bloody Marys anywhere else in Las Vegas! Guests also love the friendly staff and excellent customer service at this hotel. South Point is an A+ choice.
Silverton Casino Hotel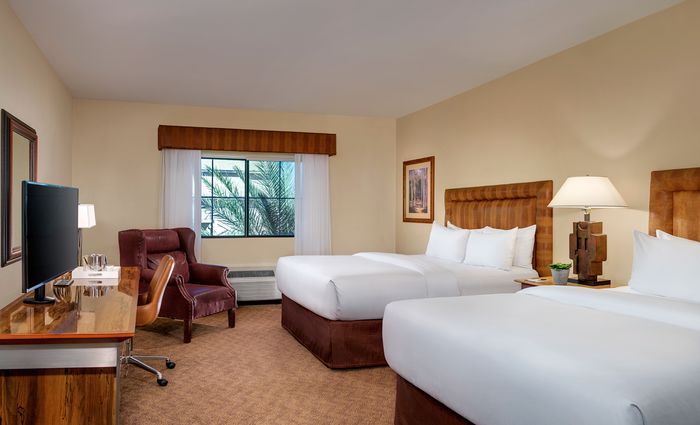 $$ | 3 Star | Mermaid Aquarium | Off-Strip | On-Site Restaurant and Lounge
Yes, we said mermaids! The first thing you'll see when you enter this hotel is the vibrant aquarium, full of fish, manta rays, and other sea creatures. Also, every Thursday through Sunday, the tank also welcomes swimmers dressed up like mermaids. Trust us, you'll want a picture of it! The mermaids usually appear for a few hours at a time, so double-check the times before going down to the lobby to see them.

Connected to the enormous outdoor store Bass Pro Shops, the Silverton is about a 15-minute drive from the Strip. It's in a more residential area of Vegas, and that's reflected in the cheaper price of the rooms.

Don't worry. Even though this hotel is a tad removed from the Strip, there's plenty to do nearby. There are also several on-site restaurants, as well as a lounge that features live music on weekends. In addition, the rooms are clean and spacious, and boast comfortable beds.
Ellis Island Hotel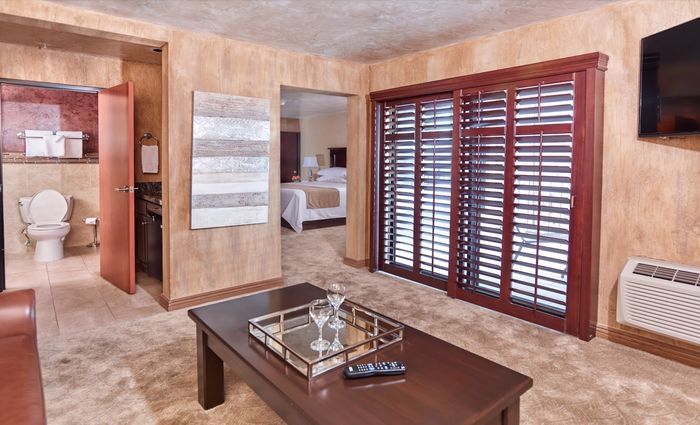 $ | 2 Star | On-Site Brewery | Fun Off-Strip Atmosphere | 24/7 Restaurant
Ellis Island is fun, affordable, and a short 4-minute walk from the middle of the Strip! What's more, this hotel features an on-site brewery, in addition to a restaurant that's open 24/7. The hotel also hosts frequent events, such as trivia nights.
The rooms inside Ellis Island come with comfortable beds and are kept clean. What's more, many of the rooms include a mini-fridge, as well as a coffee maker! These amenities make it easier to prepare before spending a night out on the Strip. However, please note that the area can be a little seedy at night, so stick to the buddy system and walk as a group!
The D Las Vegas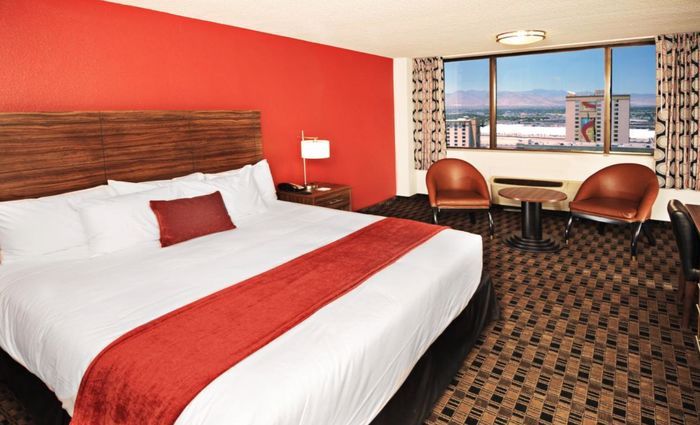 $$ | 3 Star | Home of the World's Largest Keno Board | Amazing Downtown Location | Fun Bar and Casino
This Fremont Street hotel pays a little homage to Detroit (the "D," get it?). In addition, it boasts the world's largest keno board adjacent to the keno lounge, and games in the lounge are broadcasted onto the board in real time. If you are a keno player, you can watch your numbers on the screen as they are being drawn.

Even if you're not big on keno, guests love the fun atmosphere inside the casino, as well as the on-site bar. Named Longbar, the bar is—as the name suggests—one of the largest bars in Vegas!

This hotel is located on the corner where the free concerts are offered on Fremont Street. Please note that the D is nowhere near the Strip. Instead, it's in bustling Downtown Vegas. The D is right in the middle of the action, but the prices are still affordable.
People also love the clean, sleek rooms at this hotel. If you want to stay in a fun casino hotel near the Fremont Street Experience that's located right outside your front door, look no further.
Palace Station & Casino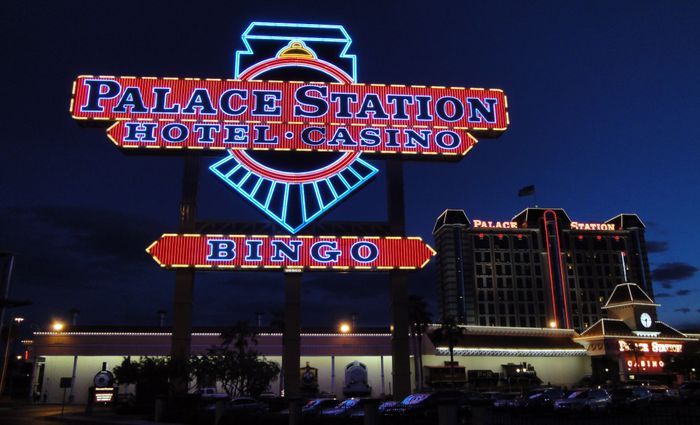 $$ | 3 Star | Freshly Renovated Rooms | On-Site Activities & Amenities | Large Restaurant Selection
We know we included many cheap Vegas hotels that are near the south side of the Strip. Palace Station Casino, however, is over on the north side. (Think: Wynn Las Vegas and the brand new Resorts World). We like Palace Station for its many on-site activities, as well as all the restaurants to choose from. One of their on-site eateries (the popular Oyster Bar) is open 24/7!

Guests love bingo night at Palace Station, which even has a DJ. But perhaps our most favorite amenity at Palace Station is the in-house movie theater. Although there is no coffee maker or microwave in the rooms, they are clean and spacious with some having great views of the rest of the city. Palace Station is a fun, affordable hotel pick in Vegas.
Gold Coast Hotel And Casino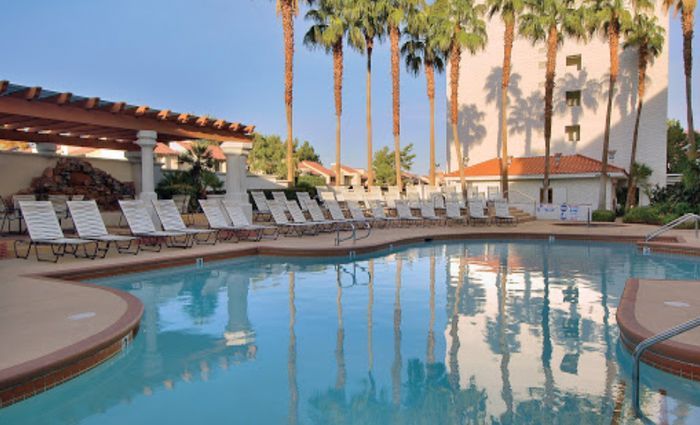 $$ | 4 Star | On-Site Restaurants | Fun, Off-Strip Atmosphere | Bingo and Bowling Alley
Have you noticed that even though this is our list of cheap Vegas hotels, they are all filled with awesome on-site activities? That's why we love Vegas so much! Gold Coast is no exception to this rule. Not only do they host bingo games (for a fee), but they also have a bowling alley onsite!
You'll find the Gold Coast located on Flamingo Drive, just 10 minutes from the Strip. If you're a gambler, you will enjoy the tables at the casino, which have a lower minimum than usual. This is because the Gold Coast Hotel & Casino is largely regarded as a local's spot. Additionally, there are several restaurants onsite.

What's more, the rooms are clean, and the staff will make sure you are taken care of. This hotel is on the older side, but it does have a few newer rooms. We definitely think it's worth a stay because of the price, location, and unusual amenities such as the bowling alley!
Not ready to book a tour? Read more in our Las Vegas Guide.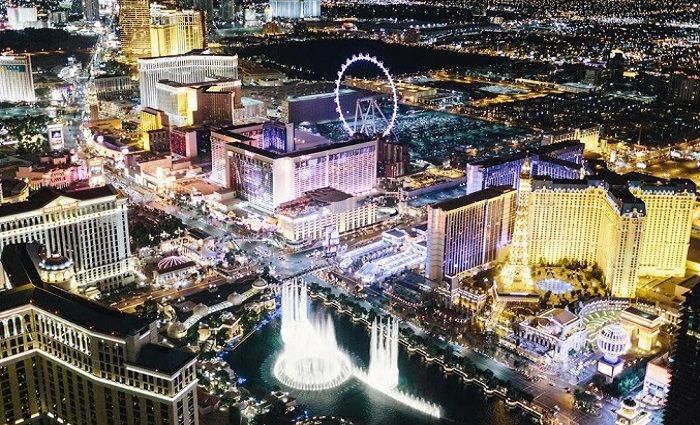 Find the best places to stay
Where to Stay in Las Vegas
Discover some of the most iconic and best places to stay in Las Vegas to make this trip the most memorable of all your trips to the Strip