Chicago is hardly lacking in exciting destinations. So when visitors make their way to the Windy City, they're faced with an incredible breadth of choices. That's where this list of the top things to do in Chicago comes in. For those faced with the biggest travel question, "What should I do or see in Chicago?" the answers lie below.
---
Pro Tip: Bookmarks are the key to organizing a great trip. Bookmark this post in your browser so you can circle back to it as you plan your trip.
The Best Things To Do and See In Chicago
When it comes to planning your Chicago itinerary, it all depends on what draws you to the city. Travel is deeply personal. So this list contains something for everyone with some of the definitive spots in Chicago. From tours to restaurants to museums, you'll discover that Chicago has a lot to offer—if you're willing to explore. Here are our favorite things to do in Chicago.
15. Book an Architectural and Historical Boat Tour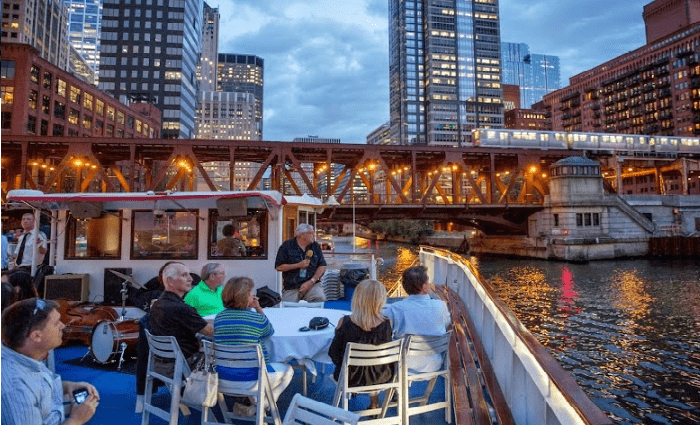 Chicago features some of the country's most exquisite architecture, which is why this Riverwalk architecture tour is an absolute must-see. For tourists wanting to enjoy the best of downtown Chicago and find exciting spots along the Chicago Riverwalk, the Wendella Boat Ride is perfect.
For those on a budget, a stroll along the Riverwalk is almost as good, but it won't dive into the history of Chicago's biggest landmarks, so make sure to book this tour before you go.
Book with Wendella Tours & Cruises
14. Spend the Evening at Navy Pier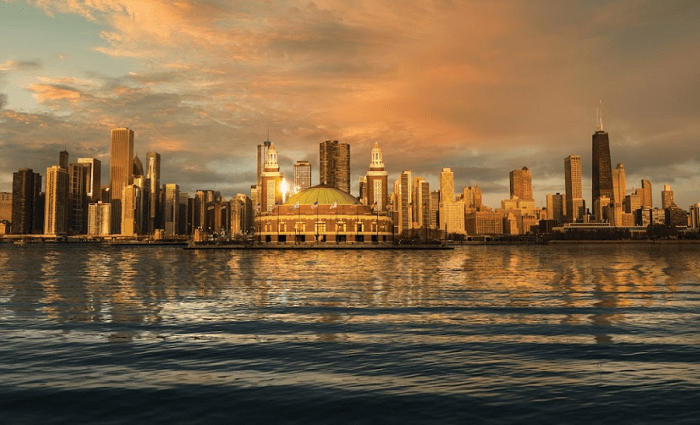 For those excited by the prospect of seeing one of America's Great Lakes, the Navy Pier delivers. The definitive spot along Lake Michigan is Navy Pier, which offers incredible views of the city from inside the Centennial Wheel (an eye-catching Ferris wheel).
This iconic pier features shops, as well as fantastic shows like Shakespeare and Cirque du Soleil. Personally, I've thoroughly enjoyed productions at the Navy Pier Shakespeare theater.
How to get to Navy Pier
13. Explore the Diverse Streetfood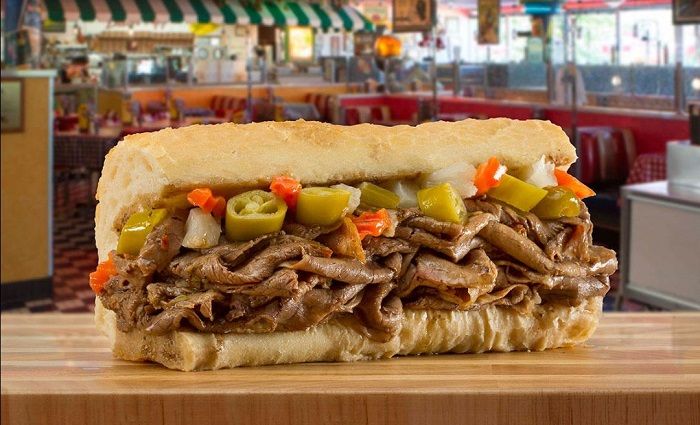 For a city with high-class cuisine, Chicago also features some low-brow options. But don't write them off—they're still delicious. For visitors to Chicago, a Chicago Style hotdog is a must, but so is an Italian beef sandwich (don't skip the giardiniera!).
These staples are great from almost any place (and every local has their preferred favorite), but I recommend Portillo's. This spot is a Chicago classic and features phenomenal fries as well. But once you've had your fill of Italian beef, you'll want to check out the other best eats in Chicago.
How to get to Portillos or Johnnie's Beef
12. Enjoy a Free Trip to the Zoo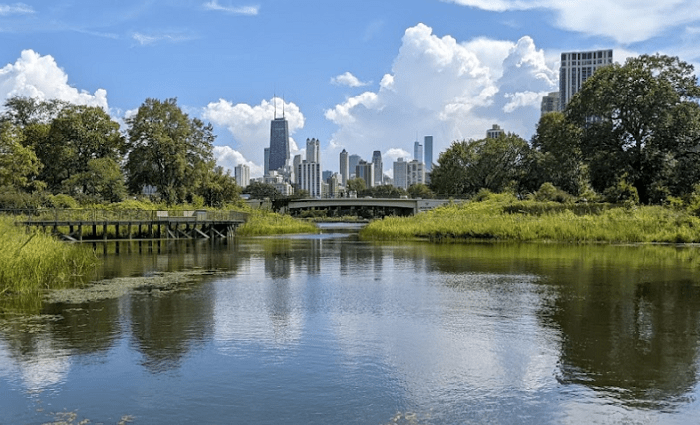 Chicago's Lincoln Park Zoo is a stand-out. Lincoln Park is a fun and trendy part of Chicago, and this small zoo is a free attraction, right near the lake, which makes for a great afternoon. The zoo also features Zoolights in the evenings: a fun light show that's the perfect way to round out a day of animal-filled fun.
In my experience, the zoo is a fun addition to a busy afternoon, and it's perfect for families with kids since it's free and filled with animals!

How to get to Lincoln Park Zoo
11. Indulge in an Experiential Coffee
Ok, so this coffee comes from Starbucks, but it's not just any Starbucks. Downtown Chicago on the Magnificent Mile, you'll find the Starbucks Reserve Roastery. This is coffee like you've never seen it before.
This four-story complex, with liquid-nitrogen-cooled coffee, desserts, and the standard Starbucks vibes, is worth a visit and some Insta photos. I recommend the pastries—they're better than anything I've ever encountered at my local Starbucks.

How to get to Starbucks Reserve
Visiting Chicago? Make sure you know the best hotels to stay at, plus some of the top foods you must try!
10. Visit the Iconic Millennium Park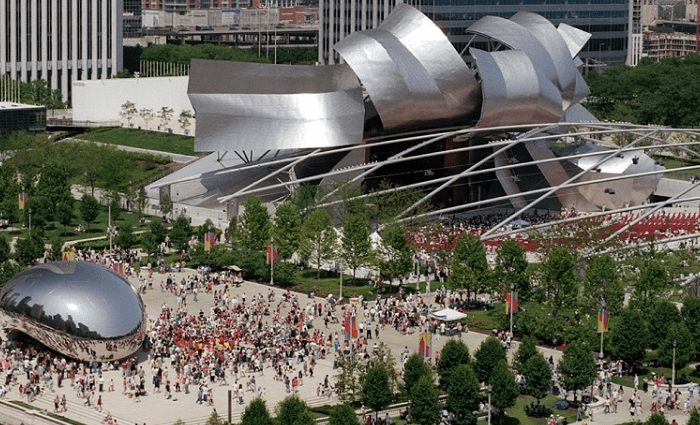 Every big city has its famous park. And in the case of Chicago, that's Millennium Park. With concerts at the Pritzker Pavilion, the iconic "Bean" and an interactive splash park, Millennium Park is a park like no other. And right in the middle of downtown? It's well located and a fun adventure.

How to get to Millenium Park
9. Get a Laugh at a Comedy Club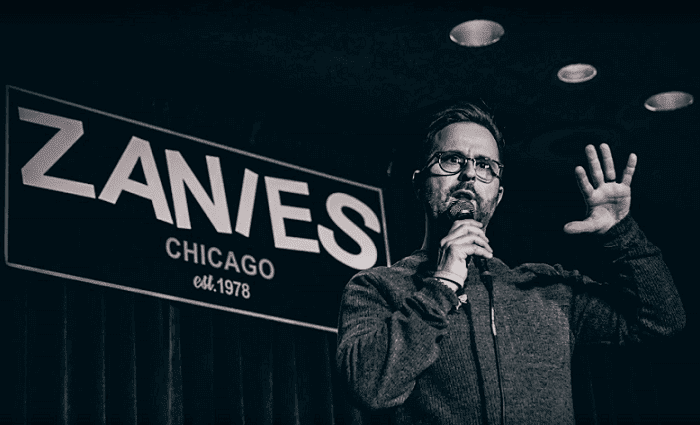 The comedy scene in Chicago is nothing to laugh at. With various clubs throughout the city, there's space for standup, improv, theater, and everything in between. But for the best of Chicago?
Head to Lincoln Lodge, Zanies, or go to a show at the ever-famous Second City. Some of the SNL greats got their start at Second City, so you might run into the next big-time comedian.
How to get to Second City
8. Challenge a Local to a Board Game
Stick with me here. The Midwest is known for its board games, and Chicago offers plenty of spots to stop and enjoy a game or two. There are always cat and mouse games if you're in the Loop. Or if you're stopping in Chicago on a Wednesday, you'll want to visit Dice Dojo.
Dice Dojo is a game store in uptown that features one of the biggest board game collections in North America. And on Wednesdays, free play means you can test out any game you like.

How to get to Dice Dojo
7. Explore Under the Sea at the Shedd Aquarium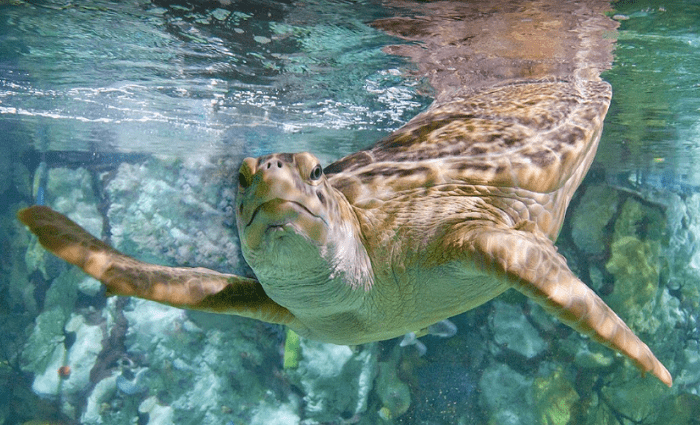 Shedd is an absolute marvel that features fish and exotic animals from across the globe. And since it's located right along the lakefront, this is a gorgeous destination. Whether you're looking to learn or just enjoy the serenity of a living aquarium, Shedd is a great choice for couples and families. Not to mention, it's located right beside the Field Museum and Adler Planetarium.
How to get to Shedd Aquarium
6. Get Your Skate On at Maggie Daley Park Ice Skating Ribbon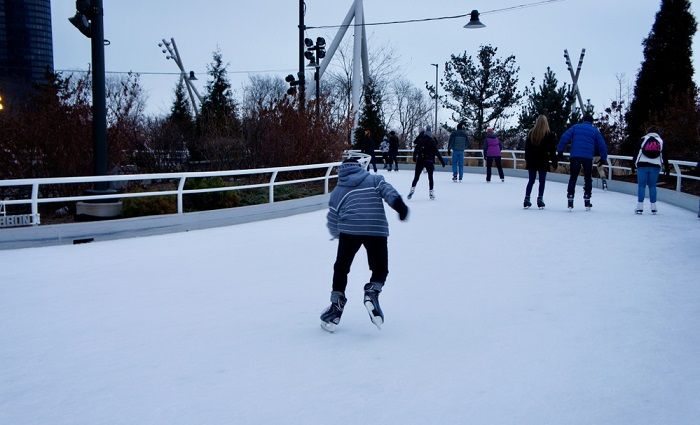 If you're brave enough to visit Chicago in the winter, you're in for a treat! Those willing to brave the cold can visit the Daley Park skating ribbon. This skating rink is gorgeous, with a view of the skyline, as well as a chance to learn to skate (or to show off your prowess on the ice.) Tickets vary, but skate rental tends to be around $16.
So if you're willing to test out the Chicago winter winds? You're in for some fun!
How to get to the Ice Skating Ribbon
5. Relax at the Beach
In Chicago, there are multiple beaches to enjoy in the summer, but the best is definitely North Avenue Beach. With a bar nearby, beautiful views, and easy access to the nearby Lincoln Park, North Avenue is a beach that still feels like a part of the city, with all the relaxation a beach can provide. You won't want to miss the chance to relax and enjoy the beauty of Lake Michigan.
How to get to North Avenue Beach
4. Visit Water Tower Place on the Mag Mile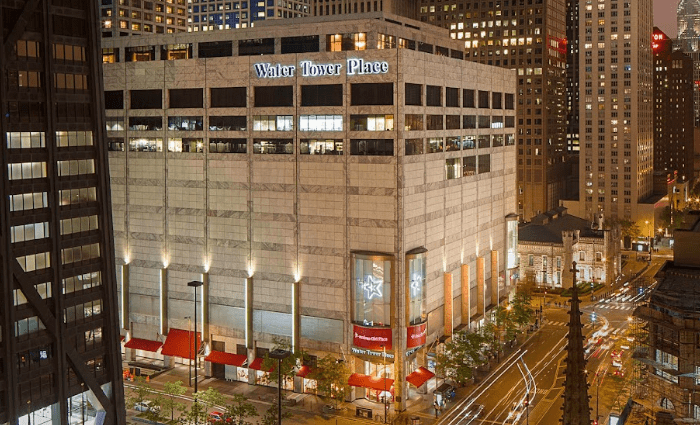 The center of Chicago is the vivid and exciting "Magnificent Mile" called "Mag Mile" by the locals. Featuring flagship stores, dining, shopping, and the hustle-bustle of city life, this is a must visit for new and recurring visitors to the Windy City.
Most importantly along this street, you'll find an iconic mall: Water Tower Place. With stores like Swarovski and Hollister, a tasty food court, and some exquisite fountains, Water Tower Place is easily one of the top things to do in Chicago if you love to shop.
How to get to Water Tower Place
Visiting Chicago? Make sure you know the best hotels to stay at, plus some of the top foods you must try!
3. Step Back in Time at a Speakeasy Jazz Club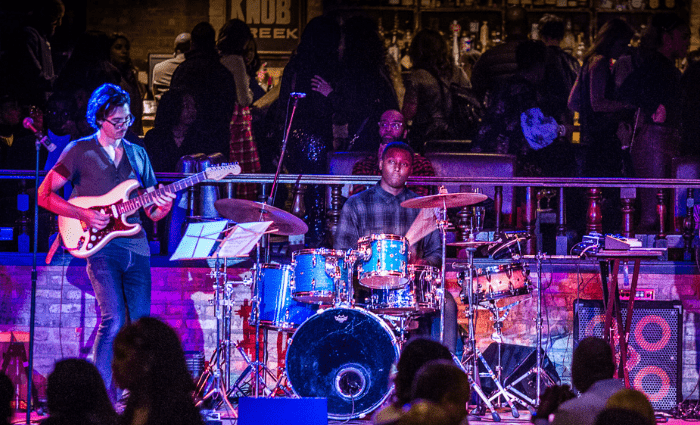 In the Windy City, there's a legacy surrounding mobsters from a by-gone era. Al Capone and other legends made fortunes bootlegging and running guns across the country. For these crime lords, the smoky bars, jazz music, and Italian food dominated their everyday life.
For your chance to reminisce, check out one of the speakeasies around the city. There's one that stands above the rest: Untitled Supper Club is the place to be.
How to get to Untitled Supper Club
2. Soar to New Heights on the Willis Tower Skydeck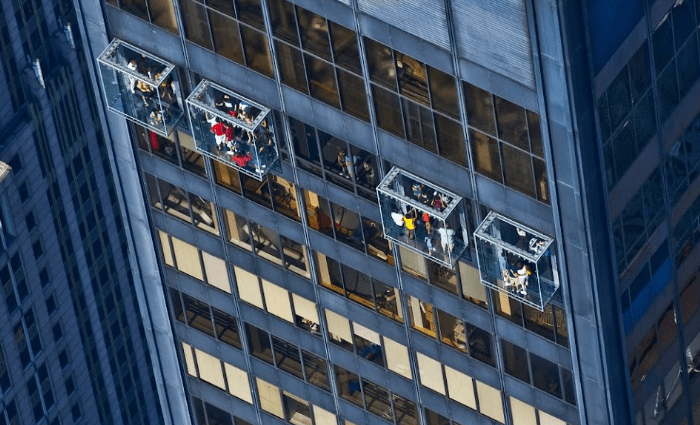 In Chicago, the skyline is defined by one very tall building: the Willis Tower. But don't call it that. To Chicagoans, it will always be the Sears Tower. Which is why—if you want the full Chicago experience—you'll want to visit this part of the skyline. Tickets will let you head up to the Skydeck for great views of the city.
And for the extremely bold? You can step out into the viewing box to look down at the street below with nothing but a bit of glass between you and the long way down.
How to get to the Willis Tower
1. Experience Incredible Artwork at the Art Institute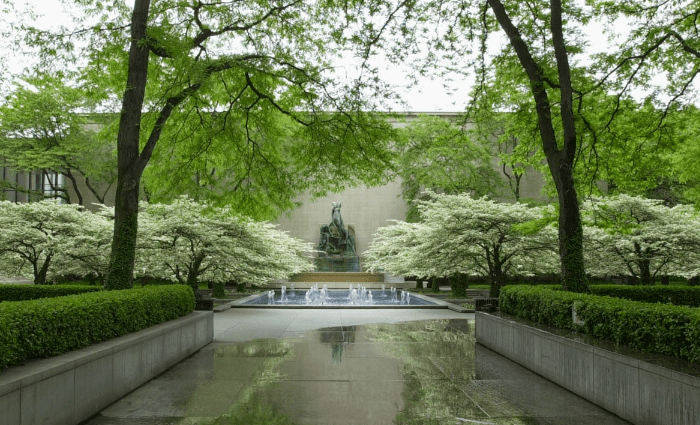 If you're a Monet fan, the art institute is an absolute must. This sprawling museum contains world-famous paintings, specifically, you'll find Monet's Water Lilies as a prominent feature here. But in exploring this comprehensive art museum, you'll be stunned by the miniatures in the basement, as well as their rotating exhibitions throughout the year.
Located right near Millennium Park, it's easy to add on to any trip, but this is a big museum, so make sure you take the time to enjoy it.
How to get to the Art Institute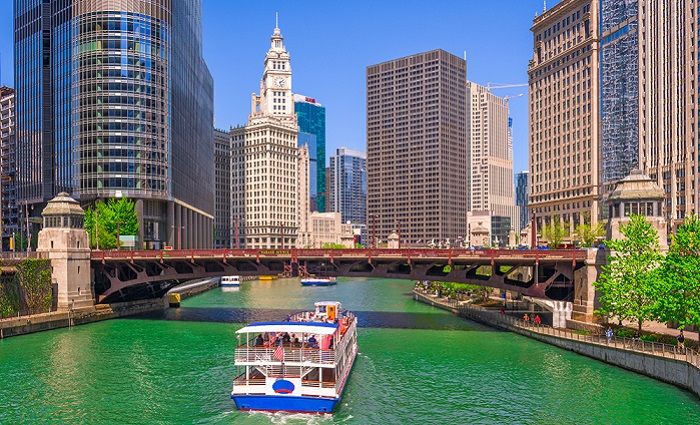 Find the best places to stay
Best Hotels in Chicago
Stay at some of the coolest luxury and mid-range hotels in Chicago, including the iconic flat-iron building. We've put together the best hotels in Chicago for your convenience.