Everyone knows that there are endless things to do in Las Vegas on any given weekend. However, with so many things to do, it can be hard to pack them all into two or three days. That's where we come in. Read on for our recommendations for a weekend getaway to Las Vegas!
---
Pro Tip: It's easier to organize your trip when you have all your resources in one place. Bookmark this post along with our guide to Las Vegas for more planning resources, our best Las Vegas tours for a memorable trip, and exciting day trips from Vegas.
Your 3-Day Itinerary for Vegas: Tips, Getting Around, and What to Do
Las Vegas is a unique destination, to say the least. For starters, it's in the middle of a desert, so the summer months can get extremely hot. We're talking 120 degrees Fahrenheit (that's 48 degrees Celsius)! Similarly, it can get down to 30 degrees Fahrenheit in the winter.
Make sure to pack your clothing accordingly! If you're here in the summer, you'll want shorts, T-shirts, and swimming suits for those epic pools we have here. Also, remember to drink lots of water and stay hydrated! If you are here in the winter, make sure you pack a warm jacket as the desert chill might surprise you!

No matter what time of the year you'll be visiting Vegas, it's important to bring comfortable shoes to walk in. The Strip is deceivingly long. We know it looks like you can walk the whole thing in a short period of time, but the Strip's stairs, bridges, crowds, and summer heat make it take much longer.
In addition to comfy shoes, you'll want some nice clothes if you are planning on going to a Las Vegas nightclub or eating at a nice restaurant. Most nightclubs have a dress code, so you'll need dresses and heels for women, and button-down shirts and nice pants for men!
Not ready to book a tour? Read more in our Las Vegas Guide.
Getting Around Vegas:
Daunted by the idea of walking on the Strip in the heat (and/or in your heels)? No worries! The Deuce is a double-decker bus that takes people up and down the Strip at all hours of the day and night. According to its website, the Deuce costs $6 for a 2-hour pass and $8 for a 24-hour pass. What's more, many hotels near the Strip have a complimentary shuttle service to and from the Strip.
You can also take a rideshare service like Uber or Lyft to different hotels along the Strip. Please note that you can only get a rideshare service on the Strip specifically at a hotel, and each hotel has a designated pickup and drop-off point. In addition, the Strip is blocked off to cars on big days such as New Year's Eve. Keep this in mind if you will be in town during a special event!

One thing is for sure: Las Vegas is an experience like no other. Without further ado, here's our ideal Las Vegas itinerary to help you have the best weekend possible in this iconic city.
Our Partnership with Booking.com. If you like our content, please book by clicking on our Booking.com links. The price is the same for you and we get a small commission that helps support our helpful blog content. We've partnered with Booking.com because they have the most options, great prices, and a solid loyalty program.
Vegas Itinerary: Day One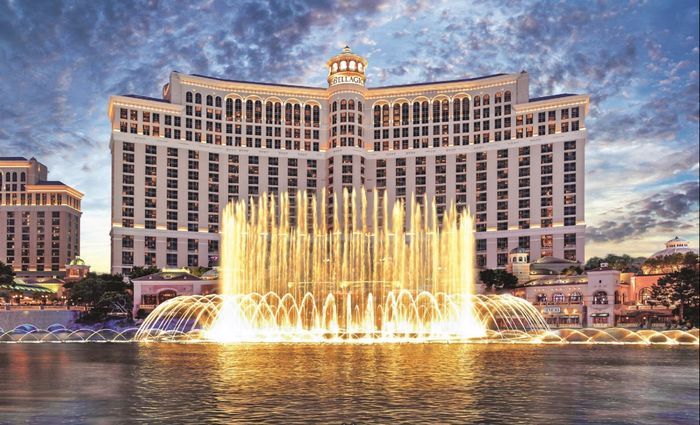 Morning
We'll assume you're on the plane heading to Sin City. Have a good flight!
Afternoon
Drop your bags off at your hotel, and then find a tasty bite to eat. We like Mon Ami Gabi inside the Paris Las Vegas. If you time it correctly, you can watch the spectacular Bellagio fountain show across the street as you dine! The fountain show starts every day at 3 pm and runs until midnight.
If there's still time in your afternoon, definitely find an epic Vegas pool to spend a lazy afternoon. Your hotel might have a great option, otherwise Mandalay Bay, the Bellagio, and the Mirage also have cool pools.
Evening
As you know, Las Vegas is famous for its shows. What better way to end your first day in Vegas than catching an amazing show? We recommend one of the five different Cirque du Soleil shows in Vegas.
If you don't know what Cirque du Soleil is, these stunning shows feature mind-bending acrobatic feats with lights and music unlike any you have seen before! Alternatively, we also love the Blue Man Group for music and shenanigans by a group of men painted entirely blue. It's highly entertaining for adults and kids alike.

Not in the mood for a show? Go to a Vegas nightclub instead! If you're here in the summer, we suggest a "night swim" at EBC At Night inside the Encore Hotel. If you'd rather skip the pool club but still want to go dancing, we also love OMNIA inside Caesar's Palace!
Would you prefer to enjoy some drinks at a cool spot without the nightclub environment? If so, you can't go wrong with the amazing views at the Foundation Room on the 63rd floor of Mandalay Bay.
Places to eat (lunch or dinner):
Vegas Itinerary: Day Two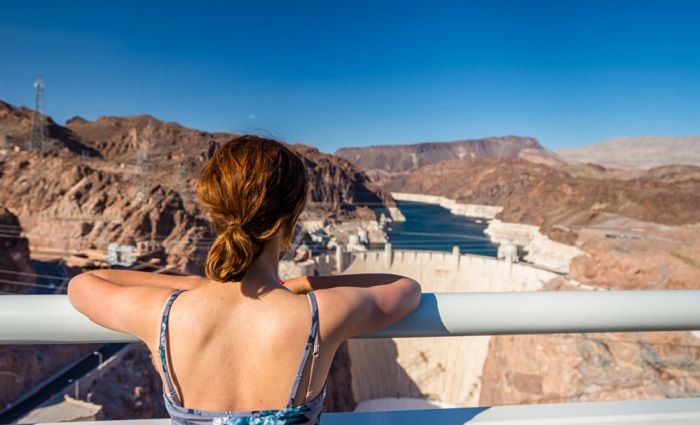 Morning:
After grabbing coffee and a bite to eat at your hotel, pay a visit to one of the world's greatest engineering feats! Take a tour of the Hoover Dam and learn all about this historic site. What's more, you'll take some epic photo stops along the way (think: Seven Magic Mountains).
The tour picks you up from your hotel, so you won't have to figure out how to get there yourself. You can either take an early-morning or midday tour in case you stayed out late the night before!

Regardless of which time slot you choose, the tour only lasts 4 hours. This means you'll still time to enjoy a fun activity when you return! Remember to bring snacks, as well as a tip for your driver!
If a Hoover Dam tour isn't your jam (see what we did there?), then head to Titanic: The Artifact Exhibition at the Luxor to see what's possibly the best museum of artifacts from that tragic event. Alternatively, you can chill at Mandalay Bay Beach inside of Mandalay Bay! This is an epic pool with sandy beaches, a huge wade-in tidal pool, and a lazy river!

We've also put a few other top tour recommendations later on in this article in case something else catches your eye.
Not ready to book a tour? Find out if a Hoover Dam tour is worth it.
Afternoon:
If you don't opt for the afternoon tour of the Hoover Dam, then your afternoon is free to explore. We suggest checking out the Venetian shops! While you're there, you can ride on the gondolas that will help you feel like you're actually in Venice, Italy. (The stunning sky murals also help!) If you have a need for speed, head to the STRAT for one of their most thrilling rides.

If none of that sounds appealing, you can instead check out the Coca-Cola Store. With their "Around the World" Coca-Cola tasting tray, you can sample Cola from all over the globe. The Russian cucumber soda is a customer favorite. We also suggest stopping by the Flamingo Hotel to explore their flamingo habitat that also has turtles and ducks. Best of all, entry is free!
Evening:
At the end of your full day in Vegas, there's one thing you really should do. Treat yourself to a famous Las Vegas buffet! Perhaps the most famous is the decadent Bacchanal Buffet in Caesar's Palace. With nine kitchens and pool views, you can't go wrong.

We also recommend the Garden Buffet at South Point Hotel. It's about a 15-minute drive from the south end of the Strip, but the affordability and the wide variety of cuisines make this one of the best buffets in Vegas!

If you're not a buffet person, we suggest instead grabbing a quick bite to eat near your hotel and then taking a ride on the High Roller Ferris Wheel! This awesome Ferris wheel takes you 550 feet into the air, where you can gaze down at the city lights below. The High Roller is inside the LINQ, so when you're done, you can eat dinner nearby!
Places to eat:
Vegas Itinerary: Day Three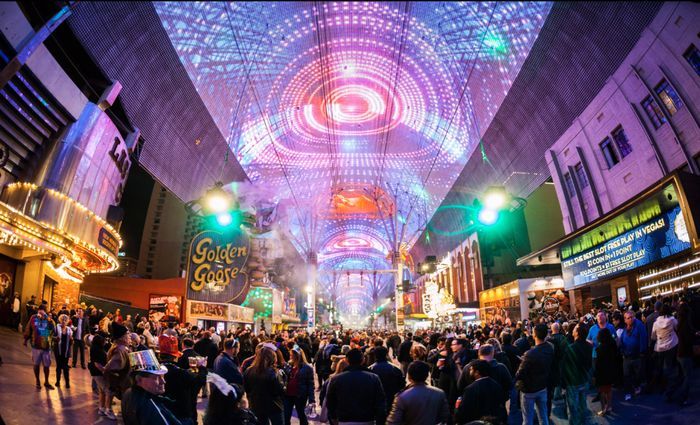 Morning:
Check out of your room, and then indulge in enormous pancakes at Hash House A Go Go at the LINQ Hotel. If your flight is in the afternoon, you probably have time to squeeze in one last Bellagio fountain show before departing. Alternatively, you could also go to the Cosmopolitan to see a stunning, three-tiered chandelier bar.
And if you still haven't had your fill of shopping, then head to the Forum Shops at Caesar's Palace. However, if your flight is in the evening, there's even more you could explore.
Afternoon:
One activity we definitely recommend is to treat yourself to a spa day at award-winning spas at the Encore hotel, ARIA, or Wynn Las Vegas. Any of these hotel spas will provide you with a luxurious afternoon to wind down from the weekend.

Not much of a spa person? Skip the spa day and instead spend a few hours exploring downtown Las Vegas and Fremont Street! Visit the interactive Mob Museum that's full of interesting exhibits about the wild and often-sinister history of Vegas. And have we mentioned their epic zipline? It's worth a try!
Alternatively, check out our favorite outdoor museum, the Neon Museum! This museum is full of vintage Vegas signs. They don't let individuals explore the museum on their own, so you'll have to book a tour in advance.
Places to eat:
Tours for the Perfect Vegas Weekend
Best Weekend Getaway Hotels in Las Vegas
Of course, you'll need some ideas for where to stay during your Vegas weekend getaway. We've put together a few of our favorite hotels that cover a range of budgets and vibes. Find one below or use our recommendations for the entire Strip.
Horseshoe Las Vegas (Formerly Bally's)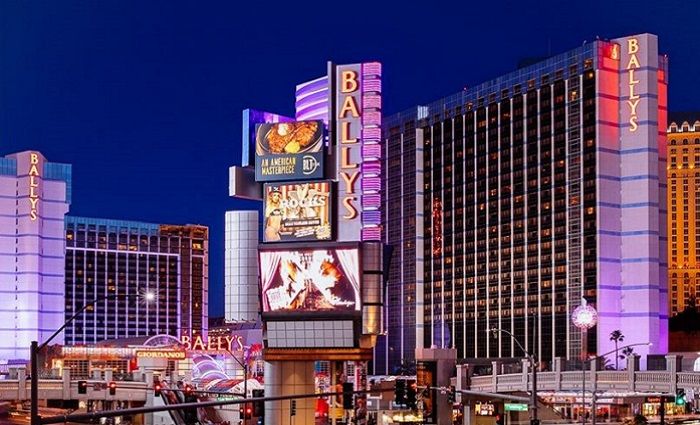 $$ | 3 Star | Affordable Stay | Rare Deep-End Pool
With their recently remodeled rooms, massive casino, entertainment venues, and top chefs, you'll be surprised at the value you get at Bally's. What's more, this hotel is perfectly located near all the action of the Strip, from the Bellagio fountains to the Paris Eiffel Tower. Jump into the deep end of the Blu Pool when you're ready to relax.
The Venetian Resort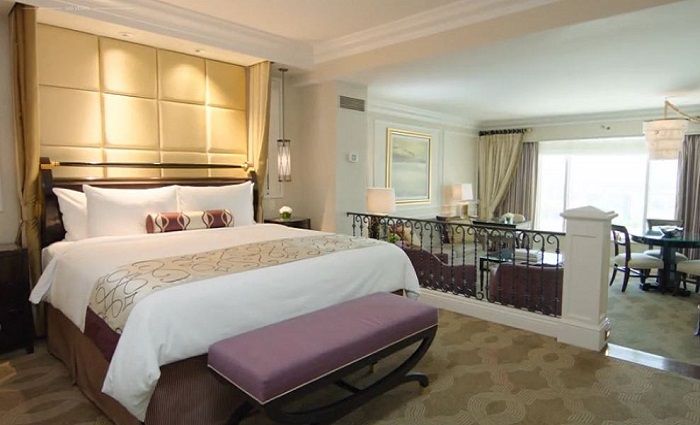 $$$ | 5 Star | Some of the Largest Suites on the Strip | Live Gondola Rides
The suites in the Venetian are so indulgent you might never leave your room! What's more, the hotel is massive and full of incredible restaurants and shops. In addition, the pool is just as impressive. Therefore, be sure to hit the deck for afternoon sunbathing!
The Bellagio Hotel & Casino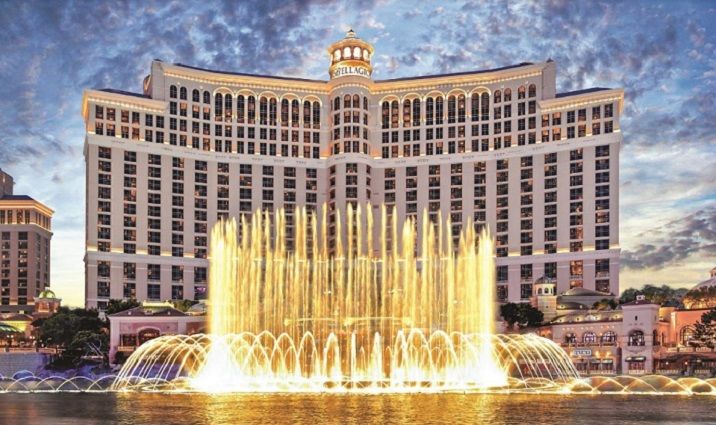 $$$ | 5 Star | Stunning Pool Deck | Best Attractions on Property
The Bellagio Fountains and conservatory are two of the most popular attractions on the Strip! Therefore, staying in this hotel will keep you close to the action! After wandering the extensive hotel and taking hundreds of pictures in their conservatory, relax by the pool that exudes Mediterranean vibes.
New York-New York Las Vegas Hotel & Casino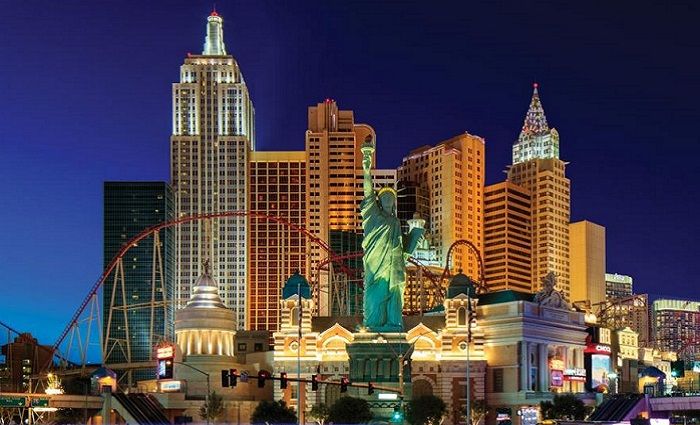 $$ | 4 Star | Pet Friendly | Cool Pool and Roller Coaster
Step into the Big Apple on the West Coast. At this resort, you'll get lost exploring shops and themed restaurants after sleeping in a comfy bed. Then, when you're ready for action, hop on the roller coaster before reserving a cabana at the pool!
Desert Rose Resort (Off Strip)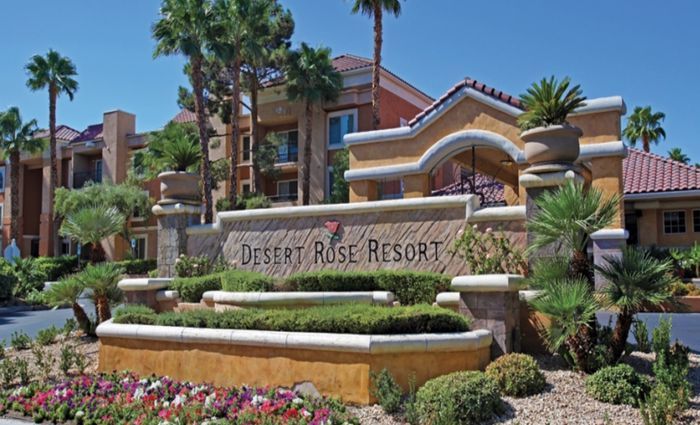 $$ | 4 Star | No Resort Fees | No Casino | Rooms With Kitchenette
Here, you'll get your own suite with a small kitchen and balcony! What's more, there's no casino, which makes it great for a family trip. Unlike the rest of the hotels on this list, the Desert Rose Resort does not charge a resort fee. However, this hotel is not on the Strip. Even still, it's a short 15-minute walk to the south end of the Strip.
The Cosmopolitan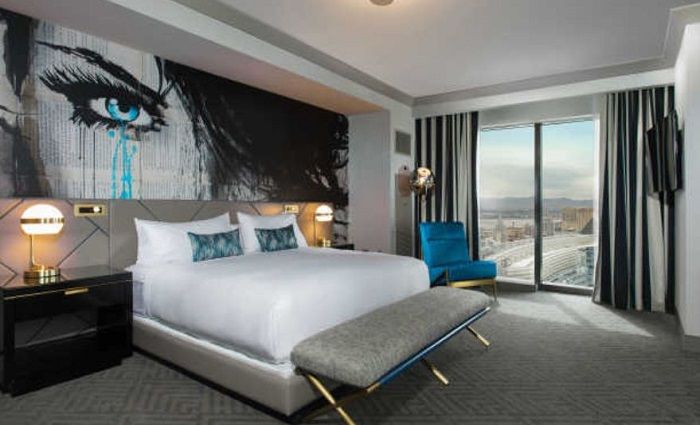 $$$+ | 5 Star | Contemporary Luxury | Incredible Lounges and Rooftop Pools
The Cosmopolitan consistently ranks as a top luxury hotel here in Vegas. During the off-season (if there is such a thing here), you can sometimes find rooms for under $100! In addition, you can indulge in an afternoon spa treatment, hit the rooftop pool, or choose a luxury seat inside a three-story chandelier.
Not ready to book a tour? Read more in our Las Vegas Guide.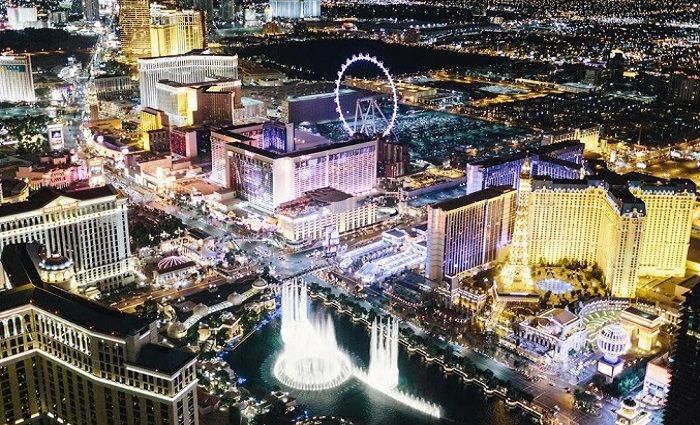 Find the best places to stay
Where To Stay in Las Vegas
Discover some of the most iconic and best places to stay in Las Vegas to make this trip the most memorable of all your trips to the Strip.