Want to explore this stunning area as much as possible but not sure how to get around the Amalfi Coast? It can be challenging to get from Point A to Point B. Luckily, we know the Amalfi Coast like the back of our hand! So, we'll give you our top tips on not only how to get there but also how to get from one town to the next.
---
Pro Tip: Planning to visit the Amalfi Coast? Bookmark this post in your browser so you can easily find it when you're traveling. See our Amalfi Coast Guide for more planning resources, our best Amalfi Coast tours for a memorable trip, and the top things to do on the Amalfi Coast.
Exploring the Amalfi Coast
The Amalfi Coast is located in a small corner of Southern Italy between the Gulf of Naples and the Gulf of Salerno in the Province of Salerno. The region is a 1.5-hour drive to the south from Naples, which is the closest big city.
The actual coast is about 30 miles (50 km) long but with only a winding two-lane road, there aren't many options for getting around. In this guide, we'll show you how to get around the Amalfi Coast because—trust us—you're definitely going to want to explore the coastline, especially with all the beautiful beaches you can visit.
The area can be broken down into a few main cities with many smaller ones. I'll get more into the individual towns below, but here are the main cities:
Sorrento: While many do not include this in the coast, I would say that this is the beginning town and is a general departure town for the coast.
Positano: Positano is probably the most recognized and official town on the Amalfi Coast.
Praiano: The little cousin of Positano which is also much quieter.
Amalfi: Yes, there is actually a town called Amalfi as well. Known for its church.
Ravello: The furthest town and the only one not on the water. This town is perched above the cliffs overlooking the coast.
Capri: Probably the most beautiful island on the planet. Since it is an island, the only way to get there is by ferry or private boat.
How To Get To the Amalfi Coast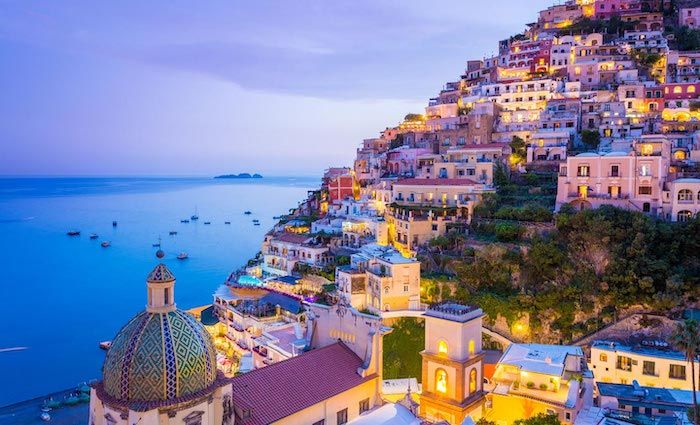 Most people will usually get to the coast by a combination of train and car. The train service will only take you as far as Sorrento. After that, you can only reach the other picturesque towns by car, public transport, horse, or mule. Just kidding, there are no horses or mules. When arriving from Rome you have three options. Want all the pros and zero cons? Skip to the guided tour option.
Private Driver
You hire a private driver to pick you up at your hotel in Rome and drop you off at your hotel along the coast. This is an ideal option for most since you don't need to think about anything.
You sit in the car and let your modern-day Roman Charioteer whisk you off to your destination. It will take you at least 3.5 hours from Rome to Sorrento. If you are going to Positano or Praiano, then add another hour to that.
Pros: Easy and no thought process | Can make stops along the way | Freedom
Cons: Very pricey | Can get caught in never-ending traffic
Train
You take the train to Naples Central Station and then a smaller, local train to Sorrento. At this point, if you are only going to Sorrento, then your trip is done. If you need to go to towns further along the coast, then a taxi will be your best bet.
A taxi will cost around €40 to get you from Sorrento to Positano. If you're going further down the coast, then add around €10 to €15 per city. The total trip to Sorrento by train will take around 2.5 hours.
Pros: Fairly inexpensive | Fast | No stress about traffic | Fun adventure
Cons: You'll have to drag your luggage around | You could get lost
Guided Tour
Take our Rome to Pompeii day trip with stunning Sorrento. This is the most fun way to go. We would pick you up in the morning and take you on a tour of the UNESCO ruins of Pompeii. After you've explored this incredible site, we'd hop back in and head to Sorrento.
If you're staying in Sorrento, then you've already arrived at your destination. If you have to go further along the coast, then jump into a taxi. See above for average prices.
Pros: Fairly inexpensive | You get to see Pompeii | Dedicated tour leader for the day
Cons: None!
Popular Tours of Pompeii and Capri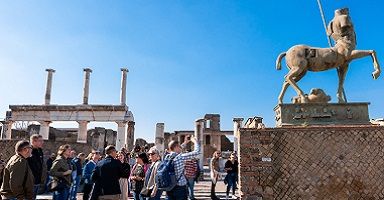 Best Selling Tour
Unforgettable Rome Day Trip to Pompeii and Sorrento
Join us on an adventure from Rome to Pompeii and stunning Sorrento with comfortable, round-trip transportation. Skip the line access with an expert guide and make the most of your time in Italy and leave all the details to us. All you have to do is enjoy yourself!





See Prices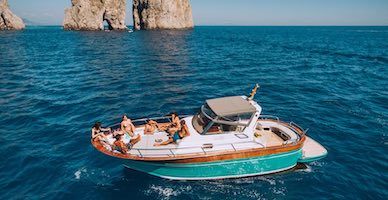 Amazing Experience
Capri Full Day Tour from Sorrento by Luxury Boat
A day in Capri can't be missed, so we make it easy! You'll sail in to azure blue waters for a swim before seeing the famous grottos of Capri. Then enjoy an afternoon eating, shopping, and exploring the island of Capri before returning to Sorrento.





See Prices
Not ready to book a tour? Explore our Amalfi Coast Guide for more info.
How To Get Around the Amalfi Coast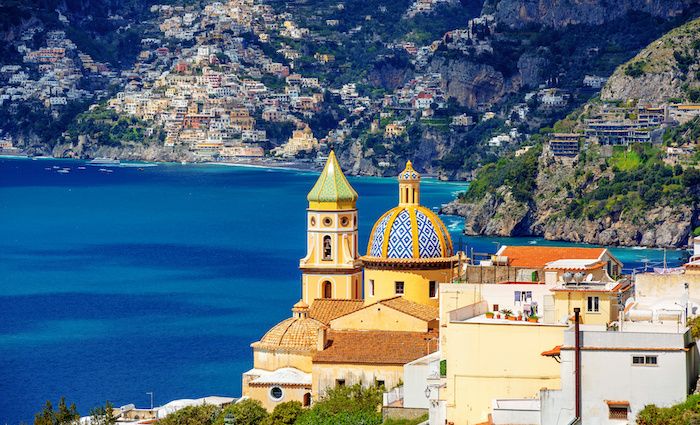 As I mentioned earlier, it's possible to take a local train to Sorrento. Once you're in Sorrento, your only options are to go by taxi, private driver, or public transport. There are no Ubers on the Amalfi Coast. To get a better idea of where you can take an Uber in Italy, read Is There Uber in Italy.
Buses
There are buses by the company SITA that run from Sorrento to Amalfi every day of the week running from 6 am until 10 pm. You can't buy a ticket on the bus. You'll have to buy them either at the train station or at any bar or tabacchi.
They also have storage below for your baggage. The buses tend to run every 15-30 minutes. The price ranges from €1.50 to €5.50 one way depending on where you are going. Make sure to check the SITA site for their hours as they could change.
Pro Tip: If you're traveling from Sorrento, make sure you sit on the right-hand side so you can take advantage of all the beautiful panoramic views.
Ferries
There are also ferries that run in the summertime. They depart from Salerno and end at Positano and vice versa. The ferries vary—some of them hug the coast and some go to Capri, and others go all the way to Sorrento and vice versa of course.
The price also varies between €8 to €15 depending on where you're going. You can buy tickets directly at the pier of departure. Going this way means you don't have to worry about traffic and can enjoy the coast from the sea! Make sure to check the ferry site for hours as they could change.
Taxi
There are taxis along the entire coast from Sorrento to Ravello. The pricing varies greatly depending on where you're going, but expect to pay at least €40 from Sorrento to Positano. That trip could cost more if you have lots of baggage and more than two people in the taxi.
The obvious benefits are the freedom of not having to wait for others and you can get from point A to point B quickly. However, bear in mind that traffic can be insane during the summer months and especially on the weekends. So, your trip could take almost as long as if you went by bus.
Don't, under any circumstance, try and negotiate a price with the taxi driver. Always tell them to go by the meter, because you'll always lose out in a price negotiation.
Car Rental
Renting a car will give you maximum freedom along the coast. There are also quite a few areas where you can stop for awesome panoramic shots along the way. You can rent a car from Naples train station and hit the road.
However, bear in mind that driving in Italy is a bit crazier than back home. Also, the roads are winding and quite narrow. Remember that there's only one road for the whole coast. If you get easily car sick or aren't a really good defensive driver, then it's probably better to let someone else handle the wheel to get you to your destination.
Private Boat
This is by far the most luxurious way to travel around the coast. Whenever people ask me, I tell them that the best way to see the Amalfi Coast is from the water. If your budget allows for it, rent a private boat or take a tour to see all the splendors that this magical place has to offer.
Not ready to book a tour? Check out our Amalfi Coast Guide.