Are you an art lover looking to understand more about Renaissance art? Florence is a great place to accomplish that but it is important to understand more about where its most important museum, the Uffizi Gallery, actually is. You already know it is in Florence Italy but there is a lot to learn about where it is, why it was built, and how to visit!
---
Location of the Uffizi Gallery
The Uffizi Gallery is easily the most important museum in Florence, Italy. In 1588 it opened its doors as an administrative office for government officials in Florence. Construction started in 1560 so that would mean it took 28 years to build.
The official address is Piazzale degli Uffizi, 6. Piazzale means small square which is not always the case. Piazzale degli Uffizi is not very small either, but it is in comparison to its adjoining square, Piazza della Signoria, which is why it takes the name Piazzale.
How Do you Get to the Uffizi?
Short answer: On foot.
Again, Florence is very walkable and can easily be navigated on foot. There are signs all over pointing to "Uffizi Gallery" so you should have no problem at all.
What is the Area Like Today?
Piazza Signoria and surrounding streets and squares are almost entirely pedestrian today which makes them very pleasant for visitors. The city of Florence is so walkable they don't even have a subway system and the bus system doesn't heavily serve the center.
The Uffizi is behind Palazzo Signoria and very easy to find. It is also footsteps away from Ponte Vecchio. They are so close together that they built a secret passageway named the "Vasari Corridors" connecting them. The corridors goes from Palazzo Vecchio (formerly Signoria), to the Uffizi, across Ponte Vecchio, and connects with Palazzo Pitti. Why Palazzo Pitti?
It was the former residence and palace of the Medici Family. They wanted a less "public" way to get to work so they built a km long corridor from their house to work. That is about 6/10ths of a mile!
Best Way to See the Uffizi Gallery
An art museum without a tour guide is like watching a movie without characters. You move through the rooms like scenes without the plot or story evolving which leaves you wanting. Even post-graduate educated art lovers agree a local guide is necessary to get the most out of any museum.
Local guides bring additional dimension and depth to the art. You can see the beauty of art without the help of a guide but the complexities are easily missed. The job of the guide is to elaborate on the life of the artist, the components of the paintings, and how it all ties together into a story. For example, Sandro Botticelli was famously involved in a love triangle with Simonetta Vespucci and Giuliano de Medici who appear time and time again in his paintings.
Not only that, but the use of nudity and sexuality in his paintings met controversy at the time. Botticelli was the original Renaissance Man and understanding what happened behind the scenes makes it much more interesting. Here are some of our most popular tours.
Florence & Uffizi Tours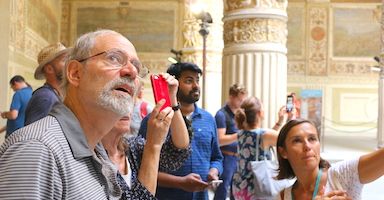 Top Rated Tour
Skip the line Uffizi Gallery Tour
The Uffizi Gallery is the most visited museum in Florence for good reason. Join our English-speaking, licensed Uffizi guide for a journey through the Medician Renaissance. Learn all the stories behind the very art that brought our world out of the darkness. All admissions included.





See Prices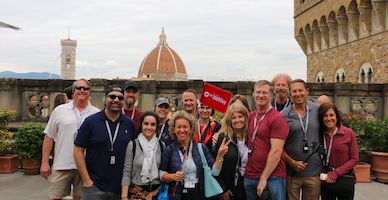 Best Selling Tour
Florence in a Day Combo Tour with David & Uffizi
This tour is your best value in Florence. See Michelangelo's David statue in the Accademia Gallery with a licensed guide and the Uffizi Gallery. It also visits the Florence Cathedral (outside), Baptistry Doors, Ponte Vecchio, and more. All your admissions are included to skip the lines and visit these great museums with an English speaking guide.





See Prices
Uffizi Gallery Hours and Tickets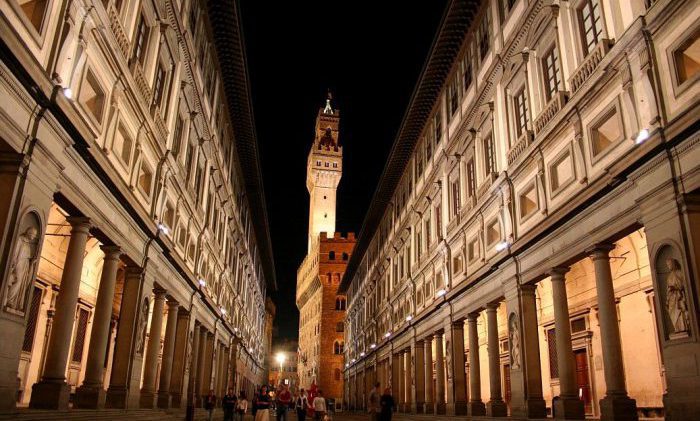 Hours:
Tuesday – Sunday: 8:15 am – 6:50 pm (ticket office closes at 6:05 pm and the museums start closing at 6:35 pm)
Closed on Mondays and for holidays on January 1st, May 1st, December 25th
Tickets:
If you consider that the Uffizi Gallery sees millions of visitors a year, it's almost guaranteed that there will be a long queue at the entrance. Then again, if you visit during the low season, you might be lucky enough to just walk in. It's unwise to expect this though.
If you want to make the most of your time in Florence, book your Uffizi tickets in advance. This way, you can pick a time and date on the official Uffizi Gallery website. Although you might still have to stand a short queue to collect your tickets, it's still much quicker than waiting in the general line. 
Online Ticket Prices: €16.50 for adults, €10.25 reduced ticket.
To find out if you qualify for a reduced or free ticket, consult the website. If you book your tickets online there's an additional €4 fee.
Original Use of the Building
Piazza della Signoria is home to the former Palazzo Signoria which is named after the magistrates of the Florentine government and these magistrates are referred to collectively as "the Signoria".
Today, Palazzo Signoria is called Palazzo Vecchio meaning "Old Palace or Building". What does that have to do with the Uffizi Gallery? The Uffizi original purpose is to house the office workers of the government and its name is quite literal. The English translation of "Uffizi" is "Offices".
That said, these were the offices of the Medici and other Florentine nobility. They would have looked just as ornate as the museum today if not even more ornate.
Interesting Fact: The word "palazzo" in Italian means palace but is not always used to reference a place of residence like the English word. Therefore, a palazzo could be a large ornate office building like in this case.