There is no better place to enjoy a rooftop bar than Madrid, the city with the endless skyline. But not all spots are as great as they look from the street! As a long-time city resident, I can help you find all the best bars and clubs whether you want tapas or cocktails. Here is the list of the top rooftop bars in Madrid to suit every pocket.
---
Fun Rooftop Bars in Madrid You Have To Try
No one in Spain can resist outdoor seating. Even during winter, terraces are full of people vibing at the first sunbeam. Knowing this, it is not surprising to have so many beautiful rooftop bars in Madrid for tapas, food, and delicious drinks.
Still, not all shiny decorations lead to great tasting experiences. To help you find the best places, I have listed the best rooftop bars in Madrid where the quality is top-notch.
Azotea del Círculo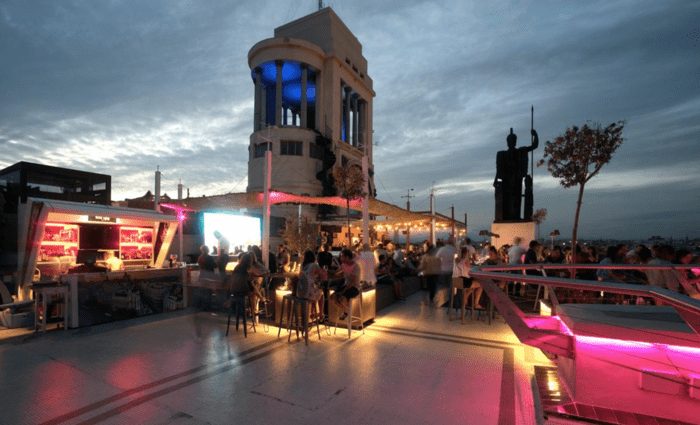 €€ | Access Fee Includes Exhibitions | Cocktails, Wines and Bites | Relax and Unwind
The Azotea and its Minerva statue are iconic landmarks of the city. They crown the magnificent building of the Círculo de Bellas Artes, an art organization founded in 1880. Up here, there's a lovely bar with a good list of Spanish wines, cocktails, and snacks. Part of the roof also hosts a restaurant that serves more sophisticated dishes.
The signature drink is the Azotea Cocktail, a mix of Chivas whisky, lemon, cranberry, and ginger ale. You can also find unique themed cocktails when they host important exhibitions. It is a perfect choice if you are looking for a relaxed and easy-going mood, and if you love the arts—the ticket includes a visit to the exhibitions.
Address: Calle de Alcalá, 42
El Jardin De Salvador Bachiller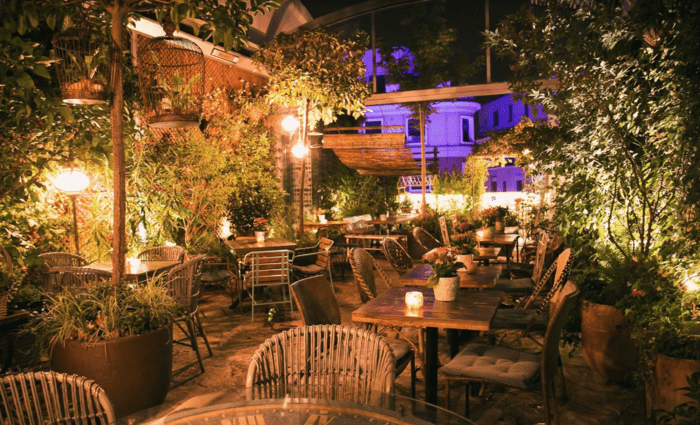 €€+ | Free Entry | Green and Romantic | Breakfast, Brunch and Tea Time
In the main shopping area between Gran Vía and Plaza del Sol, there is a shop that hides a secret. On the top floor, there's a beautiful garden—an urban oasis far away from the bustle of the city streets. The terrace is a flowery romantic corner with plants and lovely decor. It also has a covered area, which is perfect for chilly days.
It is a place to have breakfast with artisanal croissants, waffles, and natural smoothies. But you can also stop by for an afternoon break with one of their fruity cocktails. Romantic and heart-warming.
Address: Calle de la Montera, 37
Gourmet Experience Gran Vía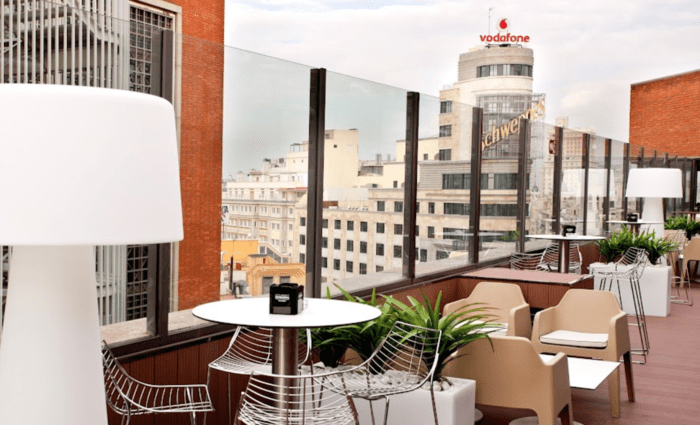 €€ | Free Entry | Food Court | Best For Aperitif Or A Beer | Great During Winter
It may not be the poshest on the list, but this rooftop is perfect for a pit stop during your tour. It is almost invisible from the street as it sits on the 9th floor of the Corte Inglés shopping center in Plaza de Callao. It's set up as a market with stands with food and drinks from all over the world.
Of all the rooftop bars in Madrid, it is a top choice during the winter and on rainy days. Choose it if you have little time but still want to grab a gourmet bite, ice cream, or a cold beer. Also, the view is a big wow, and it has the best perspective for a photo with the Schweppes sign.
Address: Plaza de Callao, 2
Terraza ABC Serrano – Torcuato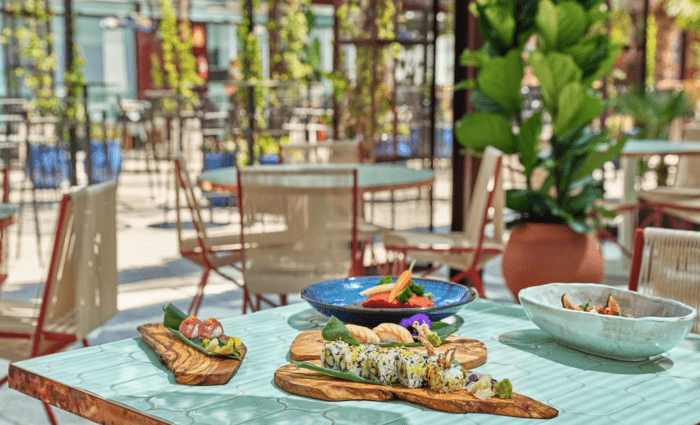 €€+ | Restaurant and Sky Bar | Youthful Vibe | Quiet Place
Here's another little secret hiding in a shopping center. Stop by ABC'S rooftop if you are shopping in the posh Calle Serrano. You will discover an ample space with a sky bar and a lovely restaurant. And the building is a magnificent example of Moorish revival architecture that deserves to be seen.
To me, it's the sushi and the cold plates of Torcuato, paired with a glass of wine. But you can also have cocktails and all sorts of drinks for a fabulous happy hour or night out.
Pro Tip: You will shoot amazing pictures up here. But if you want to boost your Instagram feed, visit the Sweet Space in the same building. It is an interactive exposition with rooms by different artists, and it is super cool!
Address: Calle Serrano, 61
Ella Sky Bar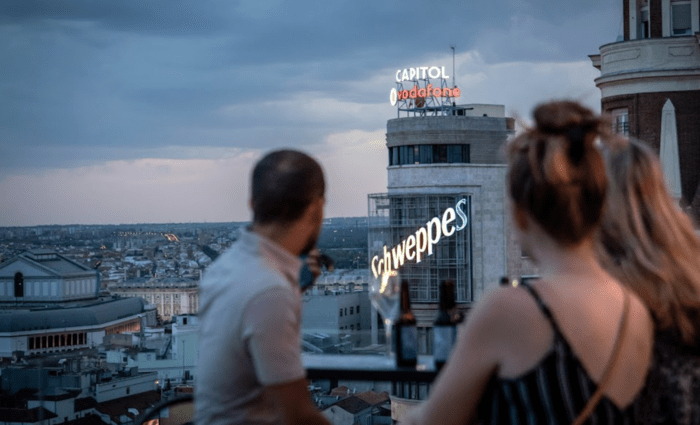 €€€ | Entrance Fee Includes A Cocktail | Signature Cocktails | Plates To Share, Burgers, and Skewers
Ella Sky Bar is a beautiful restaurant with picture windows and a fantastic open-air sky bar. The view is like having a visual tour of Madrid's history. From the Royal Palace to the neon lights of Plaza de Callao, your eyes can reach the newest part of the city, with the famous four skyscrapers.
The mood is chill, young, and friendly, with live music and good vibes. It's a great place to share a ración of croquetas with your friends and try one of their signature cocktails.
Address: Calle Gran Vía, 42
The Mint Roof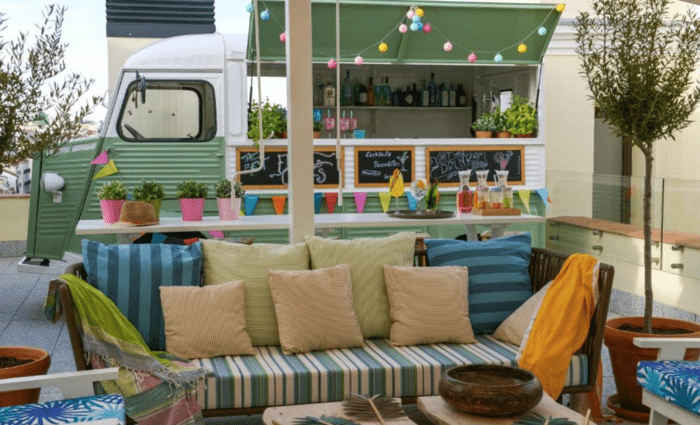 €€+ | Free Entry | Young and Easy-Going | Tapas, Street Food, and Drinks
Fresh, colorful, with a beach vibe, the Mint terrace is a twist on all the rooftop bars in Madrid's Gran Vía. The decor spreads joy to every corner, which is what you need to enjoy a fresh drink or a glass of wine at sunset.
My favorite plan would be to chill on the sofas and pair my drink with the tapas of the day. But there is also a food truck—yes, a proper food truck on the roof—that serves international street food. Spending time here is a lot of fun!
Address: Calle Gran Vía, 10
Casa Suecia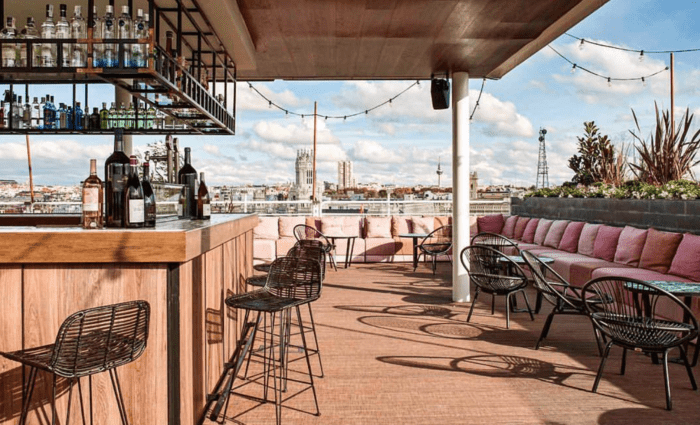 €€€ | Access Fee With Drink | Cocktails, Drinks, and Finger Food | Saturday and Sunday Brunch
Casa Suecia (Swedish House) opened in 1956 as a place to be for the Swedish community and literates like Hemingway. Besides the two-level rooftop near Calle de Alcalá, it also includes a lobby bar, a restaurant, and a cocktail bar inspired by the Prohibition years (with a secret entrance!).
Try the Weekend BBQ Brunch on the roof. It includes delicious seafood and grilled meat. They also prepare Hemingway's favorite cocktail, the Papa Doble—now, Daiquiri Hemingway—and the RoofTop Spritz with a sweet strawberry touch.
Address: Calle del Marqués de Casa Riera, 4
Le Tavernier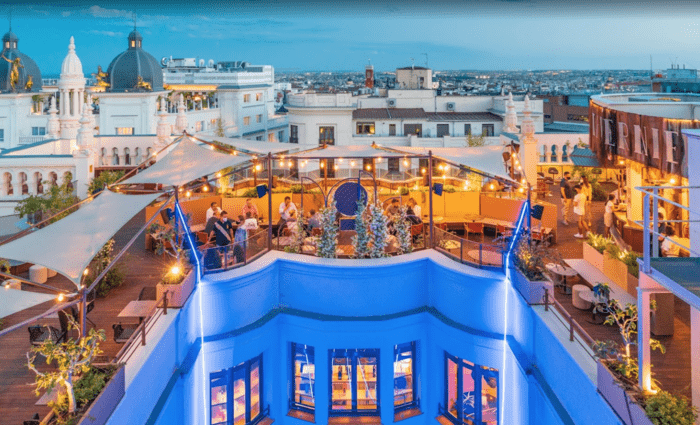 €€+ | Free Entry | Casual Smart Dress Code | Instagramable | Award-Winning Cocktail
If you are a traveler always looking for trendy and posh spots, stop by Le Tavernier. It is a splendid rooftop with sea-inspired decor, filled with plants and music. Up here, young Spanish actors and influencers meet up. And if you are a connoisseur, you will go ecstatic in front of the endless spirit list. It features top-of-the-range gins, rums, tequilas, and more.
Le Gingerloc is their signature cocktail. It won the silver medal in the 2021 Maeloc Contest in Barcelona, so it deserves a try. You can pair it with snacks, plates to share, burgers, and healthy salads.
Address: Calle de Mesonero Romanos, 13
El Jardin De Diana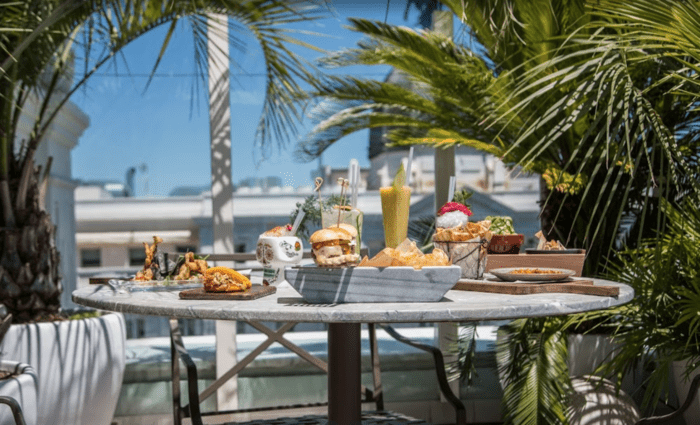 €€€ | Free Entry | Idyllic | Signature and Classic Cocktails | Artistic Significance
Jardin De Diana (Diana's Garden) is a piece of paradise on the 10th floor of the Hyatt Centric. It has a breathtaking view over Gran Vía, and it hosts a beautiful statue of the goddess Diana with four hunting dogs. The figure is the latest to join Madrid's Mythological Cycle, and it has a little secret. Two of her arrows are carved on the opposite sidewalk on the ground floor.
It is the best for a light lunch enjoying the sun or vibing with a drink during happy hour till late at night. You will find your favorite one among premium spirits and signature cocktails.
Address: Calle Gran Vía, 31
11 Nudos Terraza Nordés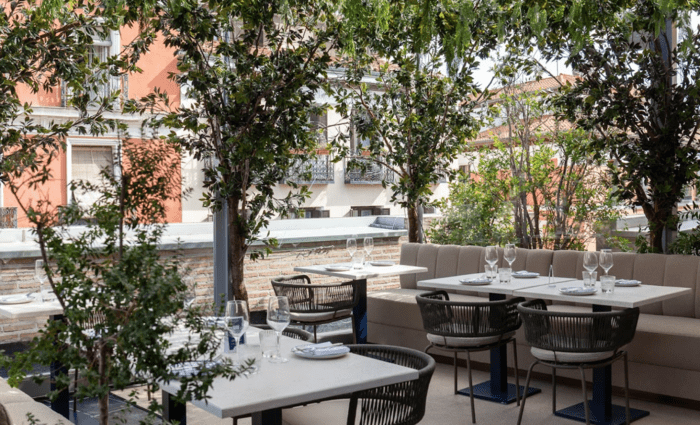 €€+ | Free Entry | Foodies | Great Gin Mixes | Posh and Relaxed
Madrid may not have a beach, but it knows how to bring the ocean closer. 11 Nudos is the secret rooftop of the Mercado de San Anton. It is a sunny, green oasis in the Chueca quarter. Up here, you can forget about the city and enjoy the flavors of the northern Spanish coast.
It is a top choice for foodies, so expect the best tasting experience with every bite! Their ultimate spirit is the Nordés Gin, and they use it in different cocktails. I suggest trying the Nordesiño—a refreshing aperitif with gin, Albariño wine, and tonic.
Address: Calle de Augusto Figueroa, 24
Dani Brasserie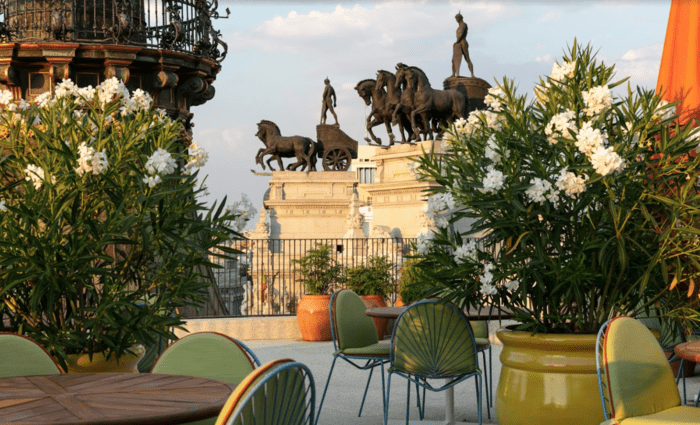 €€€€ | Fancy and High Class | International Celebrities | Signature Cocktails and Champagne
The project by the acclaimed 3-Michelin-Star chef Dani García crowns the Four Seasons Hotel. It opened in 2020 in a magnificent 19th-century building. And its spectacular view over the Chariots statues of Calle Alcalá makes it the best postcard of the city.
The brasserie is open all day long for breakfast, dining, or drinks and snacks from 1 pm. It is the right fit for you if you are not worried about the bill. But the innovation and passion that they put into the food preparation and signature cocktails are worth it.
Address: Calle de Sevilla, 3
Terraza Cocktail Bar Palacio de Cibeles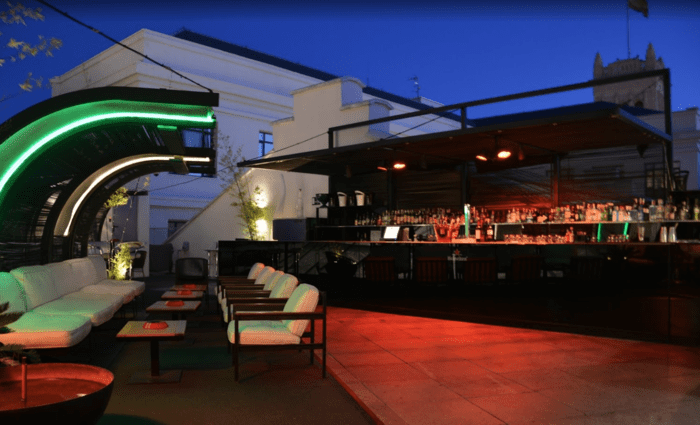 €€€ | Access Fee With Drink | Historic Building | Plates To Share, Brunch and Selected Cocktail
Delight yourself with a beautiful view, a furnished list of wines, or a coffee. The bar/restaurant is on the sixth floor of the Palacio de Cibeles, one of the most astonishing buildings in Madrid. And it is very close to Paseo del Prado, making it the best place to pause during your tour and refuel.
They serve cocktails with or without alcohol, Spanish wines, pizza, and plates to share. Furthermore, don't forget to check out the exhibitions and get a ticket to the gazer on the tower. The access is every half hour, and it has the best 360-degree views in the entire city.
Address: Plaza Cibeles, 1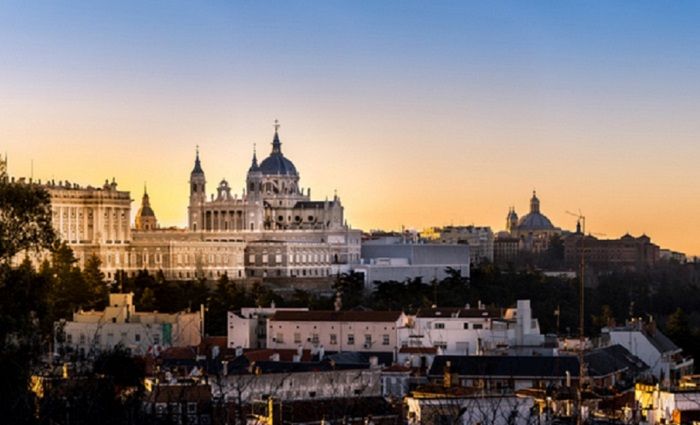 Find the best places to stay
Where to Stay in Madrid
Madrid is a vast city with many areas to stay in, including beyond the downtown area. Choose a hotel near the top things you want to see in this beautiful old city.