Planning to base yourself in Sorrento on the Amalfi Coast but not sure where to stay? Whether you're looking to escape the crowds, find great hotel deals, or experience country luxury within reach of the city, there are plenty of options to explore. Our local expert has put together this guide to help you decide which area will best suit your style, plus the top places to stay in Sorrento.
---
Pro Tip: Headed to Sorrento? It's easier to organize your trip when you have all your resources in one place. Bookmark this post along with our Amalfi Coast Guide for more planning resources, our best Sorrento tours for a memorable trip, and how to spend two days on the Amalfi Coast.
Where To Stay in Sorrento: Best Hotels and Neighborhoods
Sorrento is world famous for its delicious food and lemon culture. It's also the gateway to the Amalfi Coast and close to both Capri and Pompeii, making it a tourist paradise and a great base to explore this stunning part of Italy.
Whether you're looking for a great base for day trips or a relaxing spot to spend a few days on the Mediterranean, Sorrento ticks all the boxes. Here, you can expect to eat great food, easily hop on boat trips to Capri, and enjoy friendly Italian hospitality.
With plenty of shops and restaurants, a breathtaking view over the bay of Naples, and a vibrant atmosphere, staying in the center of Sorrento may seem the obvious choice. Staying in Sorrento's center certainly has its charm. For those looking to escape the hustle and bustle of tourism, opting for the lesser-known neighborhoods is a good plan.
Neighboring villages (like Meta di Sorrento) are just a couple of kilometers away and connected to Sorrento's city center by the Circumvesuviana (local train). In just a 5-minute ride, you'll be able to explore a little further afield or easily get into Sorrento. Read on to learn more about Sorrento's geography and see which neighborhood will fit you best! Here are the areas we'll cover:
---
Best Hotels in Sorrento at a Glance
---
Our Partnership with Booking.com. If you like our content, please book by clicking on our Booking.com links. The price is the same for you, and we get a small commission that helps support our helpful blog content. We've partnered with Booking.com because they have the most options, great prices, and a solid loyalty program.
Not ready to book a tour? Read our Amalfi Coast Guide for more tips.
The City Center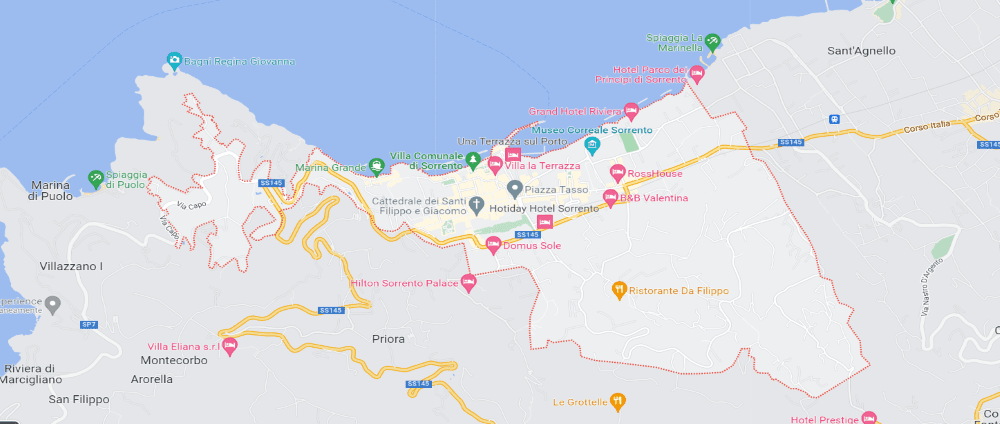 Sorrento's center is embedded between the Mediterranean Sea and the idyllic countryside. Most visitors choose it for their stay as it's where most of the attractions are. The town develops vertically, so the center is quite small. It offers its visitors a spectacular view over the Gulf of Naples, especially from the Villa Comunale, Saint Francis Cloister's terrace, or from one of the hotels facing the sea.
Its gem is the historical part, where you'll find small boutiques and tiny alleys. Booking accommodation in Sorrento's center is perfect if you like strolling around lemon gardens and museums, eating out at cafés and restaurants, and exploring the town's shops. However, if you're after a more tranquil location, away from the crowds, or if you're traveling on a fixed budget, scroll down to read about other options.
Why I love the City Center:
Sorrento's promenade is part of the local culture and it's fun to be right in the middle of it
You can walk to the main attractions and forget about the car
Close to highly-rated restaurants and cafés
Within walking distance of both the station and the port
Attractions near the City Center:
Villa Comunale
Saint Francis Cloister
Museo Correale
Piazza Tasso
Marina Piccola (ferries to Capri depart from here)
Best restaurants in the City Center:
---
Not ready to book a tour? Read our Amalfi Coast Guide for more tips.
---
Best Hotels in the City Center:
Grand Hotel Excelsior Vittoria
€€€€€ | 5 Star | Historic and Iconic | Gourmet Restaurant
Perched on the cliff edge of Sorrento, this luxury hotel has been in operation since 1834. It features stylish rooms and a breathtaking view over the bay of Naples. You'll enjoy a gourmet restaurant on its stunning terrace, managed by the Michelin-starred Executive Chef Antonino Montefusco. If you are seeking a top-notch stay, this is it.
Hotel Bristol
€€€ | 4 Star | Excellent Location | Breathtaking Views | Fantastic Amenities
This elegant hotel is steps from Corso Italia, Sorrento's main street, yet it offers a tranquil and charming ambiance. A breathtaking view is guaranteed, and the service is highly rated. Amenities you'll enjoy include a large olive tree garden, playground, small mini-golf course, gym, Jacuzzi, sauna, and a 42-foot boat.
Sorrento Pool & Suites
€€ | 3 Star | Delicious Breakfast | Central Location
If you're looking for a central location, this B&B is steps away from Piazza Tasso and next to the train station. It has an elegant pool and the breakfast is highly rated. Service is also very good, and they'll happily help you with trip planning if needed.
The Beachfront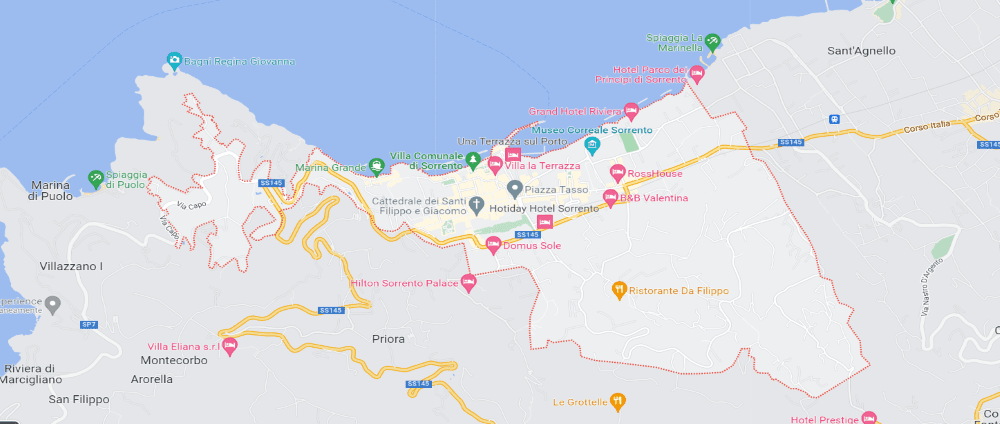 Sorrento's view over the bay of Naples is stunning. But if you're a true sea lover, you'll want to book your hotel on the beachfront. The two main spots on Sorrento's seafront are Marina Grande and Marina Piccola.
Marina Grande is where the best restaurants are. It has the typical fishermen's-village feel. Strolling around the harbor while old wooden boats come in and out is a quite unique experience. You can reach Marina Grande by walking along Sorrento's seaside or with a quick bus ride from Sorrento's center.
Marina Piccola is located right below Sorrento's center and you can reach it by a public elevator at the Villa Comunale. It's a convenient location as it's where ferries to Capri and Naples depart. You won't miss the feel of being in Sorrento's center as it's right uphill, but you'll gain more direct access to the beach.
Why I love the Beachfront:
A morning walk at the tiny local port is priceless
You can spot fishermen's boats coming into port and try to haggle for freshly caught fish
It's the best way to experience Southern Italian fishing culture and tradition
Attractions near the Beachfront:
Villa Comunale
Piazza Tasso
Peter's Beach
Marameo Beach
Ferries to Capri
Best restaurants on the Beachfront:
Best Hotels on the Beachfront:
Imperial Hotel Tramontano
€€€ | 4 Star | Historical Hotel
Many historical figures have stayed at this hotel in the time that it opened in 1812. The spacious halls are decorated with elegant frescoes, and the garden contains rare Mediterranean and subtropical plants. You'll feel part of an ancient tradition here.
Maison La Minervetta
€€€+ | 4 Star | AttentionTo Detail | Unique Design
The owner of this boutique hotel is an architect. The rooms are elegantly furnished and will appeal to art lovers. They offer a lunch service on their terrace with produce from the hotel's garden. You'll get a spectacular view over the bay from both suites and the hotel's outdoor spaces.
Marina Piccola 73
€€€ | 4 Star B&B | Excellent Service
Close to the port of Marina Piccola, this historical B&B offers a warm atmosphere far from the crowds of Sorrento's center. Breakfast is served on the terrace and there's a room in the building's tower that looks like a Disneyland dream. The amazing view over the beach is a big plus for the morning breakfast.
Priora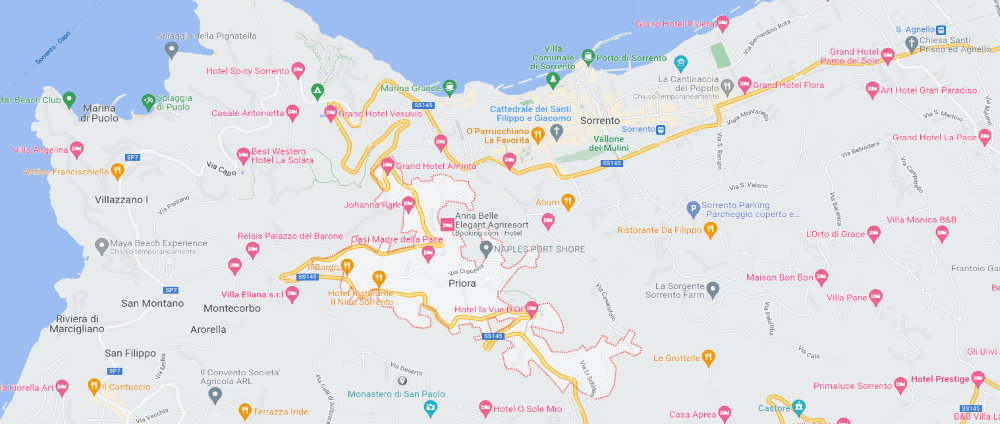 Sorrento can get quite hectic during the high season. So, for a more relaxed stay, a quieter neighborhood like Priora is the right choice for you. Located on the hills just behind Sorrento's city center, this residential area is still very close to the main attractions but it gives a completely different vibe.
You'll be immersed in a green oasis and enjoy a wider view over the Gulf of Naples, as you'll gain a few meters in height. A big plus is that you'll be on the way to Punta Campanella, one of the most spectacular Marine Protected Areas in the whole Italian Peninsula.
Why I love Priora:
It has the feel of the typical Amalfi Coast hamlet
It's easier to interact with locals
It has a strong rural culture
Attractions near Priora:
Villa Comunale
Piazza Tasso
Sant'Anastasio Church
Sant'Agata dei due Golfi
Punta Campanella
Best restaurants in Priora:
La Sorgente: €€ | Family farm with homemade mozzarella & cheese production (and more). They work only upon reservation.
Agriturismo Rareche: Small countryside restaurant with rural products of all kinds available online as well
Da Filippo: €€ | Traditional restaurant and pizzeria . Great for meat and pizzas.
Ristorante Il Borgo: €€ | Highly rated traditional gastronomy with an amazing view.
Grottelle: €€ | Familiar, warm rural restaurant. Highly rated service and local products.
---
Not ready to book a tour? Read our Amalfi Coast Guide for more tips.
---
Best hotels in Priora:
Grand Hotel Capodimonte
€€€+ | 4 Star | Amazing Cascade Pool
A wonderful property facing the sea with five pools where you can relax after a day out. All the suites overlook the sea and the hotel's gardens. The structure is elegantly furnished and incredibly spacious. Enjoy three great restaurants, two bars, or an afternoon at the wellness spa.
Hilton Sorrento Palace
€€€+ | 4 Star | Excellent Facilities | Great For Events | Terrace Lounge Bar
Surrounded by a citrus grove, this hotel is a guarantee for a comfortable, classy stay. It's equidistant from the city center and Priora's center, so if you don't mind a 15-minute walk to reach Piazza Tasso in Sorrento and still want to explore Priora, this is the hotel for you. With a lounge bar on the Terrace, it's hard to think of a better way to rest after a day out.
Oasi Madre della Pace
€ | 2 Star | Family Friendly | On Bus Line | Large Garden
If you're looking for an affordable place to stay that welcomes both backpackers and families traveling on a fixed budget, this is it. The nuns who run the house offer homemade cakes and jams for breakfast, together with fresh products grown on the site. There's a large green garden with a fantastic view over the bay of Naples.
Sant'Agnello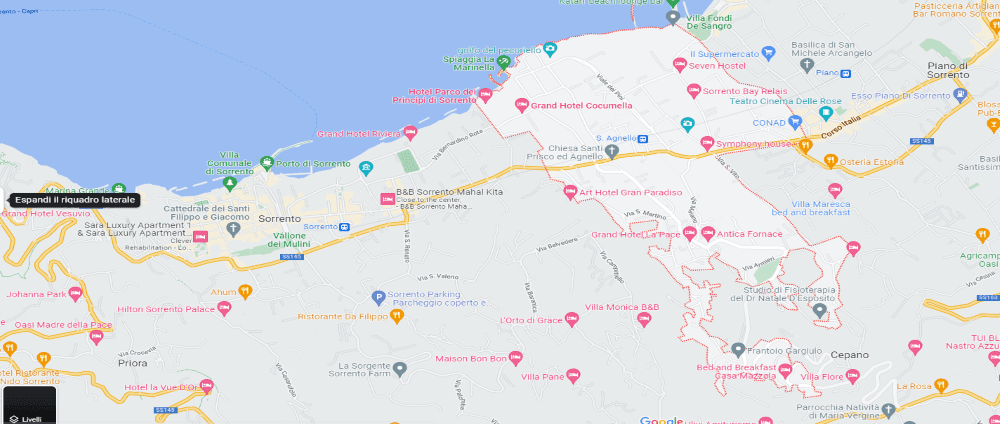 Sant'Agnello is the first village along Sorrento's coastline, and it takes literally 5 minutes by Circumvesuviana to reach the city center from here. It's so close to Sorrento that most people consider it part of the town. If you come from a major city like San Francisco or New York, you're likely to consider Sorrento's coastal villages an extension of the town.
The good news is that you'll find great accommodation deals along the Sorrentine Peninsula, and the vibes are relaxed for those who want to be away from the bustle and near more locals. This is why locations like Sant'Agnello and Meta have been gaining popularity in recent years.
Why I love Sant'Agnello:
Dramatic cliff-side views
One of the smallest towns in the entire region of Campania
It's close to the sea and has a wide choice of bars, restaurants, and shops.
You'll feel out of the tourist spotlight.
Attractions near Sant'Agnello:
Marinella Square (scenic overlook)
Fontanelle Hills (panoramic hamlet of Sant'Agnello)
La Marinella Beach Club
Picco Sant'Angelo, a 465-meter peak
Best restaurants in Sant'Agnello:
Il Ruttino: € | Excellent fried fish and traditional gastronomy. Highly rated service
Vesuvio restaurant: €€€ | It's the Hotel Mediterraneo's dining service. Gourmet fixed menu and amazing terrace
Bistrot Lievito Madre Iommella: €€ | Best pizza in the area. It's linked to a historical bakery shop. It also serves pasta dishes.
Best hotels in Sant'Agnello:
Hotel Corallo Sorrento
€€€+ | 4 Star | Restaurant and Bar | Live Music | Pool
Famous Italian author, Luigi Pirandello, stayed at this historic hotel. Only 2 km away from Sorrento's center, the hotel has an excellent restaurant, an American bar, private parking, and a pool. Did I mention the breathtaking view over the sea? If you're lucky enough, you might catch a live music show at dinner.
Unconventional Sorrento Coast
€ | 3 Star | Historical Site | Relaxed Atmosphere
Set in a renovated convent, this historical hotel dates back to 1844 and offers a very relaxed atmosphere. Just 2 km away from Sorrento's center, the hotel is often full, so booking in advance it's a good idea. It's very close to Sant'Agnello train station. Expect a highly-rated breakfast and great service.
Hotel La Pergola
€€ | 4 Star | Modern | Pool | Restaurant
With a swimming pool and a panoramic terrace, this hotel offers quality at a reasonable price. You'll get good deals if you book a minimum of a 3-day stay, like free pizza cooking classes, dinner at their restaurant, or boat tours. Definitely, an incentive to welcome new customers!
Meta di Sorrento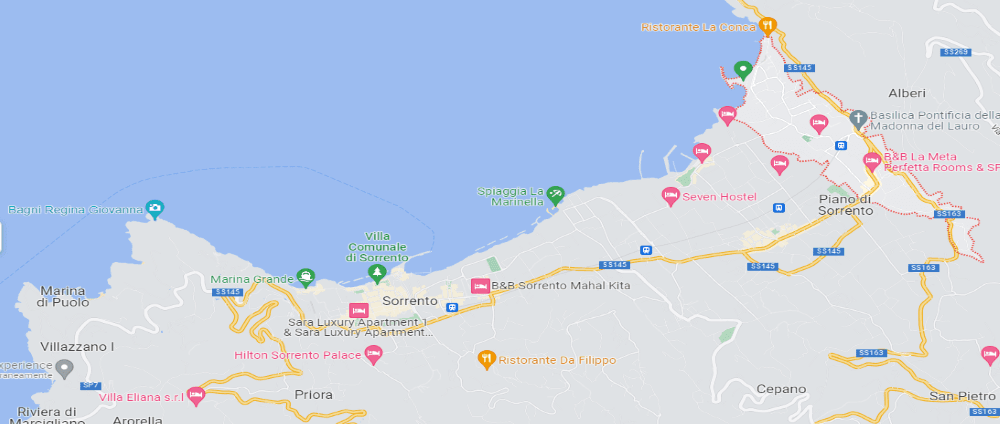 Meta di Sorrento is a small seaside town located 5 km from Sorrento. Like most towns along the Sorrentine Peninsula, it's divided into an upper and lower part. Most tourists head towards the sea, as Meta offers larger sandy beaches, apart from the classic rocky coves that are typical of the Amalfi Coast.
Although the beach does get crowded during the summer, it's a good chance to experience the lido culture of umbrellas and sunbeds. Stay in Meta if you want to escape the crowds of Sorrento and discover a hidden gem of the Sorrentine Peninsula.
Why I love Meta di Sorrento:
Large sandy beaches
A great offer of restaurants and hotels
Has a locals' spot vibe
Lido culture
Attractions near Meta di Sorrento:
Basilica Santa Maria di Lauro
Historical Center
Assunta Church
Angels Chapel
Resegone and Alimuri (the names of the lidos)
Best restaurants in Meta di Sorrento:
Not ready to book a tour? Read our Amalfi Coast Guide for more tips.
---
Best hotels in Meta di Sorrento:
Laqua by the Sea
€€€ | 4 Star | Wellness Resort | New Concept
Laqua by the sea is the only resort on the waterfront. Its six rooms designed following the Feng Shui philosophy will ensure relaxation. The tropical sensory shower in the spa is a big plus. Let Antonino and Cinzia Cannavaciuolo's creativity inspire your stay—they've created a unique resort concept that's worth a visit.
Hotel Giosué a Mare
€€+ | 4 Star | Private Access To Beach | Restaurant
If you love swimming, this hotel is for you. As Sorrento's tiny rocky beaches get incredibly crowded during the summer, having private access to the sea is priceless. The hotel also has a popular restaurant. Choose your room by the type of sea view: without a view, with a partial view, or the superior suite, with a complete sea view.
La Pennichella Sorrentina Relais
€+ | 3 Star | Roof Terrace | Free Parking | Close To Train Station
This hotel offers a welcoming atmosphere with its wooden furniture and warm lighting. The rooms are named after Neapolitan songs and they come at reasonable prices, especially during the low and middle seasons. You'll get free parking and a nice view over the bay from the roof terrace. The train station is very close, which comes in hardy.