Chicago is a classic American city famous for art, architecture, and great restaurants. As the third largest city in the United States, Chicago is also known as a "city of neighborhoods," so deciding where to stay can be overwhelming. Fortunately, this local knows the best hotels around so you can easily choose where to stay in Chicago.
---
Pro Tip: It's easier to organize your trip when you have all your resources in one place. Bookmark this post along with our Chicago Guide with more planning resources or jump right into the top foods to try and things to do here in the Windy City.
Where to Stay in Chicago: Best Hotels and Neighborhoods
When deciding where to stay in Chicago, the first thing to do is pick a neighborhood! Chicago truly has something for everybody, so consider narrowing down your choices based on what you want to do. But don't worry—Chicago has an excellent public transit system so you'll never be too far from the action. Here are the best neighborhoods to stay in when you visit Chicago.
Our Partnership with Booking.com. If you like our content, please book by clicking on our Booking.com links. The price is the same for you and we get a small commission that helps support our blog. We've partnered with Booking.com because they have the most options, great prices, and a solid loyalty program. Just about every hotel is on Booking so our recommendations are not incentivized.
West Loop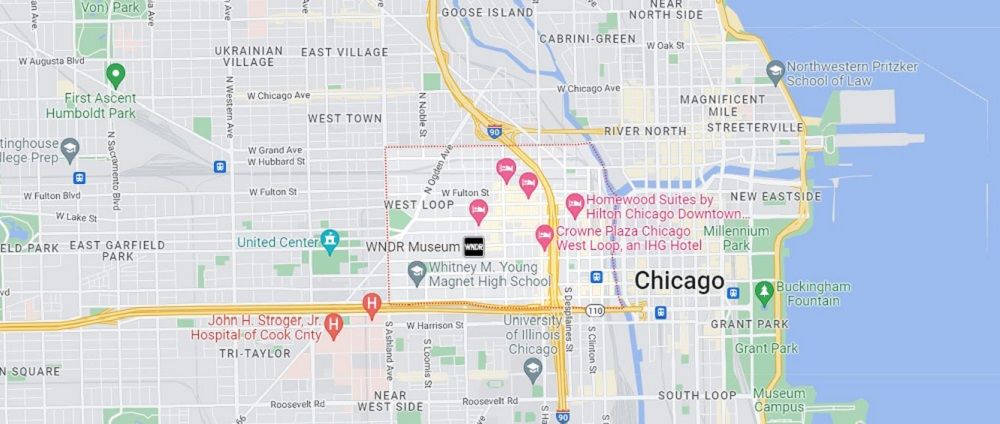 Chicago's West Loop is a neighborhood that has exploded over the last 10 years, and it's definitely the hottest place to go for dining out and nightlife in Chicago. In fact, the best restaurant in the entire world is located here: Avec. Seriously, if you're in the West Loop just do yourself a favor and just eat at Avec.
Don't miss: Roman import Bonci for scissor-cut pizza slices and the izakaya in the basement of Momotaro for late night food and drinks. The West Loop is a busy neighborhood all times of day and night (Google and McDonalds have large offices here) so be sure to make reservations.
Why else should you stay in West Loop Chicago? Well, this is where you'll find the United Center if you want to catch a Bulls game or attend a concert. You won't find much shopping here. But there's also a surprising amount of Greek architecture here that will catch your eye as you stroll from drinks to dinner, which makes sense since this neighborhood includes Greektown.
Attractions Near West Loop
Fulton Market
United Center (sports and concerts)
Union Station
WNDR Museum
Randolph Street Market
Best Restaurants in West Loop
Best Hotels in West Loop Chicago
The Hoxton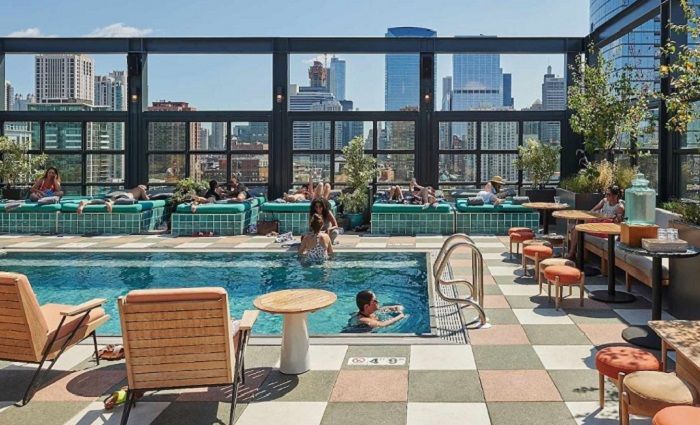 $$$ | 4 Star | Rooftop Pool and Restaurant | Happening Place

Stay at the Hoxton if you love socializing with locals and other guests at the Stephanie Izard restaurant, pool, and lounge. It can get busy on weekends, but with a top chef ceviche restaurant on the roof, that's to be expected. The rooms are spacious and comfy too.
Nobu Hotel Chicago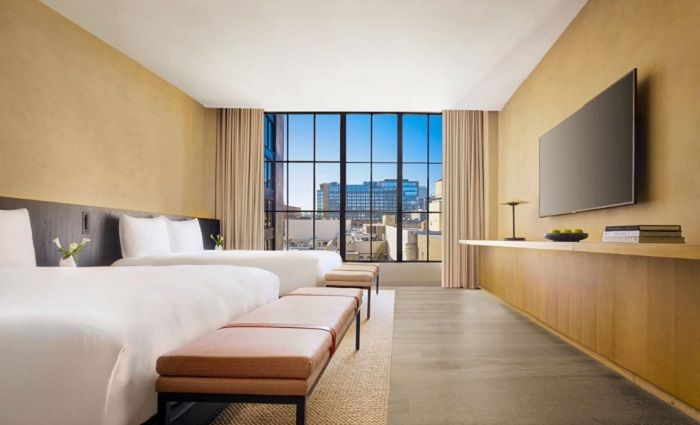 $$$$ | 5 Star | Elegant | Spa and Wellness Center | Great Location
A stay at a Nobu hotel is sure to be a great choice if your budget allows. It's centrally located in West Loop, near the Fulton Market. While the bar and lobby might have stunning decor, the rooms are simple and understated in their elegance.
Crowne Plaza Chicago West Loop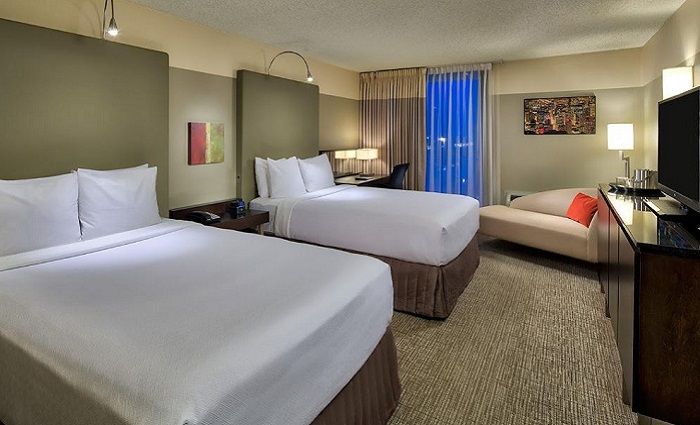 $$+ | 4 Star | All-Day Dining | Cheaper Option
If you're in town for a Bulls game and want to stay nearby, this hotel might be a great option at a lower price. You're close to a train station, and they offer on-site dining all day long. It might not be the fanciest option around, but it's a solid choice for families.

Location, photos, and booking
Coming to Chicago? Plan ahead with our list of top foods to try and fun things to do around the city.
Downtown/Theater District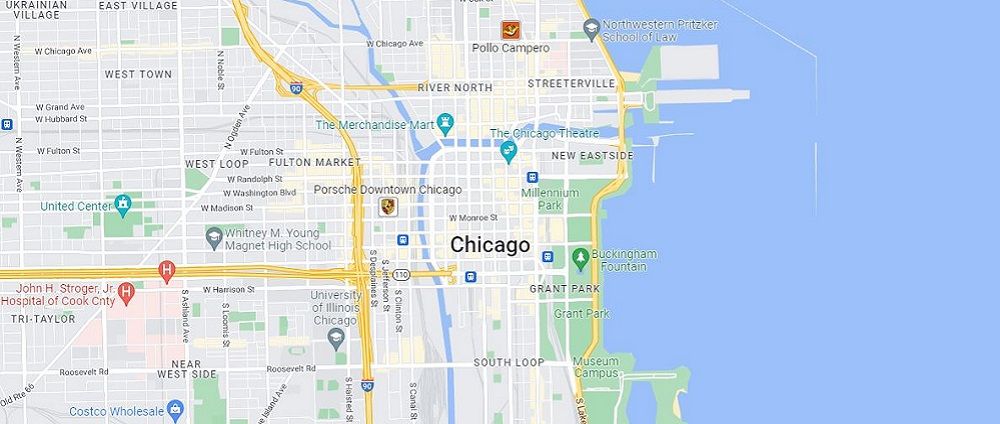 Theater District in the Loop is classic Chicago. This is the place to get all your selfies in. Garrett's Popcorn, Millennium Park, the Bean, Chicago Theater, the Art Institute, and the Willis Tower are all located in the Loop.
This downtown area was almost totally destroyed by the Great Chicago Fire in 1871 and was subsequently rebuilt with some of the most interesting and diverse architecture in the world. Don't miss an architecture tour here! Walking tours are offered year round, and architecture boat tours during the warmer months are amazing.
In terms of food, we recommend finding one of the food halls popular with office workers for a diverse lunch selection. Other great food choices in the area are Russian Tea Time (decadent Russian with house-infused vodkas), Mercat a la Planxa (Spanish and stylish), or Prime & Provisions (super indulgent modern steakhouse).
Attractions Near Downtown/Theater District
Millennium Park
The Bean
Chicago Theater
The Art Institute
Willis Tower
Best Restaurants in Downtown/Theater District
Best Hotels in Downtown/Theater District of Chicago
Chicago Athletic Association Hotel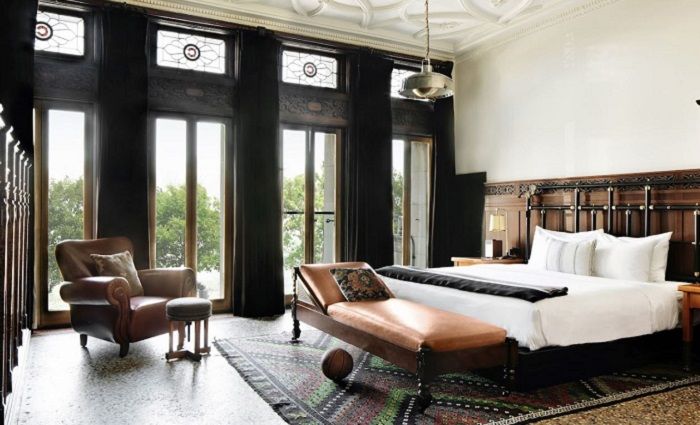 $$$ | 4 Star | Vintage Vibes | Unbeatable Location
You'll probably want to come back to Chicago just to stay at this unique hotel. With touches of vintage style, leather, and industrial design, there's nothing quite like this charming hotel. Not to mention, you're just across the street from Millennium Park and steps from The Art Institute of Chicago.

Location, photos, and booking
The Palmer House Hilton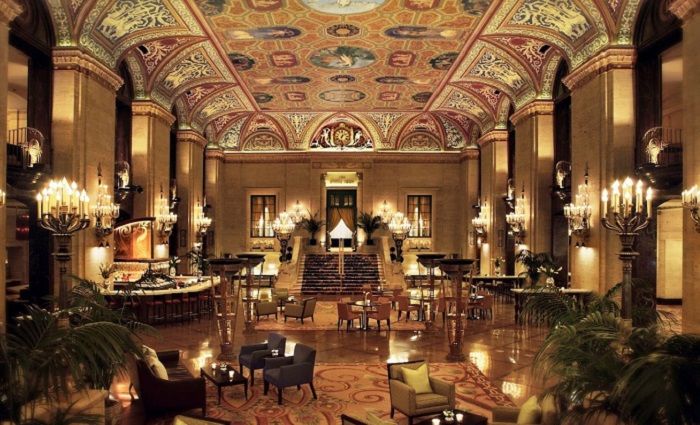 $$$ | 4 Star | Stunning Lobby | Art Deco | Rooftop Garden
Even if you don't stay here, you should stop in to see the luxurious lobby with a bar. It's practically an attraction all on its own. Aside from that decadence, you can escape to the rooftop garden or spa. The rooms are a little smaller than most, but you can't beat the great historic charm.

Location, photos, and booking
Radisson Blu Aqua Hotel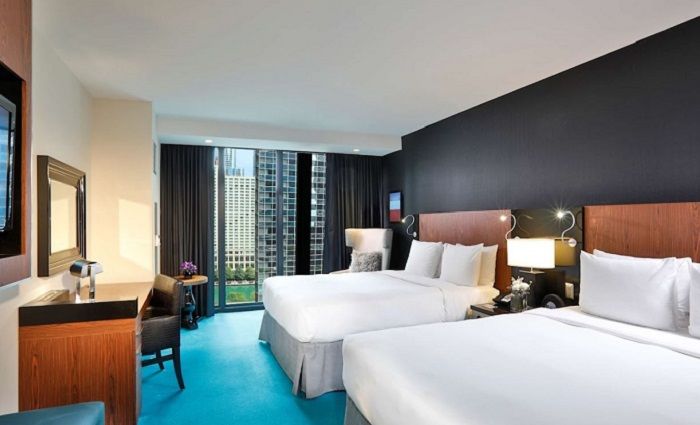 $$$ | 4 Star | Eye-Catching Design | Contemporary
This skyscraper hotel made waves as the world's tallest building designed by a woman—until it was surpassed by the St. Regis hotel just around the corner! The wavy design on the exterior catches the eyes of passersby, and the contemporary vibes and pool will catch yours if you stay here.

Location, photos, and booking
Pendry Chicago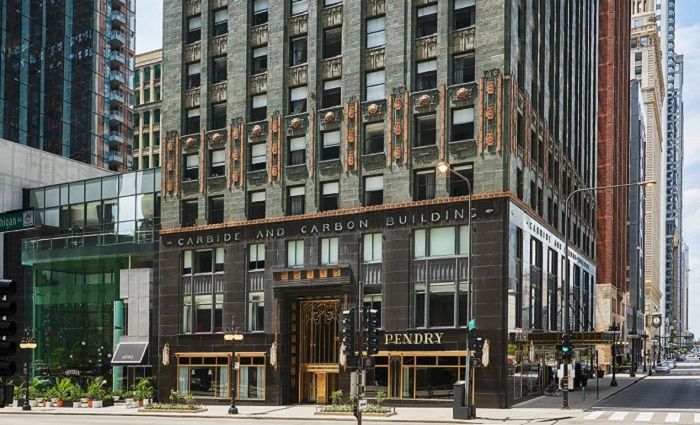 $$$ | 4 Star | Historic Building | Perfectly Renovated | Modern Luxury
This grand old building was carefully renovated to preserve the historic feel with modern luxuries. With great staff, great location, and tasty cocktails at the bar, the Pendry knows how to make guests feel welcome. You won't miss with a stay at Pendry.

Location, photos, and booking
River North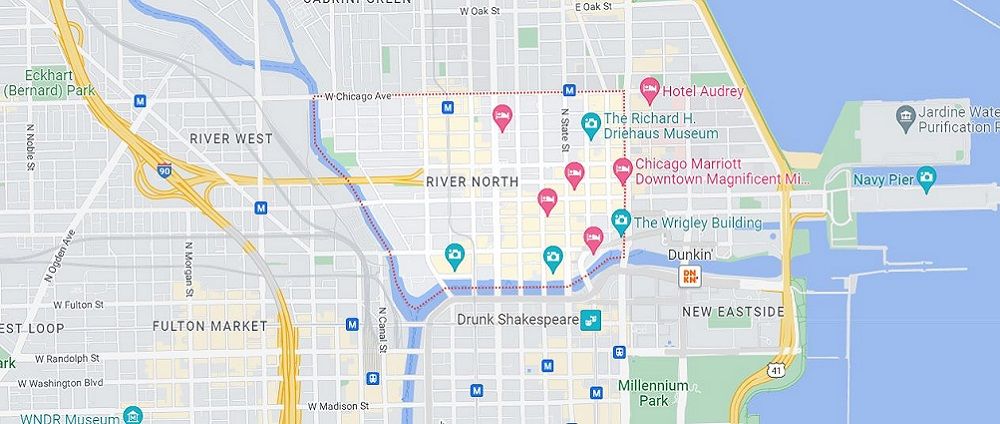 River North is one of the neighborhoods where Chicago comes to party. You can spend the day shopping on Michigan Avenue, have a fantastic meal, then hit the clubs on Hubbard Street after hours.
A true local tip: In the warmer months, be sure to take the water taxi from River North to Chinatown and run—don't walk—to Szechwan JMC for one of the most insane and unique meals you will ever have. We especially like the chong qing popcorn chicken and the mapo tofu here. BTW, it's BYOB so grab something cold from the Walgreens down the street.
Attractions Near River North
Merchandise Mart
American Writers Museum
The Escape Game Chicago
Ward Park
Best Restaurants in River North
Best Hotels in River North
The Langham Chicago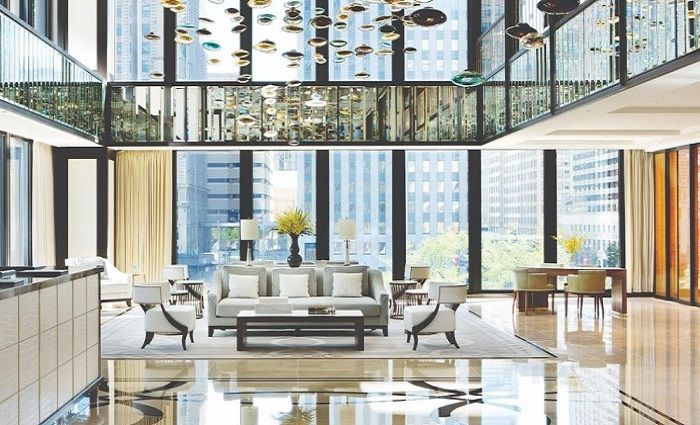 $$$+ | 5 Star | Great for Couples | Best Spa in Town | Gluten-Free High Tea
This hotel pays attention to the small details, like making sure your ice buckets stay filled when you need them most. Enjoy a comfortable, luxury stay here where you're perfectly located near the river and shopping. The spa is incredible, and you definitely can't miss their high tea in the afternoon. Totally bonkers amazing.
Hotel Chicago Downtown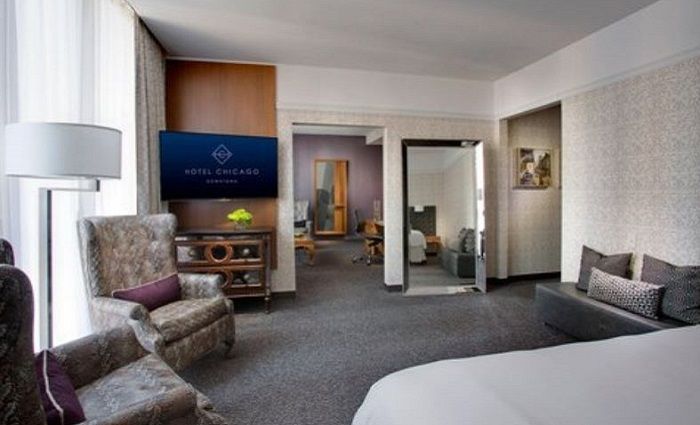 $$+ | 4 Star | Great Location | Clean Rooms | Onsite bar
For a great price, you can stay at a solid hotel in the center of it all. The rooms might not be super fancy, but they're clean, which is important. If you like Sunday brunch, head next door to the famous House of Blues that does a gospel-music brunch you shouldn't miss.
The Gwen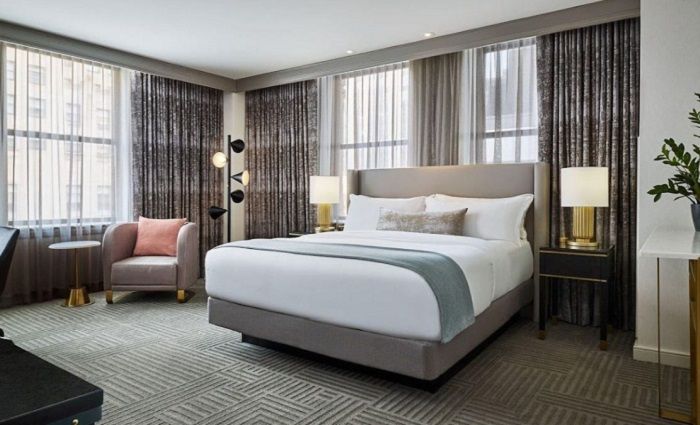 $$$ | 4 Star | Cool and Posh | Rooftop Terrace | Urban Glamping
The Gwen knows how to stay relevant even through those awful Chicago winters. Head to the rooftop terrace that has tons of heaters, firepits, and even curling if you want to try your hand. Rather stay inside? No problem. You'll love your spacious room. Or you could opt for the glamping tent on a private patio!
InterContinental Chicago Magnificent Mile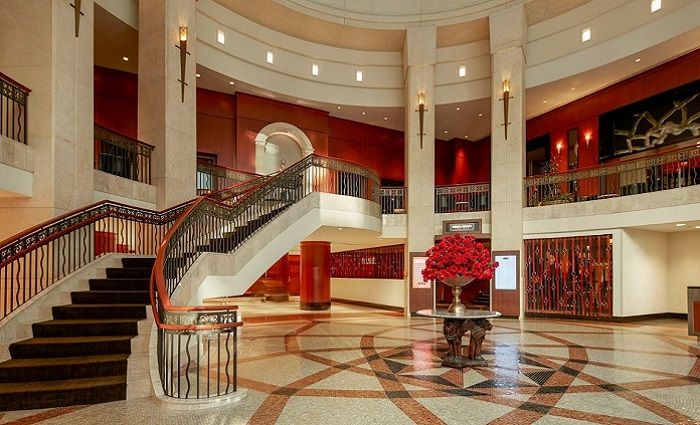 $$+ | 4 Star | Olympic-sized Indoor Pool | Michael Jordan's Restaurant
The InterContinental Chicago is here to do it big. A big lobby, a big pool, and a restaurant with a big, delicious cheeseburger (owned by the Michael Jordan). It's also a pretty historic building so make sure to ask the staff about this gem.
Gold Coast/Magnificent Mile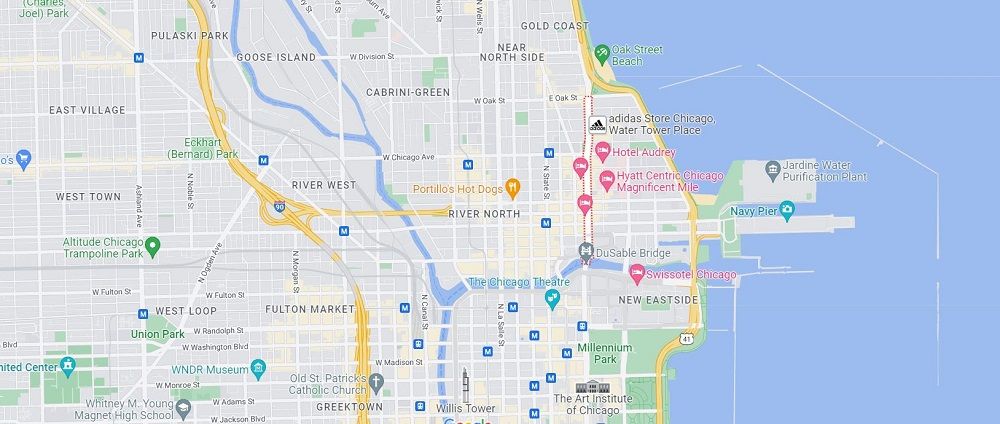 Chicago's Gold Coast and the Mag Mile is just what it sounds like: luxury, luxury, luxury. This is the place to come for Louis Vuitton, Chanel, Gucci, and ladies who lunch. And speaking of—there are some great spots to grab a meal in the Gold Coast.
Some of my favorites are Le Colonial, where you'll find French Vietnamese in one of the most beautifully decorated spaces ever. Also try Shanghai Terrace in the Peninsula Hotel for upscale dim sum that transports you straight to Hong Kong.
Want to know a secret about the Gold Coast? You can walk to the beach from there! Yep! Chicago is a city on the water with beautiful beaches and beach front bars and restaurants. Well, for 3 months of the year at least… Also, this is the closest you can get to the famous Navy Pier that's totally worth visiting.
Attractions Near Gold Coast and Magnificent Mile
Museum of Contemporary Art
Luxury shopping
Navy Pier
360 Chicago Observatory
DuSable Bridge
Chicago Water Tower
Best Restaurants in Gold Coast and Magnificent Mile
Best Hotels in Menlo Park
Waldorf Astoria Chicago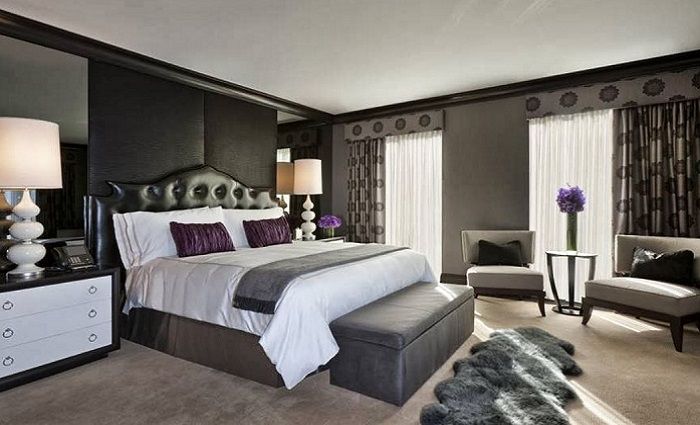 $$$$+ | 5 Star | Luxury Suites | Attentive Staff
For starters, it's a Waldorf Astoria, so you can expect all that comes with that brand name. The staff makes this particular location awesome, but you might just love upgrading to an even better suite that's sure to please.
W Chicago – Lakeshore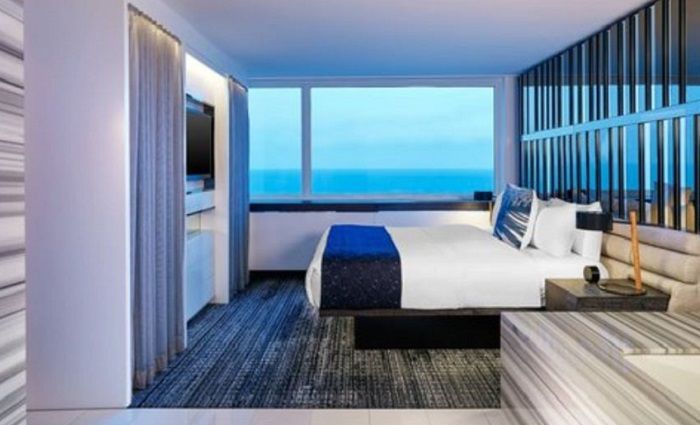 $$$ | 4 Star | Those Lakefront Views | Contemporary | Younger Crowd
Here at W Chicago, you're just steps from the beach with insane views of the lake and Navy Pier. It's an awesome hotel if you want to catch the fireworks! The hotel bar fills with a younger crowd on weekends, so join in if that's your vibe.
Talbott Hotel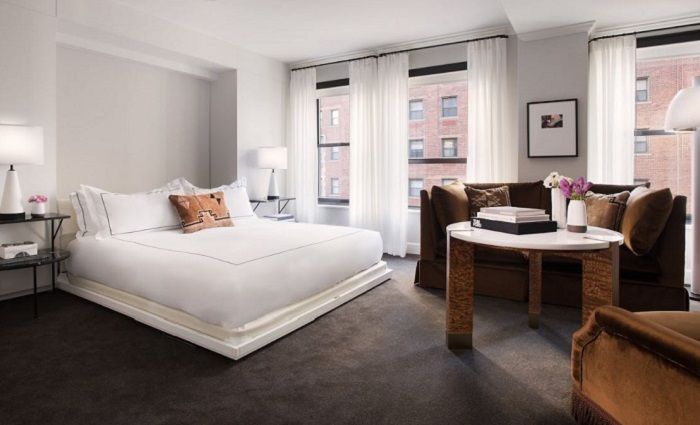 $$$+ | 4 Star | All-Day Restaurant | Historic and Boutique | Pet Friendly
With a past as a laundromat and jazz club, the Talbott Hotel has a lot of secrets. Not the least of which is the great staff, awesome restaurant, and pet-friendly service. Oh, and did we mention the waterfall showers? Yeah. They're great.
Trump International Hotel and Tower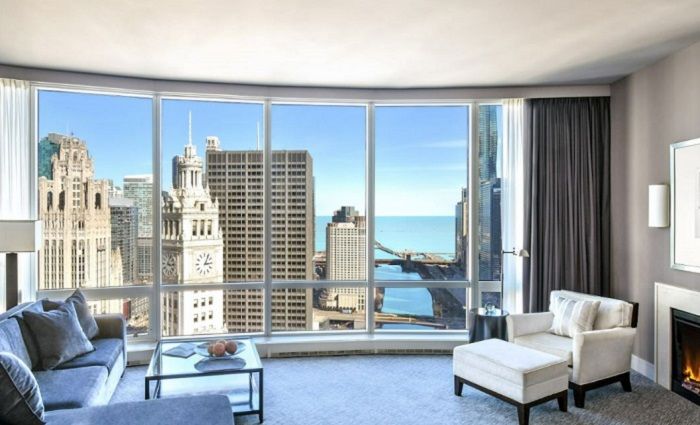 $$$ | 5 Star | Iconic Hotel | Floor-to-Ceiling Windows Everywhere | Luxe Spa
The Trump Hotel in Chicago is dope. You want affordable 5-star luxury in a stunning high rise? This is the place. Enjoy a day at the spa, relax in your private deep-soak tub, or swim in the 75-foot heated indoor pool. Then dine at one of several impeccable spots onsite.
Four Seasons Hotel Chicago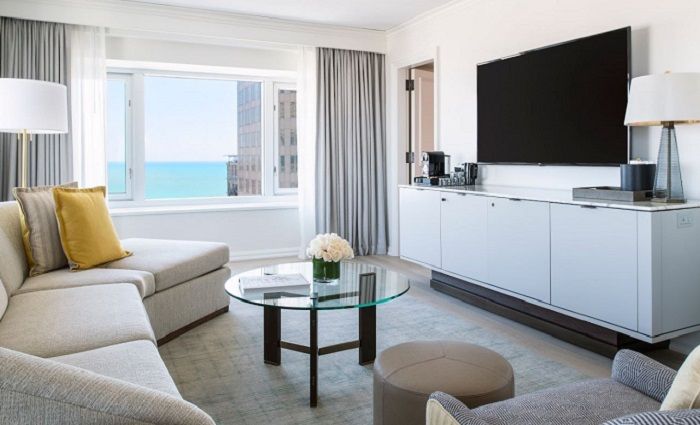 $$$$+ | 5 Star | Skyline Views | Cocktail Club | Ice Cream Delivery
The Four Seasons always set the bar high. So aside from the luxurious rooms, you can also enjoy an ice cream delivery right to your room. Can't beat that for a late-night treat! They have tons of amenities for kids too. And for adults, try the Mile High Cocktail Club to learn how to craft incredible cocktails.
Lincoln Park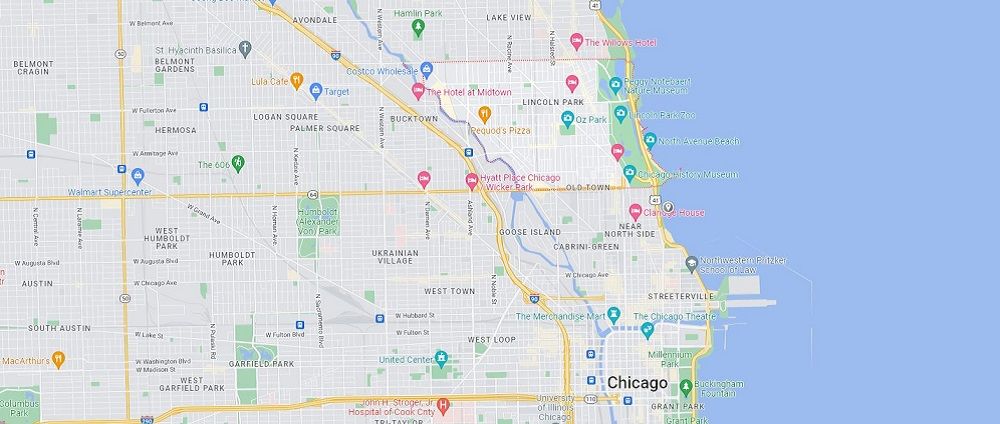 Lincoln Park is a beautiful lakefront neighborhood with plenty of green space and great places to eat. It's ideal for families coming to Chicago and wanting to be further from the bustle of the city. Plus it's close to Wrigley Field where you can take in a Cubs game!
Visit the Lincoln Park Zoo (free and open 365 days a year), go to the beach, see the Peggy Nortebart Nature Center (they have a butterfly room that's amazing!). Don't miss the Chicago History Museum. It's one of the coolest museums in Chicago.
Lincoln Park is a stylish, upscale neighborhood with leafy streets and plenty of cafés and bars. When you get hungry, don't miss Galit (Middle Eastern), Chez Moi (French Bistro) or Geja's for fondue. For a casual lunch we love Del Seoul for Korean BBQ tacos.
Attractions Near Lincoln Park
Lincoln Park Zoo
Wrigley Field
Peggy Notebaert Nature Museum
Chicago History Museum
Best Restaurants in Lincoln Park
Best Hotels in Lincoln Park
Hotel Lincoln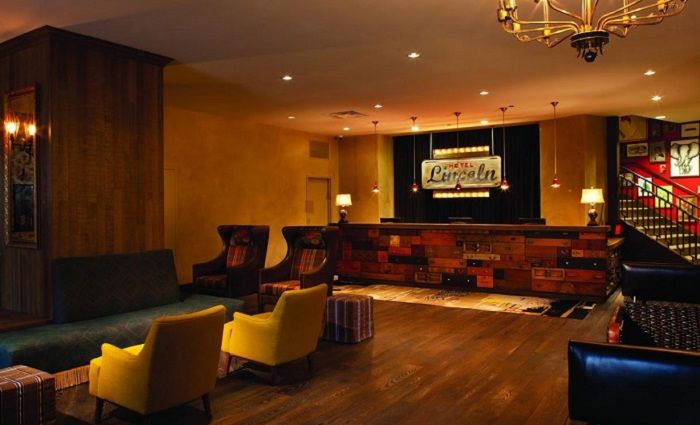 $$ | 4 Star | Beautiful Views | Eclectic Vibes | Award-Winning Eateries
Don't pass up Hotel Lincoln. It's made waves as a top hotel in its class, and you'll love the location too. You're steps from the park and beach here. And you could eat at the hotel and think you've eaten food from a luxury restaurant downtown.
Hotel Versey Days Inn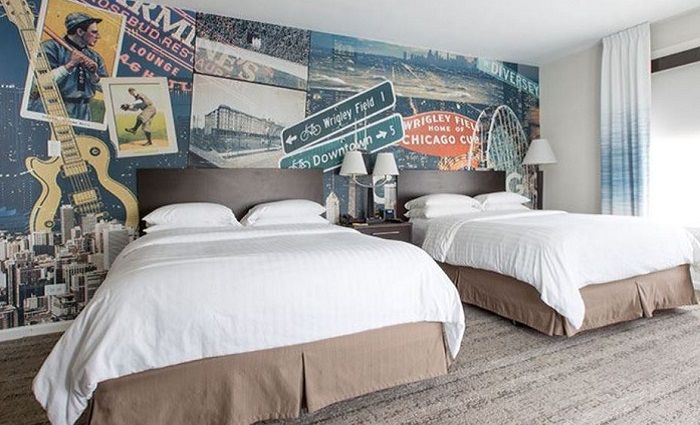 $+ | 3 Star | Budget Option | Boutique | Rock 'n' Roll
A low price doesn't mean a bad stay. In this case, you'll love the hip rock 'n' roll vibes at Hotel Versey. In fact, they even made it on an Architectural Digest list for new hotels with awesome design. There aren't extra amenities here, but you'll have all the basics you need.
Villa D' Citta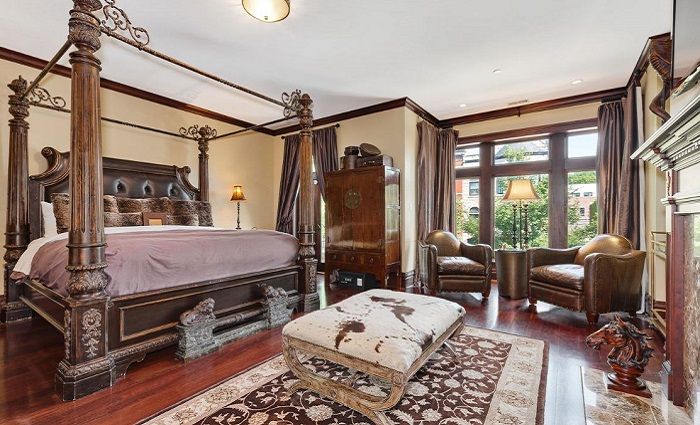 $$+ | 4 Star | Charming B&B | Tasty Food | You'll Fall In Love
They say you'll feel Chicago's "Old World Style" here, and they're right. From the spiral staircase to the attentive hosts, you'll love your stay here if you appreciate B&Bs. There's even a jacuzzi on the sun deck if you're here when the weather is great.