The small town of Sausalito is the perfect spot to grab a bite to eat while visiting San Francisco. It is just across the Golden Gate Bridge and has so much to offer. Check out the best restaurants in Sausalito while visiting San Francisco!
---
Pro Tip: It's easier to organize your trip when you have all your resources in one place. Bookmark this post along with our guide to San Francisco for more planning resources, our best San Francisco tours for a memorable trip, and the top things to do in San Fran.
Where To Eat In Sausalito
You'll find the quaint town of Sausalito right on the other side of San Francisco's Golden Gate Bridge. For many years now, Sausalito has been a favorite spot for day trips from San Francisco.
This is primarily because of its fantastic views of San Francisco Bay! What's more, it's easy to get to from San Francisco. This seaside town is also a must-visit for all seafood fans! However, it also boasts a wide variety of cuisine for those who don't eat seafood as well.
Sausalito is a short trip from San Francisco by car or bus. It's even accessible by bike or on foot if you want to combine your day trip with a trek across the Golden Gate Bridge. Sausalito's attraction lies in its charming streets filled with art shops and boutiques, plus its laid-back vibe that makes you feel like you've somehow found a little island of relaxation in the Bay Area.
Not ready to book a tour? Find out if San Francisco tours are worth it.
Poggio Trattoria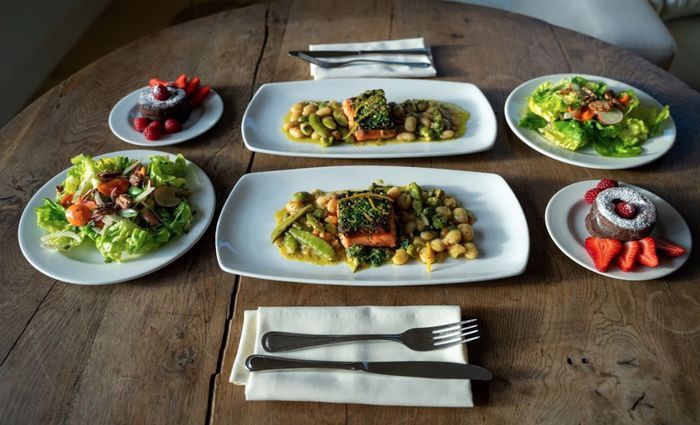 $$$ | Italian | Great for Brunch & Dinner | Michelin Starred
Poggio Trattoria is an upscale restaurant that will appease pasta lovers and seafood fans alike. For lunch and dinner, customers rave about the halibut as well as the pasta dishes – people especially love the alfredo! Although best-known for meals in the afternoon and evening, Poggio is also a bunch favorite. Brunchers love to enjoy classic breakfast dishes outside on their patio. In addition, Poggio has a few vegetarian options, like their new Primavera Pasta. Largely, diners agree that Poggio has more than earned its Michelin star!
Address: 777 Bridgeway
The Spinnaker
$$$ | Seafood Restaurant | Amazing Views | Lively Atmosphere | Great For Date Night
The Spinnaker boasts awesome views of the San Francisco Skyline, as well as Mount Tamalpais. People come for the view, and stay for the crab bisque! Customers also love their shrimp and calamari. For non-seafood eaters, The Spinnaker offers a wide variety of salads and sandwiches. They also have an extensive dessert menu! Aside from the stunning view and tasty dishes, another reason that The Spinnaker is so popular is its close proximity to the Bay, allowing patrons to watch sailboats glide by as they dine.
Address: 100 Spinnaker Dr, Sausalito, CA 94965
Barrel House Tavern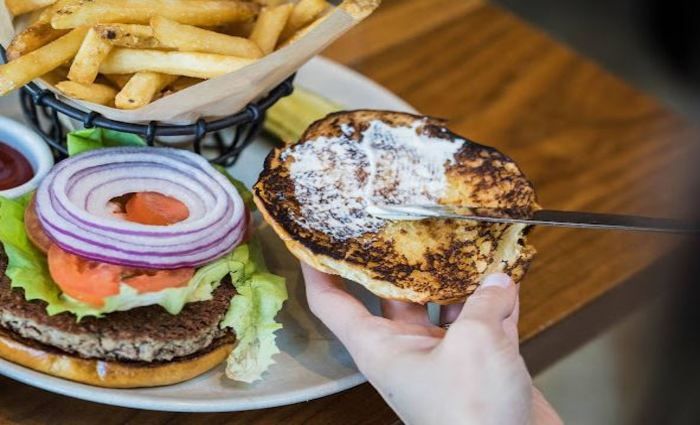 $$$ | Gastropub Vibes | Great Views | Excellent Service
Barrel House Tavern has a great variety of food to please anyone in your travel group! In addition, they boast some of the best restaurant views in Sausalito. The menu has a solid selection of seafood such as salmon, scallops and crab cakes, plus burger and pasta options. People especially love the shrimp!

If you sit outside, you'll be eating right on the water with panoramic views of San Francisco, Treasure Island and the Bay Bridge! You can't really beat that. Plus, the building has some cool history to it as well. Previously, it was the first ferry terminal to and from San Francisco before the Golden Gate Bridge was built!
The ambiance here is casual and relaxed, with consistently good service. For a fun Northern California vibe with amazing views, we definitely suggest you dine here. If you're a drinker, they also have a full bar.
Address: 660 Bridgeway, Sausalito
Popular San Francisco Tours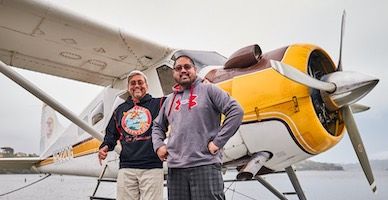 Best Selling Tour
Morning in Marin: Muir Woods, Seaplane, and Sausalito Ferry Tour
A VIP experience with a local storytelling guide. With hotel pickup included from San Francisco, begin your day in style. Head to the Muir Woods before the crowds and spend an hour amongst thousand-year-old Giant Sequoia trees. Next, hop onto a seaplane, take in the beauty of the bay, and see the top sights from above. Once landed, enjoy a locally-sourced lunch in Marin. The day ends in Sausalito for free time to explore before ferrying back to San Francisco.





Starting at $449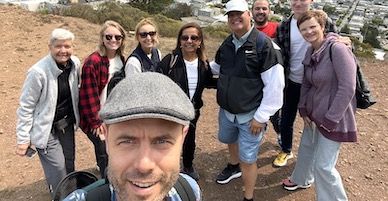 Likely to Sell Out
San Francisco in a Day Tour with Golden Gate Bridge and Alcatraz
In a small group, hop on board and see San Francisco with a local expert. Visit the Golden Gate Bridge, the Twin Peaks, and countless hidden gems on this full-day exploration. The last stop of the day is Alcatraz. Embark the ferry and see the stunning surroundings of San Francisco Bay before reaching the infamous prison. Once you disembark, enjoy the famous Cellhouse Audio Tour where you can explore the entire prison and island. Hotel Pickup Included.





Starting at $179
Not ready to book a tour? Find out if San Francisco tours are worth it.
Lighthouse Café
$$ | Breakfast Food | Some Outdoor Seating | Casual | Big Portions
Lighthouse Café is our favorite spot in Sausalito for breakfast. Expect all the traditional breakfast plates like omelets and pancakes, plus a few fun additions like stuffed hash browns and a variety of Danish dishes. Breakfast is served all day here, so you don't need to worry about hustling over before a certain time. However, please note that the restaurant closes at 2 p.m. on Fridays, and 3 on the weekends!

Because this place is very popular, there may be a line when you arrive. However, the line goes rather quickly. Although the Lighthouse Café doesn't boast a Bay view like some other restaurants on this list, it is walking distance to the water, so you can take a scenic walk after your meal. The Lighthouse Café's interior is very casual, decorated diner style. Sit at the counter or pick out a booth and enjoy the homey vibe!
Address: 1311 Bridgeway, Sausalito
Not ready to book a hotel? Find out more about the top things to do in San Francisco.
Scoma's of Sausalito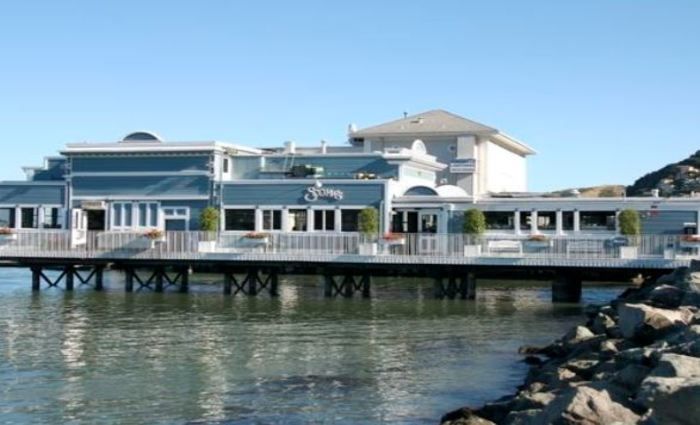 $$$ | Seafood | Great Views | Upscale Vibe
Scoma's has become a household name in Sausalito, as well as in San Francisco where they have another location. This restaurant has been floating on the water since 1969, and the owners like to affectionately refer to their location as the Italian Riviera, paying hommage to their Sicilian roots. If you want to dine in a true Bay Area institution, this is our top choice.
Most of Scoma's menu focuses on quality seafood, with dishes like Pacific Coast petrale sole, cioppino and lobster risotto. There's always a few meat items available as well though, like a New York steak or steak and lobster combination.
The atmosphere is far from stuffy, but there's an upscale vibe that makes it great for a nice date night or special occasion. Both indoor and outdoor dining offer views of the bay, but from the inside you'll have unobstructed views of Angel Island, Tiburon, Sausalito and San Francisco.
Address: 588 Bridgeway, Sausalito
Sandrino Pizza & Vino
$$ | Pizza | Limited Outdoor Seating | Relaxed and Family Friendly
Sandrino Pizza & Vino is an authentic pizza restaurant owned and operated by a couple who moved to Sausalito form Northern Italy in 2015. All dishes are prepared from scratch and created from family recipes. The pizzas are all made with a thin and deliciously crispy crust, with finer ingredients than you're probably used to seeing in an American pizzeria. While they don't make custom pizzas, there's almost thirty options on the menu, so you'll have lots of choices. Make sure to save room for their incredible tiramisu for dessert!
The décor inside creates a casual yet intimate feel, with only a few tables and booths inside. Warm lighting creates a bit of a romantic vibe in the evening, making this a nice option if you're traveling with your partner and are looking for a relaxed date night.
Address: 45 Caledonia St, Sausalito
Avatar's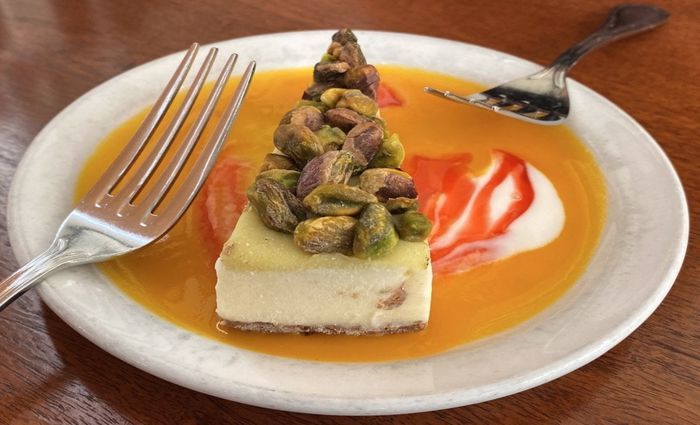 $$ | Indian Fusion | Cozy and Friendly | Vegetarian Options
If you have someone in your group who isn't crazy about seafood, Avatar's is a great pick! Serving Indian fusion, Avatar's might be the only place nearby you can get Indian food-inspired enchiladas! Some of their other dishes are inspired by other country's cuisine, such as Italy and Jamaica. You can't go wrong by ordering the one dessert they serve, which is a heavenly pie slice filled with mango and pistachios. Although people love the food at Avatar's, they keep coming back for the friendly vibe and amazing service as well.
Address: 2656 Bridgeway, Sausalito, CA 94965
Le Garage
$$ | Pizza | French Cuisine | Good For Brunch | Lively Atmosphere
If you are in Sausalito for the day while visiting San Francisco, Le Garage is conveniently located right next to the ferry stop so you can easily return to San Francisco after your Sausalito trip is over. Location aside, Le Garage boasts awesome bay views. The menu has delicious brunch items, such as omelettes and duck confit. For dinner, guests love the mussels and croque madames! Le Garage also has friendly service and a great vibe to enhance your meal, regardless of if you are eating brunch or dinner.
Address: 85 Liberty Ship Way #109, Sausalito, CA 94965
Fish Restaurant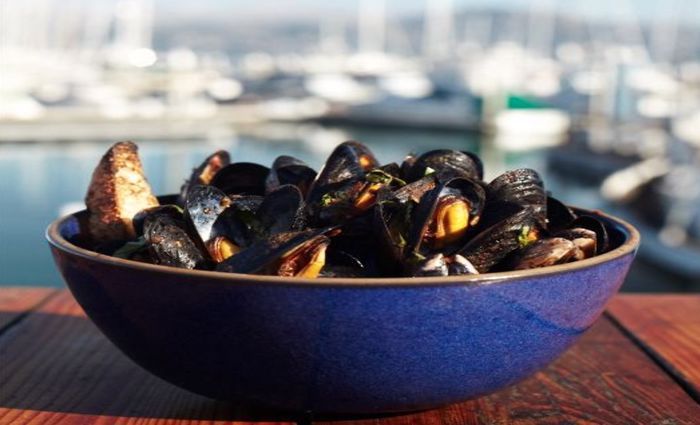 $$ | Seafood | Sustainable and Local | Awesome Views
As the name might suggest, Fish is a casual seafood restaurant. With lots of outdoor seating and excellent views of the harbor and bay, this restaurant is serving up lots of fish and chips, fish tacos, clam chowder and more. Picnic tables, complete with heaters, are set up outside next to the harbor, giving diners nice views of the water and boats. It's the perfect place to relax during a weekend lunch with friends. To make you feel even better about eating here, the restaurant prides themselves on their sustainable seafood choices! They also support local fishermen, which we love.
Address: 350 Harbor Dr, Sausalito
Bar Bocce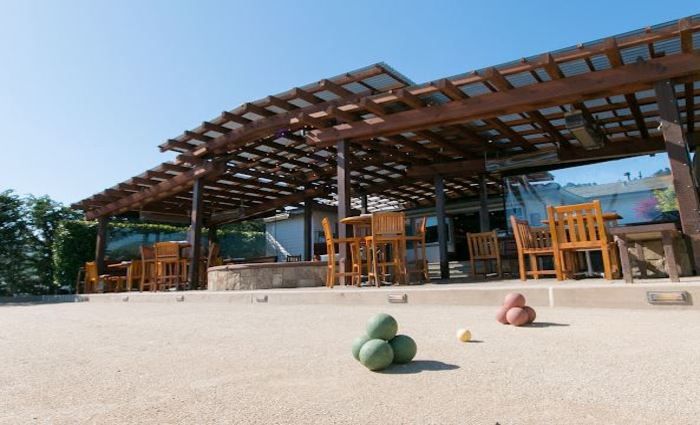 $$ | Pizza and American Food | Casual and Fun | Awesome Views
Bar Bocce is the best spot in Sausalito if you're looking for a place to relax for a few hours. You could even spend the whole afternoon here. The ambiance is top notch: beautifully crafted wooden tables, fire pits and a gazebo are stretched in front of an area set up for bocce ball playing, which is all set right in front of the beach! This means that there's amazing views of the harbor and bay.

As you can imagine, there's usually a bit of a wait here, so we recommend arriving early, especially if you're with a group. However, we think their food is worth it, especially their pizzas! Customers also rave about the bread pudding.
Address: 1250 Bridgeway, Sausalito
The Trident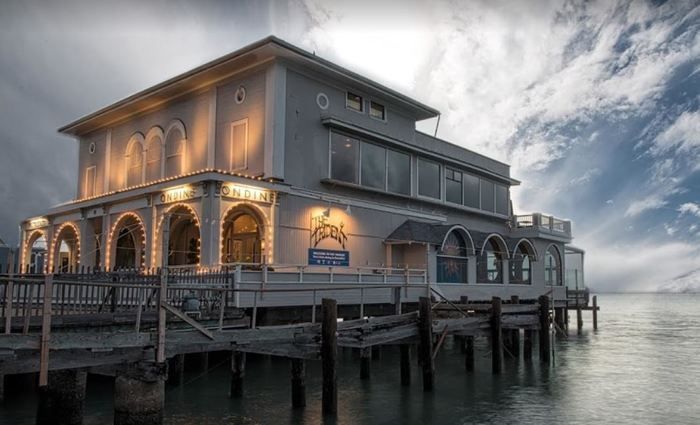 $$ | Seafood | Great Ambiance | Stunning San Francisco Views
The Trident used to be a favorite among celebrities in the 1960s back when it was called The Kingston Trio's Trident! Janis Joplin used to have her own table. We can see why! The food is amazing, and the views of the San Francisco skyline are unparalleled. Whether you sit on the outdoor patio or indoors, you can enjoy an awesome view!

Nowadays, Trident has the original decor from the 60s, giving the restaurant a fun, retro vibe. Customers love the great service, and their tasty seafood. They are well-known for their calamari, as well as their crab louie!
Address: 558 Bridgeway, Sausalito
Not ready to book a tour? Find out if San Francisco tours are worth it.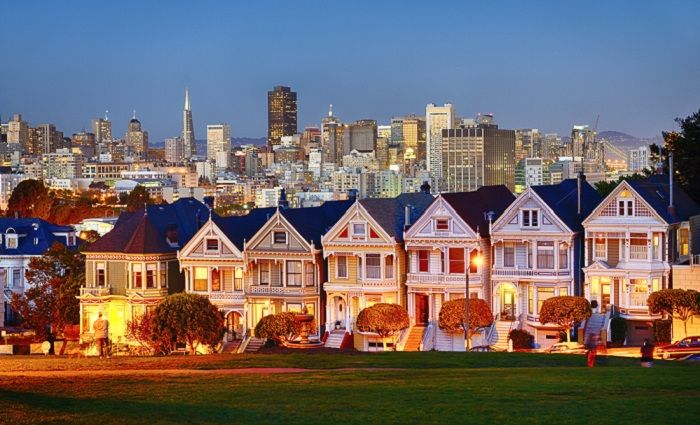 Find the best places to stay
Where To Stay in San Francisco
Make the most of your visit to San Francisco by choosing to stay in the best neighborhoods for seeing all this iconic city has to offer. You'll love our hotel recommendations.