The small town of Sausalito is the perfect spot to grab a bite to eat while visiting San Francisco. It is just across the Golden Gate Bridge and has so much to offer. Check out the best restaurants in Sausalito while visiting San Francisco!
Where To Eat In Sausalito
You'll find the quaint town of Sausalito right on the other side of San Francisco's Golden Gate Bridge. Sausalito has been a favorite spot for day trips from San Francisco for many years now, mostly because of its fantastic views of the San Francisco Bay and its easy access. It's a short trip to get to Sausalito from San Francisco using a car or bus, and it's even bikeable and walkable if you want to combine your day trip with a trek across the Golden Gate Bridge. Sausalito's attraction lies in its charming streets filled with art shops and boutiques, plus its laid-back vibe that makes you feel like you've somehow found a little island of relaxation in the Bay Area. Keep reading to discover our suggestions of where to eat when in Sausalito.
Sushi Ran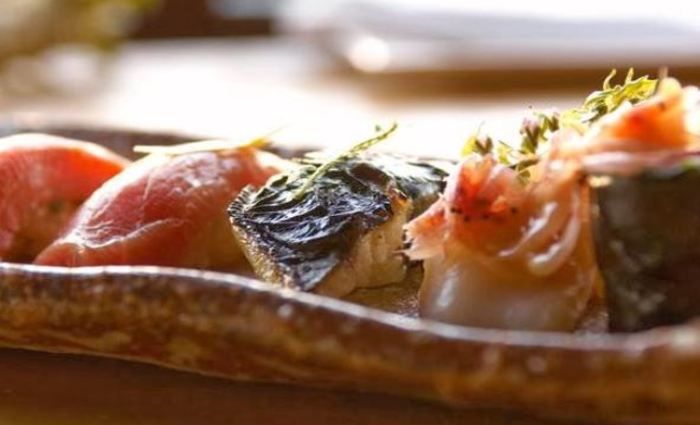 $$$ | Sushi | Some Outdoor Seating
Since Sausalito is right on the water, many visitors expect restaurants with fresh fish. Sushi Ran does not disappoint. The restaurant has earned honors from numerous publications over the years, and holds a Bib Gourmand award from Michelin, given to restaurants who are able to combine high quality with affordable pricing.
Anything you order here will come out right. Their menu is more original than your classic sushi place and the fish is incredibly fresh. The omakase option served at the bar is a fun way to try multiple plates, where the chef will pick your food based on that night's inspiration. The black cod is also one of our favorites.
Address: 107 Caledonia St, Sausalito, CA 94965 | Tel: +1-415-332-3620
Hours: Mon – Thurs 5PM – 9:30PM | Fri – Sat 12PM – 2:30PM | 5PM – 10PM | Sun 12PM – 2:30PM | 5PM – 9PM
Barrel House Tavern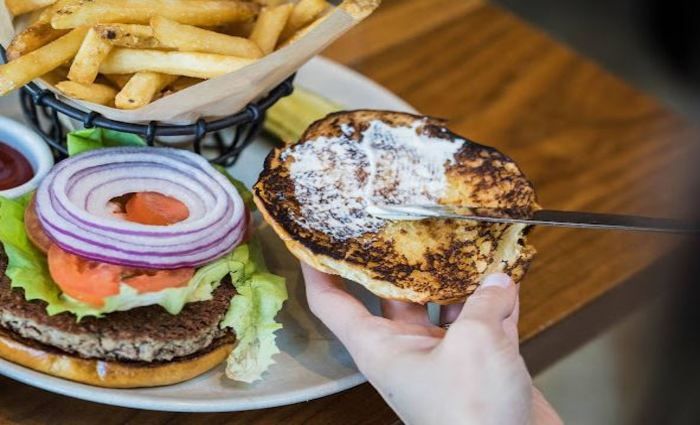 $$$ | Gastropub Vibes | Great Views
Barrel House Tavern has a great variety of food to please anyone in your travel group, plus some of the best restaurant views in Sausalito. The menu has a solid selection of seafood such as salmon, scallops and crab cakes, plus burger and pasta options. They also offer a full bar and some creative craft cocktails. If you sit outside, you'll be eating right on the water with panoramic views of San Francisco, Treasure Island and the Bay Bridge. The building has some cool history to it as well – the location was previously the first ferry terminal to and from San Francisco before the Golden Gate Bridge was built.
The ambiance here is casual and relaxed, with consistently good service. For a fun Northern California vibe with amazing views, dine here.
Address: 660 Bridgeway, Sausalito, CA 94965 | Tel: +1-415-729-9593
Hours: Mon/Wed/Thurs 12PM – 8PM | Fri 12PM – 9PM | Sat 11AM – 9PM | Sun 11AM – 8PM
Lighthouse Café
$$ | Breakfast Food | Some Outdoor Seating
Lighthouse Café is our favorite spot in Sausalito for breakfast. Expect all the traditional breakfast plates like omelettes and pancakes, plus a few fun additions like stuffed hashbrowns and a variety of Danish dishes. Breakfast is served all day here, so you don't need to worry about hustling over before a certain time.
The interior is very casual, decorated diner style. Sit at the counter or pick out a booth and enjoy the homey vibe!
Address: 1311 Bridgeway, Sausalito, CA 94965 | Tel: +1-415-331-3034
Hours: Mon – Fri 8AM – 2PM | Sat – Sun 8AM – 3PM
Check Out Our Top Day Trips from San Francisco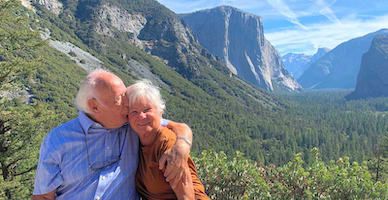 Top Rated Tour
Yosemite in a Day Tour from San Francisco
Many ask can you do a day trip to Yosemite from San Francisco? Though it is a 4-hour drive, our precisely designed itinerary is the ultimate way to see Yosemite in a day. With hotel pickup in San Francisco included, and an engaging guide, join this Yosemite National Park experience. See the majestic Sequoia trees up close in Redwood Forests. Take in unbelievable vistas of El Capitan, Half Dome, Yosemite Falls, and Brideveil Falls in a small group. Park Admission Included.





Starting at $199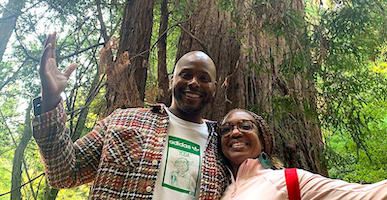 Likely to Sell Out
Redwoods, California Coast & Sausalito Day Trip from San Francisco
With a local engaging guide and hotel pickup included, see the California Redwoods from San Francisco as a VIP. Explore many of the world's largest trees in the majestic Armstrong Redwoods Reserve. Drive along the Pacific Coast Highway and visit Bodega Bay for saltwater taffy and beautiful beaches. In a luxury Mercedes minibus and a maximum group size of 13, see the best of Northern California in a day. Park Admission Included.





Starting at $119
Scoma's of Sausalito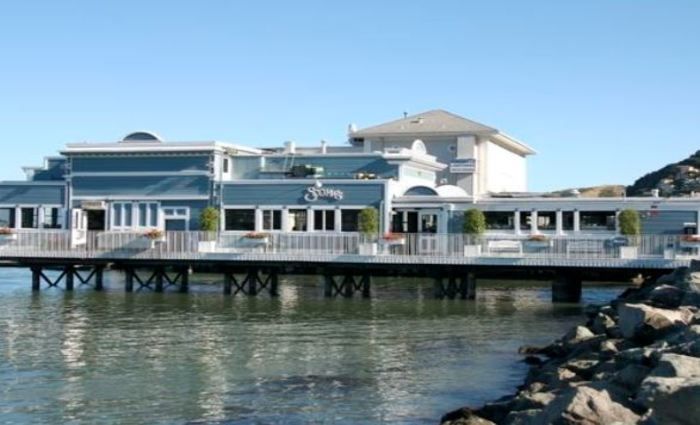 $$$ | Seafood | Great Views
Scoma's has become a household name in Sausalito, as well as in San Francisco where they have another location. This restaurant has been floating on the water since 1969, and the owners like to affectionately refer to their location as the Italian Riviera, paying hommage to their Sicilian roots. If you want to dine in a true Bay Area institution, this is our top choice.
Most of Scoma's menu focuses on quality seafood, with dishes like Pacific Coast petrale sole, cioppino and lobster risotto. There's always a few meat items available as well though, like a New York steak or steak and lobster combination. The atmosphere is far from stuffy, but there's an upscale vibe that makes it great for a nice date night or special occasion. Both indoor and outdoor dining offer views of the bay, but from the inside you'll have unobstructed views of Angel Island, Tiburon, Sausalito and San Francisco.
Address: 588 Bridgeway, Sausalito, CA 94965 | Tel: +1-415-332-9551
Hours: Thurs/Sun/Mon 11:30AM – 8PM | Fri – Sat 11:30AM – 9PM
Saylor's Restaurant & Bar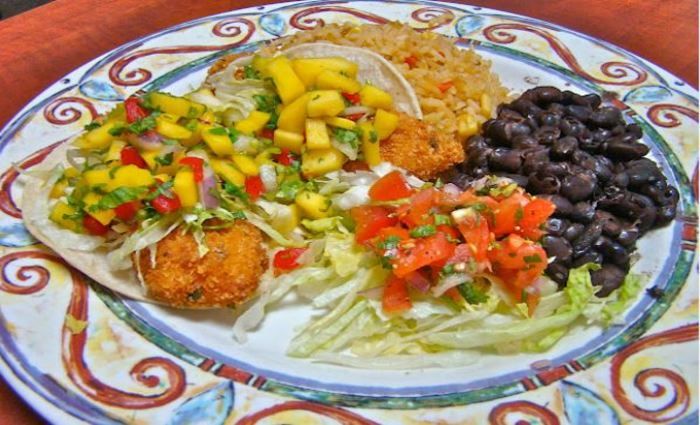 $$ | Mexican Food | Great Drinks
If you're craving Mexican food when in Sausalito, head to Saylor's. The festive ambiance here is welcoming and the owner and staff are very friendly. One of our favorite things about Saylor's Restaurant & Bar is their happy hour (4pm to 7pm on weekdays), which has awesome prices on street tacos, popcorn shrimp, drinks and more. There's a nice patio section with heating for those who want to dine outside which makes you feel like you're in your own little world.
Address: 2009 Bridgeway, Sausalito, CA 94965 | Tel: +1-415-332-1512
Hours: Mon – Sat 4PM – 8PM
Sandrino Pizza & Vino
$$ | Pizza | Limited Outdoor Seating
An authentic pizza restaurant owned and operated by a couple who moved to Sausalito form Northern Italy in 2015. All dishes are prepared from scratch and made from family recipes. The pizzas are all made with a thin and deliciously crispy crust, with finer ingredients than you're probably used to seeing in an American pizzeria. While they don't make custom pizzas, there's almost thirty options on the menu, so you'll have lots of choices. Make sure to save room for their incredible tiramisu for dessert.
The décor inside creates a casual yet intimate feel, with only a few tables and booths inside. Warm lighting creates a bit of a romantic vibe in the evening, making this a nice option if you're traveling with your partner and are looking for a relaxed date night.
Address: 45 Caledonia St, Sausalito, CA 94965 | Tel: +1-415-729-9166
Hours: Wed – Fri 11:30AM – 2PM | 5PM – 8PM | Sat – Sun 11:30AM – 8PM
Fish.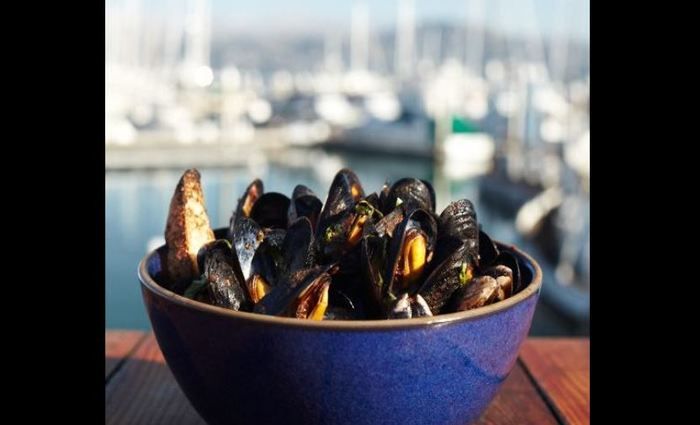 $$ | Seafood | Lots of Outdoor Seating
A casual seafood restaurant serving up lots of fish and chips, fish tacos, clam chowder and more. This place gets our vote for one of the top eateries in Sausalito to dine at when it's a sunny day. Picnic tables, complete with heaters, are set up outside next to the harbor, giving diners nice views of the water and boats. It's the perfect place to relax during a weekend lunch with friends.
To make you feel even better about eating here, the restaurant prides themselves on their sustainable choices. They were awarded the Sustainable North Bay Award from the California State Legislature, honoring their commitment to protecting wild fish populations and supporting local fisherman.
Address: 350 Harbor Dr, Sausalito, CA 94965 | Tel: +1-415-331-3474
Hours: Daily 11:30AM – 8:30PM
Bar Bocce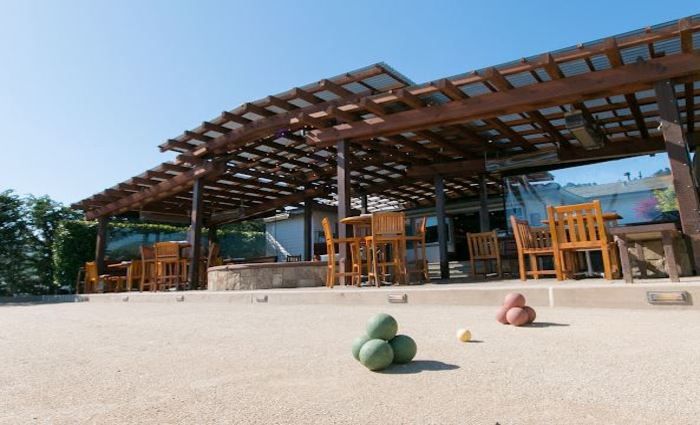 $$ | Pizza & American Food | Lots of Outdoor Seating
The best spot in Sausalito if you're looking for a place to relax for a few hours or even spend the whole afternoon here. The ambiance is top notch: beautifully crafted wooden tables, fire pits and a gazebo are stretched in front of an area set up for bocce ball playing, which is all set right in front of the beach.
As you can imagine, there's usually a bit of a wait here, so we recommend arriving early, especially if you're with a group.
Address: 1250 Bridgeway, Sausalito, CA 94965 | Tel: +1-415-331-0555
Hours: Mon – Fri 11:30AM – 10PM | Sat – Sun 11AM – 10PM
The Trident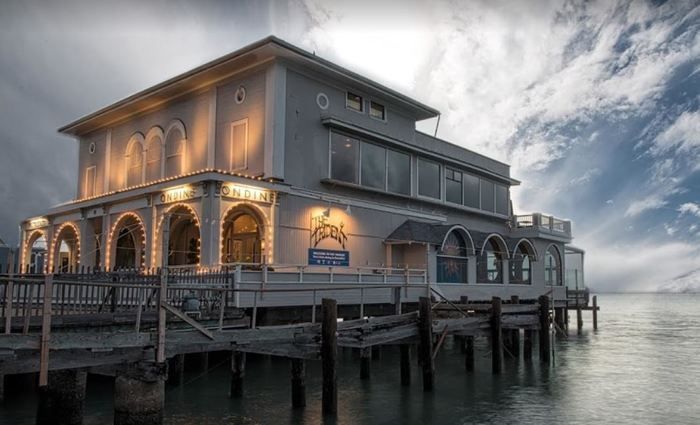 $$$ | Seafood | Historical Draw
The Trident represents an incredible part of Sausalito history. While the original building was built in 1898 for the San Francisco Yacht Club, The Kingston Trio music group purchased the building and renamed it The Trident in 1966. It became a music and entertainment venue with a classic 60's vibe that drew visitors and celebrities from all over the world. Janis Joplin was a regular with her own table, and many other stars like Clint Eastwood, Bill Graham and the Smothers Brothers frequently stopped by. Woody Allen even filmed a scene for his movie, Play it Again Sam, at The Trident.
In 1980 The Trident stopped its music vibes and became a restaurant. Today it serves quality seafood and offers a fabulous surf 'n turf option that we recommend. There's still a relaxed ambiance, and every seat in the house has a view. What else can you ask for!
Address: 558 Bridgeway, Sausalito, CA 94965 | Tel: +1-415-331-3232
Hours: Mon – Thurs 11:30AM – 8PM | Fri 11:30AM – 9PM | Sat 11AM – 9PM | 11AM – 8PM