Las Vegas is filled with hundreds of sights to see and things to do. Every trip to Sin City should include a stop at one or more of the top museums in Las Vegas. You can explore unique, fascinating historical or scientific exhibits that are sure to make an impression, or go for the one-of-a-kind outrageous museums that hold all the extravagance (or weirdness) you expect from Las Vegas.
---
Pro Tip: It's easier to organize your trip when you have all your resources in one place. Create a browser folder and bookmark this post along with our Las Vegas Guide for more planning resources, our top Hoover Dam and Las Vegas tours for a memorable trip, and check out other cool things to do around Las Vegas.
The Top 13 Must-See Museums in Las Vegas
Vegas has everything you need within a few square miles. From world-class art to outlandish collections, you won't get bored visiting the top museums in Las Vegas. And though Vegas is full of adults-only entertainment, you'll find plenty of options for the whole family, too. Our list includes every must-see museum in Las Vegas so you can experience all that Vegas has to offer.
The Mob Museum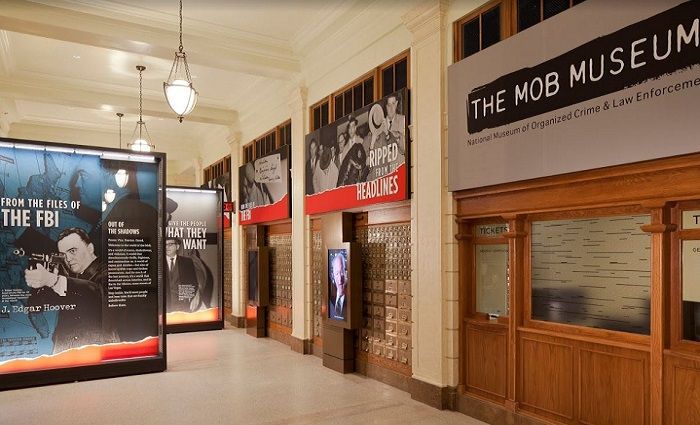 No trip to Vegas is complete without a stop at the infamous Mob Museum. It's the number one museum to visit and for good reason. Visitors can get lost exploring the exhibits that showcase everything from the Valentine's Day massacre to Al Capone's Tommy gun.
Artifacts, original-footage videos, and narrative banners guide you through four museum floors. Each floor provides you with the most comprehensive history of organized crime's impact on America. It's an impressive collection from the top museum in Las Vegas.
Part of why this museum is so special is that it shows how important organized crime was to creating the sprawling, glittering city that Vegas is today. For instance, you'll learn about how Las Vegas thrived while other cities watched their gambling halls get shut down by law enforcement.
Then be sure to check out the crime lab (interact for an extra fee) or the firearms training simulator. Plan at least 3-4 hours here to see it all.
Admission: $29.95 for all day admission; $48.95 for all day admission plus two interactive exhibits
Hours: Daily, 9 am – 9 pm
Location: 300 Stewart Avenue, Las Vegas
The Neon Museum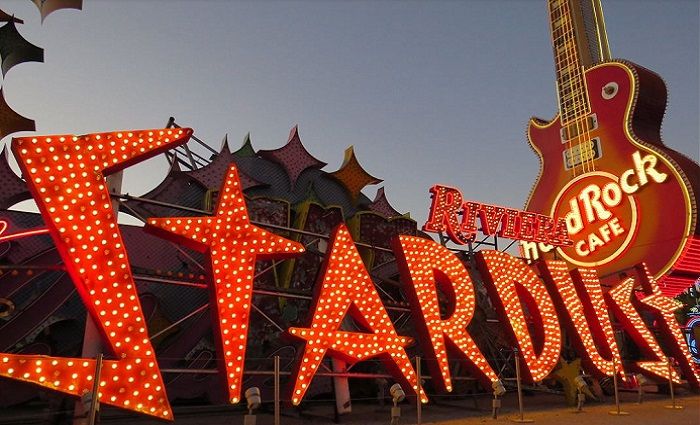 The long history of glamorous Las Vegas includes many iconic hotels, restaurants, and gambling halls that have closed down over the years. Vegas is an ever-changing city. Thankfully, someone had the foresight to preserve the most memorable neon signs— all of which are ingrained in Las Vegas' history. Also known as "The Neon Boneyard," you can wander through these neon signs and reminisce on what life was like during the eras of Sinatra and Elvis.
There are three parts to this top museum in Vegas: the boneyard, the visitors center, and the north museum. Follow a guided tour through over 250 historical neon signs in the outdoor boneyard that's sprawled over 2.5 acres.
Then head to the museum to browse the collection of matchbooks, postcards, and casino chips. Finally, take a picture in front of the space-age, domed building that houses the visitors center.
Admission: Members get in FREE; General admission is $20; Guided night tour is $28; Brilliant! light show is $23
Hours: Daily, general admission 9 am – 9 pm; Guided tours 7 pm – 10:45 pm; Brilliant! light show 9 pm – 11 pm
Location: 770 Las Vegas Blvd N, Las Vegas
Shelby American, Inc.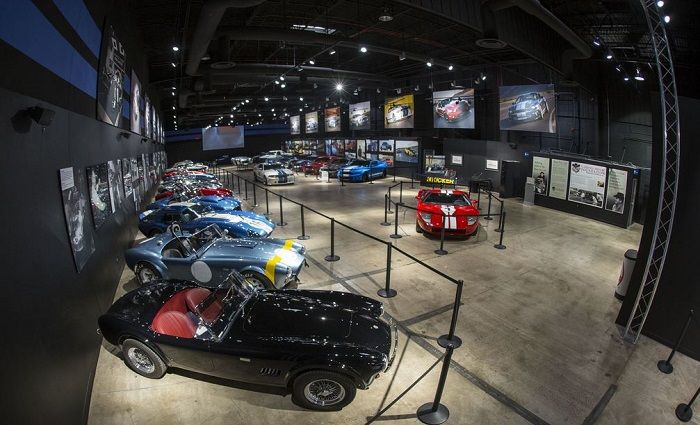 You might not have known that Vegas is home to several museums dedicated to American cars, and Shelby American is one of the best museums in Las Vegas. Even if you're not a car enthusiast, you'll be entranced by the gorgeous, shiny cars that sit inside the heritage hall showroom. It's dedicated to the legendary Carroll Shelby.
Enjoy a guided tour with an employee who's capable of handling just about any Shelby-related questions you have. You'll hear the gripping tales of the Shelby vs Ferrari Le Mans races. Then when you're done, zoom into the merchandise shop. It's almost as large as the showroom! Whether you've saved up to buy some merch, or you've made some extra cash at the poker tables, choose a few memorabilia to take home for posterity.
Admission: Members get in FREE; General admission is $20; Guided night tour is $28; Brilliant! light show is $23
Hours: Monday – Friday, 9:30 am – 5:00 pm; Saturday, 8:00 am – 5:00 pm; Sunday, 10:00 am –4:00 pm
Location: 6405 Ensworth Street, Las Vegas
BODIES | The Exhibition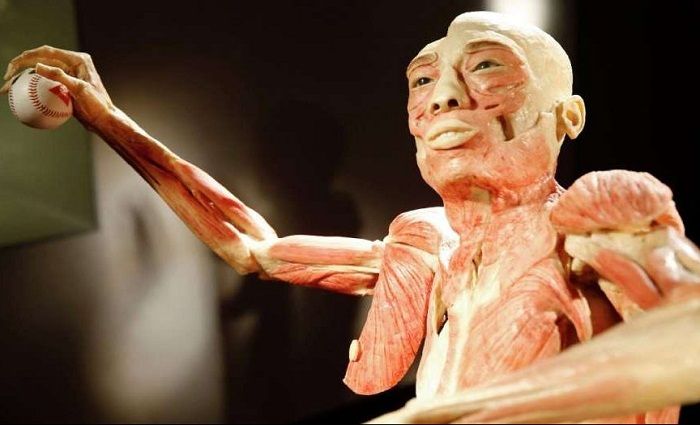 For a truly unique look into the complexities of the human body, stop by the BODIES exhibit. Thirteen preserved human bodies have been carefully shaped to display every facet of the human body, including circulatory and nervous systems. It's geared towards people without scientific backgrounds without being too scientific. That being said, you'll learn plenty that you probably didn't know.
Since this exhibit is made of 13 preserved human bodies for educational purposes, it might be best for teens and above rather than children. You can explore the skeletal structures, muscles, organs, and circulatory systems, then learn about how disease affects our bodies. Healthy lifestyle choices are easier to make after seeing damaged organs! Explore this exhibit on the Atrium level of the Luxor hotel.
Admission: $32
Hours: Daily, 11:00 am – 6:00 pm (last admission at 5)
Location: 3900 S Las Vegas Boulevard, Las Vegas (inside the Luxor)
Madame Tussauds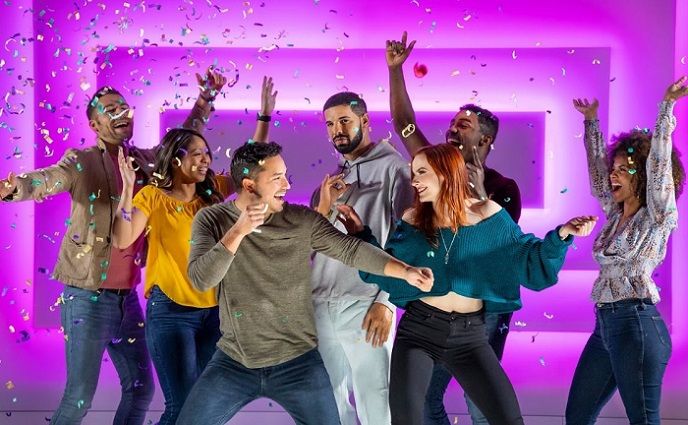 Love celebrities? Ready for Insta-worthy shots? Then don't miss Madame Tussauds Las Vegas. Here you can snap photos with celebrities like Drake, Elvis, Siegfried and Roy, Shaq, Blue Man Group, Frank Sinatra, and many others! Then make your way to iconic Vegas settings and act like you're Vegas royalty yourself.
Sure, there are Madame Tussauds museums in other major cities in the U.S., but Vegas brings the celebrity status and party to a whole new level. Making memories with iconic photos is how this museum rolls, so don't miss out.
You'll be impressed at the quality of the wax figures here at one of the top museums in Las Vegas. And whether you're into rap, politics, pop, or sports, there's something for everyone here—even the 4D Marvel movie experience at the end. For an extra special experience, book the gondola ride at the same time.
Admission: Starting at $36.99
Hours: Monday – Friday, 11:00 am – 6:00 pm; Saturday and Sunday, 11:00 am – 8:00 pm
Location: 3377 S Las Vegas Boulevard, Las Vegas (at the Venetian)
Pinball Hall of Fame
Pinball, you ask? Yes. The Pinball Hall of Fame consistently ranks as one of the top museums in Las Vegas. It's quirky, unique, extravagant, and low key all in one, which is why it's a Vegas classic. This attraction boasts the largest collection of pinball machines (some extremely rare) and other popular arcade games dating back to the 1950s.
It's located across from the historic "Welcome to Las Vegas" sign, so grab an Uber to get there. Get lost in the new 25,000-square-foot building and play one of hundreds of pinball games. Best of all, it's pay-per-play with no admission fee required! Once you're inside, relive the glory days as you conquer Creature from the Black Lagoon, Cyclone, Last Action Hero, Sky Divers, Gauntlet Legends, Asteroids, and Hollywood Heat. Here you'll find fun for everyone as you enjoy a unique break from the Strip.
Admission: FREE admission; pay-per-play $0.25 to $0.50 each game
Hours: Daily, 11 am – 9 pm
Location: 4925 S Las Vegas Boulevard, Las Vegas
Las Vegas Natural History Museum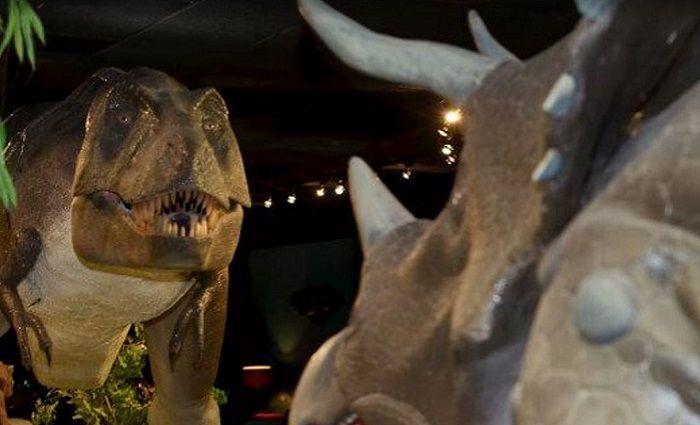 Family fun is found at the Las Vegas Natural History Museum. This museum makes our list of top museums in Las Vegas for several reasons. First, it's a fun change of pace from the glitz and glam of the Strip. Second, it's family friendly but still fun and educational. Third, it's just the right size—not too big and not too small. Fourth, the live shark exhibit adds a touch of exotic flair. And fifth, the prices are super reasonable and a great value for the money.
Kids and adults will enjoy exploring the Jurassic era exhibits before wandering into the Nevada wildlife area. A special hall includes mounted animals from all over the world so kids can learn about the amazing world we live in.
And if that wasn't enough, you can even explore a small King Tut exhibit where you'll learn about ancient Egyptian artifacts like the Golden Throne and the sarcophagus. This is a unique exhibit that includes one set of only two approved replicas authorized by the Egyptian Ministry of Antiquities.
Admission: Adults $12; children $6; senior/military/student $10
Hours: Daily, 9 am – 4 pm
Location: 900 N Las Vegas Boulevard, Las Vegas
Titanic: The Artifact Exhibition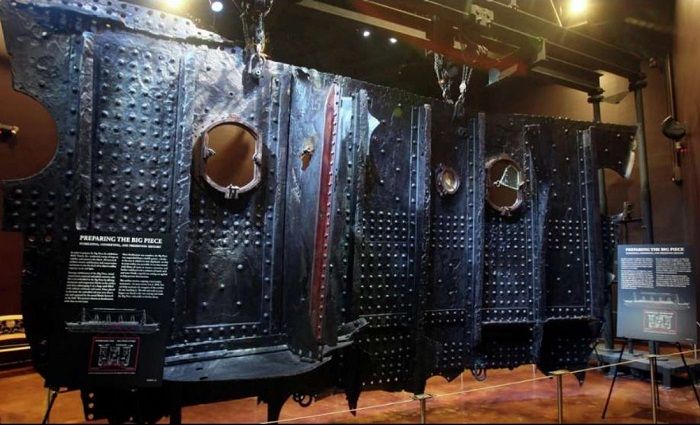 If you've never seen a piece of the mysterious Titanic up close, then you'll want to hit up this top museum in Las Vegas. The Titanic exhibition displays several authentic artifacts recovered from the sunken Titanic ocean liner.
Chef hats, wrenches, fine china, and chandeliers are just a few of the over 250 artifacts on display. Amazingly, divers plucked these pieces from over two miles below the surface of the ocean, and now you can learn about them while standing in a desert.
First, you'll start your journey in the steerage compartment where the crew lived, then wind your way up to second class, then first class cabins. Carefully recreated rooms transport you back in time.
You'll learn about the ship and life at the turn of the century. And you'll see the largest piece of the recovered ship on display anywhere. It's a fitting piece of unique history in a city that loves to stand out.
Admission: Starting at $32
Hours: Daily, 11:00 am – 6:00 pm (last admission at 5)
Location: 3900 S Las Vegas Boulevard, Las Vegas (inside the Luxor)
Counts Kustoms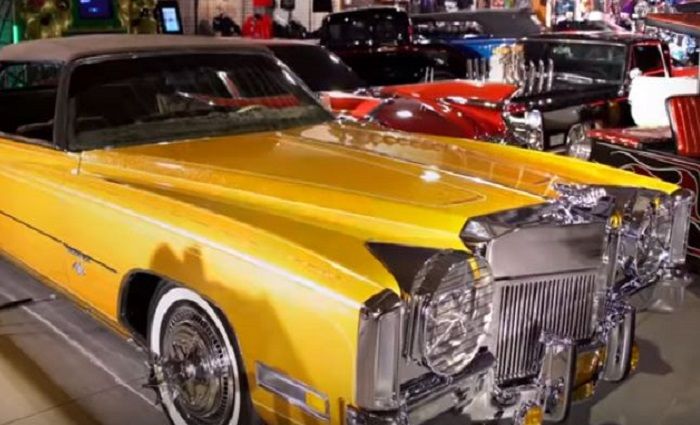 If you're a fan of the TV show, then you must stop by Counts Kustoms. If you've never heard of the show, you still need to stop by Count Kustoms. His showroom includes some of the most pristine and wildly customized cars and classic cars, and you won't be sorry stopping by. You'll find custom hot rods, sports cars, RVs, and choppers on display and in the workshop.
The owner, Danny "The Count" Koker, is known for being friendly and personable, so don't be surprised if he shows up to talk about his babies in the shop. And did we mention you can visit his shop for free? Yep! That's one thing we love about Vegas—free attractions aren't that hard to find.
After you've drooled over his custom cars (please don't literally drool on them!), stop in the merch store and pick up a new shirt or vanity license plate to prove you were there.
Admission: FREE
Hours: Daily, 10:00 am – 4:00 pm
Location: 2714 S Highland Dr, Las Vegas
The National Atomic Testing Museum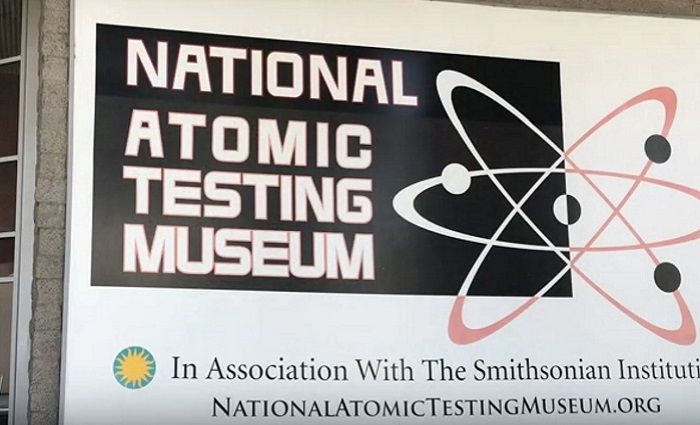 Don't judge a book by its cover. Even locals love this National Atomic Testing Museum, so of course we have to include it on our list of the top museums in Las Vegas. As a Smithsonian Institute affiliate, you can bet this museum is packed with information galore and little-known facts about the history of atomic energy (and a whole lot of other stuff too). If you're lucky, you'll get to chat with a former member of the military who used to work at nuclear test sites.
Get immersed in the Cold War race for nuclear arms while getting a unique perspective on the culture of the 1950s and 1960s. For a real blast, climb into the atomic explosion simulator, then put your hands on an actual (deactivated) atom bomb.
Next, check out the 4D theater, learn about different Geiger counters that track radiation, and explore over 12,000 other artifacts that tell the tale of nuclear testing. A stop at the gift shop to pick up quirky Area 51 gag gifts rounds out this entertaining stop.
Plan for around 2 hours at this unexpected adventure. And buy tickets early as they're often booked a couple weeks in advance, since they're only open for a few hours every day.
Admission: Adults $22; youth $18; children under 6 are free; special discounts available
Hours: Daily, 10:00 am – 3:00 pm (last check in at 2)
Location: 755 East Flamingo Road, Las Vegas
Zak Bagans' The Haunted Mansion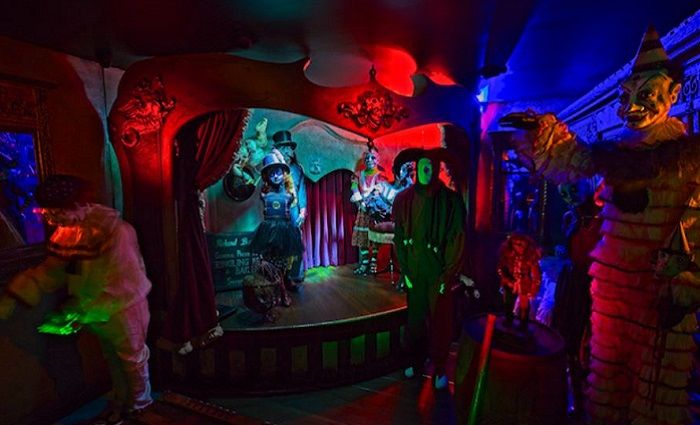 It wouldn't be Vegas without a paranormal museum. Like we said, Vegas has it all. If you're ready to face your fears, enter this historic 1938 haunted mansion in downtown Las Vegas and expect the unexpected. It's part museum and part horror thrills, all collected by the producer of the show Ghost Adventures.
For instance, a guided tour takes you through 30 themed Hollywood horror rooms that are chock full of props and artifacts from real life murders and paranormal events.
This museum is not for the faint of heart, and you must be at least 16 years old to enter. For two hours, you'll see personal items from serial killers, haunted dolls, and other items from the show. Many guests have reported feeling paranormal activities as they toured the property.
We recommend upgrading to the RIP all access pass since it includes extra rooms on the tour plus a free t-shirt. Or sign up for a flashlights-only, after-hours ghost tour. If you're ready to get seriously spooked, make sure to book your tour at this haunted mansion.
Admission: Starting at $48
Hours: Thursday – Monday, 10:00 am – 8:00 pm
Location: 600 E Charleston Boulevard, Las Vegas
Origen Museum at Springs Preserve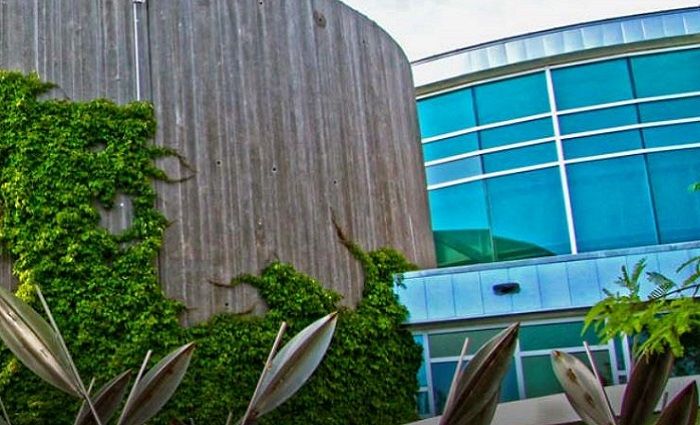 Spring Preserve is a nature-focused complex that includes the Origen Museum where adults and kids can enjoy awesome, interactive exhibits for a steal of a deal. After a recent renovation, this museum is now a hub of technology-based learning for all ages.
Sit in a cool (literally) theater and watch a movie about the natural history of the Nevada desert, then head to the flash flood exhibit where you'll feel the mist from 5,000 gallons of recycled water rushing through the mock desert canyon.
Not to be outdone by technology, the live animal enclosures are also worth a quick stop. From Gila monsters to cottontails, you can get up close and personal with animals and reptiles that thrive in the desert.
Then make sure to check out the dinosaur tracks, an original early 1900s train car, the Hoover Dam exhibit, and a simulated land auction straight from the turn of the century. And if it's not too hot outside, then top off your day with an easy walk around the desert botanical gardens.
Admission: Adults, $9.95; children, $4.95
Hours: Friday – Monday, 9:00 am – 4:00 pm (last entry at 3)
Location: 333 South Valley View Boulevard, Las Vegas
Aria Fine Art Collection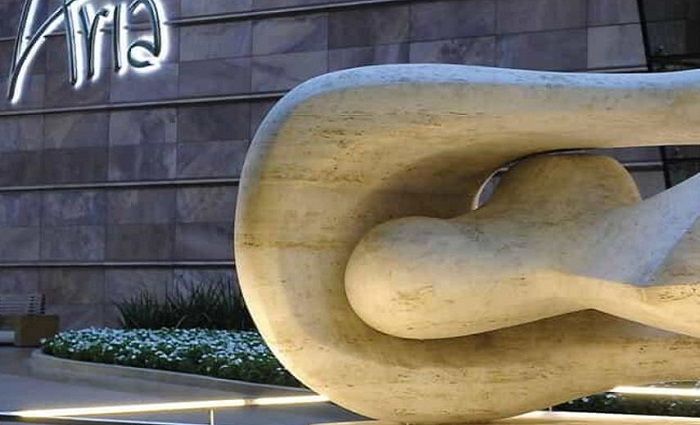 Take a walk through the impressive Aria complex when you're ready for an unparalleled experience with fine art and permanent sculptures. There isn't one specific gallery of all the pieces here at Aria, so just enjoy the experience of wandering through the complex at a leisurely pace. You'll get to see a magnificent gallery of art for free. And if you need to take a break, stop in at any bar or restaurant along your way.
Aria has made a point of collecting art and sculptures from renowned artists such as Maya Lin, Jenny Holzer, Coosje van Bruggen, Frank Stella, James Turrell, Richard Long, and many more.
Get immersed with large-scale installations that will intrigue you visually and intellectually. Or simply enjoy the artist's choice of expression using a classic sculpting medium: bronze. You'll be curious, moved, inspired, and intrigued by the gallery at Aria.
Admission: FREE
Hours: Open 24 hours, every day
Location: 3730 S Las Vegas Boulevard, Las Vegas (at the Aria)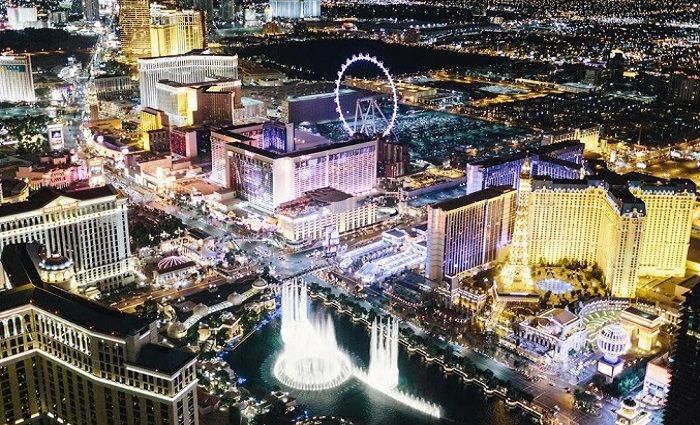 Find the best places to stay
Where To Stay in Las Vegas
Discover some of the most iconic and best places to stay in Las Vegas to make this trip the most memorable of all your trips to the Strip