Traveling from Rome to the Amalfi Coast can be challenging due to the physical landscape of the Amalfi Coast, Luckily we know Rome and the Amalfi Coast like the back of our hand, so we got you covered.
---
Travel Tips: Consider bookmarking this article into an " Amalfi Coast" folder in your browser. This way you can circle back to it while planning your trip. We are a tour company, so we naturally will recommend our Rome to Pompeii Day Trip with Stunning Sorrento.
Amalfi Coast Overview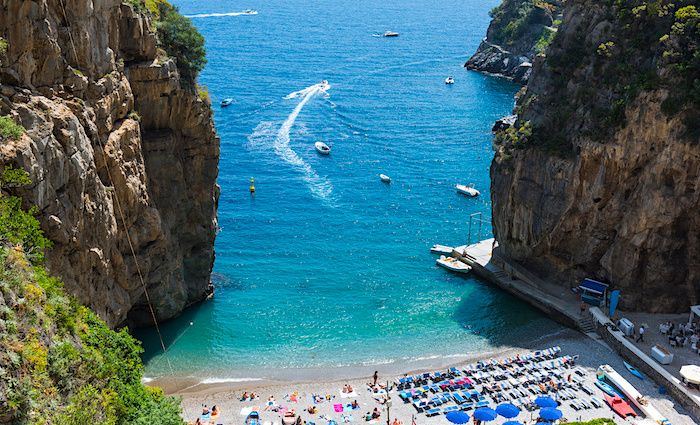 The Amalfi Coast is arguably one of the most beautiful places on the planet. It is in a small corner of Southern Italy between the Gulf of Naples and the Gulf of Salerno in the Province of Salerno. The region is a 1.5-hour drive to the south from Naples, the closest big city.
The actual coast is about 30 miles ( 50 km) long and follows a winding two-lane road with the sea on one side and mountains on the other. As you can imagine, with only a winding two-lane road, there are not many options for getting around, but we will explore them all below.
The Amalfi Coast consists of over 10 towns that vary in size. However, chances are you will be staying at one of the five I have listed below due to their popularity. Therefore I listed these main towns here with a small description. I also linked to them on google maps so you can see their actual geographical location.
Tours of Capri & Pompeii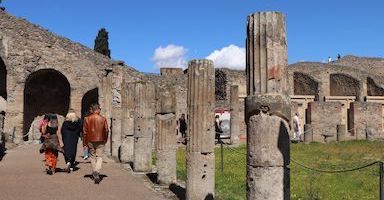 Best Selling Tour
Join us on an adventure from Rome to Pompeii and stunning Sorrento with comfortable, round-trip transportation. Skip the line access with an expert guide and make the most of your time in Italy and leave all the details to us. All you have to do is enjoy yourself!





See Prices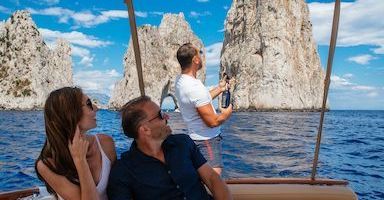 Amazing Experience
A full-day private boat tour to Capri from Amalfi, including the Island of Capri, is the best way to experience this world-famous coastline. Arrange a personalized boat tour along the Amalfi Coast and create unforgettable memories of Italy.





See Prices
Getting to the Amalfi Coast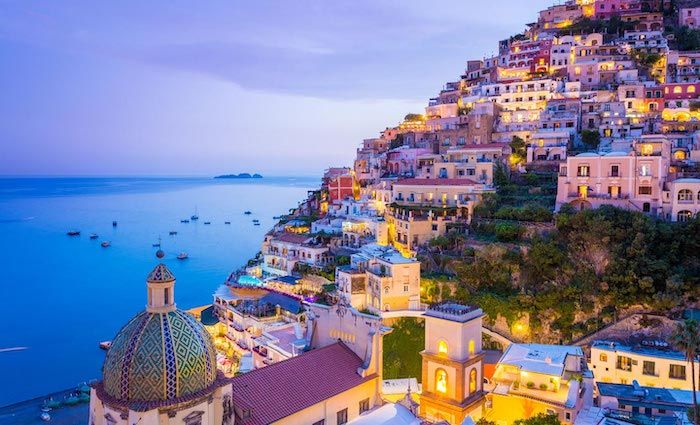 I outlined below the three main options to arrive at the Amalfi Coast from Rome. Each option has pros and cons and in the end, will come down to your budget.
Private Driver– Your modern-day Roman Charioteer picks you up at your hotel in Rome and drops you off at your hotel along the coast. This is an ideal option for most since you don't need to think about anything. If you like " easy", then this is the option for you. We offer a Rome to Amalfi Coast: Private Transfer with Pompeii Stop
The drive is 3.5 hours from Rome to Sorrento. If you are going to Positano or Praiano, then add another hour to that.
Trains– The train ride between Rome and Naples is one hour. High-speed trains run every hour between Rome and Naples Central stations. ( Roma Termini- Napoli Centrale). When you arrive at the main Naples train station ( Napoli Centrale) you take a small, local train called the Circumvesuviana, which will let you off directly in Sorrento. This train takes about 45 minutes.
At this point, if you are only going to Sorrento, then your trip is done. Since there are no trains after Sorrento, if you need to go to towns further along the coast, then a taxi will be your best bet. A taxi will cost around 40€ to get you from Sorrento to Positano. If you are going further down the coast, then add around 10€- 15€ per city. The total trip to Sorrento by train will take around 2.5 hours.
Take a Tour– A great option is our Rome to Pompeii Day Trip with Stunning Sorrento. You have a no-stress pick up your hotel in the morning in Rome. You tour the UNESCO ruins of Pompeii and then proceed to Sorrento. If you are staying in Sorrento then you have already arrived at your destination. If you have to go further along the coast, then jump into a taxi and follow the steps above as if you were coming by train.
Popular Tours from Rome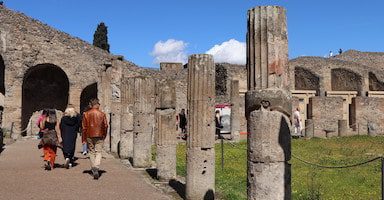 Best Seller
Rome to Pompeii Day Trip with Stunning Sorrento!
This is the best way to see Pompeii and the Amalfi Coast from Rome. You'll take private transportation with our guide down to Pompeii where an archeologist will tour our small group through the ruins. Then we'll head over to Sorrento which is the tip of the Amalfi Coast before returning to Rome. Tickets, transportation, and guides are included in the price.





See Prices & More Info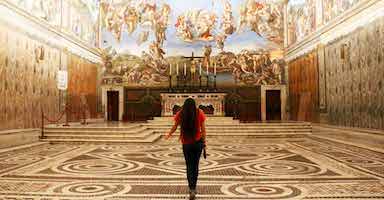 Best Seller
Rome in a Day Tour with Vatican, Sistine Chapel, Colosseum, and More!
Looking to get much of your sightseeing done in one day? This tour enters the Vatican an hour before opening and visits the Colosseum along with other sites like the Pantheon, Spanish Steps, and Trevi Fountain. All admissions and transportation are included as well as a licensed English-speaking guide!





See Prices & More Info