Looking for different local foods and dishes you should try on the Amalfi Coast? You came to the right place but be aware… some of our Amalfi Coast recommendations may scare you! We have asked our local guides to compile a list of food to try in the Amalfi Coast. Below are their answers.
---
Pro Travel Tip: Bookmark this post in your internet browser this way you can circle back to it on your trip. Our travel blog is a virtual guidebook and saving articles can make it easier to use. Also, doing tours on the Amalfi Coast is the way to go. Our tours are led by local guides in the Amalfi Coast who love their region and our online reviews back that up!
15 Top Foods and Drinks to try in the Amalfi Coast
While most people tend to think of Sorrento or Positano when talking about the Amalfi Coast, there are actually 13 towns and these are only those along the water. Remember that the beauty of the Amalfi Coast is also in the very large hills that overlook the water and there are towns there as well! All of these towns bring their own local flavor which is outstanding.
Since the Kingdom of Naples ruled over the Amalfi Coast for a long time, many of the culinary traditions are similar and that's why you will see certain products I mention that might be more typical of Naples, but are definitely eaten here as well and should not be missed. Now, let's get to the part you have all been waiting for. Warning- You will definitely be hungry when you finish reading this.
1. Alici di Cetara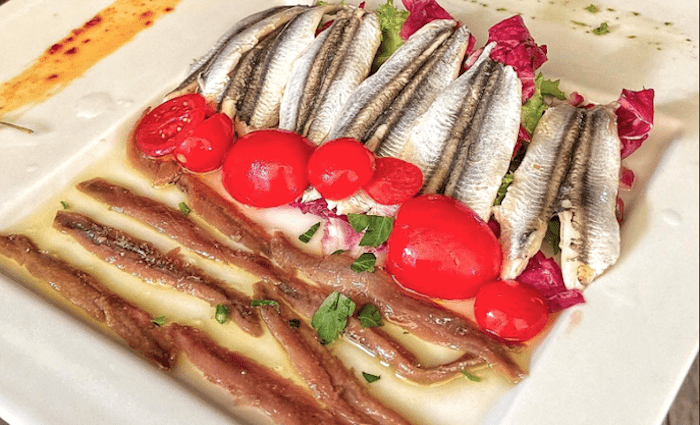 As you can imagine, since the Amalfi Coast is on the water, there will be many seafood options here. This first one, and it is a delicious one, are the famous Anchovies from Cetara.
Cetara is one of the little towns nestled into this amazing coastline. For centuries they have fishing these bluefish in this area and over time have passed down many traditions on how to prepare them.
These are prepared as a starter and can be eaten in many ways in which some of the most popular are marinated or fried. You also might see when you go Colatura di Alici which is a fish sauce that is made from anchovies and is used as an ingredient in many popular dishes. This is definitely a food to try in the Amalfi Coast.
Where to get it: Alici Come Prima
2. Mozzarella di Bufala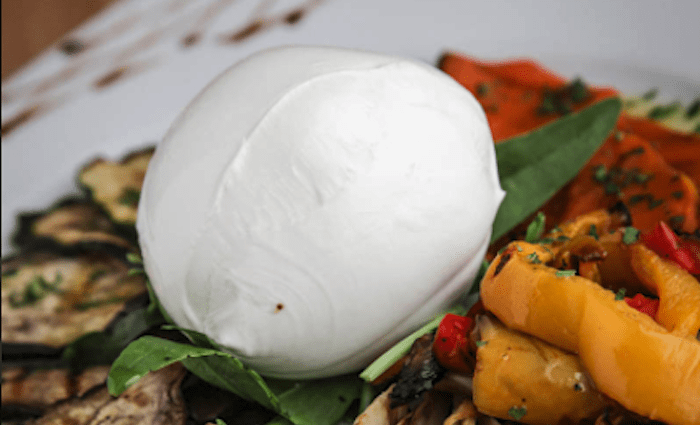 Mozzarella di Bufala is the king of all Mozzarellas. There are generally two kinds- Bufala and Fior di Latte. Fior di Latte has a bit milder taste and is usually the kind used on pizza. The difference in production is that for fior di latte milk from a cow is used, while for the Bufala Mozzarella they use the milk from the water buffalo.
The term Mozzarella comes from the word Mozzare, meaning to cut by hand. They cut the curd and make them into little balls which is what we eat today. Mozzarella di Bufala has been a protected trademark (DOC – "Controlled designation of origin") since 1993. That means that ouside of the major production area ( around Naples) is the only place where you can produce and call it by that name.
How to eat it? It is served as a starter and usually comes either with prosciutto or with some vegetables. The best way to tell if it is good and fresh is when you cut into it, see how much milk spills out from it. If it is top of the line, then your plate will be covered in milk as you make a few cuts. In the South, they take this very seriously so this is why this is a food to try in the Amalfi Coast.
Where to get it: Inn Bufalito
---
Tours of Capri & Pompeii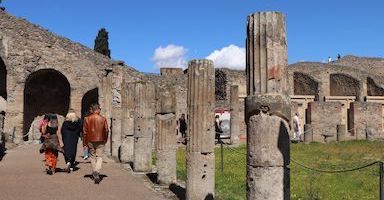 Best Selling Tour
Join us on an adventure from Rome to Pompeii and stunning Sorrento with comfortable, round-trip transportation. Skip the line access with an expert guide and make the most of your time in Italy and leave all the details to us. All you have to do is enjoy yourself!





See Prices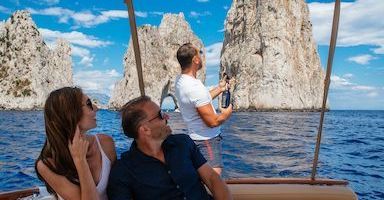 Amazing Experience
A full-day private boat tour to Capri from Amalfi, including the Island of Capri, is the best way to experience this world-famous coastline. Arrange a personalized boat tour along the Amalfi Coast and create unforgettable memories of Italy.





See Prices
---
3. Gli Scialatielli all'Amalfitana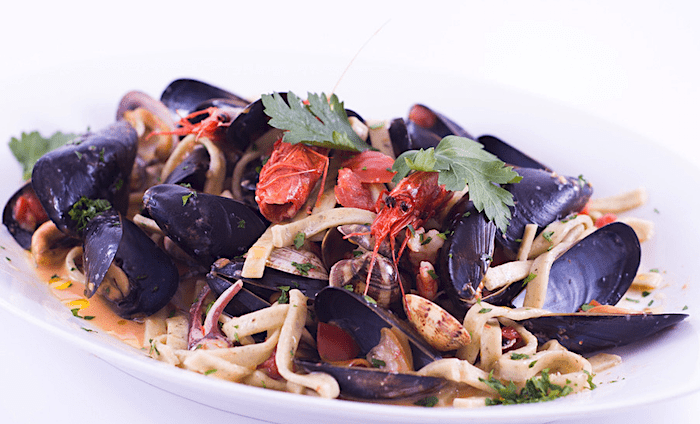 Scialatielli is a type of pasta that originates from Amalfi town in the Coast. The pasta itself is fatter and shorter than spaghetti. Interestingly the name of this pasta comes from the combination of two words in the local dialect which mean " To Enjoy" and " The Cooking Pan", so how could you go wrong?
The main sauce that goes with this pasta is seafood of course! The usual mix is made up of Calamari, Mussels, Shrimp, and clams. You can also throw in some cherry tomatoes and parsley and the food gods will thank you! As you go along the coast, this is quite a common dish, so it shouldn't be hard for you to find and enjoy immensely and definitely a food to try in the Amalfi Coast.
Where to get it: L' Abside
4. Pizza Napolitana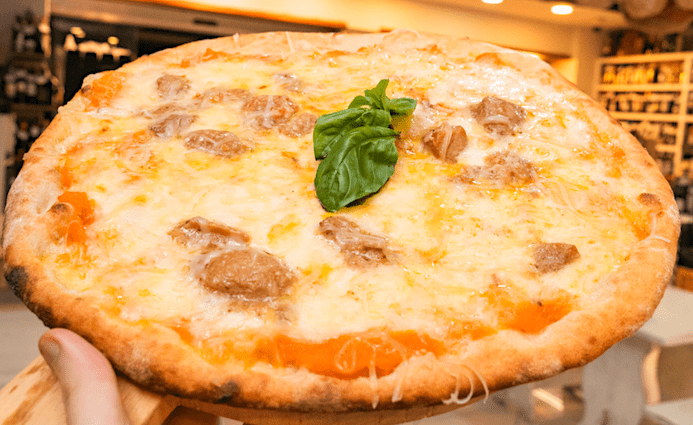 I already know what you are going to say- I can eat pizza anywhere, why put it on this list? The reason is simple and I will explain. While it is true that you can eat pizza anywhere in the world, pizza as we know it was invented in Naples. And since the entire Amalfi Coast makes pizza in the Neopolitan style, you need to try it here.
While there have been many variations over the centuries the pizza as we know it started in Naples in the 19th century. Tomatoes was a vegetable that originated in North America so it was brought over to Europe after the colonies were established. In the beginning, the upper class rejected the vegetable due to its appearance, but was readily adopted by the lower classes.
As the story goes, by the late 18th century, poor families around Naples were adding tomatoes to their yeast- based flatbread. It became an instant success and visitors coming to the city starting going into these poorer parts of town to try this specialty.
Make sure you stop at a pizzeria and try the Pizza Napolitana since it is a food to try in the Amalfi Coast!
Where to get it: Pizzeria da Franco
5. Pasta al limone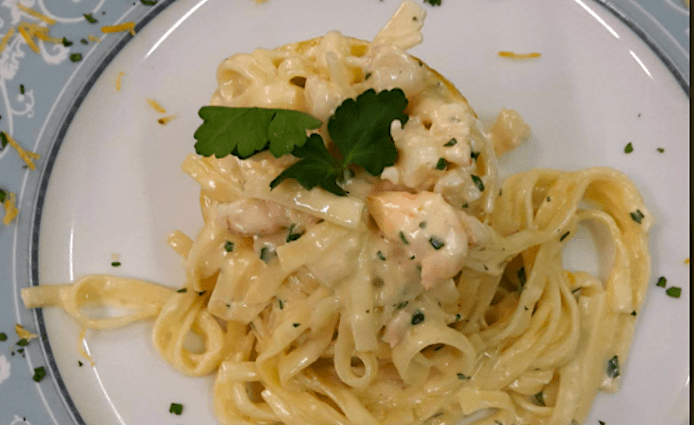 Italians happen to love pasta and the Amalfi Coast is known for their beautiful lemons. Therefore it only makes sense that they would find a way to incorporate these two things into one delicious dish. Pasta in a lemon sauce!
The history of the Amalfi Coast and lemons goes back 1,000 years when Amalfi was a strong maritime republic. During this period they not only cultivated lemons, but were overall a powerhouse when it came to trade. Remember that the Knights of St. John ( in Amalfi) were the precursor the Hospitaliers who rivaled with the knights templar as a monastic warrior culture.
So back to this delicious dish! You basically have to soak the lemons overnight in water and will then use this water to cook the pasta. As you are cooking the pasta and mixing it in the hot pan with that water, the starch from the pasta creates a cream sauce that is lemon flavored! Try it at home or let the pros do it and eat it at a restaurant when in the Amalfi Coast.
Where to get it: Ristorante Fuoro
6. Risotto ai Frutti di Mare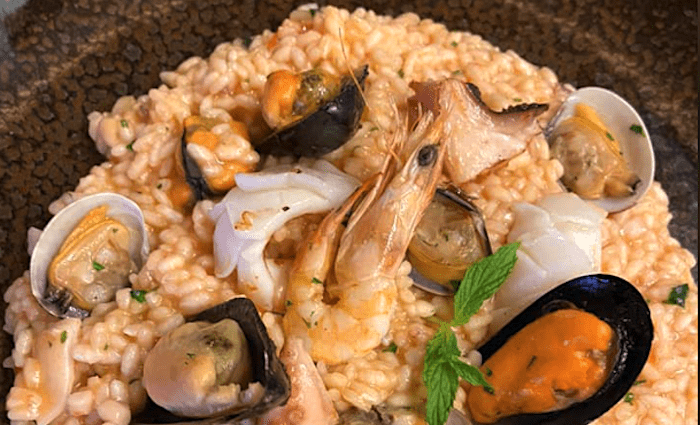 This is a rice dish with various kinds of shellfish and a touch of tomato. The history of the dish probably started one day when they went into the kitchen and only had rice and shellfish. At that point they decided to just throw it all together and the rest is history!
The standard shell fish you will find inside are clams, mussels and shrimp. However some restaurants might add calamari or even scallops so make sure you ask before you order if you are allergic to anything.
Where to get it: Da Emilia
7. Paccheri con la rana pescatrice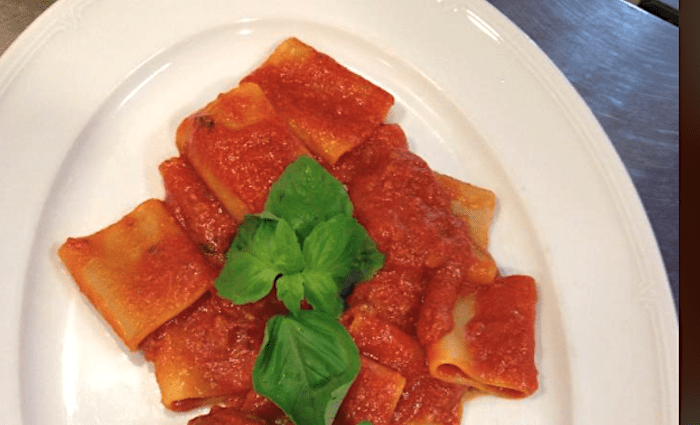 This is an extremely popular pasta dish in this part of the woods. First let me explain the dish. Paccheri are a short pasta that are hollow inside, similiar to rigatoni but flatter and wider. Rana pescatrice is monkfish and while the fish is not the prettiest, the taste is amazing when made in this recipe from the Amalfi Coast.
As with most Italian pasta dishes, you start by cooking some garlic and the fish with some oil. You will eventually take the garlic out so don't worry about smelling, it's just for the flavor. Once that is cooked well, you add tomatoes into the mix which right away will create a creamy texture.
Once the paccheri are cooked, you add them to the sauce and the starch from the pasta creates even more creaminess inside. What you are left with is a mixture of tomato and seafood that blends perfectly in your mouth. Enjoy.
Where to get it: Il Leone Rosso
8. Spaghetti alle Vongole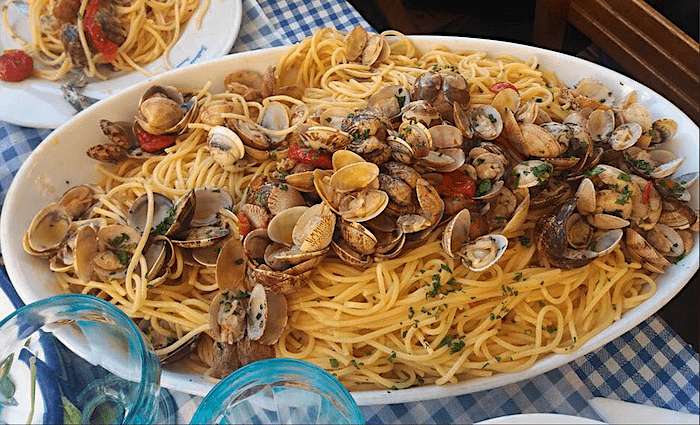 This is a classic dish of spaghetti with clams that you can find all throughout Italy, but it tastes even better on the Amalfi Coast. My rule of thumb is when you are at the seaside, you need to eat seafood as much as you can. Then when you are full, eat some more!
The truth of the matter is that the farther south you go, certain foods just taste better. That truth applies here in the Amalfi Coast. When you go to a non-touristy restaurant and have spaghetti alle vongole, you will understand what I mean.
Where to get it: Da Emilia
9. 'Ndunderi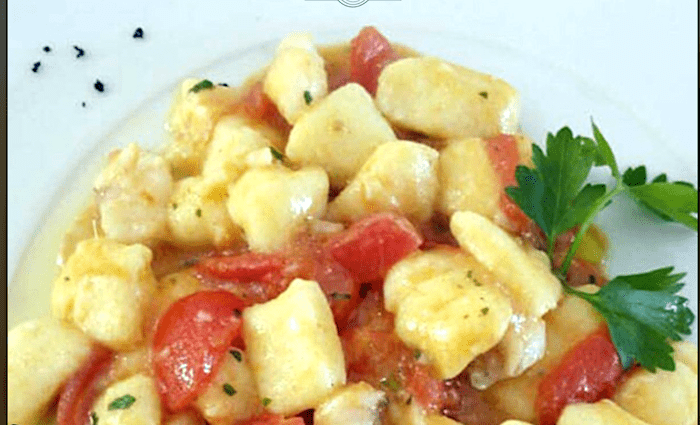 'Ndunderi is a pasta dish which is traditionally from the little coastal town of Minori. According to UNESCO this is one of the most ancient pasta types in the world. The original recipes dating back to Ancient Roman times would have consisted of spelt flour with a pecorino type cheese. Instead today they prefer to use fresh ricotta cheese and cook it with a fresh tomato sauce and basil.
A super simple dish, but the taste is amazing. If you go to any little trattoria in Minori you will find it no problem and also many other areas will be able to prepare this as well for you so give it a try!
Where to get it: L'Antica Cartiera
10. Totani e patate alla Praienese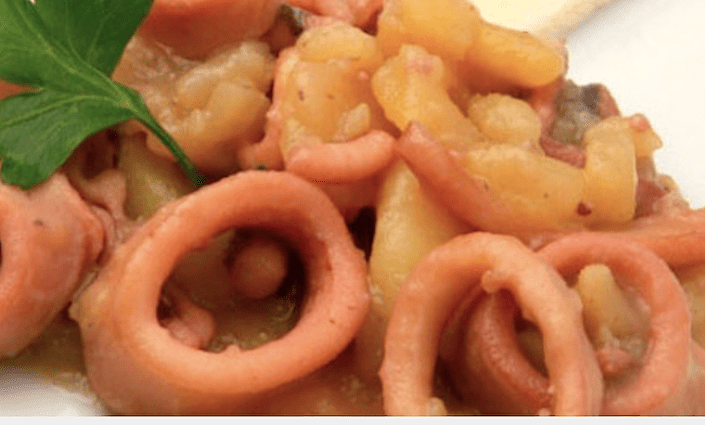 This delicious dish seems quite simple as it is squid with potatoes. This is served as a second course, so after your starter or a plate of pasta. As you immagine, it is a bit heavy so don't order too much before you order this.
I won't get into the specifics of how they prepare it, just know you need squid, potatoes, tomatoes, and lots of white wine for cooking ( and some for drinking as well:) It will come with lots of parsley on top and has a rich and creamy texture. Definitely, food to try in the Amalfi Coast.
Where to get it: La Cala delle Lampare
11. Il Fritto Misto di Frutti di Mare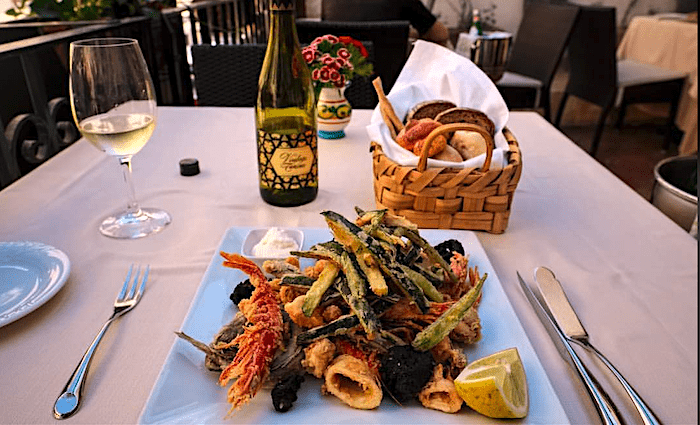 The fritto misto is translated as " Mix Fried", so what you are actually getting is various kinds of seafood that have been lightly battered and deep fried. If you like fried food and you like seafood then this is obvious the perfect mix. I would highly recommend however that even if you don't like fried food to give it a try. It is not a heavy batter and fried like KFC, but fried and battered just enough.
Depending on where you go on the coast, they will probably mix up the fish used. The usual suspects are calamari and shrimp, but they could definitely throw in there many different things according to the restaurant. By the way, there is no tartar sauce in Italy. Actually, there might be, but it is not used very often. For your fritto misto they will give you a lemon, so squirt it on there and enjoy.
Where to get it: Trattoria da Gemma
12. Delizia al Limone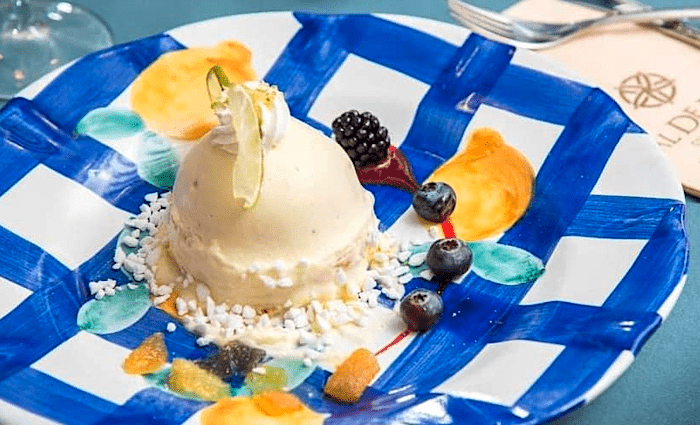 We will now go over some traditional desserts that you can sample while on the Amalfi Coast. The first one is called the Delizia al Limone which means Lemon Delight! This amazing dessert will light up all of your senses and have you craving for more.
There are three parts to creating this. First off is the light breading inside. The cake is a pan di Spagna, so extremely fluffy. On the outside, you will find a bit of a crunch as you bite into the cream first. Finally, when you get to bite into the cake you will taste the limoncello which has been poured into the cake. It is the ultimate in combining sweet and sour together and that is why it is a food to try in the Amalfi Coast.
Where to get it: Sal de Riso
13. Babá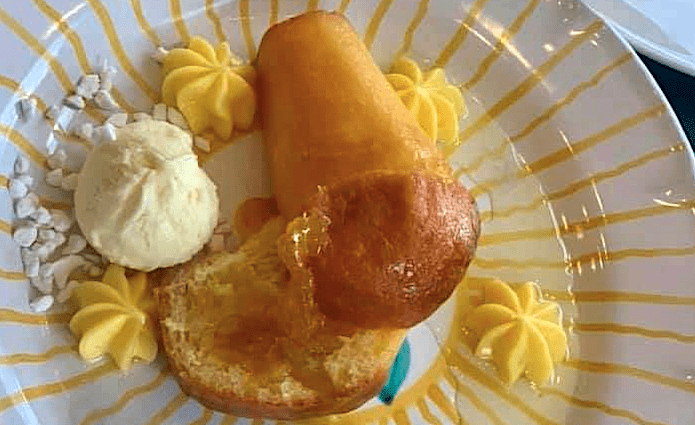 One of the kings of desserts that are ubiquitous in the entire coast and therefore is definitely on this list. While many Italians will attribute this dessert to Naples, the history actually goes back much farther in time. Tradition has the dessert going back in time to India and Persia, but the current version probably originated in Paris, France in the 19th century.
When you order this dessert, get ready for shock of sweetness from the cake and a bit sour from the rum ( yes these are soaked in rum). Sometimes they will serve them with whipped cream or even stuff them with cream. It is a perfect way to finish a meal.
Where to get it: Sal de Riso
14. Melanzane al Cioccolato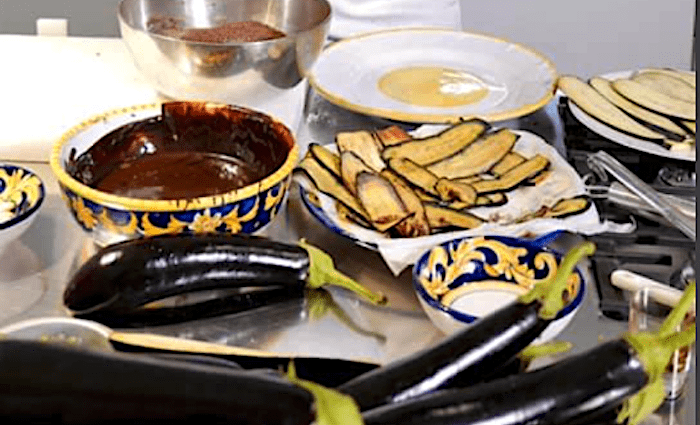 The translation of the above dessert is Chocolate Eggplant. While that seems quite unique and even strange, this delectable dessert must be tried if you happen to be on the Amalfi Coast. However, since it is only made for Ferroagosto ( August 15th) you need to be at the right place at the right time.
The original recipe supposedly dates back to early monks in the area. I won't give away the entire recipe but suffice to say that you prepare them in a similar way as you would eggplant parmigiana. The main difference of course is that you are using chocolate instead of tomato sauce. This unique dessert is a must food to try in the Amalfi Coast
Where to get it: Any pastry shop on the Amalfi Coast around August 15th
15. Limoncello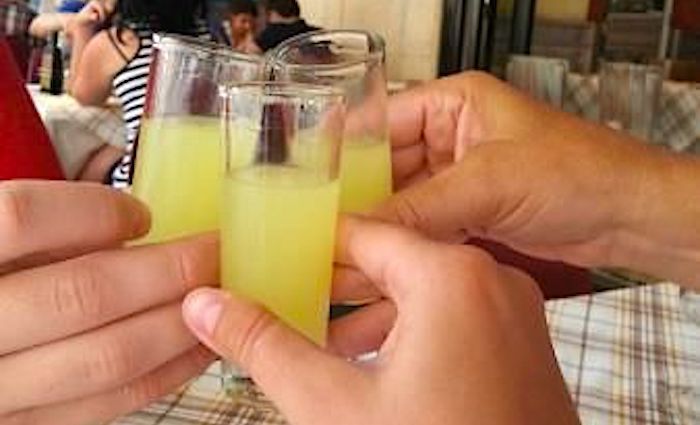 It would be impossible to write an article about traditional food and drink from the Amalfi Coast and not include the king of drinks- Limoncello! This might be the most exported and known drink from Italy after wine and Campari.
You can find this drink all around the country, but the best you can find is in the Amalfi Coast. The reason being is that it is all produced here. To make limoncello you need lemons. And the best lemons come from Sorrento and the rest of this coast.
To make it this delicious elixir all you need are lemons, sugar, alcohol, and water. Once at a limoncello farm I tried to get the host to tell me her secret recipe and she gave me the death look, so I knew to quit while I was ahead. From what I know, you take the lemon peels and soak them in pure alcohol for a period of time and then at some point add sugar and water. What I do know is that this is delicious after a meal.
---
Tours of Pompeii & Amalfi Coast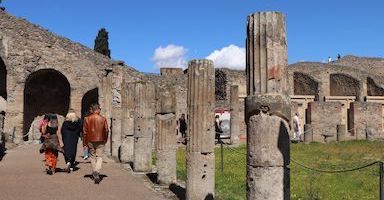 Best Selling Tour
Rome to Pompeii Day Trip with Stunning Sorrento
Join us on an adventure from Rome to Pompeii and stunning Sorrento with comfortable, round-trip transportation. Skip the line access with an expert guide and make the most of your time in Italy and leave all the details to us. All you have to do is enjoy yourself!





See Prices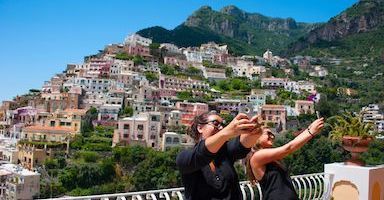 Amazing Experience
Pompeii and Amalfi Coast Tours
There are many options for your trip to the Amalfi Coast, whether you're taking a full trip or just a day trip from Rome. One of the best archeological sites on earth, Pompeii was destroyed by Mount Vesuvius in 79 AD. The combination of plunging cliffs, history, and charm make the Amalfi Coast one of our favorite places in Italy.





See Prices
---