Heading to the Amalfi Coast or Naples and unsure what to see? Have no fear – our local guides have built this list of the best monuments and attractions around the Amalfi Coast. This way, you can have the most memorable trip possible.
---
Pro Tip: Bookmarks are the key to organizing a great trip. Bookmark this post in an "Italy" folder in your browser. This way you can circle back to it while your traveling. Also, check out our top-rated Pompeii tours – Pompeii needs some explaining.
Top 12 Attractions and Things to See Around the Amalfi Coast
The definition of attraction, in the context of tourism, of course, is a place that draws visitors by providing something of interest or pleasure. If we were listing the top attractions in Rome, you'd like to see the Colosseum, Vatican, Trevi Fountain, and more. For the Amalfi Coast, you'll see some historic attractions mixed in with beaches, islands, and restaurants with unbelievable views! Enjoy our list of the top Attractions on the Amalfi Coast written by the people who know.
14. Spiaggia del Cauco, Erichie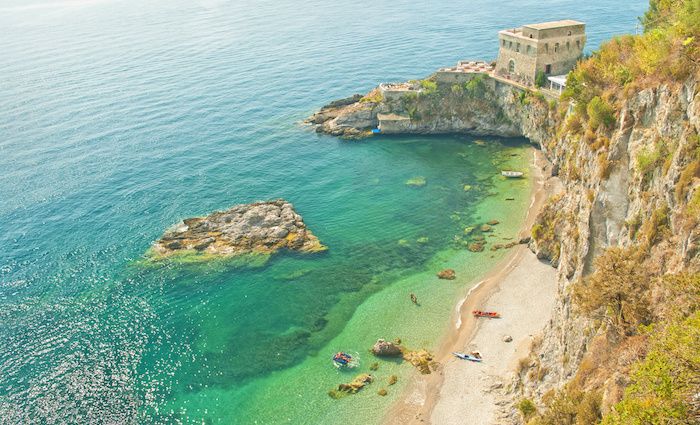 Spiaggia di Cauco is one of my favorite beaches and attractions along the Amalfi Coast due to its beauty and seclusion. It is located in the last stretch of the southern part of the Amalfi Coast close to Salerno. It is in the town of Erchie.
The beach will fill up with umbrellas and there are some cool places to eat nearby. Get there early and grab a letto (bed/chair) before the beach fills up. Great beach to watch a sunset if you pack some extra supplies and can last all day on the beach!
Address: Via Provinciale, 2
13. Go Kayaking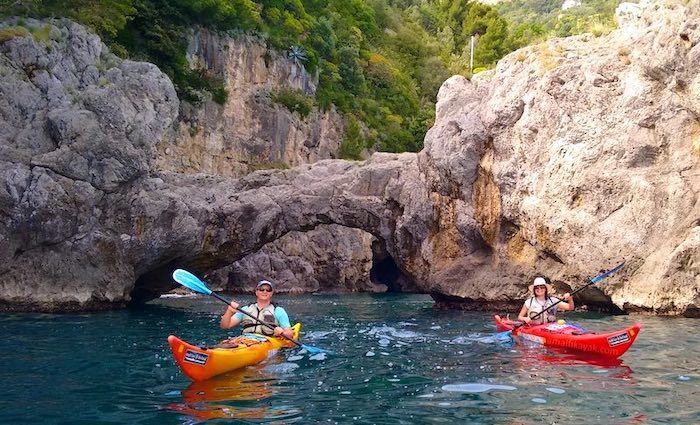 Looking for a way to burn off some pizza & pasta? Kayaking the Amalfi Coast is a great way to get some exercise and explore some of the inner-most crevices of what is arguably the world's most beautiful coastline.
The tours are run by locals who know their way around the coastline. Kayaks are provided and an instructional session for those who have never Kayaked before. You definitely work up a sweat but it's pretty leisurely for anyone who is reasonably athletic!
12. Villa Cimbrone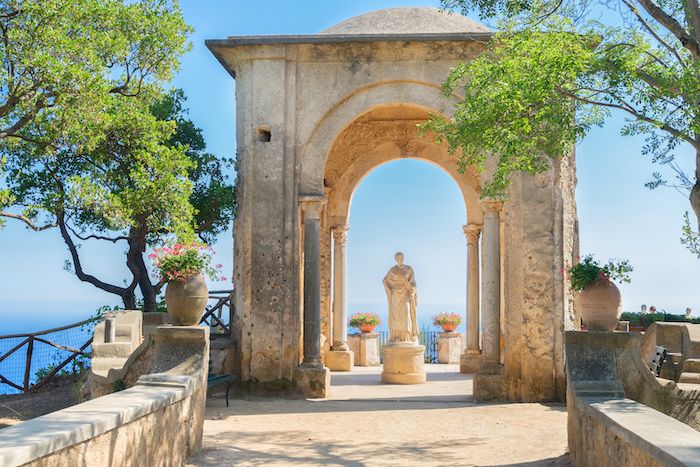 Villa Cimbrone is a 5-star hotel and park along the Amalfi Coast with stunning views. You may have stayed at a 5-star hotel or two in your travels but 5-star luxury hotels along the Amalfi Coast have an even more elevated cost than your city-based luxury hotel.
If you can afford it then try to book directly! You'll enjoy stunning views and truly old-world charm. If not, you could probably afford a cocktail, glass of wine, or coffee there. The villa's gardens are open to the public year-round but are the most beautiful in May and June when the floral array is in full bloom. They have multiple restaurants and bars on-premises if you want to pass more time there.
The structure dates back to the 11th century AD. It was built or at minimum purchased by a noble family known as "Accongiogioco". What you see today was heavily redone in the 20th century. You'll want to visit the Terrazzo dell'Infiinito or Infinity Terrace (featured above).
They also have a great pool on-premises. Consider bringing some swim trunks and asking if you can use the grounds. Management said they normally don't allow it when the hotel is very busy, but it never hurts to ask! Especially if you plan to have a meal on-site.
Address: Via Santa Chiara, 26
Popular Tours of Pompeii and Capri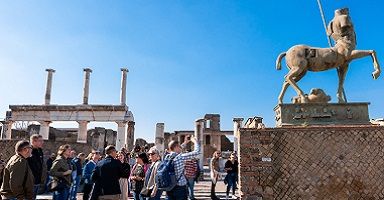 Best Selling Tour
Join us on an adventure from Rome to Pompeii and stunning Sorrento with comfortable, round-trip transportation. Skip the line access with an expert guide and make the most of your time in Italy and leave all the details to us. All you have to do is enjoy yourself!





See Prices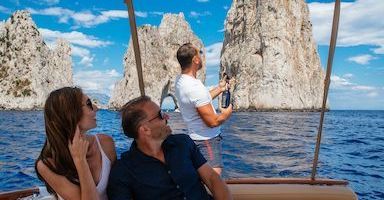 Amazing Experience
A full-day private boat tour to Capri from Amalfi, including the Island of Capri, is the best way to experience this world-famous coastline. Arrange a personalized boat tour along the Amalfi Coast and create unforgettable memories of Italy.





See Prices
11. Fiordo di Furore, Furore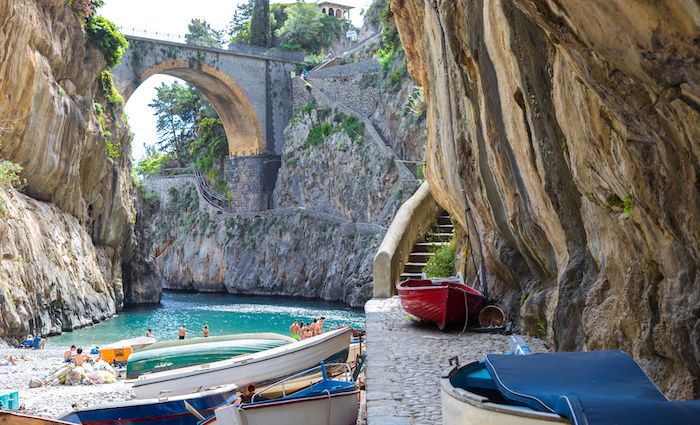 You may have seen this beach on Instagram if you follow any travel influencers. It is one of the most unique beaches along the Amalfi Coast but Italy is peppered with beaches surrounded by cool rock formations. One of the reasons the "boot" is one of the most sought-after and multi-facet destinations on Earth.
Fiordo di Furore is between Praiano (the town south of Positano) and Ravello. It is the perfect destination for a few hours before heading to lunch in Ravello followed by a visit to some of Ravello's famous villas.
Address: Via Marina di Praia, 2
10. Do Some Snorkeling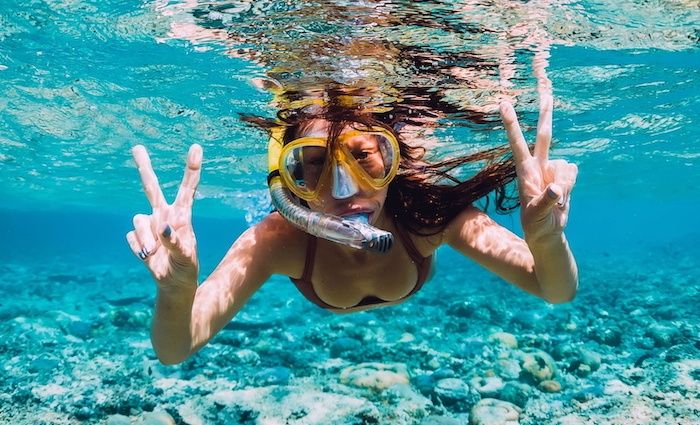 You'd be surprised by the types of things you'll find in the water when a coastline has been inhabited for thousands of years! We're talking about the same waters that were navigated by the Roman which makes snorkeling a real treat.
No, I wouldn't expect to find Roman coins, but you will see some interesting marine diversity, rock formations, and colors! See our snorkeling tours in the link below that are all run by locals who know the waters well!
9. Marina Grande, Positano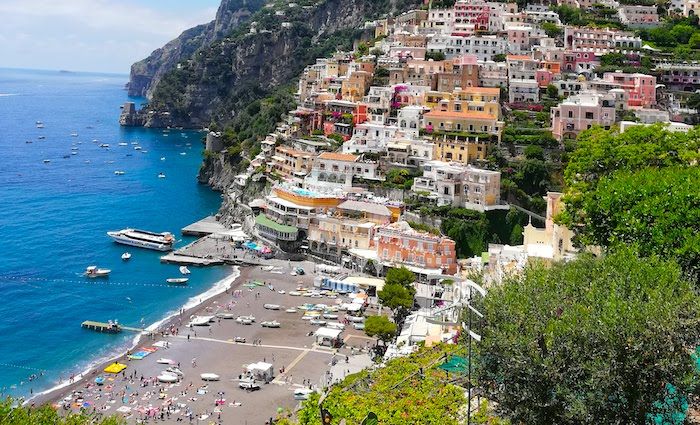 Positano's main beach is a hotspot for travelers looking for a beach with all the amenities. You can rent beds (chairs) for the day, take a swim, check out the shops in town and have a long (hopefully boozy) lunch on the beach!
8. Regina Giovanna Bath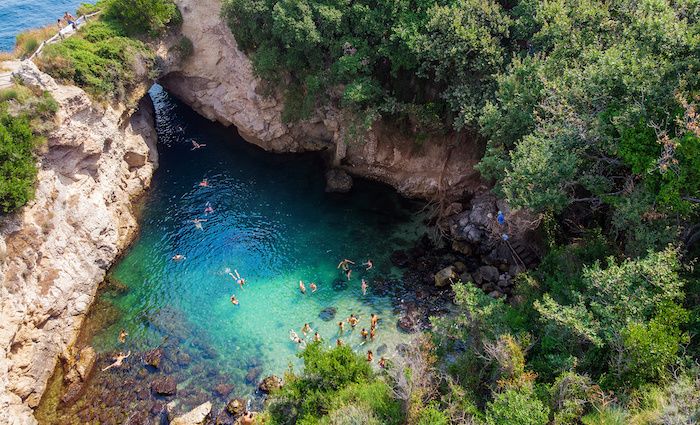 Regina Giovanna Bath is a magical little cove that is a 10-minute drive from Sorrento. From the looks of it, the water eroded away at some rocks bringing seawater into a cove-like area. It is pretty magical and just far away from Sorrento that it isn't completely overrun with tourists. If you have a vehicle you can drive out and look for parking. If not, take bus 5070 and get off at Caposorrento. From there it is another ten minutes by foot.
7. Herculaneum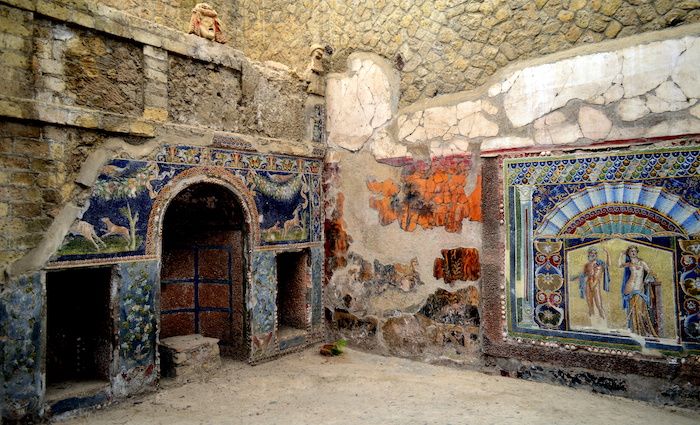 If you've been to Pompeii you may want to consider Herculaneum for your next visit. It is much smaller than Pompeii but arguably in better condition with definitely fewer visitors.
Herculaneum was a small settlement south of Naples on the base of Mt. Vesuvius that, like Pompeii, was flash-frozen in time. One thing not to take for granted is that this was a fisherman's village and port town known for debauchery; also like Pompeii.
Some of the highlights are ancient brothels and a statue of a barbarian looking-fellow holding his you know what going number one. Beyond the hooligan-like decor, which is really funny, it holds some of the world's best-preserved ancient artwork. From mosaics to frescoes and even some skeletons left over from the first century A.D.
On my first visit, I would definitely go to Pompeii, but on my second visit, Herculaneum would be a top attraction for me near the Amalfi Coast.
Address: Corso Resina, 187
Hours: 10:30 am – 6 pm (Closed Tuesday)
Check Out Our Best Amalfi Coast Tours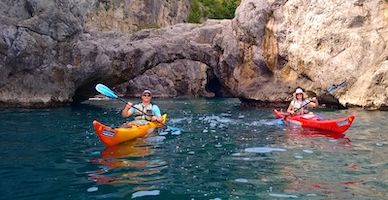 Top-Rated Tour
Amalfi Coast Kayaking Tour
Strap up your life jacket, grab your oar and get ready to discover the best of the Amalfi Coast. No previous kayaking experience is required as your expert guide will lead you through the Grottoes, Rock Arches, and majestic Beach Coves.





Starting at €59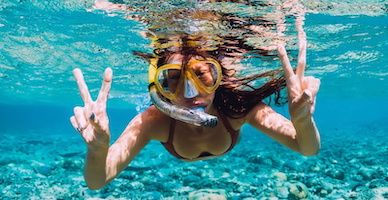 Top-Rated Tour
Amalfi Coast Snorkeling and Boat Cruise Tour
Explore the Coast in Style on this Luxury Boat Tour, discovering the beaches, reefs, and celebrity villas. Snorkel down below to immerse yourself completely in the crystal clear Mediterranean waters. Join us to see hidden areas and exclusive beaches for an incredible day along the Amalfi Coast.





Starting at €79
6. Paestum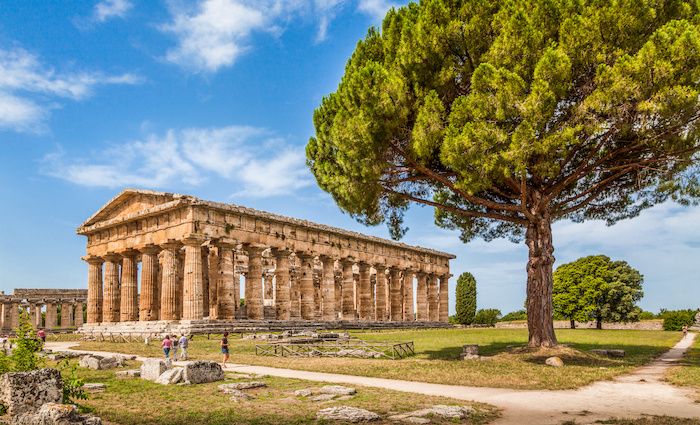 Paestum was a Greek settlement city that is about 45 minutes south of Salerno and 2 hours from Sorrento. The city is known for its archeological park and most notably three Greek-style temples dating between the 5th to 6th centuries BCE.
The temples are in incredible condition considering their age, most notably the Second Temple of Hera. This is likely due to many reasons but possibly the distance from major Roman settlements. They may have survived this long simply because it was overlooked by invaders while sacking the Romans. If you are a history buff or a lover of great photo opportunities, Paestum is a worthy choice.
5. Tiberius' Leap & Villa Jovis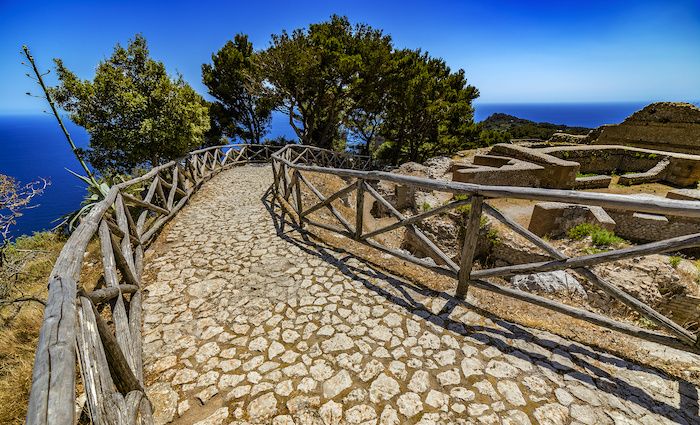 Tiberius was the Emperor of Rome from 14 AD when his adopted father August died until 37 AD. Up until that point, he had a stellar military career and will be secretly known as one of Rome's greatest generals which says a lot. Why is it a secret?
His reclusiveness as an emperor out-shadowed any of his accomplishments as a general. Pliny the Elder described him as "the gloomiest of men" and Pliny's opinion counted in those days. He basically abandoned the capital of Rome, built himself a villa on a cliff in Capri, and slowly went mad.
Once you visit Capri you'll understand why Tiberius chose it as his preferred destination and you can even visit his villa there, Villa Jovis. Well, one of his villas. Tiberius built 12 villas on the Island of Capri. Villa Jovis covered 1.7 acres including a platform known as Tiberius' Leap. Basically, a place where he could throw disobedient servants or unwelcome guests off a cliff.
Address: Via Tiberio
4. Blue Grotto, Capri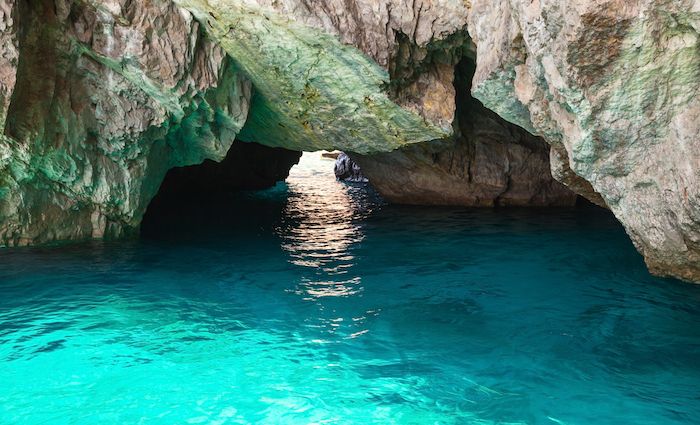 The Blue Grotto or Grotta Azzura is a mega-famous sea cave on the northwest side of Capri. Known for their crystal blue water inside a cave which is only accessible by rowboat. The water is so incredibly crystal blue due to many factors including the dept of the water and the structure of the rock inside the cave. Many people who have entered the grotto describe it as floating in thin air. It is a very unique experience that should be experienced first hand.
3. Faraglioni Rocks, Capri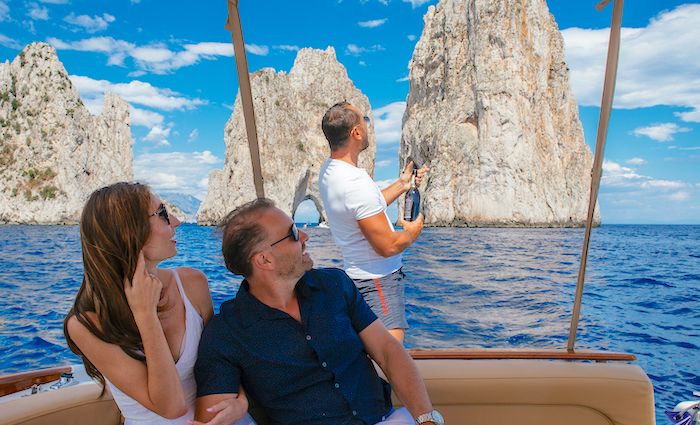 The three rock formations jutting out of the water just behind our favorite Prosecco popping couple (real customers who planned a trip with our trip planning service and hire a photographer for the day) are the Faraglioni Rocks. The word Faraglioni is the Italian word for sea stacks. What is a sea stack? Basically any time you see a super cool rock formation coming out of the sea that looks like it is not connected to land it is a sea stack.
They are not only beautiful to look at but give a glimpse into how little time we as people have on Earth compared to nature. You will often see yachts and boats surrounding these rocks due to their beauty. A great place to grab a meal lay on the rocks (different rocks) and soak in the view is La Fontelina restaurant.
If you want to see them up close and personal, see our locally run boat tours to Capri below!
2. Visit the Island of Capri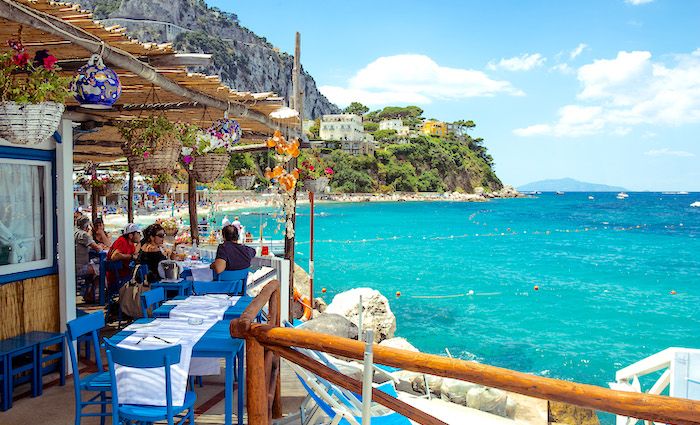 Capri is a relatively small island off the coast of Naples, Sorrento, and the Amalfi Coast. It is reachable by boat from each of these destinations in about 90 minutes to 2 hours. Above all, Capri is one of the most beautiful islands in Italy if not the world and without argument the most exclusive and luxurious island in Italy.
Capri is filled with things to do, many listed below. The Blue Grottoes are the most popular as well as the Villa of Tiberius aka Tiberius' leap in Anacapri. We have a full page dedicated to all the cool things to do in Capri that you should definitely check out if you are planning a visit.
You should also consider eating at Lo Smeraldo which is the restaurant in the photo featured above. Their location and ambiance are among the best on the island and offer stunning views. Definitely check them out on our list of the best restaurants in Capri!
You can visit Capri on a day trip by boat, link below, or spend more time on the island. If you plan to spend more time on Capri, definitely check out our article on where to stay in Capri.
1. Take a Tour of Pompeii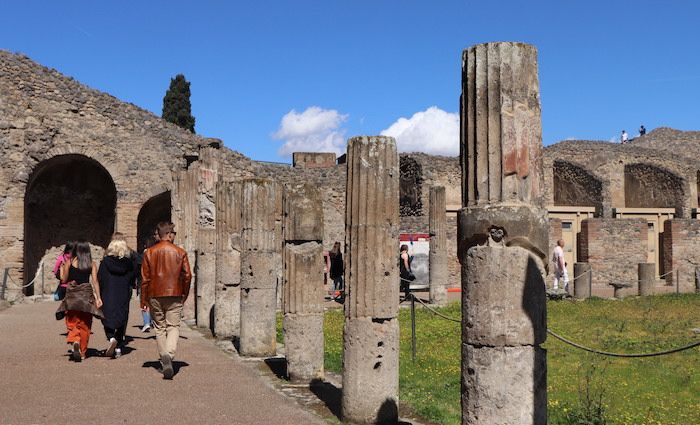 Pompeii is undoubtedly the top attraction for visitors to the Amalfi Coast. The gates of Pompeii welcome over 2.5 million travelers each year and for good reason. The city was covered in ash and debris after the eruption of the nearby stratovolcano, Mt. Vesuvius in 79 AD. The city wasn't "rediscovered" until the 16th century and excavations didn't start until the 18th century. Once they did, Pompeii became all the craze as Naples was added to the Grand Tour of Europe.
Today, you can visit it on your own but if you are at all curious about your surroundings you'll want to join a tour. There are not many labels and the history of Pompeii is very interesting. We run small group guided tours of Pompeii which have excellent traveler reviews. You can join a tour at the gates of Pompeii or start with us in Rome.
If your final destination is the Amalfi Coast, you could join us from Rome and we could leave you in Sorrento. Many travelers choose this option as the tour helps cover the costs of transportation and provides a lot of value this way.
Address: Via Villa dei Misteri, 2