Capri is one of the most beautiful islands in the world and it's located right off the Amalfi Coast. Are you in Capri and looking for a great place to eat? Not to worry! Our local guides have mapped out the best restaurants in Capri for your dining pleasure.
---
Pro Tip: Planning to visit Capri off the Amalfi Coast? Bookmark this post in your browser so you can easily find it when you're on the island and hunger strikes. See our guide to Capri for more planning resources, our best Capri tours for an exciting trip, and the top things to do on the Amalfi Coast.
11 Best Places To Eat And Drink in Capri
Capri has been a vacation destination for the past 2,000 years. Even the Roman Emperor Tiberius became a recluse here. It's hands down one of the most beautiful places on earth. As a result, many people want to come and visit, which makes sense. With a large number of tourists, many tourist trap restaurants are bound to follow.
Since nobody likes tourist traps (myself included), we asked our local guides to put together a list of their favorite places to eat in Capri. We hope it helps you take the guesswork out of deciding where to go so you can focus on enjoying your vacation. Here are the best restaurants in Capri. Buon Appetito!
Lo Smeraldo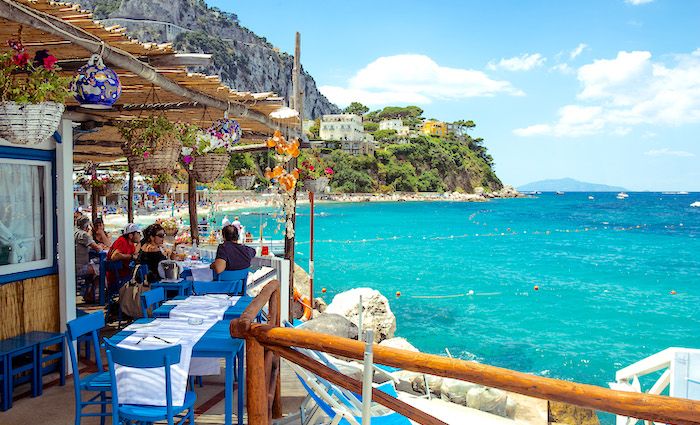 €€€ | Unbeatable Views | Seaside Dining | Seafood
There are very few things more satisfying than fresh seafood on a patio overlooking the water with a glass of white wine! It is something I search for on every summer vacation and Lo Smeraldo checks the box!
This family-owned restaurant has an amazing view of the coastline of Marina Grande, which is Capri's largest town. They have great food, great views, and great vino!
Address: Piazza Vittoria, 1
Pescheria Le Botteghe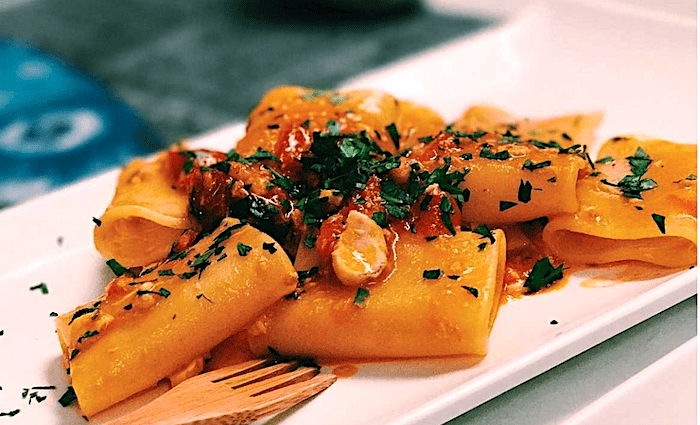 €€€ | Simple and Delicious | New Concept
This is one of the more exciting restaurants in Capri, in my opinion. In the morning, the fresh fish arrives and they sell it at the counter to bring home and cook. After 7 pm, the establishment transforms into a great place to either have drinks or a meal or both!
Make sure you book in advance as they get extremely busy. You can come in for an aperitivo or ceviche. Sit down, have a delicious plate of pasta with seafood, and you'll quickly notice that the quality-to-price ratio is great. After a night here, you'll understand why this is one of the best restaurants in Capri.
Address: Via le Botteghe, 19
Check Out Our Top Capri and Pompeii Tours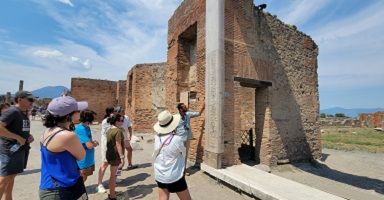 Top Rated Tour
Skip the Line Pompeii Ruins Tour with Villa of Mysteries
Imagine what it would be like to visit an ancient city that has almost completely been preserved 2,000 years later due to a volcanic eruption that destroyed and ironically preserved the city. Join The Tour Guy for this amazing adventure back in time. This tour is ideal for those staying on the Amalfi Coast or in Capri.





See price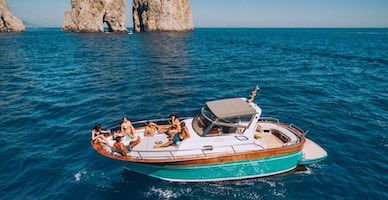 Likely to Sell Out
Capri Full Day Tour from Sorrento by Luxury Boat
With our local guide and skipper, discover the beauty of Capri by luxury boat. Enjoy the day in comfort as you head through the caves and grottoes, examining the crystal clear Mediterranean waters. Jump in the water and snorkel through the reefs, then have a refreshing glass of wine as you take in the surroundings. Stroll through the streets of Capri where you will find wonderful small shops and delicious gelato. Experience an unforgettable day in Capri and at sea.





See price
Not ready to book a tour? Check out our Amalfi Coast Guide for more resources.
Gennaro Amitrano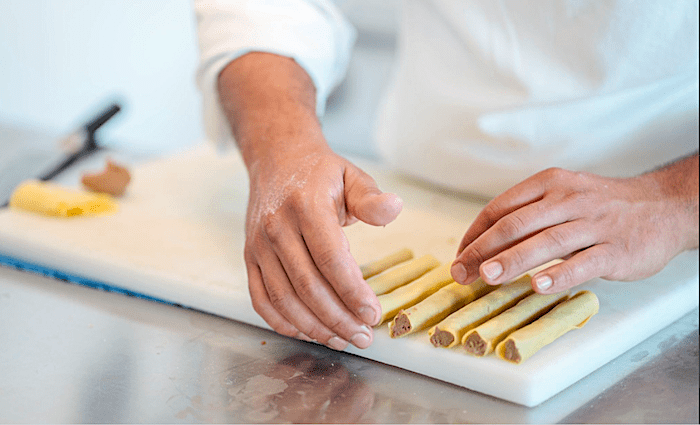 €€€€ | Haute Cuisine | Fine Dining
Sometimes you want to get all dressed up and eat something fancy. Well, you've come to the right place. The dishes served at Gennaro Amitrano are presented beautifully and also taste delicious. You'll find the service is also impeccable.
This intimate restaurant only has around six tables, so they can focus on the most important element in the restaurant…you! I highly recommend the tasting menu, considering that the menu changes often. Their wine selection is also vast, so don't be shy about having them help you choose the perfect wine to accompany your meal.
Address: Via Marina Piccola, 120
Da Gemma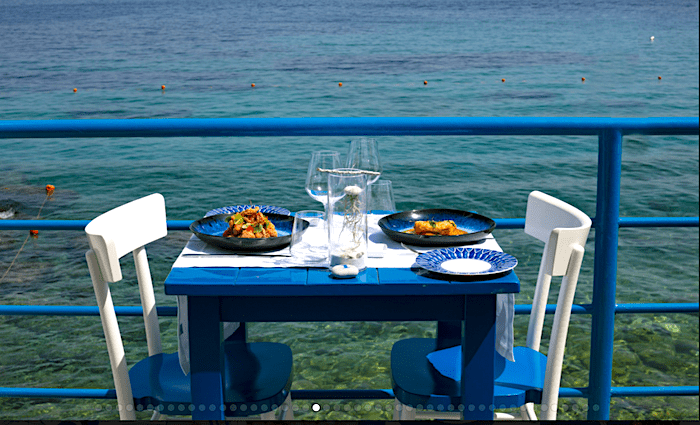 €€ | Beachside | Seafood
This beachside restaurant is part of the beach club and is right next to Marina Grande, the main port. This way, if you jump off the boat and are hungry right away, you have a place to go. Many people eat here after spending a day on the beach too though.
The main specialty here is seafood. So, I highly recommend any pasta dish with seafood that they have and, of course, go with a Caprese salad. After that, try the grigliata mista—a mix of various grilled fish. Wash it down with white wine and enjoy one of the best restaurants in Capri.
Address: Via Serafina Madre, 6
Lo Sfizio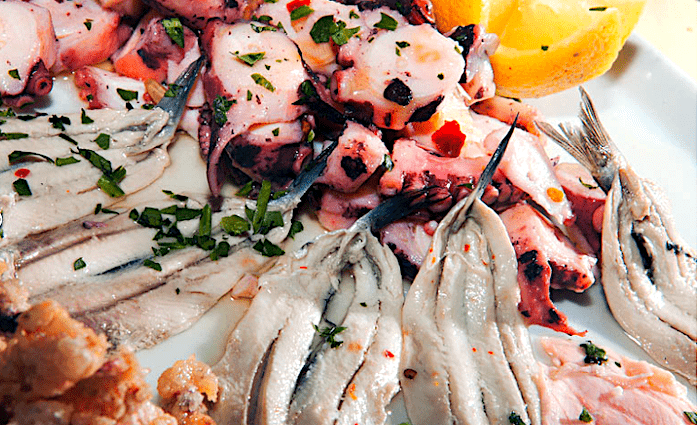 €€ | Off the Beaten Track | Seafood
This hidden gem is a bit of a walk from the main touristy area, but it's well worth it. If you happen to be visiting the ruins of the Tiberius villa, then this is a perfect lunch spot to accompany it. The friendly staff will make you feel right at home.
As for the food, there's something for everyone. You can start off with some ravioli Caprese with Parmigiano cheese. After that, go for a whole roasted chicken or a whole fresh fish. For the people in your group who are fussy, there is always a delicious pizza waiting to be cooked in the oven.
Address: Via Tiberio, 7E
Ristorante Pulalli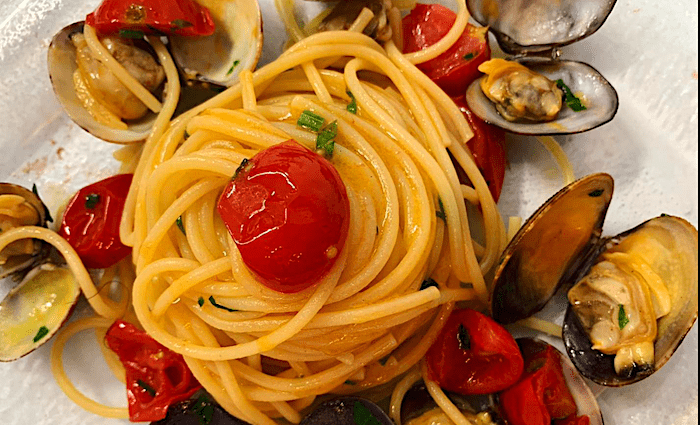 €€ | Outdoor Seating | Friendly Service
This restaurant isn't far from the central square and has some great views when you sit outside. It would be a crime not to eat here. The quality-to-price ratio is great and the staff make you feel very welcome.
If you like raw food, then you have to try the tuna tartare. It's served with orange, mango, ginger, and sesame seeds. As you can see in the photo above, the spaghetti with vongole (clams) is also amazing! Again, wash it all down with chilled white wine. Cheers to being in Capri!
Address: Piazza Umberto I, 4
Aurora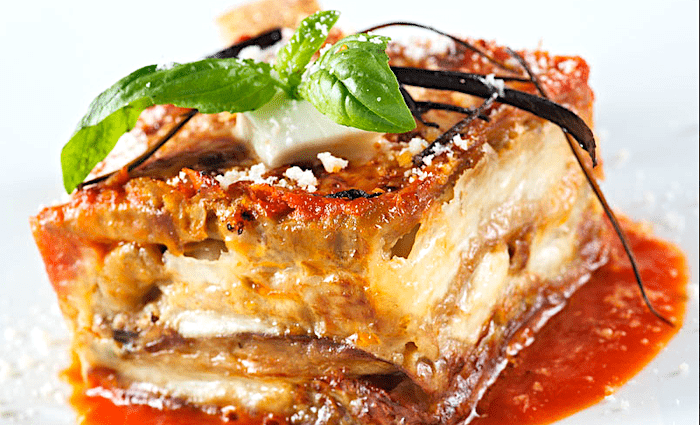 €€€€ | Famous People | Historic Restaurant
In every city, you have certain restaurants where the stars and famous people go. In Capri, that place is Aurora. The restaurant itself has been around for about 100 years, which speaks for itself. If you dine here, you might also rub elbows with Sylvester Stallone or Jay Z.
As for the food, they have something for everyone. From refined dishes to steak and pizza. When you walk in, you'll immediately feel the buzz and smell the aroma of good food in the air, cementing this establishment as one of the best restaurants in Capri.
Address: Via Fuorlovado, 18
Salumeria Da Aldo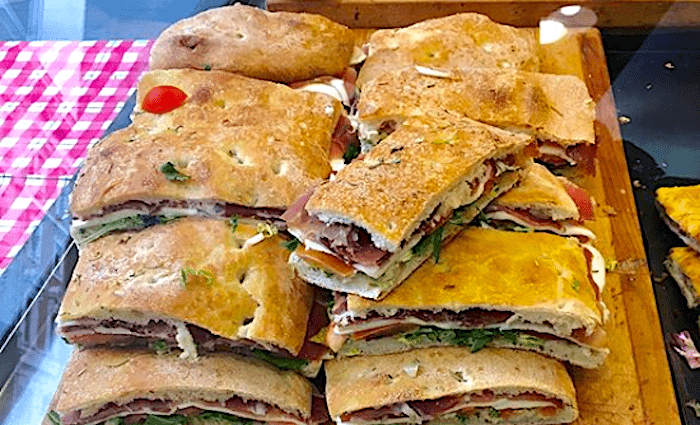 € | Best Sandwich | Takeaway
Sometimes you don't want a long, sit-down lunch. You might want to have a quick meal so you can go swimming in the sea. For that reason, I've included a great sandwich option that you can eat on the go.
Salumeria da Aldo is one of the old-school sandwich shops that you can still find in Italy. They make their sandwiches fresh and to order. You can have delicious prosciutto with mozzarella di Bufala or even just a simple Caprese sandwich with tomatoes and mozzarella. No matter what you have, you will like it and so will your wallet.
Address: Via Cristoforo Colombo, 26
Popular Tours of Pompeii and Capri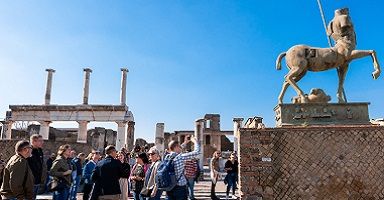 Best Selling Tour
Unforgettable Rome Day Trip to Pompeii and Sorrento
Join us on an adventure from Rome to Pompeii and stunning Sorrento with comfortable, round-trip transportation. Skip the line access with an expert guide and make the most of your time in Italy and leave all the details to us. All you have to do is enjoy yourself!





See Prices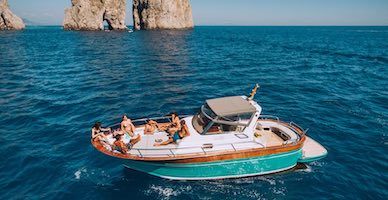 Amazing Experience
Capri Full Day Tour from Sorrento by Luxury Boat
A day in Capri can't be missed, so we make it easy! You'll sail in to azure blue waters for a swim before seeing the famous grottos of Capri. Then enjoy an afternoon eating, shopping, and exploring the island of Capri before returning to Sorrento.





See Prices
Not ready to book a tour? Check out our Amalfi Coast Guide for more resources.
La Palette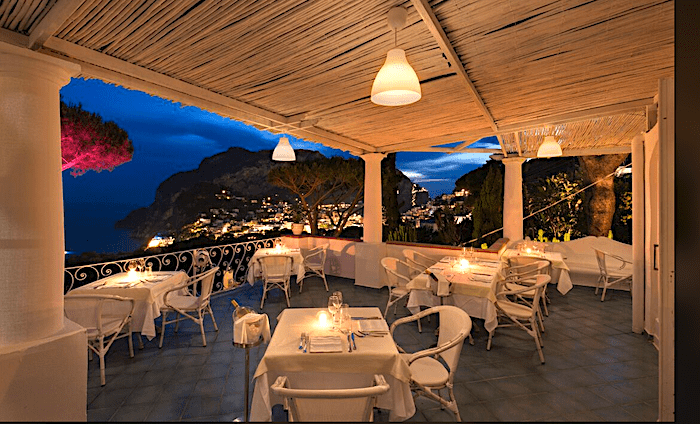 €€€ | Great Views | Outdoor Seating
Perched up high on the island, this restaurant will give you incredible views to enjoy while feasting the night away. Make sure you book early enough while the sun is still out so you can truly enjoy the sunset as you begin to eat.
The restaurant offers refined cuisine with a beautiful presentation. Some of my favorites are the octopus with polenta or the squid with various citrus overtones. Make sure you accompany your meal with a delicious local red or white wine and soak up the views. When you're done, you'll understand why this is one of the best restaurants in Capri.
Address: Via Matermania, 36
Da Tonino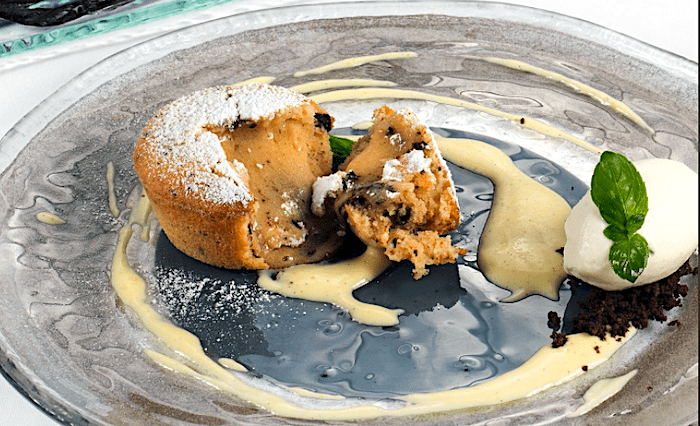 €€€ | Off Beaten Track | Great Wine Cellar
While this restaurant requires a bit of a trek to get to and it appears that there are no taxis that go there, it is definitely worth it. As you walk in, you'll be greeted as if you're part of the family.
As for the food, they offer refined cuisine with local favorites. Their specialty is seafood, and I highly recommend that you go with that be it with pasta or as a whole fish. You won't regret it.
Address: Via Dentecale, 15
Chiosco Tizzano di Natalia e Antonio Tizzano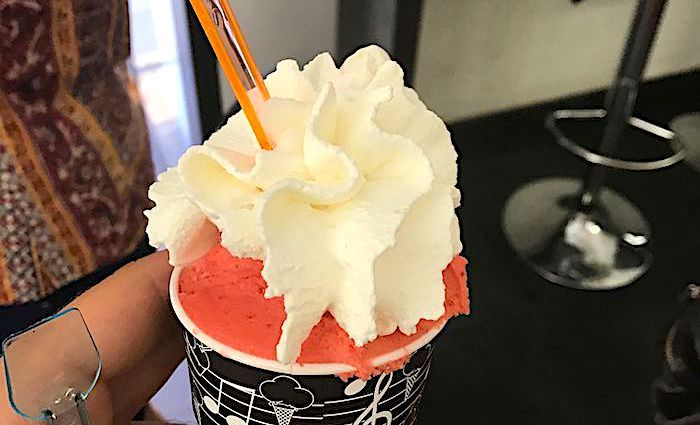 € | Gelato | Hotspot
I wanted to end this list with one of my favorite places to go to not for food, but for a refreshment. The fact of the matter is that it's usually hot when you're in Capri, so you're going to want something refreshing to enjoy and this little chiosk is the perfect place to get it.
While they serve ice-cream, their specialty is a granita—similiar to an Italian ice. They use real lemon and orange juice for the flavor. As you're walking by, pick up a lemon or orange granita and cool off while staring off into the distance. Buon Appetito!
Address: Via Matteotti, 2