Forget your red sauce pasta and pizza, but don't panic since they're found here too! But learn to eat like a northern Italian with the 10 foods that you should try in Milan. Andiamo a mangiare!
---
Pro Tip: Planning what to do on your trip to Milan? Bookmark this post in your browser so you can easily find it when you're in the city. See our guide to Milan for more planning resources, our best Milan tours for a memorable trip, and how to see Milan in a day.
The Top 10 Food and Drinks To Try in Milan
Legendary food writer Anna del Conte considers Lombardy, of which Milan is the capital, Italy's most interesting food region. No, she's not biased because she was born there! With 9 provinces, we have 9 different cuisines, all of which make their way to Milan.
Let's leave the amatriciana and pizza marinara behind for a moment. We're about to discover a whole world of surprising Northern specialties. Some may be a bit of an acquired taste (or for more adventurous foodies) while some you'll love right away, but you can't say you know Milan until you've sampled our selection!
Not ready to book a tour? Check out our Milan Guide for more resources.
10. Osso buco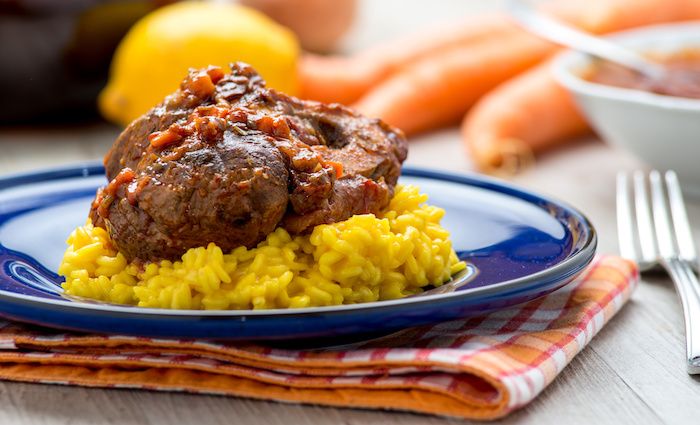 Traditionally accompanied by the saffron risotto above or equally delicious served with polenta (or even, sacrilegiously, mashed potato) ossobuco is a classic Milanese staple. Oss büs is a local dialect for the delicious marrowbone that is a part of this dish.
It's a piece of veal shank or hock, cooked slowly so the meat falls off the bone and melts in the mouth. You'll find many variations on the recipe but traditionally there are no tomatoes in the sauce (they don't grow in Northern Italy!) You can find it at all the typical restaurants in the city, but we like its slightly lighter interpretation at Ratanà.
Where to find it: Ratanà
9. Panettone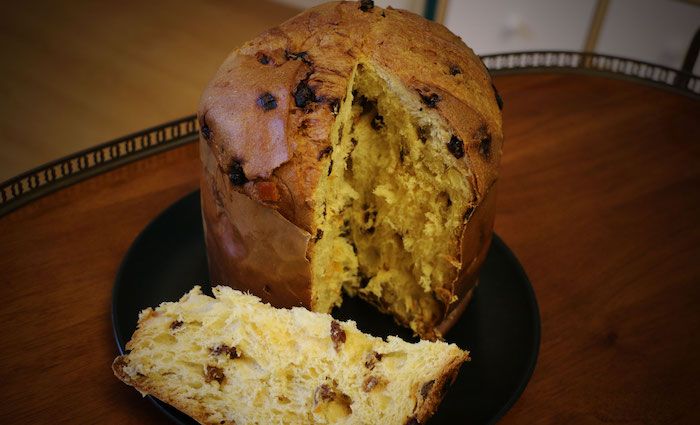 There are some quirky legends associated with this most famous of Milanese cakes. From Ludovico Sforza's servant Toni improbably ruining dessert (hence Pan di Toni, Tony's bread) to a mysterious nun who created a sweet treat for her religious sisters.
It is a cross between a cake and bread with candied fruit and raisins with plenty of variations. Some make it with chocolate, pistachios, or even served up with gelato and Nutella! It's traditionally enjoyed at Christmas, but it's also available in the city throughout the year. Perfect with coffee or a glass of sweet wine.
Where to find it: Pasticceria Cucchi
8. Campari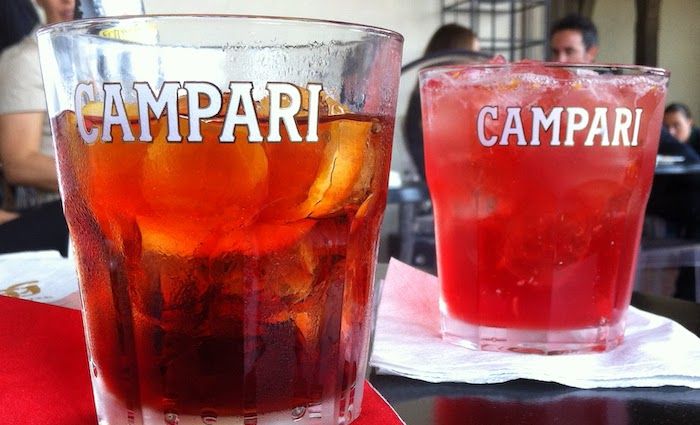 Time for some "Red Passion"! After carefully observing the drinking habits of his customers and many years of experimenting with herbs and bitters Giacomo Campari invented the drink that bears his name. This beverage manages to be sweet, herbal and bitter on the palate all at the same time. The recipe is a is a secret to this day.
You can enjoy it alone with ice, in a spritz with prosecco, with soda, with orange or – my favourite – with freshly squeezed grapefruit juice.
In 1867 the famous Camparino bar opened right next to the cathedral and quickly become the place to be seen for fashionable Milanesi. You can drink Campari all round the city, but why not try one in the original iconic bar!
Where to find it: Camparino
7. Negroni Sbagliato
Oh go on, let's have another one! This cocktail is intrinsically linked with Milan's food and drink culture. You may have heard of the classic Negroni cocktail (an equal and heady mixture of gin, Campari and red vermouth) but the Negroni Sbagliato (a 'messed up Negroni') was invented in the early '70s by Mirko Stocchetto at the popular local Bar Basso in Milan.
The barman picked up the wrong bottle (prosecco instead of gin) and a legend was born! It's just as tasty and fortunately won't give you as much of hangover as the classic negroni (well, depending on how many you drink). Try it at any bar in the city or in its original birthplace. The pic shows Mirco with his creation.
Where to find it: Bar Basso
6. Cassoeula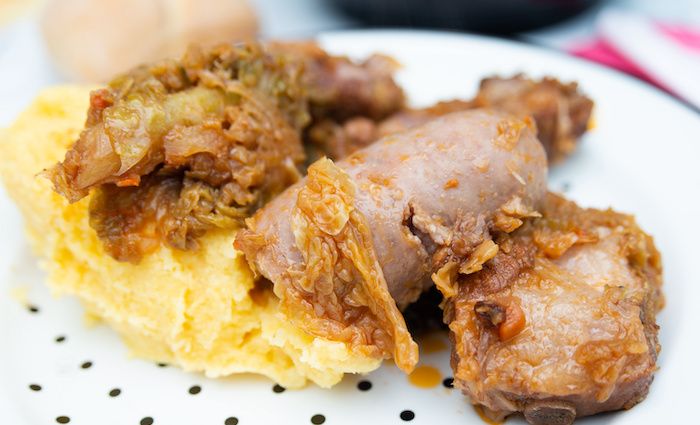 This is a truly hale and hearty dish, served with polenta. It may be one for the more adventurous among you and one of the main ingredients is pork rind, but it's a true classic of Milan. Cassoeula (Stewed Pork and Cabbage) is often considered winter fare, as it was traditionally eaten on All Soul's Day (November 2nd) in Milanese homes.
The name has the same root as the French cassoulet, but it's thought to have been brought by the Spanish, who lorded it over Lombardy for quite a few centuries. You'll find it, depending on the season, in many traditional Milanese restaurants, but there's even a place in Milan dedicated to takeaway and home delivery. La Cassoeula del Togn. They've been making it since 1945, so they've definitely perfected the recipe!
Where to find it: La Cassoeula del Togn
Check Out Our Top Milan Tours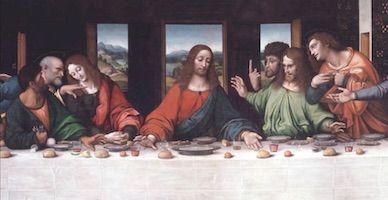 Best Selling Tour
Milan in a Half Day: The Last Supper and Duomo Small Group Tour
When developing a trip itinerary to Italy, one often asks "How do I see the Last Supper in Milan?" With tickets that sell out instantly in a city far from Rome or Venice, seeing Da Vinci's great painting can be a hassle. With that in mind, this tour is designed to provide the best of Milan in just a 4-hour tour. Perfect for a layover or on the way to Lake Como.





Starting at €79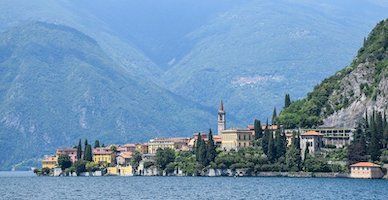 Likely to Sell Out
From Milan: VIP Semi Private Lake Como Day Trip with Cruise
Head north from Milan to the lakeside paradise home to celebrities and the rich and famous. With private transportation from Milan included, explore the quaint towns of Bellagio and Varenna with a local guide. As you drive along the Lake, you will pass the historic villas home to actors such as George Clooney. Enjoy a gourmet lunch and local wine tasting. Before heading back to Milan, you will cruise down Lake Como by boat taking in the idyllic scenery that makes it an Italian treasure.





Starting at €239
5. Vitello Tonnato
Veal and tuna? Really? This is a surprisingly good combination. It's also a lot lighter than our last dish…so delicate that it's considered summer fare or eaten as an antipasto. I've cooked it at home and it's a surprisingly long process (or at least soaking the veal in a 'wine bath' is!) so best try it in one of Milan's traditional restaurants.
Massive disclaimer: the dish originates from Piedmont, the next region over, but it's one that the Milanese have taken to their hearts, hence its inclusion. Thin slices of marinated boiled veal aren covered in an egg, caper, anchovy and tuna sauce, that resembles a mayonnaise.

You'll find it all over the city but we love its interpretation at the delightfully named Trippa Trattoria.
Where to find it: Trippa Trattoria
4. Mondeghili
These Milanese meatballs have various interpretations but they are basically a delicious way of using up leftovers. They are a 'poor man's food', part of the local farming tradition, and use mortadella or leftover boiled meat. This is very different from the meatballs you may be used to!
The meat is chopped, mixed with egg, parsley and bread soaked in milk, shaped into a meatball then fried in butter! Again we probably have the Spanish and their domination to thank for the dish and the Spanish albondigas mutate into Milanese mondeghili. They are such a part of Milan's history that in 2008 they were officially recognised by the Municipality!
Where to find them: Ratanà
3. Costoletta alla Milanese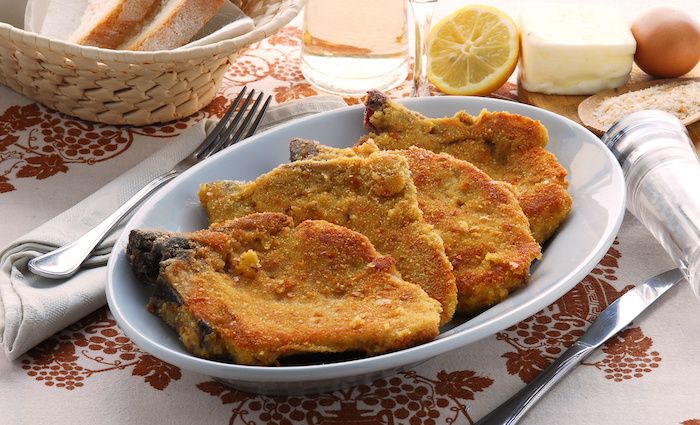 Costoletta, Cotoletta or Milanese cutlet. Purists will argue over how it should be presented but a couple of things are certain. It's a thick, breaded veal cutlet, fried in clarified butter, rigorously bone-in.
You may think there's a similarity with a Wiener schnitzel. Of course northern Italy also had its Austrian domination, but there's a convincing argument for claiming the cutlet as ours. Its fried ancestor might well have been a dish mentioned in the annals of Milan, a breaded meat served by the Abbot to the monks of Sant'Ambrogio in 1134. Don't confuse it with an 'Elephant's Ear' (below!)
Where to find it: Traditional restaurants (make sure it's the bone-in style) like those at Trattoria Arlati
2. Elephant's Ear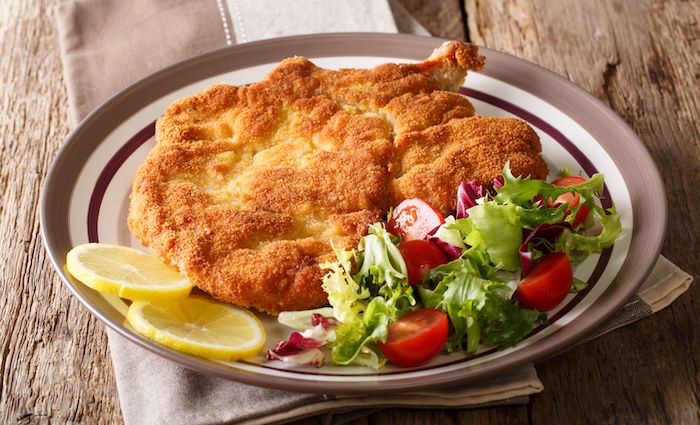 Orecchia di Elefante, or Elefant's Ear, is a popular dish in Milan which is a type of chicken cutlet dish. This is particularly odd for Italy as chicken is not eaten as commonly as in western countries.
What do the Milanese know about Elephants? It comes from Hannibal marching into Italy in Roman times with his army of elephants!
It's breaded and fried in the same way. Sometimes you'll find it on the menu as literally Orecchia di Elefante and sometimes you'll find it masquerading as the Cotoletta alla Milanese, but by now you're an expert in cutlets so no one can fool you!
Where to find it: All round the city, but the ones at Al Garghet are legendary
1. Risotto with Saffron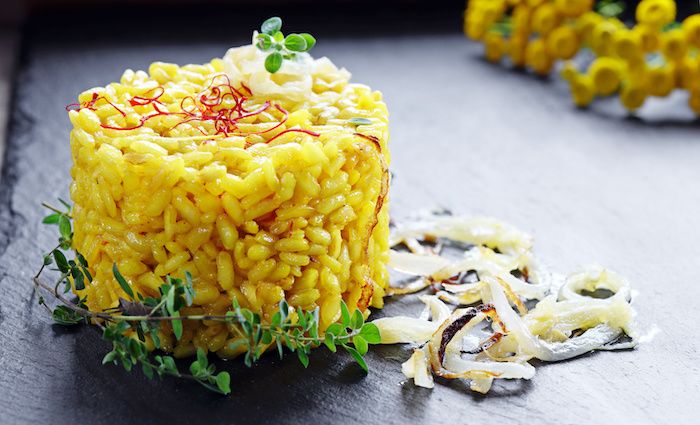 Risotto alla Milanese, also known as Risotto Giallo (yellow risotto) is the quintessential Milanese dish. Although it goes by several names, in English it's always risotto (with the 'o' pronounced as in 'hot').

The yellow comes from the precious saffron, a spice that ounce per ounce is literally worth its weight in gold. In fact, renowned Milanese chef Gualtiero Marchesi used to combine the two by using a leaf of edible gold to top his famous rice dish.
The rice has to be Canaroli or, if not a good quality Arborio. Making it is a meditative affair as top-quality rice takes its time to cook. Just stir and stir and then stir some more, but just like pasta be sure to leave it al dente. The most important part is the mantecatura, the butter that is added at the end while the risotto rests, to make it even creamier.
Where to find it: 23 Risotti
Not ready to book a tour? Find out if a tour of the Last Supper is worth it.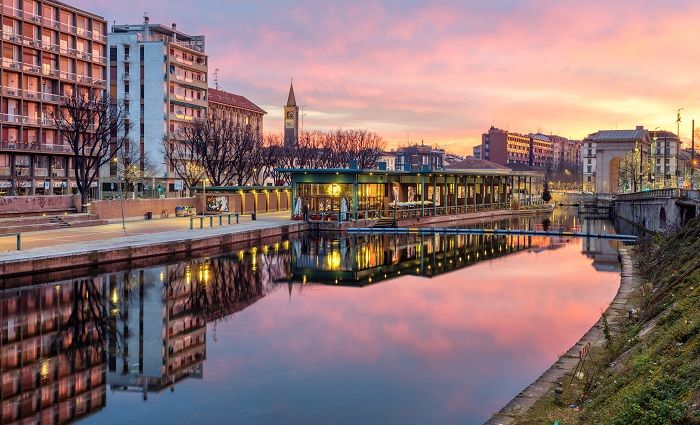 Find the best places to stay
Where To Stay in Milan
Milan is a small city with plenty to explore from iconic landmarks to a vibrant art and design scene and old-world charm. Plan where to stay in the best neighborhoods in this beautiful city.