Once the home of the debauched Emperor Tiberius, Capri is today one of Italy's top tourist destinations. Space is a premium, so staying on the island can be expensive, but since it is so close to Naples, Sorrento, and the Amalfi Coast, it's easy to head on a day trip to Capri. But what should you do when there? Here is our guide to the best things to do in Capri this year.
---
Pro Tip: Headed to Amalfi Coast and Capri this year? It's easier to organize your trip when you have all your resources in one place. Bookmark this post along with our Guide to Capri for more planning resources, our best Capri tours for a memorable trip, and the best hotels in Capri.
The Best Activities To Do In Capri
A pearl of the Mediterranean, Capri is a paradise of crystal clear waters, stunning cliffs, pebble beaches, and beautiful caves. Once the summer retreat of Roman Emperors, the island's heart is the Piazzetta (the little square). Most of Capri's daily life still revolves around this square. Between the two municipalities on the island (Capri and Anacapri), there is something for everyone. From fishing excursions to romantic grottos, from boutique shopping to foodie delights, you are sure to find something that interests you on the wonderful Isle of Capri.
---
1. Experience the Blue Grotto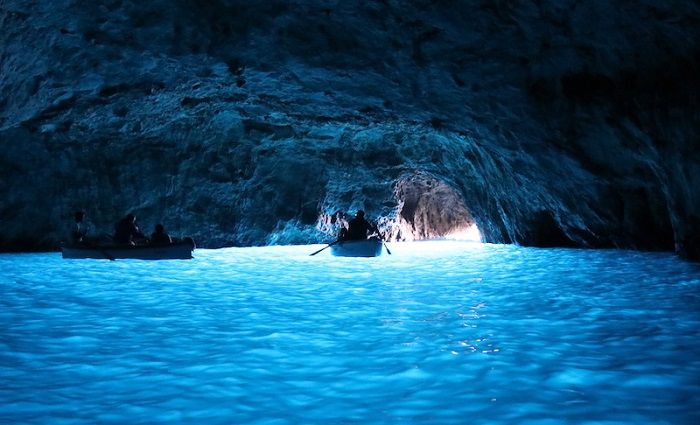 ---
Capri's most famous attraction, the Blue Grotto, is a sensorial experience like no other. The only way to visit this natural wonder is by rowboat, and you will have to lie down in order to get inside the cavity. Once in, you won't notice anything special for a few minutes. Until, suddenly, you'll be in the middle of a spectacular enlightenment that produces amazing color shades. How is it possible? The light phenomenon is due to an underwater light window that projects the light inside the grotto and creates the crystal clear blue water effect.
The lighting phenomenon is highest between 12:00 and 14:00, but as long as you visit the grotto on a sunny day, you'll be able to see it. Make sure you don't book a tour on a cloudy day, as you could be disappointed. You can either get to the grotto by sea or by land. If you go by land, you'll just have to pay the entrance fee plus the rowboat passage. If you choose to go by sea, you need to book a fast boat passage from Marina Grande that will leave you in front of the grotto, where you'll hop on the rowboats for the visit.
Address: Via Grotta Azzurra, Anacapri
---
Not ready to book a tour? Check out our Capri Guide for more resources.
---
2. Capri Full-day Tour by Luxury Boat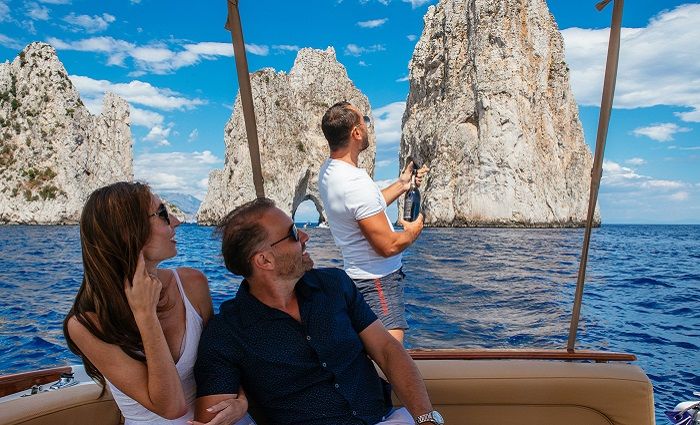 ---
Spending a day on a luxury craft in Capri is a one-of-a-lifetime experience. A skipper and a local tour leader will guide you in the discovery of the best spots to swim and snorkel while exploring the hidden caves of the island. A stop at the famous Blue Grotto is included in the tour, but you'll have to hop on a raw boat to enter the famous grotto (more on this below).
Since Capri doesn't have easy access to the beach, planning a boat tour is the best way to enjoy its blue waters. On this specific tour, you will agree on a pick-up spot and spend your day with a small group of shipmates. On-board refreshments and the freedom of getting in and out of the water as much as you like will make an epic day.
Address: pick up.
---
Not ready to book a tour? Check out our Capri Guide for more resources.
3. Fishing Experience and Capri Day Trip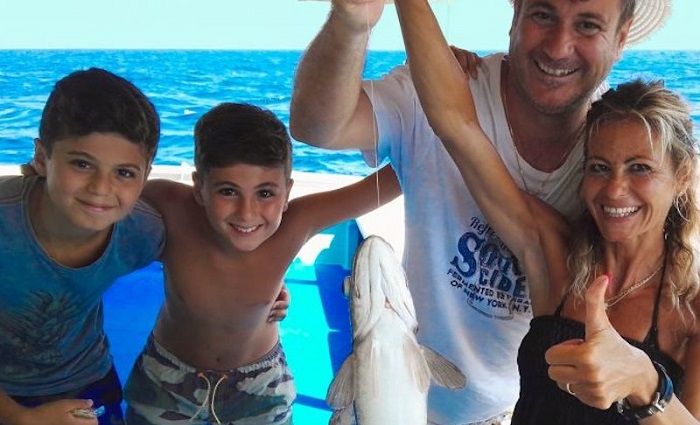 ---
This tour is ideal if you love fishing and want to learn more about the techniques used by local fishermen. Learning to fish while exploring the secret corners of Capri is also a great option for a family day. Not only you'll be able to swim, snorkel and explore Capri's secret caves, but you'll also learn all about Mediterranean fishes, local techniques, and local sea culture.
You'll spend the day with a small group of shipmates (up to 12 people) and a fisherman guide, stopping in a beautiful setting for a freshly prepared lunch.
Address: pick-up.
---
Not ready to book a tour? Check out our Capri Guide for more resources.
4. Reach Punta Carena Lighthouse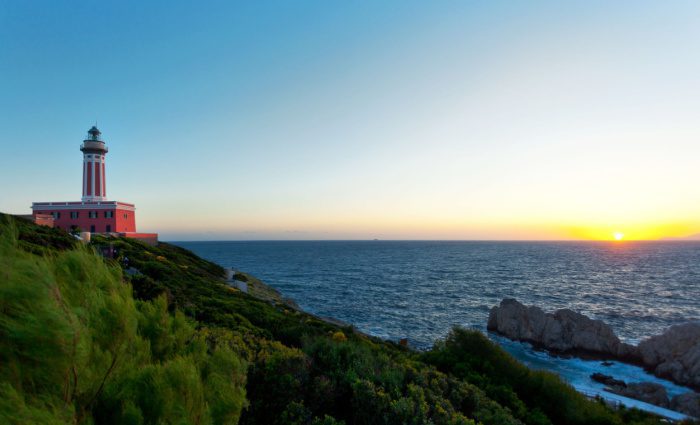 ---
The Punta Carena lighthouse is one of Capri's most magical spots located on the island's Southwestern tip. Operating since 1867, it stands on a rock formation and is Italy's second-oldest lighthouse.
Punta Carena is one of the only places to admire the sun setting into the deep blue Mediterranean. That's why Lido Del Faro (the lighthouse beach club) is the only bar in Capri where you can get a drink while enjoying the view of a perfect sunset.
Address: Strada Faro Di Carena, Anacapri
---
Not ready to book a tour? Check out our Capri Guide for more resources.
5. Get a Takeaway or Gelato at Buonocore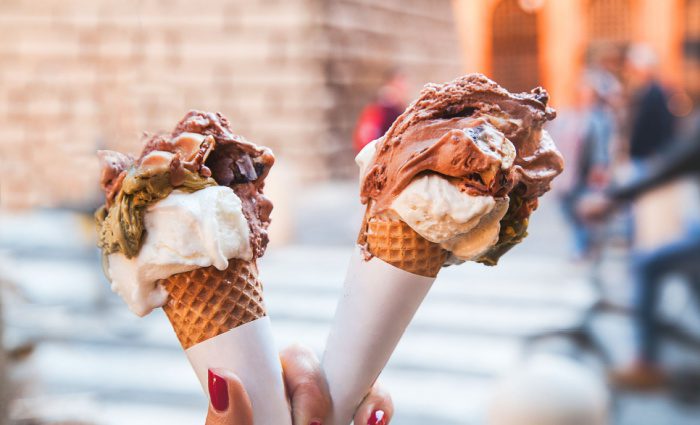 ---
If you are looking to grab a takeaway lunch or stop for gelato after a beach day, this is it. Buonocore is both a rosticceria and a gelateria. This means you will find here both traditional gastronomy plates (like the famous escarole pizza or pasta omelet) and delicious gelato options. No matter what time of the day it is, Buonocore is a strategic stop. Try the ice cream sandwich (yes, you heard right). It's called brioche con gelato, and it's the snack that will change your Capri trip for good.
Adress: Via Vittorio Emanuele 35, Capri
---
6. Sunbathe with Locals at Gradola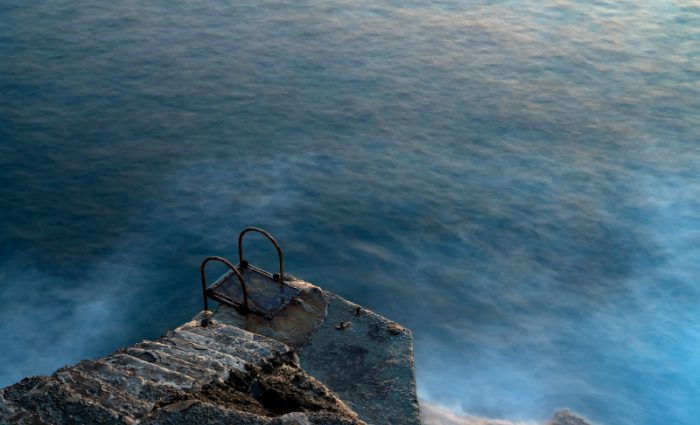 ---
Located in Anacapri, the Gradola Cliff is a glorious and free swimming spot. You'll find yourself surrounded by locals. You won't need more than a towel and some sunscreen to enjoy a sunbathing day.
If you'd rather be comfortable, opt for one of the two resorts and lounge bars next door (Giovanni and Il Riccio).
I suggest combining a beach day at Gradola with a visit to the Blue Grotto, just two minutes away.
Address: Via Gradola 8, Capri
---
Not ready to book a tour? Check out our Capri Guide for more resources.
7. Try Local Gastronomy at La Capannina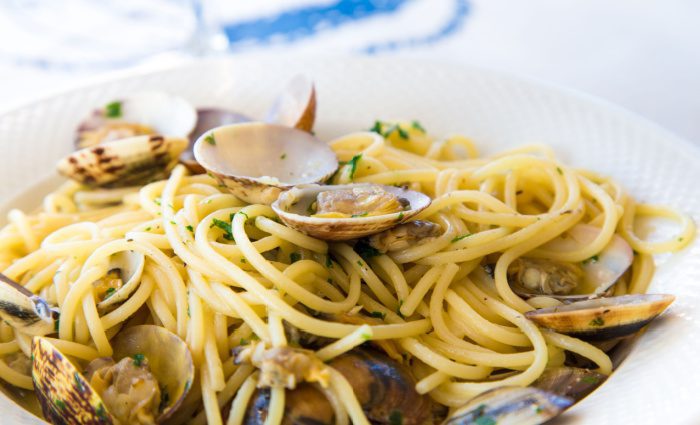 ---
Attended by both celebrities and locals, La Capannina is a great dining option. Located a few steps away from the Piazzetta (the main square of Capri Center), the entrance of this restaurant is easily recognizable as you'll spot a mosaic of famous clients' photos. Operating since 1931, this tavern offers a high-quality service combined with original recipes from Capri's gastronomic culture. This three-generation old tavern is part of Capri's history, and both Antonio, the owner, and Francesco, his son, are energic and elegant hosts.
Try the fiori di zucca ripieni for a starter (it's a special kind of fried pizza bowl filled with ricotta cheese and zucchini), then ravioli (homemade pasta) or the scialatielli ai frutti di mare (homemade spaghetti with seafood). Close the dinner with a delicious dessert: Delizia al limone, a pastry filled with lemon cream.
Address Via Le Botteghe 14, Capri
8. Buy a Local Perfume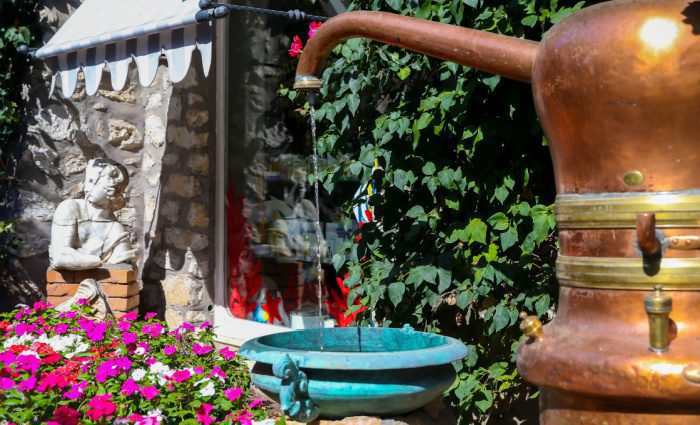 ---
This historical boutique makes artisanal perfumes, eau de toilette, soaps, and candles. You'll find more than one shop on the island, but they all belong to the same brand, so you can't go wrong. Visiting Carthusia boutiques is a fantastic way to discover new fragrances and get a unique souvenir for yourself or your friends.
Carthusia Boutique is famous for keeping alive perfume-making local traditions. The products you find here are one-of-a-kind, that's why shops are often very busy, especially during the weekend. Some of the perfume recipes date back to 1380, and most fragrances are made from local flowers growing spontaneously on the island.
Address: Via Camerelle 10, Capri
9. Get yourself a Tarallo Taste Experience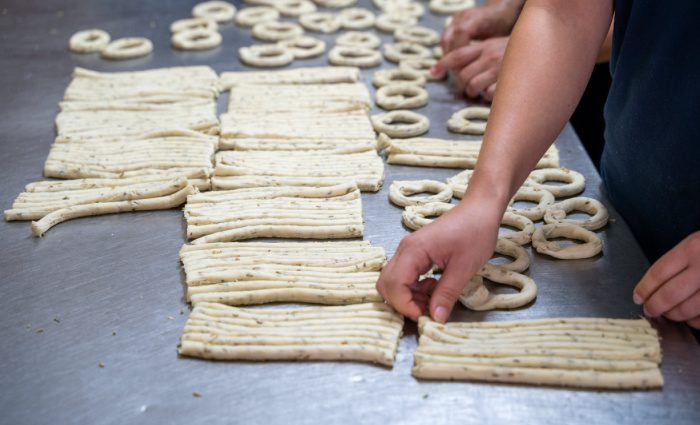 ---
Sfizi di Capri is an old bakery shop where you'll find a true Italian bread paradise. Apparently, this shop makes the best bread on the whole island. You can't leave the island without a bag of taralli: it's a traditional ring shape snack originally from Puglia but excellently made in Campania as well. It's not much more than baked bread rings, but it's deliciously flavored. Choose your favorite amongst the many options and bring a bag home!
Address: Via Le Botteghe 15, Capri
10. Villa Jovis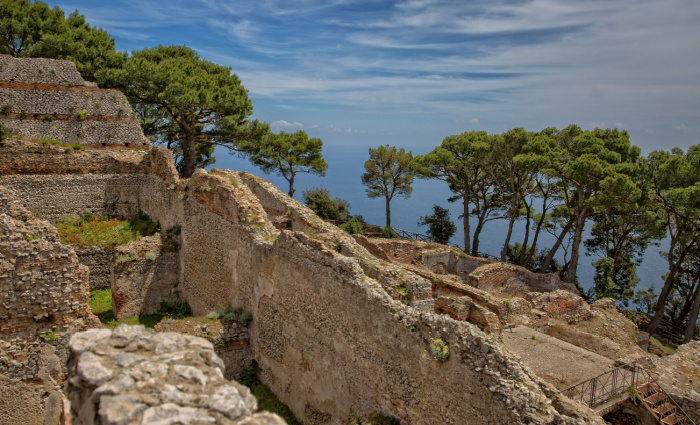 ---
If you want to take a leap into Capri's glorious past, plan a visit to Villa Jovis. This archeological site dates back to the Roman Empire, when Capri was one of the preferred gateways of the Roman aristocracy. Emperor Tiberius loved Capri so much that he built his second house there. Better said, his houses. In fact, Tiberius had more than one villa built on the island. Precisely, he had 12 of them. Today, the ruins of these imperial palaces are spread throughout the island, but only three of them have kept the original structure. Villa Jovis is one of them.
Getting a local guide is the best way to enjoy Villa Jovis ruins, as the site doesn't have a lot of info for the autonomous traveler.
Address: ViaTiberio, Capri Price: 6€ – free for European citizens under 18 years old
11. Spend a few hours on Marina Grande beach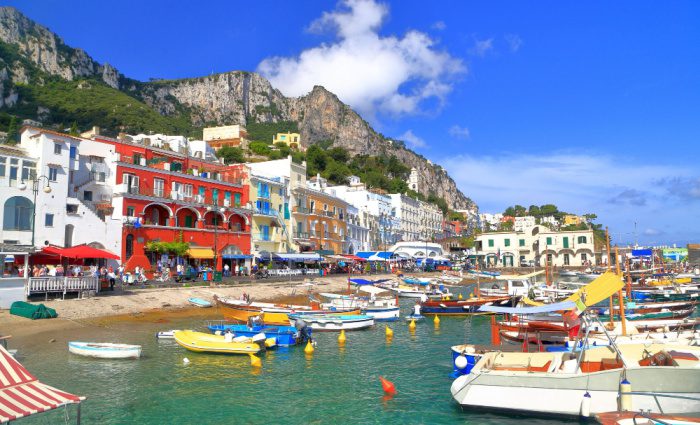 ---
This is Capri's largest beach. Going to Marina Grande is the easiest way to dive into Capri's blue waters as the beach is located very close to the port, and it's ideal for families with kids. Keep in mind that since there are not many beaches in Capri, Marina Grande gets very crowded. Nevertheless, I suggest spending a few hours of diving and sunbathing on this beach while you are waiting for the ferry on your way back to the mainland. You'll find a very local atmosphere and lots of space for your kids (if you have them onboard).
Address Marina Grande, Capri
12. Chairlift to Monte Solaro.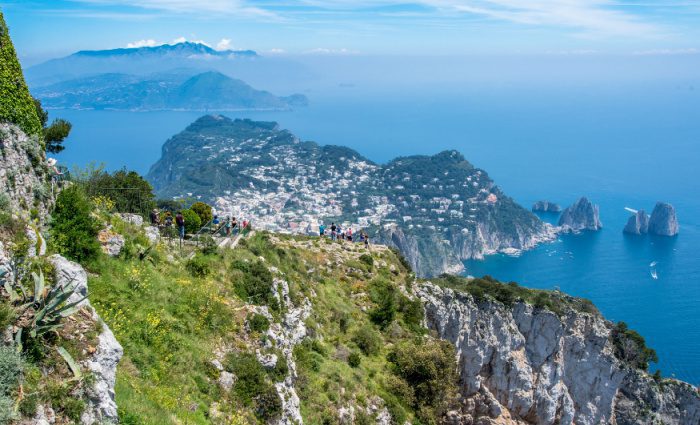 ---
Admire an amazing view over the Bay of Naples, the Bay of Sorrento, and the whole Mediterranean coast. You can climb up to the top (it's an hour's walk from Anacapri), but most people prefer hopping on the chairlift that starts from Piazza Vittoria (Anacapri). In fact, the experience is worth it on its own. You'll reach the top of Monte Solaro with no stress, and the ride could be fun if you travel with kids. They'll love the adventurous side of it.
Once you reach the top, you'll be able to contemplate a view that few other places in the world can offer. Make sure you visit the hermitage of Cetrella. It's an ancient church that used to host hermits in their spiritual retreat. Capri's fishermen are deeply devoted to the Church Virgin Mary statue as it provided protection during their coral hunting expeditions.
Address: Via Caposcuro 10, Anacapri | Price: Adults: 11 € one way – 14 both ways | Free for kids under seven years old (they must sit on their parent's lap).
13. Path of the Forts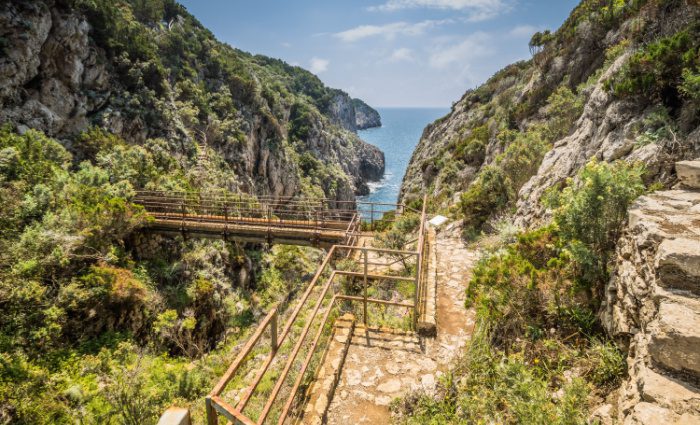 ---
This three-hour trail connects the Blue Grotto to the Lighthouse of Punta Carena (see above). It's a scenic route located in the Anacapri countryside, in which you'll discover local vegetation and see the island's old forths that served for military defense. The trail is signposted, but there are not many facilities along the way, so make sure you bring some water with you. Also, it's better not to plan the trek during the months of July and August unless you start the walk very early in the morning or leave it for the afternoon.
Address: Via Forte Del Pino, Anacapri
14. Gardens of Augusto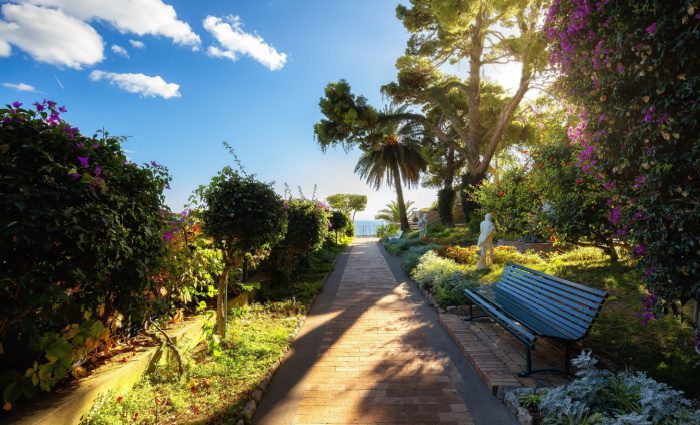 ---
The Augustus Gardens are located just ten minute's walk from Capri's center. These spectacular gardens are panoramic and full of local vegetation species, which makes them a great place for pictures. Although there's a small fee to be paid at the entrance, the Augustus Gardens are considered Capri's communal park. Dedicated to the first Roman Emperor (Augustus), the gardens were built by Alfred Krupp (a Dutch manufacturer) in 1900 and later donated to Capri's municipality.
Address: Via Matteotti 2, Capri | Price: 1.50 € entrance | Free for children under 12 years old
15. Walk to Punta Tragara and Faraglioni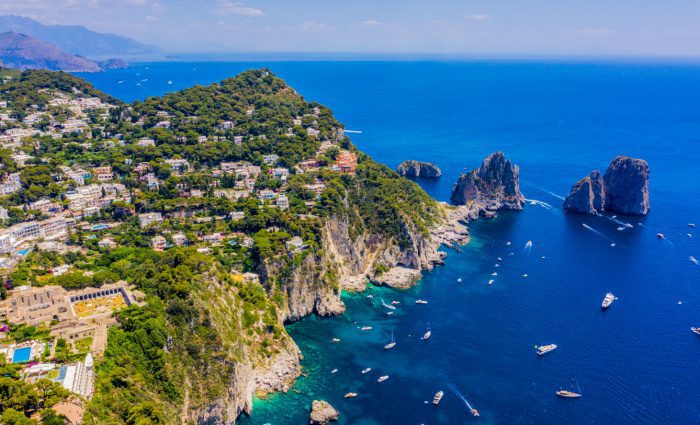 This is Capri's classic walk and also the most famous. Starting from Piazzetta, the main square, with a 10 minutes walk, you'll reach a belvedere terrace (Punta Tragara). Here, you'll admire the Faraglioni, the famous Capri rocks that are also a symbol of the island. To do the walk, you have three options, and they all start from Capri's tiny central square (Piazzetta). The first option is taking Via Camerelle and walking past famous boutiques and shops. You'll reach the view terrace in ten minutes (this option is 1 km long).
The second option is taking Via Delle Botteghe. It's more or less the same length, but you'll avoid the luxury temptation (your wallet says thanks). The third option adds another panoramic stop to your walk. At the end of Via Botteghelle, continue on Natural Arch Street. As the name indicates, you'll see a beautiful natural arch in the sea. You can take a scenic picture and then come back to get back to the crossroad and continue to Punta Tragara to see the Faraglioni.
Address: Punta Di Tragara, Capri
---
---
Recent Blog Posts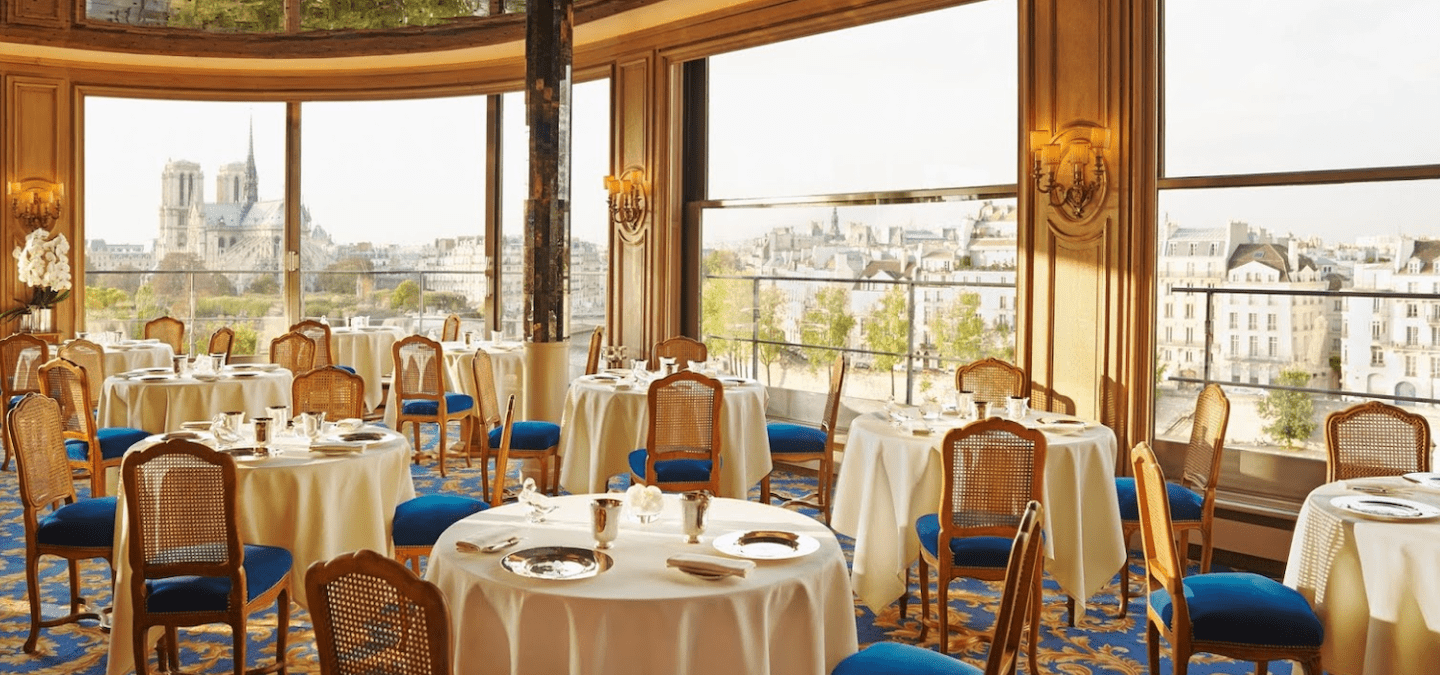 You've just toured the Notre Dame Cathedral, and you feel your stomach grumbling before you know it. It's time to eat. But where? The area near Notre Dame is packed full of tourist traps that are sometimes hard to identify until you're already inside. Not to worry – our Parisian guides have compiled a list […]