Preparing for a dream trip to Paris? We've worked hard to compile a complete guide to make your dream trip come true.  Our guide is full of planning tips for your first trip or a repeat visitor. It is full of trip ideas, best places to eat, where to stay and things to do for your trip to Paris, France. You're welcome ( ; 
---
Pro Tip: This article is a table of contents for all our information in Paris.  It's definitely a good article to bookmark in your browser if you are planning a trip to the city of lights.
Also, walking around Paris aimlessly discovering the city sounds romantic but maybe for a half day.  Having a plan to get the most out of the city goes a long way.  Check out our Paris tours and other great experiences.
What This Article Covers:
Airports & Public Transport
Where to Stay
Things to do
Food Culture & Tipping
Credit Cards & Communicating
When to Travel to & What to Pack
1. Airports & Public Transport
Paris Airports
Paris has three airports all located in different areas.
CDG – Charles de Gaulle
ORY – Aéroport de Paris-Orly
BVA – Beauvais–Tillé Airport
The biggest one is the Paris Charles de Gaulle, in the Roissy region of Paris. Once at the airport, you'll have several ways to reach the city center.
The fastest one is the train, called RER, that will lead you to different metro stops in Paris (the best one is probably Gare Du Nord, where you'll find other metro lines). Buses are also an option and, of course, taxis.
The second largest airport is Orly. Once there, you might want to catch the bus that will lead you to the stop "Denfert-Rochereau" and, from there you will find the metro line 4 and 6 to reach the city center.
If you're landing at Beauvais airport, which is about 45 miles from Paris, you can catch the bus right outside of the airport that in more than one hour will bring you at the stop Porte Maillot, very close to the city center.
Didn't find what you need? Check out our more comprehensive article dedicated to Paris airports:
Metropolitan of Paris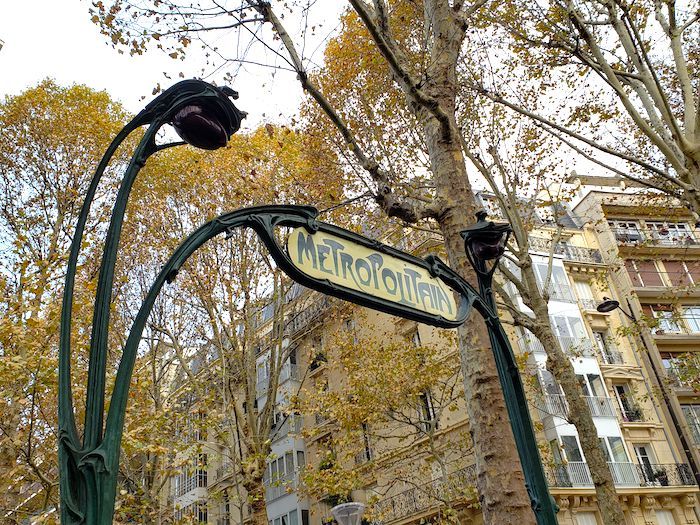 Counting 16 different metro lines and 303 stops, Paris is a city where you can reach every area by train. Your quick answer to conquering the Paris Metropolitan is to download the RATP app.
The Parisian metro reaches even areas right outside of the city and, if you have to go even further, several trains or RER lines are available.
Keep in mind, though, that the city center is not so big, so you should be able to reach places by walking.
So, check your map and your itinerary before opting for the subway, you might enjoy a nice walk outside instead! Also, it might be a smart move opting for a weekly card for transportation instead of metro tickets.
You can get the card at RATP offices at the metro stops and you'll only need a small photo of you to get it!
A great way to acclamate yourself with Paris is to check out our Paris in a Day tour.
Didn't find what you need? Check out our more comprehensive article dedicated to Paris airports:
---
2. Where to Stay in Paris
Paris is a large sprawling metropolitan city split up into two banks which are divided into a total of 20 districts or arrondissements.
Like any destination, the closer you are to the center and nicer areas will dictate how much you pay for your accomodation. In short, we recommend these neighborhoods for that picturesque trip to Paris:
Le Marais
the Latin Quarter
St. Germain des Prés
Montmartre (further from main attractions)
Rather than explain it here, check out our entire article on where to stay while visiting Paris. The article provides super focused recommendations on specific squares and streets you should stay within walking distance too.
---
Our Best Versailles and Paris Louvre Tours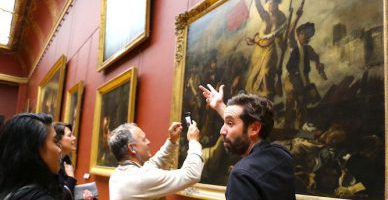 Top-Rated Tour
Secrets of the Louvre Museum Tour with Mona Lisa
The Louvre is the largest art museum on Earth and the crowning jewel of Paris, which is why it's on everyone's bucket list. Don't miss out on an incredible opportunity! Join a passionate guide for a tour of the most famous artwork at the Louvre. Skip-the-line admissions included.





See Prices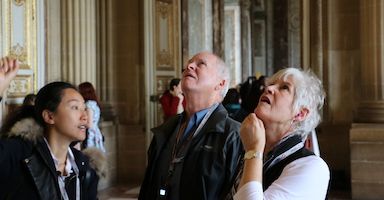 Likely to Sell Out
Skip-the-Line Palace of Versailles and Gardens Tour from Paris
Versailles isn't that difficult to get to by train, but why stress over the logistics? Meet a local guide in central Paris who will purchase your train tickets and ensure you get off at the right stop. Then enjoy a guided tour of the palace and the unforgettable gardens. Skip-the-line admissions included to the palace and gardens.





See Prices
Not ready to book a tour? Check out Paris Guide for more resources.
3.Things to Do in Paris
This topic is particularly long. I condensed some quick options here in this article so definitely check out and bookmark our much more comprehensive guide on things to do in Paris.
Top Museums
The Louvre
The Palace of Versailles
Musée d'Orsay
Rodin Museum
Musée de l'Orangerie
Paris Museum of Modern Art
Musée National Picasso-Paris
Musée Marmottan Monet
Louis Vuitton Foundation
Top Monuments
The Eiffel Tower
Notre Dame Cathedral
Sacre Cœur
The Arc de Triomphe
Palace Royal
The Pantheon
Hôtel National des Invalides & Musée de l'Armée
Trocadéro & Palais de Chaillot
Saint-Chapelle
Hôtel de Ville
Père-Lachaise Cemetary
Must See Gardens & Parks
Luxembourg Gardens
Tuileries Garden
Bois de Boulogne
Jardin des Plantes
Champs de Mars & Trocadéro
Absolutely Free Things to do
Museums Free on 1st Sunday of the Month

Rodin Museum (Oct – March)
Musée de l'Orangerie
Musée d'Orsay

Buren's Columns of Palais-Royal
Stravinsky Fountain
Memorial to the Martyrs of the Deportation
This list is a great starting point for your next 5 or so trips to Paris. Definitely don't try to fit it into one trip. Ideally, you pick a few things for each trip that really speaks to you as a traveler. Don't forget to check out our more elaborate post on things to do in Paris!
---
4. Food Culture & Tipping in Paris
Food Culture
Restaurants & Sit-Down Meals
Paris is all about sitting down to a really good, heavy meal. From a Cafe to Michelin star-rated fine dining, Paris is one of the best places on Earth to eat. Stinky cheese to the fattened liver, like it or not, these people know how to live at any animal's expense. Let's break down the types of places you can eat at:
Restaurant
This name is quite generic and includes everything from Michelin starred establishments to a more casual atmosphere. In general, a restaurant is where you will go for at least a three-course meal with no rush to eat.
Bistro
Originally a family-owned joint with local fare. Known to be chaotic eateries with a robust crowd and everyone sitting next to each other. Legend has it that the word originates from the Russian word pronounced the same which means- Fast!
Nowadays you have big-name chefs who have taken over and reinvented the Bistro brand, but you still might be sharing a table with someone else.
Brasserie
The word in French means Brewery and originally most were owned by the Alsatians ( Eastern province in the mountains) so dishes revolved around Sausage, Sauerkraut, and fresh beer.
Today you can still find some and while they have changed the food a bit, they are still big establishments and great with a group of friends.
Cafe
These are places you find on every corner- No frills with cheaper, down to earth food. Open all day long from breakfast to late at night. You can order just a drink or a whole meal.
Wine Bar
As the name implies- these are smaller, more intimate establishments where you can enjoy a glass or bottle of wine at a small table with some snacks or small plates of Cheese and Charcuterie.
Pâtisserie
These are traditionally pastry shops. Sometimes there are tables to order and eat inside, but usually, it's pick up and get out. From cakes to chocolates, to everything else sweet, it's your sweet tooth's best friend.
Boulangerie
Translated literally as Bakery. If you want a baguette or a croissant, this is where you will go. It is not possible to eat inside a Boulangerie, they are only to take away.
Street Food
French food is far from perfect for street food. The French invented haute cuisine which is better enjoyed sitting down. That said, today's busy world has definitely forced even the Parisians to adopt takeaway type foods.
Let's talk about some serious business, Paris street foods. Here are the essentials:
Galette Brettones

a sort of salty sandwich made with buckwheat crepes.

Croissant
Baguette

French bread found at a boulangerie.

Falafel & Kebab

Middle eastern street food adopted into French cuisine.

Crepes

thin pancake-style dish served sweet or salty.
To do so, keep one thing in mind: avoid chains and opt for some small boulangerie instead, which will be cheaper and better! Check out our article on the best patisseries in Paris.
Finding Parisians boulangeries is not hard, they are everywhere. Once there, you will even find some already stuffed baguettes or salad, which could be some healthy options for quick lunch outside.
To get a full taste of Parisian food, in one of the hippest neighborhoods, check out the Le Marais Paris Food Tour.
Tipping Etiquette in Paris:
In Paris, a service charge is included in your bill for dining out. There are however some occasions where you may want to add between 5% and 10%.
If you eat something small or get a coffee, no tip is expected. If you sit down and have a large meal where the waiter really ads to your dining experience, you should leave something extra. Here are some scenarios:
Dining: sometimes
Taxi: longer trips
Tour Guides: always!
Porter or Bell Hop: always!
---
5. Credit Cards & Communicating Paris
Credit Cards:
In Paris, you will be able to pay for practically everything by card so, cash is not particularly required. In some situations though, you should use cash.
If you're planning to buy something in a small boulangerie, for example, cards will be accepted after a certain amount, maybe 10€, and you might want to have some cash on you.
As a general rule, you should keep in mind that small shops might not always accept credit cards.
Speaking English, or French, in Paris:
People can sometimes consider Parisians as cold or just not so friendly, but that's actually not true! The only thing you should keep in mind once there is that they like good manners.
That's why when entering a shop, even a small one where you want to have a look, start with a bonjour (good morning in French) and continue with an au revoir, merci (bye, thank you!) when leaving.
Parisians are all different obviously. Some speak English well and others don't – or at least they won't admit it. Check out our article on helpful French phrases to kick-start conversations in Paris. Sometime just making an attempt is all you have to do.
Our Best Guided Tours of Paris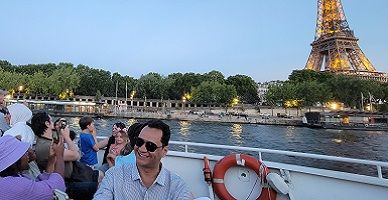 Likely to Sell out
Privileged Access Eiffel Tower Night Tour with Seine River Cruise
Sometimes the most amazing moments happen by chance. Other times, they are orchestrated by professionals. Our Eiffel tower tour cruises by the famed monument as it lights up and you drink champagne. After, you'll have tickets to enter the tower and ascend to the 2nd level with an elevator.





See Prices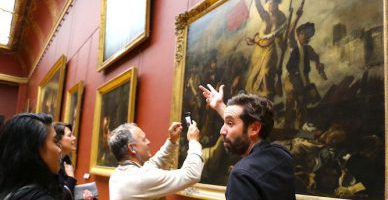 Top Selling
Secrets of the Louvre Museum Tour with Mona Lisa
The Louvre is the largest art museum on Earth and the crowning jewel of Paris. It embodies the French vigor for life. Join a passionate English speaking guide for a tour of the most famous artwork. Skip the line admissions included.





See Prices
Not ready to book a tour? Check out Paris Guide for more resources.
---
6. When to Travel to Paris and
What to Pack
When to Travel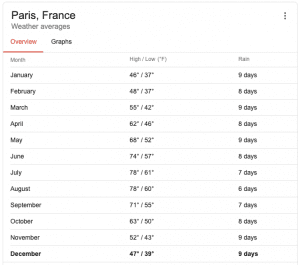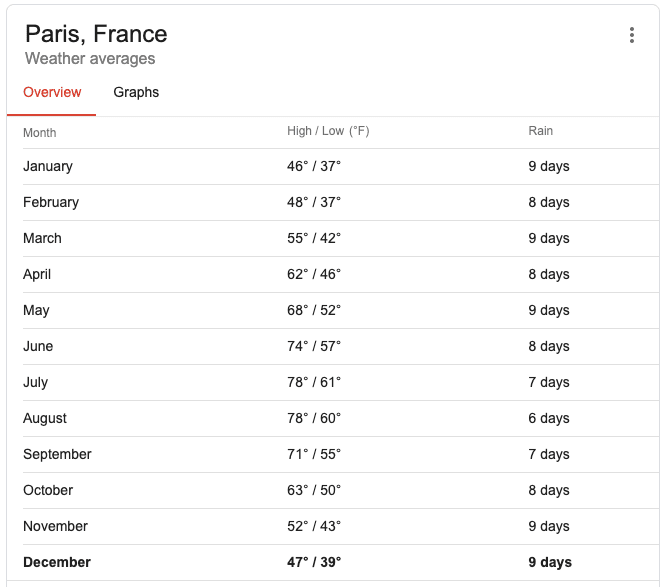 In short, late April to early June is my, Sean from Youtube's, favorite time to travel to Paris.
If this snippet isn't enough, check out our more detailed article on When to Travel to Paris Including Month by Month Events to consider and data on peak and off-peak pricing.
I personally enjoy cool weather and don't mind it being overcast. You should look into the Paris' weather averages per month to see which month looks best for your travel preferences.
Google provides a weather breakdown per month if you google "Paris Weather Averages." The chart seen here is a screenshot of that page.
As mentioned, going to Paris in April, May or early June is nice but you can find similar or better weather in Paris in September, or October. These months are also peak times to travel to France for high-end travelers. You may find hotel prices for 4 star + hotels to be higher than July or August.
If you are trying to see Paris on a budget and don't mind being cold and wet, off-season for Paris is November through mid-December and then Jan – March. It is definitely the cheapest time to travel to France and you can get pockets of nice weather. Paris doesn't really get extremely cold or hot and you can count on rain 25% of the time you are there regardless of season.
Also, don't forget your umbrella, as summer rain could be around the corner!
What to Pack
In short, your most stylish clothing.
Paris is known for style and generally dressing well. Everything is stylish from the people to their gardens to caffé. Style is one of the things the French have going for them and it doesn't appear to be going away so leave the gym shorts at home and bring your coolest swag. Other than that, here are some items that must be on you in Paris.
An Umbrella or Raincoat – If you can find a high quality foldable umbrella and put in your bag, definitely plan ahead. If not, plan on spending 10€ to 20€ on a decent umbrella and bring it with you. It rains in Paris all the time so unless you are ok being wet, carry an umbrella. You can also pack a raincoat instead of an umbrella.
Sneakers & Nice Shoes – Definitely bring your coolest sneakers. If they are a sporty pair of asics that shimmer and shine, consider following some travel bloggers. I am not the most stylish person, but I see people in Paris wearing a lot of solid colors. Something to think. about. You are also going to want some nice shoes too. Don't walk into a nice restuarnat in sneakers – it may get awkward.
Layers – Paris' weather is unpredictable. It's warm when the sun is out and cold when cloudy. Layer up each day so you can manage.
Money – Not literally, but put aside a strong budget for Paris. You can definitely admire the free outdoor architecture but there is a lot to do and it is a shame to miss it all.  If you want to do it right, budget 50€ per day for activities.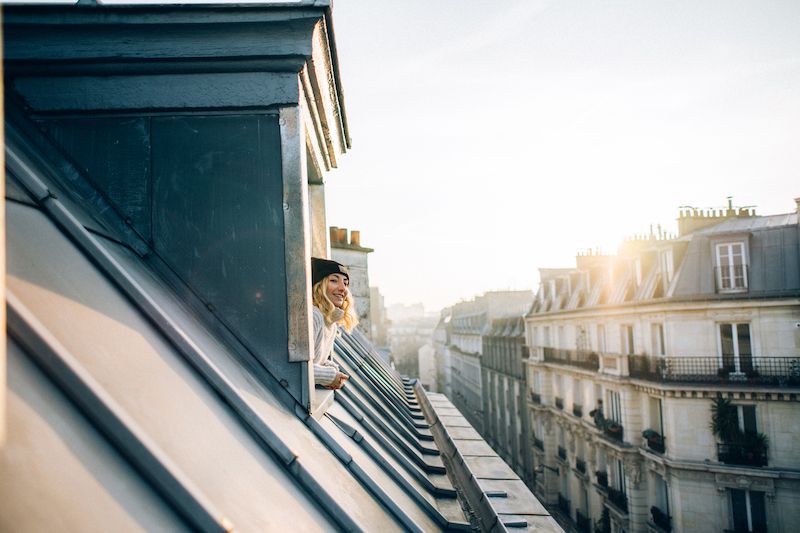 Find the best places to stay
Where To Stay in Paris
With a city as magnificent as Paris, it can be hard to find the perfect hotel at the perfect price. Explore the best hotels and places to stay in these incredible neighborhoods in Paris.
I Want More Paris!
Not sure what to do in Paris? Check out our step-by-step guide about how to do Paris in a Day. If you'd rather let us guide you, check out our Paris tours.
Parlez-Vous Francais? Learn some of the most important French phrases before your trip to Paris.