Picture a sunny paradise. What comes to mind may well be Positano. Those stunning Amalfi Coast views are iconic, but they might make you wonder where on earth you should (or can) stay. Choosing your hotel in this "vertical town" is essential whether you want a luxury hotel on the beach or a B&B on the mountain. Use our guide for where to stay in Positano to find your perfect hotel.
---
Pro Tip: Heading to Positano? It's easier to organize your trip when you have all your resources in one place. Bookmark this post along with our Amalfi Coast Guide for more info, our best Amalfi Coast tours for a memorable trip, and the top things to do in Positano.
The Best Hotels in Positano at a Glance
---
---
Where To Stay in Positano: Best Hotels and Neighborhoods
Set on a steep cliffside of the Amalfi Coast, Positano has been the preferred getaway of celebrities today and in ancient Rome. Maybe it's the charm of the winding streets lined with bougainvillea, or the vistas of azure blue waters below, or the luxury of an Italian coastal town. Whatever it is, staying in Positano is a bucket-list item for couples and luxury travelers.
Positano has retained its appeal over the years, which has a lot to do with its location. That also means you'll have to be prepared to get your steps in as you navigate the steep streets, but that's how you get those breathtaking views! All you have to decide is your budget and how high of a view you want!
I've put together this guide explaining the vibes in each area and my favorite luxury hotels or quaint stays to help you decide where you should stay in Positano. Plan to reserve your hotels far in advance since Positano hotels book out fast! Here are the areas we'll cover:
Our Partnership with Booking.com. If you like our content, please book by clicking on our Booking.com links. The price is the same for you, and we get a small commission that helps support our helpful blog content. We've partnered with Booking.com because they have the most options, great prices, and a solid loyalty program.
Central Positano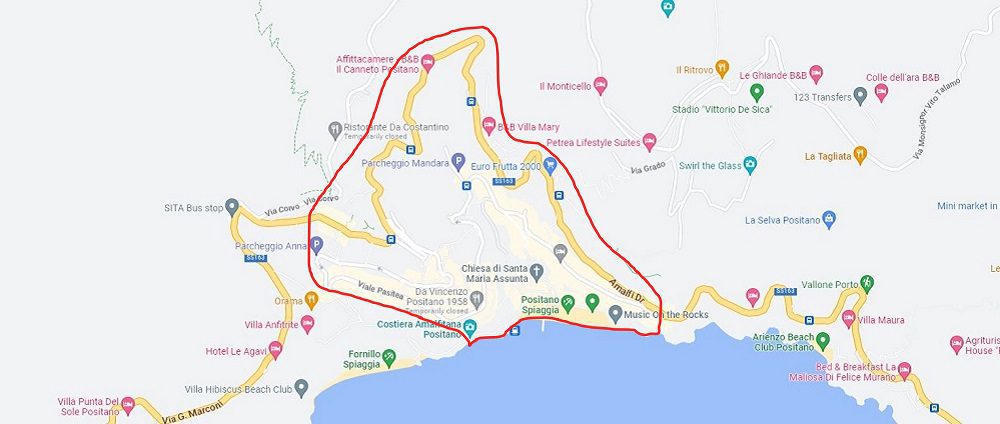 If you want to be in the center of Positano's hustle and bustle, this is the place to stay. Positano's historic center is an area of alleyways and steps that wind downhill toward the main beach, Spiaggia Grande. It's where you'll find most of Positano's shops, particularly local handicrafts.
Strolling the narrow streets in Positano is everyone's dream, but make sure you're prepared for it. These steep streets and stairs are not for the faint of heart, especially in the height of summer in August.
Also, it's worth noting when you choose your hotel that the center is packed with crowds during the high season, which also means the highest prices. Still it's where most people stay. If you're looking for peace and quiet, check out other locations I recommend below.
---
Not ready to book a tour yet? See our Amalfi Guide for more info.
Why I Love Central Positano:
It has that romantic feeling of a classic Amalfi Coast village
Summertime fashion is easy to find
There are incredible views around every corner
The best selection of hotels and restaurants
It's where the nightlife happens
Attractions near Central Positano:
MAR (Archeological Museum of Positano)
Church of Santa Maria Assunta
Handmade pottery shops and leather sandals
Moda Mare Positano summer look boutiques
Spiaggia Grande beach
Music on the rocks—the best nightclub along the Amalfi Coast
Best Restaurants in Central Positano:
Best Hotels in the Central Positano:
Le Sirenuse
€€€€ | 5 Star | Luxe | Michelin-Star Restaurant
If you want the best luxury hotel in Positano, try Le Sirenuse. It's all about the high-end hospitality experience. I recommend it for couples who want a retreat with all the indulgences of fine travel and epic views. Enjoy two dining options, various bars, and a refined retreat close to the beach.
Alcione Residence
€€€+ | 3 Star | Traveler Favorite | Ideal Location | Apartments
For families and couples who want to splurge for an apartment with a view in the center of Positano, Alcione Residence won't disappoint. That's why so many of our readers book this hotel! Breakfast is incredible, the balconies have that view you want, and you're just steps from the beach.
Casa Nilde
€€+ | 3 Star | In-Room Breakfast | Lovely Owners
For travelers who love getting to know friendly hotel owners, Casa Nilde is a great choice. You'll feel like you've made new Italian friends while staying in a perfect location that's near everything you need.
Albergo California
€€€ | 3 Star | Romantic | Family Friendly | Central Location
This hotel has 15 spacious rooms—some equipped with a jacuzzi! The oldest wing of the building dates back to 1777 and is decorated with ancient frescos. Breakfast is served on a panoramic terrace and the hotel offers a dining option open to the public. You'll feel a family vibe here, as the hotel is elegant yet cozy.
Villa Maria Antonietta
€€+ | 3 Star | More Affordable | Charming
Don't need a super luxury hotel? Then check out little Villa Maria Antonietta, a charming boutique hotel. It often has much lower prices than most central Positano hotels, but that also means it can book up quickly. You'll be surprised at just how great the views actually are here too!
Hotel Punta Regina
€€€ | 4 Star | Elegant | Pool | Terrace
You'll feel right at home in these spacious and elegantly decorated rooms. Breakfast is served on a majestic terrace where you'll enjoy stunning views and you'll be close to the action in Piazza Dei Mulini. If you're looking for privacy, the hotel offers a guest house service called PuntaRé.
Fornillo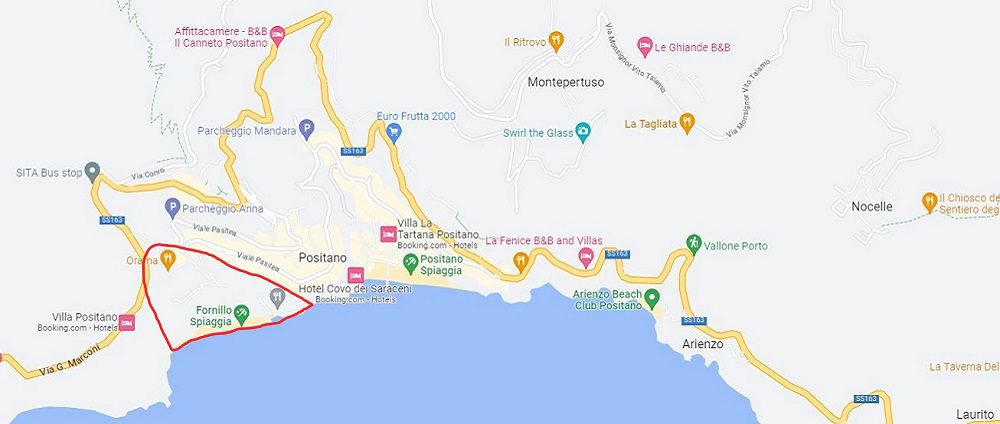 Fornillo is one of Positano's most charming neighborhoods with a super relaxed atmosphere. The Fornillo beach is where locals go for a swim to avoid the crowds on Positano's main beach, so staying here is ideal for a cheaper stay in Positano or those who prefer staying just out of the main tourist areas.
Staying in this neighborhood is perfect for anyone looking to get out of Positano's tourist hotspot and discover a hidden side of the vertical town. You can reach Fornillo beach by boat from Positano's main harbor in a few minutes or by walking.
The walk is well worth the effort as the route is scenic and only 10 minutes long. As for the cliffs of Fornillo, you won't mind the uphill walk as long as you enjoy a bit of trekking. For the less active, there's always the shuttle bus.
Why I love Fornillo:
It has a unique vibe that comes from a long history
Lots of artists choose it as their second home
It helps you keep fit and enjoy nature
You'll feel out of the tourist bustle but just close enough
Attractions near Fornillo:
Fornillo beach
Fornillo Grotto with a traditional nativity scene
Saracen tower
Via Boscariello: 107 steps will get you all the way up to the main road SS163
Church of Santa Caterina
Best restaurants in Fornillo:
Best hotels in Fornillo:
Hotel Vittoria
€€ | 3 Star | Family Run | Comfortable | Great Views
Located on the upper side of Fornillo, this hotel is a home away from home. Choose a superior room for a private terrace and a superb view over Positano, or a standard room for a partial sea view. The hotel has a partnership with Pupetto restaurant on Fornillo beach, so you'll receive a discount when you dine there.
Villa Anfitrite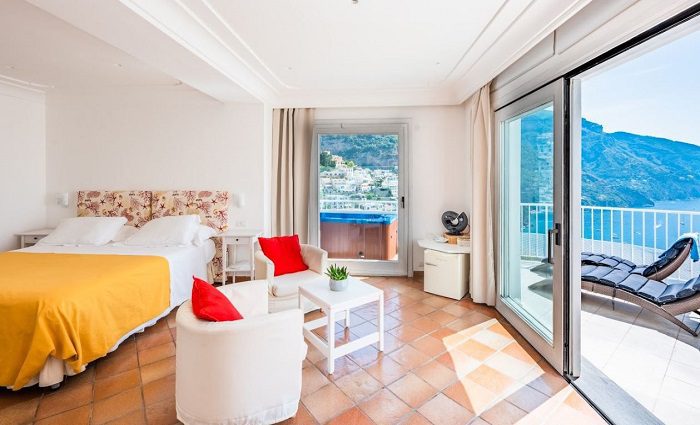 €€€ | 3 Star | Panoramic Views | Rooftop Garden
For a little higher price, couples can enjoy an unforgettable breakfast on a balcony with unforgettable views of the bay. They even have a jacuzzi if you want to soak in some bubbles while taking in the view. Yes, there are 200 steps to the hotel, but it's absolutely worth it (and the bellhops will help with bags!).
Casa Guadagno
€€ | 1 Star | Affordable | Great Views | Comfortable
This is the perfect choice for anyone wanting to save a bit on hotel expenses without sacrificing the charm of a panoramic view to wake up to. Apart from the standard double room, most rooms do have a sea view and private terrace. This is a fantastic hotel in Positano at an affordable price.
Hotel Pupetto
€€€ | 3 Star | On The Beach | Beach Resort | Restaurant
This hotel is the perfect choice if you plan to spend lots of time on the beach in Positano. Hotel Pupetto has a beach resort and restaurant service, which will make your beach days as easy as they get. With 34 panoramic rooms ranging from superior to standard, Hotel Pupetto is the best way to enjoy Fornillo beach. If you're on a budget, opt for the garden view rooms.
Arienzo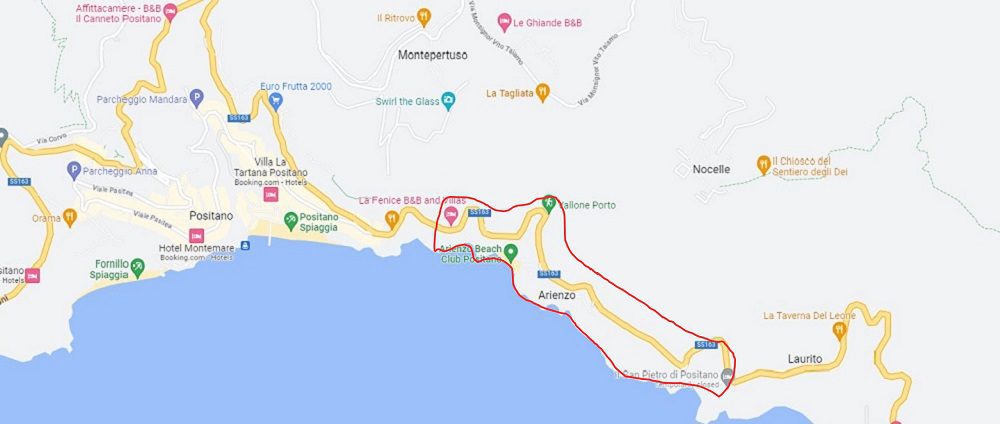 If you're looking for another beach to stay at near Positano, head to Arienzo. There are only a few hotel options here and they sell out quickly in the summer months, so plan ahead!
Some hotels are just a 20-minute walk to Positano's Marina Grande, but here at Arienzo, there's both a private and a free beach. You can reach it by sea on a shuttle service from Marina Grande or by walking a long staircase starting from the main coastal road.
When I say long, I really mean it—it's 300 steps in total! Arienzo is also on the Path of the Gods route, so hikers will also love staying here. The prices here can be high, but you might find a great deal at a little B&B if you love the appeal here.
Why I love Arienzo:
On Arienzo beach, the sun sets later so you can enjoy longer days.
Great for snorkeling
Quieter than Positano's center
Attractions near Arienzo:
Arienzo beach club—one of Positano's best resorts
Franco Zeffirelli private villa
Vallone del Porto
Praiano
Best restaurants in Arienzo:
Best hotels in Arienzo:
Casa Gilda Positano
€€€ | Family Friendly | Apartment | Great Value
Choose Casa Gilda Positano if you're here for a longer stay or you have a family and need some extra space. The kitchen and extra sofa bed make this super convenient too. You're a little further from the beach, but it's a bit quieter of a location too.
Il San Pietro di Positano
€€€€€ | 5 Star | Luxury | Beach Access | Pool | Michelin Star Restaurant
There's something extra special about this hotel. It's the only hotel in Positano with direct access to the beach by way of an elevator carved into the rocks. For travelers who want to stay in a place a step above the rest, this is the place. Some rooms have wide panoramic terraces. Enjoy excellent dining in one of three restaurants (one with a Michelin star).
Villa Pietra Santa
€€€€ | 3 Star | Breakfast Included | Courtyard Terrace
This charming villa has several private guest rooms for couples who want a cliffside hotel that comes with a little oasis of green space. Lounging on your balcony is the perfect way to enjoy a quiet morning before going exploring. You're just a 20-minute walk from the main Positano beach.
Montepertuso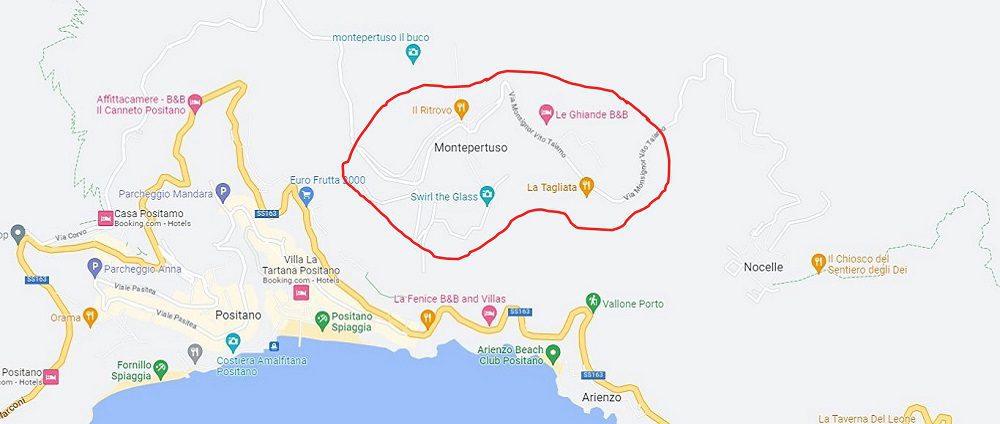 If you want to experience the real Amalfi Coast life like a local, I suggest you spend some time on Positano's cliffside (Montepertuso and Nocelle). Montepertuso is ideal for travelers who love trekking or being closer to nature.
Located on the upper side of Positano, this neighborhood offers some of the best views over the bay. Historically, Montepertuso was connected to lower Positano by a 1,500-step stairway. Fortunately for you, there's now a convenient road, so you can reach it by car or bus.
In Montepertuso you'll feel off-the-beaten track but close to Positano. So, if you're into hiking or just want to enjoy a peaceful retreat, this is for you. The area is famous for a trekking route that leads to a hole in the mountain.
Why I love Montepertuso:
Beautiful setting surrounded by nature and great views
Great for hiking or trekking
Attractions near Montepertuso:
Trekking route to the mountain's hole
Old Fountain (Fontana vecchia)
Santa Maria Delle Grazie Church
Best restaurants in Montepertuso:
Best hotels in Montepertuso:
Petrea Lifestyle Suites
€€€ | 3 Star | Intimate and Stylish | Mountains and Sea
This boutique guest house offers three elegant suites, each equipped with a private terrace. It's the perfect choice for a meditative getaway without being too far from lower Positano. For the ultimate privacy, there's Casa Giulia—a private apartment with a terrace and a garden.
Colle dell'Ara
€€ | 3 Star | Sustainable Tourism | For Trekkers and Nature Lovers
If you're looking to make a strong connection with your local hosts, I say go stay at Giacomo, Marco, and Pasquale's B&B. They state it clearly: Colle dell'Ara is not a hotel. The guys inherited their father's rural spot and turned it into a unique hosting experience. This place is for trekkers: to reach it, you'll have to take a 300-step staircase.
Nocelle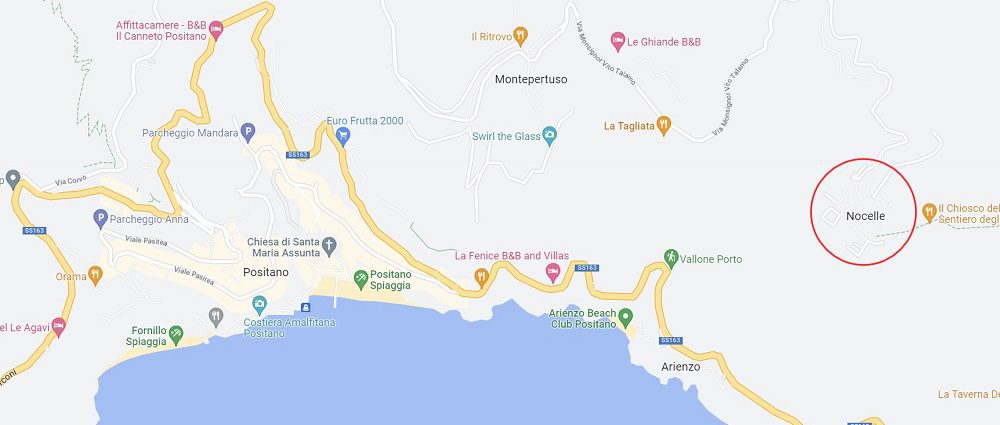 For super secluded stays at B&Bs, Nocelle is ideal. This is where to stay in Positano if you're looking for a quiet, romantic getaway where you'll enjoy local hospitality (and fewer amenities). There aren't many restaurants here, but most stays are quaint B&Bs with tasty breakfasts.
Like Montepertuso, Nocelle is in the upper part of Positano, located 450 meters above sea level. Peaceful and quaint, Nocelle is where you could start your hike on the famous Path of the Gods (or ending point, depending on where you start).
The rural landscape is punctuated with breathtaking views of Positano, Capri, and Li Galli. Stay in Nocelle if you like hiking or simply want some serenity. Big plus: the neighborhood is cool even on the hottest days thanks to its altitude.
Why I love Nocelle:
Mystical feel
Right on the Path of Gods
You still feel the old rural culture here
Sun-kissed for most of the day
Easy parking
Attractions near Nocelle:
Basilica Santa Maria di Lauro
Historic Center
Assunta Church
Angels Chapel
Resegone and Alimuri lidos
Best restaurants in Nocelle:
Best hotels in Nocelle:
Villa Casola B&B
€€ | 3 Star | Tranquil | Beautiful Views
Villa Casola is a small B&B just a couple miles away from Positano's center. With only three rooms, Villa Casola is an intimate place to stay for honeymooners who want stunning views and a tranquil ambiance. Breakfast is highly rated and there's a Sita bus stop 5 minutes from the property.
Casa Cuccaro B&B
€€ | 2 Star | Authentic | Peaceful | Panoramic Views
This cozy B&B has seven rooms, each with a private terrace! The owners, Pepe and Geraldina, are fantastic hosts. You'll be surrounded by nature and right in Nocelle's center, but don't expect too many facilities. There is a restaurant a few steps away though.