The early bird catches the worm! Get an insider to peek into the top places to visit in Ireland.
---
Pro Tip: If you're planning a trip to Dublin, consider bookmarking our dedicated Dublin page, with articles on The Cliffs of Moher, Giant's Causeway, Titanic, and more!
The Top 12 Places To Visit In Ireland
---
Anyone with an interest in Ireland will probably know a little bit about the main cities (Galway, Cork, Dublin, and Belfast). All stunning places in their own right, but charm, vibrancy, and scenery can be found in other, lesser-known, cities and towns. Keeping that in mind, this article includes places that are considered off-the-beaten-track to those traveling from afar. No matter where you are located on the island, though – you'll never have a shortage of pubs, hearty food, music, or "craic!"
Furthermore, seeing as you're on the quest for knowledge, why not circle back afterward and check out top places to stay in Galway, Cork, or Dublin? Now, without further ado, here are the best places are to visit in Ireland.
12. Surfer's Paradise in Donegal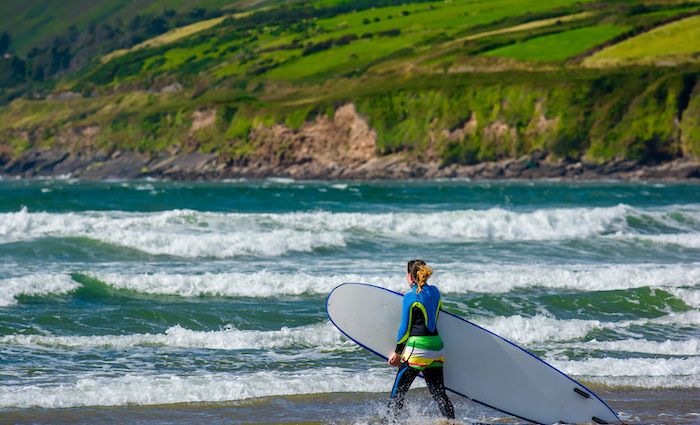 Back in 2017, the EU deemed Donegal as "one of the most resilient and ambitious places in Europe." Even though the Irish has a nickname for it, which is "Ireland's forgotten county." The reason for this is because it resides on the northernmost quarter of the island. Oftentimes, it's a very isolated area, the public transport is sparse, and northern Donegal accents differ from the rest of The Republic. That said, you wouldn't want to be anywhere else when you have Slieve League – the highest seaside cliff in Europe, glacial fjords like Lough Swilly (yes, I know), and the wild, Atlantic coastline.
Above all though, Donegal is a safe haven for surfers who enjoy riding the waves from dusk till dawn. Of which, the seaside town of Bundoran is the most utilized (there are frequent surfing championships as big as Quicksilver and Billabong held here). In other water-based attractions, Donegal has Lough Eske, a magical place with glass-like water that you can skip stones on. Moreover, the stunning Lough Eske Castle is on this territory. So, if you feel like pampering yourself, go and book a suite at this five-star hotel.
Whether you're walking hand in hand on the white sands of Portsalon beach, eating in the Michelin Starred Lemon Tree, or "finding yourself" in the lush mountains of Errigal or Derryveagh… Donegal is a county that will warm your cockles.
11. Street art and Castles in Waterford
Just yesterday, The Irish Times news outlet hailed Waterford as "the best place to live in Ireland." I wholeheartedly agree. Now, I'm biased, seeing as I was partly raised in this southeastern city… But there's genuine truth to this statement. First of all, it's the oldest Medieval city in Ireland. We get a reminder of this every day when modern Waterfordonians refer to themselves as the "Déise" [day-shah]. To explain further, the Déise were an Irish tribe who settled in Waterford during the 8th century.
As far as cultural attractions go in Waterford, you have the whole kit and caboodle. Pictured above is just one example of the dozens of large-scale art murals that line the streets. This is all down to the 'Waterford Walls' initiative, who work hard to source celebrated street artists from across Ireland, as well as from all over the world. This alone should be a good reason to visit Waterford, but it doesn't stop there. You have SPRAOI, an annual street theater festival that runs in July. There are also regional foods like the Waterford Blaa, which is a delicious floury bap. You then have buzzing nightlife over at The Apple Market (a section of town with cool bars like Geoff's, The Kazzbar, and also gastro restaurants like Bodega).
Furthermore, you can find a superb fillet steak over at the five-star Waterford Castle, which resides on a private island. It also neighbors the popular seaside resort of Dunmore East and the amusement parks of Tramore. Overall, I can't stress this enough: if you love entertainment and the arts, come on down to Waterford.
10. The Atlantic Ocean in West Cork
Cork aka "the rebel county" is located at the southwestern tip of Ireland. It's the closest landmass to North America from Europe. West Cork even more so. As a young one, my elders told me that on a clear day you could actually see New York from Mizen Head! However, I think they were lying to me. Nonetheless, if you are traveling to Ireland, I would make sure you stay in one of West Cork's chocolate-box towns. Some of the best places to stay, are Glengarriff, Schull, Clonakilty, and Skibbereen (Skibbereen is the nicest one, but also the most touristic).
As far as doing activities in West Cork, nature lurks around every corner. First off, there's the Gougane Barra Forrest and lake. You then have the scenic Ring of Beara, Baltimore cliff walks, Healy Pass, Bantry Bay, Inchydoney Beach (one of a dozen beaches)… You also have a number of islands to hop around, such as Sherkin Island and Dursey Island. The latter of which, holds Ireland's only cable car that zooms over the ocean.
Those who like to marvel at ingenious architecture can then head over to Bull Rock lighthouse. This is a deserted island that has a Tibetan-looking building carved into its cliff face. After tiring from the outdoors, you can sit back with an afternoon tea at the Palladian style, Bantry House and Gardens. Or, more casually, stop by DeBarra's pub in Clonakilty for a pint of the black stuff and some live Irish music. If you're stuck for somewhere to stay, feel free to also check out our list of best hotels in Cork.
9. Medieval Kilkenny
Kilkenny is a funny place. It's where I was bred and buttered, but it's also a medieval contradiction. Some theorists don't consider it a city, which has been the center of debate for 400 years (but trust me, by all accounts – it's a city). Also, the locals used to have their own currency in the global recession, which was called "The Cat" (now they accept Euro though, so don't worry!)
Currency and semantics aside, Kilkenny is a seriously creative and quaint place. You have comedy festivals like "The Cat's Laughs," as well as weekly market stalls and art exhibitions. In terms of the cityscape, Kilkenny's medieval look is accredited to 12th century Norman times. So, expect lots of stone.
Kilkenny is also geographically inland, so you'll see lots of green fields, rivers, and mountains. Namely, Brandon Hill and "the three sisters" interconnecting rivers (The Nore, The Suir, and The Barrow). Going back to the city, you can pop over to the Butler Gallery and ogle some traditional art. Alternatively, head over to Kyteler's Inn for a dose of Irish food, or pick up some beautiful Irish textiles at the National Design & Craft Gallery. Venturing outside the city, why not try your hand at glassblowing at Jerpoint Glass? Or visit the picturesque, Wisteria-lined walls of Inistioge village. Not to mention, Kilkenny is a great stopover spot for going to the west of Ireland.
8. The Big Smoke aka Dublin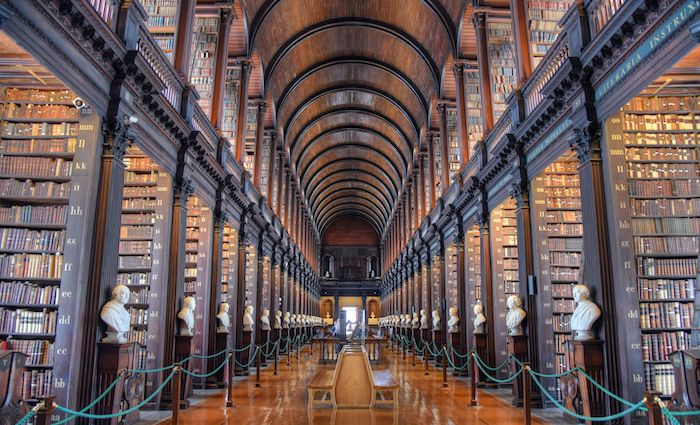 One of the most interesting things about Dublin is that you can go from the city center to the wilderness within half an hour. You have both land and sea at your disposal, such as the Dublin mountains, or the expansive coastline of Dublin Bay. In fact, there's so much to offer, that over a quarter of Ireland's population lives there! Which, of course, brings vibrancy and life to the place. You'll see this not only in the people, but in the street art, pub windows, excitable food plating, and even latte art.
As a visitor, you can experience some of this vigor through Candelit Tales (a night of Irish Mythology storytelling), or else through guided tours at The Leprechaun Museum (or honestly through any of Dublin's museums, distilleries, or breweries).
As a result, Dublin is a good choice for both introverted and extroverted travelers. You can come here for the drinking culture in Temple Bar (and preferably beyond), or else embark on a quest into nature, such as through the cliff walks in Howth or Killiney. Regarding cultural activities, you can do underground comedy nights at The Stag's Head. Perhaps fancy cocktails at The Vintage Cocktail Club, then Michelin Starred food at Locks Windsor Terrace or else indie gigs at Whelan's pub.
Considering Dublin is the capital of Ireland, there's so much to see and do. I couldn't possibly explain the city in two paragraphs, however, so I've written about it extensively here.
7. Strawberries and The Irish Sea in Wexford
Wexford is a striking and wholesome place to visit in Ireland's southeastern quarter. Like many towns along the coastline, it boasts a natural seascape with bold waves and rocky shores. Speaking of, Hook Head is one of the top attractions that showcases these elements, as well as the seaside towns of Kilmore Quay, Ballyhack, Curracloe, and Ballymoney. Due to the vast amount of beaches, Wexford is hugely popular with campers and holidaymakers staying in self-catering lodges. Visitors who are on the adventurous side can go angling at Kilmore Quay, or perhaps golfing at Wexford Golf Club. Alternatively, families can take the kids on a fairy trail at The Parable Gardens, or experience medieval mud huts at The Wexford Heritage Centre.
Travelers who need a splash of luxury can stay at the five-star Monart Spa and Hotel, which has the most impressive spa facilities (and pool) probably in all of Ireland. In terms of nightlife and food, Wexford has great offerings too! You can experience Irish food like cabbage and ham at Cistín Eile, or else contemporary Irish seafood at La Côte restaurant. Otherwise, rock into virtually any pub and receive a curious but warm welcome.
It might also be of interest to head out to New Ross (the hometown of John F. Kennedy's ancestors). The locals are very proud of this fact and have a monument and park dedicated to him. On the drive home, you can stop on the road and pick up some succulent Wexford strawberries from a road stall. A cultural norm, only in Wexford!
6. The Colorful Villages of Kerry
County Kerry is a glorious, peninsular region that sits above Cork in the southwest. It has an iconic drive called The Ring of Kerry, which takes you through all the rugged boglands, mountains, and shorelines. These parts are totally untouched – and so is the Irish language – with many locals speaking it on a daily basis. You can stay in plenty of scenic towns, too, such as Dingle, Kinsale, Kenmare, and Killarney. All of them have a magnetic charm and frequent overseas visitors. Kinsale and Dingle are the towns with all the colorful Irish cottages and shopfronts, then Kenmare and Killarney have the typical narrow streets with the fishing harbors.
On a visit to Dingle, you'd be a fraud if you didn't visit Dick Mack's famous pub or the Michelin Starred seafood restaurant called Out of The Blue. In a similar fashion over in Kinsale, you have to check out another Michelin Starred restaurant called Bastion, as well as doing a day trip to kiss the lucky Blarney Stone (maybe do it with a mask this time, though}.
By the way, Dunquin Pier is another sport for otherworldly views in Kerry. This is where some Star Wars scenes were filmed! And last but not least, American veterans might be interested in the Irish Veterans Museum in Dingle, which displays military regalia and pays homage to Irish and Irish-American soldiers.
5. Nomadic Life on The River Shannon
The Shannon River is the longest river in Ireland. To give you the context of its scale, it takes up a fifth of the whole island, running through twelve different counties (Ireland has 32 in total). This would be the equivalent of a river running through The United States from New York to California. So, boating on The Shannon is a great option, as it gives you the most coverage of Ireland within a week. You can rent a boat from a few providers, but most tend to go with the Emerald Star company. They have a large selection of cruisers that sleep up to twelve people. You can get a week's worth of your chosen boat for anywhere between €699-1249 (roughly $808-1445).
This works out as excellent value if you're splitting the costs between two families or groups (most Irish hotels would honestly cost that much for a week anyway). In terms of where you can go, you can plod along the river until you get to the sleepy fishing village of Killaloe in County Clare. You then have Dromod town in county Leitrim, or the quaint villages of Terryglass and Garrykennedy in county Tipperary. All of these towns would be the most worthwhile to moor upon. I did the Shannon trip as a young teenager with my parents and it's something I remember very fondly. I think families would have a ball doing this, including waking up every morning to lake views from your porthole. Nothing better.
4. The Aran Islands off Galway
County Galway has seven islands in total. The most visited ones are a grouping of three (Inis Mór, Inis Oirr, and Inis Meain), which are collectively called "The Aran Islands." These particular islands are located at the neck of Galway Bay. The other four islands are a bit further spread out (Inishbofin, Inishturk, Achill Island, and Clare Island). Out of all the islands to visit, Inis Mór is the largest and is the most worthwhile, as it has the most amount of restaurants, pubs, and attractions.
To get to The Aran Islands, you take an "Aer Aran" plane, or else a ferry, which departs from Doolin Pier in County Clare, or from Rossaveal in Galway. There's something unique on every island, for example, Inis Oirr has The Plassy shipwreck, Inis Mór has an ancient Celtic fort named "Dun Aonghasa" and also a natural marine wonder called "Poll na bPéist." Overall, you'll find that all the islands have low stone walls (which were used to separate fields for grazing cattle). You will also come across native Irish speakers with very little English. Something that is not seen on the mainland, today. Worth noting that the best way to see the islands is to rent a bicycle, which you can do on Inis Mór island. If you're looking for accommodation in Galway, why not give this list of hotels in Galway a gander?
3. Glendalough in Wicklow
Glendalough is a series of idyllic brooks, lakes, and valleys in county Wicklow. Moreover, it's just a stone's throw from Dublin city. The bio-reserve is favored with film location scouts for its Utopian looking landscape, in fact, iconic movies like 'Braveheart' and 'PS. I Love You' were previously shot in Glendalough. You can book a half-day tour with "Paddywagon," which will take you by coach from Dublin (the driver is also the tour guide). The first stopping point is at the entrance of Glendalough, where you'll see the ruins of St Kevin's monastery. You can use this time to walk around the graveyard and admire all the Celtic headstones. You'll then get an hour and a half to walk through the forest trail to the lakes.
Afterward, you get a chance to pop through and see Lough Tay, which was originally bought as a private lake for the Guinness family. Ironically, the water in this lake is pitch-black like Guinness. The driver lets you off the bus again at this point, and you get a few minutes at the edge of the mountaintop to peer over Lough Tay. I wholeheartedly recommend this experience if you are a nature lover who likes the stillness of a lake, or the lush greenery of Ireland.
2. The Titanic Museum in Belfast (Northern Ireland)
The Giant's Causeway is a UNESCO site in county Antrim. It's affectionately known to some as the "eighth wonder of the world." To put this into perspective, the site was formed millions of years ago, when a volcanic eruption caused molten rocks to squeeze through the earth's cracks. The aftermath created The Giant's Causeway, which looks man-made but is rather a natural formation of flat and hexagonal-shaped rocks. Legend has it, these basalt rocks are actually steps for giants traveling between Scotland and Ireland.
As you're in the North of Ireland, you can also visit The Titanic museum in Belfast city. As both county Antrim and Belfast are occupied by The United Kingdom, you get to experience two countries in one vacation! Everything is different in the North, from the currency (British sterling instead of Euro) to the phone reception, accents, and architecture. If you book the full-day trip via The Tour Guy, you can avoid having to organize a second travel visa. This particular excursion also gives you luxury coach transportation to and from Dublin, as well as all-inclusive access to The Titanic Museum and The Giant's Causeway. There is a further pit stop to Dunluce Castle and the Game of Thrones hedges. This tour is for people who want to mix the history of industrial Ireland with the environmental history of the land.
1. The Cliffs of Moher in Clare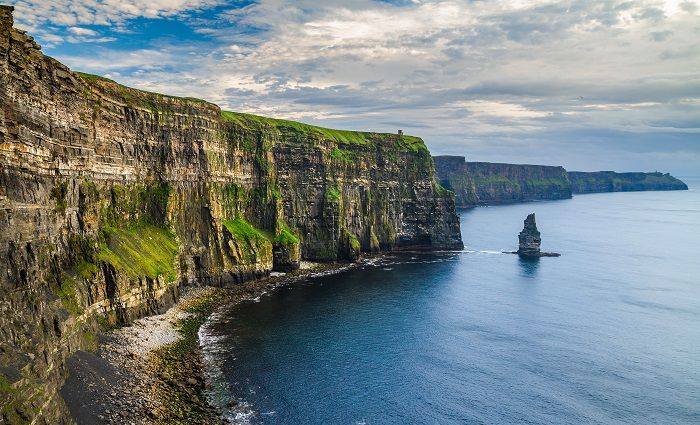 The attraction with the most footfall in Ireland is definitely The Cliffs of Moher. It's like Venice in Italy: totally overcrowded but that way for a reason. As you overlook the Atlantic from the edge of a cliff, I guarantee you, it will be an unexpectedly profound experience. Especially for Irish-Americans pondering the voyage of their ancestors across to North America. After you take a moment, you'll also see plenty of wildlife at the cliffs. In particular, we have flocks of cute puffins, which are birds native to Celtic countries only. You can also witness roaming wild sheep, and of course, the lush, green grass. The color of Ireland. A vivid green like nowhere else on earth. In all its beauty though, do check the weather before booking this excursion. If the cliffs of Moher are foggy, then you won't get the views you deserve.
Also, Clare has much more to offer than the cliffs. Surfers regularly head down to the popular seaside town of Lahinch in west Clare. Nature enthusiasts revel in The Burren region, which is a wild and desolate area with limestone ground and native flowers. I, therefore, suggest a trip to Clare for those who love the salty sea air with diverse landscapes and ecosystems.