Are you in dire need of a travel planner for your impending trip to Galway, Ireland? Well, worry not! Your local guide has just made a list of places to stay in Galway so you can pick the perfect area and hotel for you.
---
Pro Tip: Planning your Irish adventure? Bookmark this post along with our article on the top things to do in Galway and our best Ireland tours with day trips to see the Cliffs of Moher, Giant's Causeway, the Titanic, and more!
Where To Stay in Galway: Best Hotels and Neighborhoods
If you're thinking of visiting Galway, this guide will help you scope out the best neighborhoods to stay in, as well as the top hotels, B&B's, and short-term rentals. Check out our top places to stay in Dublin. I'm sure it will come in handy as you travel around The Emerald Isle.
I won't leave you hanging for much longer, so please see below for all the best places to stay in Galway this year. Top Cork neighborhoods we'll cover:
Our Partnership with Booking.com. If you like our content, please book by clicking on our Booking.com links. The price is the same for you and we get a small commission that helps support our helpful blog content. We've partnered with Booking.com because they have the most options, great prices, and a solid loyalty program.
Eyre Square/Latin Quarter
You can't get more central to Galway city than the public grounds of "Eyre Square." Officially, the park is called the John F. Kennedy Memorial, though the actual square dates back to medieval times when daily markets were held here on the green. The Latin Quarter, on the other hand, is a thriving cultural quarter a few minutes walk further down.
The Latin Quarter spans from the 15th century "Spanish Arch" by the harbor, to the church of "St. Nicholas' on Middle Street. Unsurprisingly, The Latin Quarter is where you'll find some of the best Irish pubs, restaurants, and street buskers in Galway. All of which, is what makes the town so lively and warm.
As a visitor to Galway, I would first acclimatize to this western part of Ireland by starting off in the city center Eyre Square/ Latin Quarter areas. You'll be able to stock up on all your toiletries and essentials here, while also catching up on emails and getting excursions booked online. The reason I'm saying that, is because there will be a serious lack of WiFi, restaurants, and shops in rural Galway (as we'll see in the later sections).
---
Why I Love The Eyre Square/Latin Quarter:
Street buskers attracting big audiences, with music turning into a street party
Medieval pubs, streets, and buildings (lots of stone)
The Latin Quarter markets with food, jewelry, and artwork
Famous pubs with live music, such as Tigh Chóilí pub (pronounced "Tig Cole-y"), An Púcán ("on Poocawn"), and O'Connell's Bar
Attractions Near Eyre Square/Latin Quarter:
The historic, pre-medieval Spanish Arch beside the harbor (where lots of people drink in good weather)
Barna Woods
Tribes Tours of Galway (free walking tour of the city)
Galway City Go Karting (indoors for when rain strikes)
Best Restaurants In Eyre Square/Latin Quarter:
The Dough Bros (pizzeria)
Ard Bia at Nimmos (Michelin Star)
John Keogh's Gastropub
Cava Bodega
The Seafood Bar at Kirwin's
U Liotru
Best Hotels In Eyre Square/Latin Quarter:
The Victoria Hotel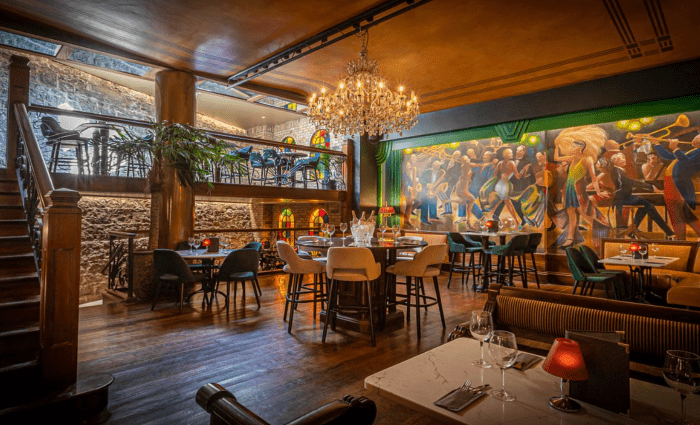 €€€ | 3 Star Boutique Hotel | Modern Interiors in Classic Building | Eyre Square
The Victoria Hotel has been newly renovated as an eclectic, jazzy place. The 75-bed Victorian property is well-appointed, with walk-in showers, tea-making facilities, and in-room televisions. The location is also topped. It has a street view right beside Eyre Square. Highly recommended for younger couples.
The Hardiman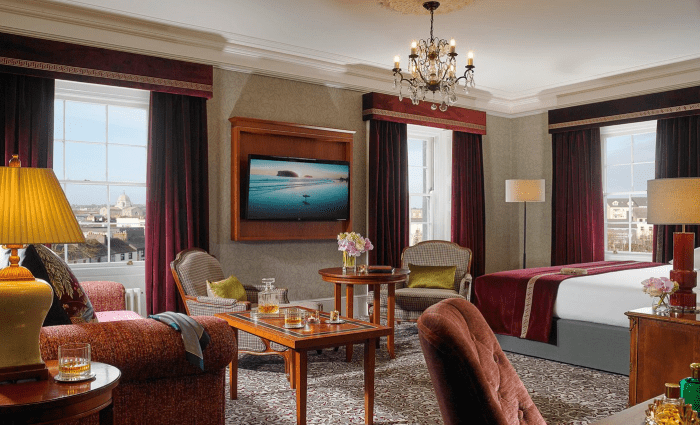 €€ | 4 Star Hotel | Classic Design | Victorian Architecture | Eyre Square
The Hardiman is a glamorously designed hotel that sits by Eyre Square. You can order afternoon tea in the lobby, dine in their bar and brasserie, or else grab a top-floor room that overlooks all of Galway city. I think older couples who enjoy opulence will get a thrill out of staying here.
The House Hotel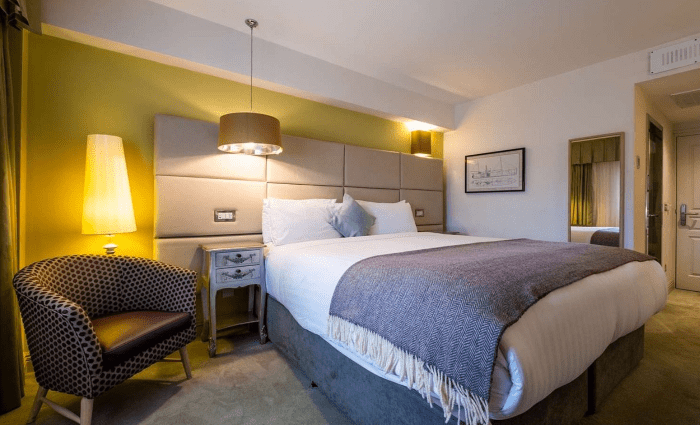 €€ | 4 Star Boutique Hotel | Contemporary | Beside the Harbor | Latin Quarter
The House Hotel resides near 15th century Spanish Arch, which lies on the harbor front. It has the benefit of being both close to nature and the bustle of the Latin Quarter in the city. The hotel is set in a stone-walled building with interiors that are contemporary and soft. You can also dine in their Yard Bar for times when the outdoors is too cumbersome. Highly recommended for couples of all ages.
Connemara Region
Connemara is a spectacular, wild region in the northwestern corner of Galway. It's unique to Ireland in the sense that it has a landscape of burnt-red, autumnal grasslands, as well as harsher and windier climates from the Atlantic ocean.
Driving around Connemara, you'll soon discover that certain parts are completely untouched – as in, the only creature you might see for miles is a wild sheep grazing on the road. That said, Connemara still has many small towns and villages in the region. One town called "Clifden," otherwise known as "the capital of Connemara", sits between the "Twelve Bens" mountains and the Atlantic Ocean.
Other towns of interest in Connemara are: Kinvara, Leenane, Roundstone, Ballnahinch, and Barna. Each one has something different to offer, like fishing ports, harbors, pubs, restaurants, ancient ruins, and castles.
Why I Love Connemara:
Irish pubs like Tully's in Kinvara
The sense of tranquility, safeness, and happiness in the town – a slow way of life
The welcoming community who are well used to visitors from out of town
Being able to take boat trips and go island hopping
Attractions Near Connemara:
Connemara National Park hiking
Kylemore Abbey
Visit any of Connemara's beaches, such as Dog's Bay or Gurteen
The Omey Island Walk
Best Restaurants In Connemara:
Mitchell's Restaurant (in Clifden town)
Off The Square (in Clifden town)
SIAR (in Kinvara town)
Owenmore Restaurant (in Ballynahinch town)
Power's Thatch Bar and Restaurant (in Oughterard town)
West Restaurant (in Barna town)
Best Hotels In Connemara:
Ardagh Hotel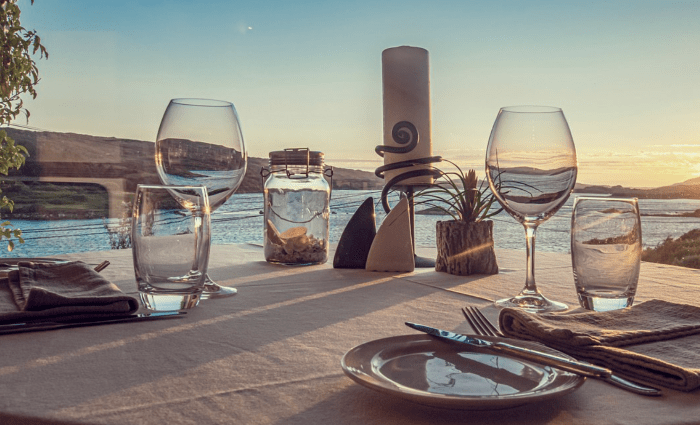 €€ | 4 Star Hotel | Modern Irish Building | Beach Front | Clifden
The Ardagh Hotel is just 2.5 km from Clifden center and looks over The Atlantic ocean. The hotel is set in a typical Irish house, while the inside has huge tropical plants in the lobby, along with zebra print and more traditional, cottagey furnishings. They also have a seafood restaurant with stellar ocean views (pictured). This is the perfect destination for couples with a penchant for all things rugged and coastal.
Lough Inagh Lodge, Connemara Recess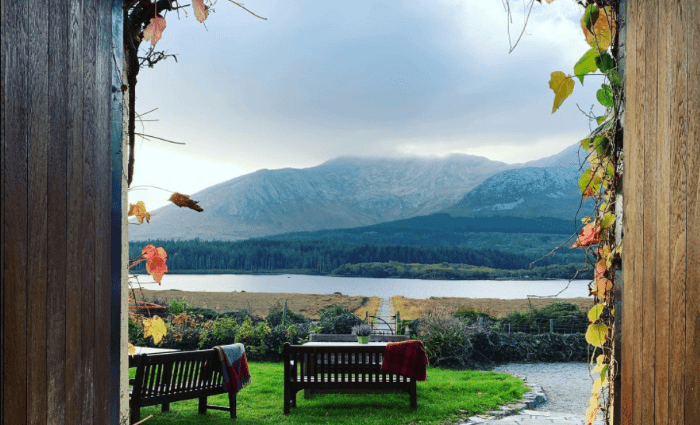 €€€ | 3 Star Hotel | Classic Design | Amazing Inagh Lough and Mountain Views
The main reason to stay at Lough Inagh Lodge is for its incredible views over the valley and mountains of Lough Inagh. The hotel is totally isolated, but inside you'll have everything you need, including a restaurant, meditation classes, a nearby golf course, a sheep farm, and an oyster farm. This is a once-in-a-lifetime location that couples and families of all ages will love. You will need your own transport, though.
Rosleague Manor Hotel, Clifden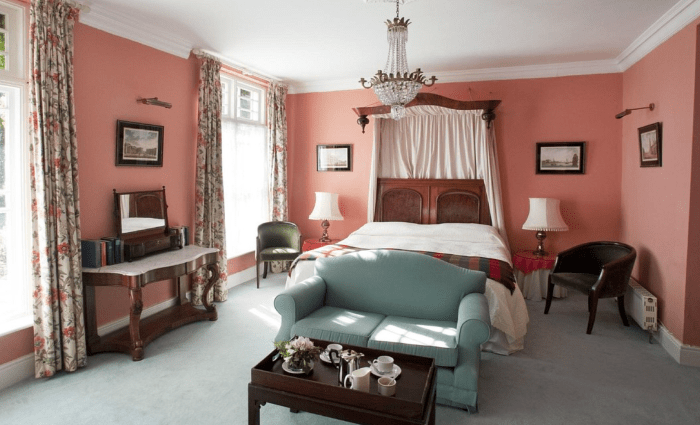 €€ | 4 Star Hotel | Period Manor House | Letterfrack Harbor & Ballnakill Bay
Rosleague Manor in Clifden has the luxury of both forest and Atlantic ocean views. As with all period manor houses, you can expect mahogany furniture, chaise longues, chandeliers, and plenty of portrait paintings. Nearby attractions include Kylemore Abbey, Connemara National Park, and Inishbofin. Overall, I expect older couples would love Rosleague, as well as anyone with a love for history.
The Seven Galway Islands
County Galway has seven islands in total. The most visited ones are a grouping of three (Inis Mór, Inis Oirr, and Inis Meain), which are collectively called "The Aran Islands." These particular islands are located at the neck of Galway Bay.
The other four islands are a bit further spread out (Inishbofin, Inishturk, Achill Island, and Clare Island). Out of all the islands to visit, Inis Mór is the largest and is the most worthwhile, as it has the most amount of restaurants, pubs, and attractions.
To get to The Aran Islands, you take an "Aer Aran" plane, or else a ferry, which departs from Doolin Pier in county Clare, or from Rossaveal in Galway. There's something unique on every island, for example, Inis Oirr has The Plassy shipwreck, Inis Mór has an ancient Celtic fort named "Dun Aonghasa" and also a natural marine wonder called "Poll na bPéist."
Overall, you'll find that all the islands have low stone walls (which were used to separate fields back in the day). You will also come across native Irish speakers with very little English – something that is not seen on the mainland, today. The best way to see the islands is to rent a bicycle.
Why I Love The Galway Islands:
The extremely rugged and untouched islands of Inis Mór, Inis Meáin, or Inis Oírr
One of the very few places that speaks Irish on a daily basis
Thatched cottages, which is also rare to find nowadays
The wildlife, such as wild horned sheep, and marine life such as seals and dolphins
The low stone walls, which are intrinsic to the west of Ireland's character
The locals are so welcoming, they value the Irish-American connection
Attractions on The Galway Islands:
Go Island hopping to Inis Mór, Inis Meáin, or Inis Oírr (Aran Island Ferries)
Rent a bicycle around the stone walls of the Aran islands
Kayaking and/or scuba diving trips on Inis Mór
Dun Aonghasa (an ancient ring fort on Inis Mór)
Man of Aran Cottage (Inis Mór)
Poll na bPéist – The Wormhole (natural wonder on Inis Mór)
Pony and cart tours of Inis Mór
St Caomhán's Church ruins (Inis Oirr)
MV Plassey shipwreck (Inis Oirr)
Lúb Dún Fearbhaí looped walk (Inis Meain)
John Millington Syne's Cottage and Museum (Inis Meain)
Best Restaurants In The Galway Islands:
Teach Nan Phaidi (Inis Mór)
Paudy's Ice Cream (Inis Mór)
Man of Aran Cottage (Inis Mór)
Joe Watty's (Inis Mór)
Teach an Tae (Inis Oirr)
Tigh Ned (Inis Oirr)
Best Hotels on The Galway Islands:
Aran Islands Hotel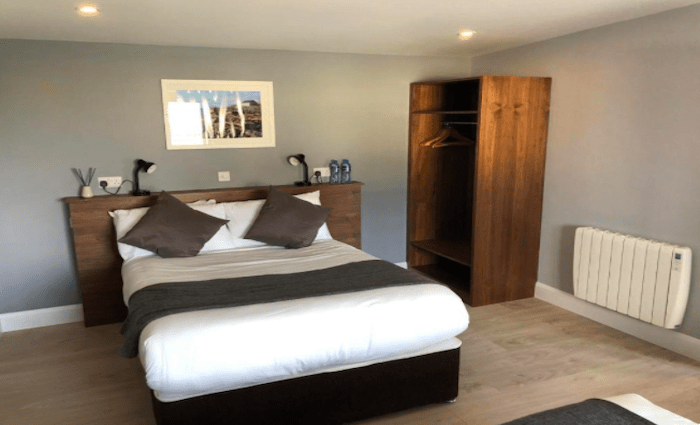 €€ | Contemporary | Restaurant and Bar | Family Friendly | Inis Mór Island
The Aran Islands Hotel is a modern fixture that welcomes all demographics who are island hopping to Inis Mór. The accommodation is basic but recently updated, so you'll have all the regular offerings of a "normal" hotel that you'd find on the mainland. Overall, this is a comfortable base for those who want to explore the old version of Ireland.
Salthill
The appeal of Salthill is down to its diverse, sandy, and rocky beaches. Not only that, but the town boasts a 3 km promenade, which stretches along the coast of Galway Bay. As a visitor to Salthill, the location is perfect because the town has the benefit of The Atlantic ocean, yet is only a ten-minute drive from Galway city.
Regarding activities in Salthill, there are many pubs to frequent, especially on the main street. You'll have no shortage of cafes, restaurants, or takeaways either. You can head down for a splash at the diving spot by the promenade, or else stay dry and visit the Atlantaquaria to see all types of marine species. Personally, my favorite part about Salthill is how it combines the roaring, wild, Atlantic seascape with the archetypal stone walls and winding streets of a rural, Irish town.
Why I Love Salthill:
The seaside vibe with rocky and sandy beaches
Ten minute drive from Galway city
Set in the heart of Galway Bay
The chance to have daily seaside walks and a dip in the Atlantic ocean
Trad Irish sessions at Salthill promenade
Attractions Near Salthill:
Blackrock beach, diving spot, and promenade
Galway Atlantaquaria
Galway Bay Boat Tours
Salthill Famine Memorial
Rusheen Bay windsurfing
Best Restaurants In Salthill:
Black Cat Wine and Tapas Bar
Gourmet Food Parlour Salthill
Da Roberta's
R.M. McCabe's Gastropub
Kali Coffee Bar
Best Hotels In Salthill:
---
Clybaun Hotel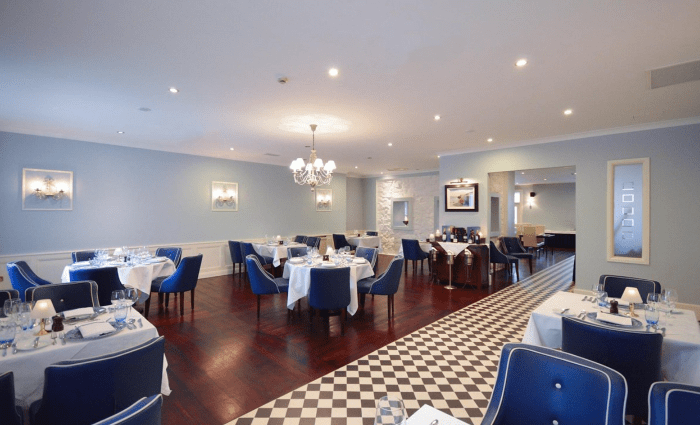 €€ | 4 Star Hotel | Modern | Indoor Swimming Pool & Gym | Outdoor Dining
Clybaun hotel offers patrons a range of amenities, such as an indoor pool, hot tub, gym, maritime restaurant, afternoon tea, and an Irish bar and bistro. The rooms are basic but clean, and in the event you need to stock up on supplies, there's also a shopping center next door. A great stay for families and couples who want dining within their immediate grasp.
Black Cat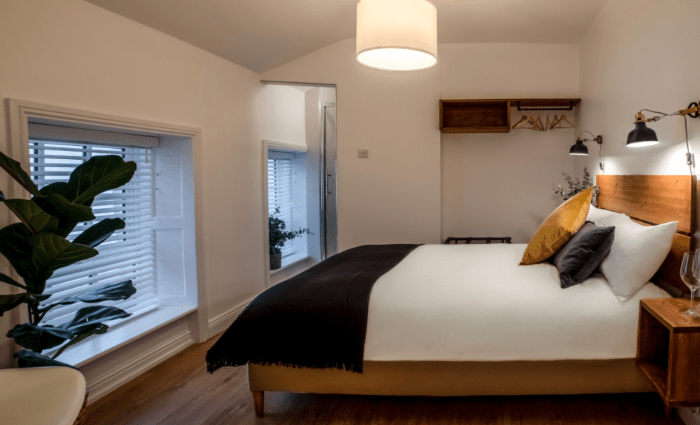 €€ | Self Catering | Stylish and Cute | Salthill Town Center
The Black Cat is a gorgeous tapas & wine bar in Salthill's town center, which has charming en suite rooms upstairs. The decor is cozy and modern with a real European vibe. Obviously, the tapas bar downstairs is also a must-try. This would be my first port of call when staying in Salthill and I think other millennials would love it, too.
Sea Breeze Lodge B&B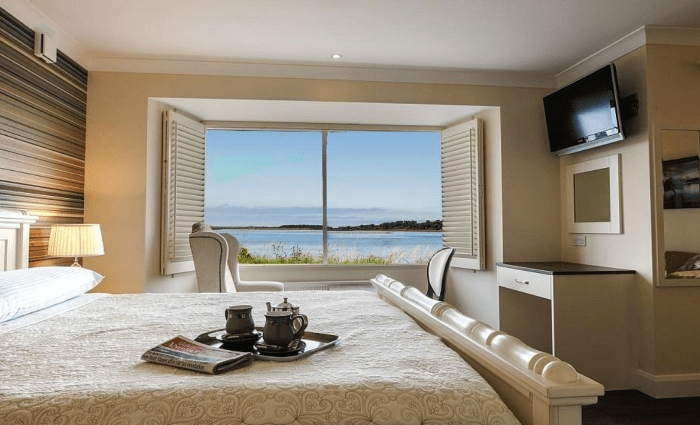 €€ | 5 Star Luxury B&B | Standard Rooms | Overlooking Galway Bay
If you want to wake up to views of Galway Bay from your bedroom window, Sea Breeze Lodge is the accommodation for you. The award-winning B&B has rooms with private terraces, tea, and coffee making facilities, as well as hot breakfast options in the mornings. The coastal spot is perfect for a romantic getaway.