Are you grabbing life by the cajones and planning a trip to the west coast of Ireland soon? If the answer is yes, then come check out these top things to do in Galway.
---
Pro Tip: If you're planning a trip to Dublin, consider bookmarking our dedicated Dublin page, or check out our awesome tours from Dublin to Cliffs or Moher or Giant's Causeway, or plan where to stay in Galway.
The Top 11 Things To Do In Galway
Galway is a key player in Ireland. It's one of the only Irish regions left that speak the Irish language on a daily basis. It's also the second-largest city in Ireland, and home to a plethora of cultural attractions and heritage items. Some of which, are the iconic Claddagh ring (which represents love and friendship), Aran sweaters, and Galway Hooker beer. You simply can't avoid a visit to Galway whenever you make the voyage over to Ireland!
In this listing, you'll read about some of the best activities in Galway city. You'll also learn about how to access local nature reserves, hiking trails, music, water sports, and natural formations. Just like every other city in the country, Galway is its own version of Ireland. The Irish proverb nails it when it says: "in every land, hardness is in the north of it, softness in the south, industry in the east, fire and inspiration in the west." You'll find the latter is true when talking about the west coast of Galway.
11. Visit the Ancient "Dun Aonghasa" Fort on Inis Mór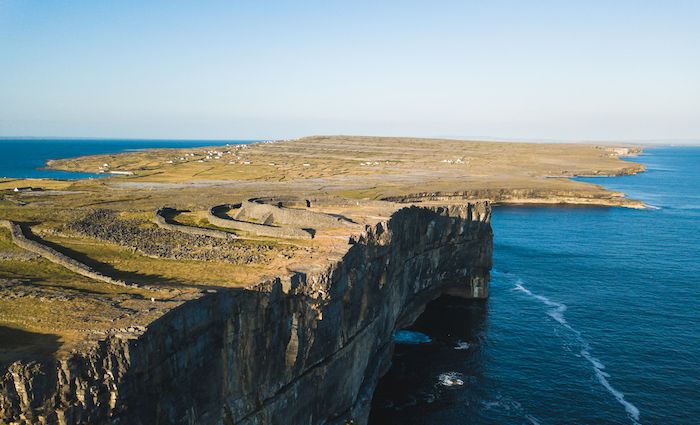 Galway has some of the most spectacular ringforts down on its pastures. One of them, called Dun Aonghasa, is perched off the cliffs of Inis Mór, which overlooks the northwestern horizon of the Atlantic ocean. To describe ringforts like Dun Aonghasa, they're a Celtic arrangement of gigantic, vertical stones that form a circular shape.
The original purpose of these structures was to protect inhabitants against impending battles or raids. Given Dun Aonghasa's estimated creation (circa 1100 BC), this would make sense, seeing as its creation date coincides with the Viking raids of Ireland. On top of that, there's also evidence of ancient metalworking at Dun Aonghasa.
When visiting Inis Mór, I highly recommend that you go and rent a bicycle to pedal out to this attraction. As you arrive, you'll see that Dun Aonghasa is pretty high above sea level (87 meters). However, before climate change, Dun Aonghasa was actually 1,000 meters above sea level! The Celtic ringfort is also just a mile from the Inis Mór visitor center, so if you have any problems, you're not too far away from someone.
10. Visit the Lakeside Kylemore Abbey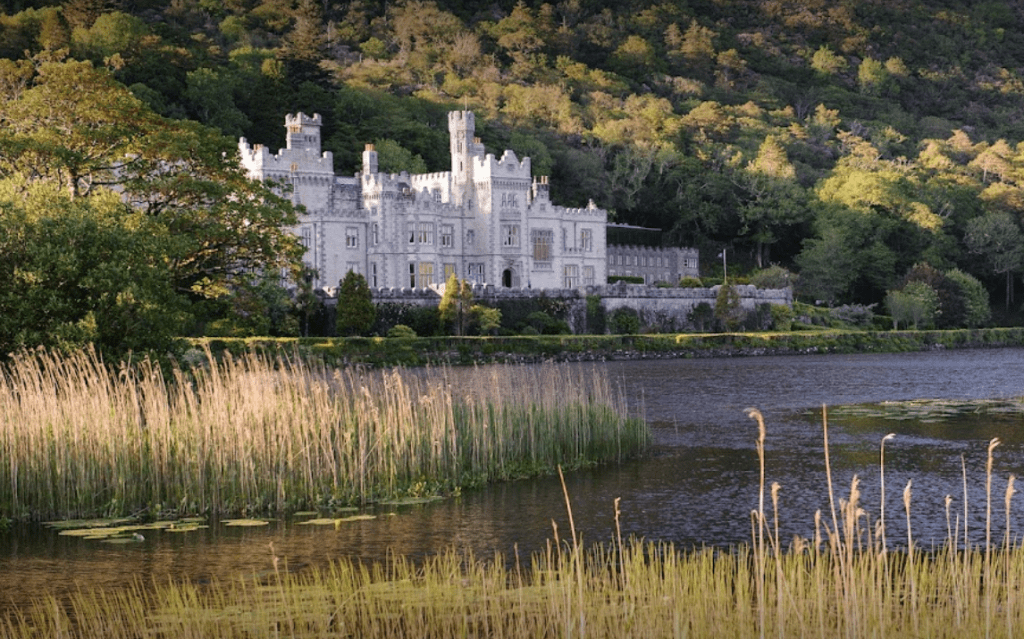 Kylemore is a Gothic, Benedictine nunnery located in the heart of Connemara. Now, I know what you're saying. "Why would I want to visit a nunnery?" But, I swear to you, these nuns are the Irish version of Sister Act. They literally do it all. Baking. Butter churning. Chocolatier-ing. Choir singing. Groundskeeping…
Aside from their holy offerings, you'll also be pleased to know it's a little over an hour away from Galway city. Regarding the grounds of Kylemore, the abbey overlooks an eerie lake and a coniferous woodland. Not to mention their stunning walled garden (largest in Ireland), and their garden tea house cafe.
On top of that, the nuns run a tight ship in their Art and Crafts shop. In this shop, you can purchase some of their delicious homemade chocolates. They make one box with all-white chocolate sheep, that has a dark chocolate sheep in the center. So cute. The more spiritual among us can then visit the mausoleum and Gothic hillside church for a Sunday service. I highly recommended this attraction for families, older couples, or just about anyone who appreciates lakes, or mountainous backdrops.
9. Visit Pubs and Street Buskers at The Latin Quarter
The #1 thing that makes Galway a thriving, cultural, and energetic city is its street busking. You can find these performances all over the streets of Ireland, but you won't experience the same level of talent as what's in Galway. On these cobble-stoned streets, you'll hear musicians playing traditional Irish music. Namely, Irish ballad singers, Irish dancers, old men rhythmically clanking spoons off their knees, tin whistlers, harpists, accordion players, and so on so forth. You'll also be able to see some of Galway's more contemporary busker offerings, such as beatboxers, fire breathers, hip hop dancers, and footballers with serious footing skills.
Overall, the best part about street busking is that it's free. It's an easily accessible way to encounter genuine Irish culture. These buskers work extremely hard for such little pay, and they do it for the love of it. Sometimes, things pop off to such an extent that it feels like a flash mob. They have to ability to make the whole street erupt and join in the musical madness. I think anyone with a love for Irish culture should venture out into Galway's Latin Quarter for some wholesome Irish busking.
"There is a feel about Galway you can wear around your shoulders like a cloak. It hangs in the air with its dampness, walks the cobblestone streets and stands in the doorways of its gray stone buildings. It blows in with the mist from the Atlantic and lingers incessantly at every corner. I have never been able to walk the streets of Galway without feeling some unnamed presence accompanying me."

– Claire Fullerton, American writer.
8. Learn How to do Irish Dancing
It's safe to say that we've all heard of Riverdance. Right? Well, if you know, you know – because it's one of the most cardio-intense, cultural dances known to man. So, bare that in mind and build up your calf muscles with The Irish Dance Experience in Galway city. This activity is hosted by a former lead dancer of Riverdance called Siobhan Manson.
Irish dancing classes give you the perfect introduction to authentic Irish culture, as well as giving you a natural high. You'll undertake all the classic moves, such as putting a broom on the ground to learn how to crossover your footsteps. You can go the old-fashioned route and keep your arms glued to your side while hopping about. Otherwise, some folk opt for a more contemporary approach, by freely flinging their arms around as they dance. I highly recommend this activity for anyone who is physically able to be on their feet for a couple of hours, or for those who just want a hands-on Irish experience.
7. Do a Craft Beer Tour of Galway
Galway Craft Beer Tours is the only tour operator in Galway that specializes exclusively in craft Irish beer. They offer small group tours, hour-long "power" sessions, and in-depth tasting sessions. To explain how this tour works: your educated guide will pick you up from a meeting point and cruise you around all the best pubs for a taste of dozens of rare IPA's and brews. These guides all have a camaraderie with the local pubs, so expect special treatment in each venue.
If you're a beer enthusiast, I reckon you'll be in your element throughout this whole experience. It's much better to have a local guide impart their knowledge on local beers they know to be fantastic, rather than you shoot your shot at the bar and purchase something you don't like. I recommend going off the beaten path like this when looking to experience Irish drinking culture in Ireland.
6. Go Horseback Riding on The Beach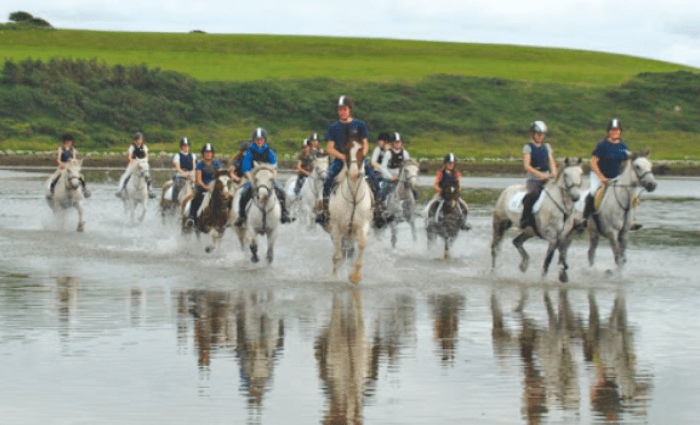 Moycullen Riding Centre offers two-hour riding treks along some of Connemara's most scenic bog roads, mountains, and sandy beaches. The beach rides, in particular, are very central to Galway city. Rusheen Bay is the beach in Salthill where you'll take your horse for a lengthy gallop. Let the saltwater tussle your hair (and the horse's). Alternatively, beginners can trot at a casual pace along the shoreline.
This activity is fantastic for families with small kids, as well as for couples, or bigger groups of friends. Parents who are feeling hesitant will be relieved to know that Moycullen has experienced teachers who are well trained in managing children on horseback. They have a large selection of happy horses and ponies to choose from, whose personalities are always matched to fit yours. This is the ideal activity for anybody, and it's certainly going to be something to remember your Irish vacation by.
5. Do the Diamond Hill Loop Walk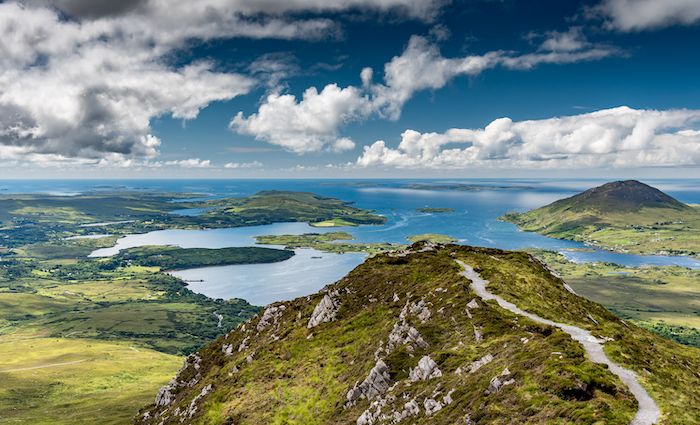 There are a number of hikes and trails you can do in glorious Galway, but I am obsessed with the ocean, island, and mountain views throughout the Diamond Hill Loop Walk. First off, it's a two-hour, 4.3-mile walk that showcases the most valuable scenery available to Galway. Think vertigo-inducing cliffs that look over the glistening ocean, as well as the otherworldly dotting of The Aran Islands.
It's a fairly hard-going trail, so it's probably not for the faint of heart. But once you've reached the summit of Diamond Hill, everything you were hoping Ireland would be, will come to fruition. Furthermore, you can spot the aforementioned Kylemore Abbey from a vantage point along the way. Absolutely recommended for active travelers who LIVE for a natural landscape.
There are no strangers here; Only friends you haven't yet met.

– William Butler Yeats on Galway.
4. Go Windsurfing or Kayaking at Rusheen Bay
Located just 3.1 miles from the center of Galway, 'Rusheen Bay Windsurfing' offers all types of water sports to eager crowds. Not just windsurfing, but also paddle boarding and kayaking excursions. Windsurfing, however, is the most popular choice among bachelor parties, schoolkids, and work friends, but honestly, anybody can come along. These guys have been operating since 1995, so they're all well versed in keeping people safe in the water. Speaking of, they claim to "get anybody windsurfing within 60 minutes. Every time."
In talks of the landscape, Rusheen bay is perfect for it is completely sheltered from the Atlantic elements. This makes for an easy introduction to windsurfing, but the bay's flat water is also utilized by some of Ireland's most celebrated sailors and freestylers. Weather permitting, this is exactly where you'd want to be on a Sunday morning when trying to kill off a hangover from the night before.
3. Go for a Dip in Dog's Bay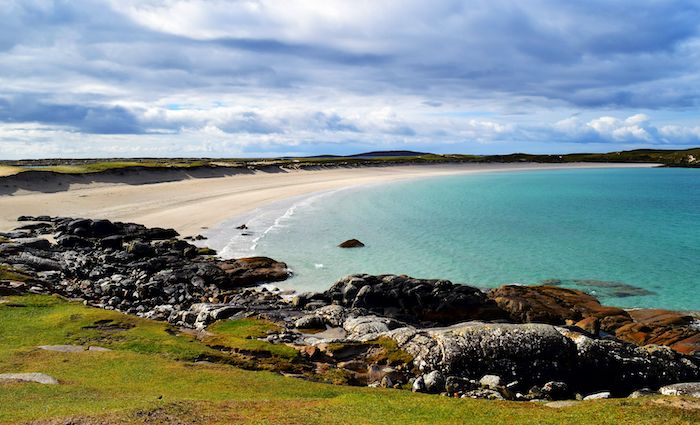 Not far from Roundstone in county Galway lies the sandy, white beach of Dog's Bay. It's one of two beaches in the area (also Gurteen beach) that has a horseshoe-shaped inlet. They are sheltered but both expand out onto the Atlantic Ocean. Dog's Bay is a beach with an expansive coastline. Both seaside destinations are popular with holidaymakers in the Summer, and because the waters are safe to swim in, you can do a number of water sports. If not one for strenuous activity, you can instead sit back and lap up the tropical-looking, crystal waters.
In terms of marine biology, Dog's Bay is unique to Ireland in that it has soft rather than rocky sand. Moreover, this sand has been formed out of seashell fragments instead of traditional limestone. This is where it gets its pure white color from. I am wholeheartedly plugging Dog's Bay to anyone who wants sand between their toes, roaring waves, or simply going off-grid for a couple of hours.
2. Visit the Natural Wonder "Poll na bPeist" on Inis Mór Island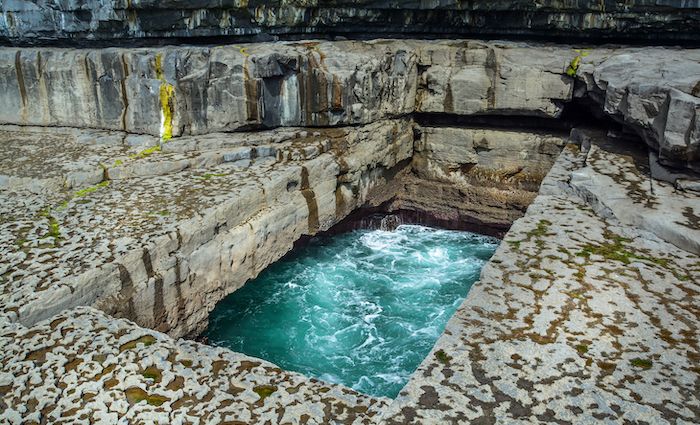 Probably the most mind-boggling attraction to do in Galway is the Poll na bPeist wormhole on Inis Mór Island. First of all, a trip out to the isolated Inis Mór is a feat in itself, but this naturally formed wonder is something else. It looks as though it's been cut into a perfect rectangle by a gigantic laser machine. Just like the floating theories about the pyramids of Giza, you wonder if aliens stopped by Poll na bPeist, as well.
What's also fascinating, is that Poll na bPeist was formed 350 million years ago. It's a tidal pool, so the water rushes in on the rising tide, meaning it's not suitable for swimming. I say this, because that didn't stop Red Bull divers back in 2017. Two Olympic divers were actually taken to hospital. That's how insane this wormhole is! As a visitor to Inis Mór though, I would take it easy and see Poll na bPeist from the clifftop. You can also rent a bicycle and cycle out to this attraction, which is another truly gratifying activity that will be explained, below.
1. Rent a Bicycle around The Aran Islands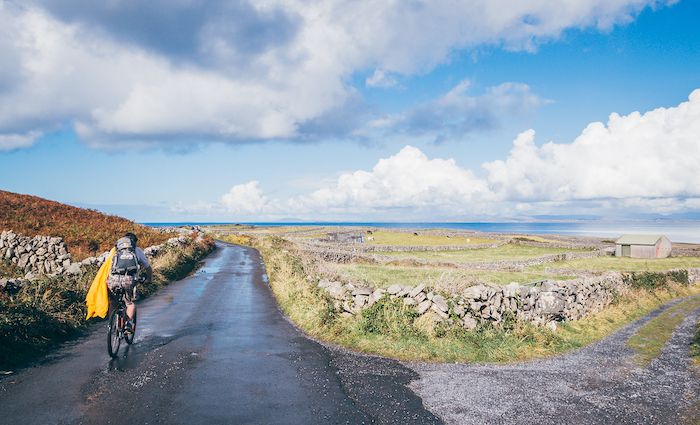 County Galway has seven islands in total. The most visited ones are a grouping of three (Inis Mór, Inis Oirr, and Inis Meain). They are collectively called "The Aran Islands." These particular islands are located at the neck of Galway Bay – and of all the islands to visit – Inis Mór is the largest and the most worthwhile. The main reason for that is because it has the most amount of restaurants, pubs, and attractions. And as you could guess, the best way to experience The Aran Islands is by bicycle.
"Aran Islands Bike Hire" is a company based on the island of Inis Mór. They'll let you rent bicycles for the whole day, for €10. You can cycle out 30 minutes to the Celtic ringfort, Dun Aonghasa, and further out to the previously mentioned, Poll na bPeist wormhole. Overall, cycling around the whole of Inis Mór should take 4-5 hours. My favorite thing about cycling in The Aran Islands, though, is the vernacular architecture. There are thatched Irish cottages, as well as low, stone walls, which were traditionally used to separate the fields for grazing livestock. Cycling here is such an nourishing and exhilarating experience that you won't be able to find on the mainland. Therefore, I highly recommend it for athletic types (but you can also rent a horse and cart, if you're not into cycling).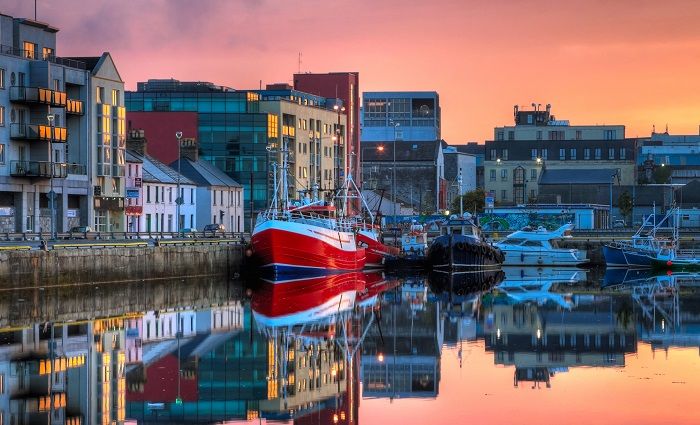 Find the best places to stay
Where To Stay in Galway
Deciding where to stay in Ireland's cultural capital, Galway, is easy with our local's guide to the best hotels and neighborhoods. From Eyre Square to the Connemara Region, you'll love your stay here!