Galway is considered the cultural capital of Ireland, so you can expect to find outstanding food and interesting places to eat. Our local expert has put together this list to help you experience some of the best Galway has to offer. Here are the best restaurants in Galway.
---
Pro Tip: Planning your Irish adventure? Bookmark this post along with our article on the top things to do in Galway and our best Ireland tours with day trips to see the Cliffs of Moher, Giant's Causeway, the Titanic, and more!
The Top 11 Places To Eat In Galway
The culinary scene in Galway is impeccable and offers amazing seafood. It ranges from the eenzie-weenzie Galway cafés to Michelin-starred spaces. Anything goes with Galwegian food, from traditional Irish dishes to contemporary dishes cooked the Irish way.
There's more to planning a trip than food (although we admit it's a huge part), so be sure to check out where to stay in Galway and our awesome Ireland day trips for fun and adventure. Now, check out these restaurants and salivate over some of the best dishes I've come across in Galway. Let's go!
Not ready to book a tour? Check out the top things to do in Galway.
Our Partnership with Booking.com. If you like our content, please book by clicking on our Booking.com links. The price is the same for you and we get a small commission that helps support our helpful blog content. We've partnered with Booking.com because they have the most options, great prices, and a solid loyalty program.
11. Dela Restaurant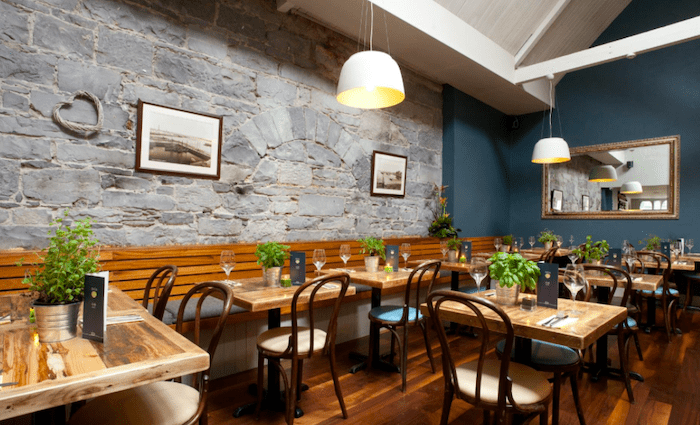 €€ | European Continental Style Food | Full Irish Breakfast | Galway City
This restaurant is tucked away in a foodie area called Dominick Street, which is less touristy than Shop Street, where you'll find all the gift shops, pubs, and mainstream restaurants. We visited around brunch time and were greeted by the very friendly owner who gave us a window seat.
If you come in the morning, go for Dela's full Irish breakfast. Whether you have your eggs fried or scrambled, it'll be an umami treat for the taste buds! I had a perfectly silky cappuccino, so it's a good place to get your morning coffee. Some other brunch highlights include their eggs Benedict, as well as their buttermilk pancakes.
If you're dining in the evening, you can look forward to things like seabass fillet, pork shoulder bonbons, or wild venison with red Russian kale, harvest vegetables, and mash. On top of that, you'll have plenty of vegetarian and coeliac options. All in all, the ambiance is very comforting, calm, and cozy. I definitely recommend a little window seat for two.
Address: Dominick Street Lower, Galway City
10. Morans Oyster Cottage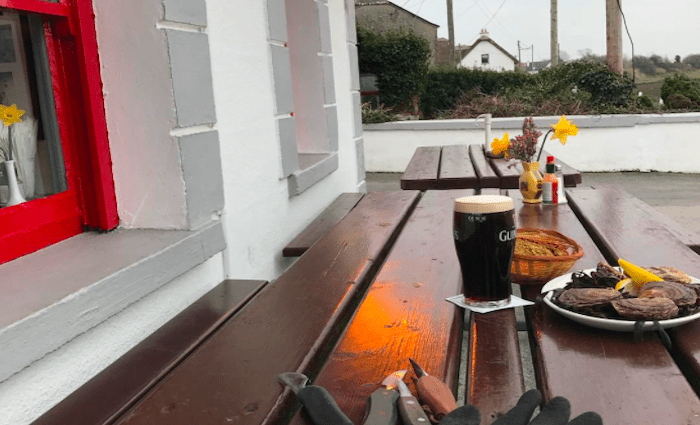 €€€ | Oyster Bar | Irish Pub | Traditional Seafood | Kilcolgan, County Galway
Moran's is a quaint, thatched cottage with red windows and doors, which sits on the weir of the Dunkellin and Clarenbridge Rivers. It's roughly a 35-40 minute drive from Galway city (to the middle of nowhere), so this is considered going out of your way… But, I'm confident you won't be disappointed in making the effort.
It's a traditional Irish pub setting, so you can expect to see interior stone walls, a thatched roof, floral plates in display cabinets, shiplap ceilings, and lots of pine furniture. The Irish are obsessed with pine—I really don't know why. Grab yourself a Galway Hooker (the pale ale, not the other kind), and sit yourself down at a table inside, or else at a bench overlooking the river.
The Irish have been eating oysters for thousands of years, as they grow in abundance along the coast. Accordingly, Moran's has a whole separate menu for oysters, including Clarenbridge and Gigas rock oysters.
On their main menu, you can get dishes like seafood chowder, steamed mussels, prawn cocktail, fish and chips, crab claws, or New Quay lobster. This is a must for seafood lovers looking to head beyond Galway city.
Address: Kilcolgan, County Galway
9. Ard Bia at Nimmos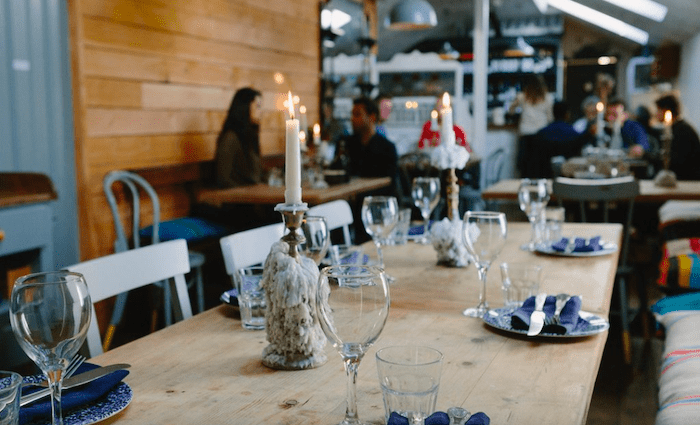 €€ | Smart Casual Dining | Contemporary and "Irish Rustic" | Galway City
Ard Bia at Nimmos is located right beside the medieval Spanish arch, which runs along The Port of Galway. We stayed nearby during a storm, and the small but stoney exterior of Nimmo's held strong against the thrashing elements! Whatever the weather, if you're looking for a setting with waterfront views, this is the place for you.
The interior is what I'd consider "rustic-Irish-folk," so imagine waxy candle arbors, water carafes, dried flower vases, water rings on old wooden tables, and deep window sills. In other words, old Ireland meets modern Ireland.
In terms of food, try breakfast items like granola with roasted rhubarb and pear, chorizo and red pepper hash, or hot cured mackerel with brown bread and garlic aioli. For lunch, you'll have things like Rueben melts, harissa lamb shoulder, potato and herb rosti.
Dinner service lashes out Connemara scallops with black pudding, hand-rolled tagliatelle with pumpkin and herb pesto, pumpkin pie dessert with cinnamon mascarpone, and more.
Address: Spanish Arch, Galway city
8. The Quay Street Kitchen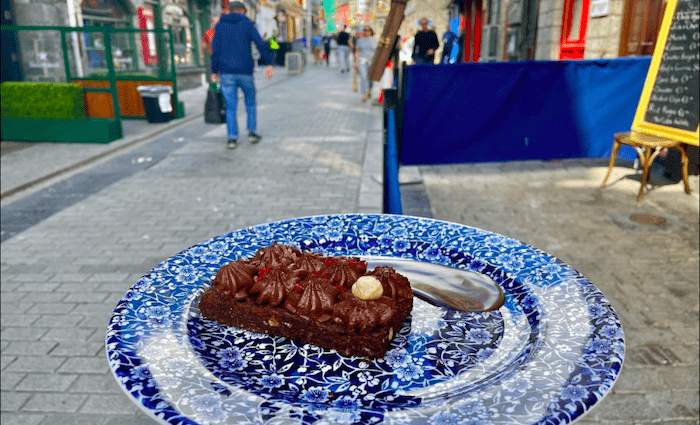 €€€ | Vegan Friendly | Contemporary Meets Rustic | Outdoor Seating | The Latin Quarter
The Quay Street Kitchen (QSK) can be found in Galway city's cultural quarter (The Latin Quarter), which means it's a little touristy. That said, "touristy" doesn't always equate to bad, unless it's specifically designed to be a tourist trap. QSK is, by chance, centrally located and has been popularised because, well, it's popular!
If you're new to the city, it's the perfect place to have a quick lunch to refuel while waiting to check-in (or out) of your hotel. There's outdoor seating perfect for people-watching. Or, head indoors and enjoy the classy pub interior and live music.
The restaurant focuses on all things gluten-free and vegan. You'll find plenty of quinoa salads, as well as Irish seaweed bread with almond feta, beef and Guinness stew, fish and chips, lamb shank, Shepherds Pie, and a selection of vegan sandwiches. This is a great place to get an introduction to Galway and its cuisine.
Address: The Latin Quarter, Galway city
7. Loam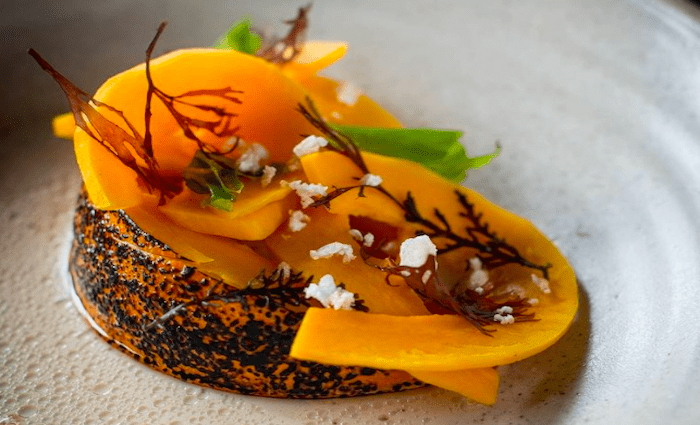 €€€€ | Upscale Dining | Experimental | Restaurant and Wine Bar | Galway City
Loam gained a Michelin star back in 2015 and has kept it ever since. It's got a real arthouse vibe and is very well-known in the foodie community. The whole setup is an experimental display. You'll find communal dining tables adorned with foliage, as well as private, round tables for smaller groups or couples. I would call the interiors a blend of "Japandi minimalism (Japanese and Scandinavian) meets mid-century Industrialist."
As you'd expect from an upscale silver service venue, their food is small portioned but phenomenal. You have charcuterie boards with Connemara air-dried lamb and Gubbeen salami, or cheese boards with cows milk cheeses of varying ooziness. The menu changes daily depending on local produce, so you'll be in for a surprise.
Finally, the tasting menu includes things like smoked eel with tomato and cucumber, lamb, turnip, and broad bean, squid, shiitake, and egg. Loam is about very simple execution but, behind the curtains, high in culinary skill. This is a dinner experience well worth it in Galway.
Address: Fairgreen Road, Galway City
6. Owenmore Restaurant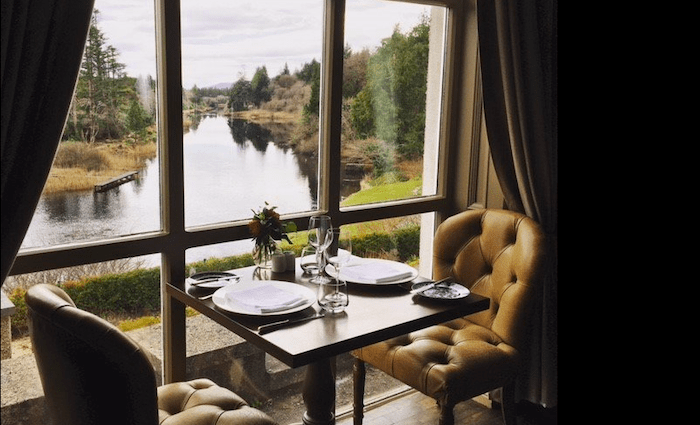 €€€ | Fine Dining | Classic Design | On Grounds of 4 Star Hotel | Recess, County Galway
Owenmore restaurant is in the four-star (should be five-star) Ballynahinch Castle. Pictured above, is just one example of the kind of view you can expect from your table. There are a number of two-seater tables by the floor-to-ceiling windows that line the dining room, giving you a chance to take in the gorgeous landscape of Lough Inagh in its region of Connemara.
The overall decor is elegant and classical, having recently been refurbished in keeping with the period of the manor house. My recommendation is to spend one or two nights at Ballynahinch Castle. This way, you can dine to your heart's content at Owenmore restaurant, which outshines all other 4-star hotels' food by miles.
On the starter's menu, try the Cleggan crab, whipped Galway goat's cheese, and pork scrumpet with smoked black pudding. Follow this up with a fillet of beef in Bourguignon sauce, or black sole on the bone with orange and cardamom beurre blanc.
The dessert menu is also influenced by French cuisine with a spritz of Irishness. This includes a dark chocolate delice with peated whiskey ice cream, and a burnt lemon cremeux with meringue and raspberry sorbet. How's that for a spread, eh?
Address: Recess, Connemara
5. The Dough Bros Pizza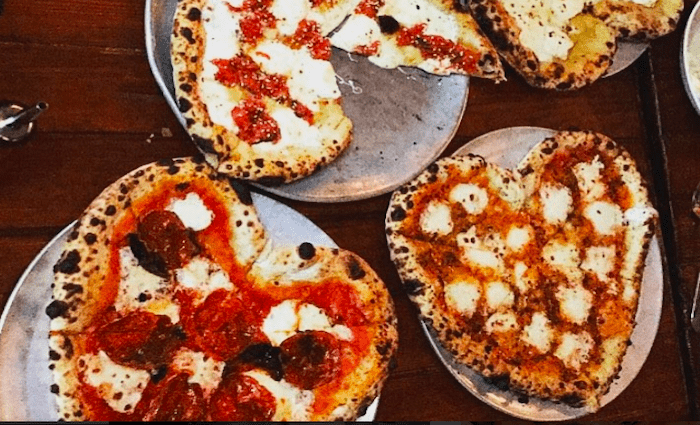 €€ | Pizzeria | Casual Dining | Younger Market | Galway City
Back to Galway city, and we have the renowned Dough Bros pizzeria. These guys have been around for nearly a decade, which is quite an achievement for a small business in Ireland. They are a pillar for woodfired pizza in Galway, while also being easy on your wallet and great for quick and casual dining.
Choose between The Irish Margherita pizza with Toons Bridge fior di latte, the "posh pepperoni", ham and mushroom, or a kale-based number, to name but a few. They also have vegan pizza options, as well as vegan garlic bread and garlic dip.
By the way, garlic dip is surprisingly good in Ireland. I would try and nab a garlic dip from a top place like this. If you're up for casual, no-frills dining with a younger clientele, pop into The Dough Bros.
Address: Middle Street, Galway
4. Kai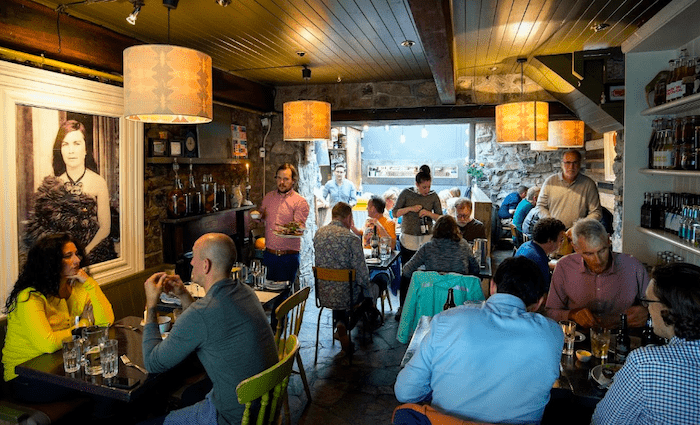 €€€ | Bib Gourmand | Smart Casual | Family Friendly | Galway's Westend
Kai restaurant is a cool spot just an 8-minute walk from Galway town center. I really love the feel of this place. It's got stone walls, split-level ceilings (the open kitchen has a glass atrium that's higher than the rest), and there's also an array of eclectic finishings.
A shout out to their retro wooden seating, namely the church pews, and their Irish public school-esque chairs from the 60s. Also, if you have kids, this is a great family-friendly restaurant option.
If you come to Kai for lunch, expect modern approaches to the classics. Try the gourmet fish fingers, spicy black bean nachos, and chickpea filo pies. Dinner is a bit more "grown up," so go for the Rossaveal hake with burnt butter Cauliflower and romesco or the Roscommon lamb chops with beetroot picada and green tahini.
Don't skip dessert here. Their malt ice cream and strawberries, Hokkaido pumpkin pie, and dark chocolate and almond pud with burnt butter ice cream look delicious. Kai is an easy-going, everyday kind of place where quality at an affordable price are a given.
Address: Sea Road, Galway's West End
3. Pullman Restaurant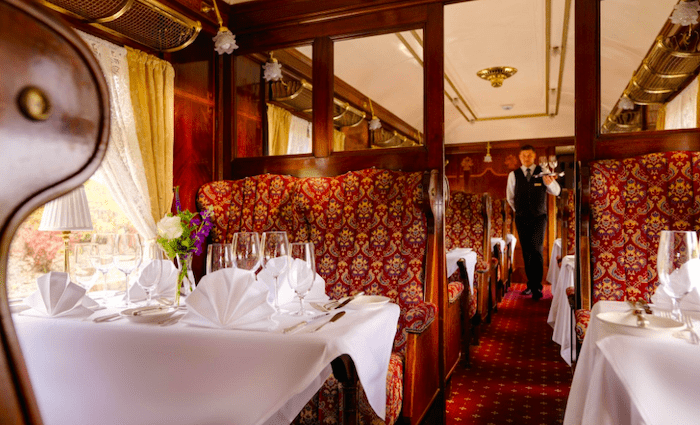 €€€ | Elegant and Upscale | Set in Train Carriage | Glenlo Abbey, Galway
Okay, this is a real novelty experience. The Pullman restaurant is set in two original carriages from the Orient Express, which have been elegantly restored to their former glory. And you'll find them on the grounds of the ever-exclusive five-star Glenlo Abbey hotel, estate, and golf course. If you can stay at Glenlo Abbey Hotel for a night or two, do it. You can make a reservation at The Pullman restaurant and then enjoy the rest of the gorgeous estate while you're there.
Start your Pullman dining experience with cocktails. Take a chance on their whiskey sours, Pullman "Train Smash", Irish Mule, or perhaps "The Grumpy Conductor". For dinner, opt for the scallops with wood sorrel and pancetta, a main of velvet pork with apple, parsnip, and pickled mustard seed, or the pearl barley risotto. Then, finish with tiramisu alongside Cuinneog buttermilk cream, and Bailey's ice cream. Pullman's is a hardcore YES in my books. It's well worth a visit.
Address: Glenlo Abbey Hotel and Estate
2. Eán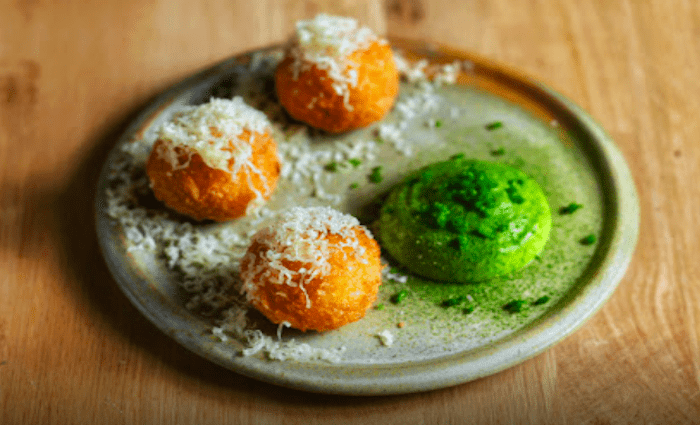 €-€€ | Small Cafe and Restaurant | Contemporary | Moody Lighting | Latin Quarter, Galway City
Éan started out by just doing takeaways. Interestingly, the owners of Éan are also the owners of the Michelin-starred Loam restaurant (see above). With that in mind, you're bound to enjoy what's on offer at this café, except without the Loam's price tag.
I popped in recently for a quick pastry and coffee. What pulled me in was the delicious waft of the bakery. Inside, Éan feels like a folky, peaceful, and considered space. It's not very big, so it's ideal for couples.
You'll eat well at Éan. Choose from all types of delectable, sweet, and savory croissants on offer. For lunch, there's plaice with Connemara shrimp, preserved lemon, and dino kale. Also, try their sourdough sandwiches like the one with organic beet, za'atar, summer squash, and organic leaves.
You'll get more hefty dishes at dinner, including a €40 lamb shoulder with dumplings, black garlic, and shiitake (serves two), and squid toast with blonde miso and bonito—the list goes on! It's great to see such experimental flavors outside of Dublin. Go to Éan!
Address: Druid Lane, Galway city
1. Aniar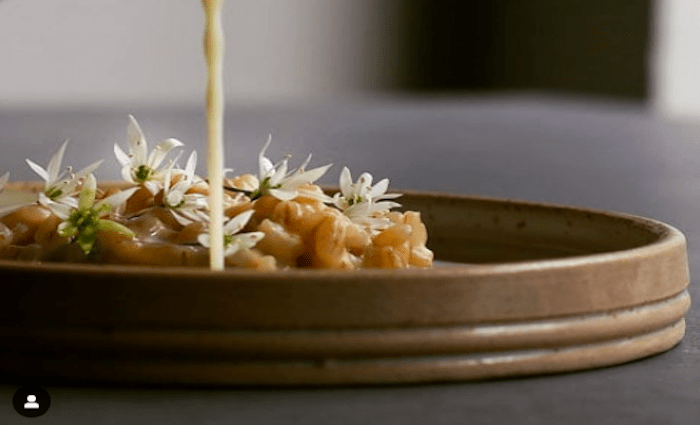 €€€€ | Michelin Star | Restaurant and Cooking School | Galway City
Aniar is on the same street as Dela restaurant. It's a paradise street for foodies and where you'll find yourself for the majority of your meals—if you're lucky. The owner and head chef of Aniar, JP McMahon, wrote one of my favorite cookbooks, The Irish Cookbook. McMahon and his team know everything there is to know about Irish cooking, both old and new. They run Aniar as a homage to west Irish cuisine.
If you care about decor, it's not anything out of the ordinary during the day. By candlelight, however, it transforms into something romantic and intimate. You're here for the Michelin star food though, which is a standard they've maintained since 2013.
On a sample 18-dish tasting menu, you could enjoy things like trout with sheep's yoghurt, sea buckthorn, beef nasturtium, and pumpkin miso. They don't give much away, but the point is to place your trust in their expertise. Make a reservation and enjoy what is certainly my top pick of best restaurants in Galway.
Address: Dominick Street, Galway city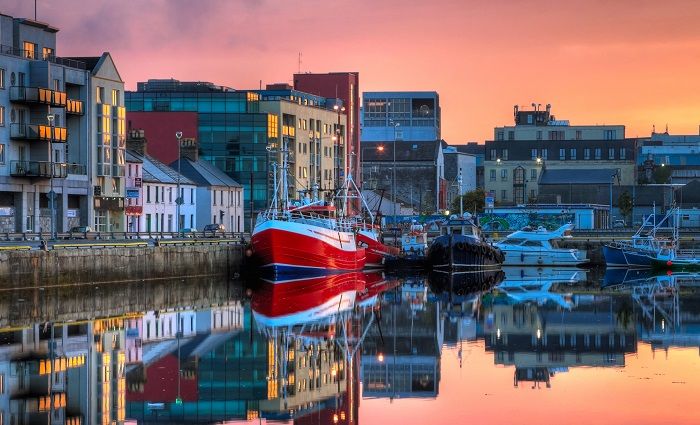 Find the best places to stay
Where To Stay in Galway
Deciding where to stay in Ireland's cultural capital, Galway, is easy with our local's guide to the best hotels and neighborhoods. From Eyre Square to the Connemara Region, you'll love your stay here!