Galway is considered the cultural capital of Ireland, so with that, you'll find outstanding food produced on a commercial level. With that in mind, don't miss out on the opportunity to learn more about these best restaurants in Galway.
---
Want more Galway? Discover the Top Things To Do In Galway In 2023
The Top 12 Places To Eat In Galway
The culinary scene in Galway is impeccable and offers amazing seafood. It ranges from the eenzie-weenzie Galway cafés to the Michelin starred spaces. Anything goes with Galwegian food, from traditional Irish dishes, to contemporary dishes cooked in the Irish way. As we also know, eating out is just one aspect of travelling abroad. So, to help plan your stay further, here are some comprehensive guides for how to stay in Galway:
Now, check out these restaurants and salivate over some of the best dishes I've come across in Galway. Let's go!
Pro Tip: If you're planning a trip to Dublin, consider bookmarking our dedicated Dublin page, with articles on The Cliffs of Moher, Giant's Causeway, Titanic, and more!
12. Dela Restaurant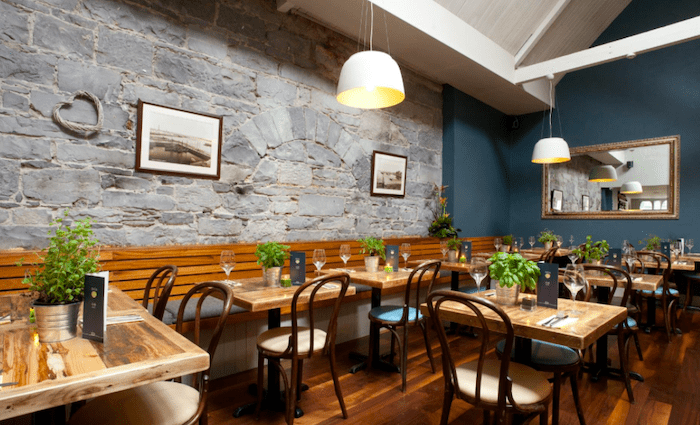 €€ | European Continental Style Food | Contemporary & Cozy | Galway City
My partner and I visited Dela two weeks ago when we were staying in Galway. The restaurant is tucked away in a foodie area called 'Dominick Street,' which is less touristic than 'Shop Street,' where you'll find all the gift shops, pubs, and mainstream restaurants. We arrived around brunch time and were greeted by (I think) the owner, who gave us a window seat and was very friendly.
We both opted for Dela's full Irish breakfast – one with fried egg, one with scrambled – which was an umami treat for the taste buds! I also ordered a perfectly silky cappuccino. It gave me life again, after drinking too much from the night before. Some other brunch highlights include their eggs Benedict, as well as buttermilk pancakes.
If you're dining in the evening, you can look forward to things like seabass fillet, pork shoulder bonbons, or wild venison with red Russian kale, harvest vegetables, and mash. On top of that, you'll have plenty of vegetarian and coeliac options. All in all, the ambiance is very comforting, calm, and cozy. I definitely recommend a little window seat for two.
Address: Dominick Street Lower, Galway City
11. Morans Oyster Cottage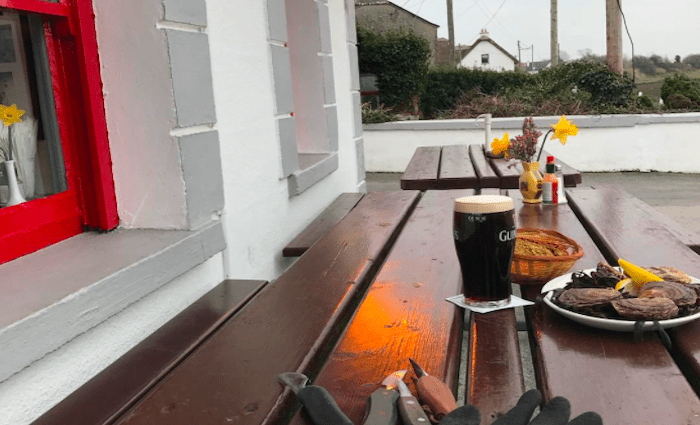 €€€ | Oyster Bar and Irish Thatched Pub | Traditional Seafood | Kilcolgan, County Galway
Moran's is a quaint, thatched cottage with red windows and doors, which sits on the weir of the Dunkellin and Clarenbridge Rivers. It's roughly a 35-40 minute drive from Galway city (to the middle of nowhere), so this is considered going out of your way… But, I'm confident you won't be disappointed in making the effort.
First of all, it's a traditional Irish pub setting, so you can expect to see interior stone walls, a thatched roof, floral plates in display cabinets, shiplap ceilings, and lots of pine furniture. The Irish are obsessed with pine. I really don't know why.
Anyway, grab yourself a Galway Hooker (the pale ale, not the other kind), and sit yourself down at a table inside, or else at a bench overlooking the river. Ireland has been eating oysters for thousands of years, as they grow in abundance along the coast.
Accordingly, Moran's have a whole separate menu for oysters, such as Clarenbridge and Gigas rock oysters. You can also order from their main menu, which consists of dishes like seafood chowder, steamed mussels, prawn cocktail, fish and chips, crab claws, or New Quay lobster. Basically, a huge seafood menu! A must-do for food outside Galway city.
Address: Kilcolgan, County Galway
10. Ard Bia at Nimmos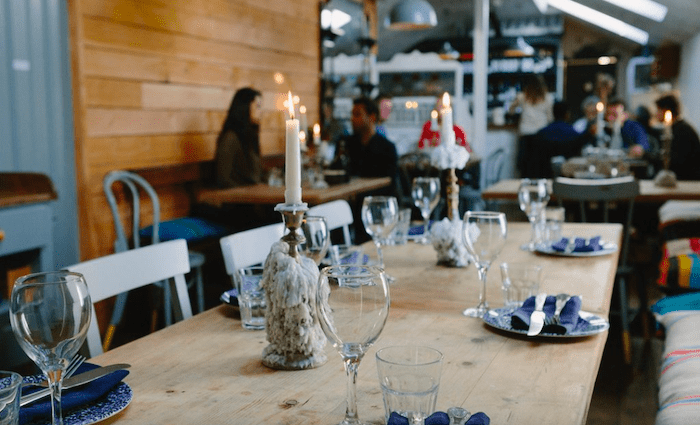 €€ | Smart Casual Dining | Contemporary and "Irish Rustic" | Galway City
Ard Bia at Nimmos is located right beside the medieval Spanish arch, which runs along The Port of Galway. We stayed nearby during a storm, and the small but stoney exterior of Nimmo's held strong against the thrashing elements! Whatever the weather, if you're looking for a setting with waterfront views, then this is the place for you. The interior is what I'd consider "rustic-Irish-folk," so imagine waxy candle arbors, water carafes, dried flower vases, water rings on old wooden tables, and deep window sills. In other words, old Ireland meets modern Ireland.
In terms of food, try breakfast items like granola with roasted rhubarb and pear, chorizo and red pepper hash, or hot cured mackerel with brown bread and garlic aioli. For lunch, you'll have things such as Rueben melts, harissa lamb shoulder, potato and herb rosti. Dinner service lashes out Connemara scallops with black pudding, hand rolled tagliatelle with pumpkin and herb pesto, pumpkin pie dessert with cinnamon mascarpone – and more, obviously. As such, this is the ultimate choice for couples at any time of day.
Address: Spanish Arch, Galway city
9. The Quay Street Kitchen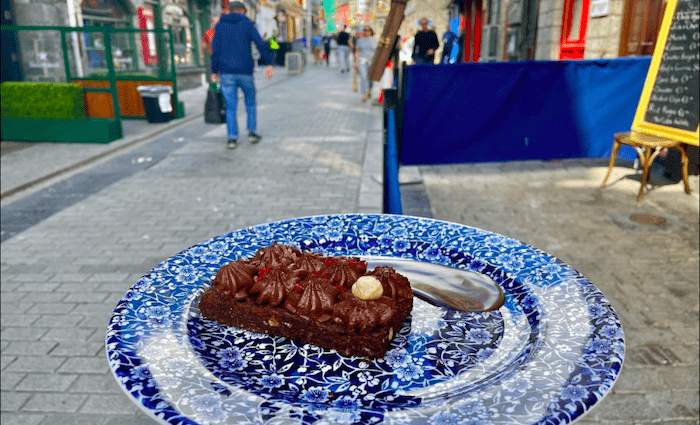 €€€ | Vegan Friendly and Gluten Free | Contemporary Meets Rustic | Outdoor Seating | The Latin Quarter
The Quay Street Kitchen (QSK) can be found in Galway city's cultural quarter (The Latin Quarter), which means it's a little touristy. That said, "touristy" doesn't always equate to bad, unless it's specifically designed to be a tourist trap. QSK is, by chance, centrally located and has been popularised because, well, it's popular!
If you're freshly arrived to the city, it's the perfect place to have a quick lunch refuel, while waiting to check-in (or out) of your hotel. There's outdoor seating which is great for people-watching. Or, the indoors, with its pub interior – all done in a classy way, to include a subtle performance stage for live music.
Food wise, the restaurant has a focus on all things gluten-free and vegan. Plenty of quinoa salads, as well as Irish seaweed bread with almond feta, Beef and Guinness Stew, fish and chips, lamb shank, Shepherds Pie, and a selection of vegan sandwiches. This is a convenient and easily accessible choice for visitors to Galway city. As you wait for the server to take your order, it would also be an opportune time to check out the top things to do in Galway for 2022.
Address: The Latin Quarter, Galway city
8. Loam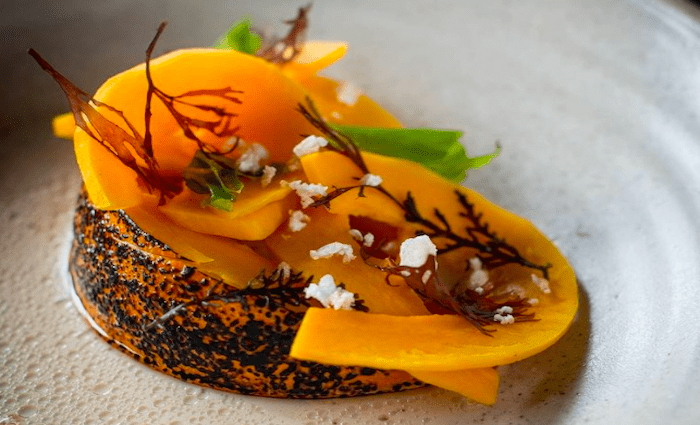 €€€€ | Upscale Dining | Experimental | Restaurant and Wine Bar | Galway City
Loam gained a Michelin star back in 2015 and has kept it ever since. It's got a real arthouse vibe, and it's very well known amongst the interested-in-food crowd. Above all, the whole setup is an experimental display. You have communal dining tables adorned with foliage, as well as private, round tables for smaller groups or couples. I would call the interiors a blend of "Japandi minimalism (Japanese and Scandinavian) meets mid-century Industrialist."
As one could expect from an upscale silver service venue, their food is small portioned but phenomenal. You have charcuterie boards with Connemara air-dried lamb and Gubbeen salami, or cheese boards with cows milk cheeses of varying ooziness. The menu changes daily depending on local produce, so you'll be in for a surprise.
Finally, the tasting menu sees things like smoked eel with tomato and cucumber, lamb, turnip, and broad bean, squid, shiitake, and egg. Very simple execution, but behind the curtains, high in culinary skill. This is a dinner experience for whatever night you plan on being the best night.
Address: Fairgreen Road, Galway City
7. Owenmore Restaurant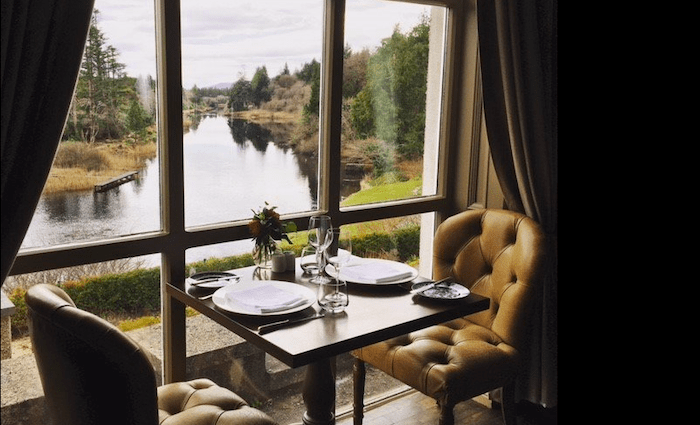 €€€ | Fine Dining | Classic Design | On Grounds of 4 Star Hotel | Recess, County Galway
Owenmore restaurant resides in the four star (should be five star), Ballynahinch castle. Pictured above, is just one example of the kind of view you can expect from your table (though, unlike the picture, the room is actually super bright and airy in real life). There are a number of two-seater tables by the floor to ceiling windows that line the dining room. This gives you a chance to take in the marvellous, still water landscape of Lough Inagh in its region of Connemara. The overall decor is elegant and classical, having recently being refurbished in keeping with the period of the manor house.
My recommendation is to spend one or two nights at Ballynahinch castle, which can be booked on booking.com, here. This way, you can dine to your hearts content at Owenmore restaurant, which outshines all other 4* hotels' food, by miles.
On the starters menu, we have Cleggan crab, whipped Galway goat's cheese, and pork scrumpet with smoked black pudding. Follow this up with fillet of beef in Bourguignon sauce, or black sole on the bone with orange and cardamom beurre blanc. The dessert menu is also influenced by French cuisine, with a spritz of Irishness. This includes a dark chocolate delice with peated whiskey ice-cream, and a burnt lemon cremeux with meringue and raspberry sorbet. How's that for a spread, eh?
Address: Recess, Connemara
6. The Dough Bros Pizza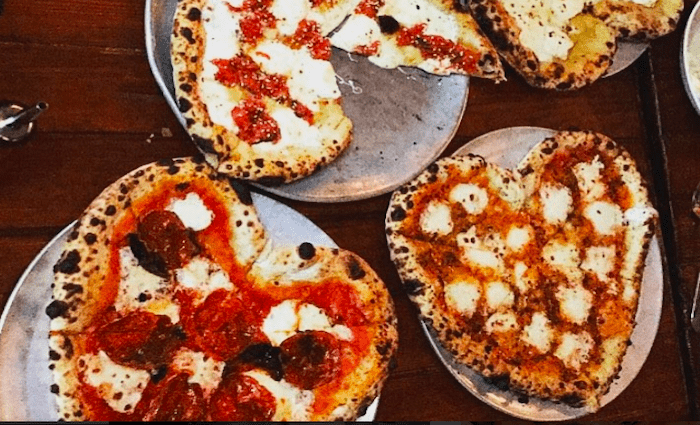 €€ | Pizzeria | Casual Dining | Younger Market | Galway City
Back to Galway city, and we have the renowned Dough Bros pizzeria. These guys have been around for nearly a decade, which is quite an achievement for a small business in Ireland. They are a pillar for woodfired pizza in Galway, while also being easy on your pockets and great for quick and casual dining.
In relation to the pizza at Dough Bros, you can choose between The Irish Margherita with Toons Bridge fior di latte, "posh pepperoni", ham and mushroom, and a kale based number, to name but a few. They also have vegan pizza options, as well as vegan garlic bread and garlic dip. By the way, garlic dip is surprisingly really good in Ireland. I would try and nab a garlic dip from a top place like this. Preferably this place. Overall, I highly recommend visiting The Dough Bros if you are up for casual, no frills dining with a younger clientele.
Address: Middle Street, Galway
5. Kai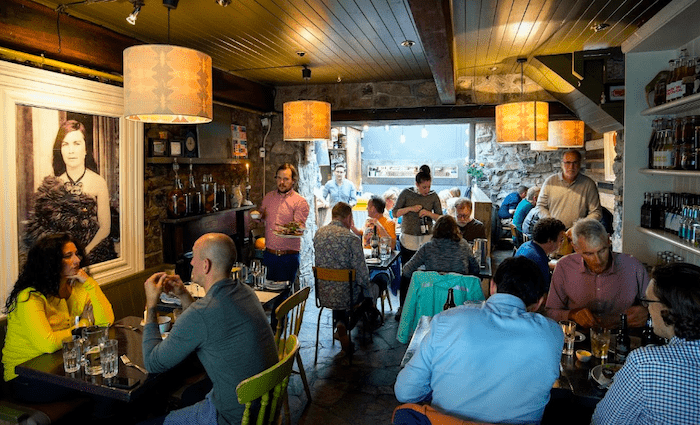 €€€ | Organic European Food | Bib Gourmand | Smart Casual | Galway's Westend
Kai restaurant is a cool spot, just an 8-minute walk from Galway town center. I really love the feel of this place. It's got stone walls, split-level ceilings (the open kitchen has a glass atrium that's higher than the rest), and there's also an array of eclectic finishings. A shout out to their retro wooden seating, namely the church pews, and their Irish public school-esque chairs from the 60's. Also, if you have kids, you'll be glad to know it's family-friendly.
Onward to lunch at Kai, which is all about modern approaches to the classics. Think gourmet fish fingers, spicy black bean nachos, and chickpea filo pies. Dinner is a bit more "grown up," per se. Take the Rossaveal hake with burnt butter Cauliflower and romesco, or the Roscommon lamb chops with beetroot picada and green tahini.
The desserts at Kai are also excellent, such as their malt ice cream and strawberries, Hokkaido pumpkin pie, and the dark chocolate and almond pud with burnt butter ice cream. What's even better about Kai, is that it's not booked out for months in advance. It's easily accessible and not overly pretentious. I enjoy an easy-going, everyday kind of place. I'd say you do, too.
Address: Sea Road, Galway's West End
4. Pullman Restaurant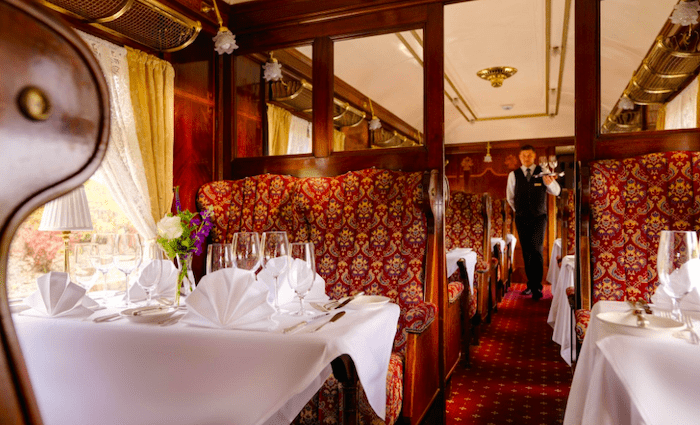 €€€ | Elegant and Upscale | In a Disused Carriage Train | On Grounds of 5* Hotel and Golf Course | Glenlo Abbey, Galway
Okay, this is a real novelty experience. The Pullman restaurant is based in two original carriages from the Orient Express, which have been elegantly restored to their former glory. Oh, and it's set on the grounds of the ever-exclusive Glenlo Abbey hotel, estate, and golf course. You know what I'm going to say, and that's a resounding voice that says: stay at Glenlo for a night or two. You can make a reservation at The Pullman restaurant, and enjoy the rest of the gorgeous estate while you're there. Readers can book a stay via booking.com, here.
Circling back to the menu, I urge one to start with cocktails. Take a chance on their whiskey sours, Pullman "Train Smash", Irish Mule, or perhaps "The Grumpy Conductor". A few sips should consequently get you in the humor for food. Opt for the scallops with wood sorrel and pancetta, a mains of velvet pork with apple, parsnip, and pickled mustard seed, or the pearl barley risotto. Then, finish with tiramisu alongside Cuinneog buttermilk cream, and Bailey's ice cream. Pullman's is a hardcore YES in my books. Well worth a visit.
Address: Glenlo Abbey Hotel and Estate
3. Tartare Cafe + Wine Bar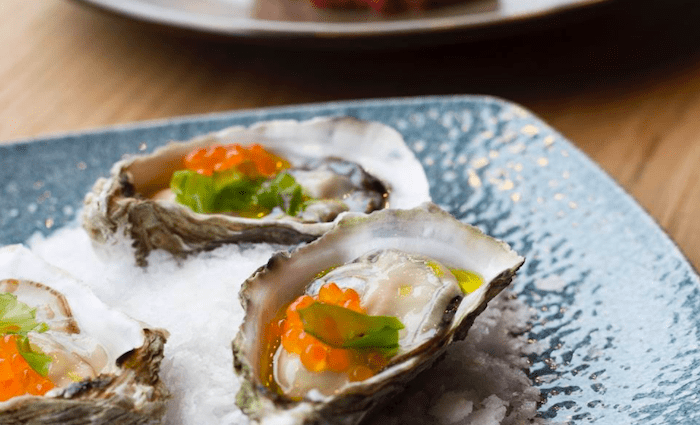 €€ | Smart Casual | Contemporary and Urban | Natural Wine Bar | European Food | Galway City
Tartare Cafe + Wine Bar is pretty self-explanatory. It's a cafe and wine bar… And a great one at that! By day, they operate as a cafe and brunch spot, serving speciality coffees, as well as their popular homemade sourdough. The interiors are ebbing on the industrial side, for example, the crumbling subway tile mixed with concrete walls and a bright pink neon sign. Tartare, she's a snug spot, but that makes it all the more elusive.
The crown jewel is, of course, the food and wine at Tartare. A contemporary take on in-season produce. All local. The lunch menu has things like venison sausage with red onion jam and black garlic mayo on a brioche roll. You'll also have a selection of artisan sandwiches (fried chicken, steak, pork belly bao buns). So, it's a huge and diverse mix of cuisines available. At dinnertime, there's an oyster selection, small plates like beef cheek with burnt onion and truffle mash foam, as well as charcuterie boards and sweet treats. Pair all this with their biodynamic wines, and you are seriously onto a winner.
Address: Dominick Street Lower, Galway city
2. Eán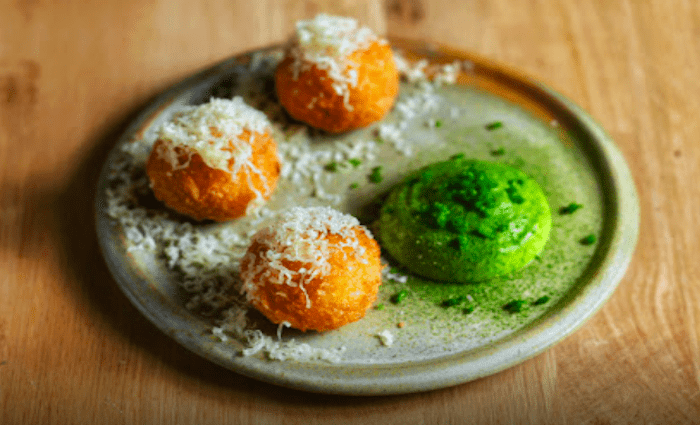 €-€€ | Small Cafe and Restaurant | Contemporary | Moody Lighting | Latin Quarter, Galway City
Éan started out by just doing takeaways. Interestingly, the owners of Éan are also the owners of Michelin-starred, Loam restaurant (which I've put as my number 8). That in mind, you're bound to enjoy what's on offer at this cafe, except without the price tag of Loam.
I'm glad when I was in Galway recently, I had the chance to sit in for a quick pastry and coffee. What pulled me in was the waft of the bakery, which emanated from their kitchen out onto the surrounding streets. Inside, Éan feels like a folky, peaceful, and considered space. It's neither too big, so probably ideal for couples, or people without kids.
Moving onto their menu, you have all types of delectable, sweet and savory croissants on offer. For lunch, there's plaice with Connemara shrimp, preserved lemon, and dino kale. Alternatively, sourdough sandwiches; like the one with organic beet, za'atar, summer squash, and organic leaves. You get more hefty dishes at dinner, including a €40 lamb shoulder with dumplings, black garlic, and shiitake (serves two), and squid toast with blonde miso and bonito—the list goes on!
It's great to see restaurants outside of Dublin taking on such experimental flavors. And I mean that in the most un-patronising way possible, as it's been a long haul to get up to the fine levels of cuisine we have in Ireland today. Go to Éan!
Address: Druid Lane, Galway city
1. Aniar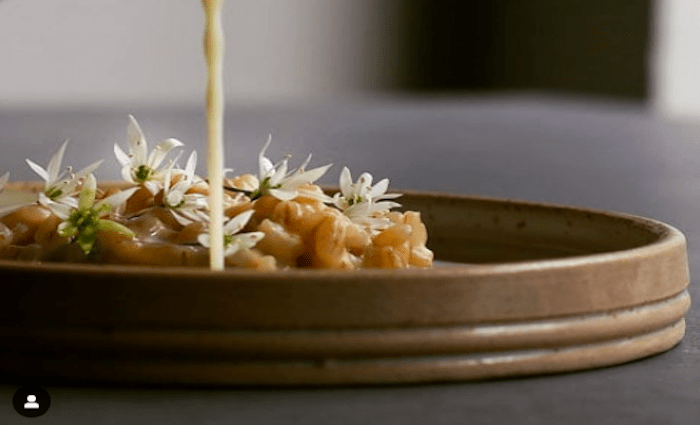 €€€€ | Michelin Star | Restaurant and Cooking School | Galway City
Aniar is on the same street as Dela restaurant and Tartare cafe and wine bar. It's a paradise street for foodies, where you'll find yourself for the majority of your meals – if you're lucky. The owner and head chef of Aniar, JP McMahon, wrote one of my favorite cookbooks, The Irish Cookbook, which sits pretty on top of my bookcase (and I'm sure the bookcases of many others). McMahon and his team know everything there is to know about Irish cooking, both old and new. Therefore, they run Aniar as a homage to west Irish cuisine.
If you're someone who cares about decor, it's not anything out of the ordinary during the day. By candlelight, though, it transforms into something romantic and intimate. The main reason you're here, is undeniably for the Michelin star food, which is a standard they've kept since 2013. To illustrate what you could get on a sample 18-dish tasting menu, there's things like trout with sheep's yoghurt, sea buckthorn, beef nasturtium (no idea what that is), and pumpkin miso.
They don't give much away, but the point is to place your trust in their expertise. I had no problem making a reservation the night before we arrived to Galway, so that's a major plus when it comes to fulfilling high expectations versus where to eat at the last minute. Certainly my top restaurant in Galway for 2022.
Address: Dominick Street, Galway city
---