Headed to Galway on the craggy west coast of Ireland? In this guide, we'll help you find the best place to stay for your vacation. Here are the best hotels in Galway.
---
Top Places To Stay in Galway
Galway is admired for being one of the most cultural and hardy cities in Ireland. It's situated along the craggy west coast of Ireland, and has a multitude of experiences to offer. You can do Irish dancing, watch street buskers, do beer tours, go surfing or horse riding on the beaches, do pub crawls—you name it!
In fact, if you'd like to know more about the experiences mentioned above, feel free to bookmark our list of top things to do in Galway. Before you do that, however, I'd like to give you a few pointers for finding the best hotels in Galway.
---
To categorize this list further, we've included Galway hotels at every price point. They are categorized as follows:
Our Partnership with Booking.com. If you like our content, please book by clicking on our Booking.com links. The price is the same for you and we get a small commission that helps support our helpful blog content. We've partnered with Booking.com because they have the most options, great prices, and a solid loyalty program.
Best "Super Expensive" Hotels In Galway
To be quite honest, Galway has a shortage of swanky five star resorts, hotels, and accommodation. You would be hard pressed to find somewhere that offers expansive grounds, concierges, hotel porters, health spas, golf courses, and hotel fine dining. All that said, I have scoured the internet and asked my dearest Galwegian friends, and as a result, I present to you: the cream of the crop of luxury hotels in Galway.
"Super Expensive" Prices: You can expect to part with €350+ (roughly $470) for standard rooms in these hotels. That obviously will vary, so click the "Booking" link which will take you to Booking.com to see prices.
---
Glenlo Abbey Hotel & Estate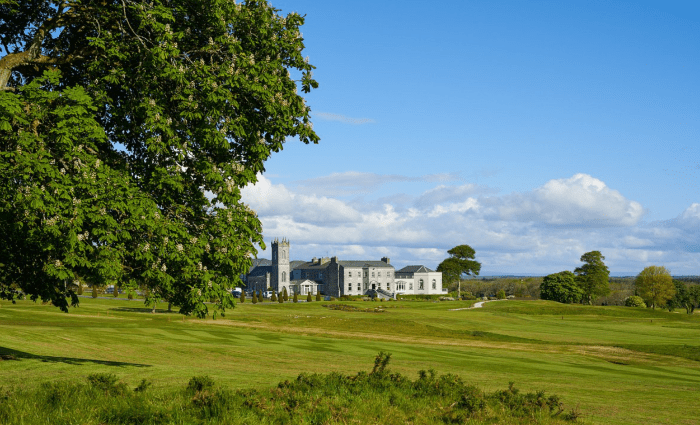 €€€€ | 5 Star Luxury Hotel and Resort | 21-Bay Driving Range | Lough Corrib
The five-star Glenlo Abbey Hotel and Estate lies on Lough Corrib in the western county of Galway. For the avid golfer, the Glenlo course offers "a unique and challenging experience to golfers at all levels," including "a signature 4th hole on an island green". The hotel itself offers patrons the utmost of splendour with regency style interiors, chandeliers, walled gardens, gold fixtures… The whole shebang!
Moreover, you can purchase their special packages, like the Christmas two nighter from €999! That includes an a la carte breakfast each morning, a festive Christmas day lunch, Stephen's Day supper, and a steady flow of champagne. Totes amazeballs!
The G Hotel, Galway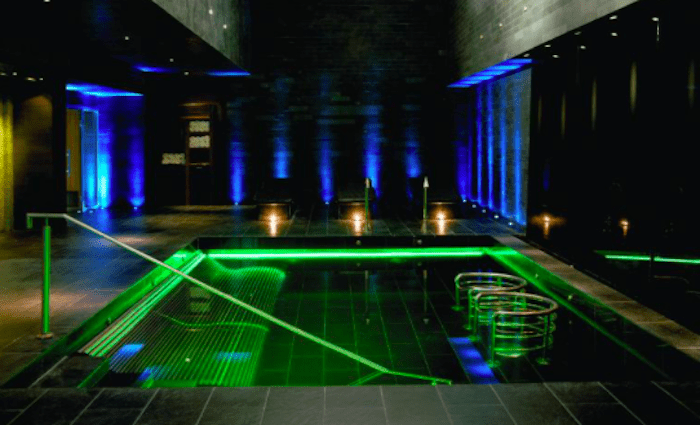 €€€€ | 5 Star Luxury Hotel | Contemporary | Galway City
The G Hotel resides on the old Dublin road into Galway city, and boasts a bohemian luxe interior with glitzy glass furnishings, reflective precious metal walls, purples, and golds. The rooms range from the "superior" to the even more extravagant penthouse suite, with its own fireplace and lounge.
The spa facilities are also unparalleled at The G. Pictured above is the moody, indoor infinity pool with LED lighting. You'll also have access to luxury spa treatments, as well as Indian and Swedish massages. A top pick for couples who are looking to glow up!
The Hardiman Hotel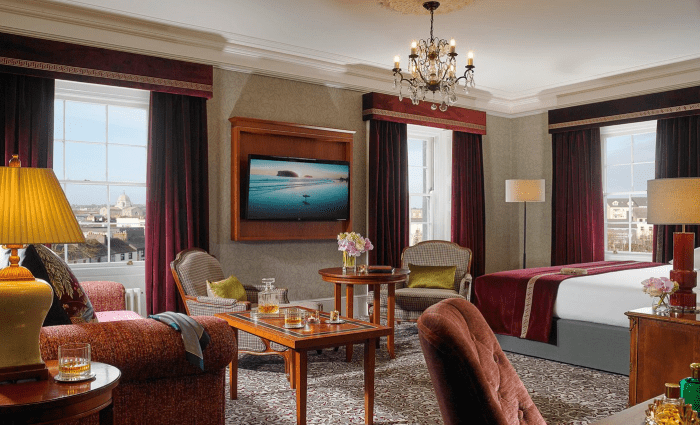 €€ | 4 Star Hotel | Classic Design | Victorian Architecture | Eyre Square
The Hardiman is a glamorously designed hotel that sits by Eyre Square. It has major curb-side appeal for it has a long driveway that you approach by car (Rolls Royce if you're that way inclined). You are then greeted by a Palladian mansion with sash windows, pillars, and rolling green gardens.
The rooms are as decadent as they come – deep set couches, flat screen TV's, walk in rain showers… You can also order afternoon tea in the lobby, dine in their bar and brasserie, or else grab a top-floor room that overlooks all of Galway city. I think older couples who enjoy opulence will get a thrill out of staying here.
The Best "Expensive" Hotels In Galway
The "Super Expensive" category is for people who like their coffee hot, their laundry freshly pressed, and their shoes shined every morning. So, if you have finer tastes, you better have a hefty stack of cash to match it. As you can imagine, these expensive hotels in Galway are sure to put a dint in your bank account (but guaranteed to leave you spiritually richer on the inside, of course).
"Expensive" Prices: While the prices of hotels change rapidly, expect these hotels to range from €150 to €200 (roughly $180 to $250) per night for a range of rooms. That obviously will vary, so click the "Booking" link which will take you to Booking.com to see prices.
---
Weir Haven Country House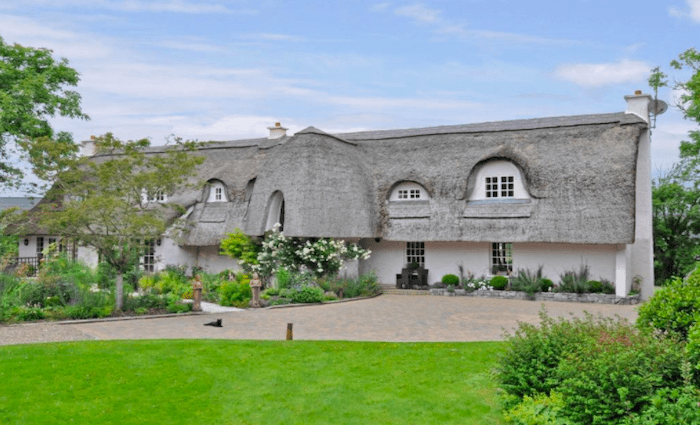 €€ | 5 Star Luxury B&B | Standard Rooms | Classical Irish Design | Overlooking Galway Bay
Weir Haven is a gorgeous accommodation near Galway city (just a 20 minute drive). This luxury thatched country house is situated close to Clarenbridge, which is famous for its annual Oyster Festival. You have four ensuite rooms at this accommodation, while also having stunning views over the private manicured gardens, the nearby Weir estuary, and Kilcolgan castle.
The host and owner, Kathleen, prepares a macrobiotic breakfast for guests each morning in the kitchen upstairs. If you're fond of cats, Blackie the resident cat also keeps a low profile around the B&B. This is a perfect choice for families, friends, or couples who love Irish cottage interiors, in addition to high class hospitality and generosity.
---
Here are some other high-quality hotels in this price range:
The Best "Mid-Range Lux" Hotels In Galway
Now we're getting to the demographic of the average traveller in Ireland. To no surprise, Galway has plenty of these "mid range hotels", which tend to offer all inclusive breakfasts, small-to-average sized en suite rooms, and nearly always a hotel bar.
So, if you're looking to save a few buckeroos while on vacation, the following hotels will allow you to do so, without having to say bye-bye to travel sized toiletries, 200 thread count bedding, and Farrow and Ball brand painted walls.
"Mid-Range Lux" Prices: While the prices of hotels change rapidly, expect these hotels to range from €100 to €250 (roughly $115 to $290) per night for a standard room. That obviously will vary, so click the "Booking" link which will take you to Booking.com to see prices.
The House Hotel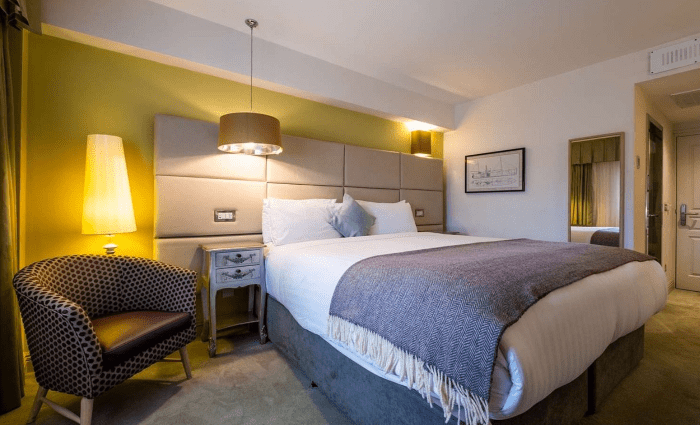 €€ | 4 Star Boutique Hotel | Contemporary | Beside the Harbor | Latin Quarter
The House Hotel resides near 15th century Spanish Arch, which lies on the harbor front. It has the benefit of being both close to nature and the bustle of the Latin Quarter in the city.
The hotel is set in a stone-walled building with interiors that are contemporary and soft. You can also dine in their Yard Bar for times when the outdoors is too cumbersome. Highly recommended for couples of all ages.
Sea Breeze Lodge B&B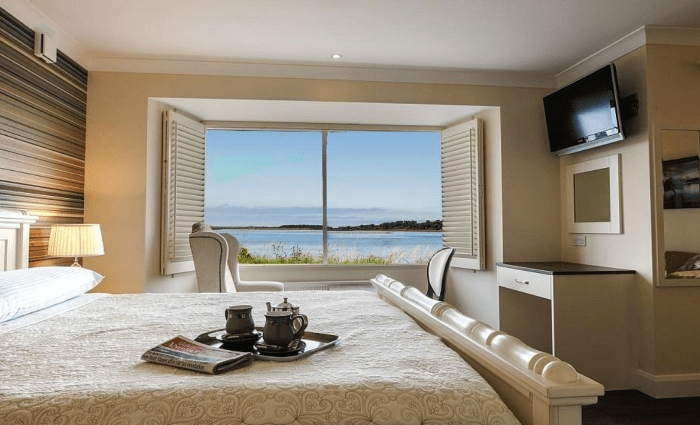 €€ | 5 Star Luxury B&B | Standard Rooms | Overlooking Galway Bay
If you want to wake up to views of Galway Bay from your bedroom window, Sea Breeze Lodge is the accommodation for you. The award-winning B&B has rooms with private terraces, tea, and coffee making facilities, as well as hot breakfast options in the mornings. The coastal spot is perfect for a romantic getaway.
Dunguaire Cottages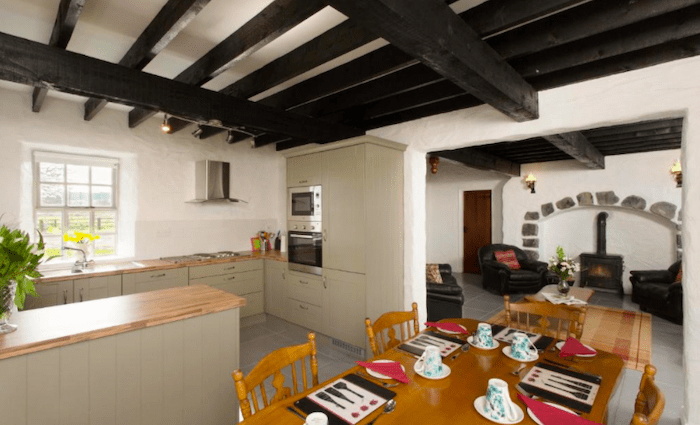 €€ | Self Catering Accommodation | Irish Design | Kinvara Town
The Dunguaire Cottages are self catering accommodation in the town of Kinvara, on the Wild Atlantic Way route. For starters, Kinvara is well worth the visit for its eerie lakes and sense of serenity. So, make the most of it by booking in a stay at Dunguaire, which is just a five minute walk from the town.
The cottages are thatched with an old Irish design (large, open fireplace, stucco whitewashed walls, ceiling beams, and more). Each cottage has two double bedrooms (one downstairs and one upstairs), as well as an upstairs twin bedroom. The private gardens also overlook Dunguaire castle. Overall, this is an ideal setting for groups who are travelling around rural Galway and want to experience old – but not dilapidated – Ireland.
Clybaun Hotel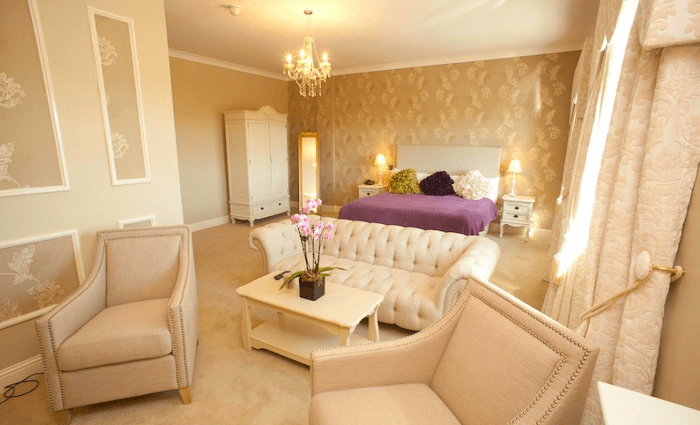 €€ | 4 Star Hotel | Modern | Indoor Swimming Pool and Gym | Outdoor Dining
Clybaun hotel offers patrons a range of amenities, such as an indoor pool, hot tub, gym, maritime restaurant, afternoon tea, and an Irish bar and bistro. The rooms are basic, but clean, and in the event you need to stock up on supplies, there's also a shopping center next door. A great stay for families and couples who want dining within their immediate grasp.
---
Here are some other great hotels in this price range:
The Best "Low-Cost" Hotels In Galway
As with most "low cost" hotels, their harbor for success relies more on a great location than amenities. These budget hotels in Galway are thus picked for their idyllic locations, with the expectation of using the space as somewhere to leave bags and sleep, before going off to explore for the day.
"Low-Cost" Prices: While the prices of hotels change rapidly, expect these hotels to range from €80 to €180 (roughly $92 to $208) per night for standard rooms – $208 may not sound cheap, but welcome to the exorbitant cost of living and the property bubble in Ireland!
Pricing will obviously vary, so click the "Booking" link which will take you to Booking.com to see prices. If you want even cheaper, you can also go to Booking.com and look for the cheapest hotels in the center.
Lough Inagh Lodge, Connemara Recess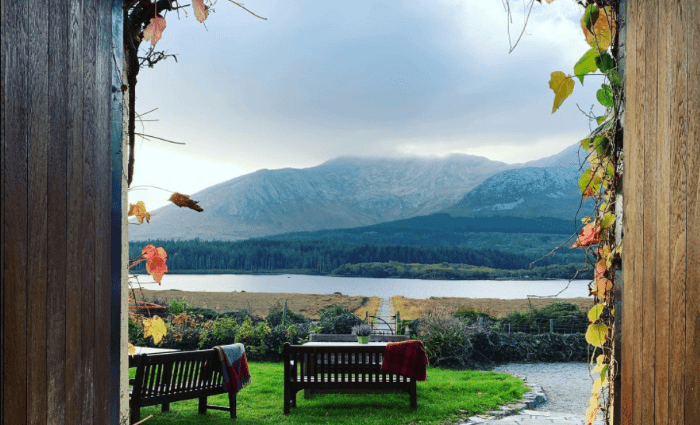 €€€ | 3 Star Hotel | Classic Design | Amazing Inagh Lough and Mountain Views
The main reason to stay at Lough Inagh Lodge is for its incredible views over the valley and mountains of Lough Inagh. The hotel is totally isolated, but inside you'll have everything you need, including a restaurant, meditation classes, a nearby golf course, a sheep farm, and an oyster farm.
This is a once-in-a-lifetime location that couples and families of all ages will love. Definitely one for the outdoorsy types. You will need your own transport, though.
Black Cat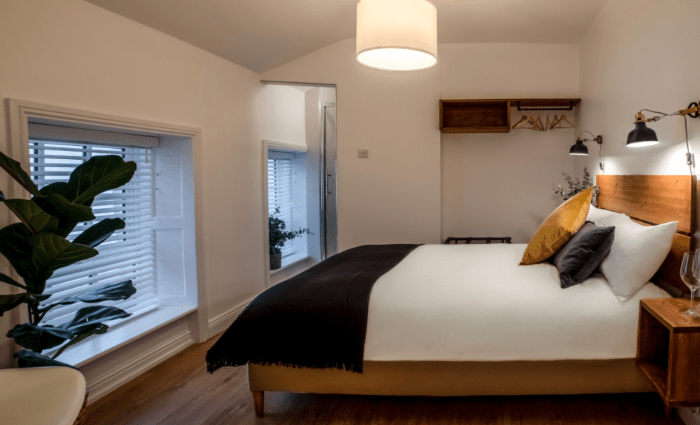 €€ | Self Catering Accommodation | Stylish and Cute | Salthill Town Center
The Black Cat is a gorgeous tapas & wine bar in Salthill's town center, which has charming en suite rooms upstairs. The decor is cozy and modern with a real European vibe. On top of that, the award winning tapas bar downstairs is also a must-try.
The rooms in this 200 year old building are small but recently refurbished into a modern and fresh vibe. This would be my first port of call when staying in Salthill and I think other millennials would love it, too.
Rosleague Manor Hotel, Clifden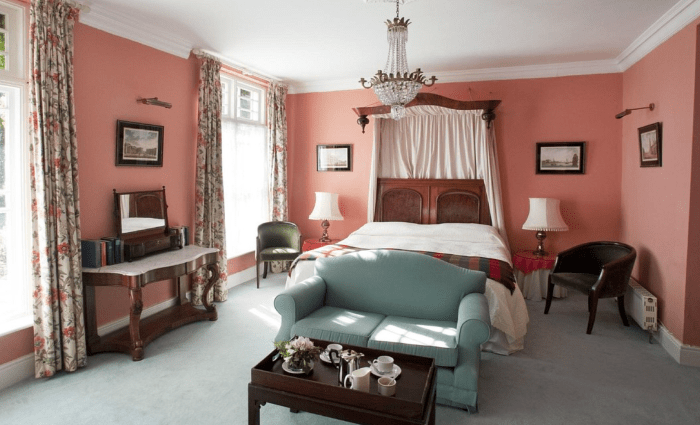 €€ | 4 Star Hotel | Period Manor House | Letterfrack Harbor and Ballnakill Bay
Rosleague Manor in Clifden has the luxury of both forest and Atlantic ocean views. As with all period manor houses, you can expect mahogany furniture, chaise longues, chandeliers, and plenty of portrait paintings.
Nearby attractions include Kylemore Abbey, Connemara National Park, and Inishbofin. Overall, I expect older couples would love Rosleague, as well as anyone with a love for history.
Aran Islands Hotel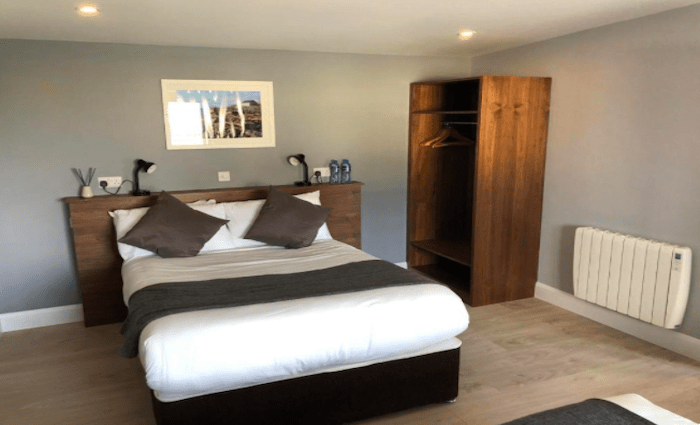 €€ | Contemporary | Restaurant and Bar | Family Friendly | Inis Mór Island
The Aran Islands Hotel is a modern fixture that welcomes all demographics who are island hopping to Inis Mór. The accommodation is basic but recently updated, so you'll have all the regular offerings of a "normal" hotel that you'd find on the mainland.
Overall, this is a comfortable base for those who want to explore the old version of Ireland.
Here are some other reliable and inexpensive hotels to choose from: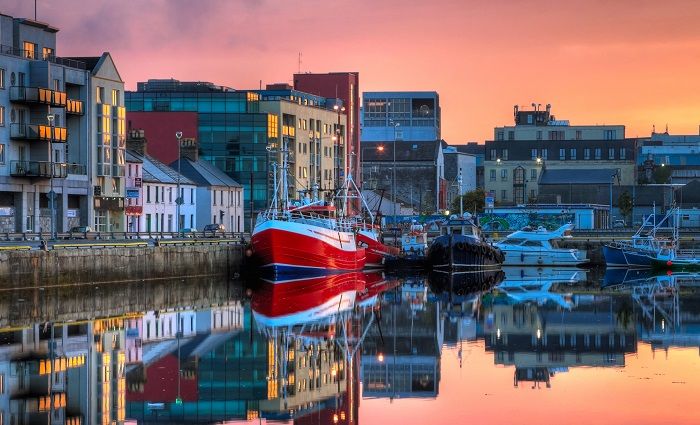 Find the best places to stay
Where To Stay in Galway
Deciding where to stay in Ireland's cultural capital, Galway, is easy with our local's guide to the best hotels and neighborhoods. From Eyre Square to the Connemara Region, you'll love your stay here!