Heading to Venice and not sure how people get from place to place without streets? There is an answer but it is complicated. Basically a combination of walking, private boats (water-taxi), and large ferry-like buses. Don't worry, we'll simplify it so you can get the most out of your trip to Venice.
---
Pro Tip: If you are wondering how the city of Venice works you should consider a guided tour on your first day. We can explain as best we can in this article, but a guide will be able to explain it in a few minutes in person. It is the best way to see the city and get your "sea-legs"!
Using Public Transport In Venice
The primary means of getting where you need to go in Venice are by boat or on foot. In the lagoon and along the canals, travelers have the option of several types of public and private boat options: vaporetto, alilaguna, private water taxi, gondola, and traghetto.
In this guide, we explain the different transport options, and how to use them depending on where you are trying to go.
Venice Italy Airports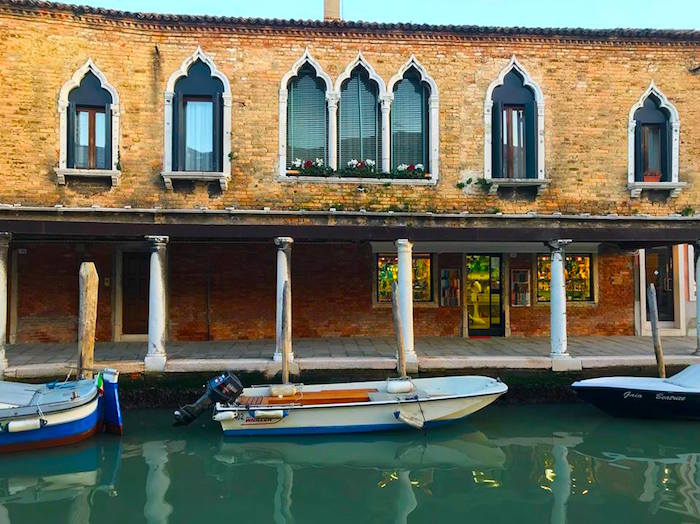 There are two airports in Venice, Marco Polo Airport, which is the closest to the city center, and Treviso Airport.
How To Get To Venice From Marco Polo Airport
Travelers arriving to Marco Polo Airport have 4 options for getting to the Venice city center: the Alilaguna waterbus, a land bus, private water taxi, or land taxi to Piazzale Roma.
Bus From Marco Polo Airport To Venice
There are two different types of bus services from Marco Polo Airport to Venice: The ATVO coach to Piazzale Roma (Venice) or the ACTV bus #5 Aerobus which stop first at Mestre and finally Piazzale Roma in Venice. Both services cost the same: €8.00 one way, or €15.00 roundtrip. The bus stops can be found immediately upon exiting the arrivals terminal at Marco Polo airport. Tickets can be purchased at kiosks inside the terminal or from the attendants at the bus stops.
Car Service Or Taxi From Marco Polo Airport To Piazzale Roma
Travelers can take a land taxi or car service from Marco Polo airport to the bridge connecting the mainland to Venice island. The cost is typically around 60 euro, and the route takes approximately 30 minutes. The taxi stand at Marco Polo airport is found along the sidewalk immediately outside of Arrivals.
How To Take The Alilaguna Waterbus From Marco Polo Airport To Venice
Certainly the most exciting form of Venice public transportation is the public water ferry from Venice airport to the city center called the Alilaguna. There are a combination of three lines that connect Venice's famous Grand Canal and the Mainland (at Lido), the cruise port (Maritimma) and Venice Airport: Linea Blu (Blue line), Linea Arancia (Orange Line), and Linea Rossa (Red line – this line only runs April-September).
Tickets cost €15 one way and €27 roundtrip. Kids aged six and under are free, and there is an a charge of €3 for every extra piece of luggage you have with you after your first piece. Tickets are available at the ticket machines and transport desk inside the Marco Polo arrivals hall. The route to San Marco takes a little over an hour. Don't forget that you will still have some walking to do to get to your hotel or apartment from the waterbus dock.
Private Water Taxi From Marco Polo To Venice
If you are planning that once in a lifetime trip or wanting to feel like James Bond on vacation in Venice, then take a private water taxi. One of the benefits of going by water taxi is that they can navigate the inner canals beyond the Grand Canal, and depending on where you're staying, some taxis will dock right outside your hotel.
To use a water taxi, you can purchase a voucher from the water taxi transport desk in the arrivals hall at the airport, then walk down to the dock, and present the voucher at the taxi desk. Otherwise, you can contact our Italy Travel Experts who can book one for you in advance!
How To Get From Treviso Airport To Venice
The Treviso Airport is a smaller airport, further from the center of Venice, that is serviced by many of the inter-Europe flights on carriers such as EasyJet and RyanAir. Treviso Airport is on the Mainland, and so the only options for arriving to Venice are to go by bus or by car service or taxi to Piazzale Roma, and then from there, by vaporetto or on foot to your hotel or apartment.
Taking the bus is the cheapest option. There are two bus lines with services into Venice: ATVO and Barzi. The ATVO line takes up to 70 minutes to arrive because of stops, whereas Barzi takes around 40 minutes to get to Venice. A roundtrip ATVO ticket costs €22,00, and the Barzi bus cost €12,00 one way or €22,00. Tickets for each can be purchased from the machine in the arrivals hall. Don't forget to validate your ATVO ticket using the machine at the stop before hopping on the bus. You will find the bus stops immediately in front of the arrivals hall.
The second option for getting to Venice from Treviso airport is to take a land taxi or car service. You will find the taxi stand immediately upon exiting the arrivals hall. It will approximately 30-45 minutes to get to Piazzale Roma in Venice.
---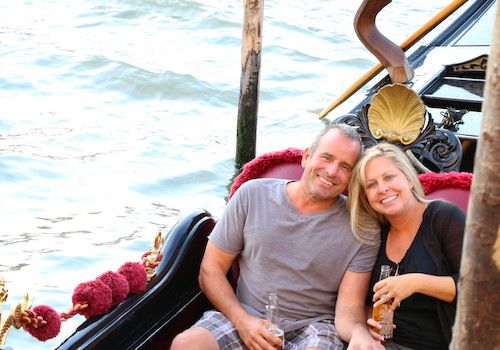 Venice in a Day Combo tour with Gondola Ride
If you want to make sure you experience Venice in-depth, this full-day tour is your best choice. Especially if you're only spending a short time in the lagoon, covering Venice in a day is a smart idea. That way, you can spend the remainder of your time sipping Prosecco by the canals.
---
Venice Italy Train Stations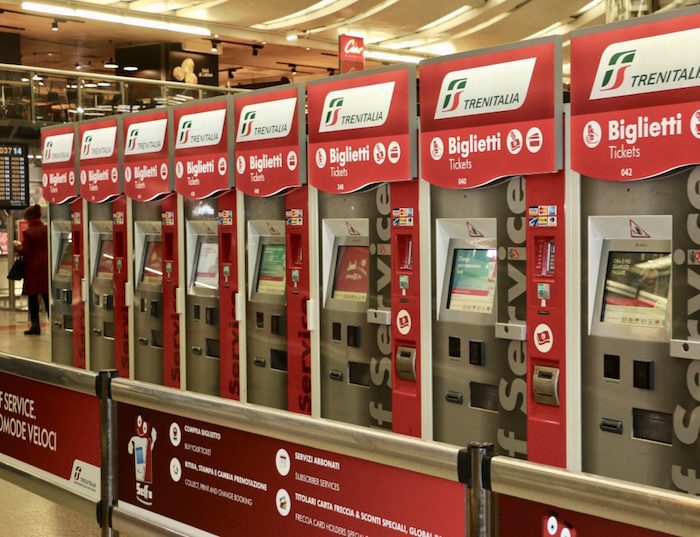 Santa Lucia Train Station To Venice City Center
There are 4 options for getting from Santa Lucia Train Station to Venice your hotel or apartment in Venice: the vaporetto, private water taxi, or on foot.
Vaporetto:
Upon exiting the train station, you will see a series of vaporetto docks and ticket windows along the Grand Canal. The vaporetto service has several lines traveling along different routes in various directions, so it will be important to know which line is needed to arrive to your destination.
Tickets for the vaporetto are not cheap, so it is also advisable to plan ahead as to which type of ticket will be best for your trip, and whether or not to purchase a multi-day pass. Remember that there is also a 6 euro supplement for each additional piece of luggage after the first one.
Water Taxi:
To the left of the last vaporetto dock, you will see the water taxi desk. To take a water taxi, you must first get a voucher from the desk and then go to the dock to find the water taxi assigned to you.
Walking:
Chances are, your hotel or apartment may be within 10-20 minutes walking from the train station. It is advisable to pack light on all accounts when traveling to Venice, especially if you are going to walk your luggage to your hotel!
The Prontopia app can be very helpful in this case as it provides immediate in-person help when and where you need it. A popular use of Prontopia is to request a local person to show you the way to your destination. This makes navigating the city less stressful, and enable you to choose the walking option more easily.
By Car:
Make no mistake about it, you cannot drive a car in Venice! If you are arriving in Venice by car, you will have to plan to drive to Piazzale Roma and pay for parking. Next, take one of the means of transport described above to get to your hotel or apartment.
The parking garages in Piazzale Roma are the closest to Venice City Center, and also the most expensive. You will also find the rental car desks around the parking structures of Piazzale Roma. It is possible to find cheaper paid parking in Mestre, but we recommend it will complicate things and create additional work. Paying to park closer is worth it in this case.
Ask A Venice Local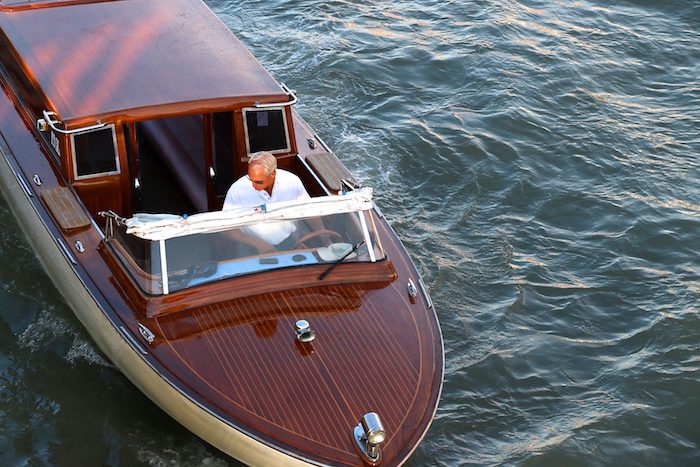 As you may have gathered by now, the transportation system in Venice floats on water. Many travelers will jump on a vaporetto hoping it goes to the right place. Unlike a bus, drivers can't let you out anywhere and you may be headed for a tragically long loop in the wrong direction. Study the map and make wise choices.
The cost is 20 euros per hour, calculated per minute that you use them (with a minimum of 5 euros). For example, assistance getting from Piazzale Roma to a hotel would cost approx. 14 euros, whereas the example of the pharmacy would be 5 euros.
If you install the Prontopia app now you can pre-schedule for a connection with a local to help with your arrival. Plus the app will also be available to you for any on-demand request you may have during your stay or for your departure. It's essentially a help button for local assistance.
We hope you find this guide useful, and that it helps to provide for a better experience of your visit to Venice.
---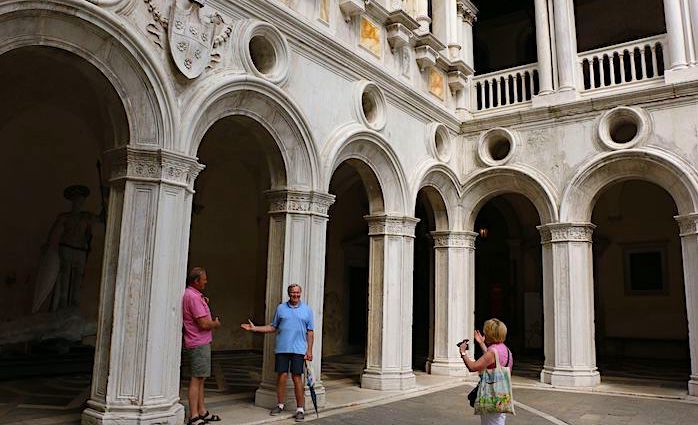 Venice in a Day Combo tour with Gondola Ride
If you want to make sure you experience Venice in-depth, this full-day tour is your best choice. Especially if you're only spending a short time in the lagoon, covering Venice in a day is a smart idea. That way, you can spend the remainder of your time sipping Prosecco by the canals.
---