The Amalfi Coast is an amazing destination that warrants 5 to 7 days of your vacation. That said, it is in our nature to "see it all"! I went down to the Amalfi Coast and spent 48 action-packed hours and here is what happened!
---
Pro Tip: Want advice to help you plan a great weekend trip to the Amalfi Coast? Bookmark this post in your browser so you can circle back to it while making reservations. Check out our article on Where to Stay on the Amalfi Coast.
48 Hours on the AmalfI Coast
Why 48 hours on the Amalfi Coast? I fully believe you need to get a taste of a destination before diving in. This way when you come back for a longer trip you'll know which part is for you!
Start in Rome
5:00 am
I started my adventure in Rome where we were shooting for 48 hours in Rome for our Youtube channel. If you are coming from Europe and flying into Italy, I recommend flying to Naples International Airport (NAP). If you are coming from an international destination and staying in Italy for a longer period of time it will likely make more sense to fly into Rome (FCO).
My mantra is to "Sleep less and do more," so we got up at 5 am and were on a train to Naples by 6 am. The major train company in Italy is Trenitalia, but Italotreno is normally less expensive and has good departure times. We took an Italo train down which cost about 30€ per person and the ride lasted 1hour +/-.
Our train left Termini station by 6 am and we were at the rental car agency by 7:15 am in Napoli Centrale train station.
We rented a car which I always recommend unless you are a terrible driver. There are almost no rules in Naples which makes driving easy and difficult at the same time. One thing to consider is that the Amalfi Coast road which runs along the coast is very narrow with a lot of curves. Prepare to concentrate as you drive and definitely pick up the body damage insurance just in case.
I normally never purchase insurance for a rental, but you always pick up a few scratches on the coast somehow.
Bagni della Regina Giovanna near Sorrento
9 am
Most of the reason we took the 6 am train is that we wanted to jump in the Bagni della Regina Giovanna before our boat trip to Capri which departed from the port of Sorrento at 10:30 am.
We arrived at the Bagni at around 9 am and parked the car. There are not defined parking spots so we took some liberties here and luckily we didn't get a ticket. We were only going to be there for 30 mins and figured that a ticket would be about 30€ which is only 10€ more than the parking garage a mile away.
The walk was about a kilometer (.7 miles) from where we parked to the Bagni which was quite nice. We passed Olive groves and there was an amazing view of the coast. I had obviously seen pictures of the area before but was still shocked by how amazing it was.
There was an amazing cliff that I was able to jump off which was an amazing replacement for my first espresso!
Boat Trip to Capri from the Port of Sorrrento
10:30 am
We arrived at the Porto di Sorrento aka Marina Piccola (small marina) at about 10:15. There was a parking garage right in the main Piazza. The people there were really nice and reasonably professional. We learned that parking always costs 20€ on the Amalfi Coast regardless of how long you stay.
One guy even said, "Yea, I don't wear a watch so it's easier for me if it's a flat 20€." You could get frustrated, but with 48 hours you don't have time to be upset. Besides, you're on the Amalfi Coast so have fun and don't sweat the small stuff.
We jumped on a half-day trip to Capri with You Know Boat who are AWESOME! Our tour was about 4 hours and departed from Sorrento to Capri. You did a full circle around Capri with tons of stops to go snorkeling, check out different grottos, and even jump off some cliffs which is my personal favorite thing to do!
They have a longer 8 hour trip to Capri which includes a 4 hour stop which I would recommend if you are staying on the Amalfi Coast longer, but we had 48 hours and did the 4-hour trip.
A Caprese sandwich was included in the cost which was nice because it took care of lunch. They also gave us wine and other snacks. The trip was really well done.
Tours of Capri & Pompeii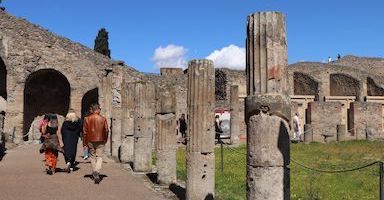 Best Selling Tour
Join us on an adventure from Rome to Pompeii and stunning Sorrento with comfortable, round-trip transportation. Skip the line access with an expert guide and make the most of your time in Italy and leave all the details to us. All you have to do is enjoy yourself!





See Prices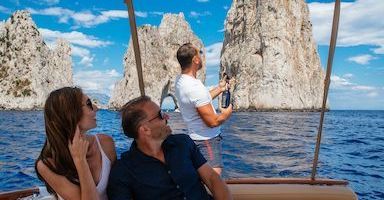 Amazing Experience
A full-day private boat tour to Capri from Amalfi, including the Island of Capri, is the best way to experience this world-famous coastline. Arrange a personalized boat tour along the Amalfi Coast and create unforgettable memories of Italy.





See Prices
Positano
3:30 pm
We got back to Sorrento at 2:30 pm, said goodbye to the boat people, and got our car. I was happy to see that all our computers and expensive equipment were still in the boot, but can't guarantee the same results.
We jumped in the car and drove to Positano which is where we were booked for the night at Hotel Eden Roc. They were nice enough to offer us a free stay since we featured them in this article and our video, but I have paid for rooms here in the past. Great hotel!
We took a quick shower and got ready in time for an aperitivo at their scenic bar. They have an amazing view and make incredible drinks. There is even a nice size rooftop pool which we didn't have time to enjoy but I definitely will on my next stay.
Aperitivo is a quintessential part of an Italian night out and is normally a cocktail or glass of wine with some finger food. This normally happens between 6:30 pm and 8 pm.
Dinner at La Tagliatta
7:30 pm
I wanted to get to La Tagliatta before sunset because they have an incredible terrace view looking over the Amalfi Coast.
This place is massive and completely family-owned and operated. They are quite literally farm-to-table as the restaurant is on their cliff-side farm. It is a really cool experience in my opinion.
That said, if you are looking for seafood this is not your place. They have a strict land animal and vegetable menu which is contrary to the typical Amalfi Coast diet. I really enjoyed the meal and would definitely recommend the experience to visitors.
Drinks at Positano Spiaggia
10 pm
I was so incredibly tired and didn't make it down to town for drinks, but if you are a night owl I would recommend getting a bottle of wine or drinks down by the beach of Positano.
There are lots of restaurants which function as bars throughout the evening. There is even a place named Music on the Rocks which is really cool that I would recommend.
Breakfast & Go!
8 am
As usual, we got up pretty early and got going. We had breakfast at Hotel Eden Roc which was included, abundant, and eventful. There is this really fun waiter named "Toni" there who has been there for years and is really lighthearted and fun. You can't mistake him.
We checked out and got in the car since we reserved a Kayaking tour in Amalfi Town. Normally, I would recommend spending both nights in one hotel, but we wanted to see a lot so we decided to spend a night in Praiano.
We decided to walk down to the main beach in Positano and do a little exploring since we did not do so the night before. Essentially there is only one winding road in Positano that leads to the beach so it's difficult to miss.
Amalfi Kayak
10:15 am
Getting There & Parking
We signed up for a 10:30 am Kayak tour which departed from Il Duoglio Spiaggia (beach) which is part of Amalfi Town. The beach is below a cliff and you can reach it in two ways. The first, going down 400+ stairs which is easy on the way down, and murder on the way up. The second is by taking a 2€ ferry that goes from beach to beach along the Amalfi Coast.
I recommend the second, but I am no stranger to exercise and did the stairs. We also had the car and parked above the beach at this snack bar parking lot. This is the parking lot where the guy said he doesn't look at his watch and costed 20€ again. When I came back, our car had a massive scratch on it which cost me 270€ to fix.
I only had 48 hours and didn't really see the local police helping much so decided to not try to fight over it and enjoy my time in paradise.
The Kayak Tour
The Kayak tour was epic. Our guide, who is also an owner, was Antonio. Really interesting local who is fun and exciting. He does a really good job preparing everyone and is really serious about safety, but finds a way to make it fun.
Antonio also does all the hard work for you other than paddling. He brings the boats in and out of the water and helps everyone get around. If you are mildly athletic you'll be fine and will enjoy yourself.
He took us a few miles down the coast stopping at beaches, grottoes, and rock formations explaining history and folklore along the way. At one point, we stopped and had some fruit and a swim which was much needed on a very hot day in June.
I definitely recommend wearing tons of sunscreen and bringing a floppy hat that provides a lot of shade. I forgot my hat and regretted it immensely.
All in all, the Kayak tour was awesome. We got a unique perspective and a lot of exercise which I can appreciate.
Lunch @ Lido Degli Artisti
2:30 pm
After our tour, we had lunch at Lido Degli Artisti which has a nice restaurant with a great view. We drank white table wine which is an inexpensive but refreshing wine that is served in a carafe.
I got Pacchheri which is a large rigatoni with muscles and clams and it was delicious. Everything tastes better with a good view!
Fiordo di Furore
4:00 pm
After lunch, we decided to head to Fiordo di Furore which is an amazing sort of inland beach with bluffs on either side. It was absolutely incredible and I am so happy we did it. Unfortunately, at this point, we were exhausted but kept pushing forward!
Check-in Casa Angelina
5:30 pm
We checked into Casa Angelina, which is a luxury 5-star resort, at about 5:30 pm which left has no time to rest. When we got there we immediately noticed that it was nicer than we expected! We rolled up sweaty after a day of Kayaking so we took showers and started to explore.
The first thing you notice is the scent that follows you around the hotel which is the key to a luxury experience. The hotel is perched high up on the mountain in Praiano so it has amazing views. Praiano faces west, unlike Positano, so you get the sunset there which is great to watch from the hotel.
They have multiple restaurants, a bar, a great pool, a gym, and other usable amenities. The gym has a therapeutic bath, sauna, and personal trainer which is included in your stay from what I understood.
Casa Angelina hooked us up with two free rooms but did not pay for our recommendation. We never accept money to recommend things to travelers. We earn money by selling our tours soo you know all our recommendations are non-biased.
I must add that not every "handout" we get comes with a recommendation, but Casa Angelina was an entirely different situation. The hotel is simply so incredibly nice that it makes our job very easy. That comes with a high cost, but if you have the budget for a very luxurious hotel I would spend it here!
Tours of Capri & Pompeii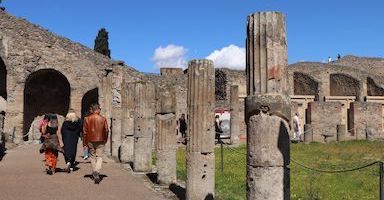 Best Selling Tour
Join us on an adventure from Rome to Pompeii and stunning Sorrento with comfortable, round-trip transportation. Skip the line access with an expert guide and make the most of your time in Italy and leave all the details to us. All you have to do is enjoy yourself!





See Prices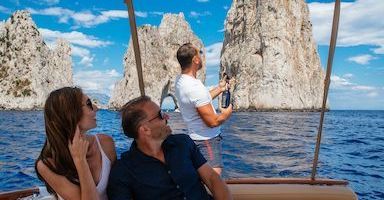 Amazing Experience
A full-day private boat tour to Capri from Amalfi, including the Island of Capri, is the best way to experience this world-famous coastline. Arrange a personalized boat tour along the Amalfi Coast and create unforgettable memories of Italy.





See Prices
Seaside Dinner in Praiano
8:30 pm
We enjoyed a cocktail at the hotel bar, a limoncello mojito, and then went to dinner at Il Pirata in Praiano. The hotel arranged a water taxi, which is totally the way to go, and we arrived at the restaurant which is on the water. We literally stepped off the boat and sat at our table.
Il Pirata is a cool restaurant right on the water that is family-owned and operated since before Praiano was as built up as it is today. They have tons of tables but make a reservation in advance.
They also have a cool bar that they built themselves! Ok, maybe you need more context for that to sound as impressive as it is. They used dynamite to create a cave inside the mountain and converted it into a bar. The bartenders are great and I don't throw around these types of compliments lightly.
I can't stand it when I ask a bartender what the best drinks are and they say, "What do you like?" These guys just said, "ci penso io," which means, "i'll take care of it." They made this amazing rosemary gin drink that was so far from what I would have ordered and I was so happy when I tried it!
At dinner we at a ton of seafood including raw "Ricci" which are sea urchin. I am always looking for strange foods and was excited to see they had ricci as I had never tried them raw. Amazing!
We took a water taxi home which might have been the highlight of the evening. We took a detour into a grotto which was super fun and shows you how proud Italians are of their country.
Breakfast & Pompeii
8 am
We were absolutely committed to getting the most of our 48 hours so we got up, eat breakfast, and headed back to Naples train station to drop off the car, but not without a stop in Pompeii. We hooked up with one of our guides there and did a 2-hour tour of what is commonly referred to as the best-preserved archeological site on Earth.
The Pompeii tour we took starts in Pompeii, but there is also another tour that leaves from Rome, hits Pompeii, and stops in Sorrento before returning to Rome. Both are great options that I highly recommend depending on your travel plans!