Finding accommodation in Dublin is a breeze. The city has plenty of amazing hotels, particularly ones with panoramic bars, infinity pools, and Michelin-starred restaurants. Honestly, you can find everything but the kitchen sink in the capital – no matter the cost! So, see below for the best hotels in Dublin.
---
This list includes Dublin hotels at every price point. They are categorized as follows:
Our Partnership with Booking.com. If you like our content, please book by clicking on our Booking.com links. The price is the same for you and we get a small commission that helps support our helpful blog content. We've partnered with Booking.com because they have the most options, great prices, and a solid loyalty program.
The Best "Super Expensive" Hotels In Dublin
If money burns a deep hole in your pocket, this section will probably stand out for you. These are the most opulent, once-in-a-lifetime hotels on offer in Dublin. Institutions like these frequently welcome A-listers, high-class socialites, and business tycoons – which should be right up your alley if you're forking out to stay here!
Super expensive prices: You can expect to part with €750+ (roughly $870) for standard rooms in these hotels. Prices vary, so click the Booking link which will take you to Booking.com to see current rates.
The Westbury Hotel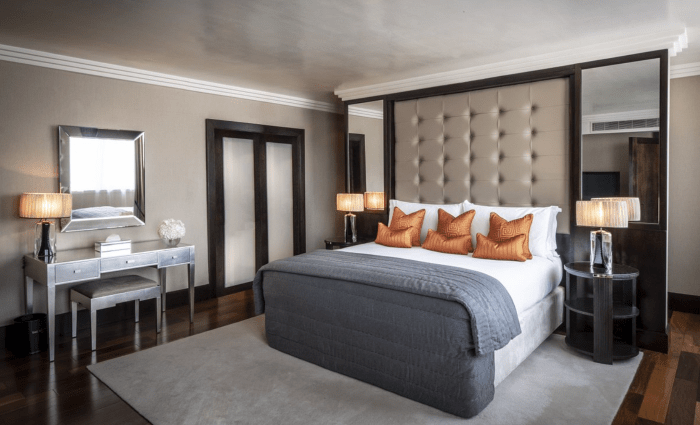 €€€€ | 5 Star Hotel | Classic Meets Contemporary | Grafton Street
The lure of The Westbury is mainly because of its close proximity to Grafton Street, a busy boulevard with designer stores like Louis Vuitton, Valentino, Rolex, and Balmain. This designer theme echoes back to the look of the hotel, with its interiors being a mix of transitional style and glitzy glamour. Imagine muted color palettes, high gloss ceilings, mirrored paneling, and metallic decor.
In addition, there are plenty of fancy amenities and services at your disposal. None other than a personal chauffeur, dry cleaning, a fitness suite, experienced babysitters, and a dedicated business center.
You'll also have three eateries at the hotel to tickle your fancy: a 30's cocktail bar, Balfe's brasserie, and WILDE (a chic ivy-walled restaurant). Afternoon tea is also par for the course in the lounge. Overall, a stay here would be very gratifying for wives and girlfriends in need of some $$$$+ retail therapy in the city.
The Merrion Hotel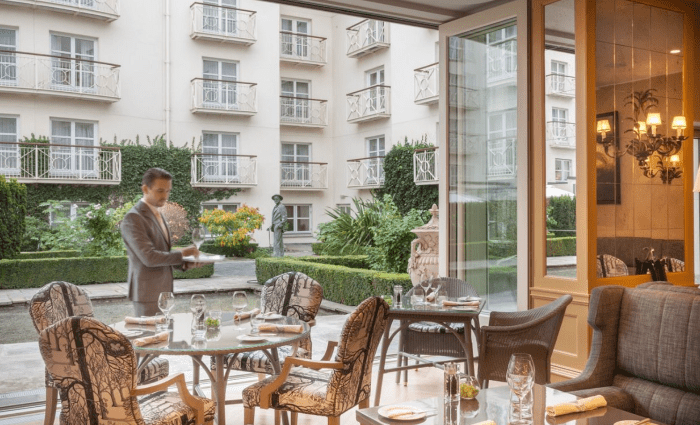 €€€€+ | 5 Star | Luxury Hotel | Georgian Architecture | Pool, Spa and Gym
The Merrion Hotel is unequivocally "extra." It bestows upon you the most regal place to rest your head. Take the Junior Suite, for example, with its canopy bed, chandeliers, and super-plush bedding. In the afternoons, you can sweep yourself away to the gardens to consume what they call an "art tea." On the plate, each delicacy resembles a painting in the hotel. This, by the way, is the level of detail you can expect at The Merrion.
Guests have the further luxury of concierge staff, valets, personal trainers, and more. Location-wise, it's a five-minute walk from the South city (the safer side of Dublin city). You're also no distance from cultural attractions like The National Gallery and National Museum. The Merrion is thus a safe bet for people who feel a little burnt out and want to reward themselves in the most lavish way possible.
The Shelbourne Hotel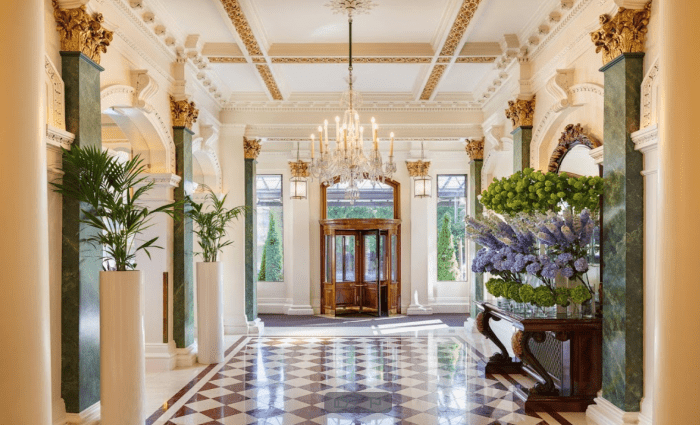 €€€€ | 5 Star | Luxury Hotel | Classic Design in Historic Building | Pool, Spa & Gym
The Shelbourne Hotel is an institution for high-class living. There are two centuries of history in the building, in fact, it was the first hotel to be gaslit in Ireland. During the age of classic Hollywood cinema, The Shelbourne was also the first port of call for stars like Charlie Chaplin, Clark Gable, Grace Kelly, and Jacqueline Kennedy.
Throughout the hotel, there are six bars and restaurants of varying fanciness, but I reckon guests will find peak luxury in the Michelin starred "Saddle Room" restaurant. Think retro dishes like Dover sole and lobster Thermidor. Mad Men enthusiasts, just imagine this as somewhere Don Draper takes his most important clients.
In summary, the Shelbourne basically has it all. Including locality. The hotel runs along the edge of the glorious St. Stephen's Green, and never one to stray from comparisons, this is Ireland's version of Central Park. It's a fantastic choice for guests who tend to check into hotels like The Ritz or The Savoy in London.
The Marker Hotel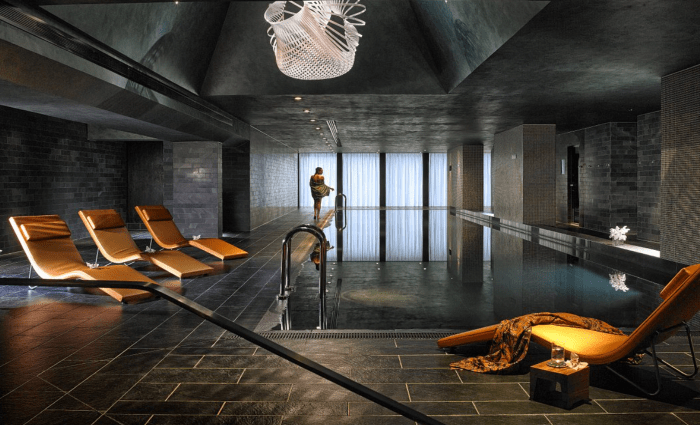 €€€ | 5 Star Hotel | Modern | Gym, Pool, Spa, and Rooftop Bar
The Marker's facade is instantly recognizable. A big, white, perforated box, not unlike The Broad museum in Los Angeles. Frequenters to the hotel are often staying in the area for business. Dublin Docklands, as it's known, is a financial quarter in the northern city with head offices and international trading centers.
Inside, the lobby has a dome-like concrete ceiling, which feels like the lair of a billionaire Bond villain. The suites have purple and yellow touches (so, you would have to be a fan of that color scheme). Considering general amenities, The Marker bears fruit for that, too. There's a sleek infinity pool and spa, which outshines most indoor pools in Dublin.
Moreover, you have a swanky rooftop bar with 360° views over Dublin city, including a restaurant, and even rooftop yoga. All the above makes The Marker hotel an exquisite pick for honeymooners, business folk, or just about anyone who loves the avant-garde.
The Westin Hotel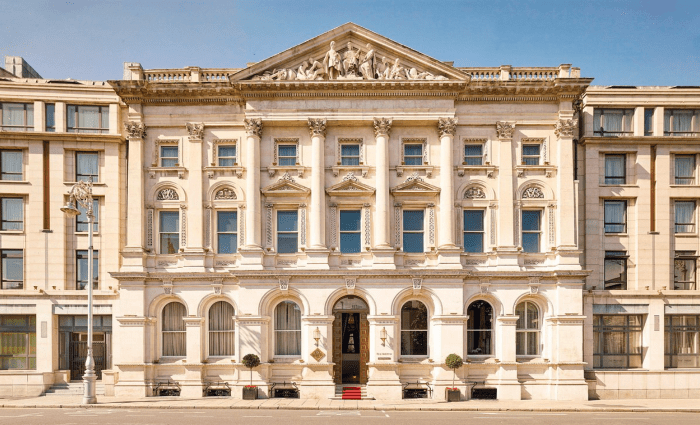 €€€€ | 5 Star Luxury Hotel | Iconic & Classic | Historic Building in Former Bank | Temple Bar
The Westin is an institution for high-class travelers who want immaculate service and repose from the noise of Temple Bar. The building used to be a bank and was designed in 1863, costing twice the estimated price. As a result, it's quite an impressive piece of architecture – both outside and in, with vaulted ceilings, columns and decorative panels.
Guests staying here can relax with a glass of bubbly in bed, or else take themselves out onto their private balcony. Not that the suites aren't spacious, of course. Some span two floors!
If you're situated on the Westmoreland side, you'll be overlooking College Green and the Bank of Ireland. However, the real spectacle is in the hotel's glass atrium, where you can order afternoon tea and read the papers. All said and done, The Westin is #1 choice for older couples. I would think of it as a central place you can get back to swiftly if you tire easily on vacation.
---
Here are some other stand-out hotels of the same caliber. These hotels have a slightly lower price range due to their less central locations, or lack of underground parking:
The Best "Expensive" Hotels In Dublin
The "expensive" category is for New Yorker art critics like Jerry Saltz, low-key actresses like Kate Winslet, or fictional characters like Cruella DeVille. Not forgetting the other upper echelons, like fintech CEOs, COOs, CMOs, and so on.
Expensive prices: While the prices of hotels change rapidly, expect these hotels to range from €200 to €450 (roughly $230 to $520) per night for a range of rooms. Prices vary, so click the Booking link which will take you to Booking.com to see current rates.
Number 31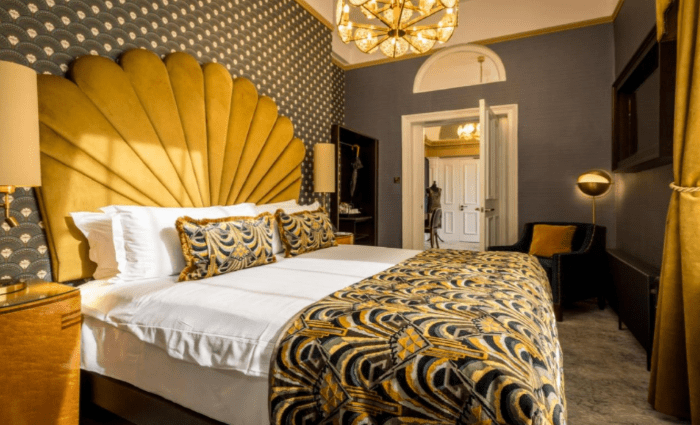 €€ | 4 Star | Luxury Townhouse | Georgian Building | Designer's Paradise
Number 31 is an eclectic townhouse that has been lovingly redesigned with respect to the Jazz Age. It was once home to Sam Stephenson, an architect who hosted legendary parties during the 1960's. So, as one can imagine, staying here is like a bed of roses.
In terms of layout, the main property links up with a converted stables through a landscaped garden. This gives guests the option of staying in cottage-like mews, or else more modernist style suites [pictured] on the main property. My favorite feature, overall, is the sunken conversation pit in the foyer – unchanged since the 70's.
Moreover, the location of Number 31 reigns supreme. It's 10 minutes by foot to city center spots like Grafton Street, Stephen's Green, and RHA Gallery. Furthermore, the facilities offered to patrons are plentiful: a minibar, allergy-free linens, deluxe toiletries, and top-notch breakfast in the conservatory. A stay here would be very gratifying for design lovers and those in need of a sumptuous recharge.
The Mayson Hotel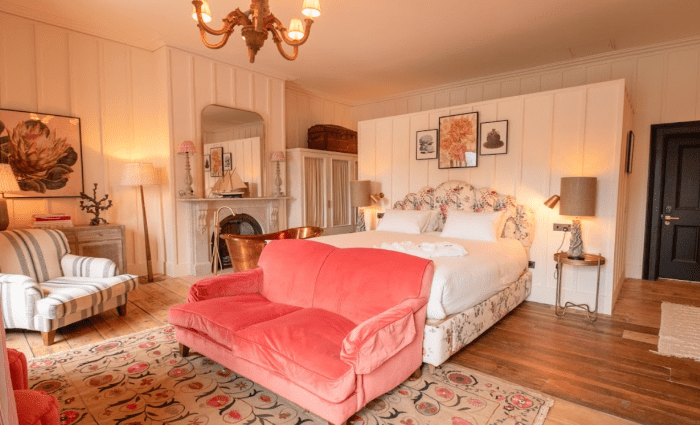 €€ | 4 Star | Boutique Hotel | Stylish | Great for Social Media
The Mayson is a millennial's idea of modern luxury. This is mainly due to their novelty offerings, such as freestanding copper tubs, Smeg fridges, Netflix, hot tub, semi-outdoor heated pool, and more. The hotel is also unique in that it's situated at the neck of Dublin port – a sparsely populated area, which opens out onto the Irish sea.
Another magnetic pull of The Mayson is definitely the ultra-cool, polished design of the place. You have what gen z's call "cottage-core" in some suites, and then contemporary pop art and neon signage in other parts of the hotel. The hotel's new-age luxury has social media opportunities at every corner, too. Plenty of considered spaces for you to strike a pose, while sipping on a crafted cocktail in utter refinement.
The Wilder Townhouse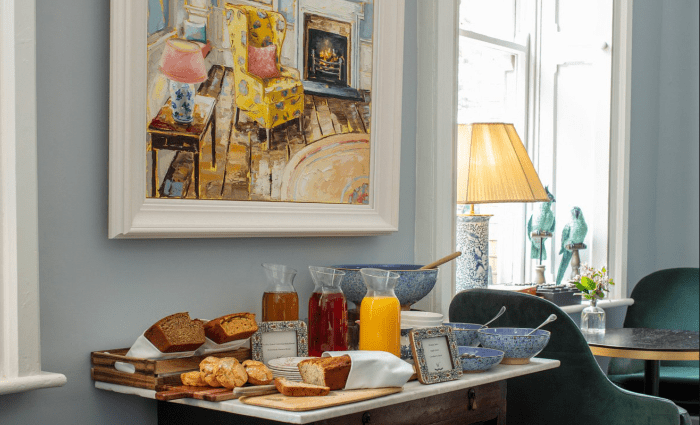 €€€ | 4 Star | Victorian Townhouse | Award Winning Breakfast | Merrion Square
The Wilder is a redbrick townhouse that sits back from a tree lined street. Residents to the area are paying big bucks just for this street address. As a visitor though, its undisturbed setting is good for light sleepers, or for those who simply need peace and quiet while on vacation. In Dublin, sometimes simply not having noise pollution is the only luxury you need!
Architecturally, The Wilder is Victorian, but the interiors have been revamped to an art deco style. Inside, there are sunbeam wall sconces, velvet furnishings, and herringbone wood flooring. In other words, no stone is left unturned with regard to the design.
The Fleet Hotel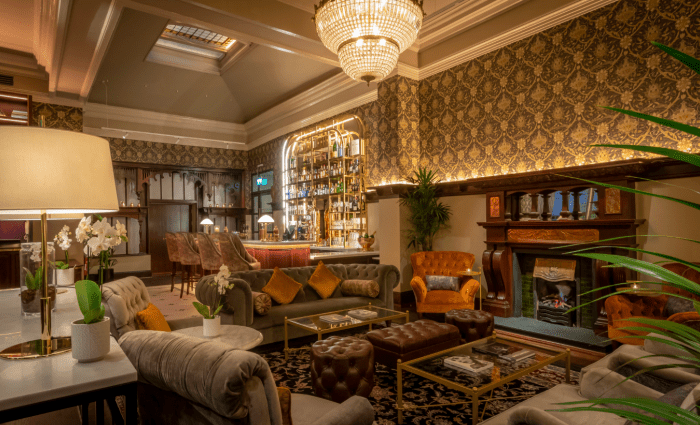 €€€ | 4 Star Hotel | Cozy & Comfy | Luggage Storage after Checkout
The Fleet Hotel has all the glitzy bells and whistles of a 4-star hotel but goes for comfort and warmth in the bedrooms. It's located on Fleet Street, which is dead center of Temple Bar (but on the quiet side). It's not as regal as other places listed in this section, but the location is unparalleled. Like, you cannot get a more optimal area than this side of Temple Bar. You'll neither skimp out too much on luxury.
The Fleet is therefore a logical choice for visitors who want to see the mainstream attractions, whilst also retaining comfort and style. Worth noting that if you're someone who cares about other types of guests, one can't say for sure what demographic winds up on this hotel's doorstep. Due to the mainstream location, it's usually every Tom, Dick, and Harry.
Hyatt Centric, The Liberties, Dublin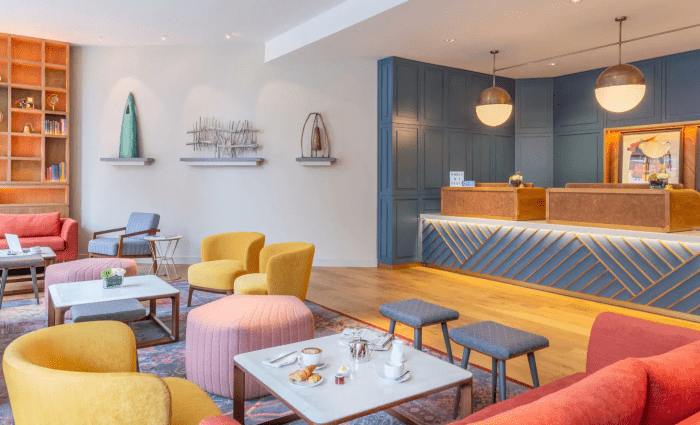 €€€ | 4 Star Hotel | Chic | In Oldest Part of Dublin
Hyatt Centric is an ideal destination for romantic breaks or girls' getaways. The interiors are minimalist, feminine, and paired back, with a touch of Scandinavian design and Danish "hygge" lighting.
The hotel is also pretty well located. Only a short walk to the Teeling Whiskey Distillery and St. Patrick's Cathedral. Overall, the Hyatt Centric is a great contemporary option. Setting the scene, imagine a high-flying gal who recently got divorced (for the second time). She's looking to pamper her closest and most supportive girlfriends, and she's bringing them to The Hyatt.
---
Here are some other high-quality hotels in this price range:
The Best "Mid-Range Luxe" Hotels In Dublin
As Dublin is one of Europe's most expensive cities, you'll probably want to pinch a few pennies at some point during your vacation. If you decide to cut costs with your accommodation, these mid-range hotels will allow you to do that, without much sacrifice on comfort or style.
Mid-range luxe prices: While the prices of hotels change rapidly, expect these hotels to range from €100 to €250 (roughly $115 to $290) per night for a standard room. Prices vary, so click the Booking link which will take you to Booking.com to see current rates.
Ariel House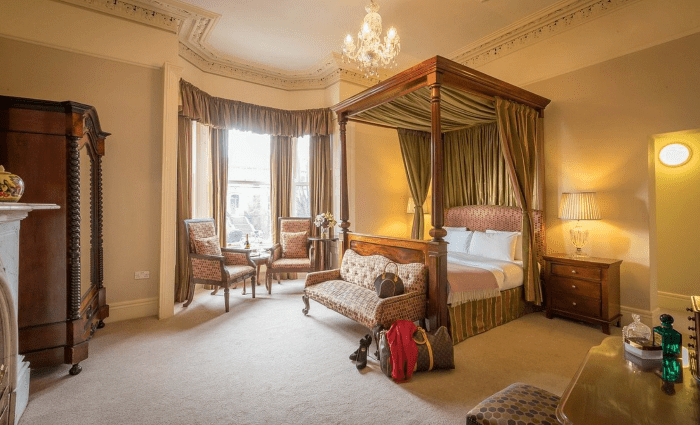 €€€ | 4 Star | Luxury Guesthouse | Victorian Architecture
The Ariel House is based in Ballsbridge, which is an affluent suburb on the Southside of Dublin. Visitors are usually in the area for sporting events in the Aviva Stadium or the RDS, but many do come for the stellar restaurants and gastropubs.
To the people passing through, Ariel House proves itself as a "luxury" for many reasons. Firstly, their credentials. They were voted as Expedia's 'Top 500 in the World for Customer Service' and McKenna's Guide voted them as 'Top 100 Places to Stay in Ireland.'
The interiors retain all the original features of a Victorian townhouse: four-poster beds, mahogany period furniture and objets d'art. Yet, the ambiance still feels bright and airy (something that's hard to achieve when you're sticking with an old style). So, in saying that, this would be a terrific option for people who like all things royalty and 19th Century colonial.
Clontarf Castle Hotel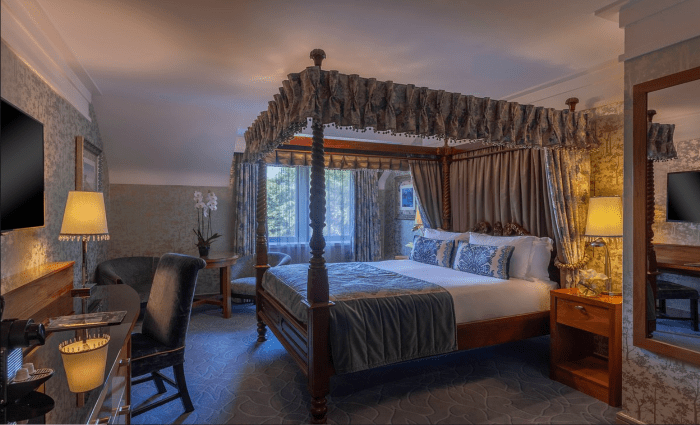 €€ | 4 Star | Medieval Castle & Hotel | Historic Building
There's a certain novelty to staying in Clontarf castle. 'Tis a grandiose place with oodles of history. In the 12th Century, the site was owned by the "Knights Templar", who fought in the Crusades. Today, the castle – much like the knights – doesn't hold any punches… Its flamboyant decor is a testament to that. I would describe the interiors as grand millennial or "grandma chic" and I'm here for it.
The "Clontarf" in Clontarf castle refers to the Northside coastal town where it resides. It's a little out of the city – about a 10-minute drive. However, Dublin airport is only five miles away. I would, therefore, stay here on your last night before heading back to the airport. This way, you can do all the attractions you may not have done otherwise, such as Bull Island, Howth, and Dollymount Beach.
The Dean Hotel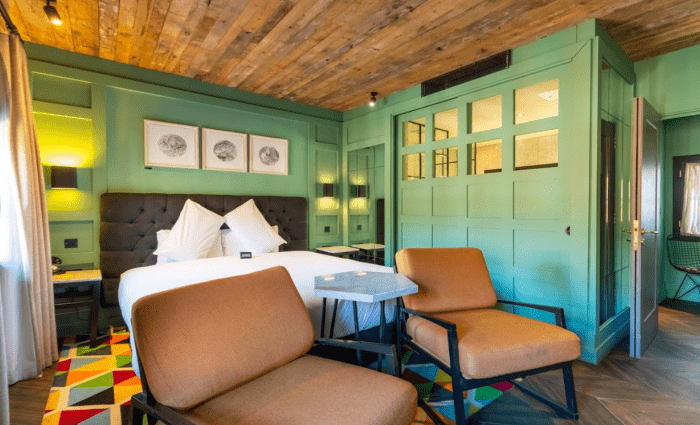 €€€ | 4 Star | Boutique | Modern | Panoramic Rooftop Bar
The Dean is a slick, boutique hotel with moody interiors, neon lighting and pop art touches. It's positioned on Harcourt street, which is Dublin's main district for clubbing and nightlife. Furthermore, it's just minutes by foot to high-end shopping on Grafton Street.
As the term "luxury" is so subjective, I reckon this appeals to the under 40's, but I think everyone will agree that the rooftop restaurant here is sublime. The "boutique" nature of the hotel means consumers get special perks, such as in-room record players, Nespresso machines, a minibar, and more. They also make excursions easy, with a tour desk in reception to organize everything for you. Very handy!
The Devlin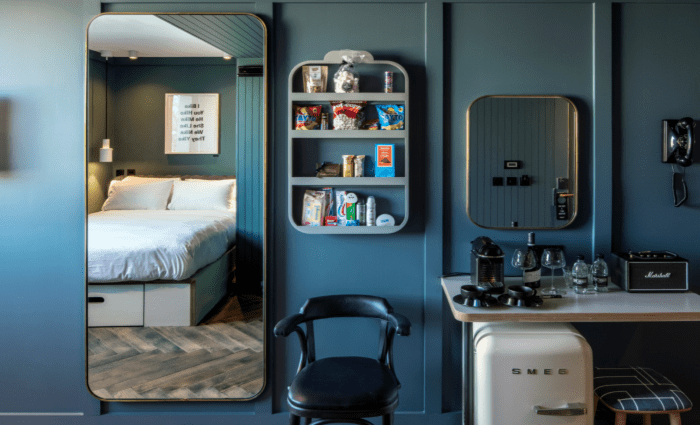 €€€ | 4 Star | Boutique Hotel | Modern | Rooftop Bar
The Devlin is sister to the aforementioned Dean hotel in Portobello. It boasts the same slick and moody interiors, except it ebbs more on the mid-century modern side. Guests have access to a rooftop bar, 1930's cinema, coffee hatch, and cocktail bar. You also get a 99 ice cream on arrival!
---
Here are some other great hotels in this price range:
The Best "Low-Cost" Hotels In Dublin
So, I'll preface this by saying that "low cost" in Dublin means basic and unmemorable, but these picks are the ones I know will give you as much style as possible within a small budget. These are places I would gladly stay in and leave good reviews for.
Low-cost prices: While the prices of hotels change rapidly, expect these hotels to range from €80 to €180 (roughly $92 to $208) per night for standard rooms – $208 may not sound cheap, but welcome to the exorbitant cost of living and the property bubble in Dublin!
Prices vary, so click the Booking link which will take you to Booking.com to see current rates or even cheaper hotels.
Zanzibar Locke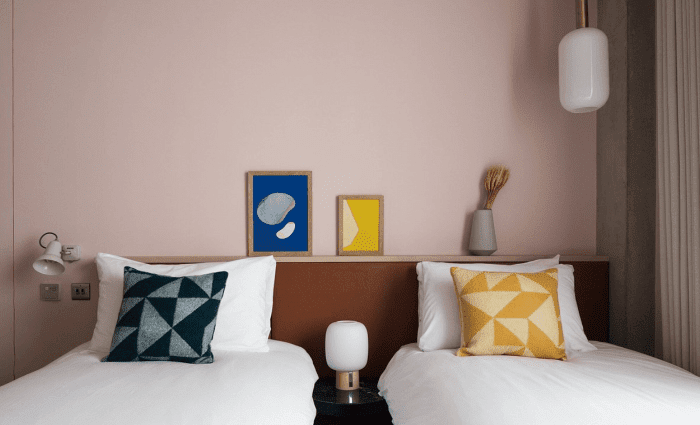 €€ | Stylish Self-Catering Hotel | Contemporary | Temple Bar | Oven & Kitchen
Zanzibar Locke is a newly opened, self-catering "aparthotel." In relation its appeal for people on a budget, there is no sacrificing of style for family functionality. You can, and will, have both at this aparthotel.
A lot of people staying at Zanzibar Locke are in the millennial market, so there's a cocktail bar downstairs to accommodate that. There's also a 24-hour reception, smoke-free rooms, and air conditioning, in-room facilities such as hairdryers, refrigerators, irons, toiletries, microwaves, and flat-screen TVs. I highly recommend Zanzibar Locke for people who need a good base for cooking meals. The location is also right beside Temple Bar, but on the quays (so, quieter at night).
Staycity Aparthotels, Dublin Castle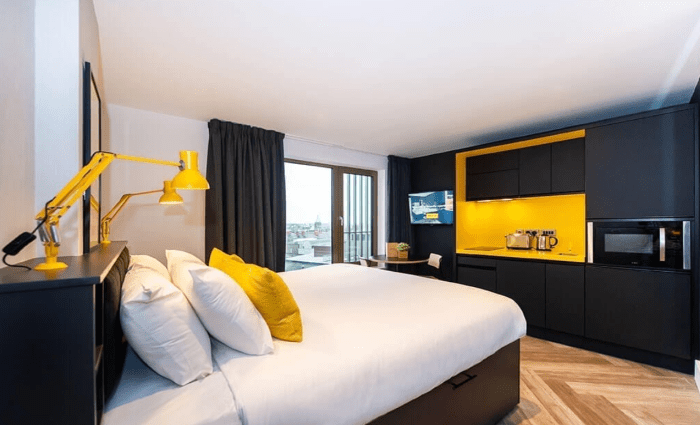 €€ | Trendy Self Catering | 24 Hour Reception | Near Temple Bar
There are a dozen Staycity Aparthotels around Dublin, but I suggest the "Dublin Castle" location. The neighborhood is no distance from Temple Bar, as well as being near to iconic cultural attractions. You'll want the bonus of being near, but not staying in the drunken crowds of Temple Bar.
The Dublin Castle Aparthotel has a 24-hour reception and self-catering options in the suites. This includes amenities like private ovens, microwaves, minifridges, and such. Moreover, their family apartments can sleep up to six people. As far as I see it, "Staycity Dublin Castle" is a top pick for thrifty types who need the convenience of cooking at the accommodation. On top of that, the clean and industrial vibe makes cleaning easy when it comes to any spills or stains.
Generator Dublin
€ | Upscale Hostel | Clean | Modern | Dorms & Private Rooms
The Generator is an industrial-style, upscale hostel right next to the Jameson Whiskey Distillery. It does exactly what an upscale hostel does: provides a place to lay your head for the night. There's a 24-hour reception, a late bar and they also run socials like table quizzes and movie nights. This is a low-maintenance choice for people in their 20's who want to drop off bags and explore. It's equally suitable for solo travelers looking to make friends.
---
Here are some other reliable and inexpensive hotels to choose from: