For centuries, Westminster Abbey has served as the religious center of the Church of England and as the site of the coronation for scores of royals over the years. There are a lot of great restaurants near Westminster Abbey, so we've narrowed them down to our favorites. Read on!
---
Pro Tip: Planning what to do on your trip to London? Bookmark this post in your browser so you can easily find it when you're in the city. Check out our guide to London for more planning resources, our top London tours for a memorable trip, and how to see London in a day.
Top Places To Eat Near Westminster Abbey
If you're in the vicinity of Westminster Abbey, we've rounded up some of the best restaurants nearby. From traditional British meat pies to modern Indian cuisine and afternoon tea, there's something for everyone.
Fuller's Kitchen
££ | Traditional British | Cozy Tavern
It doesn't get more English than this. Specializing in ale and meat pies at a reasonable price, Fuller's Kitchen is an iconic mainstay on Tothill Street. Serving up delicious tavern food from morning to night, it has a cozy, communal interior that's especially inviting on those gray, rainy London days.
Fuller's Kitchen has been perfecting the art of British Cuisine for over 30 years, and we'd definitely recommend any of their handcrafted pies. The Steak and Fuller's London Pride is particularly delicious. It's stuffed full of steak, caramelized shallots, button mushrooms, mash, and red wine gravy. Along with their tasting board of local ales, it's a knockout combination. (Literally, you might need to sleep this one off!)
Address: 33 Tothill St, Westminster
Cellarium Café & Terrace
£££ | Afternoon Tea | Very Close To the Abbey
If you're looking for a great place to grab a coffee or a quick brunch without straying far from Westminster Abbey, then Cellarium Café is a lovely spot. High-class and with a wonderful view of the Abbey, this place features beautiful vaulted ceilings that echo the elegant architecture of Westminster.
Though there are several great options for breakfast and lunch, we would particularly recommend the Cellarium Café for its Afternoon Tea. Served from 10 am, you'll be served with delicious tea with clotted cream, scones, and strawberry jam. Pair this with their carrot cake or seasonal selection of muffins, and you have an authentically English prologue to your visit to the Abbey.  
Address: 20 Dean's Yard, Westminster Abbey, The Sanctuary
Popular London Tours
Popular London Tours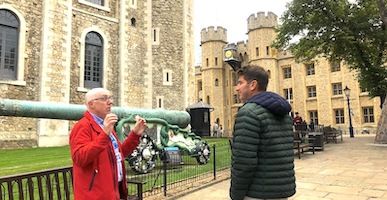 Best Selling Tour
Legends and Lore Tour of the Tower of London
How can you explore London's top attractions without getting overwhelmed? By joining this guided small group tour! With 1,000 years of history and acres of buildings, the Tower of London is easier to explore and understand with the help of your local guide. Best of all, you'll even see the famous crown jewels and have a boat ride down the River Thames.





See price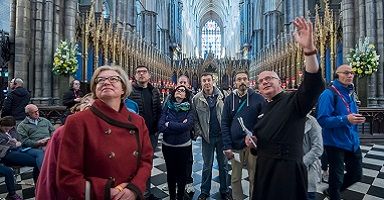 Top Selling Tour
London Walking Tour with Westminster Abbey and Changing of the Guard
This is the perfect tour for someone who wants to get to know the real Westminster Abbey. With skip-the-line entry, you get some quiet time in the nave of the abbey with your guide and small group before exploring the tombs of notable kings, queens, philosophers, and more. Depending on the day, you'll even get to see the Changing of the Guard ceremony at Buckingham Palace.





See price
Not ready to book a tour? Check out our article on the best London tours to take and why.
Gillray's Steakhouse & Bar
£££ | Open Early | Buffet Style Breakfast
A good hearty breakfast is an indispensable part of any successful day spent walking the streets of London. Located just across Westminster bridge and inside the County Hall hotel on Westminster Bridge road, Gillray's Steakhouse opens early and offers diners a picturesque view of Big Ben while they enjoy their breakfast.
Served buffet-style, Gillray's offers what you would expect of a continental breakfast, but executed with the highest level of attention and detail. They also have some great a la carte options, like the vegan scotch eggs made with fresh hard-boiled eggs coated in bread crumbs.
Whether you're looking for a big breakfast or just something tasty while you enjoy the spectacular view, Gillray's makes sure to put you on the right foot before starting your day. Of course, it's a wonderful place to return to for an impeccably served steakhouse dinner.
Address: County Hall, Westminster Bridge Rd, South Bank
Ma La Sichuan
££ | Sichuan | Homestyle
An intimate modern interior and an extensive Sichuan-style menu are on offer at this Monck Street Chinese joint. It's a great spot for lunch, especially if you're looking for authentic food that won't break the bank. Seriously, with most dishes around £8, you'll want to bring some friends (or ask for a to-go box.)
Start your meal off with one of Ma La's Streetfood Snacks, featuring homestyle dishes sourced from the strong street vendor tradition of Sichuan, China. The Classic Sichuan Dan Dan is fantastic, featuring wheat noodles topped with sweet and sour sauce, Sichuan pepper, and pickled vegetables.
For your entrée, you really can't go wrong, but we'd recommend the Dry Wok Pork Belly with Hand Torn Cabbage, cooked right at your table!
Address: 37 Monck St, Westminster
Sapori
£ | Italian and British | Open Late
Don't worry about ordering a lot at this cozy Italian/English spot, because it's one of the most reasonably priced restaurants near Westminster Abbey. Sapori is a great place to grab a £5 breakfast before your visit to the abbey, or an intimate late-night dinner after plenty of other places have closed.
On the Italian side of things, Sapori keeps things simple, but it's in the preparation that these guys really shine. If you're a seafood person, then the fusilli tossed with prawns, garlic, and mushroom sauce is our pick for you. The roast pork is fantastic, as well—slow-cooked with seasonal vegetables, potatoes, and gravy. Yum!
Address: 60 Horseferry Rd, Westminster
Hannah
£££ | Bento Lunch | Sake Pairing
After a scenic walk over the Westminster Bridge, we'd recommend stopping by Hannah. This Japanese restaurant features an incandescently lit interior that fuses tradition with a trendy taste that's perfect for a romantic dinner, a quick lunch, and everything in between.
Hannah features a lunch menu focused around bento boxes, and we'd recommend the Grilled Wagyu, even though it's a bit pricey. Along with the impeccably marbled meat, you'll enjoy sashimi, miso soup, and vegetables simmered to perfection. Dinner, however, is a different story.
Hannah offers a set tasting menu, which includes monkfish tempura, a selection of seasonal small dishes, sake steamed mullet, crab ramen, and more. This will run you about £95 but is definitely worth it.
And if you don't mind the expense, their Sake Pairing is £70 and takes the experience to a whole new level. By the way, the dress code excludes shorts or flip-flops, so keep that in mind!
Address: County Hall, Southbank Riverside, Belvedere Rd
The Cinnamon Club
£££ | Beautiful interior | Modern Indian
If only for the beautiful location, this Indian restaurant had to be on our list. Located inside a Victorian-era library lined with books, The Cinnamon Club is one of the most unique restaurants near Westminster Abbey. They serve up Indian dishes that pay homage to their traditional roots while infusing a contemporary flair.
It's certainly not a bad place for breakfast or lunch, but our favorite options are on the dinner menu. Where else can you find Tandoori baked kingfish with green pea wasabi?
We suggest the Tandoori chicken breast with Hyderabadi korma sauce. Though if you're looking for a veritable journey through Indian cuisine, then their £85 tasting menu should be your choice. Seven courses later, you'll be happy you did.
Address: The Old Westminster Library, 30-32 Great Smith Street
Cubana
£ | Cuban | Live Music
Cuban food in London? Heck yeah! This slice-of-Havana food stall serves up authentic dishes at a reasonable price, refreshing smoothies, and live music for patrons. It's a great place to go with friends and grab some quick tapas or take a sandwich to-go and walk around the idyllic London streets.
And that Cuban sandwich—there's really nothing better. Slow-cooked roast pork on crunchy Cuban bread, piled high with swiss cheese and caramelized onions, it's great for on-the-go dining. Follow this up with a Belgian chocolate mousse with orange zest, and you'll be set!

Address: 48 Lower Marsh, South Bank
Check Out Our Best Day Trips from London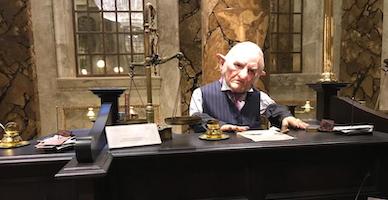 Top-Rated Tour
The Magic of Harry Potter: Warner Bros Studios & Walking Tour of London
On this full-day Harry Potter experience, immerse yourself in the world of witchcraft and wizardry. With your expert, Harry Potter loving guide, explore the filming sights in London before heading to Warner Bros Studios by Private Coach. See the real Hogwarts, Sorting Hat and more on this memorable experience.





Starting at €149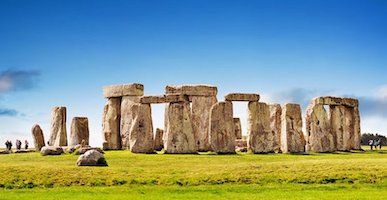 Top-Rated Tour
Windsor Castle, Stonehenge and Bath Day Trip from London
Join this full-day trip from London for the ultimate day through British history and culture with an expert guide. At Windsor Castle, skip the lines and see how the English Royals live. At Stonehenge, immerse yourself in the mystery of the 4000-year-old Neolithic structures. Lastly in Bath, take in the Roman Baths from the first century AD, the best symbol of Roman Britain.





Starting at €149
Not ready to book a tour? Check out our article on the best London tours to take and why.
Olivomare
£££ | Michelin | Seafood
Even among Michelin-starred restaurants near Westminster Abbey, Olivomare is a standout. With its focus on shellfish and seafood in a sleek, modern setting, this Belgrave Street gem treats the marine tradition of London dining with impeccable detail.
Like many things seafood, keeping things simple is often the best way to go. Start off with a  plate of fresh rock oysters and sea-urchins, paired with one of the excellent white wines on their menu.
This will put you in a good place before diving into the main course. Again, keep things simple. Order the chargrilled Dover sole with lemon sauce or the baked sea bass. You won't be disappointed!
Address: 10 Lower Belgrave St, Belgravia
Santini
££££ | Venician Speciality
Among other high-end Italian restaurants near Westminster Abbey, Santini is a stand-out because of its particular focus on Venetian cuisine. With its dim, intimate interior and airy patio seating, you'll be transported to the floating city with every bite!
We like to go for the things you can't get anywhere else. That's why we recommend the spezzatino di vitello, a slow-cooked veal stew with mushrooms. Along with the chicken with santini devilled sauce, you'll want to order one of their excellently crafted cocktails.
On top of that, Santini offers a wide selection of cigars to choose from, making it one of the more unique high-end dining experiences in London!
Address: 29 Ebury St, Belgravia