On your trip to Vienna, you'll definitely want to try iconic local dishes and sweet treats. But eating out is also a great way to experience the distinctive traits of Austrian culture and lifestyle. With that in mind, we've put together this list of both traditional and modern places to eat. You'll get to try Viennese cuisine and take in the city's unique vibe. Here are the best restaurants in Vienna.
---
Pro Tip: Planning your trip to Europe? Bookmark this post in your browser so you can easily find it when you're in the city. See our guide to Europe for more planning resources and our top-rated tours in Europe.
11 Great Places To Eat in Vienna
When it comes to dining out in Vienna, you'll encounter two different types of restaurants while exploring Austria's Imperial City. The traditional Beisl taverns are snug warm inns, characterized by wood-paneled walls, rustic furniture, and friendly service. Viennese Kaffeehaüser are typically elegant and luxurious spaces with marble-topped tables, stucco ceilings, and fancy porcelain tableware.
The good news is that both these options are mostly affordable and casual places to try good local food. Austrian cuisine is influenced by the former countries of the Habsburg monarchy. You can expect a lot of meat dishes, pork in particular, and carb-dense foods, like pastries and bread dumplings.
You'll find Rindsuppe (beef soup), the famous Schnitzel cutlet, Frankfurter sausages, goulash, knödel, and the unmissable apfelstrudel or Sachertorte dessert on the menu in most places. Where you eat these dishes, however, can make a world of difference.
We've put together this list of great places to eat in Vienna to help you have a special dining experience as you explore the local cuisine. Here are our top restaurant picks in Vienna.
Salm Bräu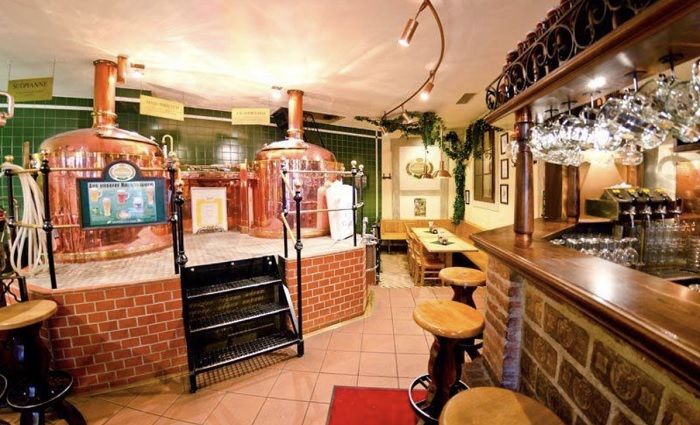 € | Traditional | Brewery | Friendly Staff | Belvedere Palace
When a place is always full, they say it's a sure sign they have something good to offer. This is definitely the case when it comes to Salm Bräu. Salm & Co is one of the world's oldest brewery machine manufacturers. They opened this restaurant in 1994 in the former servants' quarters of a Salesian Convent.
The setting is quaint and cozy, featuring rustic wooden benches and waiters in traditional attire. The menu includes a variety of Austrian classics served in massive portions.
Try either the ribs or the pork knuckle (one dish feeds at least two people). Don't forget to pair it with the in-house brewed beer-tasting tray. This is the most satisfying local meal and experience you can wish for! Expect a cheerful ambience and reasonable prices. If you plan to visit the nearby Belvedere Palace, don't forget to book a table at Salm Bräu.
Address: Rennweg 8
Figlmüller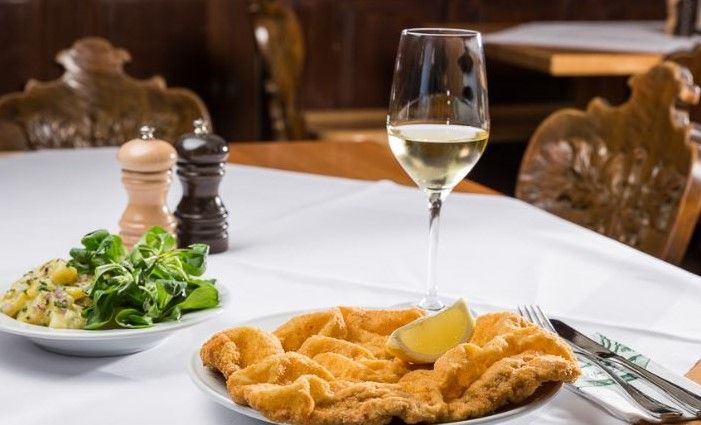 €€ | Traditional | Iconic | Reservation Required | City Center
Located in the heart of Innere Stadt, Figlmüller is known as the home of the original Schnitzel. The restaurant is a veritable institution in Vienna, so it's definitely the place to try the popular cutlet at its best.
Worth the hype? The enormous veal or pork Schnitzel is indeed exceptionally thin and crispy (and pretty tough to finish). It comes with the typical potato salad, which is particularly creamy and tasty.
This is a classy ambience and immaculate tablecloths kind of place, so you may get a bit scolded if your child spreads those bread crumbs around. But for a fancy dinner for two? It's perfect.
Address: Bäckerstraße 6
Plachutta Wollzeile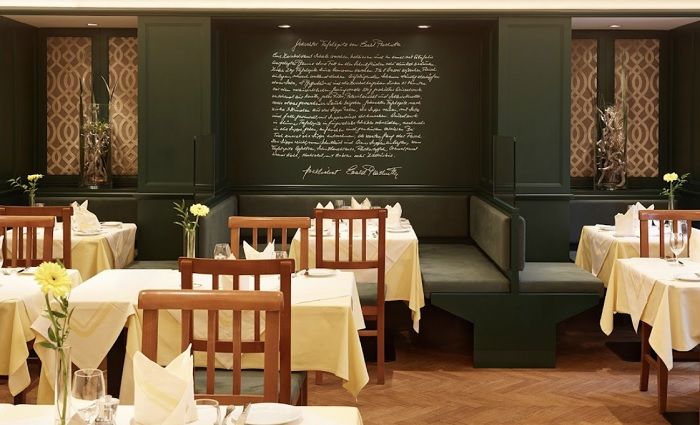 €€€ | Traditional | Iconic | Reservation Recommended | City Center
Be sure to try the comfort food typical of every Gasthaus. However, don't leave Vienna without going to Plachutta to savour the originalTafelspitz, the signature beef in broth dish known for being a favorite of Emperor Franz Joseph.
The dining experience at this iconic restaurant is unmissable. You'll enjoy sophisticated interiors and a low-key atmosphere. The dishes are well presented in copper cauldrons surrounded by smaller pots containing root vegetables, a mixture of horseradish and chopped apples, and sauces.
The very attentive staff will guide you through the proper ritual to enjoy this flavorful stew. No wonder there's a wall full of photos of famous people who have visited Plachutta over the years. You should definitely make a reservation here.
Address: Wollzeile 38
Zum weißen Rauchfangkehrer
€€€ | Traditional | Fine Dining | City Center
If you're looking for an affordable fine-dining experience, this is the fancy version of a traditional Austrian place. The menu has a wider selection of classic dishes, prepared with particular attention to locally-sourced ingredients, like the deer and their great selection of Austrian wines.
Everything is delicious and beautifully plated. The service is top-notch and the very central location is atmospheric and full of character. The restaurant is cozy and has private booth seating and antler wall decor.
It's the little things that make the difference. For example, you'll receive a delicious basket of complimentary bread with tasty spreads soon after arriving. Also, the very nice restrooms and the live piano music add to the experience.
Address: Weihburggasse 4
Schweizerhaus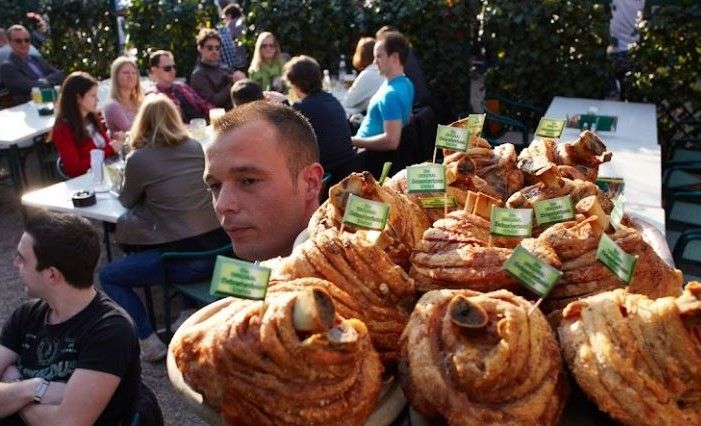 € | Beer Garden | Kid Friendly | Prater
Located in Prater (Vienna's historic public amusement park), Schweizerhaus is exactly what you'd expect from a beer garden. They're temporarily closed for the winter until March 15th, so stop by in the spring.
Besides the popular Stelze (crispy roast pork on the bone), the fried potato pancakes and the roast chicken are delicious. Everything comes in large portions and calls for rivers of beer, of course.
The place is huge but the garden is often packed, especially in the summer. The staff can get overwhelmed and a bit rude as a result, but take it in your stride—you're on vacation. This is a family-friendly place to eat in Vienna. If you're traveling with kids, try to get a table next to the restaurant playground to enjoy your meal in peace.
Address: Prater 116
Miznon
€ | Mediterranean | Vegetarian Options | Street Food | Stephansplatz
After a few days of mostly pork-based local cuisine, you may be in the mood for something different. So here's a hidden gem. Located right behind Stephensplatz, Miznon is a casual rustic place with a vibe.
This Israeli chain serves Mediterranean street food. You order at the counter of the open kitchenette and then take a seat at one of the tiny tables. In the background, they play old iconic songs, adding to the vibe.
It can take pretty long to get your handcrafted pita bread with meat stew or vegetable filling. But it's worth the wait. They can turn cauliflower into the most interesting ingredient and every dish is bursting with flavour.
I keep going back because of their everchanging menu, which offers the freshest seasonal produce. And I never leave disappointed, especially when it comes to eggplant and artichoke dishes.
Address: Schulerstraße 4
Brasserie Palmenhaus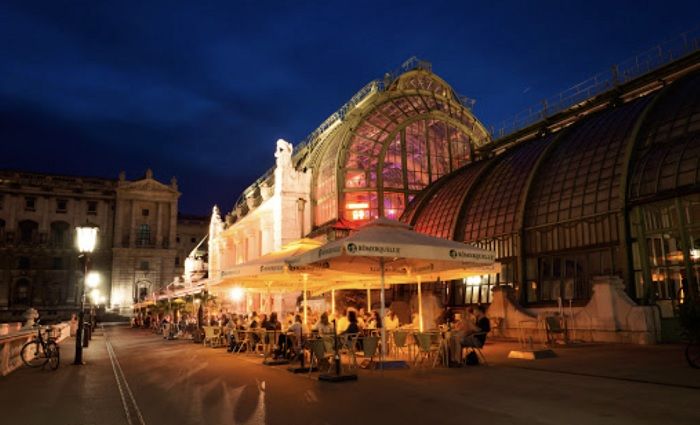 €€ | International | Brunch | Outdoor Seating | Burggarten
I'm not going to lie, you'll be served average and slightly overpriced food at this brasserie. However, the unique setting of Brasserie Palmenhaus makes it worth recommending.
Located in a giant greenhouse on the edge of the Burggarten, you'll be seated either on a patio, overlooking the landscaped garden next to the Schmetterling Haus, or inside among the giant palms under the very impressive glass and steel structure. And you want to do both.
You won't regret a casual lunch here after touring Hofburg or the Albertina Museum. Go for a salad and the Schnitzel—they're decent everywhere after all!
Address: Burggarten 1
Adlerhof Café, Bistro & Bar
€€ | International | Brunch | Vegetarian Options | Stylish | Museumquarters
Grab a bite at this very stylish and instagrammable eatery and snap the cutest photos. From the floor tiles to the vintage wallpaper and, especially, the impressive spiral staircase, there's beauty in every corner of Adlerhof!
In this stylish bistrot, you'll be surrounded by lush plants and velvet couches. The brunch menu is modern and includes delicious vegetarian and vegan options, which are hard to find in most Austrian places.
Dishes are beautifully plated, of course. It's a great spot for brunch after a tour of the Leopold Museum. Also, take advantage of its district 7 location for a stroll in the coolest and most vibrant area of Vienna.
Address: Burggasse 51
Gerstner K.u.K. Hofzuckerbäcker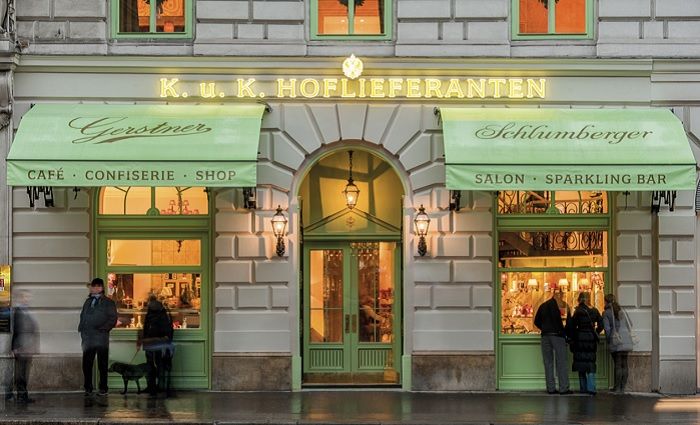 €€ | Historic Coffee House | Albertina Museum
In the magnificent Palais Todesco, opposite the Vienna State Opera, this historic confectionery is one of the most fascinating coffee houses in Vienna. K.u.K literally means "Imperial Royal," and was used to identify the official suppliers to the Imperial Court.
It is surely also the most underrated because you won't need to wait in line as you will at Demel, Hotel Sacher, or Café Central, to name a few. Enjoy a truly Viennese experience and grab a sandwich or a small portion of Gulasch on the second floor after touring the Albertina Museum.
Or, just stop by for coffee and cake served on gold-edged dishes with shiny silver cutlery. At Gerstner K.u.K. Hofzuckerbäcker, enjoy a bit of luxury with its big crystal chandeliers and frescoed ceilings, not to mention the courteous penguin-dressed waiters.
You'll be surprised that despite the luxurious ambiance, you can have a proper meal for €20. You'll also be given a voucher to spend in the shop on the way out. The sweet delicacies from the Gerstner patisserie are the perfect souvenir to take back home!
Address: Kärntner Strasse 51
Zur eisernen Zeit
€€ | Traditional | Homestyle | Outdoor Seating | Naschmarkt
Wandering in Naschmarkt? There are plenty of choices among the double rows of stalls and shops. This restaurant, however, stands out as a charming and inexpensive spot to enjoy some homestyle Austrian cuisine.
What's not to love in a tiny well-established family-run restaurant? The classic dishes are perfectly executed, particularly their signature goulash. There's also limited seating outside, fast service, and a laid-back atmosphere.
Address: Naschmarkt
Lugeck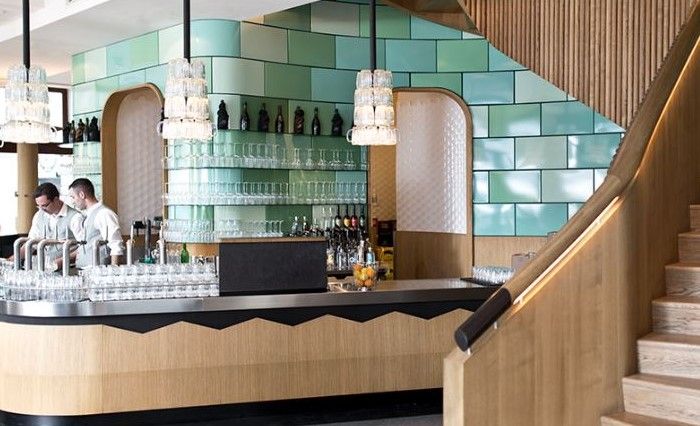 €€ | Austrian modern | International | City Center
Part of the Figlmueller family, this restaurant offers contemporary reinterpretations of Viennese classics alongside modern European cuisine. In a refined and elegant setting, your eyes and palate will be equally delighted.
The place is located in one of the most picturesque buildings in the city center, but away from the crowds. The traditional dishes are prepared with high-quality ingredients, served in smaller portions, and presented with great attention to detail.
Lugeck is the perfect spot for a casual lunch. Try the steak sandwich and the salads for a healthy and delicious quick meal. It's also a lovely place to eat out with a special someone.
Address: Lugeck 4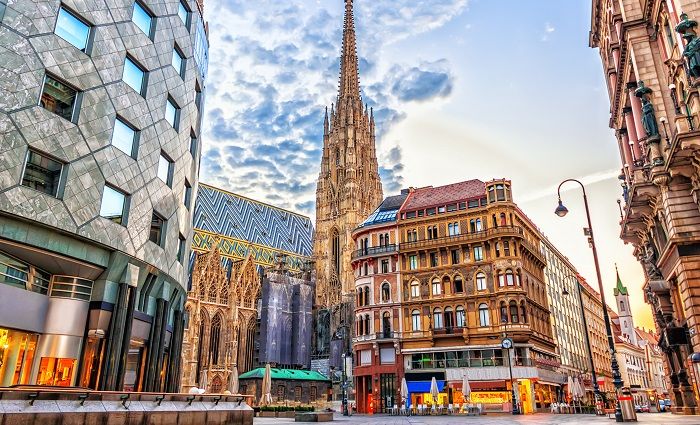 Find the best places to stay
Where To Stay in Vienna
From the old-world elegance of the Innere Stadt to the contemporary cultural hotspot of Neubau, we'll help you find the perfect place to stay in Vienna in this guide to the best hotels and neighborhoods.