Is golfing on vacation par for your course? Not sure where to golf in Ireland? Have no fear! We've put together a list of the best golf courses in Ireland from Carton House to Glenlo Abbey.
Pro Tip: If you're planning a trip to Dublin, consider bookmarking our dedicated Dublin page, with articles on The Cliffs of Moher, Giant's Causeway, Titanic, and more!
The Top 10 Golf Courses and Hotels In Ireland
Despite the misty and rainy weather, Ireland boasts the perfect terrain for a spot of golf. Our small island is home to 25 percent of all-natural links courses in the world, whilst also built on sandy soil with large moorlands and fast fairways. Not to mention the lush greenery that Ireland beholds, which makes for a rich and scenic backdrop to your game.
The courses in this article have been included because they are favored by professional golfers like Tiger Woods, Arnold Palmer, and Jack Nicklaus. Our own famous golfers, Shane Lowry, Rory McILory, and Pádraig Harrington have also accredited these local golf courses to their success.
By the way, before we delve into this list, I must add that caddie tipping etiquette in Ireland requires the caddie fee, plus an additional €20-30 tip. Also, if you're planning to stay off-course, feel free to check out our list of amazing countryside hotels near Dublin. Now, time for a hole-in-one!
Our Partnership with Booking.com. If you like our content, please book by clicking on our Booking.com links. The price is the same for you and we get a small commission that helps support our helpful blog content. We've partnered with Booking.com because they have the most options, great prices, and a solid loyalty program.
10. Mount Juliet Estate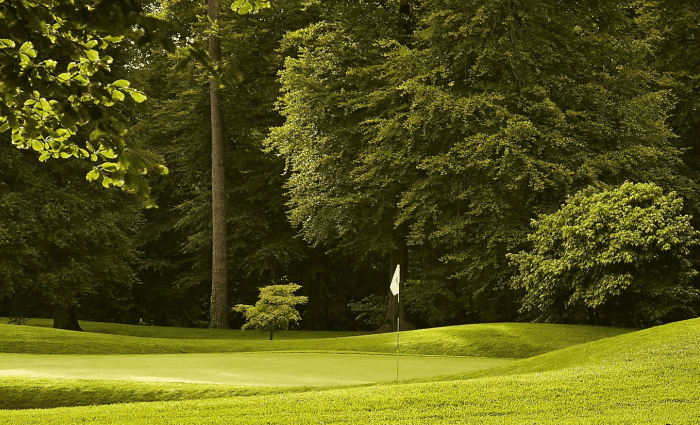 €€€ | 5 Star | Country Club Feel | Lots of Dining Options | Spa, Pool & Golf Course | 18-Hole | Kilkenny
Mount Juliet is a lavishly designed, five-star hotel and estate in the Southeast county of Kilkenny. The hotel perfectly describes their golf course as "a Jack Nicklaus designed parkland set across 180 acres of rolling Irish countryside." Its popularity with some of the finest golfers around the globe is a testament to that. Thanks to critics, it's also been ranked as one of the best parkland courses in the world, as well as being voted Ireland's top golf course by The Irish Open championship.
There are all-inclusive packages at Mount Juliet, such as their upcoming Autumn deal. Likewise, guests who stay three nights, or more, can get 15% off. In terms of facilities on the golf course, you can hire push trolleys, electric trolleys, golfing equipment, and caddies. The course etiquette is a bit strict though, as you are required to wear collared shirts and tailored clothes when on the grounds. Furthermore, men only play from green tees and women only play from red tees.
All that said, Mount Juliet, is a high luxury environment with the inclusion of a Michelin Starred restaurant in The Main house called The Lady Helen. They have a more casual bar, too, as well as a chalet-type restaurant, indoor pool, and spa. Not to mention falconry and archery classes! Highly recommended for couples and families.
9. The K Club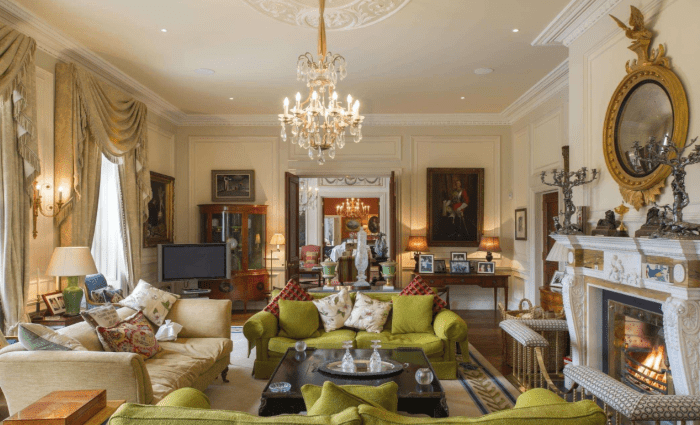 €€€€ | 5 Star | Luxury Golf Resort & Spa | Historic Estate | 36-Hole | Kildare
The K Club estate was built 189 years ago and now operates as a five-star hotel and golf resort. The two inland golf courses (Palmer North and Palmer South) were designed by the celebrated American golfer, Arnold Palmer. To no surprise, the K Club's golf courses have further hosted The European Open and The Ryder Cup on a number of occasions. One of the best parts about golfing here, is that the dedicated staff will organize your tee times, lessons, caddies, and hired items, as well as corporate gifts.
Moreover, the hotel has open days, stay discounts, and even junior golfing camps. In terms of other activities for the rest of the family, guests have access to horse riding, clay pigeon shooting, falconry, tennis, archery, and fishing. Alternatively, you can take a breather in the K spa, which has an indoor swimming pool, a gym, and an onsite beauty parlor. In the food corner, there are four eateries, and also a playground and kid's club for the wee ones. On the map, the K Club is a 40-minute drive from Dublin city and Dublin airport, which makes this an ideal pick for inbound and outbound flyers.
8. Castleknock Hotel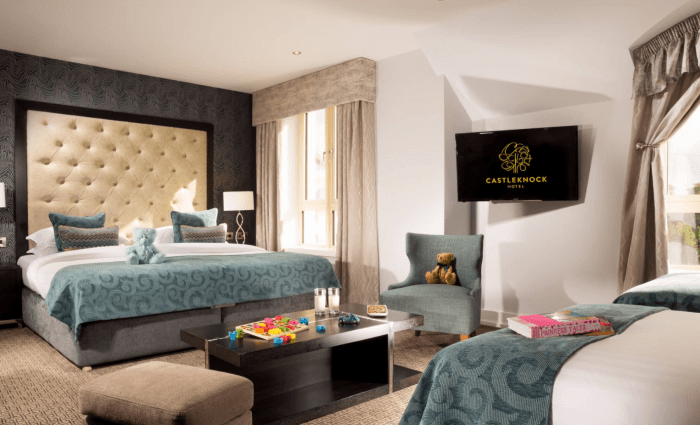 €€ | 4 Star Hotel | Classic | Golf Course & Spa | 18-Hole | Family Suites | Dublin
Castleknock Hotel is a haven for both families and golfers. The parkland is open year-round, so you'll neither have to worry about dealing with temporary greens or fairway mats. Terrain-wise, the 18-hole course has been designed for golfers at every competitive level, with [as described by Castleknock hotel] "undulating greens, and two par 3's over water".
Those who want a detailed breakdown of each hole can take a look here, before decompressing in the golfer's clubhouse afterward with a drink and a bite to eat. Apart from the obvious attraction of golf though, another prominent reason for staying at Castleknock hotel is for the location. The hotel is just a 30-minute drive to Dublin city, while also being close to a number of child-friendly attractions, such as Dublin Zoo and Tayto Park. I therefore highly recommend Castleknock Hotel for golfers who have young kids in tow.
7. Carton House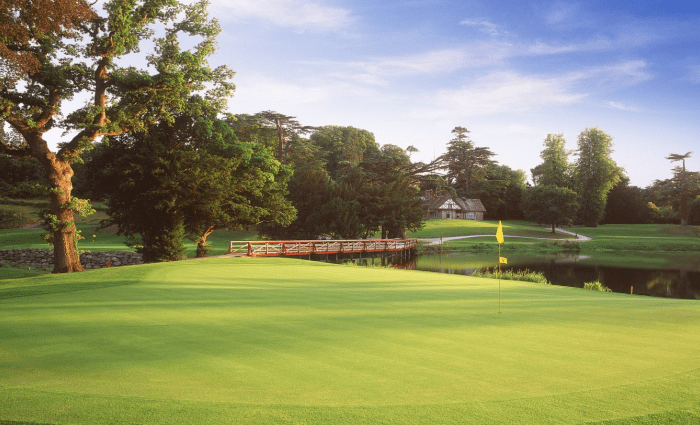 €€€€ | 5 Star | Golf Course, Resort & Spa | Palladian Grand Mansion | 36-Hole | Kildare
Carton House is a top choice for golfers in county Kildare. The Palladian mansion has two outstanding golf courses on its grounds, and you can pick between the O'Meara parkland course (which has centuries-old woodland on the banks of the river Rye), or else go for the Montgomerie course, with its challenging inland links. Overall, international visitors will have 1,100 acres of private parkland estate to putt from.
Afterward, you can eat from three restaurants at Carton House Hotel. Furthermore, their health club has been renovated over the last 18 months, so expect world-class spa facilities, including an indoor swimming pool. Meanwhile, the interiors remain ornate rococo and English country house. The grounds of the hotel are enough to keep visitors occupied, but in the event of an offsite outing, Wallaby woods is also just a 21-minute drive away. The Carton House would ultimately suit sporting couples with a need for splendor.
6. Tulfarris Hotel and Golf Resort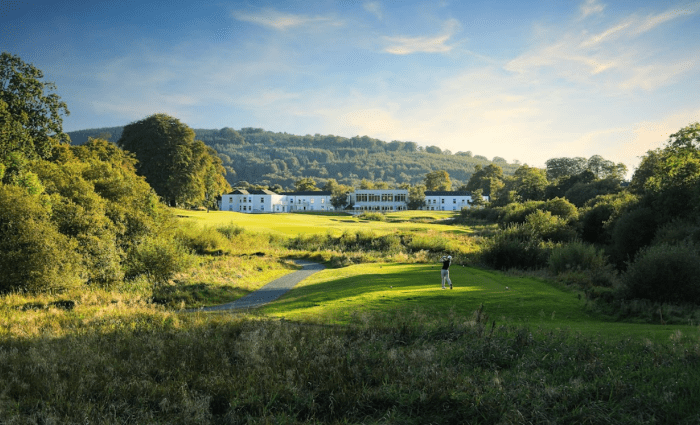 €€€ | 4 Star | Manor House & Golf Resort | Views of Blessington Lakes | 18-Hole | Wicklow
Tulfarris is an 18th Century manor house that rises above when it comes to location. The hotel and golf resort is set upon the Blessington Lakes, like a moat, and overlook the Wicklow Mountains. Over the last few centuries, the property has been owned by British dignitaries. However, since 1987, it's been operating as a popular four-star hotel. In relation to your stay as a golfer, there are 200 acres of lakeside golf grounds to explore, where you can test your handicap among the tall grasses and blue ponds.
If you are someone who looks for style in a hotel, Tulfarris is also clean and minimal. There's a touch of mid-century modern some parts, namely in the foyer, self-catering lodges, and restaurant. Formal venues and restrooms differ in that they ebb on the Regency-style side of things. In regard to the hotel's location, getting back to Dublin is just an hour's drive. This makes Tulfarris the prime choice for travelers who like dreamy golf courses with tidy and uncomplicated luxury.
5. Luttrellstown Castle Resort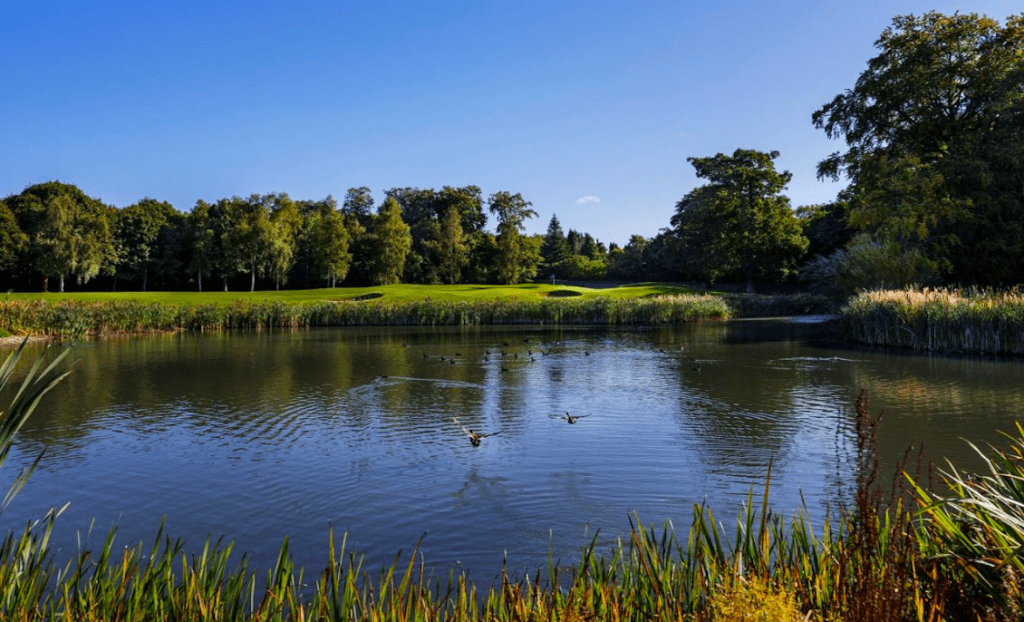 €€€ | 4 Star Hotel Pool & Spa | Chic & Contemporary | 18-Hole | Dublin
Luttrellstown is a historic, 15th-century castle and hotel in the suburban neighborhood of Clonsilla. To boot, they have an 18 hole golf course with organically manicured parkland, links-style bunkers, water hazards, and a well-kitted-out alpine-lodge clubhouse. Set over 567 acres, the course has been artfully designed by course specialist architects, Donald Steel and Tom MacKenzie.
Facilities on the golf course further include a five-bay indoor and 25 bay outdoor driving range, chipping area, 9-hole putting green, and a 3-hole short course. You can rent buggies, electric trolleys, and golf clubs while taking lessons from experienced golf instructors. The hotel is also just a 25 minutes drive from Dublin city. So, you can stay at the resort itself, or else save some money and check out the nearby accommodation available, below.
4. Kilkea Castle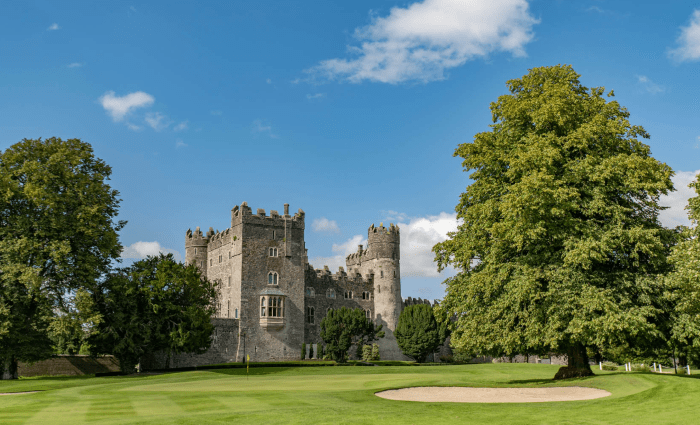 €€€ | 4 Star | Historic Castle | Hotel, Golf Resort & Spa | Archery & Horse Riding | 18-Hole | Kildare
Kilkea Castle dates back to the Anglo-Norman epoch – 1180 AD, to be precise! At that time, Kilkea was built for a newly arrived Norman knight. Nowadays, it operates as a four-star hotel with 180 acres of untouched woodland and gardens. There is also an addition of a superb 18-hole golf course. The facilities here are excellent for golfers, such as having a practice range, practice putting green, a fully stocked golf shop, clubhouse bar, and restaurant.
Moreover, the hotel boasts a large spa with a thermal suite and a hydrotherapy pool. Interiors-wise, Kilkea has a Scottish hunting lodge vibe, insofar as their dark wood-paneling in the lounge, and tartan bedding in the suites. The castle is under an hour's drive from Dublin and has a paid shuttle bus service leaving from the hotel regularly. Similarly, it's a 30-minute drive to other attractions like Kildare village and Newbridge Silverware. All around, it's a great to pick for couples who want a slice of history with their golfing vacation.
3. Roganstown Hotel and Country Club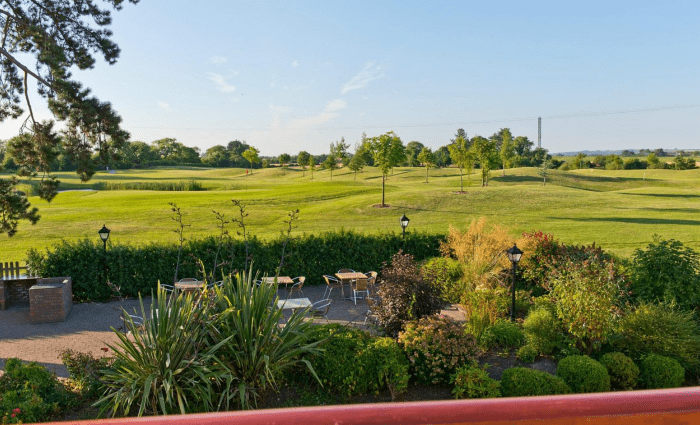 €€€ | 4 Star Hotel | Classic Country Style | Indoor Pool & Jacuzzi | Spa | 18-Hole | Near Dublin Airport
Roganstown Hotel & Country Club is a great destination for your first (or last) night in Dublin. The reason for that is because Dublin airport is only a 14-minute drive away, which allows for a quick and breezy check-in after your arrival. Aside from the convenient location, you'll be glad to know there's a golf course on the grounds, which is as challenging as it is beautiful. The course was thoughtfully designed by Irish Ryder Cup Legend, Christy O'Connor Junior, so you can expect a stimulating experience on the green.
The hotel also runs special golf packages. You just look up their breakaway deals on your given dates of travel, and you'll find deals for unlimited play, stay, and dining. Ultimately, I'd recommend this hotel for older couples who enjoy classic interiors and an accessible health club. It's also great if you have an early flight and want to be near the airport 24 hours beforehand, without much of a commute.
2. Fota Island Resort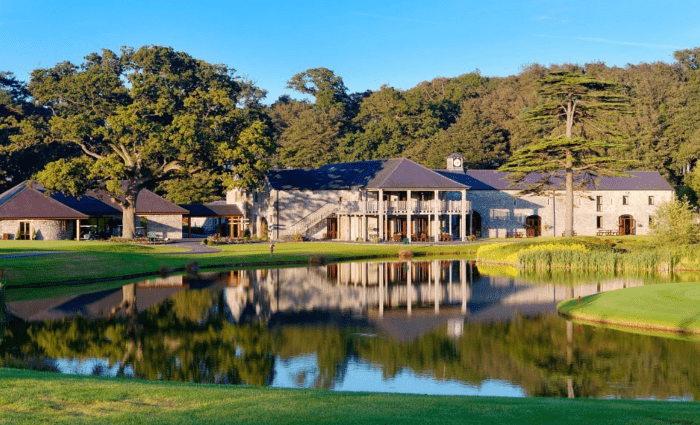 €€€ | 5 Star | Hotel, Resort, and Spa | Contemporary | Golf Course | 27-Holes | Swimming Pool | Cork
There is much to do at Fota Island Resort and Spa. First of all, it's right by Fota Island Wildlife Park, which is one of Cork's main attractions. The hotel itself has three different golf courses, a luxury spa, a pool, and a fine dining restaurant. Back to the golf course, it was originally designed in 1993 before being redesigned in 2000 by golf architect, Jeff Howes.
According to Fota Island, their three golf courses offer "a playable fair, with strong holes all the way through." They add that "some of the signature holes…are tricky and picturesque in equal measure," with "the 8th hole over at Barryscourt hitting over an old quarry, to an unusually angled green".
1. Glenlo Abbey Hotel & Estate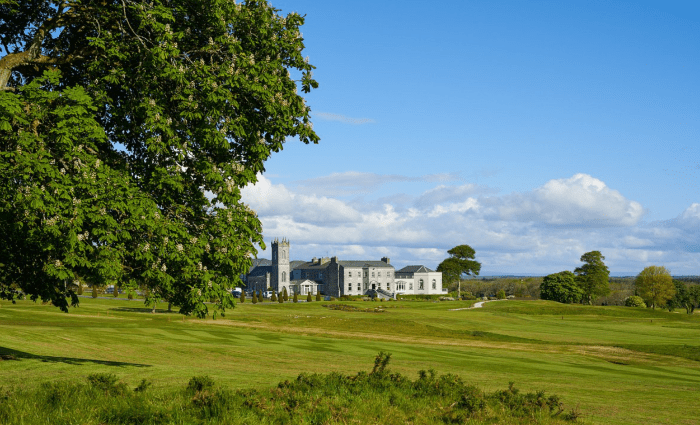 €€€€ | 5 Star Luxury Hotel & Resort | 21-Bay Driving Range | Lough Corrib
The five-star Glenlo Abbey Hotel and Estate lies on Lough Corrib in the western county of Galway. The Glenlo course offers "a unique and challenging experience to golfers at all levels," including "a signature 4th hole on an island green". Similarly to Mount Juliet, you have men teeing off on the white course, and ladies teeing off on the red course. There's also a blue championship course for the avid golfer, presumably ungendered.
You can hire clubs, electric and manual buggies at the Glenlo golf course, and there's an onsite golf reception for your golfing queries. Highly recommended for sporting enthusiasts who are already out on The Wild Atlantic Way.