We love hanging out in New York City but sometimes we need a change of pace. Luckily, the city is central to many other cool areas that offer just that. Whether you're looking for a nature break or craving the excitement of a casino, we have you covered. Here are the best day trips from NYC.
---
Pro Tip: Planning your trip to New York City? Bookmark this post in your browser so you can easily find it when you're in the city. See our guide to New York City for more planning resources, our best NYC tours for a memorable trip, and how to spend three days in NYC.
Coolest Day Trips To Take from New York City
A day trip can provide just the right amount of time away from the city to explore something new. You can head into the wilderness or check out a local winery. Whatever you fancy (and at any budget), there is a day trip for you. We rounded up some fun trip ideas and provided the info on how to get there.
Just keep in mind, that we calculated the distance and time from Midtown (Grand Central Terminal) which can vary based on time and location. Ready to hop to it? Read on for our favorite day trips from NYC! Also, if you're looking for exciting ways to see NYC, check out our best tours of the Big Apple.
Not ready to book a tour? Check out our New York Guide.
10. Enjoy Small Town Charm at Cold Spring, New York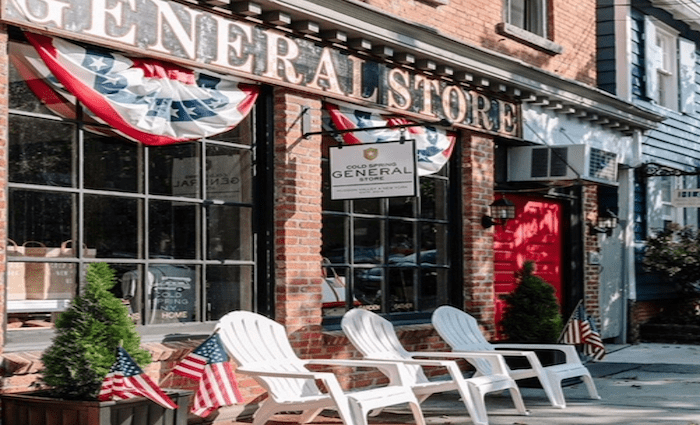 1.5 Hours (57 miles) by Train | Quaint and Historic | Hiking
In less than an hour and a half, you can be transported from the bustling streets of New York City to the charming neighborhood of Cold Spring. Getting here is easy as you'll grab the train at Grand Central and jump on the Hudson line that takes you right along the river. This trip is especially nice during the foliage season.
Cold Spring train station is just a short walk to the downtown area, too, so no Uber needed. Once you're here, you'll have a variety of things to do all within walking distance, including shopping inside some super quaint shops.
One favorite is the General Store where you can pick up anything from local herbs and jams to nature books and cozy pajamas. When you get hungry, there's the Silver Spoon Café for homemade chili and Catherine's for potato gnocchi with lamb ragù. If you're looking for something with a view, there's no other place like the Riverview, where you'll enjoy catching the Hudson River and Storm King Mountain from your table.
The area is also known for hiking. You can choose from intense trails to those with an easier pace such as Old Forge Trail Loop. Either way, you'll get a nice workout outdoors. It's a great gay trip for just about anyone: the solo New Yorker, the adventurous family, or even the romantic couples.
How to get to Cold Spring General Store
9. Place Your Bets at Foxwoods Resort Casino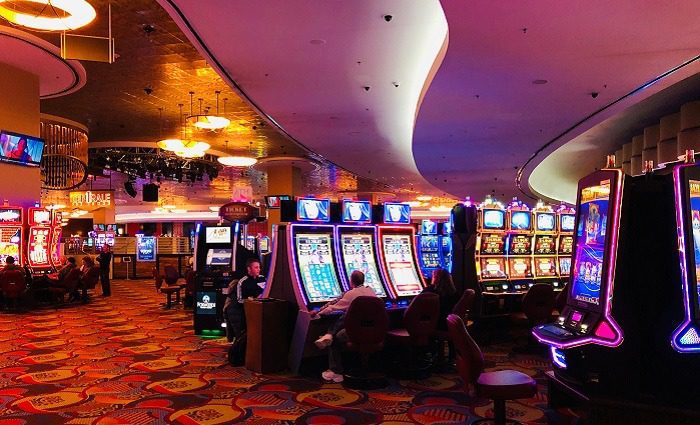 2.5 Hours (136 miles) by Car | Fun and Entertaining | Lots of Activities
If you're looking for a break from the city but still want that active, entertaining lifestyle, head to Foxwoods Resort Casino in Ledyard, CT. You'll need a car to get here, but it's worth the trip and great for adults looking to let loose.
When it comes to entertainment, you have your pick. Choose from gambling with the high-rollers, laughing at a stand-up comedy show, or taking in a concert. The property is also known for its big food and drink festivals, such as the upcoming Royal Rosé in June.
And if you want to still enjoy a Broadway show but without the hassle of trudging through Times Square, you're in luck. Foxwoods Broadway Series happens during the summer, showing three big shows in one of its theaters.
Want an adrenaline rush? There are zip lines, go-karting, virtual reality, and escape rooms to check out. Anyone more into shopping the day away can enjoy plenty of deals at the Tanger Outlets, while hungry diners have their pick of fine-dining venues to be more quick and casual.
How to get to Foxwoods Resort Casino
8. Picnic at Croton Gorge Park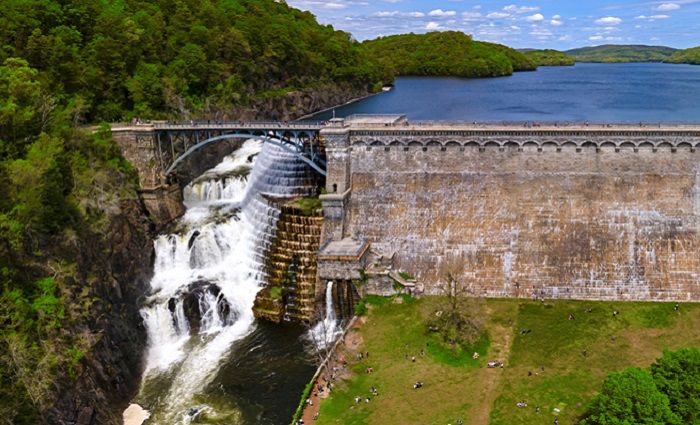 1 Hour (40 miles) by Car | Relaxing | Scenic Walks
Anyone looking for a relaxing trip in nature should make their way to Corton Gorge Park in Cortlandt, New York. In barely an hour, you'll find yourself immersed in the beauty of the wilderness while taking in the spectacular views of the New Croton Dam and the flowing river.
If you're here in the winter, you're most likely sledding on some trails. But for those who escape here during the warmer months, you'll be able to find a nice grassy spot for a quiet picnic. There are also barbecue stands available if that's more your speed.
You can choose to walk along the bridge or find some tree-lined trails by the river for a more scenic hike. If you're bringing the kids, which you definitely should, there is a small playground for them to enjoy and restrooms nearby when needed. This place gets busy, especially as the weather improves. Try to get here early to avoid big crowds.
How to get to Croton Gorge Park
7. Enjoy a Wine Tasting at Red Hook Winery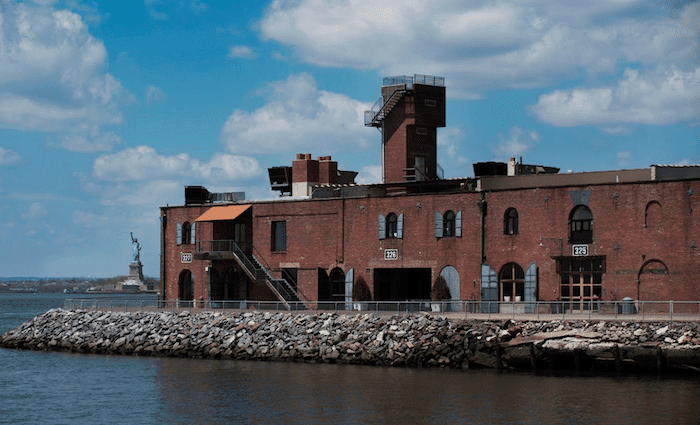 1 Hour (10 miles) by Train | Breezy and Boozy
You don't have to travel too far to enjoy some quality wine by the water. Make your way out of Manhattan for a day in Brooklyn where you'll find the Red Hook Winery. Located in an old warehouse, this historic space sits by the river and boasts views of the Statue of Liberty. It's the ideal getaway for any wine lover who appreciates good grapes in a killer setting.
Hit up the tasting room to enjoy a guided tasting with your group, trying glasses and flights with a professional leading the way. You'll learn all about the local vineyards from the Finger Lakes and Long Island while hearing about the winemakers behind each sip. A quick heads up that weekend tastings can fill up fast and require a recommendation. Plan ahead of time or make your way here during the week instead, if you can.
After your tasting, it would be a shame not to complement all that wine with a dessert. Walk over to Steve's Authentic Key Lime Pie right down the street for a chocolate-dipped key lime pie pop.
How to get to Red Hook Winery
Not ready to book a tour? Check out our Statue of Liberty Guide for more resources.
6. Journey through American History in Boston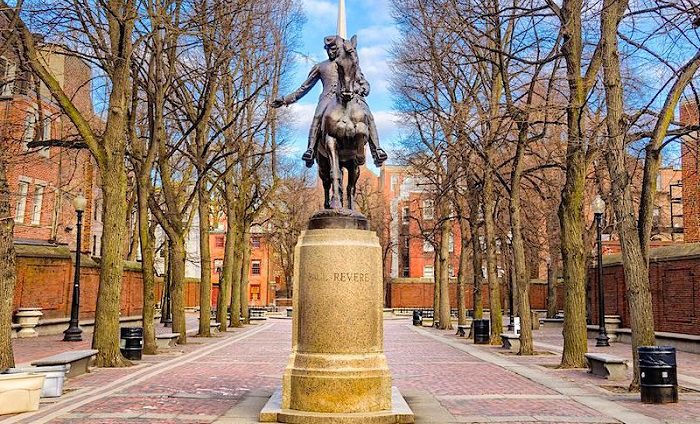 4 Hours (215 miles) by Car | Historic and Modern
History buffs won't want to miss the opportunity to explore America's colonial past and fight for freedom in Boston. It's one of the most historic cities in the country and well worth the 4-hour car ride to get there.
Similar to New York City, there are a lot of historical and modern landmarks to discover here, including Bunker Hill, Paul Revere House, Trinity Church, the John Hancock Tower, and Quincy Market, among many others. You'll definitely want to do Boston's 2.5-mile Freedom Trail exploring the top sites and stories of America's revolutionary history
Besides Boston's rich history, it's also home to some of the country's most prestigious higher education institutions. Spend some time on the beautiful campuses of Harvard and MIT where some of the world's greatest minds studied. From pilgrims to founding fathers and more, Boston is the perfect day trip for anyone wanting to see where American history was made.
How to get to Boston
Not ready to book a tour? Check out our New York Guide for more resources.
5. Bask in the Sea Breeze at Greenport Village, Long Island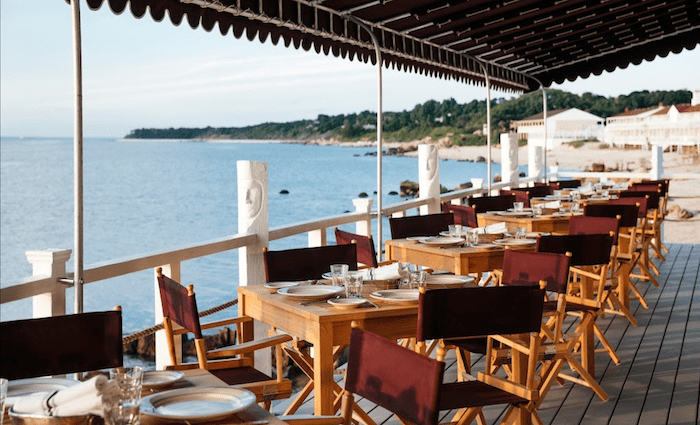 2.5 Hours (94 miles) by Car | Beach Views and Salty Breezes
While some are all about the swankiness of the Hamptons, we like the casualness of Greenport Village. It's laidback and definitely not pretentious but it's as delightful as you can get.
The streets are charming and quiet while the beaches are scenic and busy. It's located on Long Island's North Fork so it has all the nautical feels with its waterfront properties and seafood-focused dining options.
Speaking of dining, there are several options at the seaside Sound View Greenport. It's a hotel on the beach, but you don't have to stay overnight to enjoy the several restaurants located on the property. We're big fans of The Halyard, if not just for the open-air deck that overlooks the water but for the locally-sourced grub.
And when it gets dark outside and we're ready to move the party indoors, we're ordering a drink at the Piano Bar and listening to live music performed by North Fork and NYC artists. This is a great option for anyone who is into boating, wants to chill on a gorgeous beach, or enjoys antiquing.
How to get to Sound View Greenport
4. Embrace Your Inner Booknerd at Hobart Village in the Catskills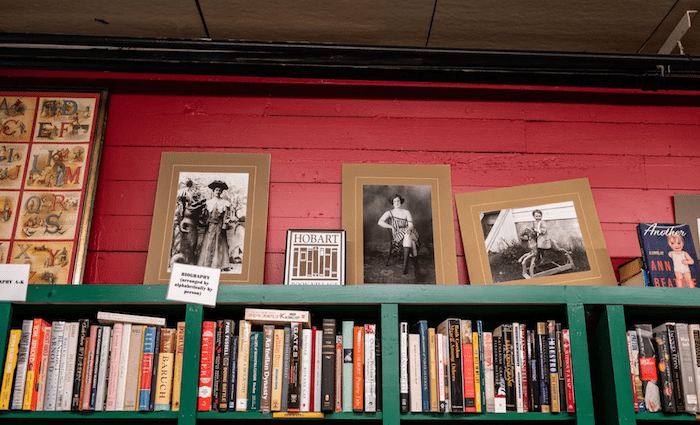 3 Hours (159 miles) by Car | Cute and Well-Read
Some people go to the Catskills for hiking and skiing. We go for the books. The town of Hobart Village in the Northern Catskills is a booklover's dream. Getting here will take about 3 hours by car, but if you love books and enjoy finding them in real bookstores instead of online, this trip is worth the ride.
Here, you'll find a variety of used bookstores sitting along Main Street, including Blenheim Hill Books, More Good Books, and Liberty Rock Books which is fully equipped with an art gallery and consignment shop.
There are other shops here, too where you can find records, crafts, and homemade gifts. The Coffee Pot is right along this strip and offers the perfect complement to any good book. Coffee, of course, but we're also talking about the massive omelets on the menu.
How to get to Liberty Rock Books
Not ready to book a tour? Check out our New York Guide.
3. Uncover the Legend of Sleepy Hollow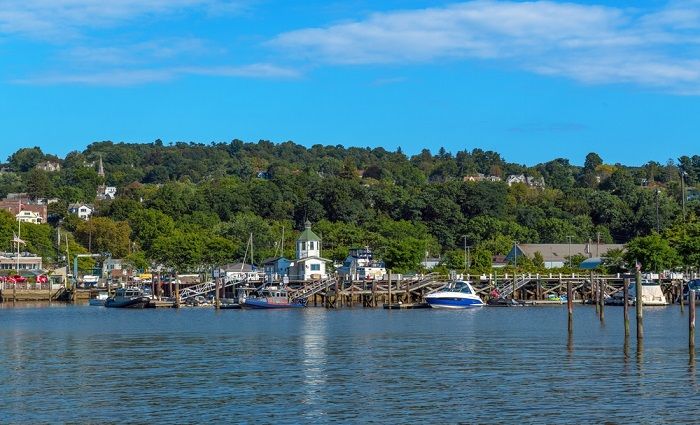 1 Hour (28 miles) by Train | Historic and Picturesque
Nestled in the Hudson Valley, you'll find the very picturesque village of Sleepy Hollow. You may have heard of Sleepy Hollow from the big screen, but this is an actual town that isn't as creepy as it seems. In fact, it's quite lovely and only an hour away from the city by train. You can kayak on the river or walk along the nature trails.
Must-see landmarks include the 1883 Lighthouse, Philipsburg Manor, and the Rockefeller estate, Kykuit. Of course, there's also the Sleepy Hollow Cemetery where the late Washington Irving, author of "The Legend of Sleepy Hollow," is laid to rest. You can even go on a guided walking tour around the graves.
While you can come any time of the year, fall is the best time with the colorful trees and well, Halloween. These guys are big into the holiday. You may even see a headless horseman if you're lucky. Anyone who appreciates scary good fun will certainly appreciate Sleepy Hollow.
How to get to Village of Sleepy Hollow
2. Soak Up the Sun at Rockaway Beach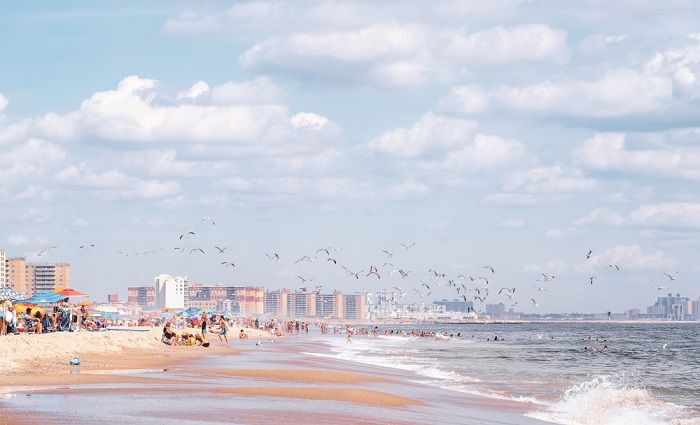 1.5 Hours (29 miles) by Train | Sandy and Sunny
Anyone who loves the beach will surely enjoy checking out Rockaway Beach in Queens. Getting here won't take too long, just under an hour and a half by train from Midtown.
You can walk, ride, or skate along the boardwalk, which also has several different concession stands to grab some food. And it's not just burgers and hot dogs either. Any foodie can agree these stands have a lot more to offer, including arepas, Korean plates, and one mean lobster roll.
Be prepared, though. This beach gets packed, especially on major holidays and as the summer starts to ramp up. Don't be surprised when you see all the surfers here too, as Rockaway is the only legal surfing beach in the city. If you surf, you'll love it. But even if you don't, it's great to watch these pros do their thing.
How to get to Rockaway Beach
1. Eat Oysters on Governors Island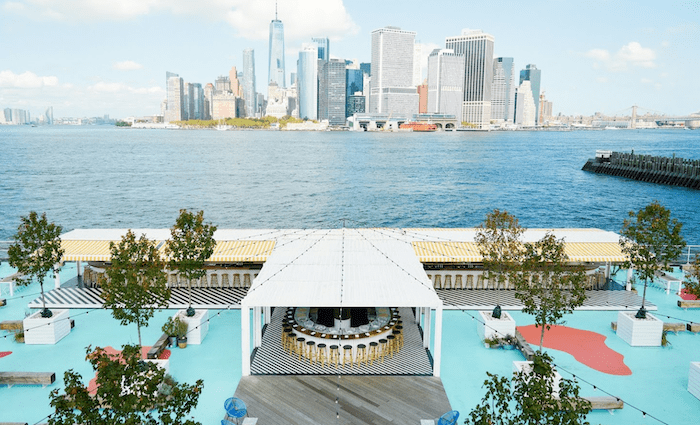 33 Minutes (5.3 miles) by Train or Ferry | Airy and Enchanting
If you want to feel like you're away from the city without really leaving it, Governors Island is your jam. It's a large island that's located on the New York Harbor and super close to Lower Manhattan and Brooklyn. Getting here is easy.
You'll start by going on a short 20-minute subway ride to the Governors Island ferry which has several stop options to choose from, including Bowling Green, White Hall, or South Ferry. Once you're on the ferry, you'll be whisked away to the island within 10 minutes.
Governors Island is for anyone who enjoys being outside. It has a mix of recre­ation­al and cultural attractions, such as walking tours, bike rentals, public art displays, and hammocks to swing in.
And there are also historic landmarks to explore. Castle Williams dates back to the 1800s and was named after Lt. Col. Jonathan Williams from the US Army Corps of Engi­neers. It's made of red sandstone and constructed in a massive circular shape. It's definitely impressive and worth checking out.
There are a lot of activities geared toward the kiddos on the island (large slides and playgrounds), so it can be a great option for families but really, anyone is welcome. Especially oyster lovers. The Island Oyster restaurant not only serves up these delicacies but does so in a gorgeous setting along the water with panoramic views. It didn't win the James Beard Foundation's Best Restaurant Design award for nothing.
How to get to Governors Island
Not ready to book a tour? Check out how to spend 3 days in New York.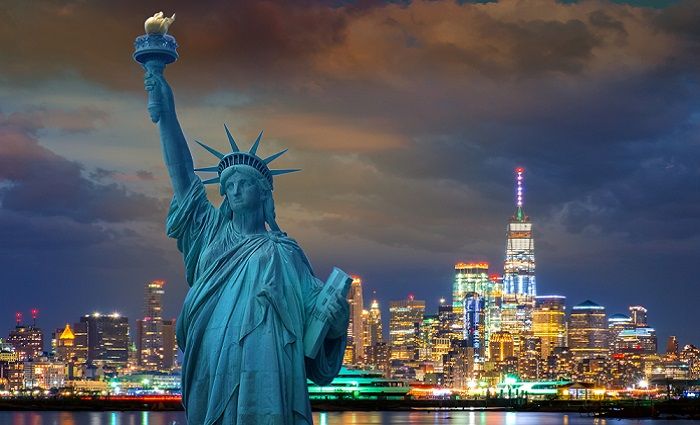 Find the best places to stay
Where To Stay in NYC
New York City is the center of the universe to those who adore this iconic city. Choose the best neighborhood to stay in as you plan your upcoming trip to the Big Apple.