In the 1340s, Genoese sailors emerged from their ships bringing with them treasures from the Eastern world. Unbeknownst to them, they had also managed to bring with them fleas carrying bacteria that would cause the Bubonic Plague, which would go on to ravage Europe. This may not seem like a selling point for this city, but it illustrates that Genoa has always had an outsized influence on the world. Overshadowed on the tourist trail by the other great merchant city of Italy, Venice, Genoa possesses a rich and fascinating history. This guide will help you understand where to stay in Genoa if you take my recommendation and stop off for a few days in one of the great cities of Italy.
---
Pro Tip: Planning what to do on your trip to Italy? Bookmark this post in your browser so you can easily find it when you need it. You can also check out our free Italy Guides.
---
---
The Best Hotels in Genoa, at a Glance
---
Why stay in Genoa?

---
If you were asked to name a famous port city in Europe, you may plump for Venice, and it is easy to see why. Millions of visitors a year travel to its canals and iconic squares. However, across the peninsula nestling against the Ligurian Sea lies a city that has had arguably as significant an influence on the course of world history. At the start of the sixteenth century, as Italy's Renaissance was at its height (Michelangelo had just finished his David), Genoese sailors could be found in all parts of Europe, from Southampton and Bruges on the English Channel to the great port of Caffa in modern-day Crimea.
It was Genoese sailors who transported the great goods of the silk road into the heart of Europe (bringing with them diseases like the Black Death). While being outstripped in the seventeenth and eighteenth centuries by the rise of the great powers, this legacy lives and breathes in its streets. Still the busiest port in Italy, its maritime tradition has left a legacy of extraordinary (if now somewhat faded) grandeur in its palazzos and churches. The old town of Genoa is a UNESCO world heritage site and is also a busy and bustling modern city.
For visitors to Genoa, there are treasures to be found, and it is a city that rewards two or three days in itself. While for some, it may be a gateway to popular routes like the Cinque Terre, for me, there is so much to be said for taking the time to explore this wonderful and still vibrant city before heading elsewhere on your travels around Italy.
---
Not ready to book a tour? Check out our Italy Guide for more info and inspiration.
---
The Best 5-Star Hotel in Genoa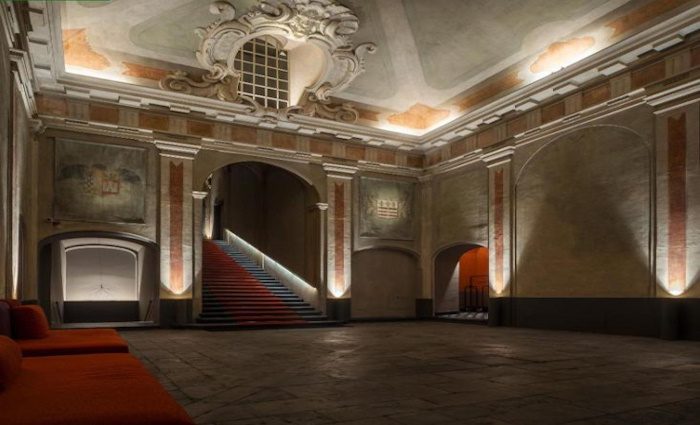 €€€€€ | 5-Star | Historic Palazzo | Great views
This place is amazing (an overused term but justified here). A historic palazzo that accommodated the guests of the Republic of Genoa at the height of its maritime power. Palazzo Durazzo is a sixteenth-century building maintaining beautiful eighteenth-century frescoes in some of its suites. It has only recently opened as a 5-star hotel, and it is situated right overlooking the old harbor of Genoa. This one is pricey, but if you were looking for elegance and comfort right in the middle of the city, then this is for you. Fulfill your dreams of being an ambassador to the Serene Republic of Genoa (this maybe is more my dream) in this pretty exceptional hotel.
---
Not sure if Genoa is for you? Check out our guide on Cinque Terre instead
---
A Stay by the Seaside in Genoa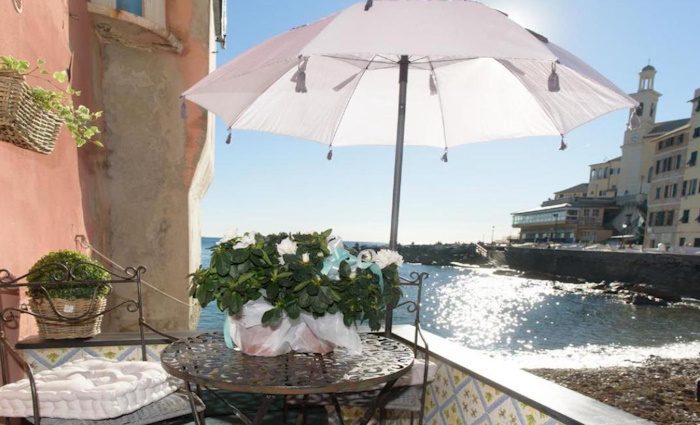 ---
€€ | Right on the Beach | Fishing village | Peaceful
Just outside Genoa is the seaside village of Boccadasse. It is a really nice beachfront hamlet facing out onto the Ligurian Sea. This apartment is worth it for its great balcony overlooking the cove. It is also right in the center of the village, which has some great eateries and coffee shops. Easy to get into the city as it's about four miles, which is an easy cycle or taxi ride. They also offer a shuttle from the airport. This one is for those looking for some quiet seaside time. Just look at that view, and you can see why it is so popular!
---
Not ready to book a Hotel? Check out our Italy Guide for more info and inspiration.
---
The Best Affordable Stay in Genoa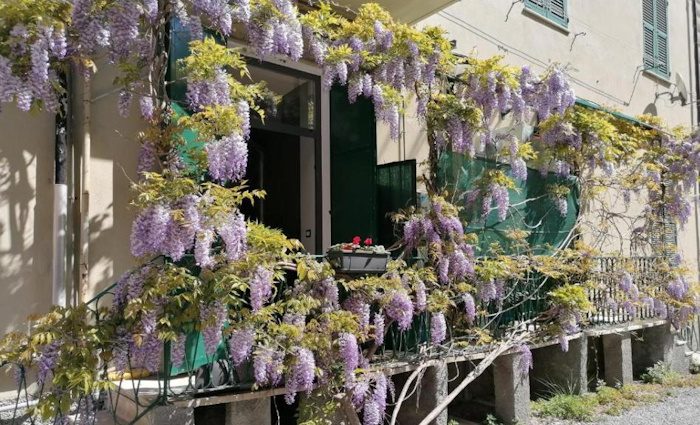 ---
€ | Modern apartment | Free Parking | Central location
This hotel is located right in the middle of a neighborhood that showcases some of Genoa's beautiful Art Nouveau architecture. Art Nouveau is a particular favorite of mine with its naturalistic forms and beautiful sweeping staircases. This hotel would suit travelers on a budget who want a place close to the historical center with good facilities and all the mod cons—a very good option.
---
Not ready to book a tour? Check out our Italy Guide for more info and inspiration.
---
A Classic Hotel in Genoa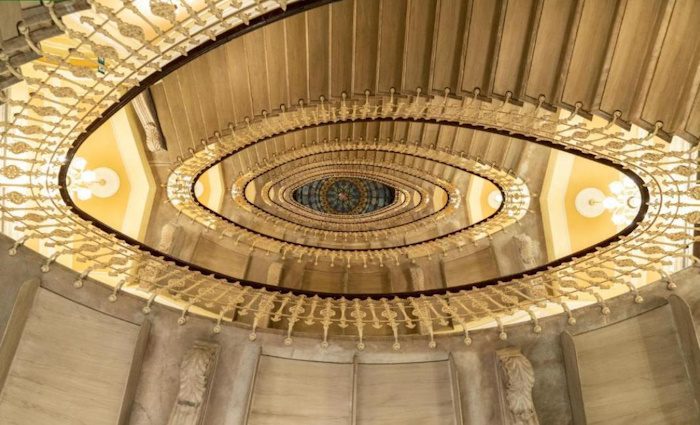 ---
€€€€€ | 5 – Star | Modern amenities | Art Nouveau
Speaking of Art Nouveau, the Hotel Bristol Palace offers one of the most stunning examples of this style that I have seen in Europe. The staircase itself is worth seeing, so even if you don't decide to stay here, peek inside or grab a cocktail at their bar and just marvel at it. This Hotel has boasted iconic figures from the ballet dancer Rudolf Nureyev to Emperor Hirohito of Japan as its guests. It is also (according to the Hotel Bristol Palace) where Alfred Hitchcock drew his inspiration for his film Vertigo from the Art Nouveau staircase. This one is worth a visit even if you are not staying in it. If you are staying, then you are in for a spot of old-world elegance.
---
Want to stay in a historic port but not sure about Genoa? Stay in Venice and book one of our day-trips
---
Room with a view in Genoa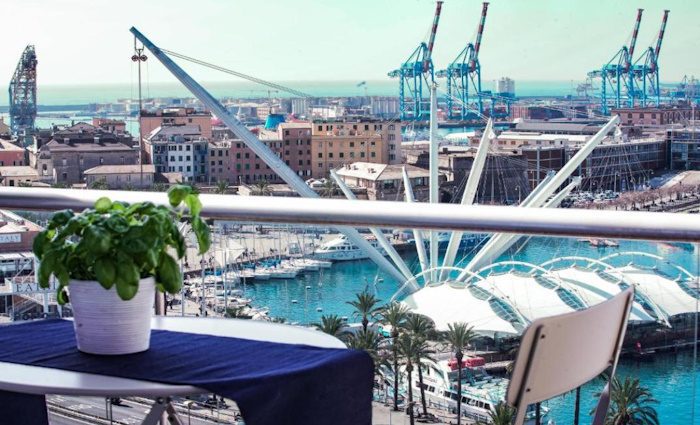 ---
€€ | Terrace | View of the Port | Perfect Location
This one is a nice option if you are looking for something simple right in the city center. It is just around the corner from the Via Garibaldi with its elegant Renaissance residences. To go along with that, most of the rooms have a lovely view down onto the old port, which is always a plus in a city like Genoa. Sit there and imagine yourself sailing off into the Mediterranean like the adventurous Genovese of the past. Great terrace as well. You could do far worse than this simple but excellent guest house.
---
Not ready to book a tour? Check out our Italy Guide for more info and inspiration.
---
Where is Genoa, and How Do I Get There?

Arriving by Air: Genoa City Airport is the main gateway to enter the city. There is a quick 25-minute train into the city from the airport. This airport would mostly serve flights coming from within Europe, however, so you may have to transfer through a bigger airport if coming from North America. Milan and Rome's airports are more likely destinations for intercontinental flights and could be the route most visitors from there would take.
By Train: Genoa is served by daily and frequent trains from Milan and Turin. From each of these destinations, it would take just under two hours. Coming from Rome would take about four hours, but again it is served by frequent trains. Trains in Italy, in general, are safe, efficient, and reliable—a nice way to travel.
Coming in by Car: Many visitors can choose to rent a car, which may be a good option if you are exploring the Cinque Terre to the south of Genoa. Genoa is the sixth biggest city in Italy, so it has access to all the major rental companies, and should not be a problem to rent a car in Genoa for further exploration. Some hotels have parking, and that makes a difference, as that can sometimes be complicated in Genoa.
By Taxi: Always remember to use a registered taxi that runs on a meter. From Genoa Train station, there are frequent taxis, the same goes for the airport and Genoa Port. Always a good idea to get in a taxi that is stopped at a designated taxi rank as they tend to be more reliable in my experience!
---
Top Attractions to Visit in Genoa
Best Restaurants in Genoa
---
---