If you're a Disney fan, this is a no-brainer! You can expect the same attractions as other Disneyland locations plus unique Paris additions that make it extra special. In this guide, find out how to visit Disneyland Paris including how to get there, when to go, if it's worth it, and more.
---
Pro Tip: Planning what to do on your trip to Paris? Bookmark this post in your browser so you can easily find it when you're in the city. Check out our guide to Paris for more planning resources, our top Paris tours for a memorable trip, and the best things to do in Paris.
Visiting Disneyland Paris: What We'll Cover
Officially ranked as Europe's most popular tourist destination, Disneyland Paris is the first and only Disney park in Europe. It opened in 1992 and has been welcoming visitors of all ages from around the world ever since.
You can expect attractions similar to the original Disneyland in California, including the beloved Main Street U.S.A., Adventureland, Fantasyland, Frontierland, and more. However, the French park definitely has its own uniqueness and isn't identical to other Disney parks.
Before investing your time and money into a day at Disneyland, you'll want to know what to expect and if it's really worth taking up one of your European vacation days. In this guide, we'll outline the main things you need to know before visiting Disneyland Paris. Here's what we'll cover:
Disneyland Paris Hours and Tickets
At Disneyland Paris, you can visit one or both of the parks: Disneyland Park and Walt Disney Studios Park. You must purchase your tickets in advance.
You'll be able to choose between dated and undated tickets for one day (including one park) or multiple days (including both parks). The longer you visit the more you save on your tickets.
There are a lot of options when it comes to choosing the right tickets for your visit. You can combine Disneyland tickets with hotel bookings, shuttles, and extra experiences.
Tickets:
Ticket prices range from €62 to €130 for individual tickets depending on whether you choose dated or undated tickets, how many days you'll visit, and whether you plan to visit one or both of the parks. Check out the official website for ticket information and booking.
Opening hours:
Opening hours for the Disneyland parks are subject to change, particularly closing times. Be sure to check the website for up-to-date opening times for both parks for the day of your visit. Here is a general guide to opening hours:
Open daily, Monday to Friday from 9:30 am to 9 pm, Saturday and Sunday from 9:30 am to 10 pm (closing times are subject to change).
Address: Bd de Parc, 77700 Coupvray, France
How To Get To Disneyland Paris
It would have been impossible to build a Disney theme park in the center of Paris. Instead, the park is located in a city called Marne-la-Vallée, east of Paris. While there are many different ways to get to Marne-la-Vallée from Paris, the easiest option is by train.
By Train
The easiest way to get to Disneyland from Paris is by train. You'll need to take the RER A line (on the Paris metro maps, it's always indicated as a red line). Metro ticket prices are zone-based, and since Marne-la-Vallée is outside of Paris, using a regular metro ticket won't work.
You'll need to purchase a different ticket, which costs €5 one way. You can buy these at any machine in Paris metro stations, but we recommend purchasing one with the help of an employee working at one of the help counters if possible, just to avoid any mistakes.
As you're waiting for the RER A train, you'll notice that the RER As are labeled differently. That's because halfway through the RER A eastern route, there's a fork in the route. You need to make sure that you get on a train heading to Marne-la-Vallée – Chessy, otherwise you could be traveling in a different direction.
While this may sound a bit stressful, it's easier than it sounds. When you're on the train platform, overhead signs will indicate which directions the upcoming trains are going, and there's even a pair of Mickey ears next to the train station name that you need to get to. When in doubt, don't be afraid to ask a friendly-looking Parisian—they all know where Disneyland Paris is.
Once you get on the RER A, you don't need to worry about keeping track of when to get off the train, as the Marne-la-Vallée – Chessy stop is the very last stop on the route. When you exit the station, signs will easily indicate how to get to Disneyland. It's less than a five-minute walk from the station, so you can't miss it!
By Car
Driving to Disneyland Paris is also possible. This might be the best option if you're heading to Disneyland from a city other than Paris or if you're really trying to get the most out of your rental car.
From the very heart of Paris, Disneyland is only about 25 miles away. Keep in mind, though, that traffic in the Paris city center and its suburbs can be unpredictable. Driving will definitely take you over an hour one way—likely longer, especially if you drive during rush hour. Parking at Disneyland is set at €30 for a normal-sized car, but you should always check their website for the most up-to-date fares.
If you're staying in Paris, we still highly recommend going by train. However, we don't recommend trying to take a taxi to Disneyland Paris. Since it's not a flat fare, you don't want to risk watching that meter running while you're stuck in bad traffic. Uber is possible, but prices fluctuate. The train will likely still be quicker and cheaper in the long run.
From the Airport
If you're staying at one of the Disney hotels or a partner hotel, there's a Magic Shuttle Bus that transfers clients from both Parisian Airports (CDG and Orly) to the hotels. The ride takes about an hour, give or take.
Our Best Guided Tours of Paris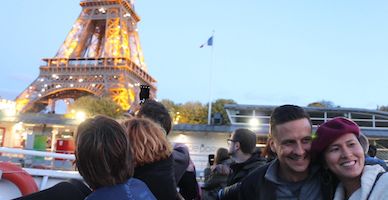 Likely to Sell out
Privileged Access Eiffel Tour with Champagne on the Seine
Sometimes the most amazing moments happen by chance. Other times, they are orchestrated by professionals. Our Eiffel tower tour cruises by the famed monument as it lights up and you drink champagne. After, you'll have tickets to enter the tower and ascend to the 2nd level with an elevator. Admissions included and we'll take care of the details… you simply pay and show up!





See Prices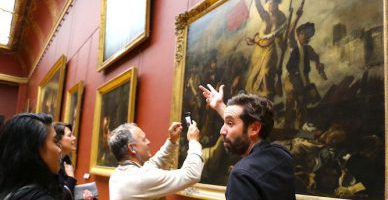 Top Selling
Secrets of the Louvre Museum Tour with Mona Lisa
The Louvre is the largest art museum on Earth and the crowning jewel of Paris. It embodies the French vigor for life. Join a passionate English speaking guide for a tour of the most famous artwork. Skip the line admissions included.





See Prices
Not ready to book a tour? Check out our best Paris tours to take and why.
Which Park Should I Visit?
As with some of Disney's other locations, Disneyland Paris has two adjoining but separate parks: Disneyland Paris and Walt Disney Studios Park.
Walt Disney Studios
Walt Disney Studios Park was built in 2002 and is smaller than Disneyland. It's dedicated to movies and showbusiness, giving visitors more of a behind-the-scenes look at the film industry. There are some rides (although not nearly as many as in Disneyland) that are fun to try, such as a 3D Ratatouille adventure ride.
The Tower of Terror and a cool Crush coaster ride (from Finding Nemo) are also favorites. If you enjoy shows, Walt Disney Studios hosts a couple of fantastic events, like a stunt show and "Frozen" musical. Check the Disney calendar to find out what's on during your visit.
Disneyland Park
Disneyland Park offers more classic rides you've likely encountered if you've visited another Disney park. Big Thunder Mountain, Indiana Jones, and the Haunted Mansion make up the main forty attractions here. Disneyland Park has more rides and also a bit more of a classic Disney feel than its counterpart.
Tickets allowing you to visit one or both parks are available. However, if you're only visiting for one day and none of the Walt Disney Studios Park attractions are must-dos for you, then we recommend purchasing a ticket just for Disneyland. If you're visiting for multiple days or just absolutely want to see both parks, the park hopper ticket is the way to go. You can check out everything you need to know about current ticket pricing here.
How Long To Spend at Disneyland Paris
The number of days you spend at Disneyland Paris will depend on you and the focus of your trip. If your goal is to see every inch of both parks and attempt to go on almost every ride, we recommend three days.
We realize, however, that most visitors living outside of Europe aren't coming to France solely for Disneyland Paris. If your main purpose is visiting the city of Paris, one day at the park is enough to give you a great taste of Disney, get your money's worth but also not make you feel like you wasted your time.
If you do decide to visit Disneyland Paris for more than one day, you might choose to stay in one of the multiple Disney-themed hotels located within less than 10 minutes' walking distance from the park. While our favorite is the classic Disneyland Hotel, it's currently being renovated and isn't expected to reopen until sometime in 2023.
When To Visit Disneyland Paris
Most visitors will likely align their Disneyland Paris visit with a European travel experience. If this is the case, you certainly shouldn't plan what time of year to travel based solely on this guide. However, if your main reason for traveling is to visit Disneyland Paris, then there are a few prime moments to go.
March to April and September to October: these are our favorite times to visit. These months experience fewer crowds as well as usually pleasant weather.
December is also a great time to go if you want to see Disneyland decorated in peak Christmas attire. If possible, avoid July and August, as these dates are the most crowded and also sometimes experience heat waves.
Do I Need To Plan an Itinerary
Some Disney fans enjoy planning out their day at Disneyland before it even begins. While this is certainly an option, we think it's less necessary at Disneyland Paris than at some other Disney parks. If you're in somewhat good shape, it's fairly easy to walk your way through Disneyland Paris. While it covers more acres than Disneyland in California, it's significantly smaller than Disney World in Florida.
When it comes to food, many French and European visitors bring their own lunches from home. This is not at all frowned upon. A large number of restaurants in Disneyland Paris feature American food. If you're American, be warned that this is a European view of American food and not the most delicious version.
Is It Worth It To Visit Disneyland Paris?
If this is not your first time at a Disney park, we recommend just going with the flow. Disneyland Paris is not a cookie-cutter version of the other parks and does have its differences. Some of these are positive, like the fact that their version of Thunder Mountain Railroad is much longer than the California version.
They have a cool green dragon "living" underneath Sleeping Beauty's Castle, and the Crush Coaster ride in the Walt Disney Studios park is fantastic fun. However, there are a few things that are potential downsides. Remember, France isn't famous for having great customer service.
The employees at Disneyland Paris might appear a tad less joyful than in other parks. There are designated outdoor smoking areas, but don't be surprised to see some people lighting up cigarettes in non-designated areas. Their food and drink items also don't quite live up to the expectations one might have when they think of famous French food.
If you're a true Disney fan, though, this is a no-brainer. A day at Disneyland Paris, especially if you're traveling with kids, is guaranteed to be a fun and unforgettable day. If you're on the fence, try to weigh the pros and cons of visiting Disney versus what else you could see in the city of Paris.
Not ready to book a tour? Check out our best Paris tours to take and why.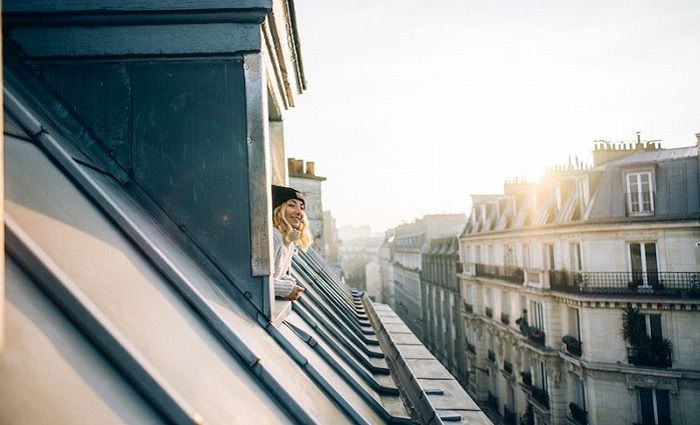 Find the best places to stay
Where To Stay in Paris
With a city as magnificent as Paris, it can be hard to find the perfect hotel at the perfect price. Explore the best hotels and places to stay in these incredible neighborhoods in Paris.