Pamper yourself to a luxurious staycation at one of the Lion City's finest luxury hotels. This list includes some of the unique luxury hotels in Singapore, offering you to have a one-of-a-kind experience.
---
Our Partnership with Booking.com. If you like our content, please book by clicking on our Booking.com links. The price is the same for you and we get a small commission that helps support our helpful blog content. We've partnered with Booking.com because they have the most options, great prices, and a solid loyalty program.
Top Luxury Hotels In Singapore
Overwhelmed by your work and the world around you? It's time for a fancy Singapore staycation! Nothing beats a day of pampering with flawless services, majestic city views, and spa treatments. From Orchard Road to Changi Airport, these lavish four and five-star hotels are well worth the extra penny.
Goodwood Park Hotel
$$$ – $$$$ | 5 Star | Elegant | Outdoor Pool, Spa, Fitness Centre, Indoor Restaurant & Bar
Don't be misled by the photo! It's not a common space; rather, it's part of the Rose Marie Suite called the Sitting Room. Fascinating European flair and historic charm fill not only this luxurious suite, but every nook and cranny of this hotel.
This heritage hotel is minutes away from other luxury hotels such as YOTEL Singapore, as well as the renowned Orchard Road shopping district, where most travelers will definitely visit. This makes it ideal for shopaholics or anybody looking for a splurge or retail therapy in one place!
Hotel Fort Canning
$$$ – $$$$ | 5 Star | Luxurious | Gym, Mineral Pool & Spa
Hotel Fort Canning is an 86-room luxury boutique hotel located within Fort Canning Park, mere minutes from Dhoby Ghaut MRT Station and Plaza Singapura. This historic heritage hotel is defined by its colonial elegance with touches of modernity.
The image shows the hotel's mineral pool, where guests may relax. Did you know their pools are supplied with mineral water that has been purified by a NASA system? Imagine the dedication and effort spent designing their Deluxe Rooms, Premium Rooms, Majapahit and Governor's Suites to preserve the culture!
Marina Bay Sands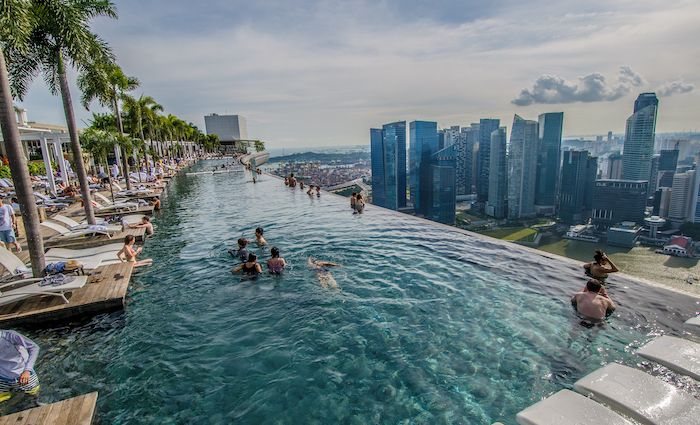 $$$ – $$$$ | 5 Star | Posh | Restaurant & Bar, Rooftop Infinity Pool, Spa, Fitness Club
Most MBS suites offer an amazing view, which is not cheap but is a genuine pleasure for people who have dreamed of catching the sunrise from their bed, making it a great hotel choice for those who enjoy luxury. In addition to the luxury provided by the hotel rooms, amenities like the Infinity Pool are not short of wonderful experiences too. Here, you can lounge on the edge with a cocktail and watch the sun set gracefully.
The Marina Bay MRT Station is directly beneath the hotel and connects you to attractions like Gardens by the Bay, the ArtScience Museum, our iconic Merlion, the Singapore Flyer, and more, all within a few MRT stops. I'd say there's nothing to be concerned about in terms of accessibility.
Naumi Hotel Singapore
$$$ – $$$$ | 5 Star | Eclectic | Rooftop Infinity Pool & 24/7 Fitness Room
The art you see in Naumi Hotel is its key characteristic. The Eden & Nirwana room, as seen in the photo, was influenced by pop artist Andy Warhol. A fantastic choice and bespoke experience for art lovers and aficionados!
This 73-room private boutique hotel is conveniently located near Bugis Junction and the Bugis MRT Station. You will absolutely have a great time touring Singapore while staying here.
PARKROYAL COLLECTION Pickering, Singapore
$$$ – $$$$ | 5 Star | Eco-Friendly | Outdoor Infinity Pool, Poolside Cabanas, Business Centre, Spa & Gym
Dip into their outdoor infinity pool at night and absorb in the hustle and bustle of the streets' nightlife. Or have an intimate conversation with your loved one in one of the poolside cabanas, perhaps taking some lovely photographs for remembrance.
You'll be pleased to learn that Chinatown Point mall and the Chinatown MRT are only 3 minutes away. If you're an eco-conscious traveler, PARKROYAL COLLECTION Pickering may be of interest to you.
The St. Regis Singapore
$$$ – $$$$ | 5 Star | "Ultra" Luxurious | Pool, Spa & Gym
That's one of the rooms in The St. Regis hotel — the Presidential Suite. Imagine seeing the full suite in person (oh, by the way…their Balcony is on another level, incredibly well-designed and jaw-dropping!).
Grand like royalty, this hotel sits right in the Tanglin area. A 2-minute drive will take you to the heart of the Orchard Road shopping district.
The Vagabond Club, Singapore
$$ – $$$ | 5 Star | Quirky | Executive Club Lounge & Bar
Without a doubt, this gorgeous gold tree structure stood out among other hotels for me. And there are many of those in The Vagabond Club's Executive Club Lounge. When it comes to a cozy atmosphere and intricate design, this hotel and its rooms are unquestionably Instagram-worthy!
In a market crowded with boutique hotels, the Vagabond Club differentiates itself. From art embedded in every room with a fuzzy style to huge sculptures in the bar, the quirky décor is their signature, providing tourists a different wholesome experience from the start. It's also a straight road along Syed Alwi Road to Haji Lane, another artistic and culturally rich tourist destination.
Oasia Hotel Downtown
$$ – $$$ | 4 Star | Modern | In-house Restaurant & Bar, Club Lounge, Rooftop Pools, Sky Terrace, Gym & Skyline Pavilion
Check out their Skyline Pavilion! Absorb the breathtaking view of Singapore's city skyline, without a doubt a fantastic spot to chill outside of your room.
Situated in the Tanjong Pagar business district, there are plenty of international cuisines housed in shophouses along Tras Street. Not to mention that Tanjong Pager MRT Station is only a 2-3 minute walk away, making it easy for travelers to go around the city.
YOTEL Singapore (Orchard)
$$ – $$$ | 4 Star | Futuristic | Pool, Gym & Rooftop Bar
Want to stay in a smart hotel with a hotel room that almost seems like home (there's more to YOTEL than just the rooms, everything purple and all about 'Komyuniti')? This is only one of various room types available at YOTEL, and the one seen in the photo is the VIP King Suite View (Lounge Area), which is ideal for whipping a cooked meal and dining with your loved ones!
YOTEL Orchard is located right smack in Orchard Road shopping district and a junction away from Orchard MRT Station. It's practically convenience at your doorstep!
Amoy Hotel
$$ – $$$ | 4 Star | Oriental
This oriental-styled boutique hotel with transparent panels as roof is a brilliant idea! There is natural light streaming in, tourists will not feel "suffocated" because there is ventilation, and it surely brightens up the entire place, making it appear more attractive and pleasing to the eyes.
Another plus point is that this hotel is only a 1-minute walk from Telok Ayer MRT Station, so you'll be well-connected to the rest of Singapore. The sole drawback is that there are near-zero amenities on the premises, making it more ideal for business travelers who require less amenities.
Crowne Plaza Changi Airport
$$ – $$$ | 4 Star | Contemporary Luxury | Club Lounge, Business Centre, Fitness Centre, Outdoor Pool & Spa
Crowne Plaza is an airport hotel that provides additional flexibility for business guests that require a holding area to enhance productivity between flights. Otherwise, if you're on vacation, save time traveling to and from your hotel and stay here instead.
If you're flying from overseas to Changi Airport, this is ultimate convenience for you because they have their own hotel accommodation at Crowne Plaza, Terminal 3. Check-in right away and head to Jewel, or take the Changi Airport MRT straight to town for some fun!